Where is Taikoo Li Chengdu
Sino-Ocean Taikoo Li Chengdu (Chinese: 成都远洋太古里) is located in the center area of Chengdu, with a total floor area of more than 100,000 square meters (more than 1.14 million square feet). It is connected with the intersection station of Chunxi road of metro line 2 and line 3 and adjacent to the historic Daci temple and the bustling Chunxi road commercial area. Taikoo Li Chengdu opened in April 2015, and the pedestrianized area contains both "slow lanes" for tea rooms, restaurants, and boutiques, as well as "fast lanes" which contain major international brands, keeping with Chengdu's ancient heritage. By preserving the old streets and historic buildings, and incorporating the 2 to 3-story buildings, the Sichuan-style green-tiled slope roof and grille with a large area of glass wall, Taikoo Li Chengdu is both traditional and modern, creating an open and free urban space among the skyscrapers.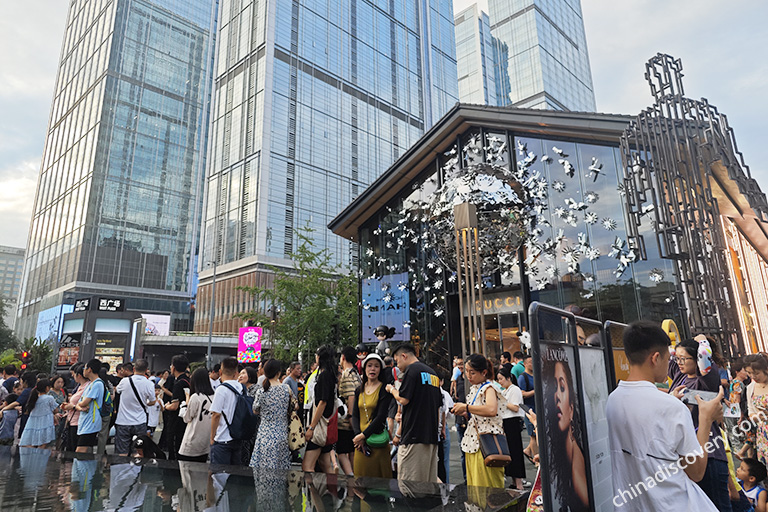 Taikoo Li Chengdu
What to Do in Taikoo Li Chengdu
Taikoo Li Chengdu gathers a series of international luxury brands, fashion brands, Michelin-starred and exquisite fancy restaurants at home and abroad. It is one of the fashion landmarks of Chengdu and an open area integrating shopping, food, and entertainment. Similar to Beijing's Sanlitun, it is popular among young people with its Chinese-style architecture and post-industrial design, paired with Chengdu's laid-back atmosphere.
Shopping - Stores for Glamorous Fashion Labels
With a big shopping mall area, there are all kinds of stores selling jewelry, watches, accessories, shoes, bags, health and beauty products, casual, sports, and fashion apparel for ladies, men, and kids. The shopping area brings together a range of top fashion and lifestyle brands such as Gucci, Cartier, Hermès, Ralph Lauren, Versace, Valentino, Thom Browne, Balmain, Givenchy, Acne Studios, I.T, Michael Kors, Agatha, Pandora, Swarovski, Alexander McQueen, Jimmy Choo, etc.
Dining - Fancy Restaurants with Local Cuisine, Asian Delights, and Western Delicacies
"Slow Lane" is built around Daci Temple to show the theme of slow and laid-back lifestyle in Chengdu, presenting the leisure taste of metropolis with the fine restaurants in the commercial zones of Chengdu ocean Taikoo. Michelin star and fancy restaurants are here to bring top-quality delicacies of Asian Delights, Chinese Cuisine, Western Delicacies, Coffee, Tea, Bakery, Desserts, and Beverages; Recommended restaurants include Jade Garden flagship store of Hong Kong, Element Fresh, Wagas, Blue Frog, Lian, Mustguette, ABC cooking studio, Gloria Jeans Coffee, the Urban Harvestin, Starbucks' first "all black apron store" in Southwest China, etc.
Shopping Area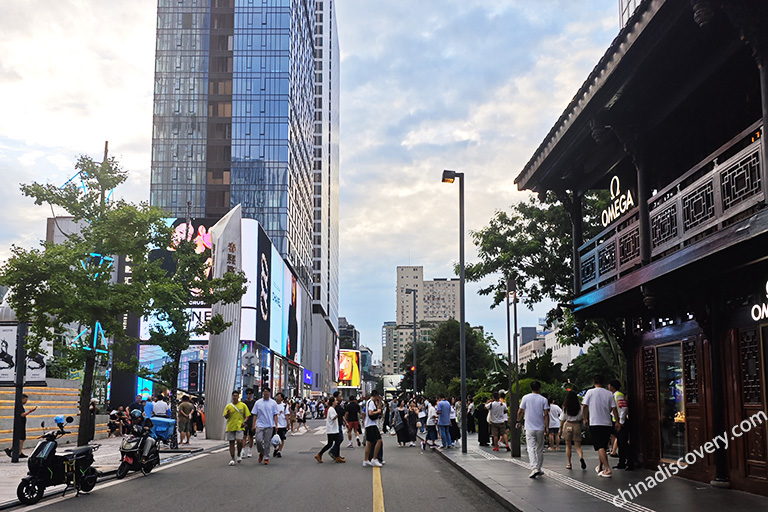 Starbucks at Taikoo Li
Entertainment - Cinema Palace & Fangsuo Commune
In addition to the delicacies, various cultural and life brands of Taikoo Li infuse a good life concept into the busy city. Covering bookstores, cinemas, cafes, such as Cinema Palace and Fangsuo Commune, which gathers the world's top design products, stationery, and selected books, legendary notebook brand Moleskine, Tea and gifts, and flower store - the Beast, etc. let busy urbanites slow down here and encounter the beauty of life.
Accommodation - The Temple House
The Temple House, built around the famous Daci Temple in history, is an important part of the Chengdu Taikoo Li commercial complex. It is designed by MAKE Architects, a British design firm. The Temple House incorporates the site's historical buildings and courtyards in the design, adopts the modern and fashionable concepts, and also completely preserves and presents the site and surrounding cultural heritage. The main body of the hotel consists of two L-shaped buildings, which are separated on both sides to create a contemporary courtyard, while the undulating landscape makes people feel like they are in the terraces of Sichuan. At night, the surrounding bustling streets and traditional quiet traditional buildings coexist harmoniously here.
▶ Recommended Chengdu Tours: 2 Days Chengdu City Break | 3 Days Chengdu Highlights Tour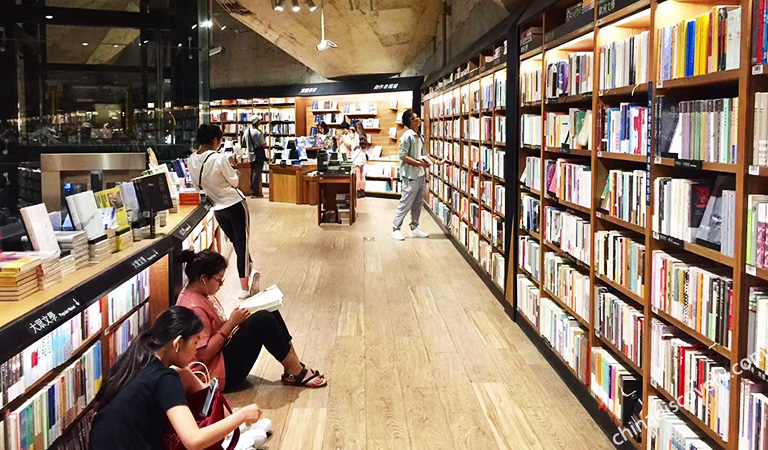 Fangsuo Commune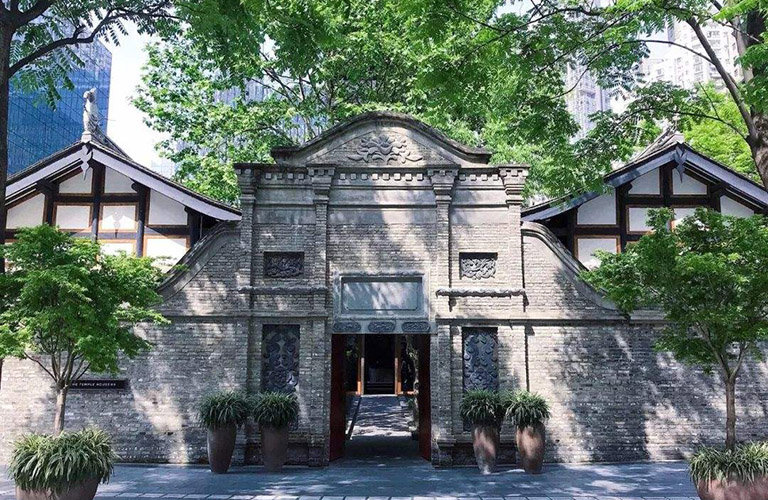 The Temple House
How to Get to Taikoo Li Chengdu
Where is Taikoo Li Chengdu: Taikoo Li Chengdu is located in #8 zhongshamao street, Jinjiang District, Chengdu City (成都市锦江区中纱帽街8号), right next to Chunxi Road and about 2.3km (9 minutes' drive) to Chengdu city center, Tianfu Square.
Travel With China Discovery
If you want to get rid of the hustle of public transportation and troublesome navigation, you can book a private tour package which covers sightseeing, dining, and transfer from us. Our local tour guide and driver will escort you to Taikoo Li with speed and convenience, and take care of all the details. You just need to focus on sightseeing.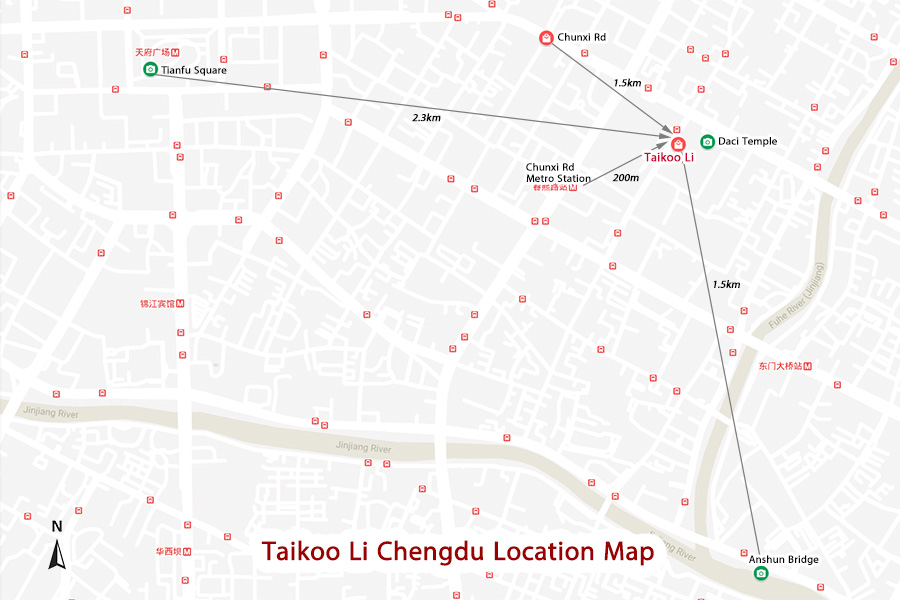 Click to Enlarge Taikoo Li Chengdu Location Map
Get to Taikoo Li Chengdu By Metro: The Chunxing Road Metro Station (春熙路站) is only about 200m away from Taikoo Li, and you can get there by metro line 2 or line 3.
Get to Taikoo Li Chengdu By Bus: ❶ Shamao Street Station / Dongmen Bridge Station (纱帽街站/东门大桥站): 10, 18, 21, 43, 47, 56, 56A, 68, 76, 104, 152, 237, 335; ❷ Shamao Street North Station (纱帽北街站): 18, 152, 166; ❸ Dacisi Station / Hong Xing Road Station (大慈寺站/红星路口站): 3, 4, 58, 81, 98; ❹ Dongfeng Street (东风大桥站): 3, 4, 58, 76, 81, 98, 126, 237
Other Attractions Around Taikoo Li Chengdu
Taikoo Li is located in the central area of Chengdu City, close to the Daci Temple with a long history. It is close to Chunxi Road Shopping area, with Tianfu Square to the West and Anshun Langqiao to the south.
Daci Temple 大慈寺
Daci Temple is located right next to Taikoo Li. It's quiet in the bustling shopping area. It's said that famous master Monk Xuanzang once practiced here. Daci Temple was built between the 3rd and 4th century A.D., with a history of more than 1,600 years. In the Tang and Song Dynasties, the temple once had over 96 courtyards. Many ancient buildings, trees, and statues are inside the temple. Those who are interested in Buddhism should not miss it. Also, there are vegetarian houses and teahouses in Daci Temple, from which you can walk to Chunxi Road.>>More about Buddhist Temples in Chengdu
Tianfu Square 天府广场
Tianfu Square is about 2.3km away from TaiKoo Li Chengdu. It is located in the geographical center of Chengdu City, which is the traffic hub of Chengdu Metro. In the center of the square, there is a tall statue of Mao Zedong and right close to Chengdu Museum. There are also buildings such as Chengdu Museum, Sichuan Science and Technology Museum, Jincheng Art Palace, etc. With Tianfu Square as the center, there are Chunxi Road and Wangfujing in the East, Wenshu courtyard in the north, Kuanzhai Alley and Jinli in the West.>>More about Tianfu Square | Chengdu Museum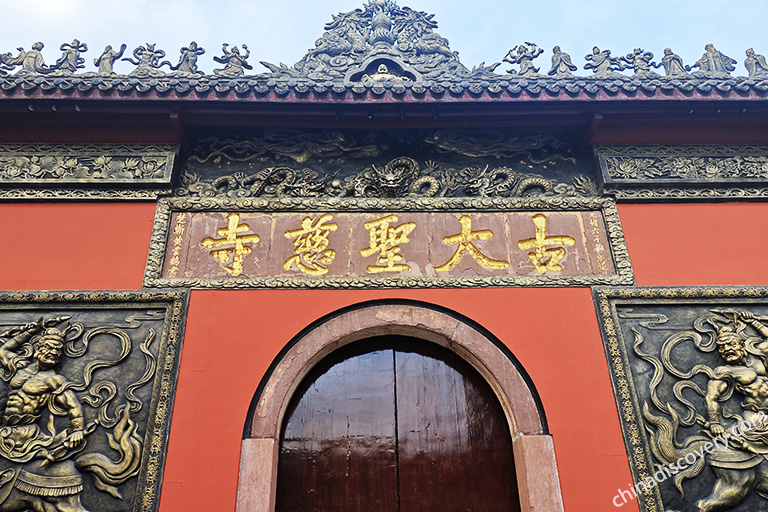 Daci Temple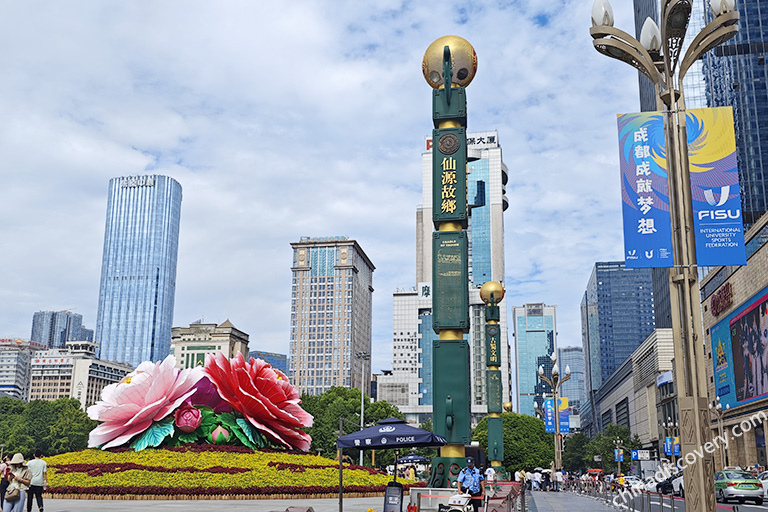 Tianfu Square
Chunxi Road 春熙路
Chunxi Road is about 700 meters away from TaiKoo Li. It is one of the oldest commercial streets in Chengdu, and it is still bustling today, forming the most prosperous business zone in the city. There are many brand stores, century-old shopping malls here, which are popular places for tourists. In addition to shopping, there are many popular food stores in Chengdu, where you can eat authentic Chengdu snacks all at once.>>More about Chunxi Road
Anshun Bridge 安顺廊桥
Anshun Bridge is about 1.5km away from TaiKoo Li, and it is located next to the Hejiang Pavilion of Funan River in Chengdu. The original relics can be traced back to the Yuan Dynasty. In Marco Polo's travel to Chengdu, Anshun Langqiao is one of the four bridges that impressed him deeply. Near the bridge is a good spot to take photos at night with a famous bar street to enjoy the nightlife here.>>More about Anshun Bridge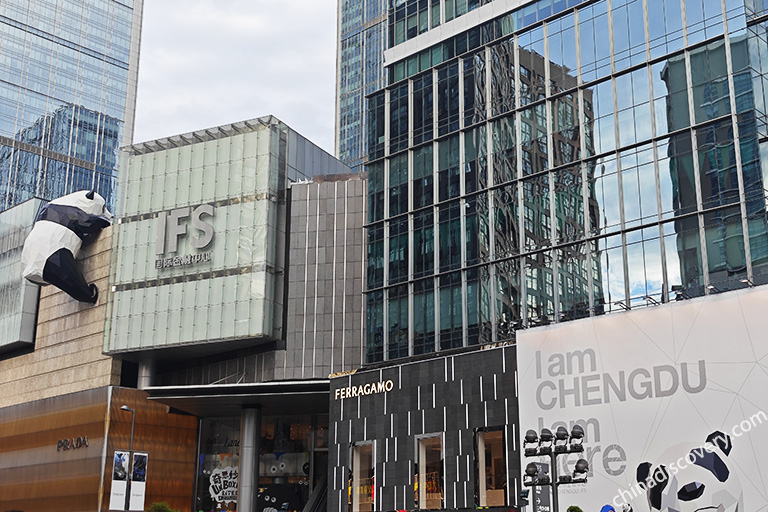 IFS on the Chunxi Road
Anshun Bridge at Night
How to Plan a Taikoo Li Chengdu Trip
Taikoo Li is more of a modern shopping mall, so it is recommended to arrange the visit in the afternoon or at night when you can be fully immersed in the lively ambiance. To enrich your Chengdu trip, before going there, you can go to meet the cute pandas in Chengdu Panda Base in the morning. Then see some exquisite Buddhist architecture in Wenshu Temple and have a cup of tea in Renmin Park.
★ Recommended Chengdu Tours:
▶ 3 Days Chengdu Highlights Tour
If you plan to spend more days travelling, there are other attractions such as Kuanzhai Alley, Dufu Thatched Cottage, Jinli Old Street in Chengdu city, and wonderland like Jiuzhaigou, Leshan, Emeishan in Sichuan Province, or you can expand your trip to Beijing - capital of China, Shanghai - modern metropolis, and Xian - time-honored ancient capital to have a deeper understanding of China.
★ Recommended Tours including Chengdu:
▶ 7 Days Sichuan Discovery Tour (Chengdu / Leshan / Emei / Chengdu / Jiuzhaigou)
▶ 7 Days Ancient China Tour with Panda (Beijing / Xian / Chengdu)
If you have more questions about a Taikoo Li Chengdu trip, please feel free to contact us. We are specialized in customized tours according to your interests, budget, traveling time, etc. Just tell us your needs, and we will provided you with a satisfactory tour.
Chengdu Attractions
Top Attractions in Chengdu
Useful Chengdu Travel Guide
Recommended Chengdu Tours
Top 3 Chengdu tours chosen by most customers to explore Chengdu in the best way. Check the detailed itinerary, or tailor your own trip now with us.
2 Days Leisure Chengdu Private Tour with Panda Visit

Chengdu: Jinli Street, Giant Panda Base, Wenshu Temple
3 Days Chengdu Highlights Tour plus Leshan Giant Buddha

Chengdu: Chengdu Panda Base, Leshan Giant Buddha, Jinli Street
Start planning your tailor-made holiday to China by contacting one of our specialists. Once inquired, you'll get a response within 0.5~23.5 hours.
Customize a Trip
Have a question? Get answers from our travel experts or guests
Your Question:

Your Name:

Your Email: