Why Visiting Sichuan Cuisine Museum?
Chengdu is not only the hometown of giant panda, but also the City of Gastronomy designated by UNESCO. To experience comprehensive Sichuan cuisine culture, you should definitely visit Sichuan Cuisine Museum, the first museum to display a regional cooking culture in the world.
Sichuan Cuisine Museum (also Chuancais Museum) is a AAA national museum to display Sichuan local culture, like Sichuan cuisine, Sichuan wine, Sichuan opera, Sichuan tea, Sichuan architecture, Sichuan gardens and so on. You can appreciate more than 6000 pieces of antique and cultural relics related to Sichuan cuisine culture, as well as have a sight view of new style classic garden scenery and traditional western Sichuan style folk houses.
Sichuan Cuisine Museum is the only "EATABLE MUSEUM", showing travelers a new way to experience Sichuan cuisine culture. Taking a visit to this museum, you can not only learn Sichuan cuisine culture by using eyes and ears, but also enjoy it by using mouth and nose. Interesting, meaningful and featured activities are specially designed from you enter the museum to leave. The highlighted experience for your visit should be the typical Sichuan dishes cooking under the guidance of the professional chef. There is arguably no better way to know more about a cuisine than learning how to cook it yourself. By cooking on your own, you'll have in-depth understanding about slicing technique, fire control, the procedure of accomplishing the dish and of course, get some ideas about the essences of Sichuan cuisine. Start your exploration from Sichuan Cuisine Museum, enjoy different aspects of Sichuan cuisine, satisfy your curiosity and taste buds and experience all fun for "Playing with Chuancais".
Sichuan Cuisine Museum Layout
Sichuan Culture Museum has an area of 27000 square meters with abundant tourism resources including beautiful natural scenery, cultural tourism, shopping, leisure and education.
There are seven theme area including
● Classical Collection Hall
● Raw Material Display Area
● Kitchen God Ancestral Hall
● Old Sichuan Cuisine Restaurant Street
● Raw Material and Processing Tools Display Area
● Interactive Demonstration Hall
● Sichuan Tea House
Click to Enlarge Map of Sichuan Cuisine Museum
Highlights & Experience to Do in Sichuan Cuisine Museum
Taste Different Kinds of Sichuan Food
In the Sichuan Cuisine Museum, you can eat freely to satisfy your taste buds. Try Sichuan style stuffed pancake, northern Sichuan style jelly, Tofu pudding, Zhong dumplings, Sichuan pickles, golden thread like noodles, fruits, local style wine, etc.
Appreciate Treasures in Classical Collection Hall
Entering into the hall, you can have close view of about 6000 pieces of antiques which include a huge assortment of kitchen wares, books, pictures and manuscripts which faithfully record the history of Sichuan culinary culture dating back more than 3000 to the Ancient Shu Kingdom. In this museum, you can see the "Treasure of Sichuan Cuisine Museum", the most expensive pickle jar worth 4 million RMB.
Know How Pixian Chilly Bean Paste Made
In the Raw Materials Display Area, travelers can know many kinds of raw materials of Sichuan cuisine, have a look at the organic vegetables garden and the roaming poultry and immerse themselves in traditional Sichuan cooking practices with 300 years' history, like Flipping, Sun-burning and the technique of dewing used in making of the famed Pixian Chilly bean paste.
Worship Kitchen God
Respected as the master of all Chinese chefs, the Kitchen God is one of the most important parts of Sichuan traditional folk culture. Sichuan Cuisine Museum has the biggest Kitchen God Ancestral Hall in the world. Worshiping him will remind us to cherish food and to establish harmonious coexistence with the nature.
Experience Traditional Tools
Catch the chance to know all kinds of food processing tools. Make chili powder with pestle from the Qing Dynasty; experience making bean curd pudding with the grinding machine and taste delicious spicy or sweet bean curd pudding.
Take Part in Sichuan Cuisine Cooking Class
In the VIP cooking classroom, change into special chef uniform and begin to learn to cook three classic Sichuan dishes under the guidance of professional Chunancais specialist. Know how to cut, control fire and the whole process to the dish. With an enjoyment to senses of sight, smell, taste and touch, you can have better understanding about "Hundreds of dishes boasts hundreds of flavors", "blending of five basic flavors in a variety of way may create myriads of flavors". Your master will try and comment on your dishes and award you with the official certificate of "Mater of Chuancais".
Foreigners Experience Making Pixian Chilly Bean Paste
Bilingual Teacher Guide You to Cook Sichuan Food
Make Cute Panda Dessert
Classic Trip Schedule with Cooking Class
Usually, there are two kinds of time arrangements to explore Sichuan Cuisine Museum, one is in the morning from 09:50 to 13:40 or after, and the other is in the afternoon from 13:50 to 17:40 or after. You can choose your favorite one to well suit for your time. Activities are well designed to experience all the essence of Sichuan cuisine culture. The highlighted part should be the Cooking Class to make your favorite Sichuan dishes on your own. Check the below schedules with detailed activities to inspire yourselves now!
| Morning | Afternoon | Activities |
| --- | --- | --- |
| 09:50 | 13:50 | Begin your gourmet journey to taste different kind of Sichuan snacks including Sichuan style stuffed pancake, northern Sichuan style jelly, Tofu pudding, Zhong dumplings, Sichuan pickles, golden thread like noodles, etc. |
| 10:00 | 14:00 | Visit this Sichuan Style Garden by viewing Han-dynasty brick, rosewood screen, Shu embroidery in Qing Dynasty, hand-carving wooden door, etc. |
| 10:10 | 14:10 | Learn about the development of Sichuan cuisine history and traditional culture and appreciate more than 6000 pieces of cultural relics. |
| 10:40 | 14:40 | Get to Know the Raw Ingredients for Chuancais by having a look at the organic vegetable garden and the roaming poultry, experience the traditional manufacturing techniques of flipping, sun-burning and dewing to make Pixian chilly bean paste. |
| 10:55 | 14:55 | Worship God Kitchen – the master of all Chinese chef. |
| 11:10 | 15:10 | Walk through the Street of Old Sichuan Cuisine Restaurants which have a panoramic representation of Sichuan cuisines. |
| 11:15 | 15:15 | Get to know all kinds of Sichuan food processing tools and experience how the bean curd pudding made with the grinding machine and taste delicious spicy or sweet bean curd pudding. |
| 11:30 | 15:30 | Cook three typical Sichuan cuisine under the guidance of Chuancai specialist and experience the excitement of cooking with the firsthand experience from cutting skills, controlling of heat, cooking process and finally accomplish your dish. Get certificate awarded by renowned chef. |
| 12:40 | 16:40 | Share and enjoy your dishes. |
| 13:40 | 17:40 | Finish your lunch/dinner and sip tea to experience the leisure as "Chengduer". If you like, try to play cards or mahjong. |
>> 1 Day Chengdu Tour with Giant Pandas & Cooking Class
>> 2 Days Chengdu Gourmet Tour with Cooking Class
Partake in Cooking Class
(Please Note: the above arrangements may be adjusted according to the seasons, weather, etc. You can book it all the year round. To learn more about cooking class, please go to Cooking Class in Chengdu for details.)
How to Get to Sichuan Cuisine Museum
Sichuan Cuisine Museum is located at Pidu District, northwest suburb of Chengdu, a bit far away from downtown, about 40km (1 hour' drive) from city center (Tianfu Sqaure). Barely there is no tourist attractions around.
By Taxi: It's very convenient to take a taxi from downtown to Sichuan Cuisine Museum, costing almost 1 hour. But, for the returning trip, it's quite difficult to find a taxi. Meanwhile, one single ride will take more than 100RMB.
By Public Transportation: It's not recommended to get to Sichuan Cuisine Museum through public vehicles, for it's extremely time-consuming and complicated. Normally you need at least 1 to 2 transfers, and cost around 2 to 2.5 hours. Departing from downtown, the fastest way is taking Chengdu Metro Line 2, get off at Xipu Station (犀浦站), and take a express bus to the museum.
Get to Sichuan Cuisine Museum by Private Tour (Top Recommended)
If you want to get rid of hustle of public transportation, troublesome navigation and language communication, you can book a private tour package from China Discovery which covers sightseeing, dining and transfer from us. Our local tour guide and driver will escort you to Sichuan Cuisine Museum and other attractions with speed and convenience, and take care of all the details. You just need to focus on sightseeing.
Useful Travel Tips
1. Free Service you'll Enjoy
a. Private Butler Service and professional escorted by English-speaking Guide;
b. Complimentary photography service.
2. Family with Kids
The activities designed are suitable for family with kids. Kids are never bored here and they have a lot to learn and experience, planting vegetables in spring and autumn, get close to feed the animals, make bean curd pudding with adults, make panda steamed dumplings, etc. If they want, they can also cook other Sichuan dishes and we will arrange special dish for them. If you travel with kids, please tell us beforehand.
3. Cooking Menu
Usually, there are two kinds of cooking menus offered by Sichuan Cuisine Museum. You can choose your favorite one from Menu A and Menu B.
A. Panda steamed dumpling, Kung Pao chicken, Mapo Tofu
B. Pumpkin steamed dumplings, Daqian dry-braised fish, boiled beef in chili sauce

4. Order your favorite dish to Cook
If you have got some ideas to cook your favorite dishes which are different from Menu A and Menu B, please tell us your list about 15 days in advance and our travel consultants will inform the staff at Sichuan Cuisine Museum to prepare the materials.
How to Plan a Chengdu Trip with Sichuan Cuisine Museum
Chengdu is most known as "the Land of Abundance" in China, with three most representative brands: Giant Panda, leisure life and delicious food. Actually, there are more charm hidden in and around Chengdu, including the "Three Kingdom Culture", Sanxingdui civilization, brilliant UNESCO World Herigates. Once you come to Chengdu, you don't want to leave after you really into it.
During your Chengdu city tour, you can visit the Chengdu Panda Base in the morning to see the cute pandas, and visit other attractions in downtown, such as Renmin Park, Jinli Old Street, Kuanzhai Alley, Jinsha Site Museum, Chunxi Road, etc. Like local experience? Try a afternoon tea time in Renmin Park, or watch a Sichuan Opera Show in Shufeng Yayun Opera House, enjoy a cooking class in Sichuan Cuisine Museum. Your Chengdu tour can be interesting and relaxing.
★ Recommended Chengdu Tours :
With more time, travel beyond the city center to nearby Leshan to watch Leshan Giant Buddha and hike the Mount Emei,even you can go further to northwestern Sichuan to Jiuzhaigou Valley and western Sichuan for less-tourist but amazing beautiful scenery. China is vast and rich land, which offers a great variety of great destinations to travel with Chengdu. Therefore, you can expand your trip to Beijing - capital of China, Shanghai - modern metropolis, and Xian - time-honored ancient capital to have a deeper understanding of China.
★ Recommended Tours including Chengdu:
√ 7 Days Sichuan Discovery Tour (Chengdu / Leshan / Emei / Chengdu / Jiuzhaigou)
√ 7 Days Ancient China Tour with Panda (Beijing / Xian / Chengdu)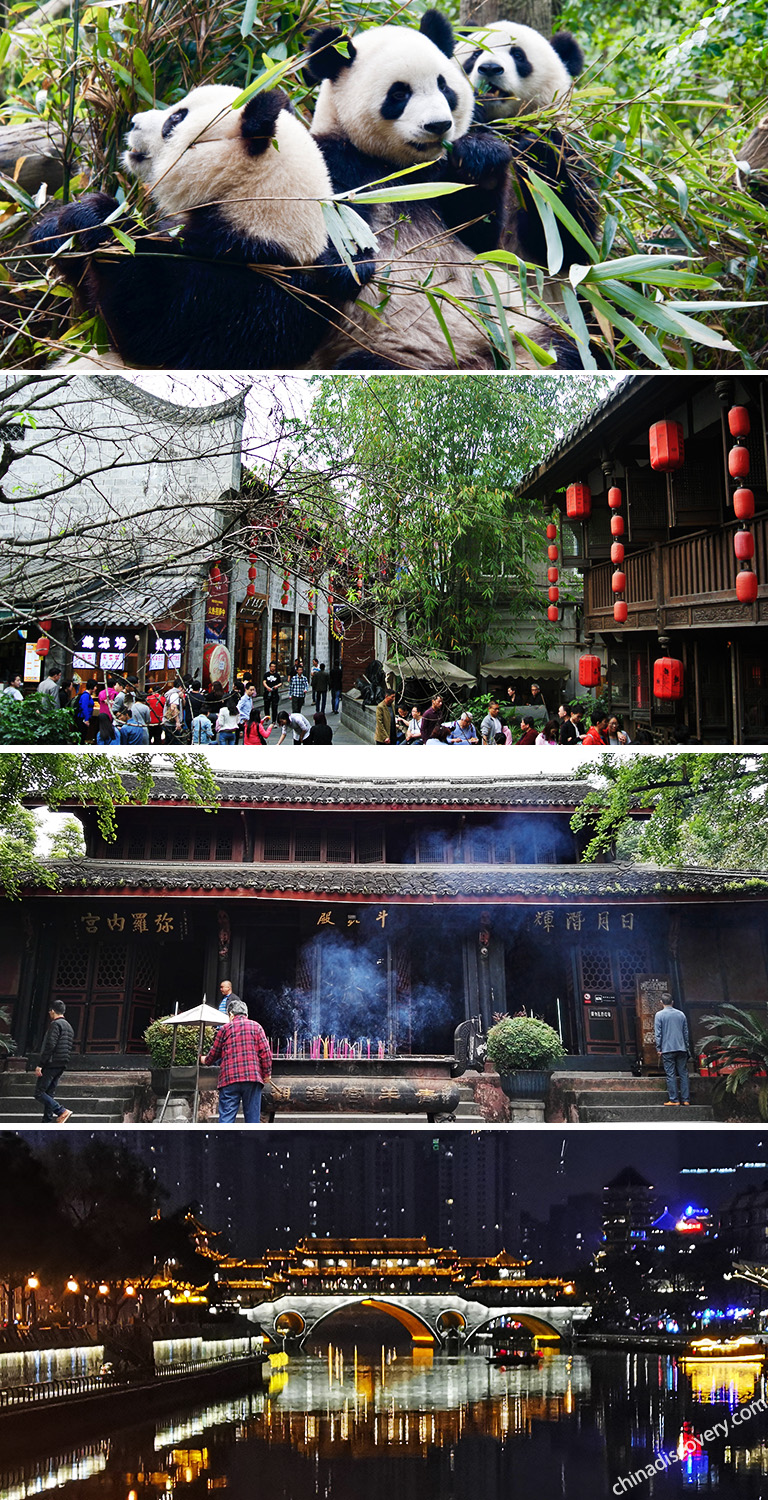 Top Tourist Attractions in Chengdu
Recommended Chengdu Tours
Top 3 Chengdu tours chosen by most customers to explore Chengdu in the best way. Check the detailed itinerary, or tailor your own trip now with us.
2 Days Leisure Chengdu Private Tour with Panda Visit

Chengdu: Jinli Street, Giant Panda Base, Wenshu Temple
2 Days Best Chengdu Food Tour with City Sightseeing

Chengdu / Sichuan Cuisine Museum / Chengdu
Start planning your tailor-made holiday to China by contacting one of our specialists. Once inquired, you'll get a response within 0.5~23.5 hours.
Customize a Trip
Have a question? Get answers from our travel experts or guests
Your Question:

Your Name:

Your Email: