Overview of Renmin Park
Located at Shangcheng Road in the city center of Chengdu City, Chengdu Renmin Park (also known as People's Park) is a comprehensive park which combines local culture with entertainmentf. Covering an area of 112,639m², Renmin Park was first built in 1911. It was first called Shaocheng Park, for back to the old day, Chengdu was divided into two parts - Dacheng and Shaocheng, and the park is located in Shaocheng district, so it's also called Shaocheng Park. Renmin Park is the first park in Chengdu, and at present, it's the relaxing place for locals. Once in the sunny day, you will see lots of local people sitting under the green shade, ordering a cup of green tea and having small talks, or just reading books or playing Mahjong with friends. Many locals, especially seniors will hold all kinds of activities in the park, like dancing, singing or playing chess. Renmin Park is not a tourist attraction, but an epitome for the local life.
Highlights in Renmin Park Chengdu
View Delicate Scenery
As a green park in the city center, Renmin Park has very delicate natural sceneries. The 355m Jinshui Stream has the most beautiful serene water scene, with cobblestone paved at the river base and the road next to the stream. Artificial hill at the eastern gate of the park is a 43m wide and 12m high rock waterfall. Orchid Garden has over 1200 pots and it's the largest one in Chengdu city center. Bonsai Garden has over 200 bonsais, which are the best chance to experience to Chinese bonsai art. The artificial lake in the park covers an area of 1.5 hectares, and tourists can rent a little boat to appreciate the beautiful scenery on the lake. It's really hard to find such a place with so much green in the city center, so Renmin Park is more precious when this fact crosses over your mind.
See Flower Shows
One of the attracting parts of Renmin Park is the various flower shows. Chrysanthemum show in autumn is the most popular flower shows. Chrysanthemum is one of the top 10 famous flowers in China, and it has been planted in China for over 3000 years. Chengdu is one the cultivation center for chrysanthemum. Normally, the chrysanthemum show will start from the end of October and end the end of November. It's a kind of flower feast in Chengdu. Besides the chrysanthemum show, Renmin Park will also hold lotus flower show in summer. Appreciate the stunning lotus flower in summer breeze, what's more relaxing? Spring is also a good time to see flower show. Most flowers will blossom in spring, and to welcome the spring, Renmin Park will often hold spring flower show and tourists can enjoy the warm sunshine with the colorful flowers in the park.
Drink Tea Like the Locals
In fact, for most tourists (including domestic tourists), a must-do in Renmin Park is ordering a cup of tea and spend one afternoon in the park, just have peaceful time in doing nothing but relaxing. This is the perfect place to experience the local life of Chengdu people, and until you spend some time in here, you'll understand why Chengdu is called the "Land of Ease". There are many tea houses in the park, and you can enjoy a cup of green tea at a good price. Among all the tea houses, Heming Tea House (鹤鸣茶社) is the most famous one. Heming Tea House is the best-preserved and largest tea house in the park, and it has a history nearly a hundred year. Besides drinking tea, you can also play Mahjong and enjoy traditional Ear Treatment. The tea house will also serve famous snacks of Chengdu to customers, like Zhong Dumpling and House Special Pancake.
Watch Virous Local Daily Activities
Renmin Park often serves as a free and open place for local seniors to enjoy leisure. It's really interesting and novel to see men and women doing lots of featured amusements, soak in the ambient by watching aunts dancing and singing, the old playing Tai Chi, chess, Qigong, cards, Mahjong, musical instruments, painting on fans, etc. Try the traditional ear cleaning if you are interested in. Another character of Renmim Park is the "Chinese Matchmaking Cornor" where the old post photos and bios of their unmarried son/daughter to find his/her soulmate. They use this old way, instead of online date app to look for right person. A perculiar phenomenon might be only seen in China!
Gingko Scenery
Chrysanthemum Show in People's Park
Foreigner Enjoying Tea Time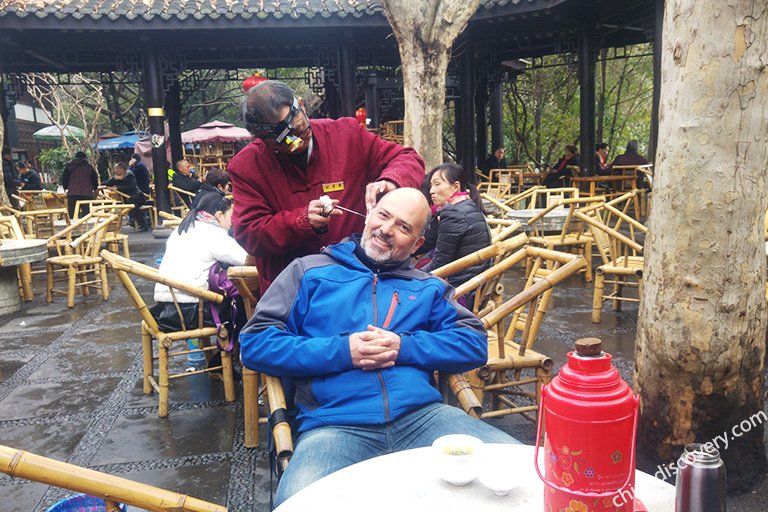 Traditional Ear Cleaning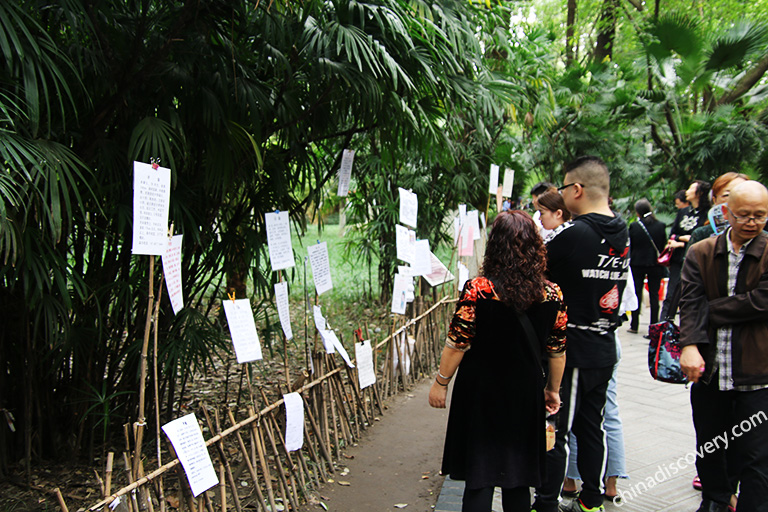 Local Artist Doing Brush Painting on Paper Fans
How to Get to Renmin Park - Location & Transportation
Renmin Park is located in the center of the city and it's very convenient to get there and transfer to other downtown attractions. If you accommodate in central area, you can easily get to Renmin Park (People's Park) by a city bus, subway (Chengdu Metro Line 2, get off at People's Park Station) or a taxi.
about 20km/40-50 minutes' driving from Chengdu Shuangliu International Airport
about 12km/33-40 minutes' driving from Chengdu East Railway Station
about 1.5km/20 minutes' walking from Tianfu Square
about 1km/15 minutes' walking to Kuanzhai Alley
about 2km/15 minutes' driving to Jinli Old Street
about 5km/20 minutes' driving to Du Fu Thatched Cottage
about 6km/20 minutes' driving to Jinsha Site Museum
about 16km/50 minutes' driving to Chengdu Research Base of Giant Panda Breeding
Get to Renmin Park by Our Private Tour (Top Recommended)
If you want to get rid of hustle of public transportation, troublesome navigation and language communication, you can book a private tour package from China Discovery which covers sightseeing, dining and transfer from us. Our local tour guide and driver will escort you to Renmin Park and other attractions with speed and convenience, and take care of all the details. You just need to focus on sightseeing.
Click to Enlarge the Tourist Map of Renmin Park
Attractions Near Renmin Park
The short distance and convenient transportation makes it's popular to visit the downtown scenic spots together with Renmin Park. By which, you can view different types of sites and better know the local culture and history.
Kuanzhai Alley: It is a famous tourist attractions consisting of three historic paralleled alleys from Qing dynasty. A quiet old-style block amidst bustling city center. You can see ancient style buildings, local Chengdu life, taste delicious Sichuan snacks, exquisite Sichuan handicrafts and other representative cultural elements there.
Jinli Old Street: Jinli is something like Muslim Quarter in Xian, where locals and tourists assemble to eat multiple local snacks and food. When lighting the lamps, the night view is very beautiful. Here you can also find gift shops and souveniors.
Du Fu Thatched Cottage: The cottage is the former residence of China's great poet, Du Fu, a notable realistic poet of Tang Dynasty. In this four year's living here, he wrote more than 240 poems and added fresh vitality to Chengdu's culture. Visiting the cottage helps you learn more about Chinese poetry in a serene idyllic house.
Jinsha Site Museum: As a national museum, Jinsha Site Museum displays fantastic cultural relis revealing Chengdu's long history and brilliant civilization.
Wall of Picture in Jing Alley
Daily Life of Ancient People in Jinsha Site Museum
Useful Tips for Visiting Renmin Park Chengdu
1. About Ticket
Renmin Park is free to pubic in most time, however, sometimes, the park will require an entrance fee when there are large-scale seasonal flower shows or when there is a major festival. During the flower show, the entrance ticket usually is ¥12/person; during a major festival, the entrance ticket is ¥8/person.
2. Best Time to Go
You can visit Renmin Park all year around. However, if you love flowers, then it's best to visit the park when it holds flower show. Major flower shows will be hold in spring, summer and autumn. The temperature during these seasons is also comfortable. Though Chengdu's summer may be a little bit hot, however, you will find a cool place in the park. Summer tea time by the pond is highly recommended.
How to Plan a Chengdu Trip with Renmin Park
Chengdu is most known as "the Land of Abundance" in China, with three most representative brands: Giant Panda, leisure life and delicious food. Actually, there are more charm hidden in and around Chengdu, including the "Three Kingdom Culture", Sanxingdui civilization, brilliant UNESCO World Herigates. Once you come to Chengdu, you don't want to leave after you really into it.
During your Chengdu city tour, you can visit the Chengdu Panda Base in the morning to see the cute pandas, and visit other attractions in downtown, such as Jinli Old Street, Kuanzhai Alley, Jinsha Site Museum, Chunxi Road, etc. Like local experience? Try a afternoon tea time in Renmin Park, or watch a Sichuan Opera Show in Shufeng Yayun Opera House, enjoy a cooking class in Sichuan Cuisine Museum. Your Chengdu tour can be interesting and relaxing.
★ Recommended Chengdu Tours :
With more time, travel beyond the city center to nearby Leshan to watch Leshan Giant Buddha and hike the Mount Emei, even you can go further to northwestern Sichuan to Jiuzhaigou Valley and western Sichuan for less-tourist but amazing beautiful scenery. China is vast and rich land, which offers a great variety of great destinations to travel with Chengdu. Therefore, you can expand your trip to Beijing - capital of China, Shanghai - modern metropolis, and Xian - time-honored ancient capital to have a deeper understanding of China.
★ Recommended Tours including Chengdu:
√ 7 Days Sichuan Discovery Tour (Chengdu / Leshan / Emei / Chengdu / Jiuzhaigou)
√ 7 Days Ancient China Tour with Panda (Beijing / Xian / Chengdu)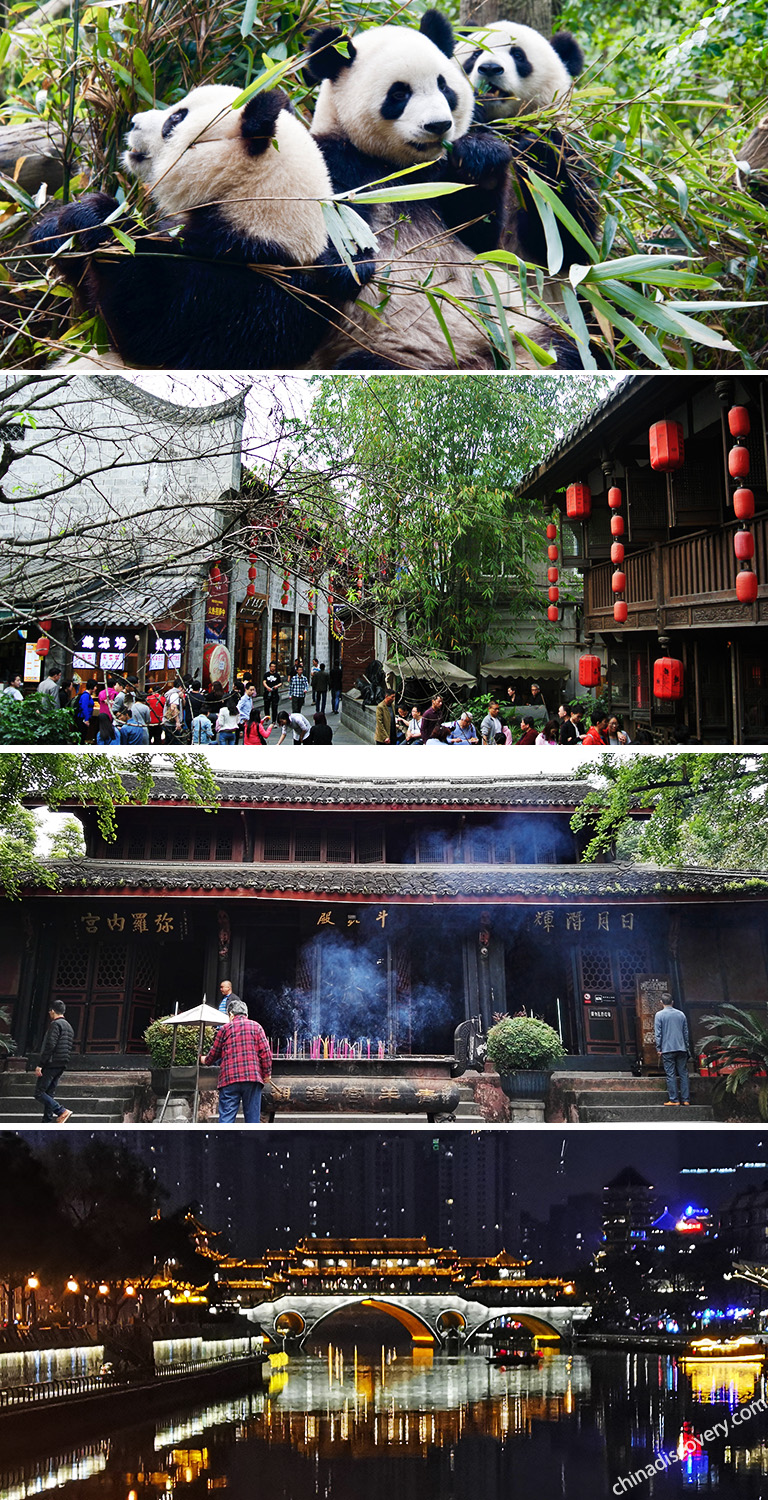 Chengdu Top Tourist Attractions
Top Attractions in Chengdu
Useful Chengdu Travel Guide
Recommended Chengdu Tours
Top 3 Chengdu tours chosen by most customers to explore Chengdu in the best way. Check the detailed itinerary, or tailor your own trip now with us.
2 Days Leisure Chengdu Private Tour with Panda Visit

Chengdu: Jinli Street, Giant Panda Base, Wenshu Temple
1 Day Chengdu Relaxing Panda Highlights Tour

Chengdu (Chengdu Banda Base, People's Park, Jinli Old Street)
3 Days Chengdu Highlights Tour plus Leshan Giant Buddha

Chengdu: Chengdu Panda Base, Leshan Giant Buddha, Jinli Street
Start planning your tailor-made holiday to China by contacting one of our specialists. Once inquired, you'll get a response within 0.5~23.5 hours.
Customize a Trip
Have a question? Get answers from our travel experts or guests
Your Question:

Your Name:

Your Email: