Impression on Qingyang Palace
With a long history back to Zhou Dynasty, Qingyang Palace is hailed as the No. 1 Daoist Temple in Western Sichuan and the No. 1 Temple in Southwest China and most people come here to pray by offering candles and joss sticks. Qingyang Palace is also listed in National Key Taoist Temples and Sichuan Key Cultural Protected Units.
Legendary about Laozi and Qingyang Palace
Laozi is a philosopher in the Spring and Autumn Period and the founder of Taoism. It is said that Laozi expounded the texts of Tao Te Ching to an official Guan Yin when he stayed in Hangu Pass. However, he hurried to leave before whole Tao Te Ching explained. He asked Guan Yin to meet him in Qingyang Palace in one thousand days later. Finally, they both turned up on time and went on expounding the text. From then on, Qingyang Palace was granted regarded as a gathering place of immortals.
Layout & Architectures of Qingyang Palace
Qingyang Palace shows a neat layout of architecture with 6 main buildings in one axis and they are Front Gate, Hunyuan Hall, Hall of Three Purities, Hall of Goddess Doumu, Hall of Jade Emperor, and Hall of Tang Emperors from south to north. The Halls show a traditional Chinese Taoist Style by Glazed-tiles-decorated roof, animals-carved pillar and several and symbolism and the eternal duality of Ying-Yang.
Laozi is Giving Lecture
Front Gate
Main Attractions in Qingyang Palace
Front Gate: Front Gate is the first building you can see in Qingyang Palace in which hangs a horizontal tablet inscribed with three golden Chinese characters "青羊宫". The beautiful calligraphy which is wrote by An Hongde, a county magistrate in Qing Dynasty became a cultural relic.
Hunyuan Hall: Entering Qingyang Palace through Front Gate and walking across the stony road with lofty ginkgo trees lined on two sides,the building in front of you is Hunyuan Hall in which the statues of Taishang Laojun and Ci Hang Immortal are enshrined. Hunyuan Hall is supported by 28 columns and covers about 600 square meters.
Eight-Diagram Pavilion: A three-story octagonal Pavilion situated between Hunyuan Hall and Hall of Three Purities is Eight-Diagram Pavilion. Being a landmark of Qingyang Taoist Temple, it features a square foundation and a cylindrical body which means theory of "a square earth and spherical heavens". The pavilion is gorgeous stone and knotty-wood building without one peg or stopper. Slate handrails in two stories are all octagonal and eaves in each story are inscribed with lions, elephants, tigers and any other mythical creatures. Among the 16 columns made by giant rocks, there are 8 columns are carved with flying dragons by the technique of relief combined with hollow-out which become infrequent stone carving art.
Hall of Three Purities Hall of Three Purities, also called Wuji Hall, is the main hall which is built in Tang Dynasty and rebuilt in Qing Dynasty and covers an area of 1600 square meters. The icons of the supreme Taoist lords, the Three Purities are enshrine in this hall. A big bell stands in the left diagonal front of Hall of Three Purities while a drum stands in the right diagonal front. In every lunar 1st day,15th day and auspicious festival, Taoist monks in Qingyang Palace will beat the bell and drum. There are two bronze goats sit in front of Hall of Three Purities and they are said to bring good fortune if visitors touch them
Hall of Goddess Doumu: Hall of Goddess Doumu (Doumu is the mother of the Big Dipper), also called Yuanchen Hall, is about 10 meters long, 9 meters wide and built in Ming Dynasty. The statue of Pure Vital Breath Primordial Sovereign of the Big Dipper and the Supreme Goddess of Earth and Queen Mother are enshrined in Hall of Goddess. On the back side stands a big screen wall with two Chinese Characters Lu, Shou, Fu which mean wealth, longevity and good fortune. It is said that people stretch one hand and go to screen wall from the censer with eyes closed, he will get what the characters mean if he successes to touch one character.
Hall of Jade Emperor: First built in Qing Dynasty and then rebuilt in 1995, Hall of Jade Emperor is a storied hall with the statue of the Great Jade Emperor enshrined upstairs and statues of the Three Emperor-Officials enshrined downstairs..
Hall of Tang Emperors: Hall of Tang Emperors is the last but highest hall where the statues of Li Yuan (first emperor) in Tang Dynasty, his wife and his son emperor Li Shimin enshrined. The statues of four famous officials are enshrined in two sides of the hall, including Yuchi Gong and Qin Shubao on the right while Weizheng and Lijing on the left.
√ 3 Days Chengdu & Mt. Qingcheng Taoism Tour with Dujiangyan
Hunyuan Hall
Eight-Diagram Pavilion
Bronze Goat in Qiangyang Palace
Hall of Goddess Doumu
How to Get to Qingyang Palace
Qingyang Palace is situated in the west First Ring Road of Chengdu with convenient traffic condition. It is next to the Chengdu Culture Park and very close to Kuanzhai Alley and other downtown attractions.
about 2km (30 minutes by walk) to Kuanzhai Alley
about 800m (15 minutes by walk) to Sichuan Museum
about 2km (10 minutes by car) to Du Fu Thatched Cottage
about 3km (8 minutes by car) to People's Park
about 20km (30 minutes by car) to Chengdu Research Base of Giant Panda Breeding
You can take city bus, Chengdu Metro Line 5 (get off at Qingyang Palace Station and will see the temple), take Chengdu Metro Line 2/Line 4 (get off at Chengdu University of TCM & Sichuan Provincial People's Hospital Station and walk about 10 minutes), or get a taxi to reach Qingyang Palace.
Get to Qingyang Palace by Private Tour (Top Recommended)
If you want to get rid of hustle of public transportation, troublesome navigation and language communication, you can book a private tour package which covers sightseeing, dining and transfer from us. Our local tour guide and driver will escort you to Qingyang Palace and other attractions in & around Chengdu with speed and convenience, and take care of all the details. You just need to focus on sightseeing.
Qingyang Palace Location Map (click to enlarge)
Warm Tips for Visiting Qingyang Palace
Best Time to Go: Qingyang Palace is a religious site more than a natural, so weather doesn't make much difference. But you can feast your eyes on blooming flowers on lunar 25th February when Temple Fair and Flowery Fair both take place.
About Packing: Because of the large amount of green plants, the mosquitoes are rife and taking mozzie repellent is necessary in summer.
Less Crowds: Tourists in Qingyang Palace is less than other spots, like Kuanzhai Alley and Jinli Old Street. Thus, you can enjoy this quiet temple more leisurely.
How to Plan a Chengdu Trip with Qingyang Palace
Chengdu is most known as "the Land of Abundance" in China, with three most representative brands: Giant Panda, leisure life and delicious food. Actually, there are more charm hidden in and around Chengdu, including the "Three Kingdom Culture", Sanxingdui civilization, brilliant UNESCO World Herigates. Once you come to Chengdu, you don't want to leave after you really into it.
During your Chengdu city tour, you can visit the Chengdu Panda Base in the morning to see the cute pandas, and visit other attractions in downtown, such as Renmin Park, Jinli Old Street, Kuanzhai Alley, Jinsha Site Museum, Chunxi Road, etc. Like local experience? Try a afternoon tea time in Renmin Park, or watch a Sichuan Opera Show in Shufeng Yayun Opera House, enjoy a cooking class in Sichuan Cuisine Museum. Your Chengdu tour can be interesting and relaxing.
★ Recommended Chengdu Tours :
With more time, travel beyond the city center to nearby Leshan to wacth Leshan Giant Buddha and hike the Mount Emei,even you can go further to northwestern Sichuan to Jiuzhaigou Valley and farther Sichuan for less-tourist but amazing beautiful scenery. China is vast and rich land, which offers a great variety of great destinations to travel with Chengdu. Therefore, you can also expand your trip to Beijing - capital of China, Shanghai - modern metropolis, and Xian - time-honored ancient capital to have a deeper understanding of China.
★ Recommended Tours including Chengdu:
√ 7 Days Sichuan Discovery Tour (Chengdu / Leshan / Emei / Chengdu / Jiuzhaigou)
√ 7 Days Ancient China Tour with Panda (Beijing / Xian / Chengdu)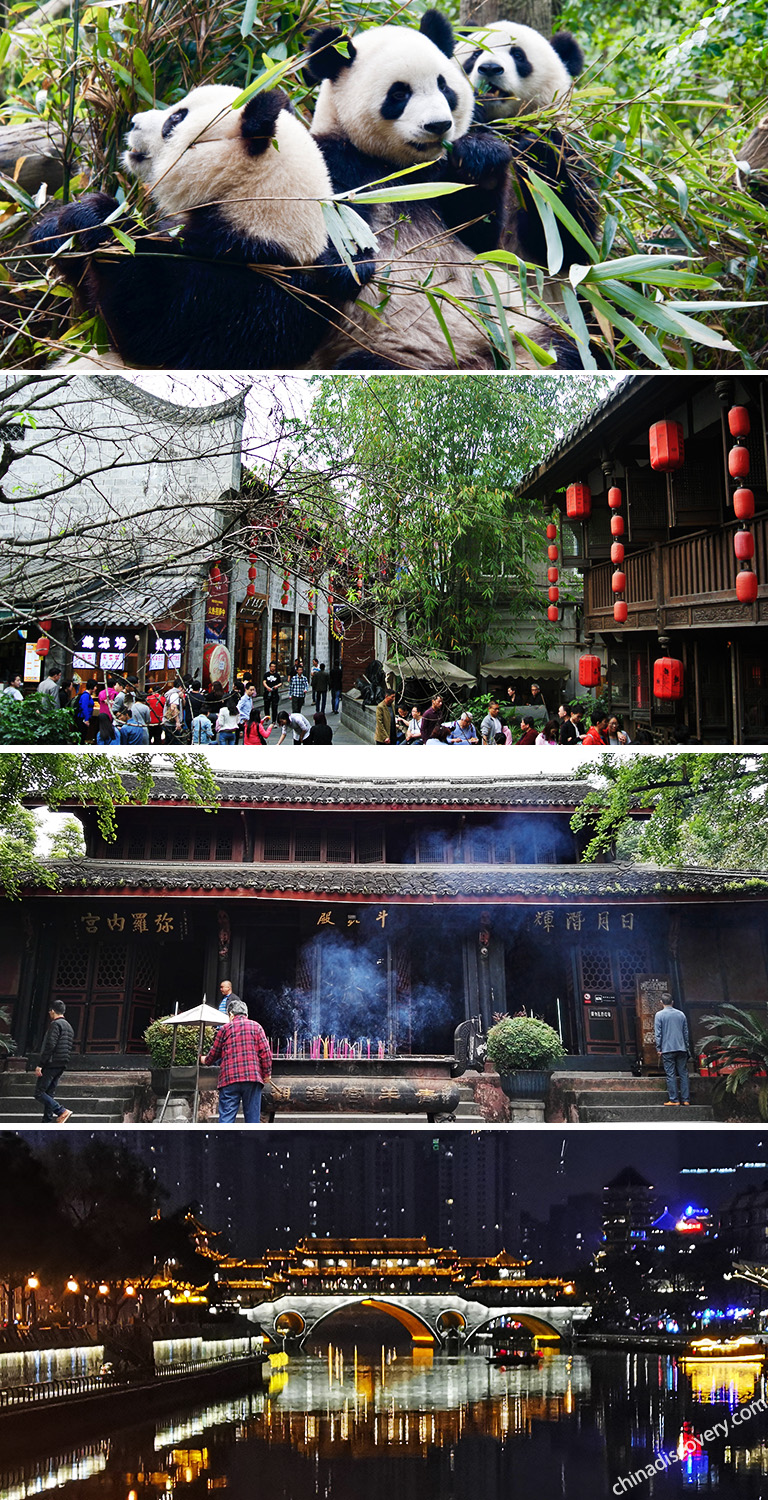 Top Chengdu Tourist Attractions
Top Attractions in Chengdu
Useful Chengdu Travel Guide
Recommended Chengdu Tours
Top 3 Chengdu tours chosen by most customers to explore Chengdu in the best way. Check the detailed itinerary, or tailor your own trip now with us.
2 Days Leisure Chengdu Private Tour with Panda Visit

Chengdu: Jinli Street, Giant Panda Base, Wenshu Temple
3 Days Chengdu Highlights Tour plus Leshan Giant Buddha

Chengdu: Chengdu Panda Base, Leshan Giant Buddha, Jinli Street
4 Days Classic Leshan Buddha & Mount Emei Tour from Chengdu

Chengdu / Leshan / Mt. Emei / Chengdu
Start planning your tailor-made holiday to China by contacting one of our specialists. Once inquired, you'll get a response within 0.5~23.5 hours.
Customize a Trip
Have a question? Get answers from our travel experts or guests
Your Question:

Your Name:

Your Email: