Brief Impression about Huanglongxi Ancient Town
Huanglongxi Ancient Town features in water culture, Buddhism culture, tea culture, ecologic farming culture integrated with colorful folklore culture, screen culture and cooking culture. For its rich natural landscape resources and humanistic and cultural tourism resources, it is famed as Historic & Cultural Town, the Hometown of Chinese Folk Art (Fire Dragon). And being a national film and television photography base, it is also called Film City and Chinese Hollywood. Besides, it was The Home of Tea and The Ancient Tea Horse Road in the ancient times on account of its rich experience in growing tea.
Layout & Architecture of Huanglongxi Ancient Town
Huanglongxi Ancient town still keeps the planning style and layout as it was in Qing Dynasty (A.D. 1636-1912) which is made up of 7 streets and 9 allies on which 76 Western Sichuan style houses are scattered. In Zheng Street, the main street stands three temples. In addition, there are 6 over 1000-year-old banyans in Huanglongxi Ancient Town which make a unique view different from other ancient towns.
What to see in Huanglongxi Ancient Town
Ancient Blocks: 7 streets and 9 allies are all paved by cobblestone and lined with balustrades type stilted buildings in which you can enjoy orderly aligned old porches and pillars.
Ancient Temples: Gulong Temple is the oldest temple in Huanglongxi Ancient town. It stays in the south of Zheng Street and faces north and features ancient temple, ancient drama stage and ancient banyans. The drama stage, on the front gate of ancient temple, it covers 103 square meters. Among 9 drama stage of Huanglongxi in old times, it is the only existing one. Two banyans grown in the temple are said to be sacred trees and one touch keeps you away from sickness and disaster. Another two temples are Zhenjiang Temple and Chaoyin Temple located in middle and north of Zheng Street.
Old banyans: 6 old banyans brought much pleasure and a sense of vicissitudes to Huanglongxi with its twisted roots and gnarled branches. There are many interesting legends about these trees, one most famous is about Zhuge Liang. It is said that Zhuge Liang found the soil on the river bank was soft when he visited Huanglongxi town, so he thought only one big enough tree would be helpful to prevent collapsing. At night, he dreamt of an elderly man who told him a tree Zhuge Liang needed was in the mountain nearby. Luckily, Zhuge Liang succeeded in finding a big tree in that mountain and saved Huanglongxi out of being collapsed. People named this tree Zhuge Tree in order to memorize Zhuge Liang.
Chen's Watermill: Chen's Watermill dates back to Qing Dynasty. It played an important role because all grain in ancient Huanglongxi town was grinded here. Now, Chen's Watermill became an island and many people are attracted to recollect the old times of farming
Huanglongxi Ancient Town
Zhenjiang Temple in Huanglongxi Ancient Town
Chen's Watermill in Huanglongxi Ancient Town
What to Do in Huanglongxi Ancient Town
Stroll Alongside the Running Stream
Being encircled by two rivers, Huanglongxi Ancient Town has many worthwhile scenic spots. Strolling alongside the running stream or dabbling in the water is must-do in summer. With water overwhelming your insteps or splashed on your body and laughter reaching into your ears, you will have a feeling of coolness and pleasure.
Dress in Traditional Chinese Costumes
Dressing in traditional costume and taking pictures by the stream is quite popular. After all, one hundred and eighty ancient-costume movies were shot here. You can easily find several shops for renting out Chinese traditional costumes. Spend 25 RMB in renting one and then you can experience a life in Ancient China.
Taste Local Snacks
Delicious snacks such as One-strand-noodle, Sesame Pudding, Crisp Pork Legs, Yellow Catfish, Pearl Tofu Pudding, Tiny Fish and all sorts of candies become a "landmark" of Huanglongxi Ancient town and draw many foodies to satisfy their stomachs. In this paradise of snacks, Yellow Catfish is the most welcomed one for it is one kind of fish with tender meat but without any fishy smell. One-strand-noodle is another enjoyment which you can't miss.
Playing Water in Huanglongxi Ancient Town
Snacks in Huanglongxi Ancient Town
√ 2 Days Chengdu Highlights Tour with Huanglongxi Ancient Town
Huanglongxi Ancient Town Location & Transportation
Where is Huanglongxi Ancient Town
Huanglongxi is an old town sitting in the southwest suburb of Chengdu, and under the administration of Shuangliu County, about 45 km (1 hour's drive) away from Chengdu downtown
How to Get to Huanglongxi Ancient Town
There are shuttle buses to Huanglongxi Ancient Town from Xinnanmen Bus Station, Chadianzi Bus Station and Chengdu East Bus Station. If you want to get rid of hustle of public transportation and troublesome navigation, you can book a private tour package which covers sightseeing, dining and transfer from us. Our local tour guide and driver will escort you to Huanglongxi Ancient Town with speed and convenience, and take care of all the details. You just need to focus on sightseeing.
Warm Tips of Huanglongxi Ancient Town Travel
It rains a lot in summer, so it is necessary to take an umbrella or light raincoat if you visit Huanglongxi Ancient Town in summer.
It is suggested that you buy your return ticket as soon as you arrive in Huanglongxi Ancient town, and remember the last bus leave in 17:30 on workday and 19:00 on weekends and vocation.
Fire dragon dance in Huanglongxi Ancient Town is nationally renowned and you can watch it on lunar 15th day of the 1st month.
Boating in Huanglongxi lake is also a good choice, the price varies but is reasonable
During summer, Huanglongxi Ancient Town is a hot spot for local family travelers with children. It can be crowded at weekends and during public holiday.
You can find some interesting and nice souvenirs when visiting shops in the old town.
How to Plan a Chengdu Trip with Huanglongxi Ancient Town
As Huanglongxi Ancient Town is a little far from Chengdu downtown and it is a pleasant place to stick around, it is recommended to set aside one day of your Chengdu trip in this ancient town. Apart from that, you can spend another day meeting the cute pandas in Chengdu Panda Base in the morning Then go see some exquisite Buddhist architecture in Wenshu Monastery, have a cup of tea in Renmin Park and taste local snacks in Jinli Old Street.
★ Recommended Chengdu Tour with Huanglongxi Ancient Town:
√ 2 Days Chengdu Highlights Tour with Huanglongxi Ancient Town
If you plan to spend more days travelling, there are other attractions such as Kuanzhai Alley, Dufu Thatched Cottage, Jinsha Site Museum in Chengdu city, and wonderful UNESCO World Herigates like Jiuzhaigou, Leshan, Emeishan in Sichuan Province, or you can expand your trip to Beijing - capital of China, Shanghai - modern metropolis, and Xian - time-honored ancient capital to have a deeper understanding of China.
★ Recommended Tours including Chengdu:
√ 7 Days Sichuan Discovery Tour (Chengdu / Leshan / Emei / Chengdu / Jiuzhaigou)
√ 7 Days Ancient China Tour with Panda (Beijing / Xian / Chengdu)
If you have more questions about a Chengdu Huanglongxi Ancient Town trip, please feel free to contact us. We are specialized in customized tours according to your interests, budget, traveling time, etc. Just tell us your needs, and we will provided you with a satisfactory tour.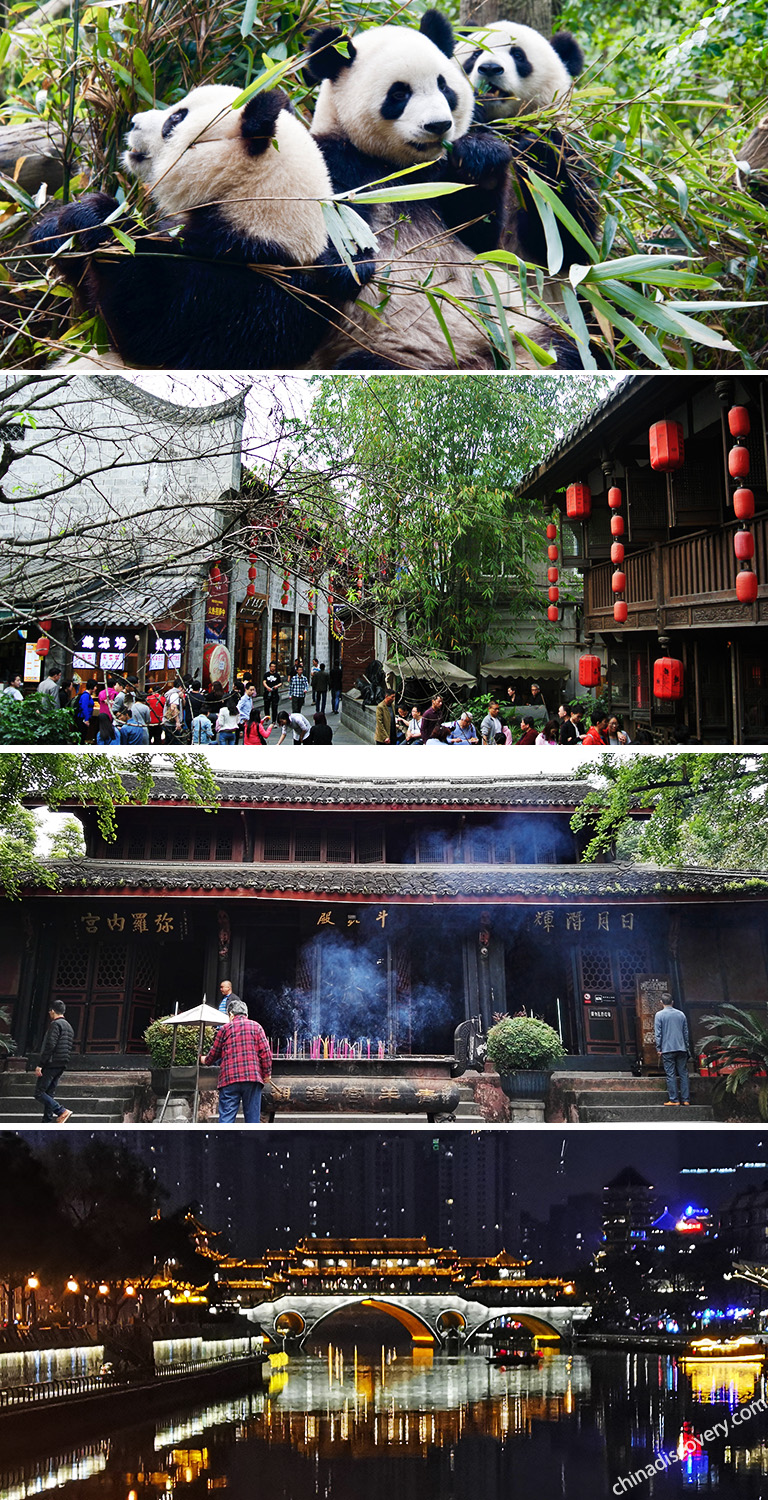 Chengdu Attractions
Top Attractions in Chengdu
Useful Chengdu Travel Guide
Recommended Chengdu Tours
Top 3 Chengdu tours chosen by most customers to explore Chengdu in the best way. Check the detailed itinerary, or tailor your own trip now with us.
2 Days Leisure Chengdu Private Tour with Panda Visit

Chengdu: Jinli Street, Giant Panda Base, Wenshu Temple
2 Days Mount Emei Leshan Giant Buddha Smart Tour

Chengdu / Mount Emei / Leshan Giant Buddha / Chengdu
2 Days Classic Chengdu Tour with Huanglongxi Ancient Town

Chengdu / Huanglongxi Ancient Town / Chengdu
Start planning your tailor-made holiday to China by contacting one of our specialists. Once inquired, you'll get a response within 0.5~23.5 hours.
Customize a Trip
Have a question? Get answers from our travel experts or guests
Your Question:

Your Name:

Your Email: