Brief Introduction of Chunxi Road
Chunxi Road (春熙路) is in fact a business circle consists of several streets in about 20 hectares and is the label of fashion of Chengdu. Also, it has been regarded as the "3rd business street in China" that has high indexes of sightseeing, food, transportation, rest area, popularity and business, with Causeway Bay in Hong Kong and Nanjing Road in Shanghai being the top two. Built in 1924, Chunxi Road was named after an allusion in "Tao Te ching" to describe its flourishing scene. Till now, it has been always hustle and bustle of large crowds for nearly 100 years, and you can not only shop in diverse stores from inexpensive to high end, but also enjoy delicious food from home and abroad while appreciating the passers-by. After the running of Metro Line 2 that containing the Chunxi Road Stop, Chunxi Road has gained another group of visitors and shoppers. Since it is the top prosperous areas in this city, it will be a regret if you go to Chengdu but fail to visit Chunxi Road.
What to See & Experience at Chunxi Road
Chunxi Road is more than a shopping district, but a very good place to have fun, take a rest, taste various types of food of Chengdu and the whole world, and experience the local life of Chengdu and the traditional culture. So you can find a lot of interesting things while visiting here.
Have Fun in Shopping Paradise
Chunxi Road is abundant with shops selling fashionable clothes, shoes, ornaments, etc. to dazzle the eyes when you walk on the road. There are still some century-old shops providing qualified commodities, like Hendry Watch & Clock Shop, Jinyi Eyeglasses Store. Besides, as the economy of Chengdu gradually develops, several top-brand shopping malls with advanced services have been opened in Chunxi Road, where you can buy import items and advanced fashionable clothes, etc. like, Wangfujing Shopping Mall, IFS, Ito-Yokado, Chicony Plaza, etc.
Taste Chengdu Gourmet & World Food
Walking on the wide street paved with granites, you can see people queuing to taste delicious food in different restaurants of honored brands, like spicy Hot Pot, Long Chaoshou (龙抄手), which is a "must taste" snack in Chengdu and the store on Chunxi Road is the headquarter. Zhong Dumplings (钟水饺) and Lai Tangyuan (赖汤圆, Rice Dumpling) are also very tasteful. Moreover, a series of western fast food restaurants and coffee shops, tea houses are plentiful here in Chunxi Road, such as, KFC, Starbucks, Haagen-Dazs, etc.
Appreciate the Bustling Scene
Walking along Chunxi Road, you can see different scenes but are all filled with local culture of Chengdu. Many fashionable young ladies are shopping in diverse stores; buyers are bargaining with storekeepers, couples of friends are enjoying snacks and laughing to the fullest; elder people are taking a rest on the benches in Yat-Sen Square (中山广场) and other adjacent streets where water pools and landscapes are decorated skillfully. You can enjoy a cup of tea or coffee here and watch those interesting local life scenes.
Bustling Scene at IFS Shopping Mall
Delicious Long Chaoshou in Chunxi Road
Interesting Statues in Chunxi Road
Attractions Near Chunxi Road
Since Chunxi Road enjoys a very advantageous location in Chengdu, there are a series of worth-visiting attractions nearby.
Sino-Ocean Taikoo Li, Chengdu
Taikoo Li (太古里) for short, is a particular group of buildings of Chinese courtyard, ancient streets mixed with full height glass wall. Here in this open and low-density shopping center of about 100, thousand square meters wide, you can find many international brands, such as Gucci, Hugo Boss, and so on. It is also a great place for foodie to discover, like those Michelin star restaurants. Moreover, Taikoo Li collects most fashion, culture and entertainment here, visitors can read books in the Fang Suo Commune (方所, a characteristic book store), enjoy a movie in the Palace Cinema, and appreciate the traditional but modern constructions here. You can get there walking 1 min from the Exit B of Chunxi Road Stop, Metro Line 2.
Daci Temple
Walking about 8 mins northwest from Taikoo Li, you can reach Daci Temple (大慈寺) that was called the "No. 1 Buddhist Monastery in China" in the 4th Century. This monastery was first built more than 1,600 years ago and is famous for its long history, profound Buddhist culture, large scale, and a tremendous number of eminent monks. It's said that the famous and respectable monk Xuan Zang (玄奘) formally became a monk in Daci Temple in 622 AD. Here preserves a serious of excellent paintings of Buddhism and the story about Xuan Zang and many other precious excavated cultural relics. You can visit Daci Temple to admire the grand and solemn buildings and experience the rich culture of Buddhism in Chengdu, and feel the obvious contrast of ancient and modern China.
Other Tourists Attractions Nearby: Tianfu Sqaure, Chengdu Museum (New), Sichuan Science & Technology Museum.
Taikoo Li
Daci Temple
Sichuan Science and Technology Museum
How to Go to Chunxi Road
Chunxi Road is at the most prosperous area in downtown Chengdu, so you can choose various vehicles to get there like, city bus, subway, etc. and it takes only about 8 mins to take a taxi from Tianfu Square at the center of Chengdu.
Get to Chunxi Road by Subway
You can take the Chengdu Metro Line 2 or Chengdu Metro Line 3 to Chunxi Road Stop and come out from the Exit D.
Get to Chunxi Road by Private Tour (Top Recommended)
If you want to get rid of hustle of public transportation and troublesome navigation, you can book a private tour package which covers sightseeing, dining and transfer from us. Our local tour guide and driver will escort you to Chunxi Road with speed and convenience, and take care of all the details. You just need to focus on sightseeing.
Click to Enlarge the Map of Chunxi Road
Accommodate at Chunxi Road
Numerous hotels and hostels of various types are located in and near Chunxi Road. Also, it's super conveninet to transfer from the area to major scenic spots. So Chunxi Road is a popular and one of the best recommended acommodation area for tourists.
Luxury Hotels
The Temple House (in Taikoo Li), Rhombus Park Aura Chengdu Hotel (near Taikoo Li), Niccolo Chengdu Hotel (In IFS), Crowne Plaza
Comfort Hotels
Sichuan Minshan Anyi Hotel, Chengdu Greenland Hotel, Chengdu Yinhe Dynasty Hotel
Economy Hotels
Old Chunxi Inn (in Chunxi Hotel), Holiday Inn Express Gulou Chengdu
Find more recommended Chengdu Luxury Hotels / Chengdu Comfort Hotels / Chengdu Economy Hotels.
The Temple House Hotel in Taikoo Li
How to Plan a Chengdu Trip with Chunxi Road
Chunxi Road is suitable to visit all year around and during a day, it is busiest in the afternoon and at night. To enrich your Chengdu trip, before going there, you can go meet the cute pandas in Chengdu Panda Base in the morning. Then see some exquisite Buddhist architecture in Wenshu Temple and have a cup of tea in Renmin Park.
★ Recommended Chengdu Tours:
√ 3 Days Chengdu Highlights Tour
If you plan to spend more days travelling, there are other attractions such as Kuanzhai Alley, Dufu Thatched Cottage, Jinsha Site Museum in Chengdu city, and wonderland like Jiuzhaigou, Leshan, Emeishan in Sichuan Province, or you can expand your trip to Beijing - capital of China, Shanghai - modern metropolis, and Xian - time-honored ancient capital to have a deeper understanding of China.
★ Recommended Tours including Chengdu:
√ 7 Days Sichuan Discovery Tour (Chengdu / Leshan / Emei / Chengdu / Jiuzhaigou)
√ 7 Days Ancient China Tour with Panda (Beijing / Xian / Chengdu)
If you have more questions about a Chengdu Chunxi Road trip, please feel free to contact us. We are specialized in customized tours according to your interests, budget, traveling time, etc. Just tell us your needs, and we will provide you with a satisfactory tour.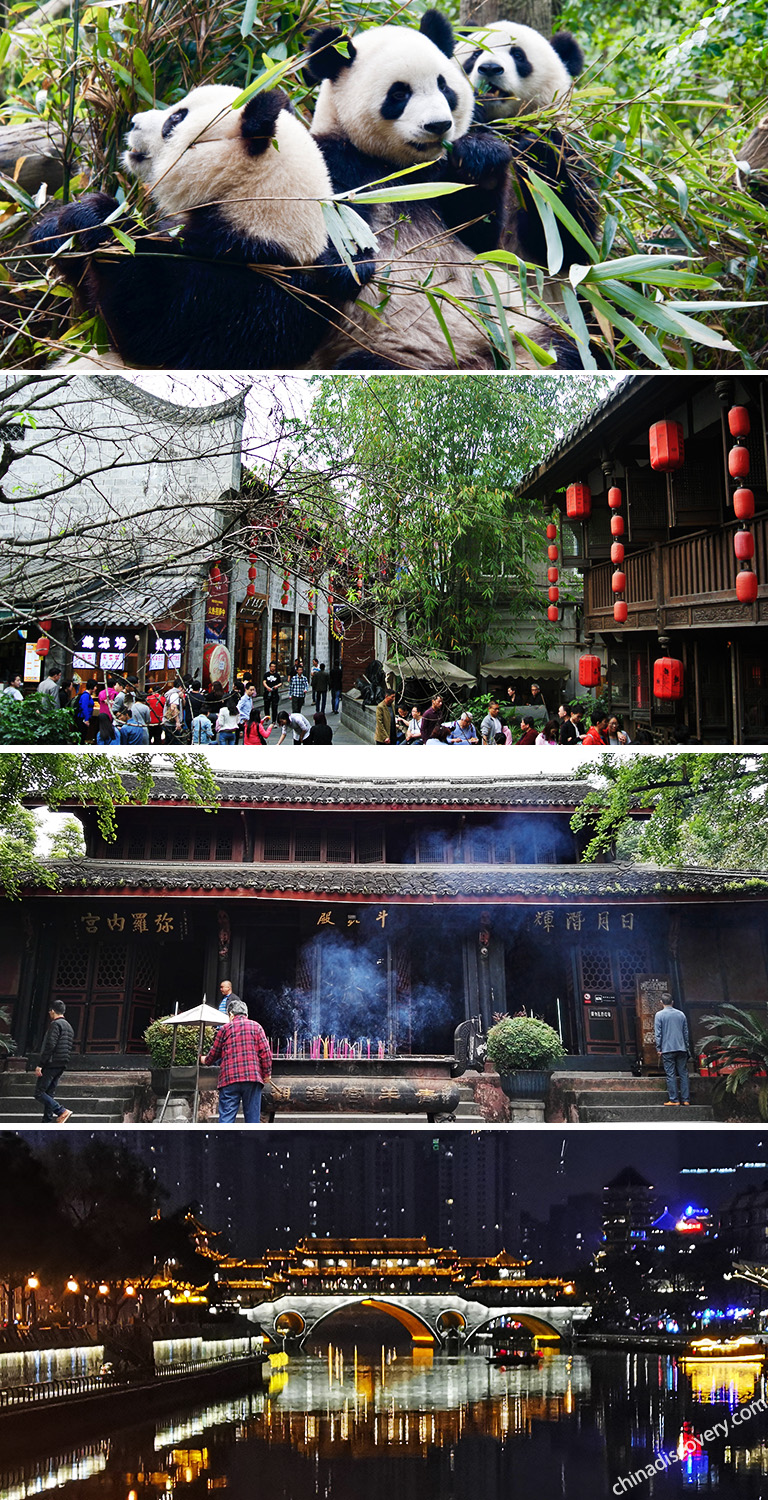 Chengdu Attractions
Top Attractions in Chengdu
Useful Chengdu Travel Guide
Recommended Chengdu Tours
Top 3 Chengdu tours chosen by most customers to explore Chengdu in the best way. Check the detailed itinerary, or tailor your own trip now with us.
2 Days Leisure Chengdu Private Tour with Panda Visit

Chengdu: Jinli Street, Giant Panda Base, Wenshu Temple
4 Days Classic Leshan Buddha & Mount Emei Tour from Chengdu

Chengdu / Leshan / Mt. Emei / Chengdu
Start planning your tailor-made holiday to China by contacting one of our specialists. Once inquired, you'll get a response within 0.5~23.5 hours.
Customize a Trip
Have a question? Get answers from our travel experts or guests
Your Question:

Your Name:

Your Email: