Chengdu Museum New Hall
Chengdu Museum was first built in 1958. Here it refers to Chengdu Museum New Hall completed in 2016, which is the largest comprehensive museum in Chengdu. Located in the west of Tianfu Square in the center of Chengdu city, Chengdu Museum covers an area of about 17 mu, with a total construction area of about 65000 square meters.
There are nearly 200,000 pieces of collections, crossing a time span from the Neolithic period to the Republic of China, covering a wide range of bronze, gold and silver wares, brick portraits, stone carvings, ceramics, calligraphy and painting, shadow puppets, masks, woodcarvings, etc. They are in a high standard both in quantity and quality. In addition to the regular exhibitions, Chengdu Museum also holds a series of temporary exhibitions and special exhibitions, which were widely praised by the audience.
Entrance of Chengdu Museum
What to See in Chengdu Museum
Chengdu Museum has seven floors including one basement floor. The regular exhibitions, which are also the key of our introduction, are from 2nd to 5th floor dividing into Chengdu general history display, Chengdu folk customs and Puppetry and Shadow Plays of China. The basement floor has two temporary exhibition halls. The first floor is the entrance lobby and one special exhibition hall. The sixth floor is the viewing gallery.
Chengdu before the Northern and Southern Dynasties (before A.D. 589) - Second Floor
There are two exhibitions on the second floor. One is Chengdu of pre-Qin period (before B.C. 221). Following the development of Shu culture in the pre-Qin period, over 240 fine cultural relics here show Baodun culture in the late Neolithic period, Sanxingdui site and Jinsha site in the Xia (about 2070-1600 B.C.), Shang (about 1600-1046 B.C.) and Zhou (1046-256 B.C.) dynasties, etc. With the help of scene restoration, sand table model, multimedia and other exhibition forms, it vividly introduces all aspects of ancient Shu People's life to the audience.
The other exhibition is Chengdu from Qin (221-207 B.C.), Han (202 B.C. - A.D. 8; A.D. 25-220) to Northern and Southern Dynasties (A.D. 420-589). At that time, Chengdu is the political, economic and cultural center of Southwest China and called "the land of abundance". The earliest and most complete 14cm human medical model unearthed in a Han Dynasty tomb and the treasure of Chengdu Museum - Stone Rhinoceros are displayed here.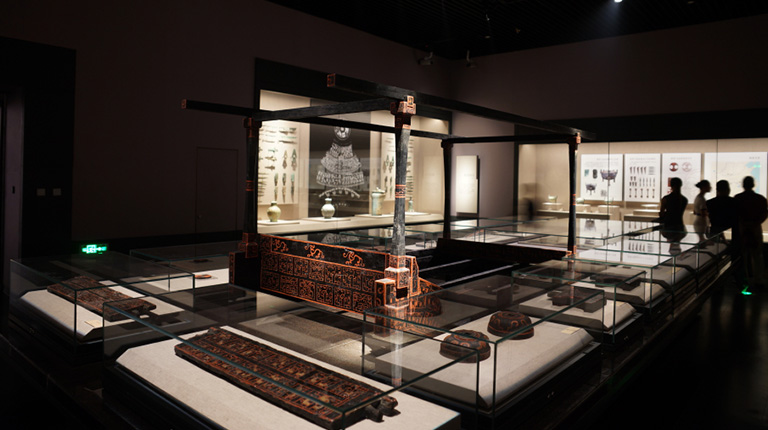 Exhibition Hall of Chengdu in Pre-Qin Period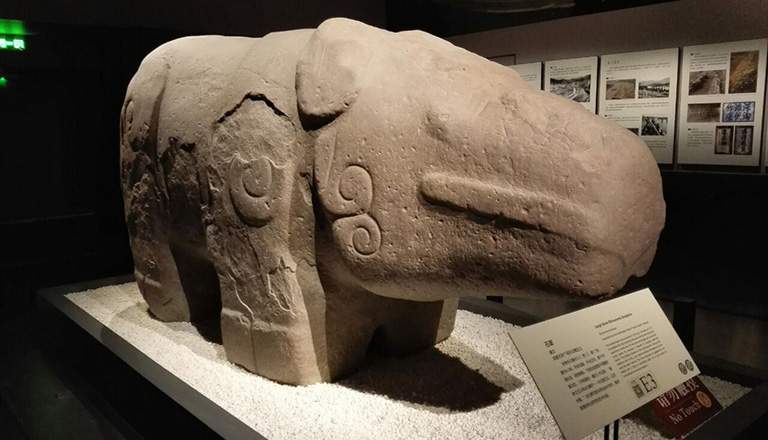 Stone Rhinoceros
Chengdu from Sui to Qing Period (A.D. 581-1912) - Third Floor
There are also two exhibition halls on the third floor. One mainly shows the prosperous social condition of Chengdu as a Southwest metropolis in Sui (A.D. 581-619), Tang (A.D. 618-907), Five Dynasties (A.D. 907-960), Song (A.D. 960 - 1279) and Yuan (A.D. 1271-1368) Dynasties. There are more than 600 pieces / sets of cultural relics including porcelain, pottery, gold and silver, copper ware, etc., reflecting the history of Chengdu.
The other one is Chengdu in Ming (A.D. 1368-1644) and Qing (A.D. 1636-1912) Dynasties. There are architectural components and models of the Royal Palace of Shu (Sichuan in short) in Ming Dynasty, from which we can imagine the grand scenery of the original building. Apart from that, a large number of Ming Dynasty terracotta figures, gold ware, jade and porcelain reflect the prosperity of Chengdu at that time. And various kinds of porcelain, exquisite snuff bottles and ornaments mirror the well-developed business in Chengdu.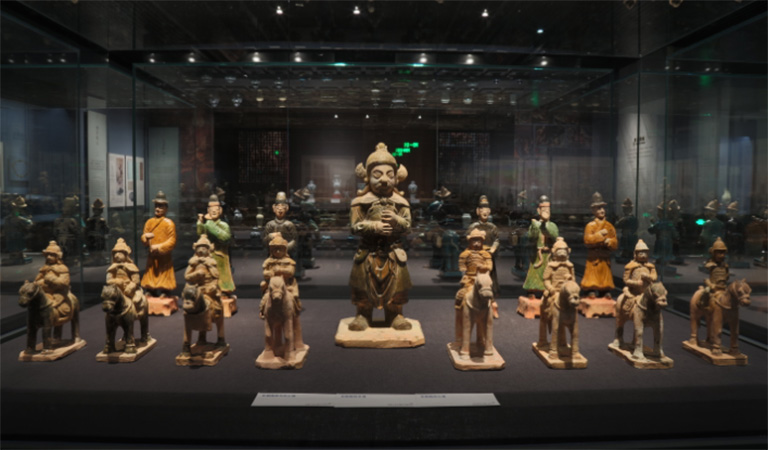 Chengdu from Sui to Qing Period
Recent Historical Period and Chengdu Customs - Fourth Floor
Since the middle of the 19th century, Chinese society has experienced unprecedented social changes, in which Chengdu has played an irreplaceable role: the important source of the road protection movement, the strategic town of the rear of the Anti Japanese War, and the main battlefield of the liberation of the southwest. These three monuments will be forever recorded in the centenary history of modern China. The long process of urban civilization development has created Chengdu's unique humanistic temperament and spiritual outlook. Chengdu people's inclusive manner and leisure and calm attitude towards life have been immersed in the gene of the city.
On the fourth floor, the exhibition hall presents many photos, documents, statues, etc. to reproduce the daily life of Chengdu people in the 20th century. The vivid scene will make you feel that you actually go back to Chengdu at that time.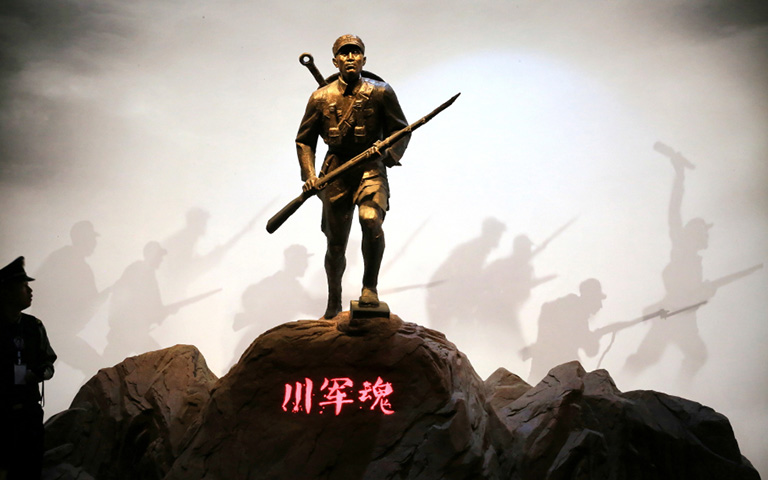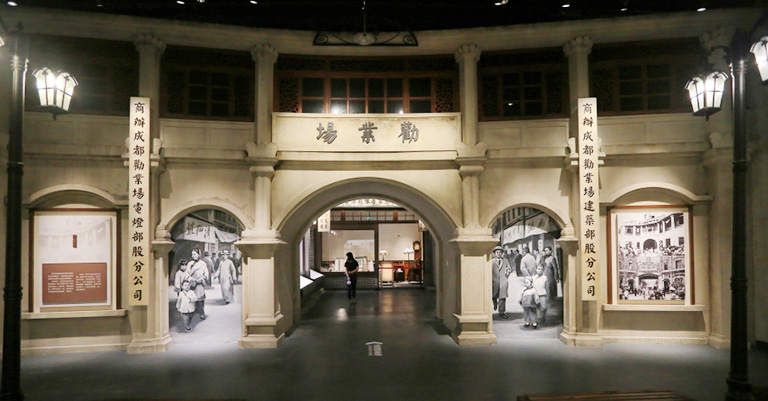 Recent Historical Period of Chengdu
Puppetry and Shadow Plays of China - Fifth Floor
Puppetry and Shadow Plays of China on the fifth floor is considered by many people as the most interesting part of Chengdu Museum. China's puppetry and shadow play is a folk drama form with a long history. The puppets controlled by performers behind the scenes are representatives of different characters. It is unique in the world performing arts with its exquisite modeling, masterly manipulation skills, beautiful singing and rich repertoire. Here are about 200 exhibits introducing different forms of puppets and its history of development.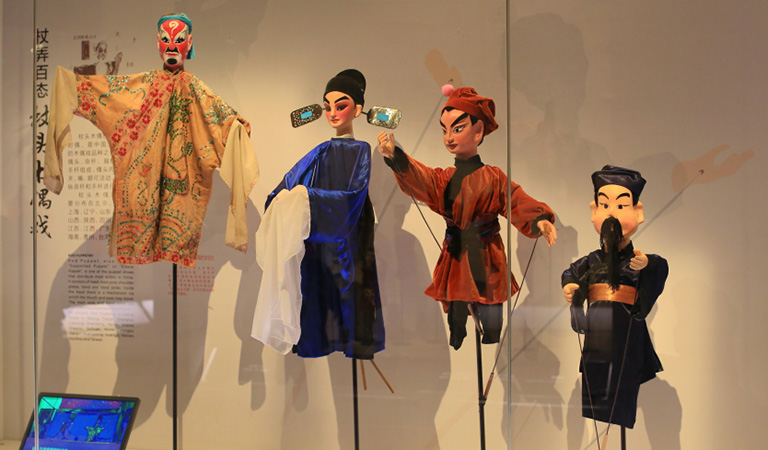 Puppetry on Fifth Floor
Temporary Exhibitions in Chengdu Museum
In Chengdu Museum, there are some irregularly scheduled temporary exhibitions in the special exhibition hall on the first floor or temporary exhibition hall on the third floor, which are held together with other museums, individuals, or organizations from home and abroad. For example, there has been Joint Exhibition of the 7th International Festival of the Intangible Cultural Heritage, Chengdu, China in 2019, SERPENTIform Exhibition in 2019, Chengdu International Sister City Exchange Exhibition - A Close Friend from Afar Brings a Distant Land Near in 2018, photography exhibition - The Arabic World in the Eyes of the Chinese People in 2018, and there will be more to come.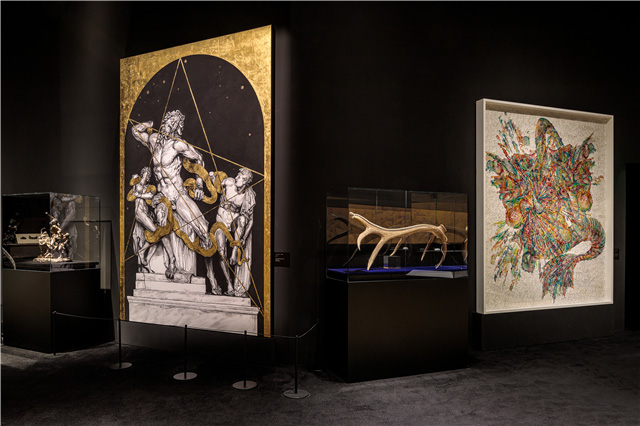 SERPENTIform Exhibition in 2019
How to Get to Chengdu Museum
Chengdu Museum is in Chengdu center, just 50m to the west of Tianfu Square, with several landmarks such as Sichuan Science and Technology Museum, Sichuan Provincial Library and Sichuan Art Gallery in the surroundings. People can get to Chengdu Museum conveniently by Chengdu metro Line 1 or 2 and get off at Tianfu Square Station (天府广场站).
Travel With China Discovery
If you want to get rid of the hustle of public transportation and troublesome navigation, you can book a private tour package which covers sightseeing, dining and transfer from us. Our local tour guide and driver will escort you to Chengdu Museum with speed and convenience, and take care of all the details. You just need to focus on sightseeing.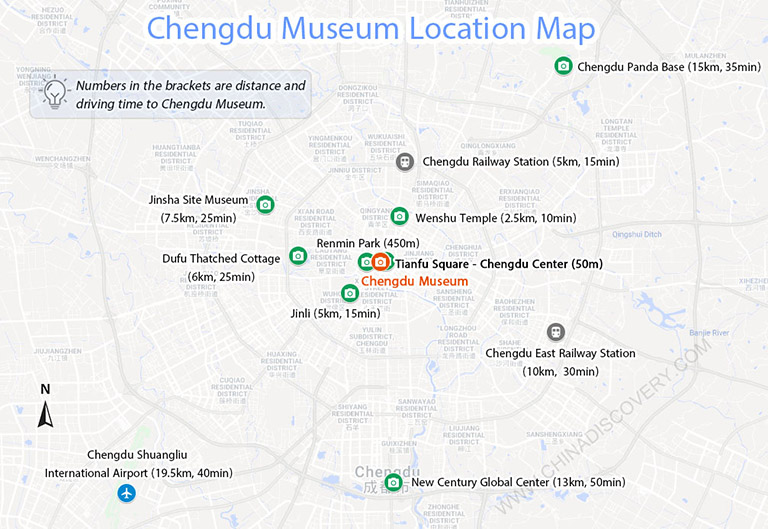 Click to Enlarge Chengdu Museum Location Map
Chendgu Museum Travel Tips
1. Ticket: Though the ticket of Chengdu Museum is free of charge, you will need a valid ID card or passport to entry the museum.
2. Luggage Storage: People will need a security check before entering the museum, no luggage or food is allowed. You can put them in the storage center for free, but remember to take the valuables with you.
3. Opening hours: Chengdu Museum is closed on Monday, Chinese New Year's Eve, and Chinese New Year. It opens from 09:00-20:30 (May - October, no entrance after 19:30), 09:00-20:00 (November - April, no entrance after 19:00).
Attractions Near Chengdu Museum
Chengdu Museum is surrounded by many other attractions in Chengdu with both fashionable shopping malls and leisure local parks. If you are interested, you can tour around these places.
Tianfu Square: only 50m to the east of Chengdu Museum, Tianfu Square is the largest urban square in Chengdu, which has the same scale as Tiananmen Square in Beijing. Enjoying the advantageous location and surrounded by famous museums and super high-rise buildings, Tianfu Square never fails to attract people to visit.
Chunxi Road: about 1.5km to the east of Chengdu Museum, Chunxi Road shows the most prosperous and fashionable appearance of Chengdu and is the "3rd pedestrian street in China" with various stores, shopping malls, delicious food and hotels.
Renmin Park: about 450m to the west of Chengdu Museum, Renmin Park is one of the city's prime people-watching spots. During the daytime, the park is always filled with locals, especially many senior couples dancing with various styles of music, playing mahjong or cards in a teahouse, strolling leisurely with friends and practicing Taichi. It is the place to watch how the locals get on with their lives.
Tianfu Square
Heming Teahouse at Renmin Park
How to Plan a Chengdu Tour with Chengdu Museum
Chengdu museum is a good place to spend about 2 hours on a leisure afternoon, especially for history and culture lovers. To enrich your Chengdu trip, before going there, you can meet the cute pandas in Chengdu Panda Base in the morning. Then see some exquisite Buddhist architecture in Wenshu Temple and have a cup of tea in Renmin Park. After visiting Chengdu Museum, you can go to the nearby Tianfu Square, where you can have a walk on the ground and have some food on the basement floor.
★ Recommended Chengdu Tours:
If you plan to spend more days travelling, there are other attractions such as Kuanzhai Alley, Dufu Thatched Cottage, Jinli Old Street in Chengdu city, and wonderland like Jiuzhaigou, Leshan, Emeishan in Sichuan Province, or you can expand your trip to Beijing - capital of China, Shanghai - modern metropolis, and Xian - time-honored ancient capital to have a deeper understanding of China.
★ Recommended Tours including Chengdu:
√ 7 Days Sichuan Discovery Tour (Chengdu / Leshan / Emei / Chengdu / Jiuzhaigou)
√ 7 Days Ancient China Tour with Panda (Beijing / Xian / Chengdu)
If you have more questions about a Chengdu Museum trip, please feel free to contact us. We are specialized in customized tours according to your interests, budget, traveling time, etc. Just tell us your needs, and we will provided you with a satisfactory tour.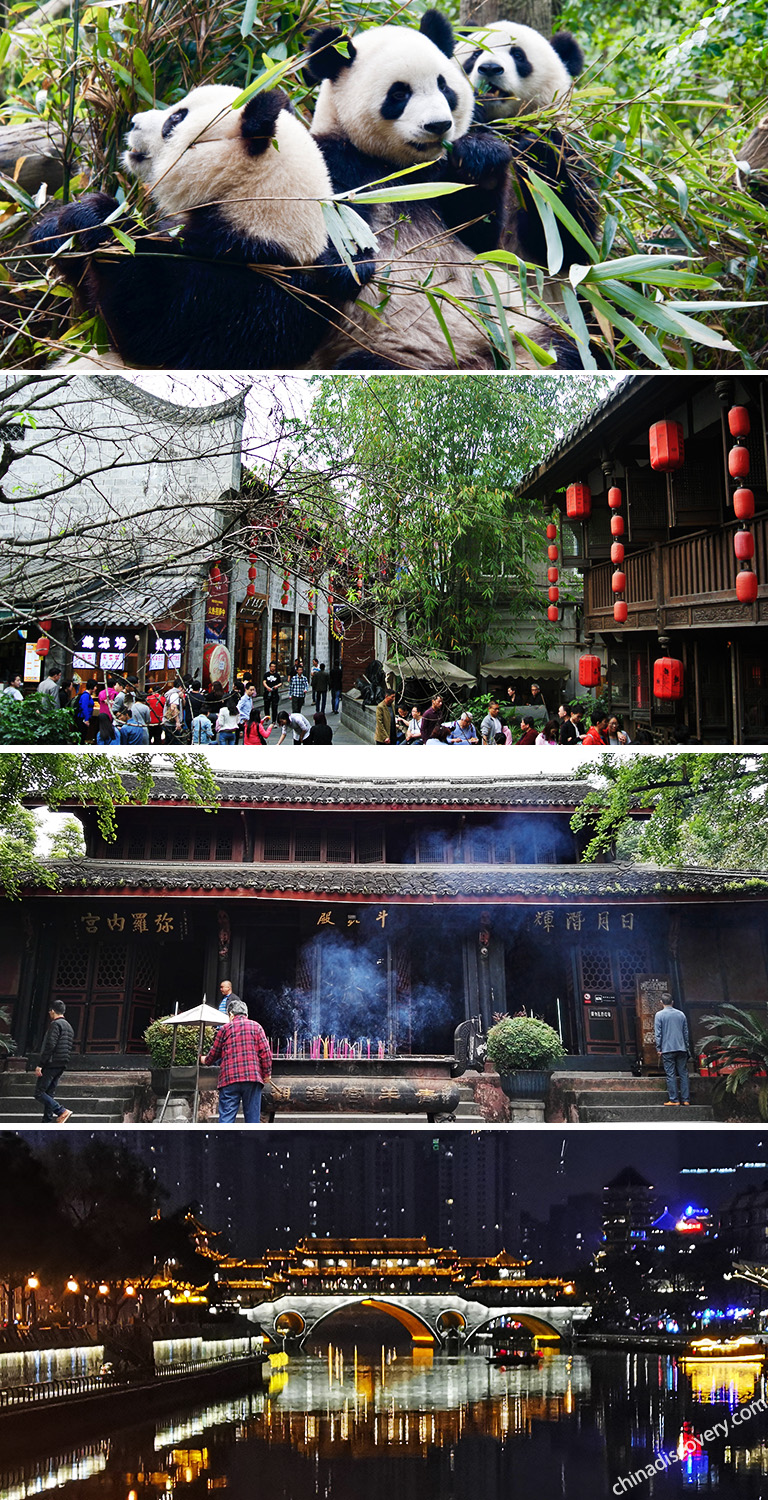 Chengdu Attractions
Top Attractions in Chengdu
Useful Chengdu Travel Guide
Recommended Chengdu Tours
Top 3 Chengdu tours chosen by most customers to explore Chengdu in the best way. Check the detailed itinerary, or tailor your own trip now with us.
2 Days Leisure Chengdu Private Tour with Panda Visit

Chengdu: Jinli Street, Giant Panda Base, Wenshu Temple
3 Days Chengdu Highlights Tour plus Leshan Giant Buddha

Chengdu: Chengdu Panda Base, Leshan Giant Buddha, Jinli Street
Start planning your tailor-made holiday to China by contacting one of our specialists. Once inquired, you'll get a response within 0.5~23.5 hours.
Customize a Trip
Have a question? Get answers from our travel experts or guests
Your Question:

Your Name:

Your Email: