Anshun Bridge History & Design
Anshun Bridge (Chinese: 安顺桥),literally translated as "Bridge of Peace and Propitiousness", is located beside Hejiang Pavilion along Funan River (Jin River). The Anshun bridge has a long history. and the original building can be traced back to 1746 (the Yuan Dynasty). During Marco Polo's travel to China, Anshun Langqiao is one of the four bridges that has impressed him deeply. The bridge had been ravaged by the flood for several times and got reconstructed in 2003 as the replacement of the old one built in the 1980s.
The bridge is 81 meters long and 6 meters wide, with the ancient style of Ming and Qing Dynasties. The bridge handrail is carved with beautiful patterns like plum, orchid, bamboo, chrysanthemum which represents traditional Chinese folk culture. The bridge pier is equipped with two water beast statues sitting on the bridges' pier, which were believed to suppress the flood by the ancient Chinese. Each side of the bridge has an archaize memorial archway, and the style of the bridge highly concentrates the essence of Chinese architectural style.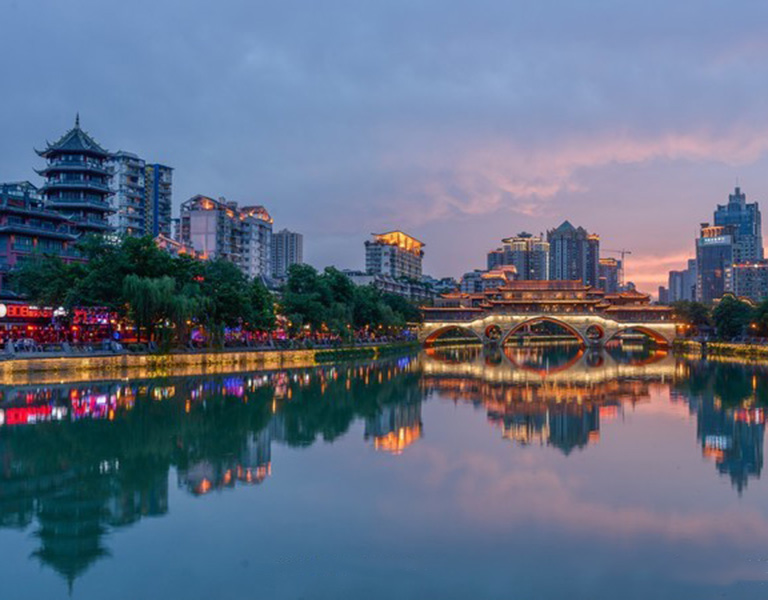 Anshun Bridge During the Sunset
What to Do Around Anshun Bridge
Now, a fancy restaurant is placed on the bridge and a lively leisure and entertainment area is just around the bridge. It is a landscape bridge to appreciate of Chengdu's history, culture, as well as for commerce, catering and transportation.
Hike Around and Take Memorable Chengdu Nightscape Photos
Anshun Bridge was built across the Funan River (Jin River) near the Hejiang Pavilion. When the night falls over the rippling river with the shimmering lights around, the bridge is just outstanding among all the modern buildings. It has become one of the landmark site for tourists visiting Chengdu
Relax at the Bar Street Along the River
There are a lot of bars, restaurants, teahouses and other entertainment places around Jiuyanqiao. At night, they are very busy and full of tourists coming to the dazzling bars in a whole row of pub options on one side of the river from live bands and singers to classic music and jazz. Here are some recommended bars such as LanGuiFang, Muse, Only, Space, 1855, Erma, etc. The bars on Jiuyanqiao tend to be small, intimate spaces, with excellent live music and relaxed atmospheres along the river.
Enjoy Popular Local Cuisines
The Anshun Bridge itself is a restaurant for fine dining. Although it will be pricier than other ones, the food and service are terrific with English speaking staff and a romantic atmosphere. The recommended dishes include pigeon soup, hot pot fish (spicy), minced pork, dried tempura, green beans, duck sandwiches, etc. There are many other smaller restaurants around the pub line, with reasonable price and satisfying taste for the locals.
★ Recommended Chengdu Tours: 2 Days Chengdu City Break | 3 Days Chengdu Highlights Tour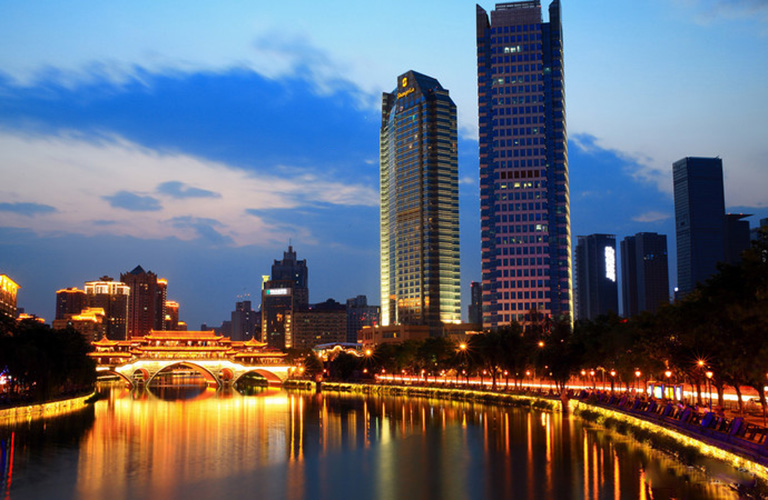 Anshun Bridge Nightscape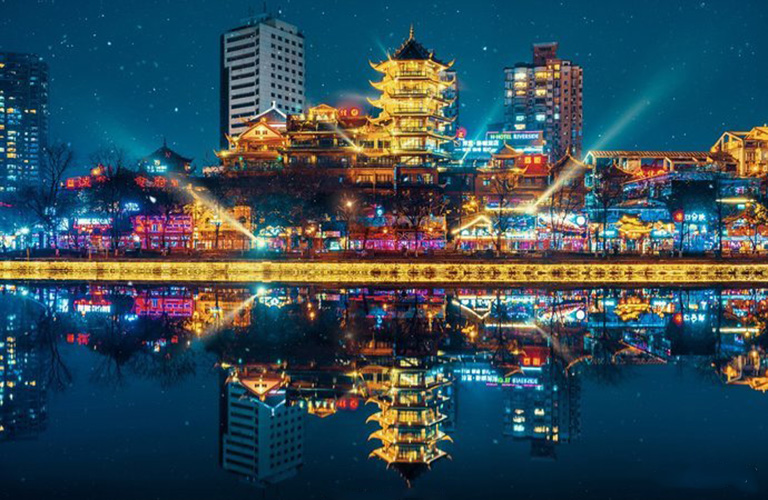 Bar Street Aside the Bridge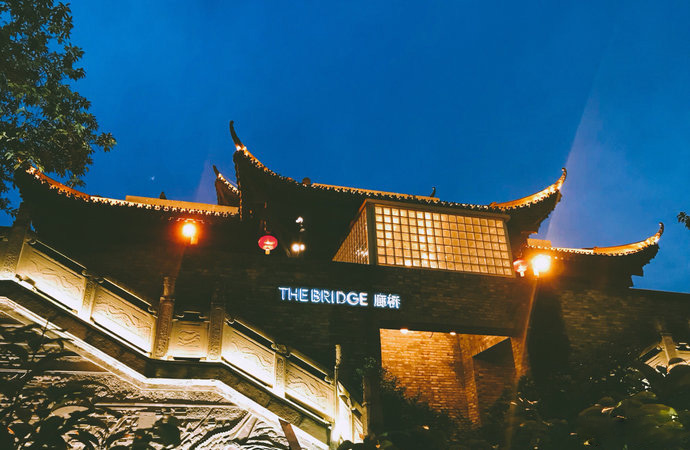 The Bridge Restaurant
How to Get to Anshun Bridge
Where is Anshun Bridge: Anshun Bridge is located in #66 Binjiang East Road, Jinjiang District, Chengdu (成都市锦江区滨江东路66号). It is near Sichuan Conservatory Of Music and Sichuan University, about 1.5km to Wangjianglou Park, 1.3km to Taikoo Li, and 1.7km to Chunxi Road.
Travel With China Discovery
If you want to get rid of the hustle of public transportation and troublesome navigation, you can book a private tour package which covers sightseeing, dining and transfer from us. Our local tour guide and driver will escort you to Anshun Bridge with speed and convenience, and take care of all the details. You just need to focus on sightseeing.
Get to Anshun Bridge by Metro: The nearby Metro stations to Anshun Bridge are Dongmen Bridge Station (Metro line 2, about 900m), Niuwangmiao Station (Metro Line 2, about 1.1km), and Xinnanmen Station (Metro Line 3, about 1.3km).
Get to Anshun Bridge by Bus: ❶ Jiuyanqiao South Station (九眼桥南站): 12, 19, 34, 72, 92, 1130, G57; ❷ Jiuyanqiao West Station (九眼桥西站): 56, 56A, 68, 82, 1093, 343; ❸ Hejiang Pavilion Station (合江亭站): 82, 343; ❹ Jiuyanqiao North Station (九眼桥北站): 3, 34, 72, 74, 92,112,G92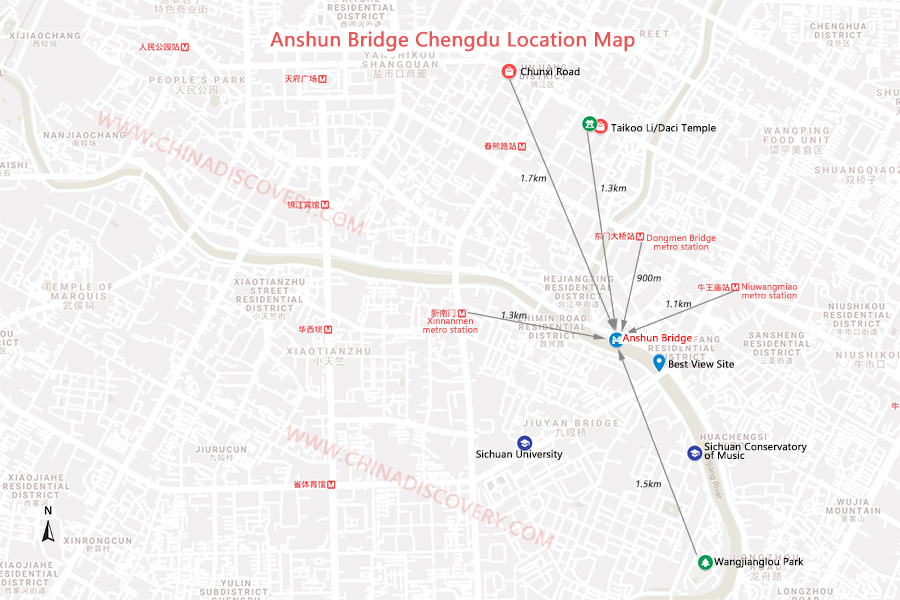 Click to Enlarge Anshun Bridge Location Map
Other Attraction Around Anshun Bridge
Anshun Bridge is located in the east-central area of Chengdu City, close to the Wangjianglou Park and Sichuan University. It is also close to the bustling Shopping area like Chunxi Road and Taikoo Li to the north.
Wangjianglou Park 望江楼公园
Wangjianglou Park, also called Wangjiang Tower Park, is about 1.5km to Anshun Bridge. The park is free to enter and was built to memorize Xue Tao, a celebrated poetess in Tang Dynasty. It is wide-known as a cultural site with poetic ancient sites and natural garden with plants in traditional Chinese garden style.>>More about Wangjianglou Park
Taikoo Li Chengdu 成都太古里
Opened in 2015, Taikoo Li Chengdu is about 1.3km to Anshun Bridge. It is an open shopping center in the traditional West Sichuan styled buildings, which gathers a series of international luxury brands, fashion brands, boutique stores, and fine dining restaurants. The famous traditional Daci Temple is behind the shopping zone.>>More about Taikoo Li
Chunxi Road 春熙路
Chunxi Road is near Taikoo Li, about 1.7km away from Anshun Bridge. It is one of the oldest commercial streets in Chengdu, and it is still bustling today, forming the most prosperous business zone in the city. There are many brand stores, century-old shopping malls here. In addition to shopping, there are many popular food stores in Chengdu, where you can eat authentic Chengdu snacks all at once.>>More about Chunxi Road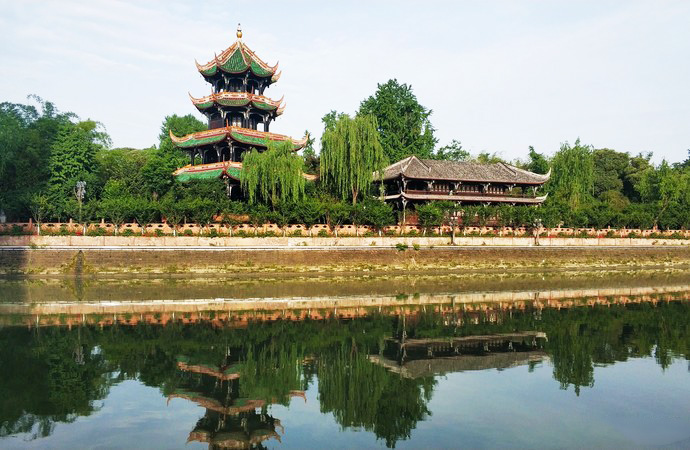 Wangjianglou Park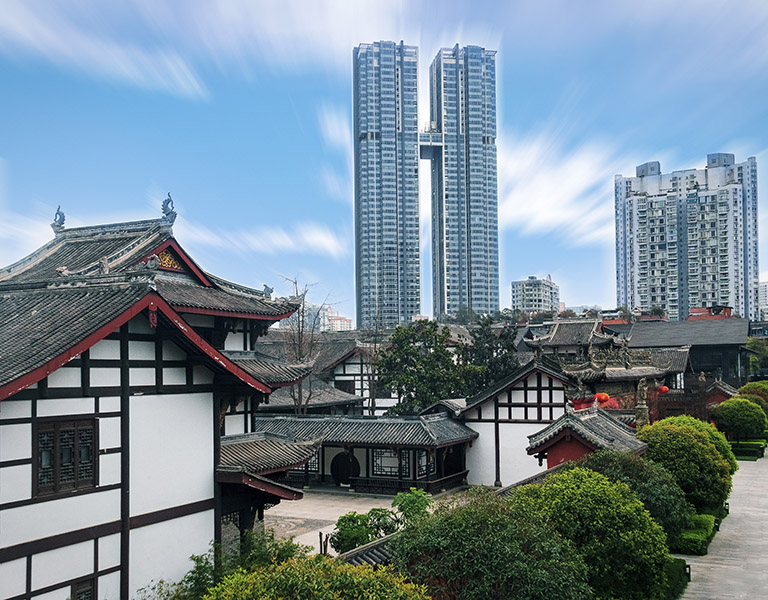 Taikoo Li Chengdu
How to Plan a Anshun Bridge Chengdu Trip
Anshun Bridge is a landmark site in Chengdu and the nightscape is stunning here, so it is recommended to arrange the visit in the evening or during the sunset when you can be fully immersed in the laid-back ambiance. To enrich your Chengdu trip, before going there, you can go meet the cute pandas in Chengdu Panda Base in the morning. Then see some exquisite Buddhist architecture in Wenshu Temple and have a cup of tea in Renmin Park.
★ Recommended Chengdu Tours:
▶ 3 Days Chengdu Highlights Tour
If you plan to spend more days travelling, there are other attractions such as Kuanzhai Alley, Dufu Thatched Cottage, Jinli Old Street in Chengdu city, and wonderland like Jiuzhaigou, Leshan, Emeishan in Sichuan Province, or you can expand your trip to Beijing - capital of China, Shanghai - modern metropolis, and Xian - time-honored ancient capital to have a deeper understanding of China.
★ Recommended Tours including Chengdu:
▶ 7 Days Sichuan Discovery Tour (Chengdu / Leshan / Emei / Chengdu / Jiuzhaigou)
▶ 7 Days Ancient China Tour with Panda (Beijing / Xian / Chengdu)
If you have more questions about a New Century Global Center Chengdu trip, please feel free to contact us. We are specialized in customized tours according to your interests, budget, traveling time, etc. Just tell us your needs, and we will provided you with a satisfactory tour.
Chengdu Attractions
Top Attractions in Chengdu
Useful Chengdu Travel Guide
Recommended Chengdu Tours
Top 3 Chengdu tours chosen by most customers to explore Chengdu in the best way. Check the detailed itinerary, or tailor your own trip now with us.
2 Days Leisure Chengdu Private Tour with Panda Visit

Chengdu: Jinli Street, Giant Panda Base, Wenshu Temple
3 Days Chengdu Highlights Tour plus Leshan Giant Buddha

Chengdu: Chengdu Panda Base, Leshan Giant Buddha, Jinli Street
Start planning your tailor-made holiday to China by contacting one of our specialists. Once inquired, you'll get a response within 0.5~23.5 hours.
Customize a Trip
Have a question? Get answers from our travel experts or guests
Your Question:

Your Name:

Your Email: