How to Get to Langmusi | Langmusi Transportation Guide
Langmusi is a small town with profound religious culture and pure natural scenery on the junction of Sichuan Province and Gansu Province. No flight or train is available there. People who want to get there usually need to make a transfer at Chengdu in Sichuan or Lanzhou in Gansu and then drive or take a bus there. Here we have provided you with some useful information about how to get to Langmusi from Chengdu and Lanzhou to help you better plan a Langmusi trip.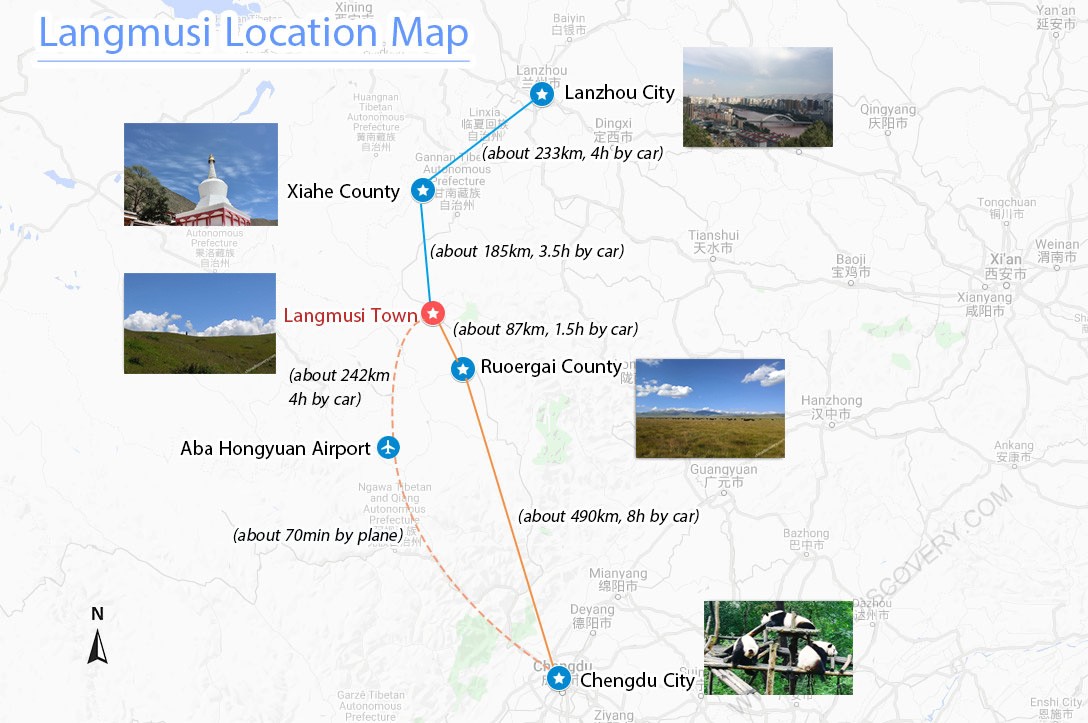 Langmusi Location Map
Get to Langmusi from Chengdu
The southern part of Langmusi Town is in Hongxing Township, Ruoergai County, Ngawa Tibetan and Qiang Autonomous Prefecture in Sichuan (四川省阿坝藏族羌族自治州若尔盖县红星乡). It is about 550km, 9.5 hours' drive to the north of Chengdu. For independent travelers, you can take a bus at Chengdu Chadianzi Bus Station (茶店子汽车站) to Ruoergai County first. The bus usually departs early in the morning and the trip will take about 9 hours. After arriving in Ruoergai, take another bus (about 2 hours) to Langmusi. Or you can take a flight from Chengdu to Hongyuan Airport (about 70min, 3 flights a week updated in April 2020) and then charter a car (about 4h) to get to Langmusi.
Note: There are only 2-3 buses from Chengdu to Ruoergai and the same from Ruoergai to Langmusi. Bus schedule is not fixed. If you miss the bus, you can charter a car to get there (at least CNY 700 from Chengdu).
★ Useful Link: How to Get to Chengdu>>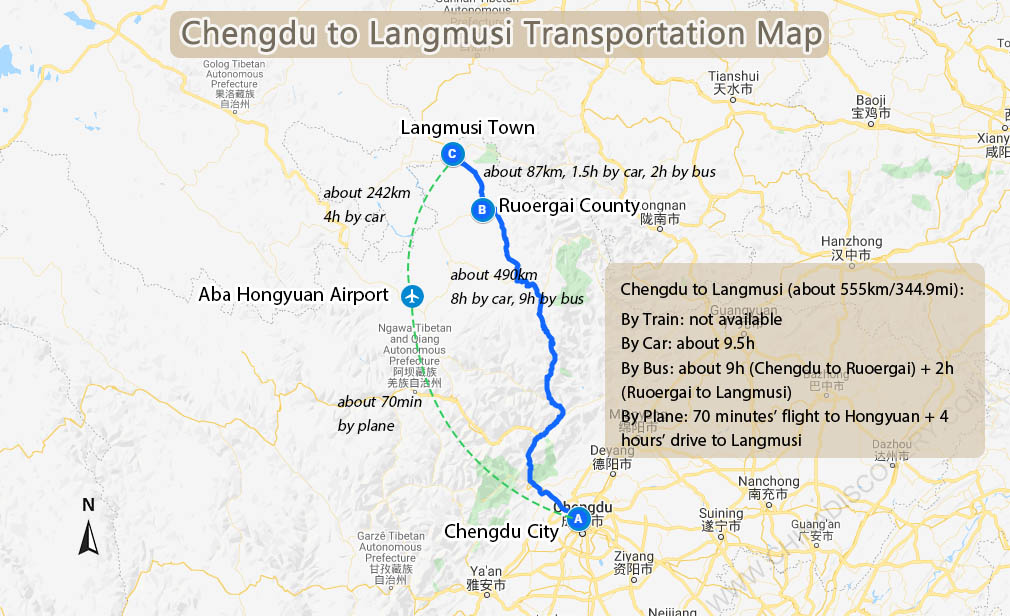 Chengdu to Langmusi Transportation Map
Get to Langmusi from Lanzhou
The northern part of Langmusi town is in Luqu County in Gannan Tibetan Autonomous Prefecture in Gansu Province (甘肃省甘南藏族自治州碌曲县), about 400km, 6.5h by car from Lanzhou. As the capital of Gansu and with complete transportation system of airport and train stations, Lanzhou is always taken as a transfer hub to other cities around.
There is no direct bus between Langmusi and Lanzhou. To get there from Lanzhou, you are recommended to get to Xiahe County first (about 4h by car, 5h by bus). Xiahe has an airport which operates flights between Chengdu, Xian, Yinchuan and Lhasa, so if you are coming from these cities, you can choose to fly to Xiahe directly. From Xiahe, there is only one bus departing around 07:30am and running for about 4h to Langmusi. Still, the bus schedule is for reference only and if you miss the bus, you can rent a car to get there (about CNY 400-500 from Xiahe).
★ Useful Link: How to Get to Lanzhou>>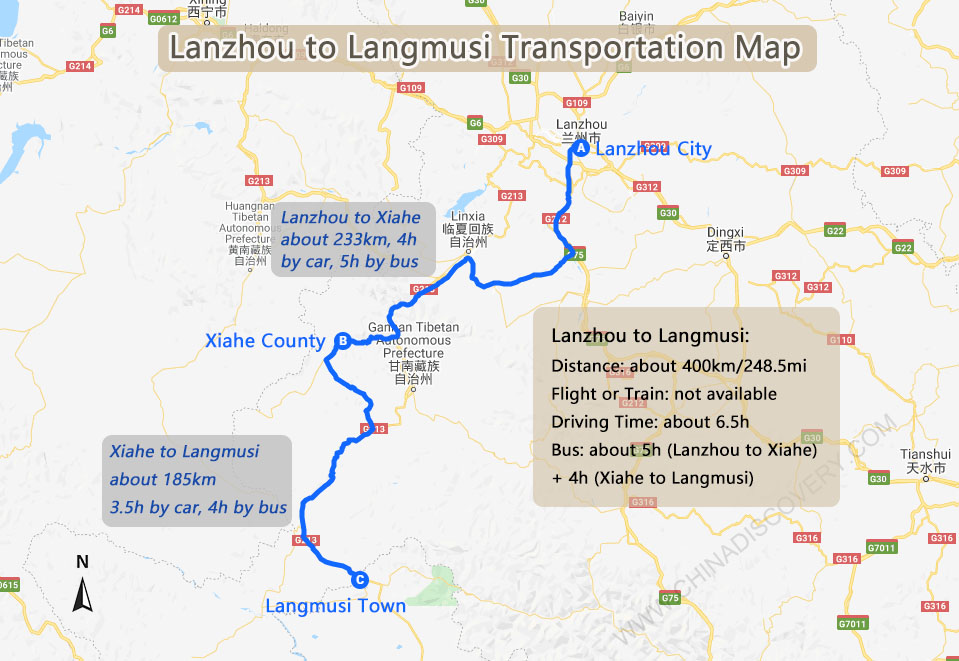 Lanzhou to Langmusi Transportation Map
Travel Langmusi with China Discovery
Sometimes the beautiful scenery lies in the place far away. Though Langmusi is not an untraversed region, the public transportation is indeed not very convenient. If you don't want to bother about the troublesome transfer, you can travel with us China Discovery. We will pick you up at the airport or train station and escort you to your hotel or any destination you want to go with comfortable vehicle, skillful driver and professional guide. The itinerary can be customized and all the matters such as transportation, meal, accommodation and ticket will be taken care of, all you need to do is enjoy your trip! >>Contact us now
★ Recommended Langmusi Tour: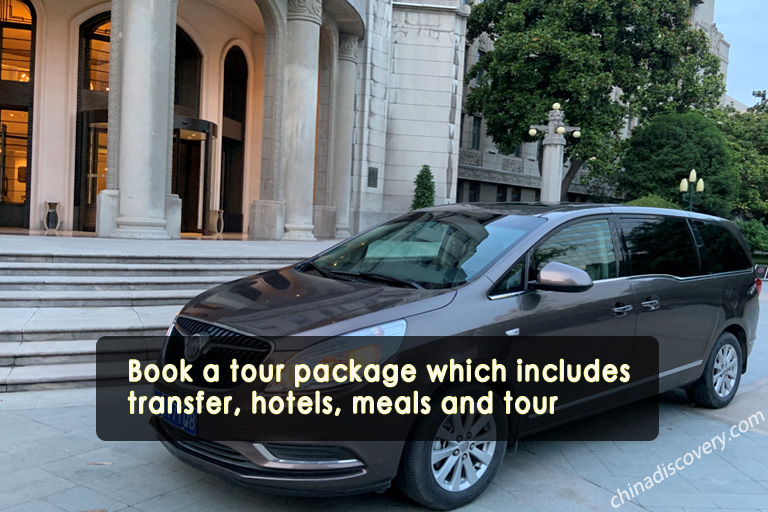 Private Transfer with China Discovery
Langmusi Driving Road Condition
Driving or taking a car is inevitable in a Langmusi trip. Fortunately, the road to Langmusi from both Chengdu and Lanzhou direction is generally in good condition with mostly national roads, provincial roads and grasslands. For self-driving travelers, when you pass mountainous areas, slow down on curves. And extra attention should be paid when it snows in winter or rains in summer. If you are taking the car and worry about carsickness, you can take anti-motion sickness medicine about 1 hour before the trip.
Note: There may be cases that the roads are under construction but in most situations, you don't need to worry too much about the roads.
Road Condition from Chengdu Direction Near Langmusi
How to Plan a Langmusi Tour
Langmusi itself only need 1 day or so to explore and it is usually integrated into a Sichuan or Gansu tour.
Starting from Chengdu, you can spend 1 day visiting Chengdu Panda Base, then having a cup of tea at Chengdu People's Park and tasting some local snacks at Jinli Old Street. The next day, take a plane (about 1h) or drive (about 8h) northwards to fairyland Jiuzhaigou Valley and Huanglong National Park. The crystal clear Haizi and Five-color Pond are worth 2 days there. After that, keep driving north (about 4h) to Ruoergai and enjoy the wonderful view of Zoige Grassland, which is reputed as one of the "Top 10 Most Beautiful Wetlands" in China. After a night's rest, the journey continues to Huahu Lake and finally Langmusi.
As for traveling Langmusi with the Gansu part, people usually start from Lanzhou and then head south to Xiahe, where you can pay a visit to Labrang Monastery. The next day, drive to Gahai Lake, a beautiful wetland and migrant bird natural reserve. The day after, you can make it to Langmusi. After that, you can head back or keep traveling to Zhagana, an ancient town like a stone palace or to Ruoergai in Sichuan region.
If you have more questions about a Langmusi trip, please feel free to contact us. We are specialized in customized tours according to your interests, budget, traveling time, etc. Just tell us your needs, and we will provided you with a satisfactory tour.
★ Recommended Langmusi Tour: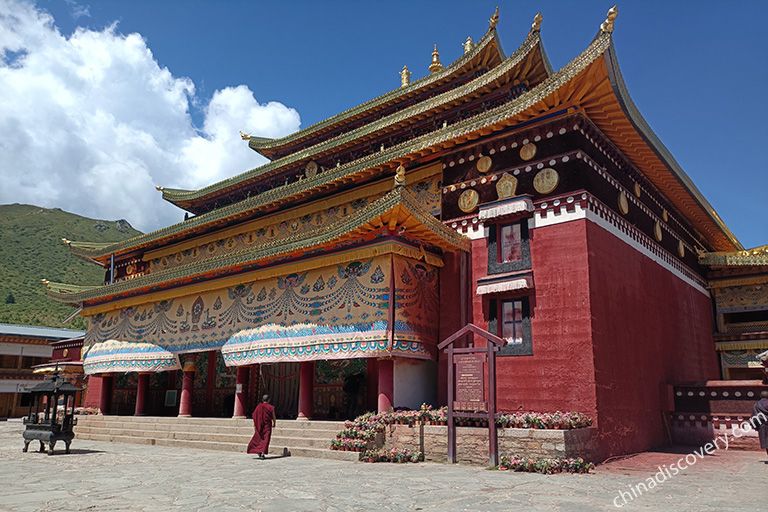 Langmusi Scenery
Keep Reading
Recommended Sichuan Tours
Top 3 Sichuan tours chosen by most customers to explore Sichuan in the best way. Check the detailed itinerary, or tailor your own trip now with us.
5 Days Jiuzhaigou Huanglong Dujiangyan Tour by Private Car

Chengdu / Chuanzhusi / Huanglong / Jiuzhaigou / Dujiangyan / Chengdu
7 Days Jiuzhaigou Ruoergai Prairie Langmu Temple Tour

Chengdu / Chuanzhusi / Huanglong / Jiuzhaigou / Ruoergai / Langmusi / Hongyuan / Chengdu
Start planning your tailor-made holiday to China by contacting one of our specialists. Once inquired, you'll get a response within 0.5~23.5 hours.
Customize a Trip
Have a question? Get answers from our travel experts or guests
Your Question:

Your Name:

Your Email: