Langmusi - A Temple or A Town?
Langmusi literally means Langmu Temple in Chinese. So many people may mistake it as a temple. But actually, it is a small town on the border of Sichuan and Gansu Province where two famous Tibetan Buddhist temples - Kirti Gompa in Sichuan and Serti Gompa in Gansu - locate. Bailong River (a less than 2m wide stream) runs through the little town and it is the natural boundary and connection of the two provinces.
Langmusi, nicknamed as "Little Oriental Switzerland", is surrounded by grassland, forests and hills. Han, Tibetan, and Hui people live here in harmony and most residents here believe in Tibetan Buddhism and Islam. Stepping into Langmusi, you can feel a strong atmosphere of religion seeing the colorful temples and prayer flags, which also adds a sense of Zen to the primitive nature scene. Staying here, people can easily calm down and find a little peace of mind.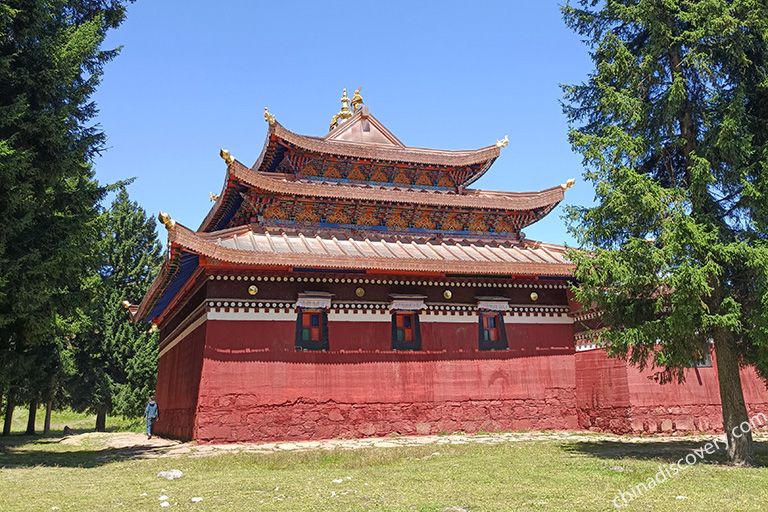 Langmusi Town
What to See in Langmusi
Kirti Gompa 格尔底寺
Kirti Gompa is located in the Sichuan part of Langmusi town. Compared with Serti Gompa, Kirti Gompa seems to keep a low profile with silver roofs and lower altitude. But it has a history of over 600 years and is the most influential Gelug temple in Ngawa region. Kirti Gompa now has 18 branch temples, about 500 monks and 13 halls. The most mysterious part of the temple is that it is the only Tibetan Buddhist temple that has the body relics of a living Buddha. The 5th reincarnation of Kirti Rinpoche, who was born in A.D. 1681 and passed away in A.D. 1775, is enshrined here and open to tourists about every 3-5 days. After nearly 300 years, it still looks lifelike, which is quite magical.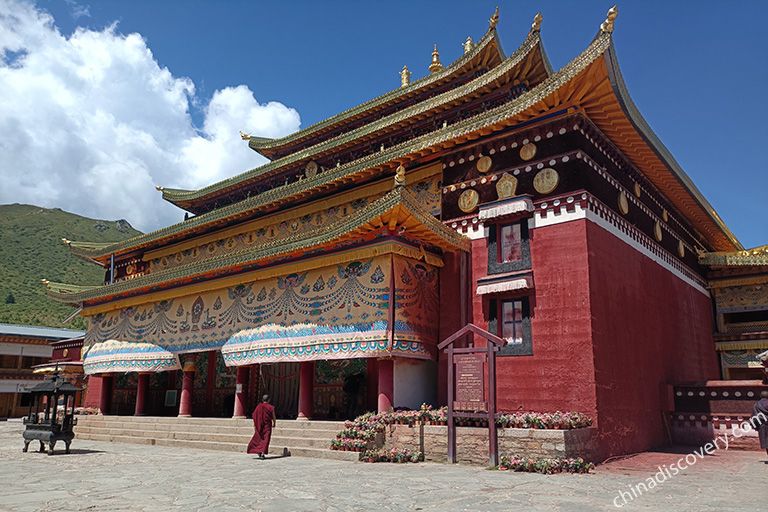 Kirti Gompa
Serti Gompa 赛赤寺
Serti Gompa on the side of Gansu Province is also a Tibetan Buddhist Gelug temple. It was established by a Buddhist scholar in A.D. 1748 and enjoys a high reputation in Amdo Tibetan area. Serti Gompa is quite splendidly built with each hall roof gilded, glittering in the sunshine. There is a celestial burial platform in the back mountain of the temple, about 40 minutes' walk away. This 400-year-old celestial burial platform is the only one in Gannan that is open to tourists for visit. Local people believe that celestial burial (by which bodies of the deceased people are exposed to birds of prey) can make one's soul eternal and it is a highest state of alms giving. A celestial burial ceremony is only held when someone passed away and it is usually in the morning between 7:00-9:00. On ordinary days, you can also go there and you can see the tools used for the burial and some scattered vulture feathers.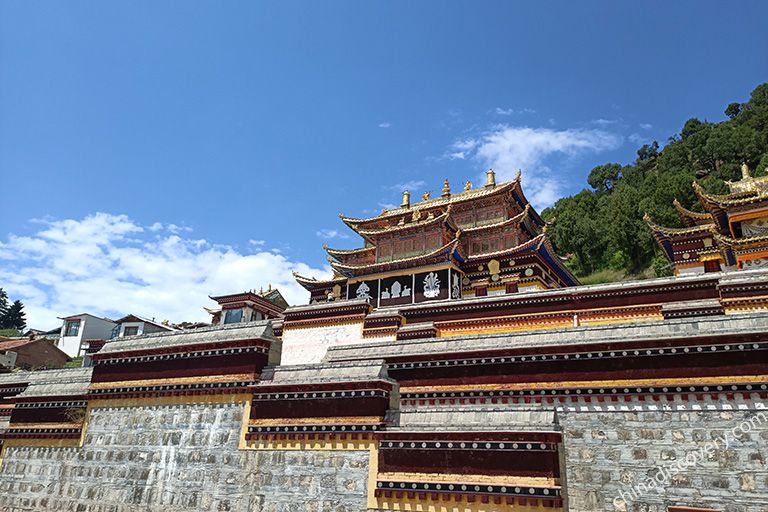 Serti Gompa
Namo Gorge 纳摩大峡谷
From the back of Kirti Gompa, you can walk to Namo Gorge. It is also called Bailong River Gorge because that's where you can find the source of the river. The gorge is about 8km long. The scenery in the gorge is quite pleasant, and it is suitable for people of all ages and physical conditions to go for a short hiking. At the entrance, there is a stone cave with a low and narrow opening. Inside stands a graceful fairy-shape stalactite. So the cave is called Fairy Cave. That's also where the name Namo or Langmu come from, they both mean "fairy maiden". Keep hiking across the cave, you will soon find the source of Bailong River flowing from the spring mouth of the cliff. From the end of the gorge up to the mountain top, you can also see the full extent of Langmusi.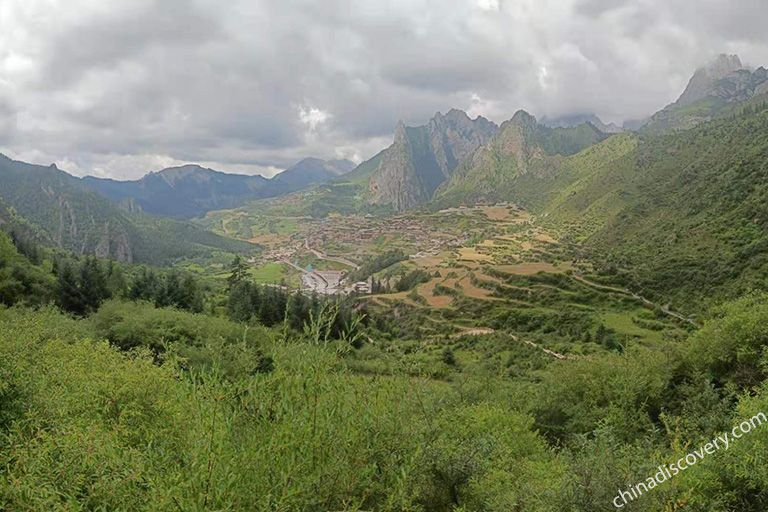 Namo Gorge
What to Do in Langmusi
Langmusi Horse Trekking
Langmusi is richly endowed by nature with vast grasslands. Unlike riding on plain, here you can have more fun on those up-and-down hills and ride for a longer time. According to your itinerary, you can choose to have a half day, one day or two days horse trekking trip and the price varies from CNY 100-400 or higher. After a short training such as how to mount/dismount a horse, the right posture of a long horse ride and how to harness a horse, you are ready to hit the road (with locals' company)! Riding along Bailong River, you will gradually get to the pasture of the local herdsman where their cattle, sheep, and horses graze on. You can stop to appreciate the vast world and feed your horse or keep riding to the river source. On the horse back casually trekking with the locals, it is like you've become a part of this quiet town.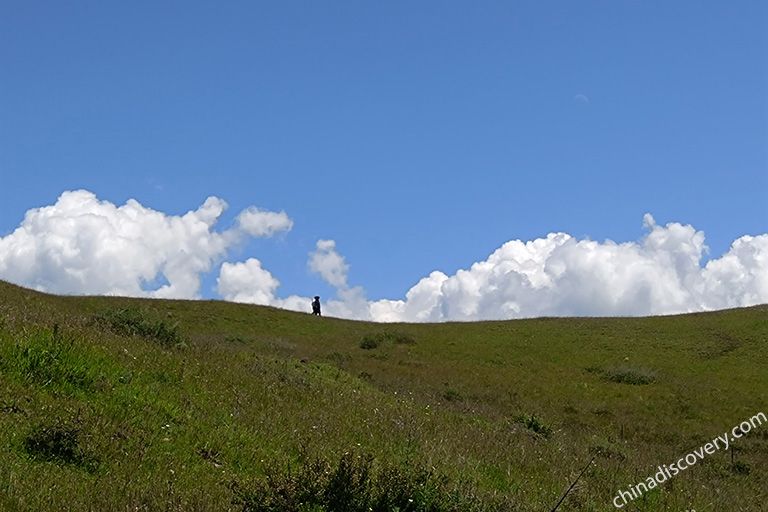 Local Riding a Horse
Zhanfo (Buddha Display) Festival
Zhanfo (瞻佛), literally means "display the Buddha", is to show the greatness of Buddha to people, so that the followers can worship, praise and support the Buddha.
This is the grandest and most important religious festival in Langmusi. It is held every year on the 13th day of the first month of lunar year. On that day, all the monks and laymen will dress up and pay pilgrimage here. The ceremony begins at about nine o'clock in the morning. The broad Buddha worship platform is decorated with smooth and neat stone plates with bright lights. The Buddha statue is a huge and exquisite Thangka. With several teams of monks unfolding the about 10m wide, 20m long Tangka Buddha carefully, people start reciting sutra devoutly and praying for happiness and auspiciousness.
Monks are Unveiling the Buddha
How to Get to Langmusi
Langmusi has no airport or train station. People going there usually choose to transfer at Chengdu or Lanzhou.>>More about How to Get to Langmusi
Get to Langmusi from Chengdu (about 550km, 9.5 hours' drive)

You can take a bus to Ruoergai (about 9h) and transfer to another bus to Langmusi (about 2h); or take a flight to Hongyuan Airport (about 70min) and then charter a car to Langmusi (about 4h).

Get to Langmusi from Lanzhou (about 400km, 6.5 hours' drive)

You can take a bus to Xiahe (about 5h) and then transfer to another bus to Langmusi (about 4h). Xiahe also operates flights between Chengdu, Xian, Yinchuan and Lhasa, so if you are coming from these cities, you can skip the Lanzhou part and fly to Xiahe directly.

Langmusi Driving Road Conditions

The road to Langmusi from both Chengdu and Lanzhou direction is generally in good condition with national roads, provincial roads and grasslands. But when you pass mountainous areas, slow down on curves. And extra attention should be paid when it snows in winter or rains in summer.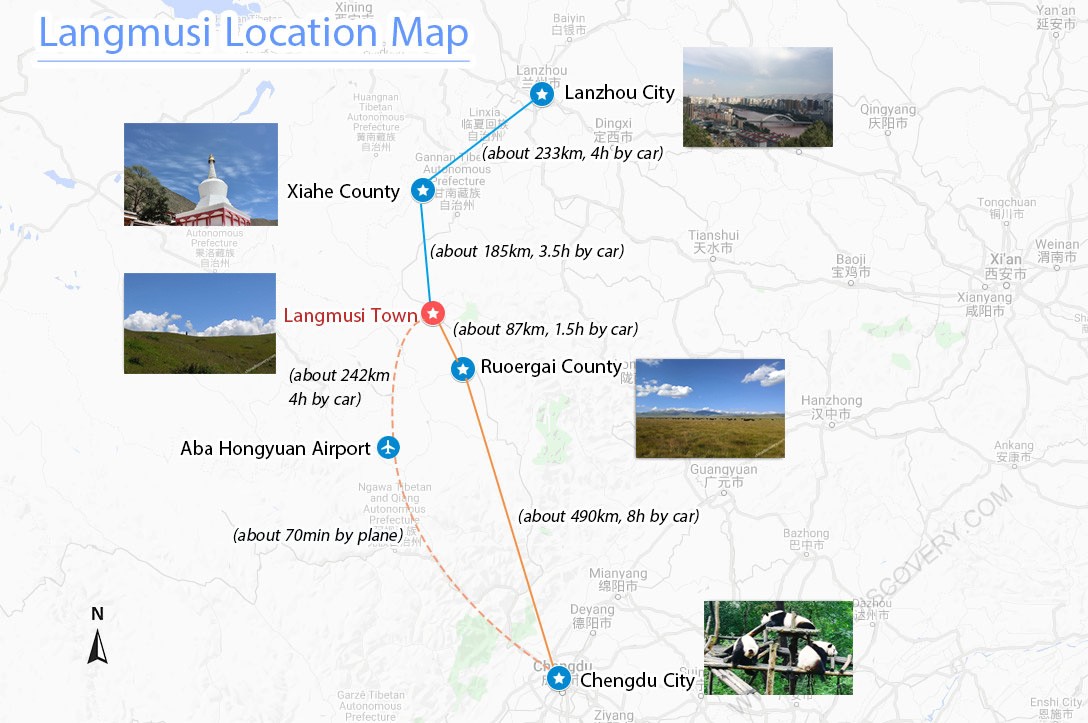 Chengdu & Lanzhou to Langmusi Map
Travel with China Discovery
Sometimes the beautiful scenery lies in the place far away. Though Langmusi is not an untraversed region, the public transportation is indeed not very convenient. If you don't want to bother about the troublesome transfer, you can travel with us China Discovery. We will pick you up at the airport or train station and escort you to your hotel or any destination you want to go with comfortable vehicle, skillful driver and professional guide. The itinerary can be customized and all the matters such as transportation, meal, accommodation and ticket will be taken care of, all you need to do is enjoy your trip! >>Contact us now
★ Recommended Langmusi Tour: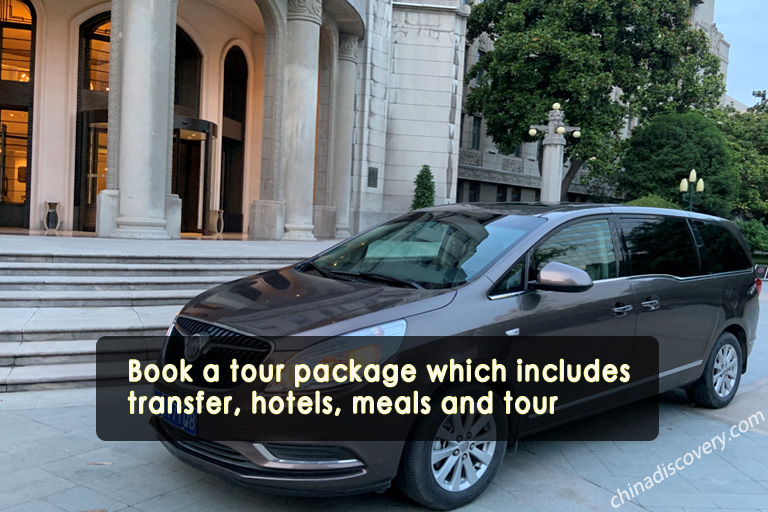 Private Transfer with China Discovery
Langmusi Travel Tips
Weather & Clothes: Langmusi has a large temperature difference between day and night and it's usually dry and windy. Take a coat with you even if you plan to go there in summer because it may be chilly at night, not to mention other seasons of the year when the temperature can drop to 0℃.
Altitude sickness: With an altitude of about 3300m, Langmusi is generally not a place where people will suffer from altitude sickness. But it may vary according to your own physical condition. If you don't feel well when getting there, have a rest first and avoid strenuous exercise.
Sunray: The sunray in Langmusi is strong. It is highly recommended to bring sunglasses, sunhat and sunscreen cream to protect your skin.
Photography: You can feel free to shot the beautiful scenery in Langmusi outside the temples, but no pictures in temple halls. And it is better to ask for permission first if you want to take photos of local people.
Other notice: Respect the believes (mostly Tibetan Buddhism and Islam) of local people. Take off your shoes and hat, dress properly (eg. no sleeveless shirts or short pants or skirts) in temple halls.
Attractions Nearby Langmusi
Zoige Grassland 若尔盖草原
Distance to Langmusi: about 130km, 2.5h by car
Zoige Grassland, or Ruoergai Grassland, is bestowed as the "Oriental Alps" with pleasant landscape of cloud-kissing snow-capped peaks covered by emerald forests, three fascinating valleys, many beautiful lakes and chanting streams. The Yellow River and the Yangtze River divide it into two parts. In the east, there are continuous mountains, green peaks, and billows of the forest; in the west, there are vast grasslands, lush wetlands, flocks of cattle and sheep, known as "oasis of Northwest Sichuan Plateau". Here you can take a hiking, rent a vehicle to drive deep into the grassland, or you can ride a horse to experience the lifestyle of the local herdsmen. >>More about Zoige Grassland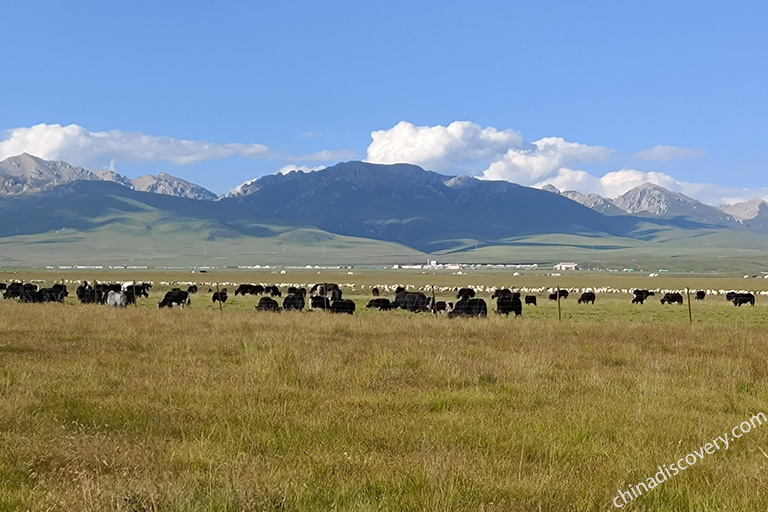 Zoige Grassland
Hongyuan Moon Bay 红原月亮湾
Distance to Langmusi: about 205km, 3.5h by car
The beauty of Hongyuan grassland is fully displayed in the Moon Bay. On the flat and open grassland, the river winds and flows like the bright moon. When it is windless and sunny, the blue sky and layers of white clouds are reflected in the river on the vast grassland of the Moon Bay, you can see yaks, cattle and sheep grazing, and experience the horse riding, arrow shooting and having a stay in the traditional tent hotel of the nomads. Get atop the hill, you will see the clear river water draw a gentle and beautiful arc on the grassland, just like a round of curved moon, and that is how the valley was named. You can have a panoramic view of the valley from the platform and try the cableway and kayak rafting nearby.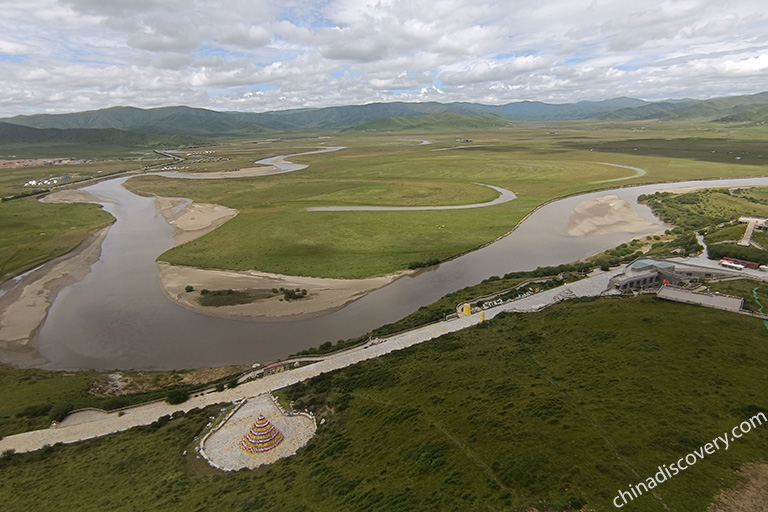 Hongyuan Moon Bay
How to Plan a Langmusi Tour
Langmusi itself only need 1 day or so to explore and it is usually integrated into a Sichuan or Gansu tour.
Starting from Chengdu, you can spend 1 day visiting Chengdu Panda Base, then having a cup of tea at Chengdu People's Park and tasting some local snacks at Jinli Old Street. The next day, take a plane (about 1h) or drive (about 8h) northwards to fairyland Jiuzhaigou Valley and Huanglong National Park. The crystal clear Haizi and Five-color Pond are worth 2 days there. After that, keep driving north (about 4h) to Ruoergai and enjoy the wonderful view of Zoige Grassland, which is reputed as one of the "Top 10 Most Beautiful Wetlands" in China. After a night's rest, the journey continues to Huahu Lake and finally Langmusi.
As for traveling Langmusi with the Gansu part, people usually start from Lanzhou and then head south to Xiahe, where you can pay a visit to Labrang Monastery. The next day, drive to Gahai Lake, a beautiful wetland and migrant bird natural reserve. The day after, you can make it to Langmusi. After that, you can head back or keep traveling to Zhagana, an ancient town like a stone palace or to Ruoergai in Sichuan region.
If you have more questions about a Langmusi trip, please feel free to contact us. We are specialized in customized tours according to your interests, budget, traveling time, etc. Just tell us your needs, and we will provided you with a satisfactory tour.
★ Recommended Langmusi Tour: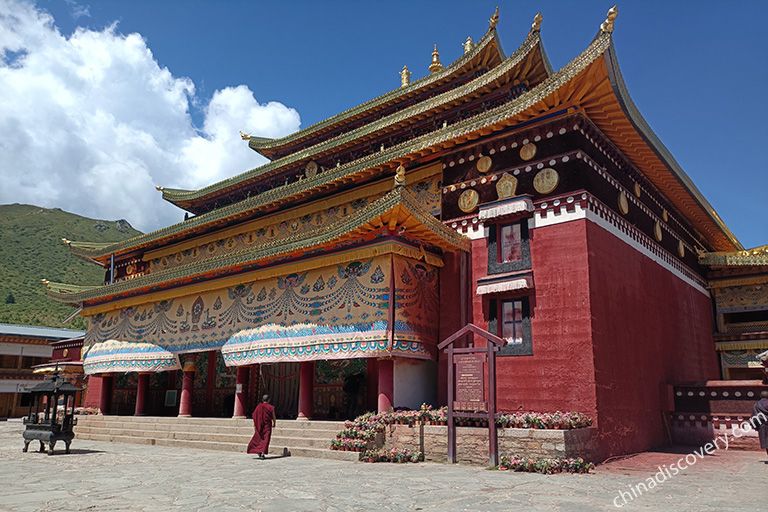 Langmusi Scenery
Keep Reading
Recommended Sichuan Tours
Top 3 Sichuan tours chosen by most customers to explore Sichuan in the best way. Check the detailed itinerary, or tailor your own trip now with us.
5 Days Jiuzhaigou Huanglong Dujiangyan Tour by Private Car

Chengdu / Chuanzhusi / Huanglong / Jiuzhaigou / Dujiangyan / Chengdu
7 Days Jiuzhaigou Ruoergai Prairie Langmu Temple Tour

Chengdu / Chuanzhusi / Huanglong / Jiuzhaigou / Ruoergai / Langmusi / Hongyuan / Chengdu
Start planning your tailor-made holiday to China by contacting one of our specialists. Once inquired, you'll get a response within 0.5~23.5 hours.
Customize a Trip
Have a question? Get answers from our travel experts or guests
Your Question:

Your Name:

Your Email: