Top 6 Things to Do in Shanxi | Shanxi Activities 2023/2024
Shanxi, known as "Ancient Chinese Culture Museum", has many relic sites that include architecture, grottoes, houses, murals, and sculptures with distinct features. Datong, Pingyao, Mount Wutai, Taiyuan, Linfen are the top destinations in Shanxi full of historic and cultural significance. Several sites like Pingyao Ancient City, Yungang Grottoes, and Wutaishan National Park are UNESCO World Heritage Sites. Let's walk into the beautiful scenery and enjoy the brilliant culture with Shanxi tour!
Shanxi Travel Map (Zoom in to enlarge map)
Top 1: Explore Buddhist Civilization, Visit Ancient Temples & Pagodas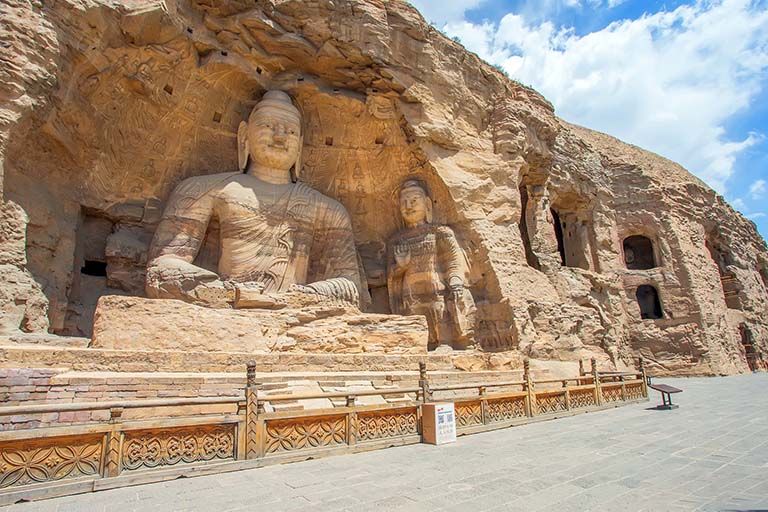 Cave No.20 of Datong Yungang Grottoes
Yingxian Wooden Pagoda of Fogong Temple
Recommended Attractions: Datong Yungang Grottoes, Mount Wutai, Hanging Temple, Yingxian Wooden Pagoda...
Though Shanxi is known for its coal mining industry, it also has long history and rich culture, especially for its Buddhism civilization. Buddhism was introduced to Shanxi as early as the Eastern Han Dynasty. Yungang Grottoes and Hanging Temple were built after that. It had a prosperous period during the Tang Dynasty when rulers supported it in the Mount Wutai. During Song, Liao and Jin Dynasties, the Huayan Temple, Shanhua Temple and Yingxian County Wooden Pagoda were built. During the Yuan Dynasty, Buddhism was honored and the Mount Wutai became one of the four most famous Buddhist sites. During Ming Dynasty, Xiantong Temple and stupas on the Wutai Mountain added other temples. During the Qing Dynasty, Shanxi became a popular site of Lamaism.
√ 2 Days Datong Yungang Grottoes Tour
√ 3 Days Datong Culture Tour with Hanging Temple
Top 2: Appreciate Famous Grand Courtyards of Shanxi Merchant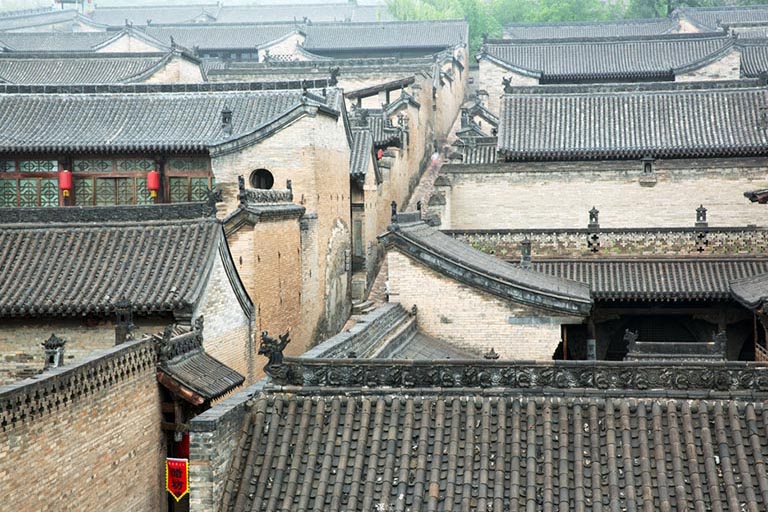 Wang's Family Compound
Qiao's Family Compound
Recommended Attractions: Wang's Family Compound, Qiao's Family Compound
In the Jinzhong plain of Shanxi Province, there are scattered many courtyards: the Qiao's Family Compound, Wang's Family Compound, Qu's Family Compound and the Cao's Family Compound…With the passing of time, each of them has been engraved a signature of vicissitude.
During Ming and Qing Dynasties, merchants of Shanxi (Jin Shang in Chinese) left their homes to seek opportunity outside their home province. True to their roots, these merchants would bring their wealth back to the places where their families had long been settled, and they built fine and extensive mansions.
You may visit Pingyao Ancient City, if you go to Pingyao via Taiyuan, you could stop to see Qiao's Family Compound on the way. If you go to Pingyao directly, you'd better to see Wang's Family Compound.
√ 2 Days Classic Pingyao Ancient City Tour
√ 3 Days Pingyao Discovery Tour with Wang's Family Compound
Top 3: Admire Fantastic Grottoes Mural & Temple Mural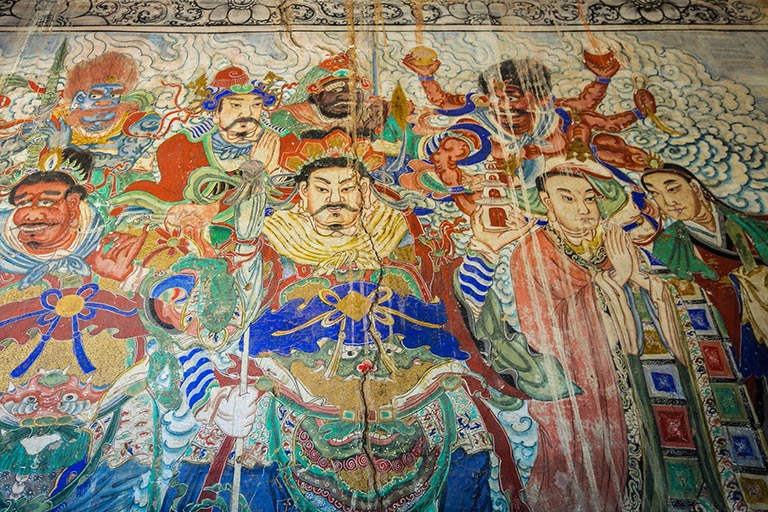 Mural in No.6 Cave of Datong Yungan Grottoes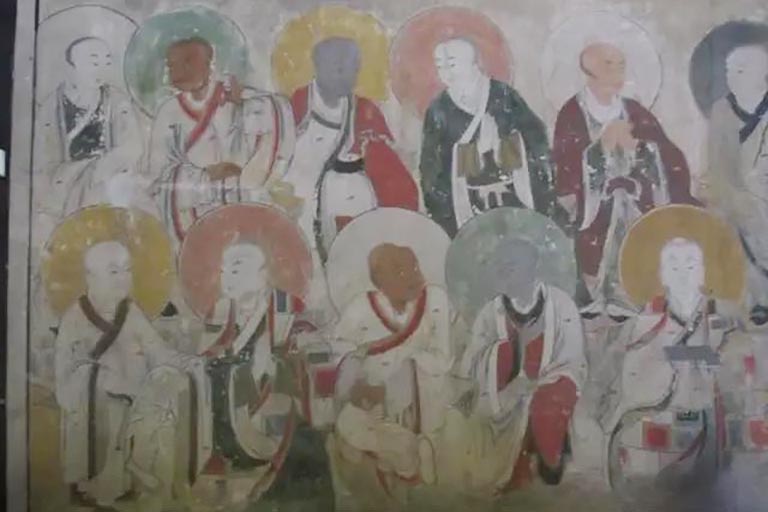 ang Dynasty Mural in Foguang Temple, Mount Wutai
Recommended Attractions: Datong Yungang Grottoes, Foguang Temple, etc.
Shanxi province boasts the most abundant mural paintings in China that could date back to the Eastern Han Dynasty (25-220). The styles of Shanxi murals in different phases not only embody the painting characteristics of various periods, but also have a certain value for artistic, social and religious research.
Grottoes Murals: The Yungang Grottoes in Dadong have a lot of mural relics. They are regarded as "Precious Grotto" with other three famous grottoes - Mogao Grottoes in Dunhuang, Longmen Grottoes in Luoyang and Maiji Mountain Grottoes in Tianshui, Gansu. They are the Chinese mural museums.
Temple Murals: Among the existing murals in Shanxi, there are the most temple murals. Religion is an important topic for Shanxi mural. Foguang Temple in Mount Wutai has the only temple mural of Tang Dynasty.
√ 2 Days Datong Yungang Grottoes Tour
√ 2 Days Classic Mount Wutai Tour
Top 4: Meet Grand Mountains & Beautiful Rivers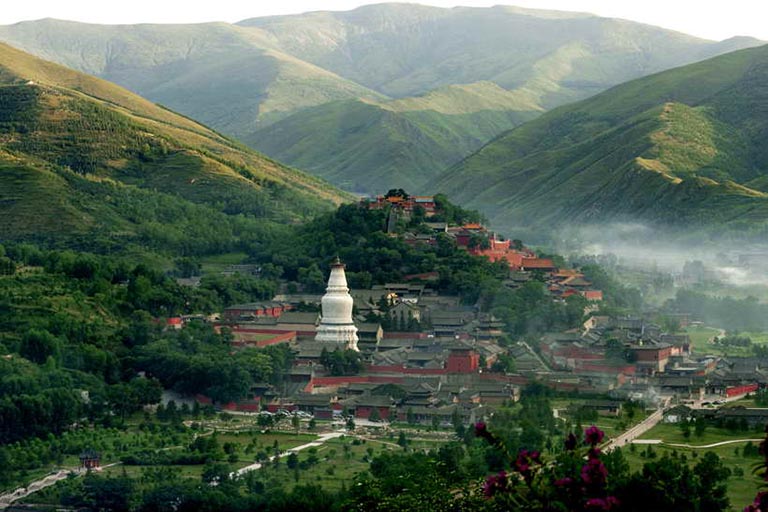 Taihuai Town in Mount Wutai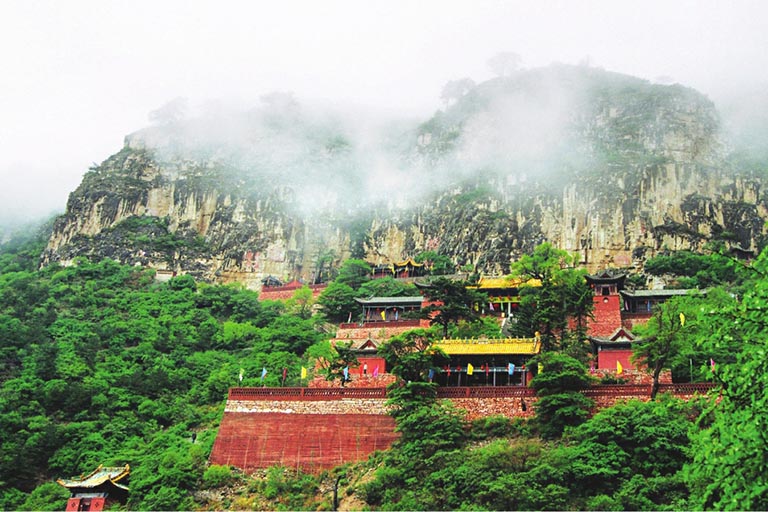 Hengshan Mountain in Datong
Recommended Attractions: Mount Wutai, Hengshan Mountain
The name of Shanxi means "West of the Mountains". Shanxi is located on a plateau made up of higher ground to the east (Taihang Mountains) and the west (Luliang Mountains) and a series of valleys in the center through which the Fen River runs.
The highest peak is Mount Wutai in northeastern Shanxi with an altitude of 3,058 rem. The Yellow River forms the western border of Shanxi with Shaanxi where you could see the second largest waterfall in China - Hukou Waterfall. Mount Wutai and Hukou Waterfall are representative of beautiful landscape.
√ 3 Days Datong Highlights Tour with Hengshan Mountain
√ 4 Days Datong Wutaishan Discovery Tour
Top 5: Experience Folk Customs & Festivals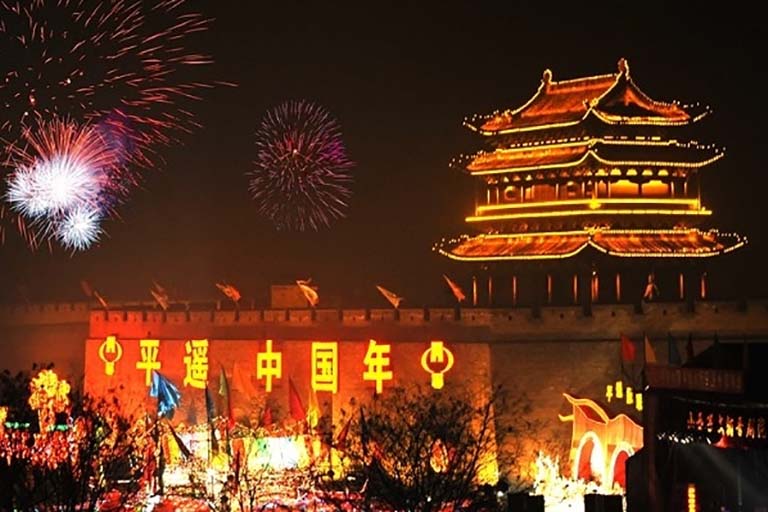 Chinese New Year Festival Held in Pingyao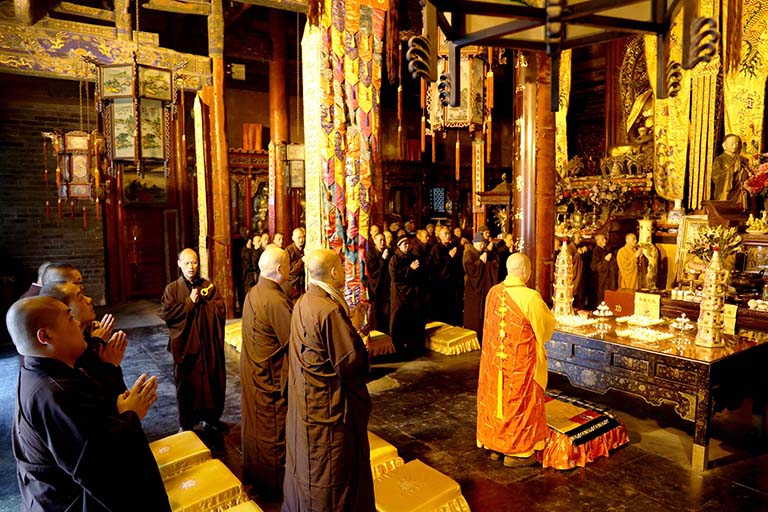 Buddhist Festival in Xiantong Temple, Mount Wutai
Recommended Attractions: Pingyao Ancient City, Mount Wutai, Hukou Waterfall
For those who are interested in folk customs and local activities, Shanxi is definitely a fantastic place to go! Here, you may experience paper-cutting, enjoy Shanxi drama, join in Shehuo festival for songs and dances during the Spring Festival, see Shanxi folk wooden paintings… You could read it by cities. The traditional customs and local activities in Shanxi await you!
Festivals in Pingyao: Pingyao Chinese New Year Festival, Pingyao International Photography Festival
Festivals in Mount Wutai: Wutaishan International Tourist Month, Tiaobuza, Wutaishan Buddhism Culture Festival;
Festivals in Datong: Datong International Tourism Festival of Arts and Culture.
Top 6: Taste Diverse Loca Food & Snacks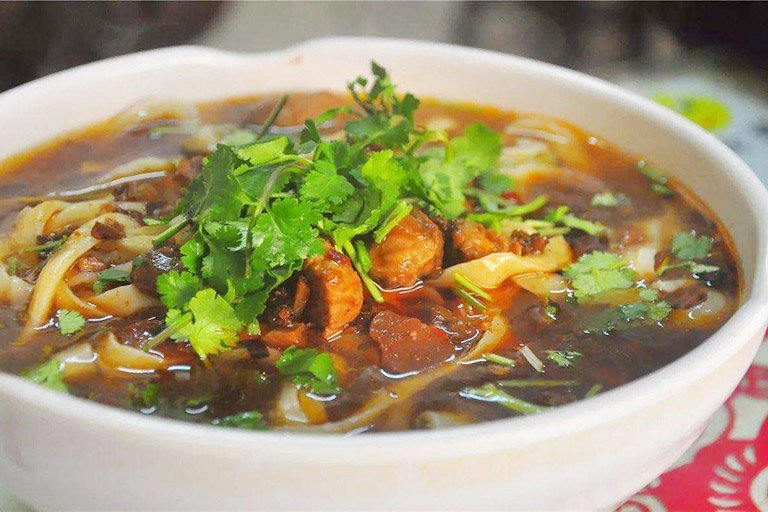 Datong Sliced Noodles
Meat-like Vegetarian Dish in Mount Wutai
Recommended Attractions:: Pingyao Ancient City, Mount Wutai
Shanxi claims to have more than a hundred varied styles of noodles - there are sliced noodles, pulled noodles and maoerduo (cat's ears) to name a few. Daoxiaomian (sliced noodles) are the most popular. The cook's ability to fashion noodles from dough requires years of training and is considered an art.
The famous dish here is guoyourou (fried boiled pork). Like most Taiyuan delicacies, it is flavored with vinegar and tastes salty and is crispy. Travelers might also try some local snacks such as tounao, a Muslim soup with three large pieces of lamb and Chinese herbs.
How to Plan a Shanxi Tour
Top Places to Visit in Shanxi: Datong Yungang Grottoes, Pingyao Ancient City, Mount Wutai, Wang's Family Compound, Hukou Waterfall, etc.
Best Time to Visit Shanxi: April ~ May & September ~November for most places; June ~ August for Mount Wutai.
How to Get to Shanxi: Take flight to Taiyuan Airport, Wutaishan Airport, or take high speed trains to Datong, Pingyao, Taiyuan, Linfen…
Shanxi is an excellent region to explore different treasures of ancient China. Depending on your itinerary, you can either spend 2 days visiting one destination only or take more time, maybe 1 week to cover major highlights in Shanxi, touring Datong, Pingyao, Mount Wutai and Hukou Waterfall in one single trip.
Most tourists tend to spend 4 days touring two top destinations of Shanxi, such as Datong and Pingyao, Datong and Mount Wutai. If you want to take an in-depth Shanxi tour with more attractions and experience some interesting local activities, 6 days is enough for a combined trip to Datong, Mount Wutai, Pingyao and Taiyuan while 7 days is suitable with extra trip to Hukou Waterfall.
☛ 4 Days Essence of Datong & Pingyao Tour
☛ 4 Days Datong Wutaishan Discovery Tour
☛ 6 Days Datong Pingyao Tour plus Wutaishan Visit
☛ 7 Days Shanxi Diversity Tour including Hukou Waterfall
Want to extend trip longer with other parts of China? Then, Beijing and Xian are the two most recommended places to travel with Shanxi. Also, you can explore famous destinations in neighboring provinces, like Luoyang, Zhengzhou, or get to Shanghai and other Chinese cities. If you plan to have a short side trip to Shanxi from Beijing, or Xian, you can spare 2 days to visit one destination as well. China Discovery is always prepared to offer you the best Shanxi tours and customized service for a satisfied itinerary based on your requirement.
☛ 9 Days Ancient Treasure of China Tour
☛ 8 Days Ancient Beijing and Shanxi Culture Tour
☛ 6 Days Beijing Pingyao Highlights Tour
☛ 6 Days Beijing Datong Essence Tour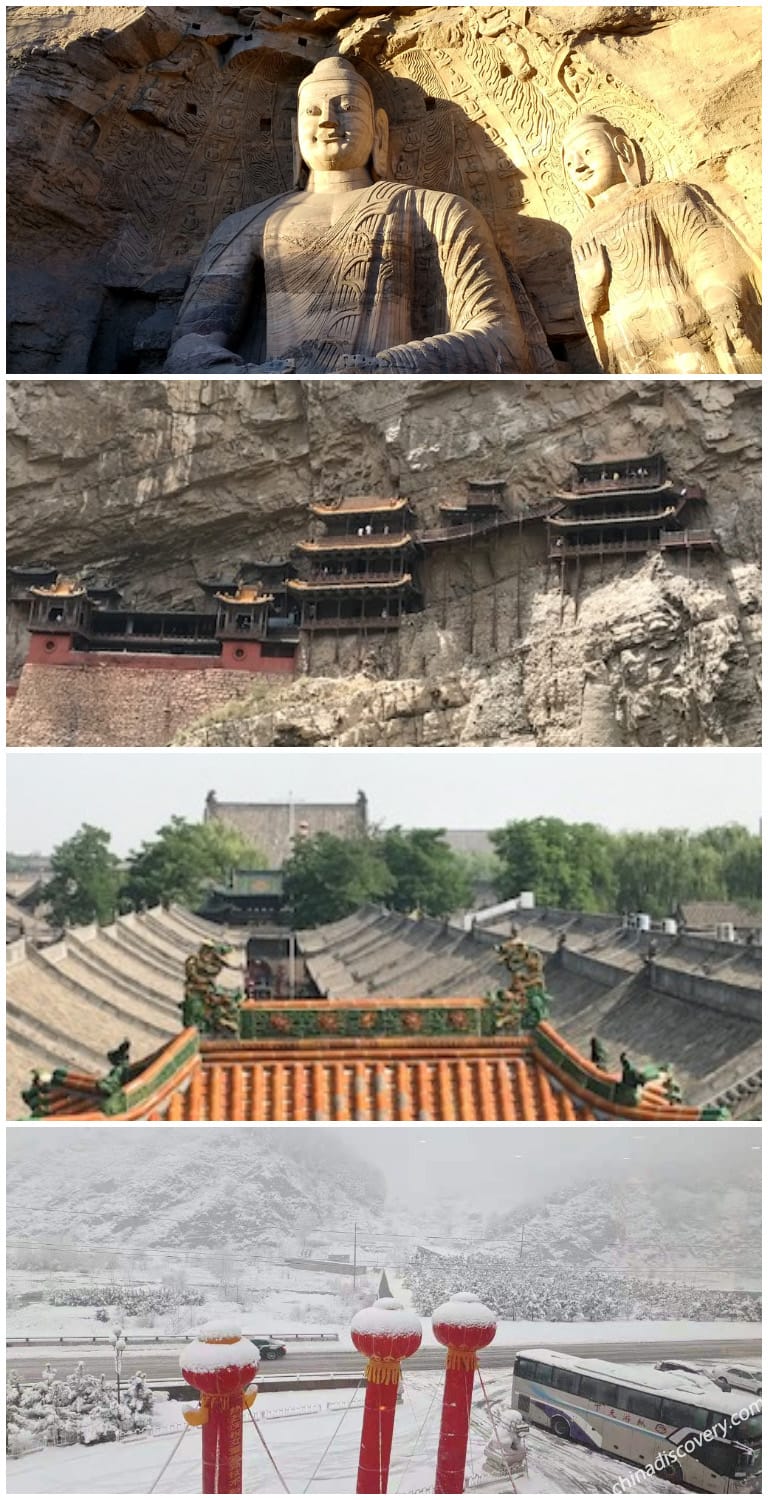 Yungang Grottoes, Hanging Temple, Pingyao and Mount Wutai in Shanxi
Travel with China Discovery
China Discovery is an experienced, professional and a reliable travel companion devoted to offering high-quality and the best tour services for all travelers to China. In order to have a hassle-free travel and focus on the trip itself, it's highly recommended travelling with China Discovery. So, you can enjoy convenient airport pick-up and drop-off service and transportation to all scenic spots in a safe, clean, comfortable, air-conditioned and non-smoking vehicle. Also, we will arrange knowledgeable local tour guide, excellent accommodation and dining arrangements to ensure you rest well and get better understanding of local culture. You may select a favorite from our most popular Shanxi Tours or contact us to design a unique itinerary according to your personal time and preference.
We have helped many global travelers enjoy their memorable wonderful trips to Shanxi for the past few years. Among them, a sweet couple from the UK traveled with us and spent 21 Happy Days in Datong, Pingyao, Mount Wutai, Xi'an and 5 Other Cities in Northern China, and shared us their special travel story!
Moreover, we got more than 1,620+ good reviews on TripAdvisor.com, and over 3,310+ China travel reviews from our customers. Travel with China Discovery to create your great China trip memories!
Keep Reading about Shanxi Travel Guide
Recommended Shanxi Tours
Top 3 Shanxi tours chosen by most customers to explore Shanxi in the best way. Check the detailed itinerary, or tailor your own trip now with us.
6 Day Datong Pingyao Tour Plus Wutaishan Visit

Datong / Wutaishan / Taiyuan / Pingyao
4 Days Essence of Datong & Pingyao Tour

Datong / Pingyao
7 Days Shanxi Diversity Tour including Hukou Waterfall

Datong / Wutaishan / Pingyiao / Hukou Waterfall
Start planning your tailor-made holiday to China by contacting one of our specialists. Once inquired, you'll get a response within 0.5~23.5 hours.
Customize a Trip
Have a question? Get answers from our travel experts or guests
Your Question:

Your Name:

Your Email: