Shanxi Maps 2023: Updated, Detailed and Downloadable
Shanxi province is situated in the northern part of China. It borders Hebei province to the east, Henan to the south, Shaanxi to the west and Inner Mongolian Autonomous Region to the north.
To make it easier to transfer among cities of Shanxi or other nearby cities, to help you discover the highlights of Shanxi better, you could have a look at our Shanxi Maps like Shanxi China Map, Shanxi Attraction Map etc. All of the maps are detailed, downloadable and printable!
Shanxi Location Map - Where Is Shanxi & Shanxi Tourist Maps
Shanxi, is located between 34° 34′N - 40° 44′N and 110° 14′ - 114° 33′E, with a total area of 156700 square kilometers. It is a landlocked province in North China, meaning "West of the Mountains", a reference to the province's location west of the Taihang Mountains. The capital city, Taiyuan is only about 500km to Beijing, 600km to Xi'an. Totally, Shanxi has 11 prefecture-level cities, 26 municipal districts, 11 county-level cities and 80 counties. Taiyuan is the capital city, while Datong, Pingyao, Wutaishan (Mount Wutai) are best-known tourist sites in Shanxi.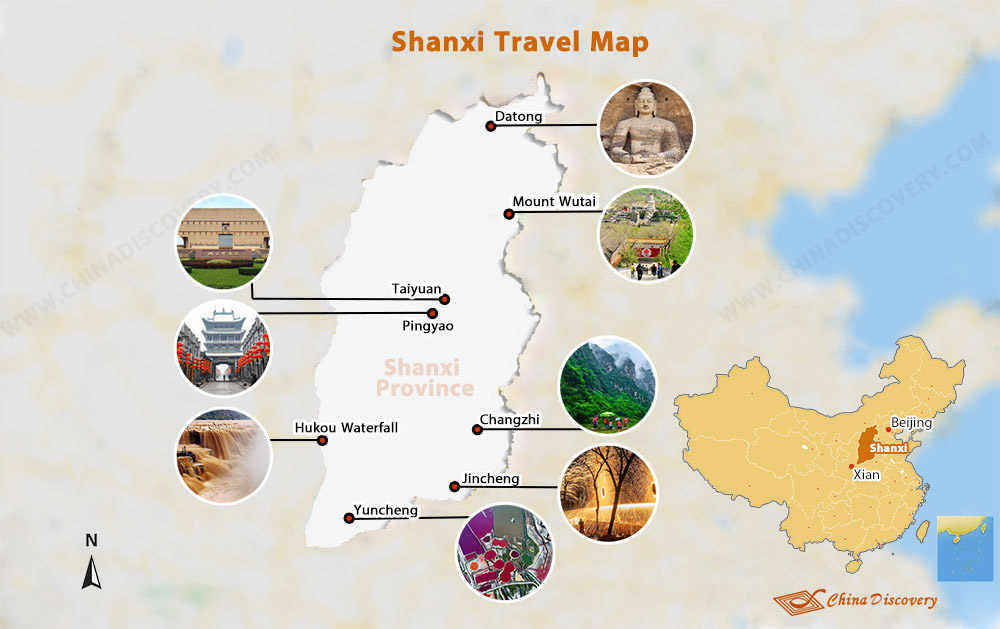 Known for the great historical relics, profound Buddhism culture, residential courtyards and stunning mountains and waterfalls, Shanxi attract numerous visitors, and Pingyao (Pingyao Ancient City) and Datong (Yungang Grottoes & Hanging Temple), and Wutaishan (Mount Wutai) are three of the most popular destinations in Shanxi. Capital city - Taiyuan is often used as a transportaion hub to Beijing, Xian, Lanzhou, and many other cities in China.
Shanxi Pingyao Maps
Pingyao Tourist Maps
Pingyao Transportation Maps
Shanxi Datong Maps
Datong Transportation Maps
Shanxi Taiyuan Maps
Taiyuan Tourist Maps
Taiyuan Transportation Maps
Shanxi Wutaishan Maps
Mount Wutai Tourist Maps
Mount Wutai Transportation Maps
How to Plan a Shanxi Tour