Linfen, located in the south of Shanxi, is 270 km from the "Capital City" - Taiyuan. As for the limited transportation, it is better to get to Linfen from Taiyuan or after your Pingyao trip.
Linfen is the capital of Yao, the first emperor in Chinese history according to the written records. It was also the capital of Jin Kingdom in the Warring State Period. Therefore, Linfen is regarded as one of the earliest birthplace of Chinese culture. There are some natural and historical sites such as Hukou Waterfall, Yao Temple, Guangsheng Temple that attract visitors from far away.
Why visit this city:
Hukou Waterfall - At Hukou, located right on the border between Shanxi and Shaanxi provinces, the 300-meter-wide Yellow River suddenly narrows and is forced violently through a 20-meter-wide gorge before falling turbulently into a stone pond 30 meters below prior to continuing its voyage towards the sea. Over 1000 cubic meters of water per second rush frothily through this narrow opening in the rock, somewhat resembling water being poured from a giant teapot.
Cultural Relics - Linfen has a long history and splendid culture. There are many cultural relics, such as Yao Temple, Guangsheng Temple, Zhu's Family Compound, etc.
Top Attractions in Linfen
In the border between Shanxi and Shaanxi is the famous Hukou waterfall of the Yellow River, the largest yellow waterfall in the world. It is magnificent natural wonder, a must-visit site in Linfen. Besides, there are also beautiful ancient temples for visiting...
Best Time to Visit Linfen
Get to & Around Linfen
Linfen Accommodation
Linfen Maps - Hukou Waterfall Maps
Linfen is located in the southwest part of Shanxi Province, known for the Hukou Waterfall. For understanding intuitively about its location and Hukou Waterfall, here are Hukou Waterfall Location Map, Linfen High-speed Rail Map, and Hukou Waterfall Shanxi Transportation Map for you. With more nearby attractions, check more Hukou Waterfall Maps.
Other Destinations Near Linfen
With a convenient high-speed train transfer, you can explore more beyond Hukou Waterfall from Linfen city to Pingyao to view more about Shanxi history; or go north to Datong and view the grottoes arts. For Beijing-Xian tourists, Pingyao and Datong connect these two great historical and cultural cities for you to have a better perspective of China.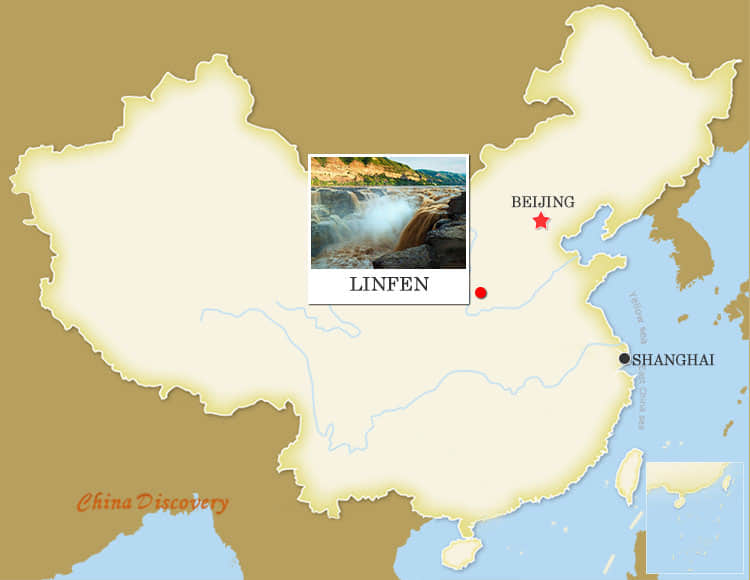 Chinese Name: 临汾
Chinese Pinyin: lín fén
English IPA: /lɪnfen/
Population: 4,316,612
Language: Mandarin & Shanxi Dialect
Tel Code: 0357
Zip Code: 041000
Time Zone: (UTC+8)
Plan Your Linfen Tour
Generally, travelers come for Linfen mainly for visiting Hukou Waterfall and a half day is enough to have a good time in Hukou Waterfall Scenic area. But it's not enough to travel Hukou Waterfall only without visiting nearby top attractions in Shanxi province or Shaanxi province.
If you travel in Shanxi province, it is strongly recommended to take a cultural savory in Datong (Yungang Grottoes, Hanging Temple…), Pingyao (Pingyao Ancient City, Wang Family Courtyard…), Mount Wutai, etc. Usually, it takes 6 ~ 8 days to have a Shanxi highlights tour, and you can also head to Shaanxi after your Linfen trip, getting to the ancient capital, Xian.
Recommended Tours
MORE