Top Shanxi Attractions | Best Places to Visit in Shanxi 2023/2024
Shanxi Province, located in west of Taihang Mountain with Yellow River flowing though the west, is one of the cradles of Chinese civilization and a top tourist region gifted with rich tourism resources. There are 452 existing national key cultural relic protection units, about one-fifth of the nation's total amount. It is most known as "Ancient Chinese Architecture Museum of Art", for owing over 70% well-preserved surface ancient buildings before Song and Jin Dynasties. In Shanxi, you can discover UNESCO World Cultural Heritages in Datong Yungang Grottoes, Pingyao Ancient City and Mount Wutai, witness thrilling cliffside Hanging Temple, visit featured Wang's Family Compound, view complete Yuan Dynasty Taoist buildings with splendid murals. Meanwhile, you can enjoy extraordinary natural scenery in Mount Hengshan, Yellow River Hukou Waterfall, refreshing Mianshan Mountain, etc. What are the top attractions to visit in Shanxi? Read on to find your favorites for a Shanxi tour.
Shanxi Travel Map (Zoom in to enlarge map)
Top 1: Pingyao Ancient City - The Best-preserved Chinese Ancient City & A World Cultural Heritage
Ancient City Wall of Pingyao
Ancient Street in Pingyao Ancient City
Type: UNESCO World Cultural Heritage, Cultural & Historical Site, Landmark
Location: Kangning Road, Pingyao County, Jinzhong City, Shanxi Province
Ticket: CNY 125 per person for 22 scenic spots inside
Opening Hours: 08:00-18:00 (April - October); 08:00-17:30 (November – Next March)
Recommended Length of Visit: 0.5 day - 1 day
With over 2,700 years of history, Pingyao Ancient City is one of the best-preserved ancient cities in China and an outstanding example of Han Chinese urban city of Ming and Qing Dynasties, which was listed as UNESCO World Cultural Heritage in 1997. In modern era today, this places show a living and complete painting about the ancient culture, society, commerce and religion.
Protected by the 6163-meter-long old city walls, Pingyao Ancient City keeps more than 300 ancient sites and 4,000 Ming and Qing Dynasties residences in their authentic layout and architectures. Constructed based on the Eight Trigrams, the city has the first modern bank of China that created China's ancient "Wall Street, former government office, ancient temples and criss-cross streets and lanes lined with busy shops. Take at least half a day or one full day to slowly visit the ancient sights to know the real old China. Shuanglin Temple and Zhenguo Temple nearby are heritage components contain rare painted sculptures and ancient timber structures.
√ 2 Days Pingyao Ancient City Tour / √ 3 Days Pingyao Discovery Tour
Top 2: Yungang Grottoes – A Huge Buddhist Grottoes Treasure House & World Cultural Heritage
Cave No.20 of Yungang Grottoes
Exquisite Buddha Statues in Yungang Grottoes
Type: World Heritage Site, Caverns & Caves, Historic Sites, Sights & Landmarks, Ancient Ruins
Location: No.1 Yungang Town, Yungang District, Datong City, Shanxi Province
Ticket: CNY 125 (April-October) / CNY 80 (December-Next March)
Opening Hours: 08:30-17:30 (April 1st-October 15th); 08:30-16:50 (October 16th - Next March 31st)
Recommended Length of Visit: half a day
Stretching about 1 km on south foot of Wuzhou Mountain, west of Datong City, Datong Yungang Grottoes is one of the best four Buddhist Grottoes' art treasuries in China together with Dunhuang Mogao Caves, Luoyang Longmen Grottoes and Tianshui Maijishan Grottoes. It was carved from 460 AD (the Northern Wei Dynasty) to 524 AD, and enrolled as a UNESCO World Cultural Heritage property in 2001.
Yungang Grottoes is not only magnificent in scale but also rich in content, currently remaining 252 caves and over 51,000 sculptures ranging from 17 meters to a few centimeters. All kinds of statues are made incredibly lifelike in various elegant gestures. Tan Yao Five Caves among all is the best part, a classic masterpiece of the first peak of Chinese Buddhist culture. The giant Buddhist statues and caves were engraved with extremely impressive size and beautiful colors. These artworks offer great chance to learn the history, art, music, dance, calligraphy and architecture of the Northern Wei Dynasty earlier than Dunhuang Mogao Caves.
√ 2 Days Datong Yungang Grottoes Tour / √ 3 Days Datong Culture Tour with Hnaging Temple
Top 3: Hengshan Hanging Temple - A Magic Temple in the Air
Hanging Temple on the Cliff
Hanging Temple in Autumn
Type: Religious Sites, Architectural Buildings, Historic Sites, Points of Interest & Landmarks
Location: at the foot of Hengshan Mountain, Southeast Suburb of Hunyuan County, Datong City, Shanxi Province
Ticket: CNY 125 (March-October); CNY 117 (November-Next February)
Opening Hours: 08:30-17:30 (November – Next May); 08:00-18:00 (June – October)
Recommended Length of Visit: 2 ~ 3 hours
Being more 1,500 years old, Hanging Temple (Xuankong Temple) is a unique temple built into a cliff nearly 50 m from the ground, and where Buddhism, Taoism and Confucianism coexist. It is an unusual architecture perfectly combined mechanics, aesthetics and religion, and demonstrating brilliant culture, art and history of the ancient China.
The temple is located about 65 km southeast of Datong City. Its upper area is steep limestone rocks and below is a valley with river flowing through. Looking from a distance, Hanging Temple seems to be supported by dozens of pillars. But after climbing up the stone stairs, you would surely marvel at that this temple complex is inlaid into cliff firmly and ingeniously. Walk through the plank road, you can see 40 ancient halls, pavilions and towers layer after layer.
√ 3 Days Datong Culture Tour with Hanging Temple / √ 3 Days Datong Highlights Tour & Hengshan Mountain
Top 4: Mount Wutai (Five Terrace Mountain) – A Leading and Sacred Buddhist Shrine in China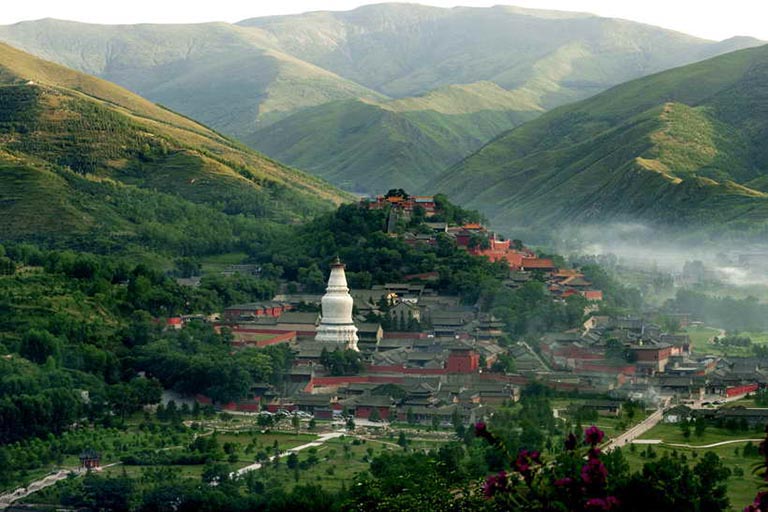 Temples in Taihuai Town of Mount Wutai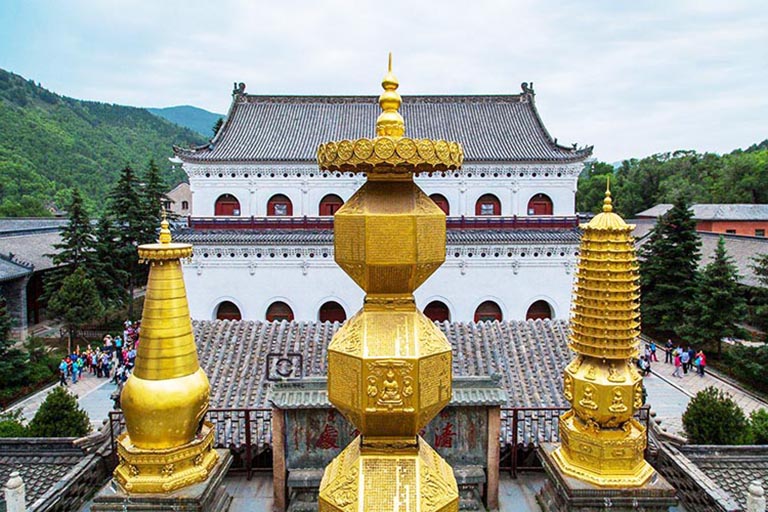 Xiantong Temple - the Oldest Temple in Mount Wutai
Type: World Heritage Site, Mountains, Natural Sightseeing, Buddhist Religious Site
Location: Taihuai Town, Wutaishan County, Xinzhou City, Shanxi Province
Ticket: CNY 135 per person
Opening Hours: 8:00-17:00
Recommended Length of Visit: 1 day- 3 days
With five terraces peaks and the world's largest extant ancient Buddhist temple complex, Mount Wutai is the famous as the ashram of the Manjusri Bodhisattva, one of the four sacred Buddhist mountains in China as well as a big international Buddhist center.
In this "Buddha World", there are 47 Buddhist temples you can visit to sense strong Buddhist culture of different sects and admire traditional architectures. Many influential emperors once made pilgrimage to Mount Wutai, still now, numerous tourists and followers stream into Mount Wutai to witness the remarkable green lands of this "Cool Mountain" and preserve devout belief of Buddhism. Down the hill, you can visit China's oldest temple - Xiantong Temple, the iconic Giant White Pagoda in Tayuan Temple, all five Dharmakayas of Manjusri in Dailuoding Temple, etc., or make a Da Chaotai (Big Kora) to five terraces by hiking.
√ 2 Days Classic Mount Wutai Tour / √ 3 Days Mount Wutai Trekking Tour
Top 5: Wang's Family Compound - "Forbidden City in Folk" and The Largest Shanxi Courtyard Residence in Shanxi
Entrance Gate of Wang's Family Compound
Layered Roofs in Wang's Family Compound
Type: Historical building, Ancient folk residence
Location: Jingsheng Village, Jingsheng Town, Lingshi County, Jinzhong City, Shaanxi Province
Ticket: CNY 55
Opening Hours: 08:30-18:30 (April-October); 08:30-17:00 (November-March)
Recommended Length of Visit: half a day
Shanxi merchants and their residential buildings are also valuable cultural legacies of Shanxi. Covering an area of 250,000 square meters, Wang's Family Compound is the existing largest Shanxi courtyard house and a truly "Art Museum of Traditional Residences".
The large-area estate is situated about 55 km south of Pingyao Ancient City and 150 km from Taiyuan, capital city of Shanxi Province. As an endeavor of the local wealthy Wang Family for over 300 during Ming and Qing Dynasties, this mansion is a castle-like building complex built on slops, comprising two main areas. Surrounded by solid parapet walls, there are 35 courtyards and 342 houses for living rooms, private school, ancestral halls, embroidery building and other functions. All are built in a particular layout with exquisite decorations. The layered grey eaves, fantastic wooden, stone and brick carving are highlights you can't miss.
√ 2 Days Pingyao Ancient City Tour / √ 3 Days Pingyao Culture Discovery Tour
Top 6: Qiao's Family Compound – Superb Model of Traditional Private Residence in North China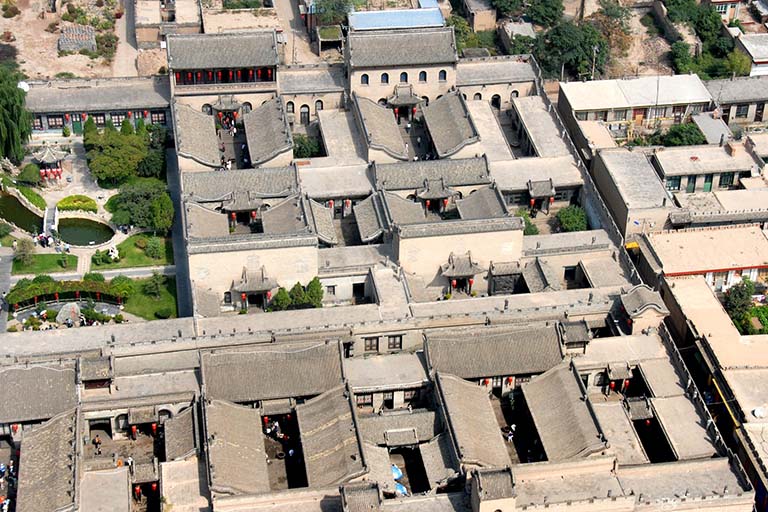 Bird's View of of Qiao's Facmily Compound
Courtyard in Qiao's Family Compound
Type: Historical building, Ancient folk residence
Location: Qiaojiabao Village, Dongguan Town, Qi County, Jinzhong City, Shanxi Province
Ticket: CNY 115
Opening Hours: 08:30-18:30 (April - October); 08:30-17:00 (November – Next March)
Recommended Length of Visit: half a day
Initially built in 1756, Qiao's Family Compoun is a spectacular architecture complex reputed as one of the best examples of private residences in Northern China. It's a classic traditional folk house group with elaborate design and fine crafts. Public know it mostly because Zhang Yimou's film - Raise the Read Lantern starring Gong Li.
The entire compound presents a shape of "喜喜", which means double happiness in China, and has 6 big courtyards and 313 rooms. Now it has been altered to a national museum displaying folk customs in central Shanxi. Over 5,000 cultural relics are kept in the neatly-located Siheyuan (courtyard houses), including the old hydrargyrum marble, lantern, glass, plaques, colored paintings, screen walls, wooden, brick and stone carvings and so on.
√ 3 Days Taiyuan Pingyao Brief Tour
Top 7: Hukou Waterfall - World's Largest Yellow Waterfall and China's Second Largest Waterfall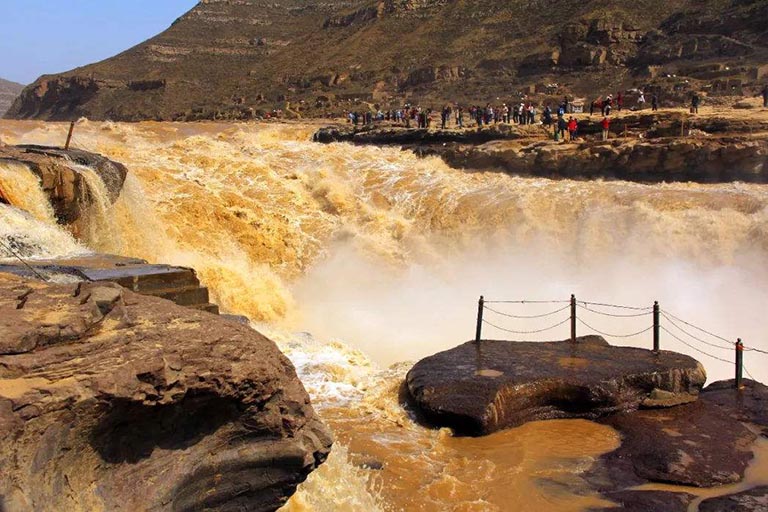 Breathtaking Sights of Hukou Waterfall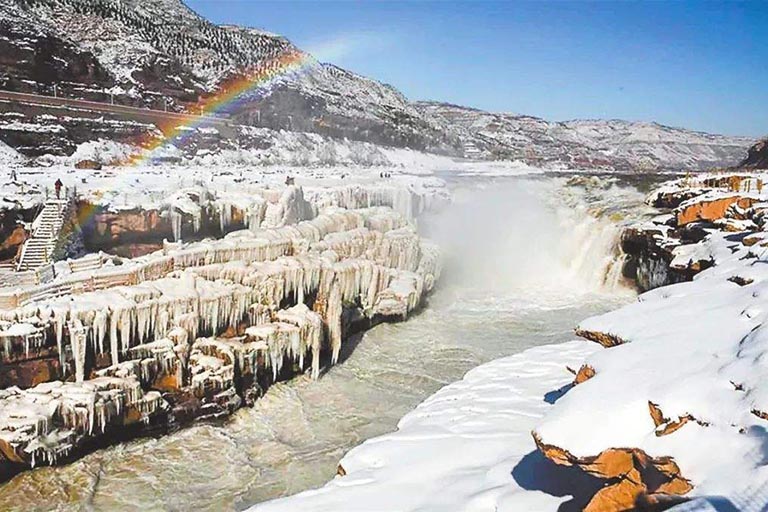 Frozen Hukou Waterfall with Beautiful Rainbow
Type: Waterfalls, Bodies of Water, Nature & Parks
Location: Border of Jixian County of Shanxi and Yichuan County of Shaanxi
Ticket: CNY 91
Opening Hours: 08:00-18:00
Recommended Length of Visit: 2 hours-3 hours
Hukou Waterfall in middle reaches of the Yellow River is the biggest waterfall on the Yellow River. It is shared by Ji County, Linfen City of Shanxi Province and Yichuan County, Yan'an City of Shaanxi Province, about 300 km from Xian and 380 km from Taiyuan. Depending on your departure city and itinerary, you can decide to view the imposing waterfall from which side.
The best time to visit the Yellow River Hukou Waterfall is from April to May and September to November. During these periods, the large waters of Yellow River roar to southern segment of Qinjin Canyon and pour down from a 300-meter-wide riverbed to a kettle spout-like estuary (20-30 meters only), creating a breathtaking and special yellow waterfall. Tourists can also enjoy dry land sailing and distinctive Shanxi Opera beside the wonderful waterscape.
√ 3 Days Yellow River Hukou Waterfall from Pingyao / √ 3 Days Xian Tour with Hukou Waterfall
Top 8: Jinci Temple - The Existing Earliest Royal Ancestral Garden in China
Holy Mother Hall in Jinci Temple
Archway in Front of Xiandian Hall
Type: Cultural & Historical Site, Landmark, Park, Temple
Location: Jinci Town, Jinyuan District, Taiyuan City, Shanxi Province
Ticket: CNY 80 (April - October); CNY 65 (November - Next March)
Opening Hours: 08:30-17:30 (April - October); 08:30-17:00 (November – Next March)
Recommended Length of Visit: 2 hours-3 hours
Jinci Temple, situated about 26 km from downtown Taiyuan, is the ancestral temple of Jin Dynasty built for the founder Tang Shuyu and his queen mother. This temple is the only case including the complete dynasties and architectural styles of Song, Yuan, Ming, Qing and Republic periods.
Now Jinci Temple is a national museum formed by the museum area and Xuanweng Mountain area. Different architectures are organized along the central axis in the garden, such as Tang Shuyu Ancestral Hall, Wutianshan Ancestral Hall, Wenchang Taoist Palace, Fengsheng Temple, etc. The Hall of the Holy Mother is the essence with high artistic value and long religious history of nearly 1,000 year. Here is a good place to learn past patriarchal clan system and feudal ethics in China and enjoy pleasant landscape of ponds, halls, temples, pavilions, academies, steles and other ancient sites.
√ 2 Days Cultural Exploration in Taiyuan / √ 3 Days Taiyuan Pingyao Brief Tour
Top 9: Yanmen Pass (Yanmenguan) - The First of the "Nine Passes under Heaven"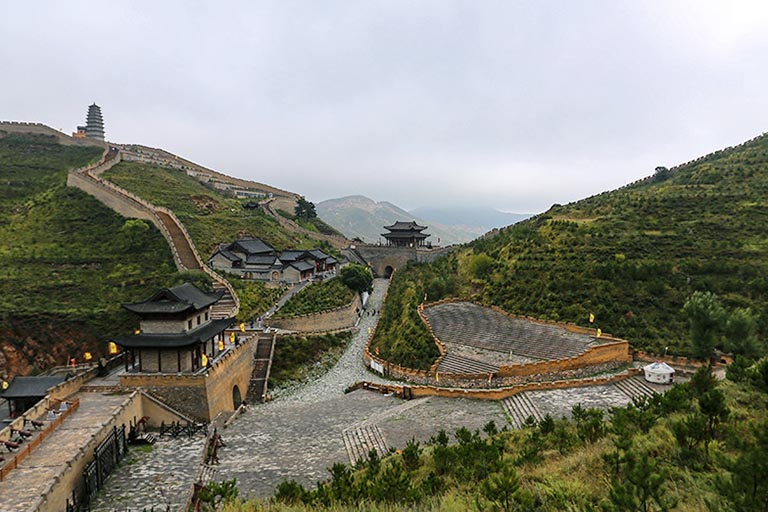 Yanmen Pass in the North of Xinzhou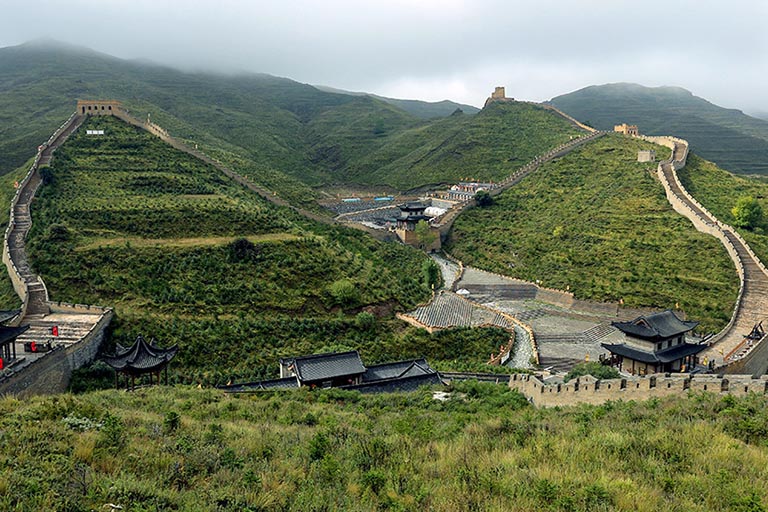 Yanmen Pass - An Ancient Fortress on Great Wall
Type: Historical Site
Location: at the junction of Shanxin County, Shuozhou City and Dai County, Xinzhou City, Shanxi Province
Ticket: CNY 90
Opening Hours: 08:00-18:00 (April - October); 08:30-17:30 (November – Next March)
Recommended Length of Visit: 0.5 day - 1 day
Yanmen Pass, or Wild Goose Pass, is a vital fortress on Great Wall, which protected the hinterland of Central China from the northern nomadic tribes' invasion. It held strategic location as a natural defense barrier in ancient times.
Driving from Taiyuan to Yamen Pass in the north needs about 2.5 hours (about 175 km) and over 2 hours from Datong. Now it is an AAAA tourist attraction close to Xinzhou, with a 5 kilometers' long siege, many stone walls, city gate, camp site of garrison of Ming and Qing Dynasties, parade ground, stone lions, flags, tablets and a Guandi Temple in the east and a Jingbian Ancestral Hall in the west.
Top 10: Mount Mian - Birthplace of Cold Food Festival of China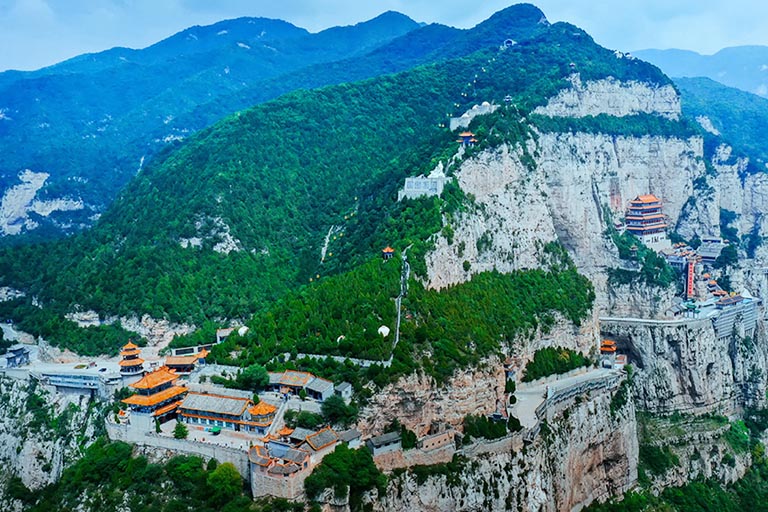 Panoramic View of Mianshan Mountain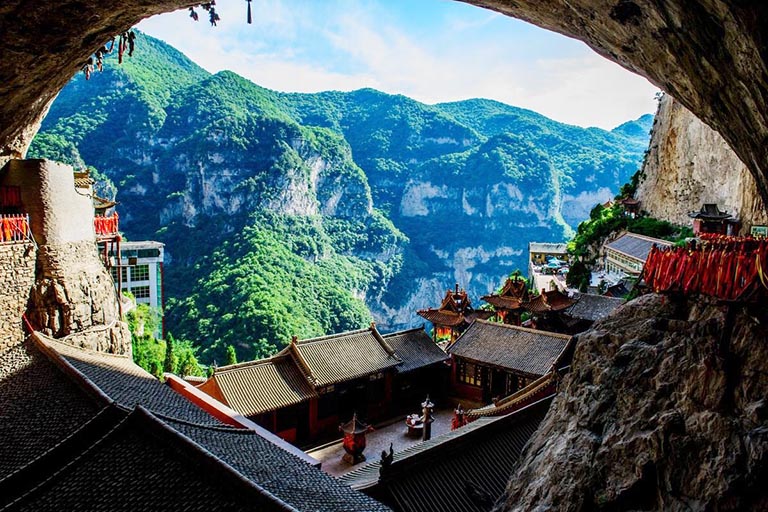 Ancient Style Architectures on Cliff of Mianshan Mountain
Type: Cultural & Historical Site, Natural Site, Mountain
Location: Nanhuaizhi Village, Mianshan Town, Jiexiu City, Jinzhong City, Shanxi Province
Ticket: CNY 105
Opening Hours: 08:00-19:00 (April - October); 08:00-19:00 (November – Next March)
Recommended Length of Visit: 0.5 day - 1 day
Mount Mian (Mianshan Mountain) crossing Jiexiu, Lingshi, Qinyuan cities is a branch of Taiyue Mountain in central Shanxi. It's most famous for the history relating to Jie Zitui, large temple complex in ancient style and beautiful mountain scenery.
Over 2,600 years before, Jie Zitui and his mother retired and lived in seclusion in Mount Mian. To memorize his unexpected death by fire, the Cold Food Festival was established and has been held one or two days before Qingming Festival each year. Early in the Northern Wei Dynasty, Mount Mian had some temples and developed into a huge Buddhist land in Tang Dynasty. Now there are lots of antique buildings fused traditional features and modern creation, such as the temples, Taoist palaces, archway, corridor, pavilion, towers, ancient barracks. You can also take a natural adventure here, climb thrilling stairs, see awesome steeps and catch a panoramic view of vast farmland down the hill.
√ 3 Days Pingyao Ancient City Tour with Mianshan Mountain
More Shanxi Tourist Attractions to Visit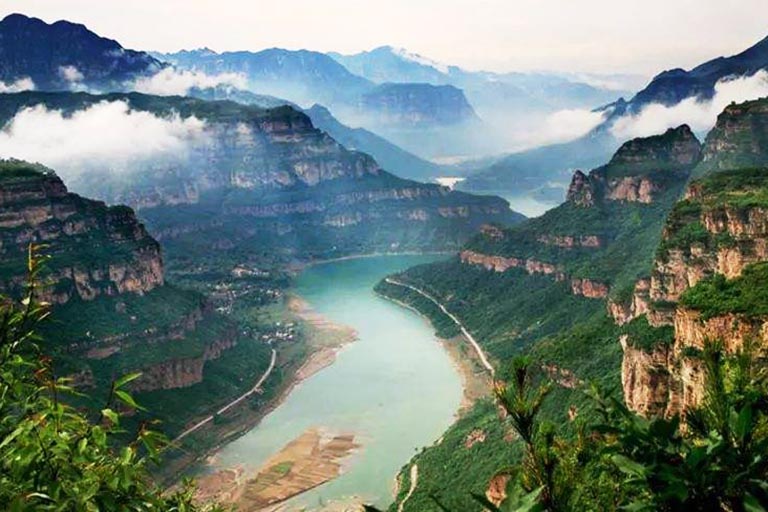 Taihang Mountain Grand Canyon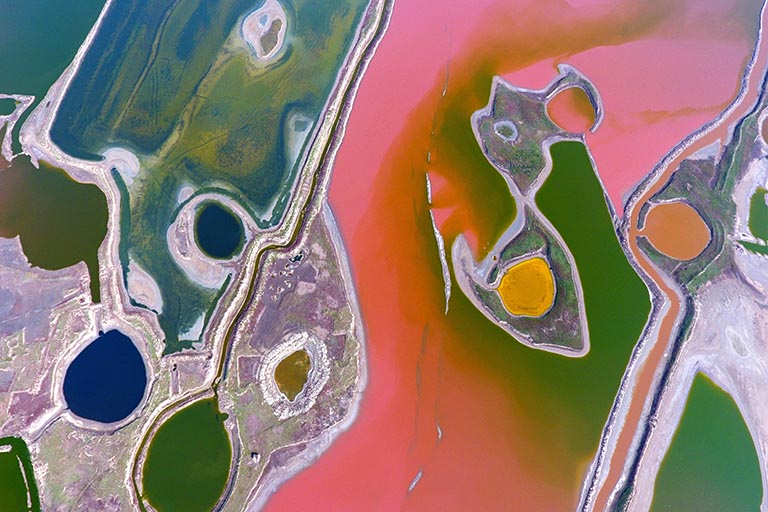 Colorful Yuncheng Salt Lake
Certainly Shanxi has much more tourist attractions worthy your exploration. If you have more time and are quite interested in a specific attraction in Shanxi, you can contact us to customize a private tour to fulfill your requirement.
Are you a big fan of Chinese culture and history? Then, Shanxi Museum in Taiyuan should be on your Shanxi travel list. As a national first-class museum, a provincial comprehensive museum, it collects more than 500,000 pieces of bronze, porcelain, stone carvings, Buddhist sculptures, murals, calligraphy and paintings, etc. This is the best site to grasp the overall and main cultural and historical highlights of Shanxi.
For nature lovers, Taihang Mountain Grand Canyon is a top recommendation, which is a national forest park, geopark, AAAAA tourist attraction and one of the most beautiful canyons in China. You can see grand Taihang Mountain, winding green rivers and rich species of flora and fauna by boating and cableway. Red Bean Gap, Eight Springs Gap, Black Dragon Pool are the main sights. The Dead Sea of China Yuncheng Slat Lake is an amazing palette that will bring you a visual feast. Leave some time to learn the mysterious salt making and have fun in the floating and black clay bath.
During your Datong tour, you can still travel to Nine Dragon Screen Wall, Huayan Temple and Datong Earth Forest, and Fogong Temple and Yingxian Wooden Pagoda nearby. Side trip to Zhangbi Ancient Castle is doable for Pingyao travelers. In Taiyuan, Coal Museum of China and Twin Pagoda Temple are advised for in-depth cultural exploration.
How to Plan a Shanxi Tour
Top Places to Visit in Shanxi: Datong Yungang Grottoes, Pingyao Ancient City, Mount Wutai, Wang's Family Compound, Hukou Waterfall, etc.
Best Time to Visit Shanxi: April ~ May & September ~November for most places; June ~ August for Mount Wutai.
How to Get to Shanxi: Take flight to Taiyuan Airport, Wutaishan Airport, or take high speed trains to Datong, Pingyao, Taiyuan, Linfen…
Shanxi is an excellent region to explore different treasures of ancient China. Depending on your itinerary, you can either spend 2 days visiting one destination only or take more time, maybe 1 week to cover major highlights in Shanxi, touring Datong, Pingyao, Mount Wutai and Hukou Waterfall in one single trip.
Most tourists tend to spend 4 days touring two top destinations of Shanxi, such as Datong and Pingyao, Datong and Mount Wutai. If you want to take an in-depth Shanxi tour with more attractions and experience some interesting local activities, 6 days is enough for a combined trip to Datong, Mount Wutai, Pingyao and Taiyuan while 7 days is suitable with extra trip to Hukou Waterfall.
☛ 4 Days Essence of Datong & Pingyao Tour
☛ 4 Days Datong Wutaishan Discovery Tour
☛ 6 Days Datong Pingyao Tour plus Wutaishan Visit
☛ 7 Days Shanxi Diversity Tour including Hukou Waterfall
Want to extend trip longer with other parts of China? Then, Beijing and Xian are the two most recommended places to travel with Shanxi. Also, you can explore famous destinations in neighboring provinces, like Luoyang, Zhengzhou, or get to Shanghai and other Chinese cities. If you plan to have a short side trip to Shanxi from Beijing, or Xian, you can spare 2 days to visit one destination as well. China Discovery is always prepared to offer you the best Shanxi tours and customized service for a satisfied itinerary based on your requirement.
☛ 9 Days Ancient Treasure of China Tour
☛ 8 Days Ancient Beijing and Shanxi Culture Tour
☛ 6 Days Beijing Pingyao Highlights Tour
☛ 6 Days Beijing Datong Essence Tour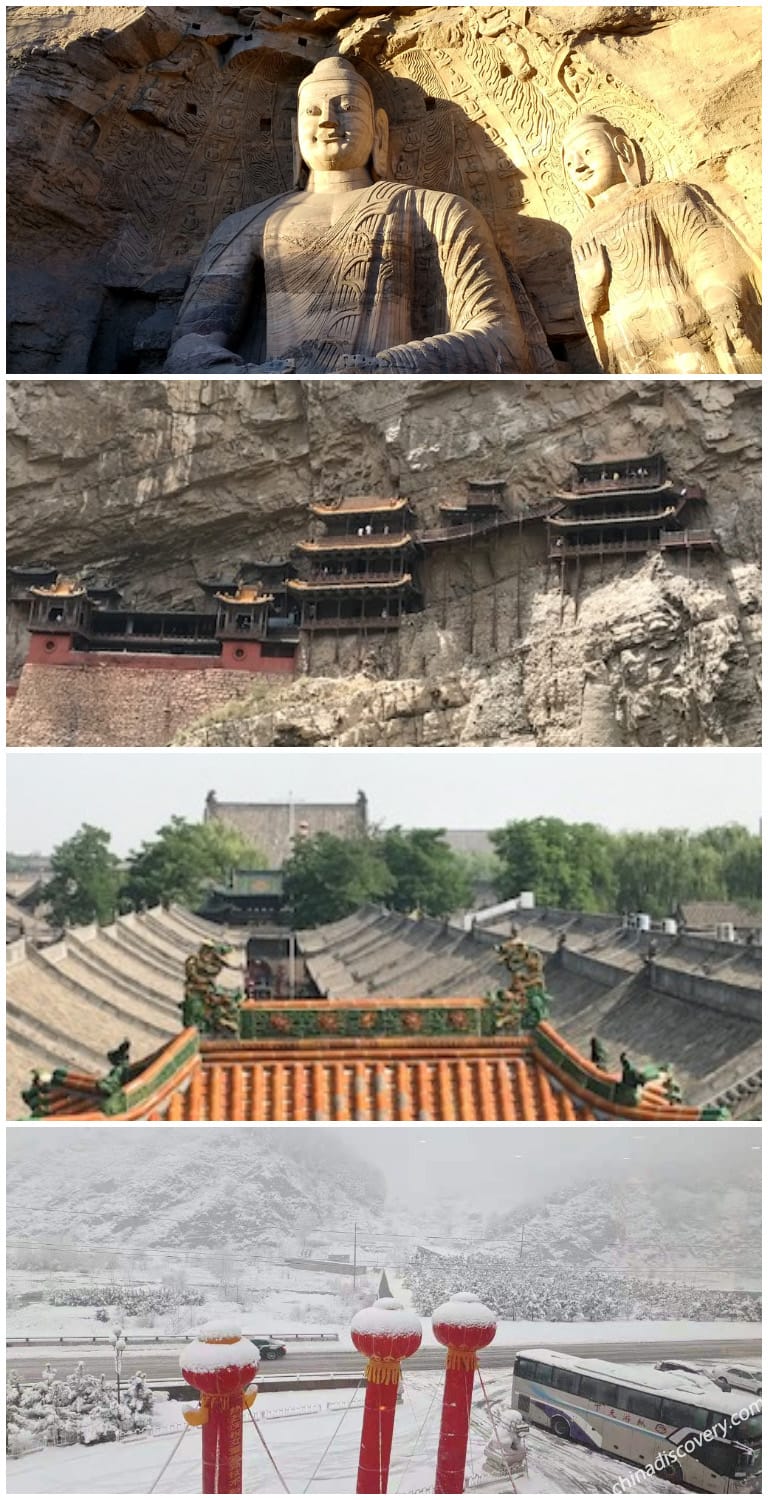 Yungang Grottoes, Hanging Temple, Pingyao and Mount Wutai in Shanxi
Travel with China Discovery
China Discovery is an experienced, professional and a reliable travel companion devoted to offering high-quality and the best tour services for all travelers to China. In order to have a hassle-free travel and focus on the trip itself, it's highly recommended travelling with China Discovery. So, you can enjoy convenient airport pick-up and drop-off service and transportation to all scenic spots in a safe, clean, comfortable, air-conditioned and non-smoking vehicle. Also, we will arrange knowledgeable local tour guide, excellent accommodation and dining arrangements to ensure you rest well and get better understanding of local culture. You may select a favorite from our most popular Shanxi Tours or contact us to design a unique itinerary according to your personal time and preference.
We have helped many global travelers enjoy their memorable wonderful trips to Shanxi for the past few years. Among them, a sweet couple from the UK traveled with us and spent 21 Happy Days in Datong, Pingyao, Mount Wutai, Xi'an and 5 Other Cities in Northern China, and shared us their special travel story!
Moreover, we got more than 1,620+ good reviews on TripAdvisor.com, and over 3,310+ China travel reviews from our customers. Travel with China Discovery to create your great China trip memories!
Keep Reading about Shanxi Travel Guide
Recommended Shanxi Tours
Top 3 Shanxi tours chosen by most customers to explore Shanxi in the best way. Check the detailed itinerary, or tailor your own trip now with us.
6 Day Datong Pingyao Tour Plus Wutaishan Visit

Datong / Wutaishan / Taiyuan / Pingyao
4 Days Essence of Datong & Pingyao Tour

Datong / Pingyao
7 Days Shanxi Diversity Tour including Hukou Waterfall

Datong / Wutaishan / Pingyiao / Hukou Waterfall
Start planning your tailor-made holiday to China by contacting one of our specialists. Once inquired, you'll get a response within 0.5~23.5 hours.
Customize a Trip
Have a question? Get answers from our travel experts or guests
Your Question:

Your Name:

Your Email: