Brief Impression about Yu Garden
Yu Garden, also known as Yuyuan Garden (豫园), is the most celebrated classical Chinese Garden in Shanghai downtown area. It also enjoys the reputation of "the crown of beauty in Southeast China", offering charming and pleasant views. Visiting Yu Garden is just like visiting the exquisite Humble Administrator's Garden in Suzhou which listed as the UNESCO World Heritage Site.
Besides the exquisite scenery, Yu Garden is rich in culture. It is also one of the Four National Cultural Markets, along with Panjiayuan Garden (潘家园) and Liulichang Street (琉璃厂大街) in Beijing, as well as the Confucius Temple in Nanjing. The former chairman of China Jiang Zemin (江泽民) wrote "Famous Garden above the Sea" for Yu Garden. Also, heads of many countries have visited Yu Garden to appreciate the natural beauty, architectures, traditional culture.
• Popular Shanghai Tours including Yu Garden
✔ 2 Days Classic Shanghai City Tour
✔ 3 Days Shanghai Past and Present Contrast Tour
• Opening Hours: Tuesday to Sunday: 09:00-16:30 (No entry after 16:00, closed on Monday, except for the major holidays)
• Ticket: CNY 40 - Peak Season (April to June, September to November); CNY 30 - (July to August, December to March)
• Note: The ticket might be sold out during the peak season. Please feel free to contact us to book the tickets for you.
Yu Garden Location - Where is Yu Garden
Yu Garden is located at the northeast of the old city in South Shanghai. It is close to Shanghai City God Temple, Yuyuan Tourist Market and with close distance to Shanghai Bund and other famous attractions in Shanghai.
Distance from other main Shanghai attractions:
For the geographic location, it is recommended to cover Yu Garden and nearby attraction Nanjing Road, the Bund and Jinmao Tower/Oriental Pearl TV Tower in one day.
How to Get to Yu Garden
Right close to the Bund, the landmark site of Shanghai, Yu garden is easily reachable by bus, subway, and taxi.
By Subway: Take Subway Line 10 and get off at Yuyuan Station. It is just one stop from Nanjing Road to Yu Garden. And Line 10 can also take you from Yu Garden to Xintiandi and Hongqiao Railway Station.
By Bus: Take bus No. 11, 26, 64, 66, 736, 920, 926, 930 and get off at Xinbeimen Station. Then walk along Anren Street to reach Yu Garden. Also, Shanghai sightseeing bus line 1 can reach Yu Garden.
Yu Garden of about 600 Years Old
Yu Garden Location Map
Yu Garden Facts
Yu Garden was built in the Ming Dynasty (A.D. 1368-1644), enduring over four hundred and fifty years. Pan Yunduan (潘允端), the owner of the garden, was the chief minister of Sichuan. In order to let his father enjoy his old age, Pan Yunduan began to gather stones, dig pools, build pavilions, on his own land in 1559. After more than twenty years of construction, Yu Garden has been built.
"Yu" has the meaning of "peace" and "safe". Yu Garden covering an area of over 70 acres in the Ming dynasty, was carefully designed by Zhang Nanyang (张南阳), a famous gardener in Ming Dynasty, and personally participated in the construction. The whole garden was magnificent in scale and beautiful in the scenery.
Pan Yunduan and his family lived a very leisure and happy life in this garden. Later, the garden was inherited by Zhang Zhaolin (张肇林), the husband of Pan Yunduan's granddaughter, and then passed to different owners.
Now Yu Garden occupies 2 hectares, with different pavilions, lofty artificial mountains, and green trees. It is beautiful and exquisite. It reflects the garden style of Jiangnan garden architecture in the Ming and Qing Dynasties. It is praised as "the crown of the garden in southeast China", and the great fame attracts many leaders and celebrities at home and abroad to visit Yu Garden.
• Popular Shanghai Tours including Yu Garden
✔ 4 Days Shanghai Magic Tour with Disneyland Park
✔ 3 Days Shanghai Family Tour with Ocean Aquarium
✔ 5 Days Essence of Shanghai & Hangzhou Tour
Yu Garden Tourist Map
Attractions & Things to Do in Yu Garden
Yu Garden, covering an area of 20,000 square meters, is a virtual maze of gardens, pavilions, lake, rockeries, bridges, dragon walls, gardens and traditional buildings, etc. Once you enter into the garden, surprises are hidden every corner you move with different views. Yu Garden is divided into six main scenic parts: Sansui Hall, Wanhua Hall, Dianchun Hall, Huijing Hall, Yuhua Hall and the Inner Garden. Each part has its own features and unique sights. And each area is separated from others by "dragon walls" with undulating gray tiled ridges, each terminating in a dragon's head.
Six Scenic Parts of Yu Garden
Travelers can follow a clockwise path from the main entrance and visit the six main scenic parts and final exit.
Sansui Hall (三穗堂, "Three Tassels Hall"): It includes Grand Rockeries, Iron Lion, Cuixiu Hall. The highlights here are the fine window and wood-beam carvings of rice, millet, wheat, fruit and other emblems of a plentiful harvest. This place was used for a meeting place for local officials and for proclaiming imperial announcements. You won't miss Grand Rockery which consists of 2,000 tons of rare yellow stones fused together. Also, Yangshan Hall is the place for viewing the Grand Rockery.
Wanhua Chamber (万花楼, "Chamber of the Ten Thousand Flowers"): It includes Wanhua Chamber, Yule Pavilion, Double Lane Corridor and Gingko Tree of 400 years old staking out the front courtyard.
Dianchun Hall (点春堂, "Heralding Spring Hall"): Located in the northeast of Yu Garden, it includes Treasury Hall which is the most famous historical building in the garden, Kuailou Hall, and the Hall of Harmony.
Huijing Hall (会景楼, Huì Jǐng Lóu): It includes Jade Water Corridor, Three-Turn Bridge, Nine Lion Study.
Yuhua Hall (玉华堂, "Jade Magnificence Hall"): Don't miss the essence - Yu Linglong (Exquisite Jade Rock) with the most celebrated stone sculpture in the garden.
Inner Garden (内园, Nèi Yuán): The quietest part of Yu Garden. After visiting Yuhua Hall, you'll enter into Inner Garden which was constructed in 1709 and made of a part of Yu Yuan only in 1956. It includes the Hall of Serenity, the Towers for Watching Waves, and the Acting and Singing Stage.
Out of Yu Garden is the Huxinting Pavilion and Nine-turning Bridge. Nine-turning Pavilion is 18 meters long and 2 meters wide, totally composed of granites and jade stones. Huxinting Pavilion is sitting in the middle of the lake and travelers can enjoy a cup of tea in the tea house.
Impressing Dragon Wall of Yu Garden
Wanhua Chamber in Summer
Secluded Pathways in the Antique Yu Garden
Attractions around Yu Garden
Yuyuan Bazaar
Yuyuan Bazaar is located next to Yu Garden, with beautiful Chinese architecture and design coupled with hundreds of shops selling pieces of jewelry, silk, antiques, arts, crafts, souvenirs, and local snacks.
It offers a good opportunity to see real Chinese life. The famous restaurant is the Nanxiang Steamed Bun Restaurant selling Xiaolongbao (small steamed buns). You can taste some local snacks here and buy some souvenirs for your families and friends. The market is also fun to explore at night with all the eaves of the building lit up and travelers can get some amazing night photos.
City God Temple of Shanghai (Chenghuang Miao)
City God Temple (城隍庙) is a Taoist temple located in Yuyuan Tourist Mart, connecting to the Yu Garden. It was first built during the Yongle (永乐皇帝) era of the Ming Dynasty, with a history of 600 years old. If you have free time, you can have a look at what immortals are being worshipped at the temple. No admission fee is charged.
✔ 2 Days Classic Shanghai City Tour
Yuyuan Bazaar
Yuyuan Bazaar
Comparison with Classical Suzhou Gardens
Traditional Gardens(江南园林). Suzhou Gardens represent the highest achievements of Jiangnan-Style Traditional Gardens. Their brilliant gardening skills and varieties of garden types have made the UNESCO list the Classical Gardens of Suzhou as World Cultural Heritage Sites. While Yu Garden generally has the same features as some of Suzhou gardens. So if you are keen on Gardening Art, you are suggested to visit Suzhou for seeing more gardens. If you just want to take a glimpse of Chinese garden culture, Yu Garden will also meet your purpose. Learn more about Classical Gardens of Suzhou.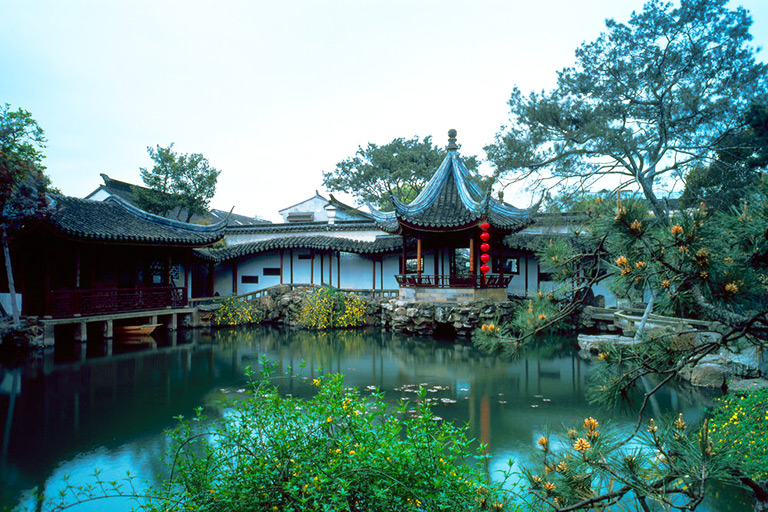 Master of the Nets Garden in Suzhou
Recommended Visiting Route
The following travel route covers all the essences of Yu Garden & Bazaar tour. You can follow it and stroll around the area. It takes about 2 hours for exploration.
Visiting Route: Entrance of Yu Garden – Sansui Hall – Wanhua Chamber – Dianchun Hall – Huijing Hall – Yuhua Hall – Inner Garden – Exit Yu Garden – Nine-turning Bridge – Huxinting Pavilion – Yuyuan Bazaar
How to Plan a Shanghai Tour Covering Yu Garden:
Shanghai is a city with both modern and traditional sides. It will take at least 2 days to well explore Shanghai. On the first day of your arrival, you can go to Shanghai Museum to have a basic understanding of the history of Shanghai. Then go to Yu Garden, where you can not only appreciate the traditional Chinese garden landscape, but also savor tasteful local snacks. At night, taking a relaxing Huangpu River Cruise to fully enjoy the beautiful night scene will be a good choice. The next day, go have a panoramic view of Shanghai at the 100th floor of Shanghai World Financial Center. If you are a shopping lover, then the busy Nanjing Road is a must. It is also a perfect spot to feel the vitality of Shanghai. At last, taking a walk at the Bund in the gentle breeze is quite mind-refreshing. You can check 2 Days Classic Shanghai City Tour for detailed itinerary. But if you have other ideas or questions about Shanghai tour, please feel free to contact us. Tailor-made tours according to your own interests, travel time, budget are also available.
• Popular Shanghai Tours including Yu Garden
✔ 5 Days Shanghai Huangshan Tour by High Speed Train
✔ 6 Days Shanghai Yellow Mountain Tour with Water Town Visit
Best Time to Visit Yu Garden
Yu garden is a popular attraction in Shanghai where you can visit in any season you want. In Spring, travelers can enjoy various kinds of flowers blooming in the garden, pine sprouting wistfully from rockeries, glittering pools churning with carps, etc. In Summer, travelers can appreciate water lilies near Hutingxin Pavilion and Nine-turning Bridge. In Autumn, the garden is filled with cultural charm and artistic flavor, so travelers can enjoy Yu Garden Autumn Folk Custom Temple Fair. In Winter, a lot of traditional festivals take place here, like Yu Garden New Year Folk Custom Lantern Party, Spring Folk Custom Temple Fair. If you are interested, please contact our travel consultants for more detailed seasonal advice and festival information.
How to Plan a Shanghai Tour
How to Get to Shanghai: You can fly to Shanghai directly from Hong Kong, Tokyo, Seoul, London, Los Angeles & many overseas countries (regions) and almost all major Chinese cities, like Beijing, Xian; or take high speed bullet train to Shanghai from domestic cities.
Best Time to Visit Shanghai: March to May (in spring) & September to November (in autumn), because these periods offer beautiful nature scenery and comfortable weather for outdoor sightseeing and activities.
Top Attractions to Visit in Shanghai: The Bund, Lujiazui Skyscrapers, Yu Garden, Shanghai Museum, French Concession, Shanghai Disney Resort…
Best known as an international popular tourist destination, Shanghai perfectly preserves mixed culture of the western and eastern. The duration and theme of your Shanghai tour can be flexibly arranged based on your time and interests. Usually, tourists spend 2 days on sightseeing the most famous landmarks, including the Bund, Yu Garden, skyscrapers like Shanghai Tower, World Financial Center, Former French Concession, Shanghai Museum, etc. With one extra day, you can enjoy family fun in Disneyland Park or visit Zhujiajiao Water Town in the suburb. Don't miss the Shanghai Maglev Train, wonderful nightlife and Shanghai Cuisine.
✔ 2 Days Classic Shanghai City Tour
✔ 3 Days Shanghai Past and Present Contrast Tour
✔ 3 Days Shanghai Highlights & Zhujiajiao Water Town Tour
Travel Shanghai with Hangzhou Suzhou, More Nearby Destinations
Convenient transportation makes it quite efficient and popular to make day trips from Shanghai to Hangzhou, Suzhou, and longer vacation in Huangshan Mountain, Nanjing, Mount Jiuhua and other places in surrounding areas. So you can visit West Lake and learn Chinese tea culture in Hangzhou, marvel at tasteful classical gardens and witness Chinese silk productive process. Splendid rocky mountains with exotic pine trees are highlights in Huangshan Mountain.
✔ 5 Days Shanghai Hangzhou Suzhou Highlights Tour
✔ 6 Splendid East China Tour by Bullet Train
✔ 5 Days Shanghai Huangshan Tour by High Speed Train
Travel Shanghai with Beijing, Xian & More China Destinations
Beijing Xian Shanghai are golden triangle cities often visited together for a week holiday. You can use 3 days to visit the Great Wall and major iconic spots like Forbidden City, Temple of Heaven in Beijing, and leave 2 days for fulfilling your Terracotta Warriors tour in Xian. With more time, you can extend the trip from Shanghai to Zhangjiajie, Guilin, Chengdu, Yunnan, Silk Road, Tibet and more phenomenal destinations to enrich your China discovery. (more top China tours from Shanghai >>)
✔ 6 Days Beijing Shanghai Tour by High Speed Train
✔ 8 Days Best of China Tour (Beijing/Xian/Shanghai)
✔ 7 Days Shanghai Suzhou Beijing Contrast Tour by High Speed Train
Travel with China Discovery
As a leading travel agency in China which dedicates to offering high-quality China tours, China Discovery has helped thousands of travelers enjoy their trips to Shanghai, Beijing, Xian, etc., in China. Travel with us, you can enjoy worry-free tour services as well as well-organized itineraries, even our assistance of Chinese Visa application, convenient airport/train station pick-up & drop-off and transfer between all scenic spots, knowledgeable tour guide, safe & licensed private vehicle, satisfactory accommodation and dining and so on. You are free to choose from our most popular Shanghai tour packages or contact us to design a memorable holiday in Shanghai, China.
Keep Reading About Shanghai Tours
Keep Reading About Shanghai Attractions

Shanghai Travel Guide
Recommended Shanghai Tours
Top 3 Shanghai tours chosen by most customers to explore Shanghai in the best way. Check the detailed itinerary, or tailor your own trip now with us.
4 Days Shanghai In-depth Tour with Sidetrip to Suzhou

Shanghai / Suzhou / Shanghai
Start planning your tailor-made holiday to China by contacting one of our specialists. Once inquired, you'll get a response within 0.5~23.5 hours.
Customize a Trip
Have a question? Get answers from our travel experts or guests
Your Question:

Your Name:

Your Email: