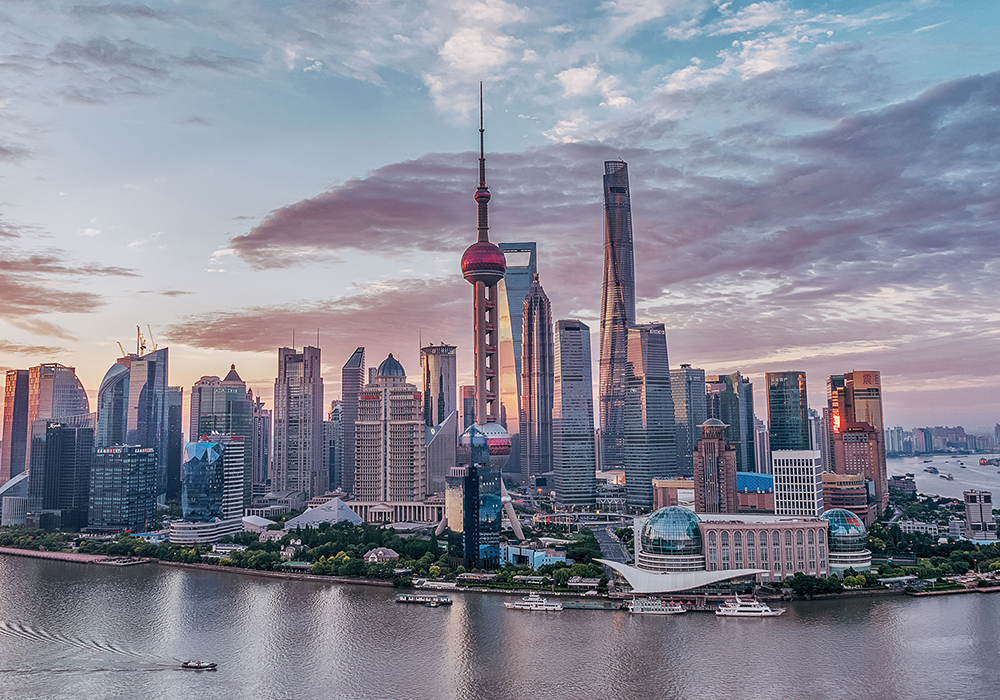 Shanghai Skyline: Supertall Buildings & Skyscrapers in Shanghai, Ranked 2023
As one of the fastest-growing cities of China, a global center for finance, research, technology, manufacturing, and transportation, Shanghai is a city having no shortage of skyscrapers. However, 40 years ago, no one could imagine this little fishing village Shanghai would have grown to the top metropolis of China. The booming skyscrapers lining the Huangpu river have witnessed its growth. The skyscrapers are mainly located in Lujiazui, Pudong New Area. It is also called Lujiazui Skyline or Pudong Skyline. It is an unmissable iconic scene while you're visiting Shanghai.
Shanghai's first building boom occurred in the 1920s and 1930s, Shanghai had been a multinational center of business and finance for its great location. Many international concessions had been permitted for foreign investment, some of which still can be seen today in areas such as the French Concession and the Bund. Later, during wartime, many buildings had been ruin by fire and bombs. The actual skyline in Pudong was built after the war starting from the economic reforms in the 1980s. The city is undergoing its second construction boom to and Shanghai has come to become the global financial center again. The grass field and ruined villages in Lujiazui, Pudong has turned to numerous modern buildings and the city's proud, Shanghai Skyline. So, how many skyscrapers in Shanghai? It's hard to answer for the definition of skyscraper varies from person to person. In terms of the construction of these towering skyscrapers, according to record, there had been 6,704 buildings of 11 stories or more completed since 1990. In 2011, more than 1,000 buildings exceeding 30 stories have been built in Shanghai. As of Jan 2019, there are 165 high-rise buildings expected to be built and five of them are over 300 meters. 
• Popular Shanghai Tour: 3 Days Shanghai Past and Present Contrast Tour
List of Shanghai Skyscrapers
| | | | | |
| --- | --- | --- | --- | --- |
| Rank | Building Name | Height | Floors | Year |
| 1 | Shanghai Tower | 632m | 128 | 2014 |
| 2 | Shanghai World Financial Center | 492m | 101 | 2008 |
| 3 | Oriental Pearl TV Tower | 468m | 25 | 1994 |
| 4 | Jin Mao Tower | 421m | 88 | 1999 |
| 5 | Shimao International Plaza | 333m | 60 | 2006 |
| 6 | Sinar Mas Center | 320m | 67 | 2017 |
| 7 | Shanghai Wheelock Square | 297m | 58 | 2010 |
| 8 | Plaza 66 | 288m | 66 | 2001 |
| 9 | Tomorrow Square | 285m | 55 | 2003 |
| 10 | K11 | 278m | 61 | 2002 |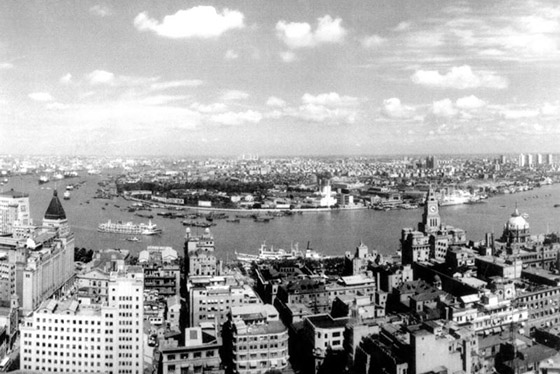 Shanghai Skyline in the 1980s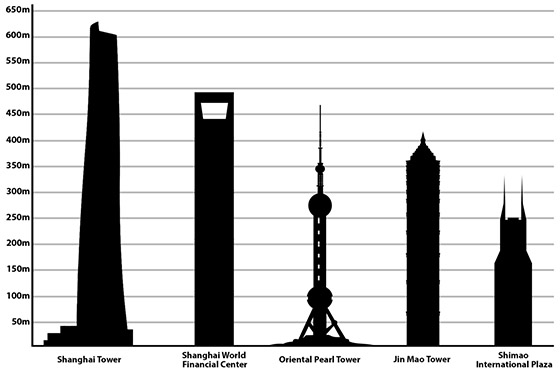 Top Skyscrapers in Shanghai
View Afar from The Bund: Skirting along the Huangpu River, facing the Skyline of Shanghai, the Bund is a wide "cement" walkway known for the exceptional location for all the photo enthusiasts as the skyline is clearly visible from this location. It is crowded and lovely, giving you the vibe of the true spirits of Shangai. Lights, High Rise Building, Glitter, and Excited Faces, the bund is filled with urban feeling. Around the place, you will find many restaurants, historic and exotic buildings. 
Close Up and Cruise by the Skyscrapers: Huangpu River is known as "the mother river of Shanghai". Enjoying cruising along the Huangpu river and having a close-up of Lujiazui is a must when you are in Shanghai. The Panoramic views of Shanghai are so fascinating with the whole city being lighted up. The cruise usually takes about 50min. You can either board on from Shiliupu Wharf or Qinhuangdao Wharf. Popular cruise route: Shiliupu Wharf - Binjiang Road - Lujiazui - Shanghai Tower - Shanghai World Financial Center - Jinmao Tower - Oriental Pearl TV Tower - Qinhuangdao Wharf - Waibaidu Bridge - Monument to the People's Heroes - The Bund - Shiliupu Wharf
Look down from Soaring Observation Decks: In Lujiazui, Pudong New Area, there are many skyscrapers with Observation decks. These observation sites are generally over 100 meters high, from which you can overlook the scenery of Shanghai. The popular observation decks are located in Oriental Pearl TV Tower, Shanghai Jinmao Tower, Shanghai World Financial Center, and Shanghai Tower. The tallest observation site in Shanghai Tower with a height of 546 meters. The detailed info about the observation decks will be listed in the following. However, if you would like to have a panoramic view of Shanghai during the daytime, it requires high visibility and you may need to check the weather forecast and AQI in Shanghai in advance before you ascend to the observation decks.
Other recommmended Sites to Enjoy Shanghai Skyline: The Peninsula Hotel, The Cool Docks, Waibaidu Bridge, the east end of Nanjing Road  
• Popular Shanghai Tour: 2 Days Classic Shanghai City Tour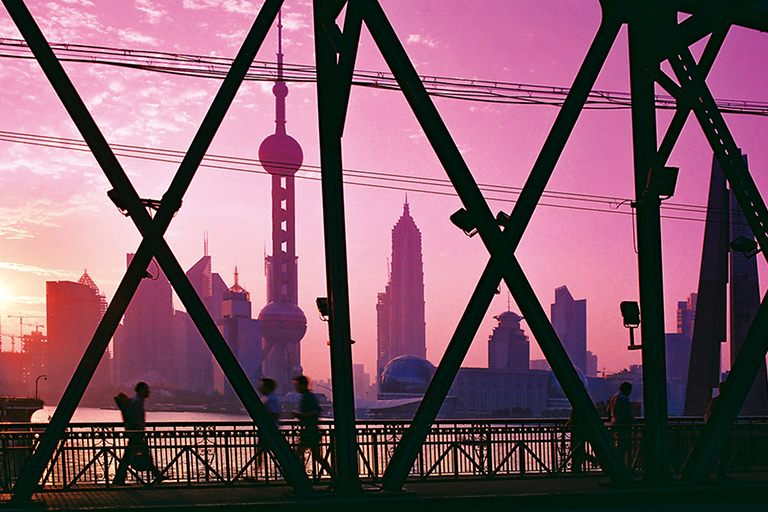 Silhouette of Lujiazui Seen from the Bund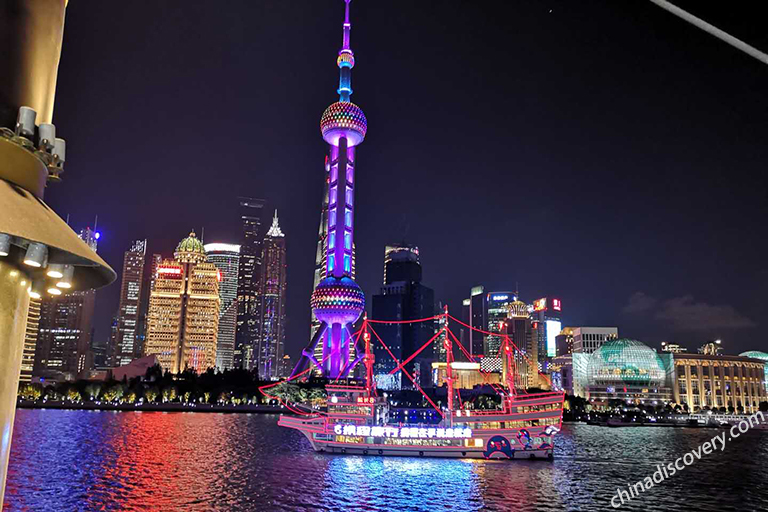 Pudong Riverside Seen from the Cruise Ship
Shanghai Skyline is less influenced by seasonal factors. However, during the holidays and weekends, popular viewing sites like the Bund will become very crowded. You'd better come on a weekday to have a better trip experience. During the daytime, you could travelers overlook the modern Shanghai on the east bank of Huangpu River and see the landmarks and other buildings clearly on a fine day. If it is at night, the skyline of Shanghai is spectacularly illuminated adding an unforgettable charm. Either daytime or nighttime, it is gorgeous. So the best time to enjoy Shanghai Skyline in a day is about one hour before the sunset, and you can watch the sun gradually going down and all the buildings including Pearl tower and Shanghai tower are illuminated. Going for sunrise also very nice, much less crowded and one can experience locals engaged in activities such as Taichi and flying kites.                                                                                       
• Popular Shanghai Tour: 3 Days Best Shanghai Family Holiday Tour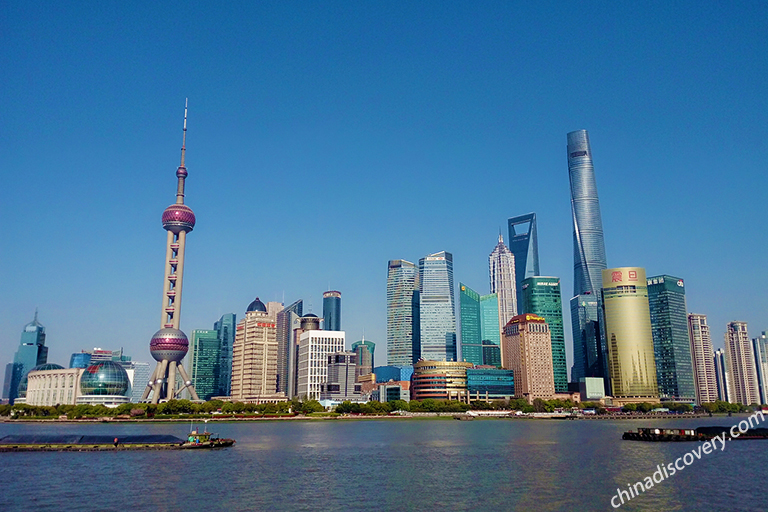 Shanghai Skyline During the Daytime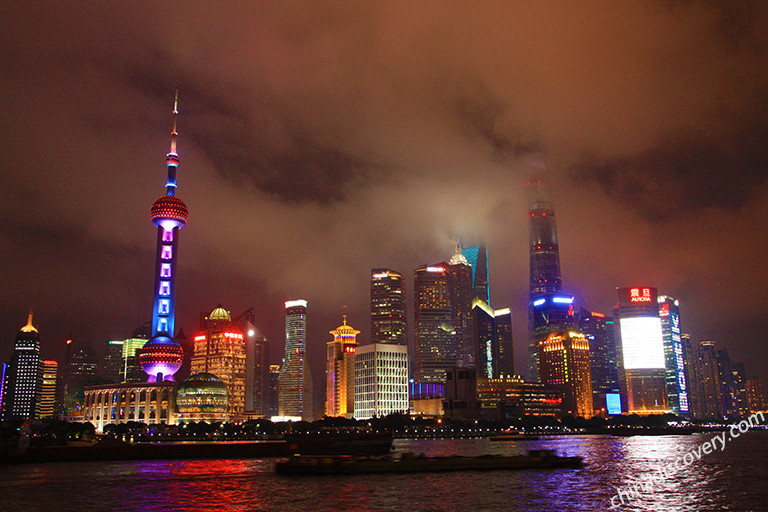 Shanghai Skyscrapers at Night
Shanghai Tower, Shanghai World Financial Center, and Jinmao Tower upon the Clouds
▶ Height: 632m / 2,073ft; Floors: 128; Year: 2014
▶ Observation Deck: F118 (546m, the highest in the world)
▶ Opening Hours: 8:30-22:00 (no entry after 20:30)
▶ Accommodation: J Hotel Shanghai Tower
▶ Location: No. 501, Middle Yincheng Road, Pudong New Area, Shanghai 上海市浦东新区陆家嘴银城中路501号
In March 2016, Shanghai Tower becomes the tallest building in China and the second tallest one in the world, with a total height of 632m. This super skyscraper in Lujiazui Financial Area in Shanghai has the world's highest observation deck and the world's fastest elevator. It's one of the best places to capture the terrific cityscape in Shanghai and experience high technology and excellent skyscraper design.
▶ Height: 492m / 1,614ft; Floors: 101; Year: 2008
▶ Observation Deck: Sky Arena 94 (423m); Sky Walk 97 (439m); Sky Walk 100 (474m)
▶ Opening Hours: 11:00~21:00 (No entry after 20:00) 
▶ Accommodation: Park Hyatt Shanghai
▶ Location: No. 100, Century Avenue, Pudong New Area, Shanghai 上海市浦东新区世纪大道100号
Shanghai World Financial Center, short for SWFC, is the third tallest building in China and the fifth tallest one in the world. Shanghai World Financial Center has the world's tallest observation deck at 474 meters high, providing a spectacular view of both old and new Shanghai including the Bund, Oriental Pearl TV Tower, Jinmao Tower, and Huangpu River, etc.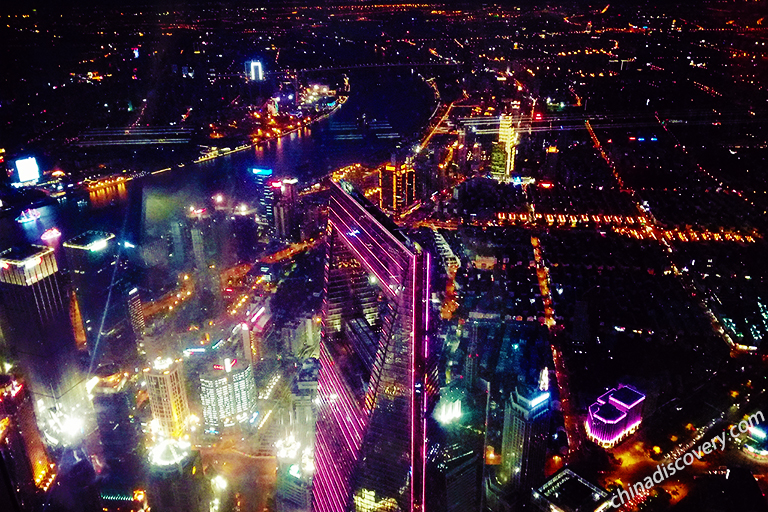 Shanghai World Financial Center in the Dazzling City Light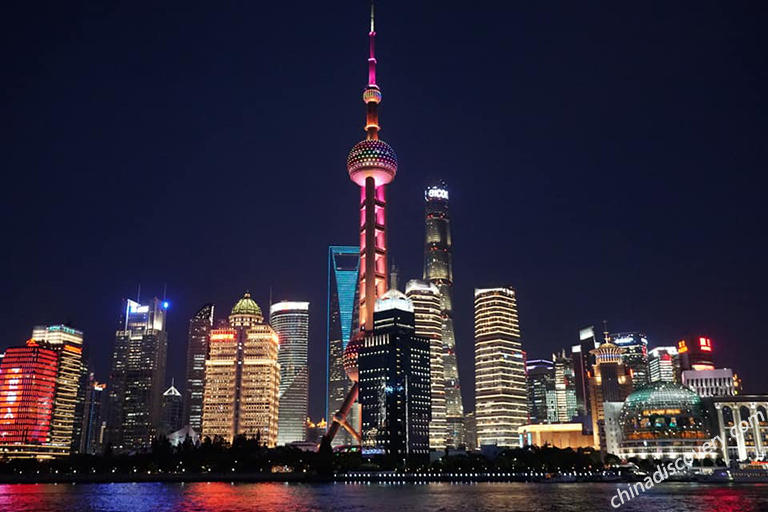 Oriental Pearl Tower at Night
▶ Height: 468m / 1535ft; Floors: 25; Year: 1994
▶ Observation Deck: Space Capsule Sightseeing Floor (351m); Sightseeing Galleria (263m); Transparent Observatory (259m)
▶ Opening Hours: 09:00-21:00
▶ Accommodation: 230 Sphere Hotel
▶ Restaurants: Revolving Restaurant (267m, upper sphere) - Recommended
▶ Location: No. 1, Century Avenue, Pudong New Area, Shanghai, China 上海市浦东新区世纪大道1号
The Oriental Pearl Tower (东方明珠塔), standing among the modern super-high rises in Lujiazui Area, is short for the Oriental Pearl Radio & TV Tower that was opened in 1994 to serve the television emission of this city. It is a landmark building in Shanghai. This tower is a very hot tourist place since visitors can appreciate the panorama of the whole Shanghai city, with various types of entertaining items. You can have an unforgettable experience standing on the transparent glass floor hundreds of meters high, and taste different cuisines in a revolving upper sphere, etc.
▶ Height: 421m / 1380ft; Floors: 88; Year: 1999
▶ Observation Deck: F88 (340m)
▶ Opening Hours: 9:00~20:30 (No entry after 20:00) 
▶ Accommodation: Grant Hyatt Shanghai
▶ Location: 88 Century Avenue, Pudong New Area, Shanghai上海市浦东新区世纪大道88号
Jinmao Tower is the fourth highest building in Shanghai. The 88 floor obervation hall is one of the famous high-altitude observation platforms in Shanghai. The night view is particularly charming. It takes only 45 seconds to get to the 88th floor, by taking the elevator that runs 9 meters per second from the ground floor hall. You can look around and overlook the cityscape. It is suggested that you go to the sightseeing hall in the afternoon to watch the sunset. Besides, there are coin telescopes available for sightseeing.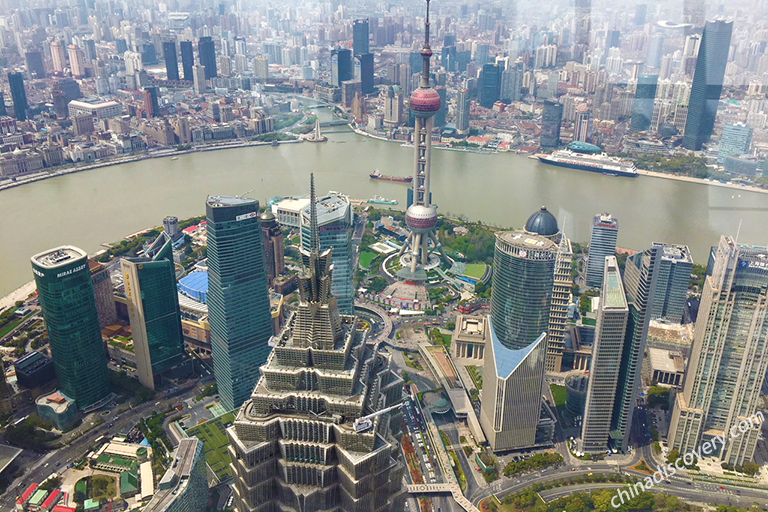 Jinmao Tower Seen from Shanghai World Financial Center