Why Visit Shanghai World Financial Center
Shanghai World Financial Center (上海环球金融中心, short for SWFC), known as a global magnet, is a super tall skyscraper standing in the heart of Lujiazui (陆家嘴) Finance & Trade Zone in Pudong (浦东) District of Shanghai. With a height of 492 meters and 101 floors, SWFC is the third tallest buildings in China (next to SWFC is Shanghai Tower which is the tallest one in China at present with a height of 632 meters) and the fifth tallest building in the world. With its graceful structure soaring above most other buildings into the sky, SWFC is sure to become the top best known landmark and symbol of growth for Shanghai and China as a whole. Moreover, it is a gateway linking Shanghai to the rest of the world and the world to Shanghai.
The special design of Shanghai World Financial Center helps travelers reach the world's highest observatory at 474 meters to have spectacular view downtown Shanghai, take a glance at Huangpu River, Oriental Pear TV Tower and nearby Jinmao Tower and experience the feeling that Shanghai lies at their feet. The 100-floor observatory of SWFC is higher than the observatory of CN Tower in Canada and the observation deck of Burj Dubai (Burj Khalifa) in Dubai.
Highlights & Experience You won't Miss
Soaring 474 meters above the ground, the 100th floor observation deck provides a spectacular view of downtown Shanghai and Huangpu River below. From the observation bridge on the 97th floor, travelers will feel as if they are floating in midair. The 94th floor of the observatory offers a breathtaking backdrop for exhibition and events.
Experience Sky Gate B1
Stepping into Shanghai World Financial Center, your journey to the sky starts from the Sky Gate. You'll enjoy a visual feast which shows you the rapid changes of Shanghai and the history of Huangpu River through high multi-media technology displays and the world's most realistic miniature city model.
Experience Sky Arena 94 (423 meters)
The Sky Arena 94 offers awesome views of old and new Shanghai. It has a floor area of about 760 square meters wide with a clear ceiling height of 8 meters. It is available for prestigious occasions including high profile corporate events, luxury product launches, glamorous fashion shows, celebratory banquets and special gala evenings against the beautiful panorama of the Huangpu River.
Experience Sky Walk 97 (439 meters)
The Sky Walk 97 is like a bridge across the sky, making travelers feel walking in the sky. The open designed roofed with glass helps you enjoy the freshest air, touch the blue sky and white cloud at ease. When you look up to the sky, you and the nature seem to merge into one single body at that moment.
Experience Sky Walk 100 (474 meters)
The Sky Walk 100 is the world's largest observatory, spanning 55 meters and located 474 meters above the ground. Walking on the three transparent glass-walled walkways, travelers will have the feeling that Shanghai lies at their feet, whether they arrive from sunrise to sunset, or for the glittering lights at night time. Some travelers even do Yoga here, making themselves merge into nature.
Experience other "Tallest" Facilities
After having great view of Shanghai at the tallest observatory deck at 474 meters, do you want to spend a night at the tallest hotel in the world? Park Hyatt Hotel Shanghai situated at 79th floor to 93rd floor is the tallest one at present. You'll enjoy an extremely comfortable stay with spectacular views overlooking Shanghai. Besides, you can dine at 416 meters with the tallest Chinese Restaurant at the 93rd floor. And enjoy swimming at 366 meters high with the tallest swimming pool at the 85th floor. So amazing, isn't it?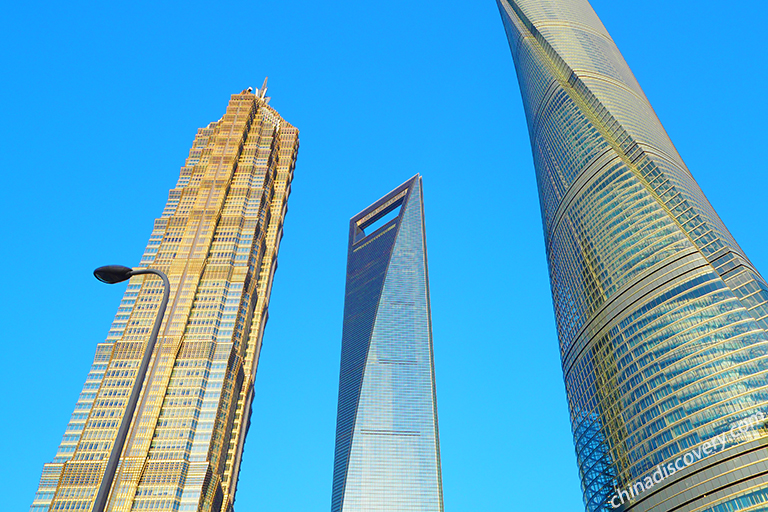 Shanghai World Financial Center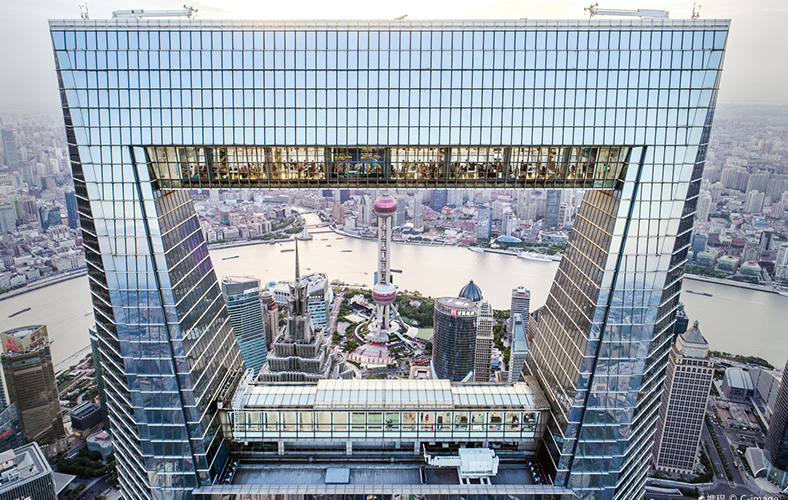 Sky Gate to Know Shanghai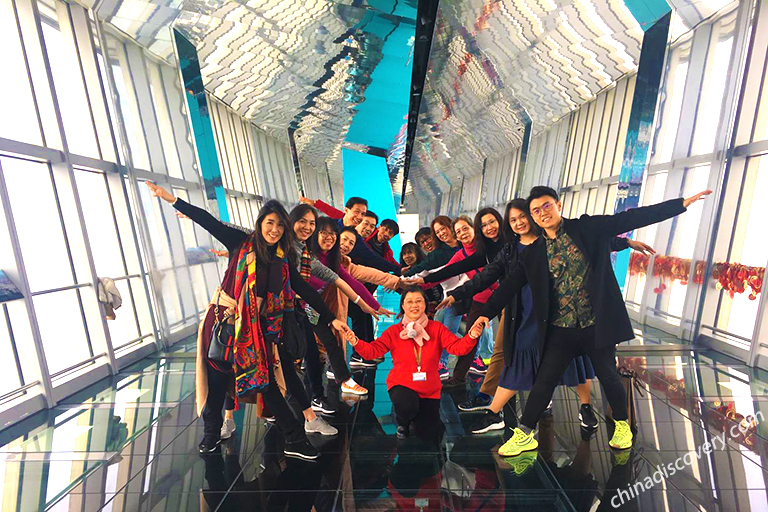 Sky Walk 100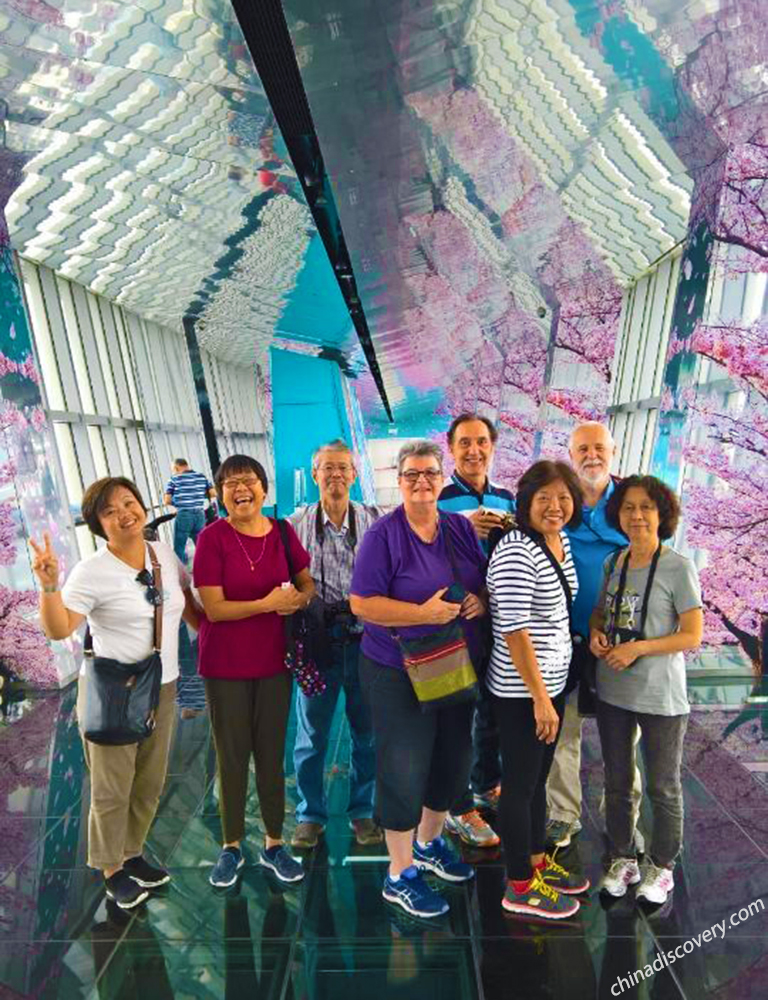 Sky Walk
Day View & Night View over SWFC
Views over the observation deck of SWFC are quite different in the daytime and at night. It is recommended to come in the daytime.
If you choose a bright and sunny day to get the top of Shanghai World Financial Center, you can have a bird's eye view of Shanghai downtown for over 40 kilometers. You don't believe it, then, go and try?! Standing at the tallest observation deck, when looking up, you can see the blue sky and white cloud over your head and also, you can see Jinmao Tower (421 meters) and Shanghai Oriental Pearl TV Tower (468 meters) standing underneath your feet. Moving a little further, you can have a nice view of the Huangpu River and see cruises sailing back and forth, take a glance at the Bund at the river with many different kinds of international buildings. The sights in the daytime show you the old and new Shanghai and let you witness the future of China.
If you choose a free night to visit Shanghai World Financial Center, you'd better go before 22:00. The view at night is a little limited, but you can have an awesome view of the glittering Shanghai on both banks of the Huangpu River.
>>2 Days Classic Shanghai City Tour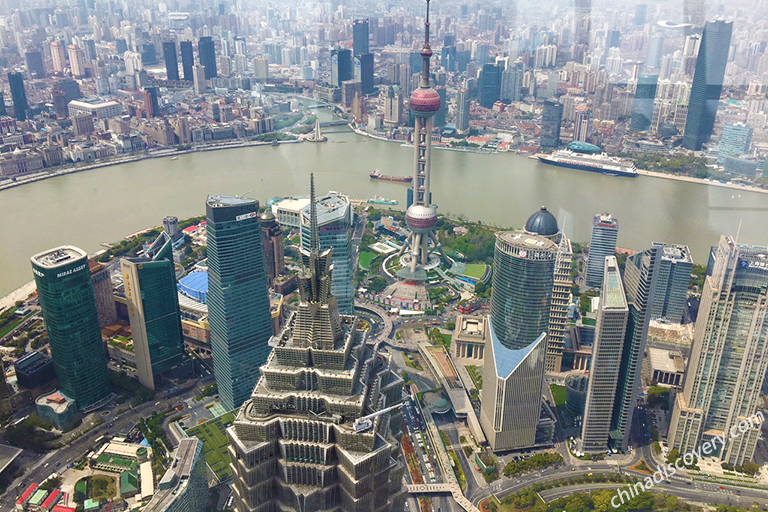 Nice Day View from SWFC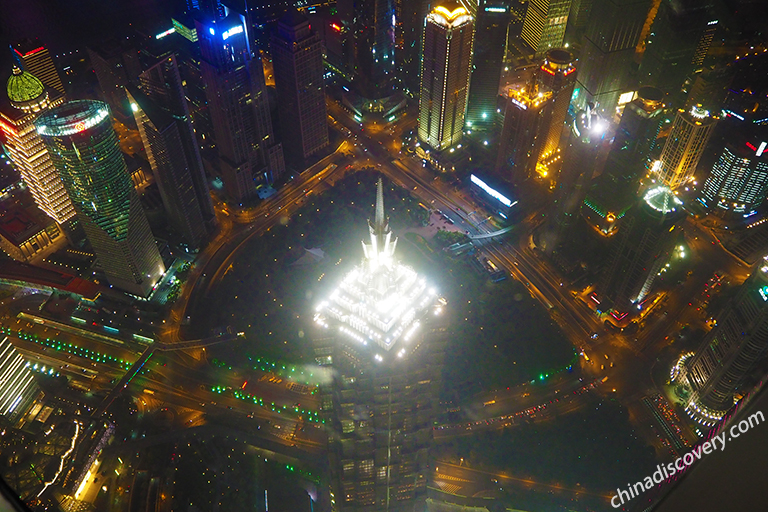 Glittering Night View from SWFC
Layout of Shanghai World Financial Center
Shanghai World Financial Center is a vertical garden city handling business, commerce, trade, hotel and sightseeing. There are 3 floors below ground and 101 floors above ground.
94F / 97F / 100F are the observation decks, providing amazing views of Shanghai downtown area, the Bund and the Huangpu River.
From 79F to 93F is the 5star Park Hyatt Shanghai Hotel with 174 luxury rooms & suites. The boutique residence hotel welcomes travelers with personalized service designed to meet every need.
From 7F to 77F is the modern and functional office area which reflects Mori's expertise and experience in providing the very best business environment for first-tier multinationals.
The 29F is the Shanghai World Financial Culture & Media Center which serves as a key hub and waypoint for the very latest information.
The 4F is for meeting with professional spaces, facilities and services. There are 21 rooms designed for multifunctional meeting rooms, providing visitors modern, flexible and aesthetically pleasing conference and meeting facilities for events large and small.
The B2-B1F and 2-3F are for shops, cafes, restaurants, banks, clinic, gym and other services to meet the needs of executives and travelers alike.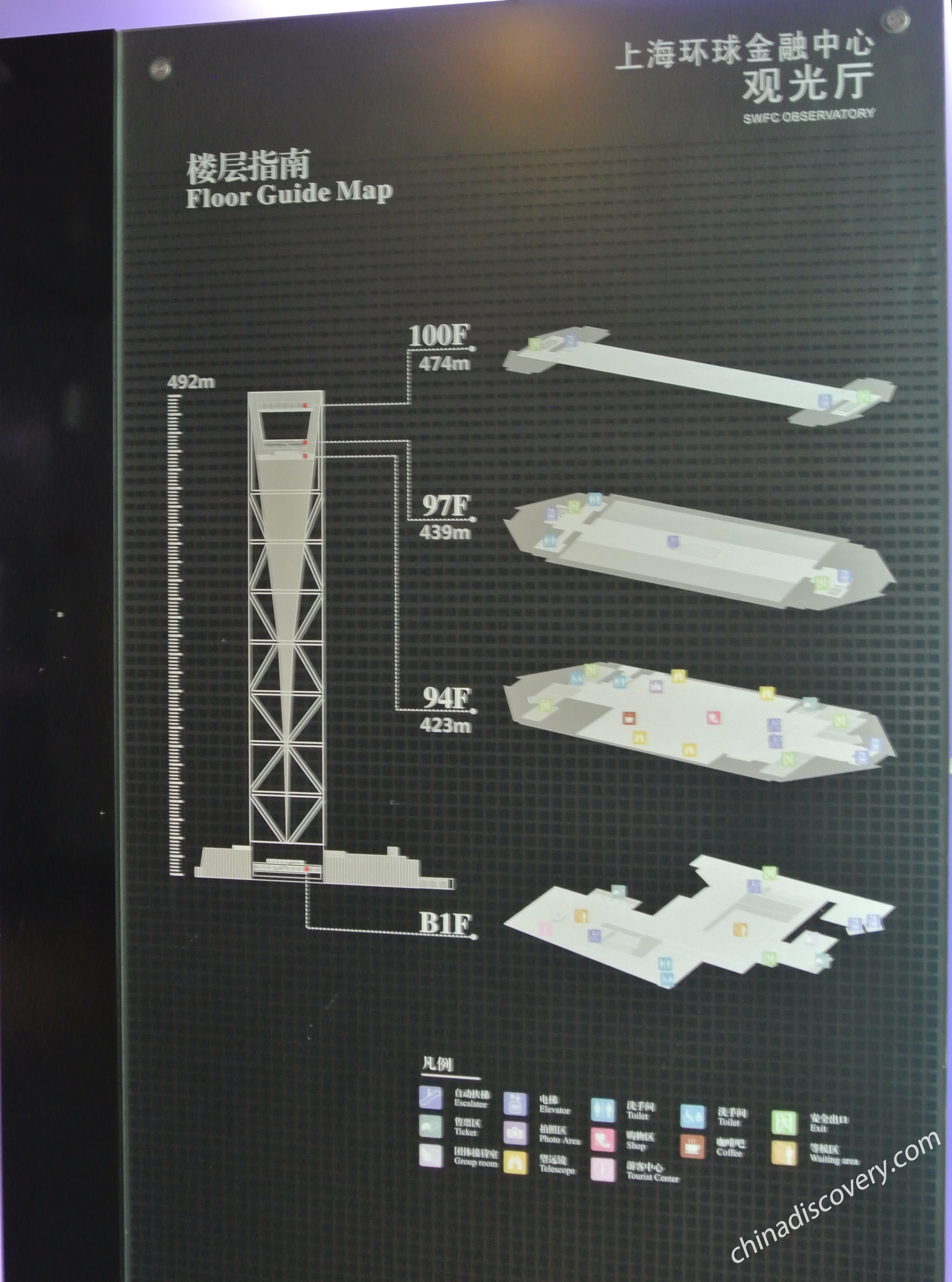 Click to Enlarge SWFC Layout Map
Location & How to Get to SWFC
Shanghai World Financial Center is situated in Lujiazui Area of Pudong, close to Shanghai Oriental Pearl TV Tower Shanghai Tower, and Jinmao Tower.
Besides using our private transfer service, travelers can get to SWFC by subway (Line 2 to Lujiazui Station or Dongchang Road Station). If you take ferry, stop at Dongchanglu Pier and take Bus No. 339 to Pudong South Road Dongchang Road Stop(浦东南路东昌路站) and get off. For more detailed transportation info, please feel free to contact our professional travel consultants.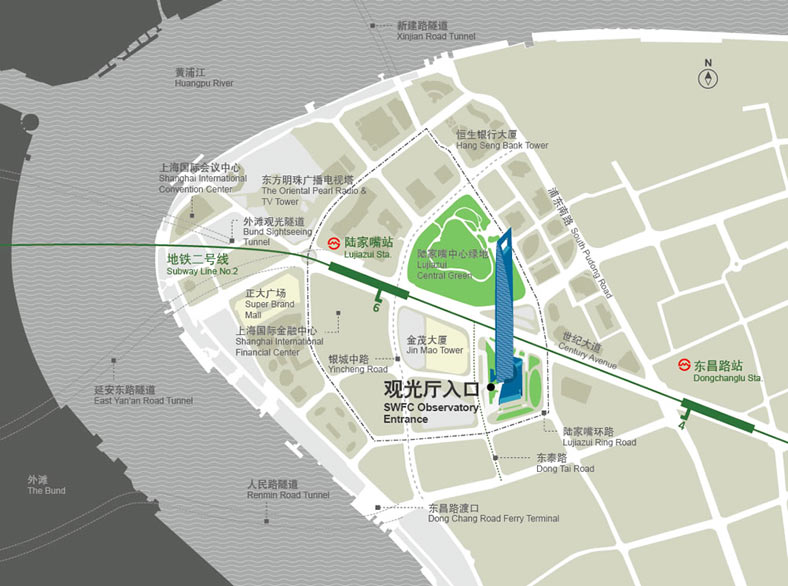 Click to Enlarge SWFC Location Map
Recommended Shanghai Tours
Top 3 Shanghai tours chosen by most customers to explore Shanghai in the best way. Check the detailed itinerary, or tailor your own trip now with us.
5 Days Shanghai Hangzhou Suzhou Highlights Tour

Shanghai / Hangzhou / Suzhou / Shanghai
Start planning your tailor-made holiday to China by contacting one of our specialists. Once enquired, you'll get a response within 0.5~23.5 hours.
Customize a Trip
Have a question? Get answers from our travel experts or guests
Your Question:

Your Name:

Your Email: