Brief Introduction about Shanghai Museum
Shanghai Museum, set up in 1952, is reputed as the "Half of Cultural Relics Field" for its millions of precious cultural relics. Visitors can treat your eyes with its large number of collections of historic Chinese artistic relics, from bronze, ceramics, painting, and calligraphic works, to jades, coins, furniture, seals, sculpture, etc. The newly-built museum is designed into a special appearance of the traditional Chinese "Ding" cooking vessel of 29.5m high, which symbolizes the concept of "a round heaven and a square earth" and gives visitors the strong visual effect of historic feeling. Therefore, this museum of a unique style of both tradition and modern has been occupying the fancy of Chinese people and visitors to Shanghai, China to have a good knowledge of the brilliant history and splendid culture of China.
Display in Shanghai Museum
The whole Shanghai Museum sets up more than 11 galleries within 4 floors to exhibit the rare treasures and another 3 temporary galleries to show the exhibitions from countries and regions all over the world. Visitors can stroll along each gallery to slowly taste the beauty and connotation of every piece of treasurable artistic work.
1. Ticket: Shanghai Museum is free of admission fee, but you need to make a reservation on the official site https://reservation.shanghaimuseum.net/SHMReservation/User/SHMLogin or WeChat Public Account: 上海博物院. Foreign tourists can get a ticket with valid passport at the tourist center. (Updated in February, 2021, feel free to contact us for latest news.)
2. Luggage storage: The service center at the entrance of the museum and the service desk of each exhibition gallery provide free luggage storage service.
• Popular Shanghai Tours including Shanghai Museum
✔ 2 Days Classic Shanghai City Tour
✔ 3 Days Shanghai Past and Present Contrast Tour
1. Bronze (F1)
This bronze gallery in Shanghai Museum is probably the best one in China to appreciate the historic bronze wares, for there are more than 400 exquisite pieces exhibiting with the dark green color in this gallery, which provides visitors a great environment to enjoy the thick culture of the bronze.
Da Ke Ding (Food Vessel) - (1046 BC-711 BC)
Da Ke Ding (大克鼎), or Big Grams Tripod, excavated in Baoji (宝鸡), Shaanxi province (陕西), is the most precious treasure of Shanghai Museum that drags abundant visitors to see its grand look. This tripod is 93.1cm high and weighs 201.5kg with 3 hoof feet in the typical style of round Dings in the West Zhou dynasty (西周, 1046 BC-711 BC). On the surface of Da Ke Ding, there are not only smooth and excellent carvings of beast-face and curly lines, but an inscription of 290 characters of neat and full writing also gives this food vessel vital respectable status, since it is one of the only two biggest round bronze Dings with inscriptions in China. Apart from its delicate patterns and majestic feature, Da Ke Ding is an important relic for the study of the history and economy of the West Zhou dynasty as well, for this kind of food vessel is also a symbol of power and social level at that time.
Ox-shaped Zun (Wine Vessel) - (699 BC - 476 BC)
This Ox-shaped Zun (犀樽), made in the late Spring and Autumn period (699 BC - 476 BC), is a super rare vessel for heating liquor because of its special shape of a vivid strong, and imposing ox. Moreover, this vessel combining the filling and heating of liquor together is the only one found by now, which is especially treasurable in Shanghai Museum.
Besides, there are a series of valuable bronze relics to see in Shanghai Museum, such as the Fangsheng of Shangyang (商鞅方升) in 344 BC, a vessel for measure volume, evidences the high achievement of ancient Chinese in mathematics and instrument manufacture; the Pan of Zi Zhong Jiang (子仲姜盘) of over 2,600 Years Old is a water container with sculptures of fishes, turtles, frogs, birds, etc., so you can imagine the interesting scene of these animals swimming like in a pool after the ancients pouring water in; the Waisted Jue is a wine vessel for over 3,800 years old, and so on.
• Popular Shanghai Tours including Shanghai Museum
✔ 4 Days Shanghai Magic Tour with Disneyland Park
✔ 3 Days Shanghai Family Tour with Ocean Aquarium

Da Ke Ding - (1046 BC-711 BC)
Ox-shaped Zun - (Over 2,500 Years)
Pan of Zi Zhong Jiang - (Over 2,600 Years)
2. Ceramics (F2)
Ceramic relics belong to another specialty of the Shanghai Museum. In this gallery, you can appreciate more than 500 pieces of ceramics from China's Neolithic Age to the Qing dynasty. No matter the colored potteries, celadon, or the tri-colored glazed potteries of the Tang Dynasty, you would be amazed by the unbelievable magic of fire and clay as well as the super-smart of ancient Chinese while see the various shaped artistic works in all colors.
Celadon Li-shaped Censer, Longquan Ware - (1127 AD-1279 AD)
This censer in the Southern Song dynasty collected in Shanghai Museum is a masterwork in Longquan kiln (龙泉窑) and stands for the highest skill of celadon in ancient China. The whole censer appears in plum green with a bright and smooth glaze. You could see its amazing variation of the color from light to dark and the sticking out white inner part, and that best demonstrates the consummate skill at that period.
Vase with Famille Design of Peaches - (1723 AD - 1735 AD)
This olive vase with peach pattern with famille is the only one in the world and called the Peerless Treasurable Vase. On the white vase body, fresh pink peaches are growing on the vigorous light green branches, together with perfectly ordered blossoms in rose and light yellow color. This vase looks very delicate and elegant for its smooth fine line, gentle color. Furthermore, since its Chinese name contains Fu Tao (蝠桃) which means longevity and fortune, this vase of high artistic culture grasps the eyes and affection of visitors who visit the Shanghai Museum all the time.
What's more, you will feel your eyes enjoying a fancy feast of color and luster in this gallery, since Shanghai Museum will show you more surprises. The Figure Playing Lute made during 25 AD and 220 AD from Sichuan shows the relaxed and happy emotion of the smiling player who is enchanted in the music sound; the Celadon Begonia-shaped Bowl from Yue kiln in the Tang dynasty is like a full-blown begonia flower.
3. Paintings (F3)
Step into this gallery, you can completely free yourself in an ancient and graceful garden of traditional Chinese paintings. More than 120 pieces of outstanding painting works of famous artists from the Tang dynasty to the modern times are exhibiting here in the Shanghai Museum, which gives you the terrific experience of the unique historic art of paintings in China.
Hermits, Hand Scroll - (705 AD - 907 AD)
Also called Gaoyi Tu (高逸图), this silk painting in Tang dynasty is the only authentic work of Sun Wei (孙位) remaining in the world. Mr. Sun applied rich color and various lines to shape the whole painting, with great effort and multiple techniques. Four sages sitting on the carpet, separated by stones, trees, and servants, and since Mr. Sun put emphasis on the expression of the figures' eyes, every sage is particularly vivid with their own characteristic, and as a result, this painting appears still glorious and bright and is the gem in the field of paintings and the treasure of Shanghai Museum.
Besides, a great number of excellent paintings are exhibiting in Shanghai Museum, so you can enjoy the artistic works the most, like the painting of bamboos of Zheng Banqiao (郑板桥), various vivid figure paintings, fancy paintings of birds and flowers in different styles, etc.
Olive Vase with Peach Patterns - (Over 350 Year)
Figure Playing Lute (25 AD-220 AD)
Click to Enlarge "Hermits Hand Roll" (705 AD - 907 AD)
4. Calligraphy (F3)
Chinese calligraphy has always been a proud art since ancient times. Shanghai Museum has collected the typical excellent works from thousands of years ago to the Qing dynasty to allow visitors a chance to appreciate the brilliant writing of all styles.
Ya Tou Wan Tie, Letter - (317 AD - 420 AD)
Ya Tou Wan Tie (鸭头丸帖), a famous cursive script work of Wang Xianzhi (张献之), is one of the most treasurable relics of Shanghai Museum. This work talks about a pill reducing edema in less than 20 characters. All the characters are in bold writing and graceful charm. The technique of using ink is perfect, with the plentiful changes from dark to light, from heavy to thin. With every character dotted appropriately, this calligraphic work looks charming, easy, free, and informal, however, principles show everywhere.
The Red Cliff Ode (Chi Bi Fu) - (1502 AD)
This Front and Back Parts of the Red Cliff Ode (赤壁赋) exhibiting in Shanghai Museum is written by the famous Zhu Yunming (祝允明), who is more well-known for his another name of Zhu Zhishan (祝枝山). The whole ode was composed by the great writer Su Shi (苏轼) to express his generous mind in a difficult situation in the description of beautiful natural scenery. Mr. Zhu achieved his peak of excessive free cursive style in his elder age, so this work totally expresses his wild personality.
Moreover, you can admire many other good calligraphic works in Shanghai Museum, from the regular, running, official scripts, to seal character, etc.
5. Jade (F4)
China has a good reputation as the "Country of Jade" with long jade manufactory history of more than 7,000 years. You will find it's really meaningful to go in this jade gallery of Shanghai Museum to see the beautiful jade wares with delicate carvings and know more about the right, fortune, and many other objects of ancient China.
"Ya Tou Wan Tie" (317 AD - 420 AD)
Click to Enlarge "Red Cliff Ode" (1502 AD)
World Only Jade Divine Figure - (Over 4,200 years)
Divine Figure - (2500 BC - 2000 BC)
The Jade Divine Figure (玉神人) of 10.3cm high is more than 4,200 years old, and it shocks the eyes of visitors in Shanghai Museum because this figure is not only the only one home and abroad, but the carvings both on his body and his face are especially simple but elegant with the glittering and translucent jade material, this divine figure is on behalf of the best standard of jade. This divine figure wears a crown and a pair of ear ornaments, with the hands putting in front of the chest, which is regarded as the image of the ancient wizard.
Visiting the jade gallery of Shanghai Museum, you can also see other outstanding works, like Ornaments on Funerary Face Covering, Hindustan Octagonal Case Inlaid with Gems, Gu with Three Chi-dragons Design, Cong with Anthropomorphic Mask and Flying Birds Design, and so on.
6. Sculpture (F1)
Shanghai Museum designed this sculpture gallery in the key colors of golden, black, and red, with the lotus-petal-shaped partitions and uncovering display, visitor can best appreciate the sculptures here, like standing in a grotto temple.
Head of Kashyapa - (618 AD - 907 AD)
This wood sculpture is the head of Kashyapa who is the chief disciple of Sakyamuni, the founder of Buddhism. Although this sculpture work has experienced vicissitudes for more than 1,000 years and crazed, it reveals more clearly its simple and unadorned inner beauty of artistic trait to the visitors. This Kashyapa has a broad forehead, corrugated brows, kind sight, and smiles gently, like a weather-beaten eminent monk. Admiring this very precious lifelike sculpture of a head, you can know more about the prevailing Buddhist culture of the Tang dynasty.
Besides, the Bodhisattva stone sculpture in Shanghai Museum is also worth seeing with the kneeling posture. The Thousand-Buddha Stele with countless carvings of Buddha gives you a strong visual impact, etc.
• Popular Shanghai Tours
✔ 4 Days Shanghai Suzhou Excellent Tour
✔ 5 Days Essence of Shanghai & Hangzhou Tour
Jade Ware in Landscape Style (1644 AD-1911 AD)
Head of Kashyapa Sculpture - (Over 1,000 Years)
7. Seal (F3)
Shanghai Museum shows you a big gift in this gallery since this is the first exhibition of Chinese seals or chops. So you can appreciate more than 500 seals of various materials selected from all those from the West Zhou to the late Qing dynasties, which is a hard-won chance to know the skills of making seals and the diverse history in each period.
Seal with Inscription Jin Gui Yi Di Wang - (265 AD—316 AD)
This more than 1,650 years old seal made of gold is the rare masterpiece of minority chops in the Jin dynasty (晋代). The upper part of this chop is a prone camel carved in vivid appearance. And on the surface of the chop, five characters are in a regular arrangement and sharp carvings. During the Qin (秦) and Han (汉) dynasties, chops were gifted to those tribal chiefs who had good relationships with the Central Plain (中原), differing from gold, silver, and copper-based on their official titles, to show the diverse level. And this gold seal of exquisite skills shows the complicated and frequently changed relationships between nationalities at that period.
Moreover, the Seal with Inscription Wu Yi that is specialized in the seal character transformed from the images of birds and fishes and other great masterpieces of seals in the Shanghai Museum is exhibiting here for you to know more about their origin and history.
8. Other Shining Exhibits
Besides the above-mentioned precious highlights, Shanghai Museum has collected a great deal of other valuable treasures on the fourth floor.
China as one of the earliest country using currency gives Shanghai Museum the best chance to show the nearly 7,000 historic relics of currency to visitors, which is a "theater" of the max screen to play the origin, rise, development, exchange, etc. of currency in China. Visitors can see the ancient currency from the Bronze era to the Modern Time of all types and the special mold cases for making currency.
Diverse furniture in Ming and Qing dynasties is placed here, from the well-known Official's Hat Armchair with Four Protruding Ends with high aesthetic value, to the other over 100 pieces of fancy appearance, from screens, curio boxes, to chairs, tables, etc. Visitors can enjoy the elegant and fine interest in the traditional garden styles.
Moreover, Shanghai Museum is rich in the featured relics of minority nationalities in China, such as the various types of costumes of each minority, embroideries, sculptures, masks, etc., which will glad your eyes while you are wandering along with this gallery.
Gold Seal Jin Gui Yi Di Wang - (Over 1,650 Years)
Mold Case for Making Currency - (About 2,000 Years)
Costume of the Miao Nationality
Recommended Route to Visit Shanghai Museum
Classic Route
Enter Shanghai Museum and see the Da Ke Ding and other bronzed treasures in the Bronze Gallery on the first floor and the splendid exhibitions of ceramics on the second floor. Then, go up to the third floor to appreciate the Hermits painting of Sun Wei and the calligraphic works of cursive writing by Wang Xianzhi and Zhu Yunming.
In-depth Route
Enter Shanghai Museum and see the bronze treasures in the Bronze Gallery and the featured sculptures on the first floor, and then, go up to the second floor to appreciate the splendid relics of ceramics from different dynasties. Next, admire the excellent works of calligraphy and painting of all styles and the valuable seal in ancient China on the third floor. Go to the fourth floor, you can see abundant jade wares and currency exhibiting here, also, many characteristic furniture in Ming and Qing dynasties and multiple representative items of Chinese minority nationalities are placed on this floor for you.
• Popular Shanghai Tours
✔ 5 Days Shanghai Huangshan Tour by High Speed Train
✔ 6 Days Shanghai Yellow Mountain Tour with Water Town Visit
Opening Information of Shanghai Museum
Opening Hour: 9:00-17:00 every day; no entering after 16:00, closed on Monday (except national holidays)
Service in Shanghai Museum
Audio guide
Language: Chinese, English, French, Japanese, German, Korean, Spanish, Italian, etc.
Audio tour in Chinese: RMB 20/adult (with a deposit of RMB 300); RMB 10/child (with a deposit of RMB 300)
Audio tour in other languages: RMB 40/set (with a deposit of RMB 400 or USD 50 or the passport)
Cloak-room
Clothes and large luggage can be put in the cloak-room, and valuables except computers are suggested be carried with you;
Wheelchairs & baby carriages
These are provided for free with the valid documentation and a deposit of RMB 300 or with only a deposit of RMB 600.
Barrier-free facilities, parking lot, restaurants, tea house, guest center, etc. are available here.
Note: The above fees are for your reference only, please contact our Travel Consultant for the updated and detail information.
Location of Shanghai Museum & How to Get There
Shanghai Museum is situated at No. 201, Peoples Avenue (人民大道) of Huangpu District (黄浦区), very near to Nanjing Road, Shanghai Urban Planning Exhibition Center, People's Square, so it is very convenient and time-saving to get there either by taxi, subway or bus. The Southern Gate is at the junction of Wusheng Road (武胜路) and East Yan'an Road (延安东路); the Northern Gate is on Peoples Avenue.
From the Bund – 2km; driving for 6mins
From Nanjing Road – 2km; driving for 8mins
From Disney Resort – 30km; driving for 40mins
After enjoying the fine cultural and historic relics in Shanghai Museum, you can transfer to the Bund to take a cruise to appreciate the fascinating view.
Travel with China Discovery (Top Recommended)
If you want to get rid of the hustle of public transportation and troublesome navigation, you can book a private tour package which covers sightseeing, dining, and transfer from us. Our local tour guide and driver will escort you to Shanghai Museum with speed and convenience, and take care of all the details. You just need to focus on sightseeing.
Click to Enlarge Location Maps of Shanghai Museum
Useful Tips to Go to Shanghai Museum
1. You can take pictures in most galleries, but do not use flashes in order to protect the relics, and look out while photographing;
2. Security Checking Process is very strict, which takes a little longer timer than that in many other museums, so there is usually a queue to enter the museum, but people move fast. Passport is required for the entry, and needed if you want to deposit stuffs in the cloakroom.
3. No painting or writing tools is allowed to be brought into the museum except for pencils.
4. Bringing camera tripod or huge/medium sized professional DV devices is not allowed.
5. Shops for selling the imitations of these artistic relics, books, related ornaments are set, with one at the 1st floor of Shanghai Museum, one at Pudong International Airport, one at the Oriental Pearl Tower, and one on Taicang Road.
6. The Shanghai Museum reserves the rights to charge on some special temporary exhibitions.
How to Plan a Shanghai Tour
How to Get to Shanghai: You can fly to Shanghai directly from Hong Kong, Tokyo, Seoul, London, Los Angeles & many overseas countries (regions) and almost all major Chinese cities, like Beijing, Xian; or take high speed bullet train to Shanghai from domestic cities.
Best Time to Visit Shanghai: March to May (in spring) & September to November (in autumn), because these periods offer beautiful nature scenery and comfortable weather for outdoor sightseeing and activities.
Top Attractions to Visit in Shanghai: The Bund, Lujiazui Skyscrapers, Yu Garden, Shanghai Museum, French Concession, Shanghai Disney Resort…
Best known as an international popular tourist destination, Shanghai perfectly preserves mixed culture of the western and eastern. The duration and theme of your Shanghai tour can be flexibly arranged based on your time and interests. Usually, tourists spend 2 days on sightseeing the most famous landmarks, including the Bund, Yu Garden, skyscrapers like Shanghai Tower, World Financial Center, Former French Concession, Shanghai Museum, etc. With one extra day, you can enjoy family fun in Disneyland Park or visit Zhujiajiao Water Town in the suburb. Don't miss the Shanghai Maglev Train, wonderful nightlife and Shanghai Cuisine.
✔ 2 Days Classic Shanghai City Tour
✔ 3 Days Shanghai Past and Present Contrast Tour
✔ 3 Days Shanghai Highlights & Zhujiajiao Water Town Tour
Travel Shanghai with Hangzhou Suzhou, More Nearby Destinations
Convenient transportation makes it quite efficient and popular to make day trips from Shanghai to Hangzhou, Suzhou, and longer vacation in Huangshan Mountain, Nanjing, Mount Jiuhua and other places in surrounding areas. So you can visit West Lake and learn Chinese tea culture in Hangzhou, marvel at tasteful classical gardens and witness Chinese silk productive process. Splendid rocky mountains with exotic pine trees are highlights in Huangshan Mountain.
✔ 5 Days Shanghai Hangzhou Suzhou Highlights Tour
✔ 6 Splendid East China Tour by Bullet Train
✔ 5 Days Shanghai Huangshan Tour by High Speed Train
Travel Shanghai with Beijing, Xian & More China Destinations
Beijing Xian Shanghai are golden triangle cities often visited together for a week holiday. You can use 3 days to visit the Great Wall and major iconic spots like Forbidden City, Temple of Heaven in Beijing, and leave 2 days for fulfilling your Terracotta Warriors tour in Xian. With more time, you can extend the trip from Shanghai to Zhangjiajie, Guilin, Chengdu, Yunnan, Silk Road, Tibet and more phenomenal destinations to enrich your China discovery. (more top China tours from Shanghai >>)
✔ 6 Days Beijing Shanghai Tour by High Speed Train
✔ 8 Days Best of China Tour (Beijing/Xian/Shanghai)
✔ 7 Days Shanghai Suzhou Beijing Contrast Tour by High Speed Train
Travel with China Discovery
As a leading travel agency in China which dedicates to offering high-quality China tours, China Discovery has helped thousands of travelers enjoy their trips to Shanghai, Beijing, Xian, etc., in China. Travel with us, you can enjoy worry-free tour services as well as well-organized itineraries, even our assistance of Chinese Visa application, convenient airport/train station pick-up & drop-off and transfer between all scenic spots, knowledgeable tour guide, safe & licensed private vehicle, satisfactory accommodation and dining and so on. You are free to choose from our most popular Shanghai tour packages or contact us to design a memorable holiday in Shanghai, China.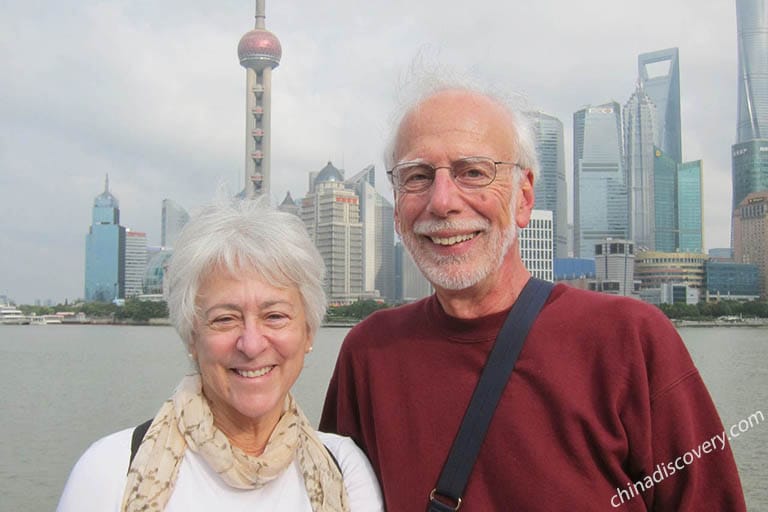 Paul & His Wife Visited the Bund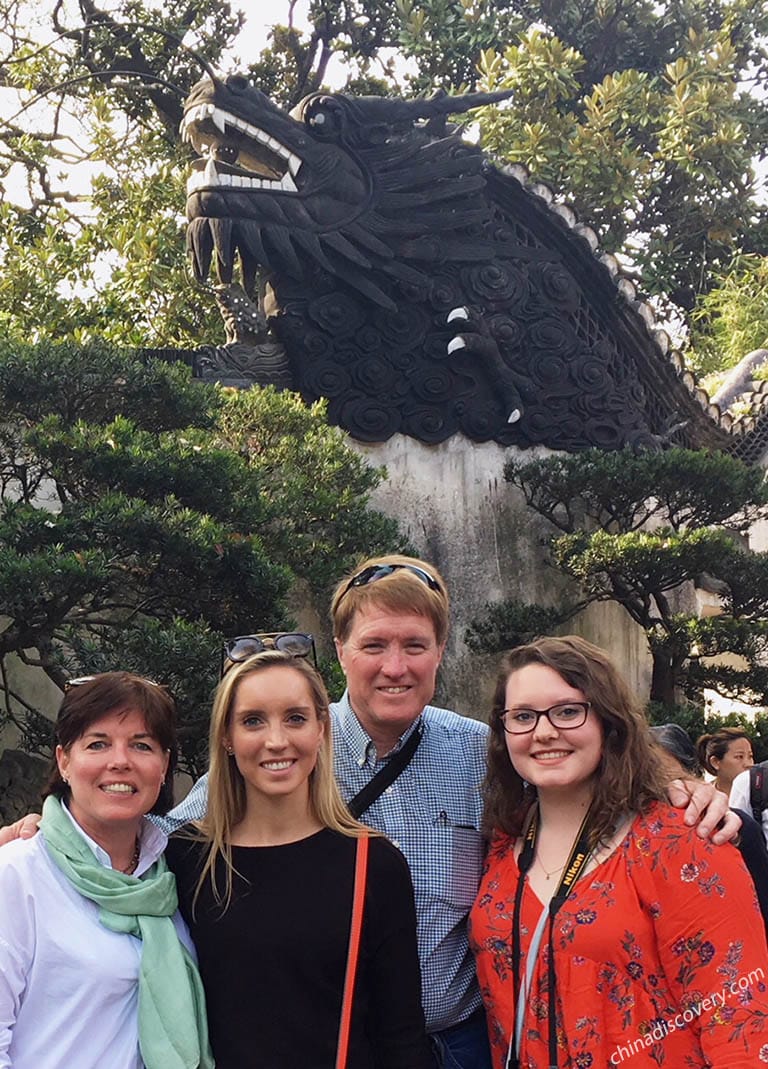 Timothy Family in Yu Garden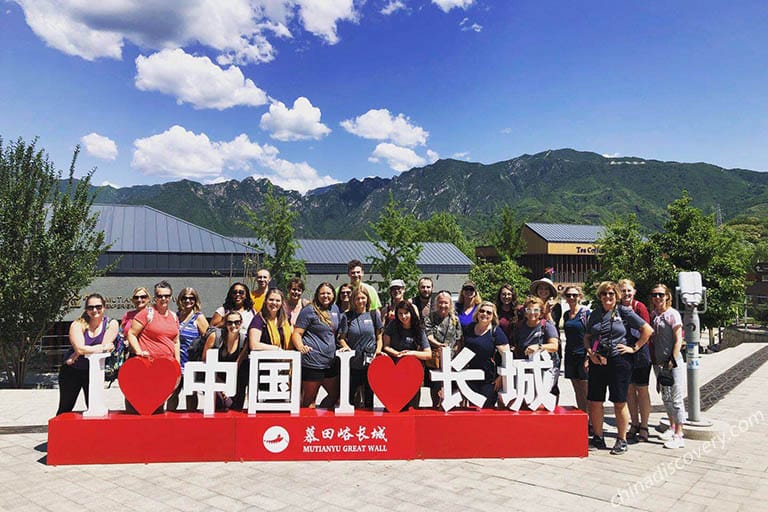 Tailor-made Group Tour to Mutianyu Great Wall, Beijing
Keep Reading About Shanghai Tours
Keep Reading About Shanghai Attractions

Shanghai Travel Guide
Recommended Shanghai Tours
Top 3 Shanghai tours chosen by most customers to explore Shanghai in the best way. Check the detailed itinerary, or tailor your own trip now with us.
5 Days Shanghai Hangzhou Suzhou Highlights Tour

Shanghai / Hangzhou / Suzhou / Shanghai
Start planning your tailor-made holiday to China by contacting one of our specialists. Once inquired, you'll get a response within 0.5~23.5 hours.
Customize a Trip
Have a question? Get answers from our travel experts or guests
Your Question:

Your Name:

Your Email: