Overview of Shanghai Circus World
Occupying 22,500 square meters, Shanghai Circus World (上海马戏城) is a great place of pleasure near the center of Shanghai City. After its open to the public, it was referred to as the No. 1 Circus World in China for its complete facilities, advanced device, and full-equipped functions. It can not only satisfy the needs of international and national acrobatic competitions and performances but also act as a venue for music and dance.
In addition to the excellent hardware, Shanghai Circus World also enjoys the most preeminent team, Shanghai Circus, which owns the professional performers and well-arranged programs. With a history of over 60 years, Shanghai Circus succeeds to stand out among the world because of their splendid shows. Ventriloquism Show got the Golden Prize at the Warsaw International Acrobatics Competition, Kicking Bows Show got the Monaco City Award at the Monte Carlo Acrobatics Competition, Balancing on the Single Hand Show got the French Republic President Award at the France Marcy International Circus Festival, Men's Art got the Golden Clown Award at Monte Carlo International Circus and Acrobatic Festival etc.
• Popular Shanghai Tours
✔ 2 Days Classic Shanghai City Tour
✔ 3 Days Shanghai Past and Present Contrast Tour
Shanghai Circus World Tickets
The ticket fee varies on the different seats. By choosing a VIP seat, you will have a better view and can interact with the performers.
ERA – Intersection of Time
There are five types of tickets for ERA – Intersection of Time. Odd numbers are on the left side of the stage while even numbers are on the right side of the stage.
880 CNY for VIP seats;
580 CNY for seats in Zone A;
480 CNY for seats in Zone B;
380 CNY for seats in Zone C;
280 CNY for seats in Zone D.
Performing Time: 19:30
Happy Circus
There are two types of tickets for the Happy Circus.
160 CNY for Zone A and Zone D
130 CNY for Zone B and Zone E.
Performing Time: 10:00; 14:00
Tickets Fee for ERA
Tickets Fee for Happy Circus
Note: The above fee information in for your reference only. For the updated and detail information, please contact our Travel Consultant! The tickets for the shows are really popular and can be easily sold out during the peak season. If you are interested in the Shanghai Acrobatics and want to enjoy one of the great shows, please inform us to book the tickets for you. Once you purchase a ticket, the ticket is not refundable. There are No free tickets provided for kids and seniors. Taking photography of the performance is forbidden.
Distinctive Design of Shanghai Circus World
Since it was built in 1999, Shanghai Circus World never fails to catch the eyes of the public, even in such a city of numerous skyscrapers. Its unique domelike roof made it anther new landmark of Shanghai. In the day time, this building looks like a golden hat with a glossy double-brim seen from a distance. When the night falls and the lights are on, the hat turns to be a striking illuminant.
Shanghai Circus World makes full use of its large space and offers the spectators the best site to enjoy the performance. It has the Acrobatic Field as its main body, Rehearsal Auxiliary Building, Animal House and Cultural and Commercial city as side installations. The Acrobatic Field enjoys as many as 1638 seats and the spectators can have various choices of seats depending on different views and prices. The design of this area is ingenious to make a breakthrough in the traditional circus world. It is equipped with lifting stages, rotating stages, proscenium stages, suspenders, and bridleways. Advanced lighting installations and multi-channel sound well meet the needs of the spectators to enjoy more fascinating shows. Except that, there are services like culture exhibition, Culture Emporium, entertainment, and catering.
There are two routine performances in Shanghai Circus World at present, namely ERA Intersection of Time and Happy Circus, and each of them will leave you an unforgettable memory.
Shining Building of Shanghai Circus World at Night
ERA Intersection of Time
As a multimillion-dollar stunning acrobatic extravaganza, the first of its kind in China, ERA is a multimedia odyssey whose inspiration is a direct result of the combination of traditional Chinese acrobatic arts and modern technology. Evolving through a constant collision between the past and future, ERA- Intersection of Time has been a visiting card of Shanghai and long admired by tourists from different places. This program focuses on the breathtaking acrobatic shows and enjoys eight shows totally.
The Mirror Mirage - As the spectators entered the theater, they see a huge round glass ball with a diameter of 6 meters which reflects all directions of the hall. When the whole hall turns to dark, there comes the classical music and magic vision, bringing the spectators to the dreamscape.
Magic Water - The magician splashes a bowl of water into the air at the beginning. Suddenly, the raindrops and forms an 8-meter-high and 18-meter-wide water curtain. From the flowing curtain, you can enjoy a colorful set screen and movement locus of the live performers.
Mirror Mirage
Magic Water
Floating Gondola - The water curtain drops into the stage and becomes a fresh lake. An illuminant occurs in the lake and turns bigger and bigger. Soon it becomes a tiny gondola which represents the Chinese civilization.
Music of ERA - According to the features of the performance, great Canadian Composer Michel Cusson creates such intoxicating music by integrating the elements of Chinese traditional music and modern music. Apart from the beauty of sound, there is also a visual feast.
Jar Juggling - Jar Juggling is an ancient acrobatic program. By a series of graceful action of throwing, pounding, kicking, rolling, and rotating, the actors show their skilled performance.
Wheel of Life - The rotating windmills turns to be a great wheel of life hanging on the sky. It is made up of three small wheels. The actors will have a soul-stirring performance on the inward and outward of the wheel, which means the endless cycle of lives.
Forever Love - One actor and one actress whirl in the sky with difficult actions only on one purple ribbon. Acting as inseparable lovers, they dance with each other affectionately.
Space Motorcycles - The moving pictures of "Shenzhou 5 (神舟五号)" flying into the sky, Donghai Bridge across the sea(东海跨海大桥), the speeding maglev trains, etc. occur on the background screen. Suddenly, a huge crash breaks up the stillness. The motorcycles whizz round in the steel caged ball around 20 feet diameter. There are three going around in different directions. The daring motorcyclists barely miss each other in perfectly timed vertical loops inside a circular cage. It is the culmination of the whole show.
Performance Time: You can watch the ERA-Intersection of Time every day. It always starts at 19:30 and also lasts for half and one hour (10 minutes for intermission). There will be an extra show at 14:00 sometimes since ERA-Intersection of Time is quite hot.
• Popular Shanghai Tours
✔ 3 Days Shanghai & Zhujiajiao Water Town Tour
✔ 4 Days Shanghai Magic Tour with Disneyland Park

Wheel of Life
Space Motorcycle
Happy Circus
Happy Circus is performed in the Central Theatre of Shanghai Circus World. Themed on "Happy Animals, Happy Spectators" and including Sea Paradise, Forest Fun, Prairie Posture, and City Homeland, Happy Circus combines animal stars, clowns, and aerial acrobatics together, making the whole performance interesting and exciting. It is a perfect choice for families and the kids will fully enjoy themselves by watching these amusing shows.
These cute animals like hilarious monkeys, tactful lions, gentle tigers, lovely dogs, fine horses, and others take their turns to present on the stage. The cumbersome bear can keep balance on a board that is supported by a ball, and it can even catch the rings thrown from the actor. The dogs know how to line up and understand the actors' order. These animals might be able to ride a bicycle, jump from one box to another, play magic tricks, and even solve arithmetic problems... Perhaps, they do nothing strange, but their comical movements always make people burst his sides with laughter.
The goofy but lovable jocular clown is one view-point of the whole show. The Shanghai Circus invited famous Russian clown actors to participate in the work, brought about the style of fashionable western-style and applying the elements of dumb show, making the performance more humorous. Besides, Happy Circus takes advantage of multi-media and creates the dreamscape of the harmonious life of human beings, animals, and nature. Just amazing!
Relaxed and joyful you must feel, but you won't always be. Perhaps the wonderful aerial acrobatics and wild horsemanship will make you thrilled. As two performers are flying from the sky by holding one or two ribbons, spectators maybe break into a sweat with fright. However, when they dance in the air easily and gracefully, they can't help clapping. The horsemanship is tremendous as well. A man on a horse speeds up on the stage, with the second man standing on his shoulder and another man on the second man's shoulder. No matter how fast the horse runs, the actors won't drop down, as if they are as light as feathers.
Performance Time: The whole show of Happy Circus covers about 100min (10 minutes for intermission).
Animals
Clown
Dancing
Shanghai Circus World Location & How to Get There
Shanghai Circus World is located in the Gonghexin Road (共和新路) of Jingan District (静安区). You could easily get there from some hot attractions in Shanghai.
By Metro: Metro Line 1 can take you to the Shanghai Circus World directly, and it runs passing by Shanghai Railway Station, Shanghai South Railway Station, People's Square etc. You could also transfer to Metro Line 1 easily from Line 2, 3, 4, 5, 7, 8, 9, 11 and 12 (almost covering different corners in Shanghai)

By Public Bus: Within 500 meters, there are 5 bus stops where about 10 buses will have a stop. Therefore, it is also convenient to get to Shanghai Circus World by bus.

Travel with China Discovery (Top Recommended)

If you want to get rid of the hustle of public transportation and troublesome navigation, you can book a private tour package which covers sightseeing, dining, and transfer from us. Our local tour guide and driver will escort you to Shanghai Circus World with speed and convenience, and take care of all the details. You just need to focus on sightseeing.

• Popular Shanghai Tours
✔ 3 Days Best Shanghai Cycling Tour ✔ 3 Days Shanghai Family Tour with Ocean Aquarium

Shanghai Circus World Location Map
How to Plan a Shanghai Tour
How to Get to Shanghai: You can fly to Shanghai directly from Hong Kong, Tokyo, Seoul, London, Los Angeles & many overseas countries (regions) and almost all major Chinese cities, like Beijing, Xian; or take high speed bullet train to Shanghai from domestic cities.
Best Time to Visit Shanghai: March to May (in spring) & September to November (in autumn), because these periods offer beautiful nature scenery and comfortable weather for outdoor sightseeing and activities.
Top Attractions to Visit in Shanghai: The Bund, Lujiazui Skyscrapers, Yu Garden, Shanghai Museum, French Concession, Shanghai Disney Resort…
Best known as an international popular tourist destination, Shanghai perfectly preserves mixed culture of the western and eastern. The duration and theme of your Shanghai tour can be flexibly arranged based on your time and interests. Usually, tourists spend 2 days on sightseeing the most famous landmarks, including the Bund, Yu Garden, skyscrapers like Shanghai Tower, World Financial Center, Former French Concession, Shanghai Museum, etc. With one extra day, you can enjoy family fun in Disneyland Park or visit Zhujiajiao Water Town in the suburb. Don't miss the Shanghai Maglev Train, wonderful nightlife and Shanghai Cuisine.
✔ 2 Days Classic Shanghai City Tour
✔ 3 Days Shanghai Past and Present Contrast Tour
✔ 3 Days Shanghai Highlights & Zhujiajiao Water Town Tour
Travel Shanghai with Hangzhou Suzhou, More Nearby Destinations
Convenient transportation makes it quite efficient and popular to make day trips from Shanghai to Hangzhou, Suzhou, and longer vacation in Huangshan Mountain, Nanjing, Mount Jiuhua and other places in surrounding areas. So you can visit West Lake and learn Chinese tea culture in Hangzhou, marvel at tasteful classical gardens and witness Chinese silk productive process. Splendid rocky mountains with exotic pine trees are highlights in Huangshan Mountain.
✔ 5 Days Shanghai Hangzhou Suzhou Highlights Tour
✔ 6 Splendid East China Tour by Bullet Train
✔ 5 Days Shanghai Huangshan Tour by High Speed Train
Travel Shanghai with Beijing, Xian & More China Destinations
Beijing Xian Shanghai are golden triangle cities often visited together for a week holiday. You can use 3 days to visit the Great Wall and major iconic spots like Forbidden City, Temple of Heaven in Beijing, and leave 2 days for fulfilling your Terracotta Warriors tour in Xian. With more time, you can extend the trip from Shanghai to Zhangjiajie, Guilin, Chengdu, Yunnan, Silk Road, Tibet and more phenomenal destinations to enrich your China discovery. (more top China tours from Shanghai >>)
✔ 6 Days Beijing Shanghai Tour by High Speed Train
✔ 8 Days Best of China Tour (Beijing/Xian/Shanghai)
✔ 7 Days Shanghai Suzhou Beijing Contrast Tour by High Speed Train
Travel with China Discovery
As a leading travel agency in China which dedicates to offering high-quality China tours, China Discovery has helped thousands of travelers enjoy their trips to Shanghai, Beijing, Xian, etc., in China. Travel with us, you can enjoy worry-free tour services as well as well-organized itineraries, even our assistance of Chinese Visa application, convenient airport/train station pick-up & drop-off and transfer between all scenic spots, knowledgeable tour guide, safe & licensed private vehicle, satisfactory accommodation and dining and so on. You are free to choose from our most popular Shanghai tour packages or contact us to design a memorable holiday in Shanghai, China.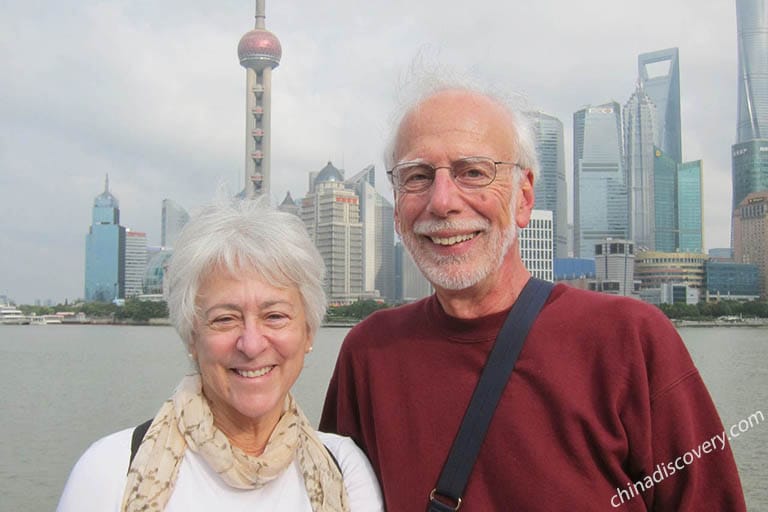 Paul & His Wife Visited the Bund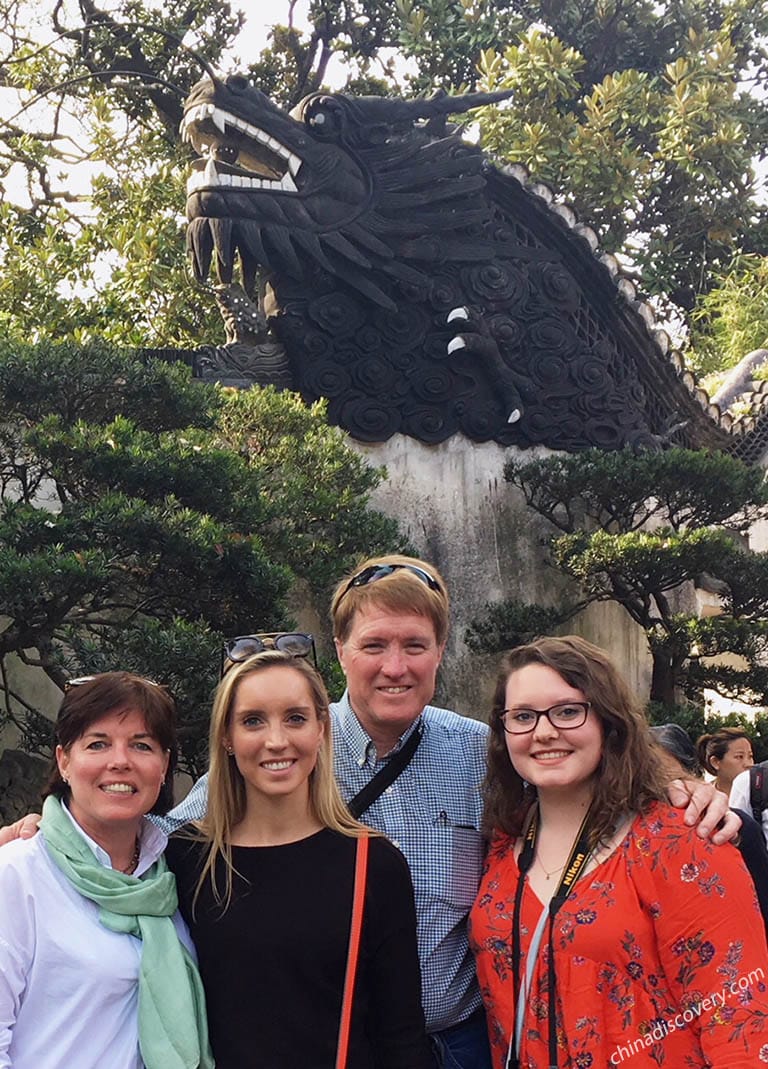 Timothy Family in Yu Garden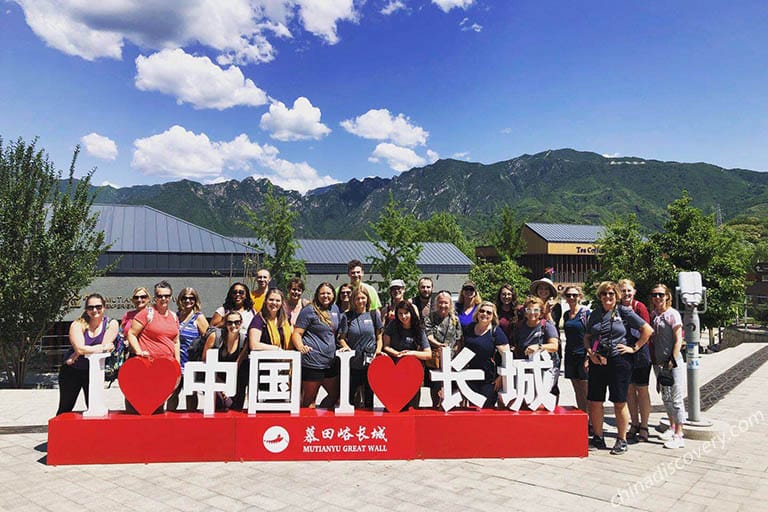 Tailor-made Group Tour to Mutianyu Great Wall, Beijing
Keep Reading About Shanghai Tours
Keep Reading About Shanghai Attractions

Shanghai Travel Guide
Recommended Shanghai Tours
Top 3 Shanghai tours chosen by most customers to explore Shanghai in the best way. Check the detailed itinerary, or tailor your own trip now with us.
5 Days Shanghai Hangzhou Suzhou Highlights Tour

Shanghai / Hangzhou / Suzhou / Shanghai
Start planning your tailor-made holiday to China by contacting one of our specialists. Once inquired, you'll get a response within 0.5~23.5 hours.
Customize a Trip
Questions & Discussions
Following are latest questions and answers from our webusers and customers. You can learn many useful information from the discussion and cases. You can also join in the discussions or ask your own question. Our experts will help you ASAP.
Have a question? Get answers from our travel experts or guests
Your Question:

Your Name:

Your Email: