Xian 144 Hour Visa Free Transit Guide 2023/2024
Normally, to make a trip to Xian, China, foreign travelers have to apply for and obtain a Chinese Tourist Visa (L Visa) from Chinese Embassy or consulate abroad. However, certain international travelers can enjoy transit visa free layover tour in Xian if meeting related requirements. on June, 2014, Xian became the first city implementing 72 Hour Transit Visa Free Policy in Northwest China, and later extended to 144 Hour Transit Visa Free from December 1, 2019. (Meanwhile, Chongqing has extended to 144 hours as well.)
That means, once qualified, transit tourists may enjoy a visa-free Xian tour for up to 144 hours (6 days), realize dream tour to Terracotta Warriors, Ancient City Wall, Muslim Quarter and other landmarks in Xian. Happen to transit China through Xian? Read the article carefully to check the requirements, application guide and tips you need to follow for a visa-free layover in Xian.
Hot News: As news reported, from December 1, 2019, Xian has upgrade the current 72-Hour Visa-free Transit into 144 hours.
Table of Page Contents
What is China 144-Hour Transit Visa-Free Policy?
Approved by the State Council, Xian firstly operated the 72-Hour Transit Visa-Free (TWOV) from June 1, 2014 and optimized to 144 hours at the end of 2019. Under the policy, foreigners holding valid passport or international travel document of certain 53 countries (including US, UK, Canada...), and connecting flight tickets with confirmed seat and departure date to a third country (region) can apply transit visa exemption at Xian Airport and stay in Xian and Xianyang, two cities no more than 144 hours. Read China 144-Hour Visa-Free Transit to get more valid cities and requirements!
Only foreign tourists meeting all the related requirements, he or she is allowed to apply at Xian Xianyang International Airportupon arrival and enjoy this privilege. Below are essential conditions:
● Come from one of the appointed 53 foreign countries
OIf your nationality is not on the list, then you should proceed regular application, prepare paper documents, visa fees and submit at authorized institutes. Visit China Visa Application Guide to start the steps.
● Hold passport or international travel document with a validity of at least 3 months
The bad news is that, your free entry application will be refused, if your passport is valid less than 3 months, or have visa-rejected stamp before.
Tips: You are NOT allowed to apply for 144 Hour Transit Visa-Free if you have illegal entry, stay and employment within 5 years, or violated accommodation registration causing serious cases within 2 years.
● Hold connecting flight to a third country (region) with confirmed departing date and seat
The policy is specially carried out for facilitating the short-term layover of international transit passengers. So make sure you already book air tickets leaving Xian and Xianyang within 6 days. The immigration officers will check the flight ticket and your passport, when you submitting application (for temporary entry) at the airport. E-ticket and paper ticket are both ok.
Special Tips:
1.About Travel Route: The 144-Hour Visa-Free Transit Policy is only applicable to transit travel routes, like Country (Region) A - Xian - Country (Region) B. So, the place you departed need to be different from the following destination after Xian.
Examples: UK --> Xian --> Singapore; US --> Xian --> Hong Kong.
2.About Stay Area: Once successfully entered, you can travel in Xian and Xianyang City. Visiting places outside the two areas are forbidden unless you apply for and get a valid Chinese Visa.
Most attractions are located in Xian, so you visit: Terracotta Warriors, Ancient City Wall, Muslim Quarter, Bell Tower, etc. All Things to Do in Xian >>
3.About Stay Period: The free visa counts from the 00:00 on the next day after entry. Remember to exit from Xian before the deadline (24:00 on the sixth day).
4.About Purpose of Visiting: Using the TWOV policy, you can enter Xian for sightseeing tour, visiting friends and families, or for business.
Xian 144 Hour Visa Requirements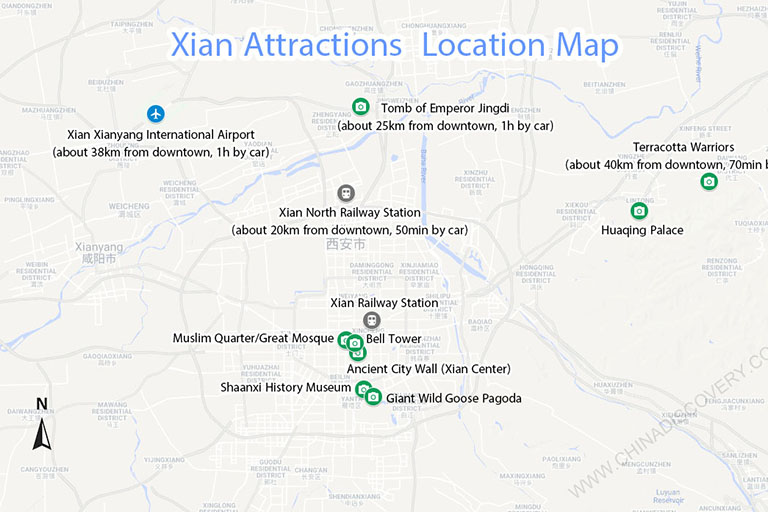 Xian Attractions Map
As required same as the 72 Hour Visa Free Transit in China, only citizens from designated 53 overseas can apply the 144-Hour Visa-Free Transit. The list covers US, UK, Australia, New Zealand, Singapore, and total 53 countries in 4 continents.
Continent
Number
Transit Visa Free Countries
Europe
39
Countries under Schengen Visa Agreement (24):
Austria, Belgium, Czech, Denmark, Estonia, Finland, France, Germany, Greece, Hungary, Iceland, Italy, Latvia, Lithuania, Luxembourg, Malta, Netherlands, Poland, Portugal, Slovakia, Slovenia, Spain, Sweden, Switzerland.
Other Countries (15):
Russia, United Kingdom, Ireland, Cyprus, Bulgaria, Romania, Ukraine, Serbia, Croatia, Bosnia and Herzegovina, Montenegro, Macedonia, Albania, Monaco and Belarus.
America
6
United States, Canada, Brazil, Mexico, Argentina, the Republic of Chile.
Oceania
2
Australia, New Zealand.
Asia
6
South Korea, Japan, Singapore, Brunei, the United Arab Emirates, Qatar.
Note: Japan and Singapore ordinary passport holders can enjoy 15-day visa free for travel, business, visiting friends and families, according to official announcement. Know more about China Visa Policy for Singapore Passport Holders and China Visa Free Policies >>
Step 1 - When boarding, it's highly advised to tell the flight attendant that you plan to apply 144-Hour Visa-Free Transit in Xian. Later, they will deliver your request to the immigration authority at the airport. Also, you can directly apply after landing.
Step 2 - After your arrival, you need to fill in the Arrival Card at specialized counter. Then, follow signs to the "Exclusive Channel for 144 Hour Transit Visa Exemption", apply to custom with your passport (or other valid international travel documents), air ticket or other documents showing you have booked an confirmed flight from Xian Xianyang International Airport for a third country (region) departing within 144 hours;
Step 3 - The Exit and Entry Immigration officer will seal a Temporary Entry Permit on your passport to grant your entry to Xian after verification.
Step 4 - Go through customs and immigration formalities, and you can leave Xian Airport, transfer to hotels or attractions in downtown, or other places within the administrative region of Xian and Xianyang. Pay attention to the time, 144 hours is permitted as the maximum duration of stay.
China's Arrival Card for Foreigners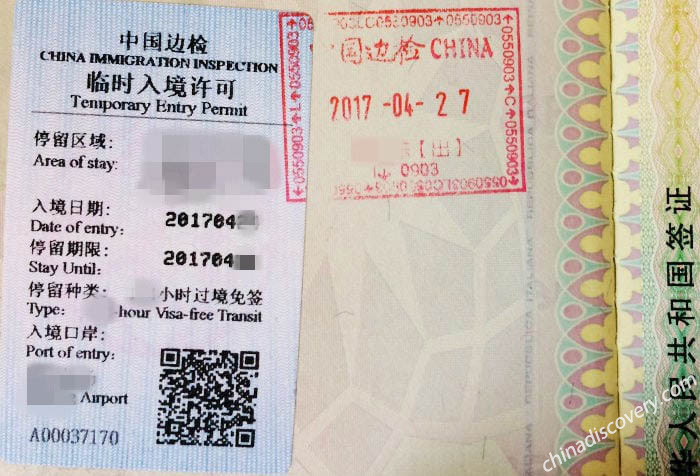 Sample of Temporary Entry Permit
Location: Dizhang Town, Weicheng District, Xianyang City, Shaanxi (陕西省咸阳市渭城区底张镇)
Xian Xianyang International Airport (西安咸阳国际机场, IATA: XIY) is the major airport serving tourists to Xian, and it' located in Xianyang, northwest Xian, about 40km (1 h & 10 minutes' drive) to Xian city center. The airport currently executes over 600 flights to more 200 cities worldwide, linking Xian with Beijing, Shanghai, Hong Kong, Macau and many cities in China, and Kathmandu, Singapore, Bangkok, Tokyo, Los Angeles, Moscow and other overseas tourist cities. Xian Airport is the only port of entry applying to the 144 Hour Visa-Free Transit in Xian.
Xian Airport Transportation
From Xian Airport to City Center (Downtown): Xian Airport is located far from downtown area (about 40km). You can take taxi, airport shuttle bus or subway to get to downtown. It takes more than 1 hour by car. Besides, airport shuttle bus can take you directly to Bell Tower in the city center, where is the best accommodation area in Xian. Muslim Quarter and Bell & Drum Tower are within a few minutes' walking distance. Xian Airport to Downtown Transportation >>
From Xian Airport to Terracotta Warriors: The Terracotta Warriors is situated nearly 70km east of Xian Airport, about 1 hour by car. Public transportation is quite time-consuming and complicated. So fast and convenient private transfer arranged by China Discovery is most recommended. Xian Airport to Terracotta Warriors Transfer >>
Useful Links: Xian Airport & Flights / Xian Airport Shuttle Bus / Where to Stay in Xian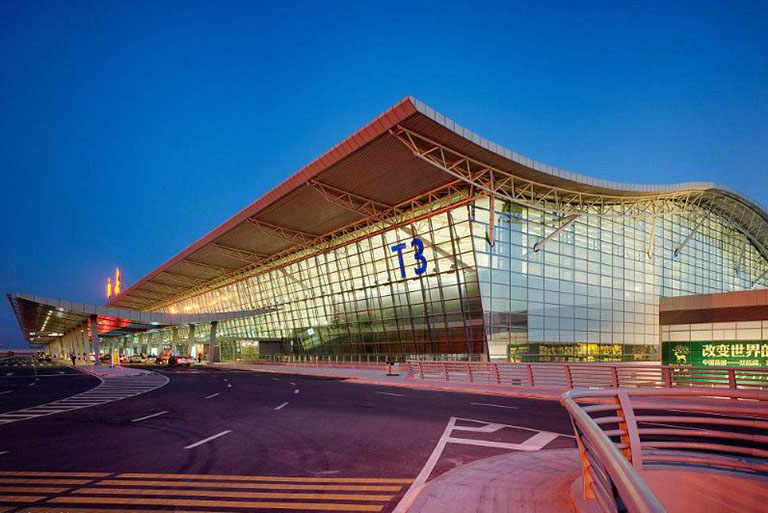 Xian Xianyang International Airport
If everything goes smoothly, congratulations, you will be lucky to approved 144 Hour Visa-Free Tour in Xian. Though you're allowed to visit Xian and Xianyang both, most famous tourist attractions are located in Xian. How to make use of the limited time to see the best highlights? What are the top things to do? Don't worry, China Discovery offers you most useful trip planning ideas and considerate tour services to ensure your layover is meaningful and unforgettable.
Xian 1 Day Itinerary
One day is kind of rush but also doable for a quick trip. The Terracotta Warriors is the top must-visit attraction. The most popular itinerary is spend half a day in the Terracotta Warriors, visiting Ancient City Wall in the afternoon, viewing Bell & Drum Tower at night and tasting local snacks in Muslim Quarter. For cultural fans who already saw the army, it's a good idea to visit different mausoleums to know more history and funeral culture of ancient China. How to Plan Xian 1-Day Tour >>
Recommended Xian Day Trips:
Xian 2 Days Itinerary
2 days are enough to see major landmark in Xian, including the Terracotta Warriors, Ancient City Wall, Bell & Drum Tower, Muslim Quarter, Giant Wild Goose Pagoda, Hanyangling Museum. During night, it's strongly recommended to watch a Tang Dynasty Show to relax and learn some old Chinese story. How to Arrange 2-Day Tour in Xian >>
Related Tour:
Xian 3 Days Itinerary
With more days, except the above mentioned sightseeing, we advise you try some local cultural experiences to make your trip more interesting and unique. You can join in a calligraphy class, learn how to write Chinese, shopping in night market, observe how a clay figurine is made, etc. How to Spend 3 Days in Xian >>
Related Tours:
● 3 Days Xian Cultural & Culinary Tour
Xian 4 to 6 Days Itinerary
Using the free transit policy, travelers can stay in Xian and Xianyang as long as 144 hours,which is perfect right for a Xian in-depth discovery. Sightseeing, tasting local food, watching shows, shopping and trying interesting activities. With our travel guide, you can physically see and feel a unique Xian. Also you can contact us to customzie a Xian tourbased on your requirements and scheule. How to Spend 4 Days in Xian >>
Related Tour: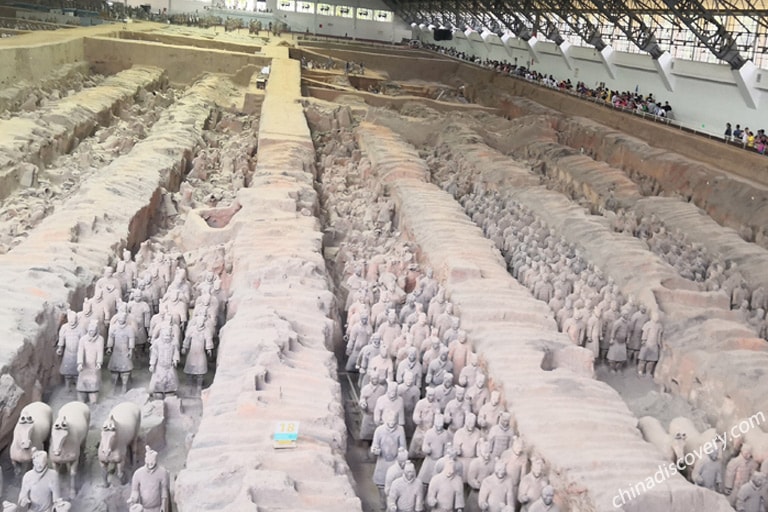 Terracotta Warriors in Emperor Qinshihuang's Mausoleum Site Museum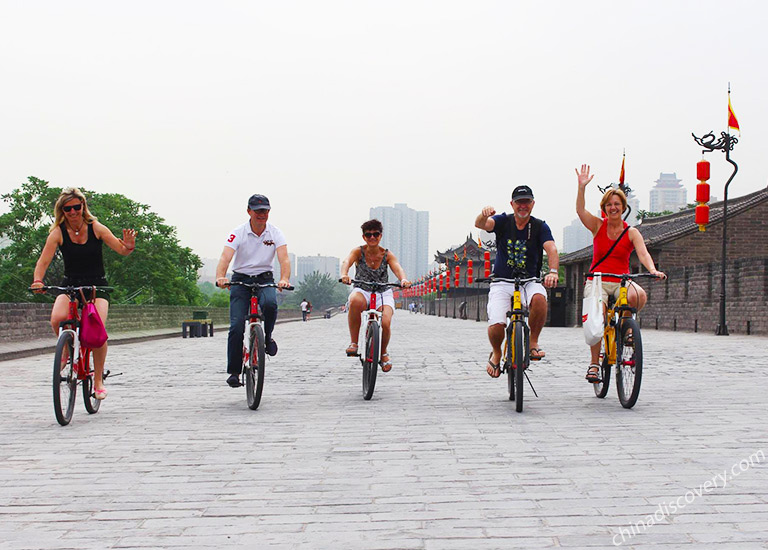 Foreign Tourist Biking on Ancient City Wall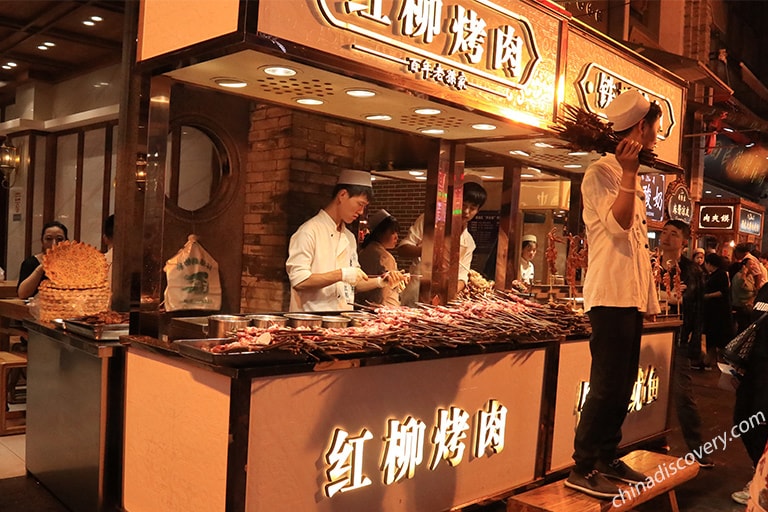 Try Local Snacks in Xian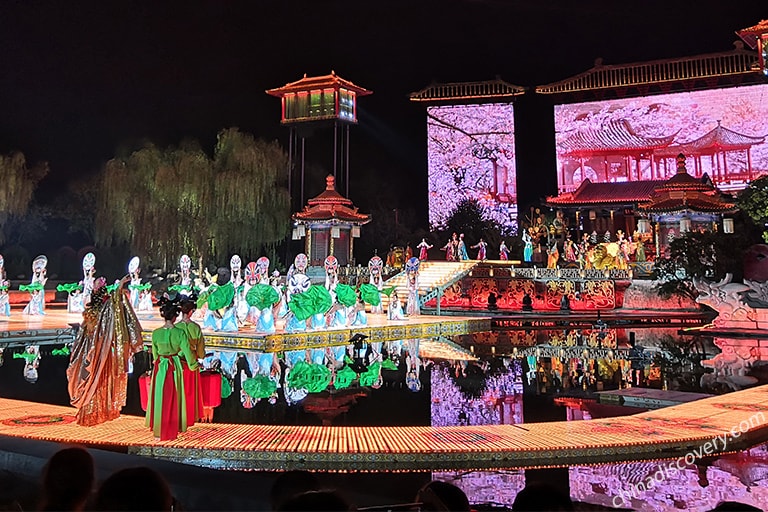 Tang Dynasty Show: A Song of Everlasting Sorrow
Travel Xian with China Discovery
China Discovery is an experienced, professional and considerate travel companion. Travel with us, you can enjoy well-organized tour services in the most convenient way, including the pick-up, local tour guide and drive, thoughtful accommodation, dining and worry-free transportation between each site and the ticket booking, etc. With our help, you can fully focus on the sightseeing journey using the minimum cost of time and energy. According to your itinerary and hobbies, you may choose from our popular Xian Tours or  contact us to tailor-make a special one based on your own interests and travel itinerary.
Recommended Tours
Top 3 tours chosen by most customers to explore in the best way. Check the detailed itinerary, or tailor your own trip now with us.
4 Days Xian Highlights Tour with Mount Huashan Hiking (Most Recommended)

Xian / Mount Huashan
Start planning your tailor-made holiday to China by contacting one of our specialists. Once inquired, you'll get a response within 0.5~23.5 hours.
Customize a Trip
Questions & Discussions
Following are latest questions and answers from our webusers and customers. You can learn many useful information from the discussion and cases. You can also join in the discussions or ask your own question. Our experts will help you ASAP.
Visa for two different regions
We will be flying from US to Beijing, then take another flight to Xi'an. Stay in Xi'an for 1 day, take flight back to Beijing stay 1 one day, total 3 days. Can we fly into two different regions and what type of visa do we need, 144 hrs visa?

Kindly advise,
Nack
Have a question? Get answers from our travel experts or guests
Your Question:

Your Name:

Your Email: