Where is the Terracotta Army - Terracotta Warriors Location Maps
Listed as UNESCO World Cultural Heritage in 1987 and honored as "the Eighth Wonder of the World", the Mausoleum of the First Qin Emperor and the Terracotta Warriors presents unparalleled achievement of ancient China and attracts about 8.5 million visitors in last 2018. Totally, more than 200 leaders of foreigner countries paid a visit to the Terracotta Army to witness the glorious treasure. Where is the Terracotta Warriors located in China? Obviously, getting its location information helps you better plan a Terracotta Warriors tour and even a longer trip with other nearby destinations.
Where are the Buried Soldiers in China?
The Terracotta Warriors is situated in Guanzhong area, Shaanxi Province (陕西省), Northwest China which neighbors with many inland provinces including Inner Mongolia in the north, Shanxi and Henan Provinces in the east, Chongqing, Sichuan and Hubei Province in the south, Gansu and Ningxia in the west.
Geographically, the Terracotta Warriors lies at the foot of Li Mountain (骊山), north of Qingling Mountains (秦岭), south of Wei River (渭河) and the traditional Guanzhong Plain.
Terracotta Warriors' Location on China Map
Arrival Ideas: To visit the Terracotta Warriors, all tourists have to get to Xian first. You can fly to Xian Xianyang International Airport (西安咸阳机场, IATA: XIY) directly from Hong Kong or Kuala Lumpur, Bangkok, Seoul, Paris, Tokyo, Osaka, Los Angeles, Hong Kong, and total 46 cities abroad, or transfer from Beijing, Shanghai and else connected cities in China by air or train.
Useful Links: Xian Airport and Flights / Beijing to Terracotta Warriors / Shanghai to Terracotta Warriors
What City is the Terracotta Warriors in China?
Are the Terracotta Warriors in the Forbidden City? Just kidding! The Forbidden City, or known as the Palace Museum is in Beijing, North China region, while the Terracotta Army is now exhibited in Emperor Qinshihuang's Mausoleum Site Museum (秦始皇陵博物院). To be specific, the massive Terracotta Warriors is displayed in original excavated pits, about 1.5km east of the tomb of Qinshihuang, Lintong District (临潼区), east suburb of Xian City.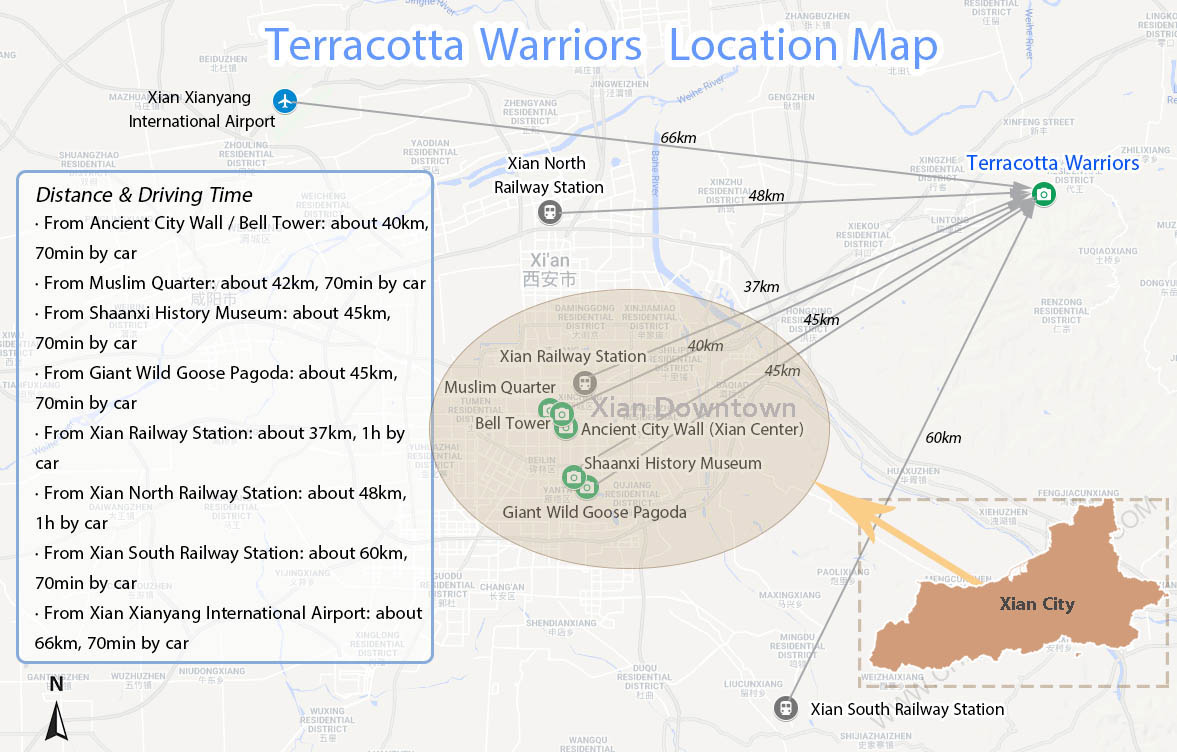 Terracotta Warriors' Location in Xian City
Travel Time Between Xian and Some nearby Destinations
| | | | | | |
| --- | --- | --- | --- | --- | --- |
| Travel Route | Transport | Total Time | Travel Route | Transport | Total Time |
| Pingyao → Xian | by bullet train (D trains) | about 2.5 - 3 hours | Xian → Zhengzhou | by high speed bullet train (G & D trains) | about 2 - 3 hours |
| Xian → Luoyang | by high speed bullet train (G & D trains) | about 1.5 - 2 hours | Chengdu → Xian | by high speed bullet train (G & D trains) | about 3.5 - 4 hours |
| Xian → Lanzhou | by bullet train (D trains) | about 2.5 - 3.5 hours | Xian → Chongqing | by high speed bullet train (G & D trains) | about 5.5 hours |
Note: If you plan to transfer from other Chinese city to Xian, you can visit our How to Get to Xian and Xian High Speed Trains or contact us to obtain latest guide and helpful advice.
Where is the Terracotta Warriors in Emperor Qin Shihuang's Mausoleum Site Museum?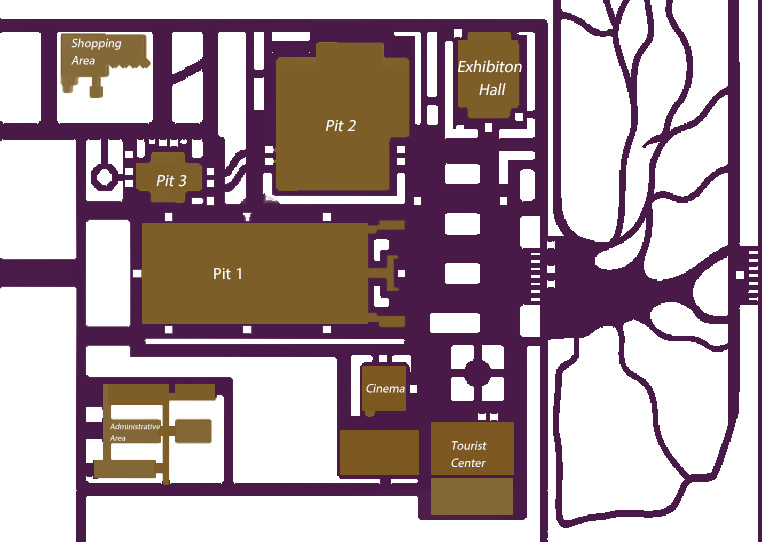 Terracotta Warriors Location in Qin Shihuang's Mausoleum Site Museum
With the entrance tickets, tourists can visit two major areas of the museum: the Museum of the Terracotta Warriors and Horses of Qin Shihuang (including the Terracotta Army with the First Qin Emperpor's Mausoleum's Relics Exhibition Hall), and 1.5km-far Lishan Park (including Tomb of Qin Shihuang, Acrobatics Figures Pit, Civil Official Figures Pit).
The Terracotta Warriors are mainly displayed in three different pits, in east side of the tomb. After you seeing the soldiers, you can take free shuttle bus to Lishan Park and continue to visit other kinds of clay figures buried with the emperor.
Visit Terracotta Warriors with Major Highlights in and around Xian
North China has been politic center in many important regimes during ancient China, meanwhile, Xian once was ancient capital for 13 dynasties and the east starting point of "Silk Road", all that leave profound culture and history, and splendid nature to discover in Xian and with surrounding destinations like Luoyang and Zhengzhou.
1. Xian City Tour - Travel Xian Downtown Attractions with Terracotta Army
Apart from closely looking the Terracotta Warriors in suburb, there are more things to do to sense the ancient Xian in downtown. You can cycle around the Ancient City Wall to touch old masterpiece in a modern way, taste characteristic street food and snacks in Muslim Quarter, learn gorgeous history in Shaanxi History Museum, view beautiful night views of Bell Tower and Drum Tower in city center, see another far-back cultural fusion in Big Wild Goose Pagoda, watch featured ancient music and dance shows, etc. Of course, Xian has much more cultural sites for your exploration.
Xian Guide: Xian Travel Guide / Top Things to Do in Xian / Featured Activities in Xian
Transportation Tips: Xian to Terracotta Warriors / Xian Airport to Terracotta Warriors / Xian Train Stations to Terracotta Warriors
2. Day Trips from Xian - Extend Holiday to Famous Destinations Nearby
With short distance and convenient transportation, Pingyao, Luoyang, Huashan and some destinations are also good idea to contact different landscape of China beyond Xian. If you're a nature adventure, go and enjoy the Huashan Hiking. More prefer cultural spots? Take a fast bullet train travel to visit Longmen Grottoes in Luoyang, Shaolin Temple in Dengfeng, Zhengzhou, over 2,700-year old Pingyao Ancient City in Shanxi. Or spend 1 hour's train journey, go westward to see the Buddhist holy land - Famen Temple in Baoji, 2 hour to visit Maijishan Grottoes in Tianshui, Gansu Province.
Transportation Tips: Beijing Xian Pingyao Tours / Xian Huashan Tours / Xian Luoyang Tours
3. China Xian Tours - Make Trip to Xian Terracotta Warriors and More Destinations in China
China is full of fascinating and diverse tourism resources. As you like, you can travel Xian with Beijing, Tianjin in north China, Shanghai, Hangzhou, Suzhou in east China, or Chengdu, Chongqing, Zhangjiajie, Guilin in south China, even follow the "Silk Road" to Lanzhou, Xining, Xinjiang in northwest China. You can choose from our top recommended China tours or tell us your hobbies to make your a unique and memorable trip.
Popular China Xian Tour Packages: Beijing Xian Tours | Shanghai Xian Tours | Xian Chengdu Tours
Travel Terracotta Warriors with China Discovery
China Discovery is a professional and experienced travel companion devoting ourselves to offering you worry-free tour in Xian and China. We not only help you plan a best travel itinerary, but also support your sightseeing, transportation, accommodation and every detail to fully see the beauty and touch culture and history of China. Travel with us, you could enjoy the most convenient transfer from other city to Terracotta Warriors and worry-free pick-up service at Xian airport or train station. Therefore, you can focus more time and energy on catching more essential attractions with Terracotta Army. You may choose from our most popular tour or contact us to customize a special one, all we do is making sure you enjoy the trip and keep a good memory in your whole lifetime.
Recommended Terracotta Warriors Tours
Top 3 Terracotta Warriors tours chosen by most customers to explore Terracotta Warriors in the best way. Check the detailed itinerary, or tailor your own trip now with us.
4 Days Shanghai Xian Overnight Bullet Train Tour

Shanghai / Xian
Start planning your tailor-made holiday to China by contacting one of our specialists. Once inquired, you'll get a response within 0.5~23.5 hours.
Customize a Trip
Have a question? Get answers from our travel experts or guests
Your Question:

Your Name:

Your Email: