Where to Buy Terracotta Warriors for Sale?
Can I Buy a Terracotta Warrior?
Evaluated as "the Eighth Wonder of Ancient World" and precious national treasure of China, each piece of the Terracotta Warriors is a priceless cultural relic, and of course, no one can buy a real Terracotta Warrior. A normal soldier reportedly probably is worth many hundreds of thousands of dollars, and the well-preserved green-face Kneeling Archer is estimated for CNY 110,000,000.
After finishing your Xian tour, you can't buy an authentic Terracotta Warrior for memory, but it's very popular to bring Terracotta Warriors replicas home as a souvenir. The duplicates can be found easily in main spots in Xian and price varies from size, quality and quantity. If you really like such item, it's suggested to buy a good one to keep a long time. Otherwise, a budget figure is enough. Below we list some shopping places for your reference.
1.Terracotta Warriors Museum Gift Shop
Location: interior of the Emperor Qin Shihuang's Mausoleum Site Museum, East Suburb Xian
Price: 200 yuan ~ thousands of dollars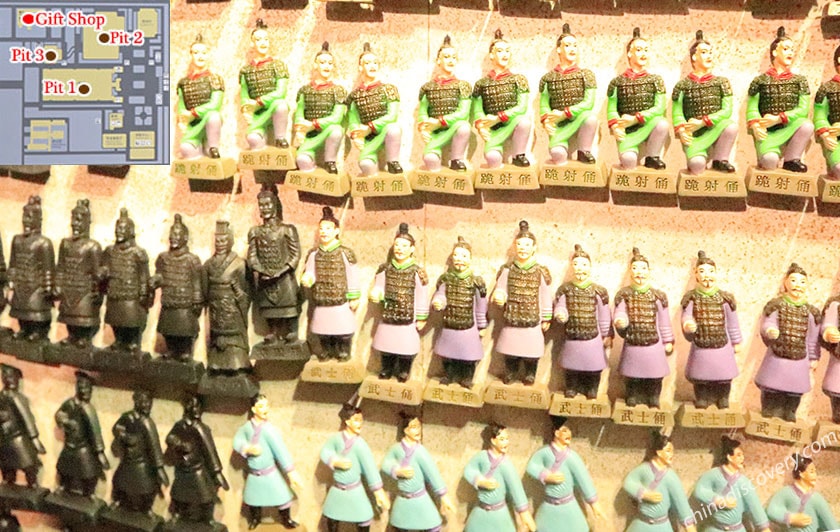 Terracotta Warriors Duplicates in Museum Gift Shop
When visiting the Terracotta Warriors Museum, there is a specialized shopping area inside the museum, next to the Pit 3, behind the Pit 1. You can see a official selling point and many Terracotta Warriors themed gifts shops, book and jade stores. The museum tour guide claimed all the Terracotta Warriors sold here are elaborated products made of customized clay by the museum authorized factory. The guide also says the dark gray replicas are all in high quality, much better than those sold in vendors outside. Each replica has a special certificate.
The Terracotta Warriors are in different shapes (standing or kneeling), size (miniature, moderate or full size) and priced from the lowest CNY 200 (15cm tall) to thousand of dollars. Besides, they still sell clay figures of horse, Emperor Qinshihuang and suit of bronze chariots and horses. You may buy one single statue or one set together.
Attention: The museum official replicas are marked up at least by 100% to 300% or even higher, more expensive but with better quality. If you care more about the quality and want to keep for a long time, make an inquiry here or get useful suggestions from our local tour guide.
Options: Shops in and outside the Terracotta Warriors Museum
● Except the official selling, it's quite obvious to see other small stalls in the Terracotta Warriors Museum. Certainly, the figures are also high-priced but without any certificate.
● After the tour was over, you will exit and walk through a long shopping area to get to the bus and parking lot. You can find lots of small shops selling different size of Terracotta Warriors figures as well. Price ranges from dozens of yuan to several hundred and thousand yuan, relatively cheaper than the museum shop. Prices are negotiable here. But the replicas could be same quality as you saw in other scenic spots, lower quality than the official gift shop.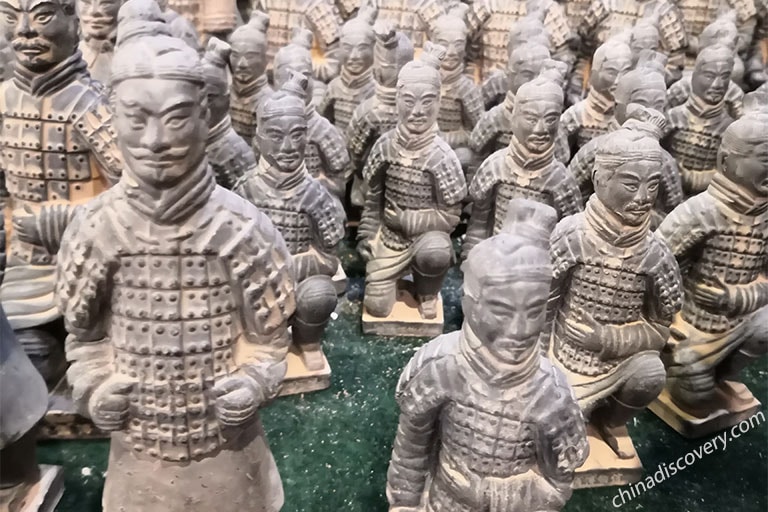 Terracotta Soldiers Miniatures in Stores near Museum Exit
2.Shopping Places in Downtown Xian
Most people prefer to buy a lovely mini-size Terracotta Warriors at a decent cost, so we advise you go to the Muslim Street (Beiyuanmen Night Market) first, where you can get cheaper figures than the museum site. Then you can make comparison of quality and price and choose from your pocket. Of course, in Xian, such kind of Terracotta Warriors are available in most places, especially in small shops in the street nearby the main attractions.
Muslim Quarter (Beiyuanmen Night Market)
Location: behind the Drum Tower, Lianhu District, Central Xian
Locals call the area Beiyuanmen while tourists are more familiar with the name of "Muslime Quarter" (回民街,Huiminjie). While tasting variety of street food in the bustling Muslim Quarter and feeling the local atmosphere, you can find many souvenir shops in quiet alleys if walking inside or around the main street. Most people like to purchase Terracotta Warriors miniatures here for its cheaper and convenient to pick up, when compared to the Terracotta Museum. You can bargain in the side streets before you decide to buy.
Huajuexiang Shopping Street
Location: next to the Muslim Quarter, Downtown Xian
Huajue Xiang or Huajue Alley is famous for the Great Mosque, which well preserves many ancient architectures and creates a beautiful and tranquil land away from the chaotic tourist areas. The special shopping street sells Terracotta Warriors replicas and a large collection of local specialties, interesting handmade things and souvenirs, like shadow puppets, Hanfu,etc. The statues are cheap and also bargains are accepted.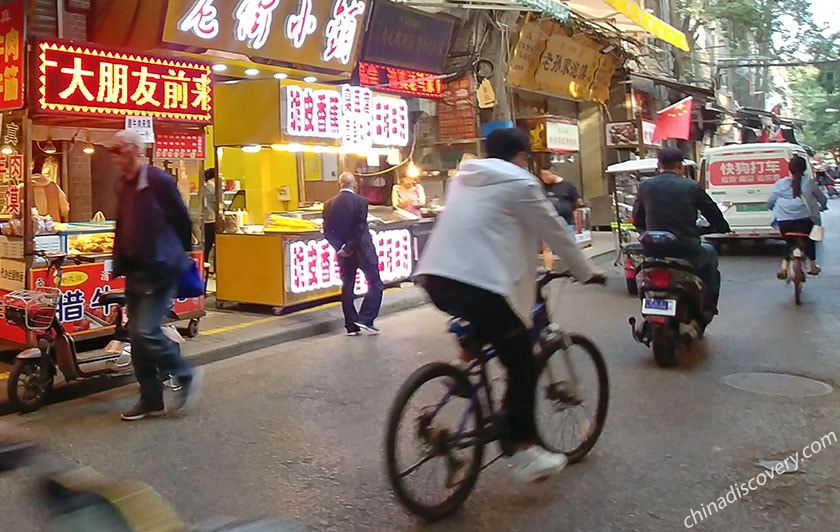 Muslim Quarter
3.Xian Xianyang International Airport
Location: Weicheng, Xianyang, Northwest Suburb Xian
If you are in a rush and will fly out Xian soon, you can also grasp Terracotta Warriors replicas in the airport. For baggage and shipping convenience, mini sizes are highly recommended. Price here is lower than the museum but higher than the Muslim Street and Huajuexiang Shopping Lane. More about Xian Xianyang International Airport>>
4.Xian Railway Station
Location: Central Downtown, Northeast of Ancient City Wall
Before you take trains leaving or after your arrival, there are small shops around the station, there you can find Terracotta Warriors in cheap price. However, most duplicates sold are in lower quality. Don't have time to other places? It's doable to get souvenirs here if you don't mind the quality. More about Xian Railway Station>>
Buy Terracotta Warriors Online
If you really don't have the time to buy the replicas in Xian, online shopping lovers can buy it from Taobao (Alibaba) or Amazon, ebay abroad and make them expressed to your home directly. Price largely depends on the size and most price ranges from about a few dollars to hundreds of dollars. Life size Terracotta Warriors duplicates could cost several thousands of dollars, shipping fees are not included.
Tips for Buying Terracotta Warriors Replicas
1.Don't be pushed to buy things by the Terracotta Warriors tour guide or street hawkers. Express your refusal explicitly if you are unwilling to pay.
2.Buy the Terracotta Warriors replicas depends on budget and personal reference. Full size is quite impressive but the price and delivery could be costly. Miniatures with reasonable price and size are more recommended.
3.The figures are fragile items. Better put the figures in your backpack, instead of suitcase.
More Interesting Terracotta Warriors Products
As the ancient capital world know for "Terracotta Warriors", a great number of related products and experiences have come out in Xian to help travelers know better about the wonder and enjoy a unique trip. You can contact us to arrange a DIY class in Terracotta Warriors Factory Storeto make mini size clay figure, watch a ancient show, or get advice to taste same-shaped food, buy characteristic souvenirs and arrange other activities.
Travel Terracotta Warriors with China Discovery
China Discovery is an experienced, professional and considerate travel companion. Travel with us, you can enjoy well-organized Terracotta Warriors tour in the most convenient way, from the pick-up service, local tour guide and drive, thoughtful accommodation, dining and worry-free transportation between each site, to the ticket booking service. With our help, you can fully focus on the sightseeing journey and enter using the minimum cost of time and energy. According to your itinerary and hobbies, you may choose from our top Xian Terracotta Warriors Tours or contact us to customize a special one.
Recommended Tours
Top 3 tours chosen by most customers to explore in the best way. Check the detailed itinerary, or tailor your own trip now with us.
4 Days Xian Highlights Tour with Mount Huashan Hiking (Most Recommended)

Xian / Mount Huashan
5 Days Beijing Xian Highlights Tour by High Speed Train

Beijing / Xian
Start planning your tailor-made holiday to China by contacting one of our specialists. Once inquired, you'll get a response within 0.5~23.5 hours.
Customize a Trip
Have a question? Get answers from our travel experts or guests
Your Question:

Your Name:

Your Email: