Furong Garden (芙蓉园), located at the south bank of Qujiang Lake, once was known as the royal garden for Sui and Tang Dynasties in the history of China. Now, the Tang Paradise, built in the north of original site from 2002 and opened in 2005, is a huge modern theme park with the largest scale of Tang-style palaces in China, presenting the glorious Tang Dynasty imperial scenes. It is located in southeast of Giant Wild Goose Pagoda and downtown Xian, and connected with Qujiang Pool Relics Park in the south. While walking in the park, it's easy to overlook the Giant Wild Goose Pagoda.
Get Familiar with the Layout Before Tour
As a National 5A Tourist Attraction in China, Tang Paradise covers an area of 1,000 acres with 300-acre waters, most like a circular around the central Furong Lake. The attraction includes 14 different types of cultural districts, such as for imperial, poetry, tea, music and dance, Buddhist aquashows, children recreation, etc. It combines all the essences of historic landscape during the flourishing Tang Dynasty, uses modern high-tech and diverse performance in architecture, folk customs, dining and other fields to perfectly recreate the brilliant and powerful culture and history of ancient Tang Dynasty.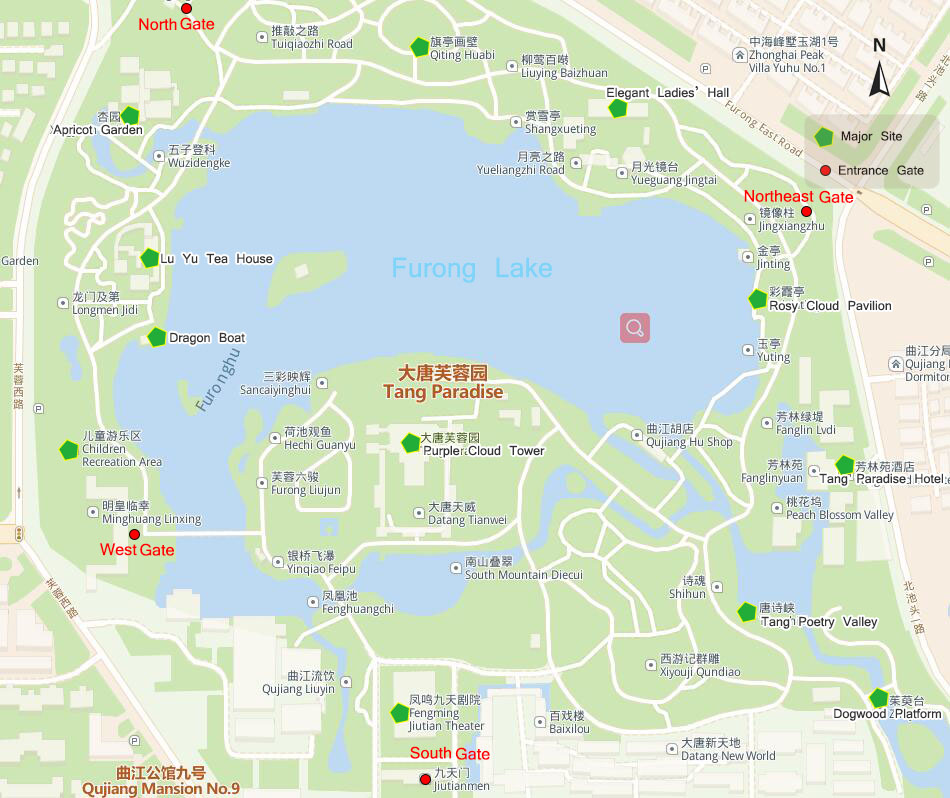 Guide Map of Tang Paradise Theme Park (click to enlarge)
There are four gates for entrance, West Gate (Yuyuan Gate), North Gate (Chunming Gate), South Gate (Jiutian Gate) and Northeast Gate. Most tourists choose to enter and star tour from the main gate - West Gate, where has Ticket Office, pick-up windows for online booking and shops to rent Tang costumes. In Tang Paradise Park, major spots are Purple Cloud Tower (the center), Phoenix Theater, Imperial Banquet Hall, Lu Yu Tea House, and more scattered around the lake.
What to See and Do in Tang Paradise?
The landscape and atmosphere of Tang Paradise in day and night are two completely different looks. Visiting in a sunny day in spring or summer, the park is a quiet and nice city park, good for a relaxing stroll. When night falls, the whole park turns into a dazzling royal palace lighted with lanterns in different shapes and tales. Follow us to catch the best highlights in the Tang Paradise Park.
View Tang Dynasty Style Imperial Palaces and Buildings
Tang Dynasty in the 8th century was one of the world-recognized powerful and prosperous countries. This age is also a mature period of ancient Chinese architectures, when buildings inherited traditional features of former regimes and absorbed external elements. The palace architectures of Tang Dynasty are the best representative. Tall pavilions and gate towers stands in very neat symmetry on both sides, in front of the palace. And palaces are embraced by waters within an inner garden. The form of architectures covers clear function divisions, contains living, office and amusement places for the royal.
Except the layout, the buildings themselves are imposing from the appearance, complicatedly elaborated on the tops. The body were constructed by masonry and woods, decorated with black tiles, red pillars and windows, white walls, talented brackets system on the roof. The orderly design and plain color manifest the great harmony of the solemnity and grandness during Tang Dynasty. Yuyuan Gate (御苑门) in the west entrance, Purple Could Tower (紫云楼) in the center, Wangchun Pavilion (望春阁) in Elegant Lady Area (仕女馆), Apricot Garden (杏园) and the Phoenix Theater (凤鸣九天剧院) are typical buildings to witness such kind.
Appreciate Beautiful Natural Scenery & Lovely Animals
Unlike other crowded attractions in Xian, Tang Paradise during the day is a nice green park, suitable for taking photos and having a leisure walk, not so cultural and historical as you may expect.
Enter inside from West Gate, the rippling Furong Lake (芙蓉湖, the biggest man-made lake in Xian) will jump into your eyes. Under the weeping willows, stone paths and boat stand in the verdurous waters, painting a vivid picture of ancient royal travel. Keep walking around the lake, you will view a big artificial waterfall, well-paved ways, pleasant garden views and birds, koi fish, deer living in happiness. Spring and summer with massive green plants are the best time to catch excellent photos. Relax your mind and body, enjoy waterscape and natural beauty in the park.
Contact with Ancient Chinese Culture of Tang Dynasty
Tang Paradise also designs some special spots for visitors to learn Tang Dynasty cultures. Tour clockwise from West Gate, the Lu Yu Tea House (陆羽茶社) is a quiet courtyard-style garden where displays tea-making performance and introduces tea sets, etiquette for drinking tea. When resting here, you can learn some Chinese tea culture and know how delicate living quality in Tang Dynasty. Move on to Elegant Lady Area (仕女馆), here you can see how women live in free and open society during Tang Dynasty. It is proved by their unique cloths, brave love stories, participation in politic and outdoor social activities forbidden in other feudals.
Get to the south, meet the Tang Poets'Group Sculptures and Tang Poem Valley (诗魂•唐诗峡), which is China's largest cultural site showing the Tang Dynasty poetry culture. Lots of famous poets and poems are carved on the red rocks. Better find an experienced and professional tour guide to help you understand the content and artistic conception, otherwise, they means nothing but disappointment to you. Walk a few distance, the Dogwood Platform (茱萸台) is a prismatic monument built for Wang Wei, a notable "Poet Buddhist" whose poems express magnificent Buddhist thoughts in Tang. Before going out, visit the Tang Market Block (唐市) to find old-time business street and commercial culture.
Watch Different Performances in Tang Paradise
Tang Paradise holds different free folk shows for public in the afternoon. But big night performances and lights shows are the best highlights and main reasons why people visit it. Dream Back to the Great Tang Dynasty (梦回大唐) housed in Phoenix Theater is a large musical adopting modern arts, pretty costumes, amazing dancing and musics and fantastic audiovisual effects to unveil extraordinary prosperity of ancient Tang. Seating on a boat on Furong Lake, another spectacular evening show is "Da Tang Zhui Meng"(大唐追梦) held in Purple Cloud Tower. The huge water screen drama is performed on Qujiang Pool and takes the grand mountain and water garden views as background, telling a story of great poet Li Bai. Definitely, it's a visual feast and a marvellous lights shows worthy to spend a night.
More Shows in Tang Paradise:
There are many more shows scheduled in different times. You can contact us to check available hours and related details. Find more interesting things to do in our Activities in Xian and Xian Nightlife!
How to Get to Tang Paradise
Tang Paradise lies in southeast of Xian City and only 15 minutes' walking distance from the northwest Giant Wild Goose Pagoda (Dacien Temple). You can take local taxi, Metro Line 4 (get off Datang Furongyuan Station) and city bus to get to Tang Paradise. Bus No.22, 23, 24, Qujiang Tourist Bus can get you to the West Gate and the South Gate.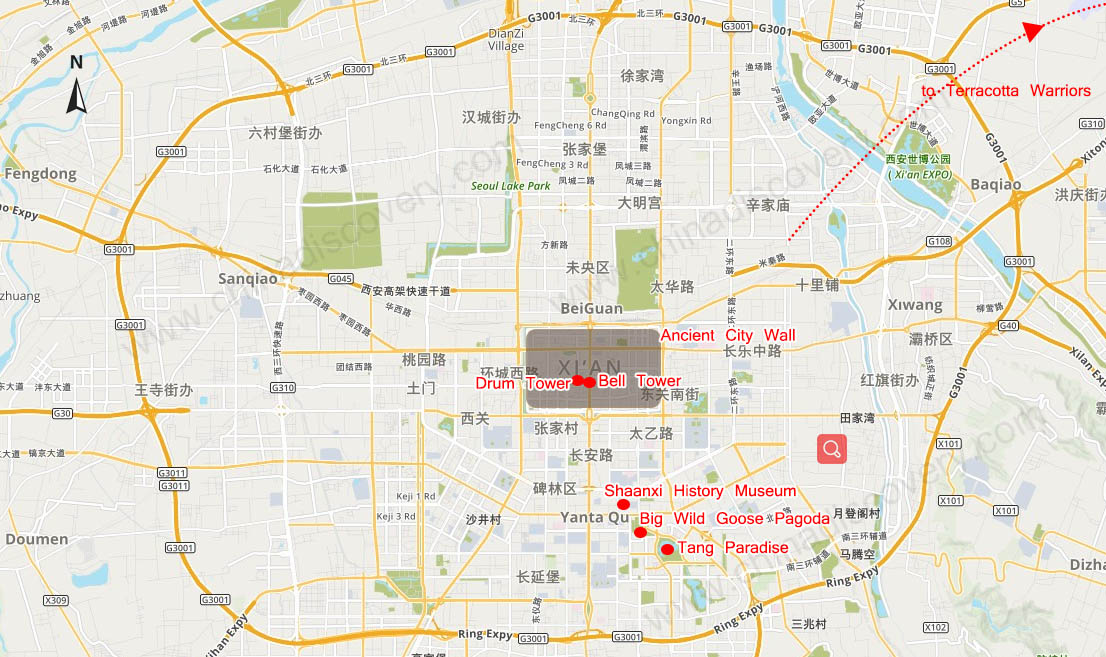 Tang Paradise Location Map (click to enlarge)
▶ Giant Wild Goose Pagoda→Tang Paradise: about 1km, 15 minutes' walking
▶ Shaanxi History Museum→Tang Paradise: about 3kms, 15 minutes by driving; 30 minutes by Bus No.24
▶ Ancient City Wall (South/Yongning Gate)→Tang Paradise: about 7kms, 30 minutes' by driving; 40 minutes by Bus No.609
▶ Muslim Quater→Tang Paradise: about 9km, 30 minutes'by driving; about 50 minutes by Bus No.609
▶ Terracotta Warriors Museum→Tang Paradise: about 45kms, 1 hour by driving; about 2 hours by Bus No.307
How to Plan a Tang Paradise Tour in Xian
Once as the capital for 13 ancient dynasties, Xian owns lots of historic sites to visit, including the most important Terracotta Warriors, and other landmark spots like Ancient City Wall, Muslim Quarter, Shaanxi History Museum, Giant Wild Goose Pagoda, etc.
If time is limited, of course, leaving your valuable holiday to the iconic attractions is the best idea. When you've come to Xian many times and have more time, or want to an in-depth tour, get different experience, Tang Paradise maybe an option for you. Bear in mind that, daytime park scenery and evening light shows are the top highlights, you'd better not expect too much cultural and historical atmosphere in the modern park. 1 to 2 hours is enough for a brief tour. If you like the scenery, 3 hours of slow walking is fine.
Tips: We highly suggest you travel the nearby attractions (Giant Wild Goose Pagoda, Shaanxi History Museum) first, because they are major things to do in Xian and has rich culture and history atmosphere.
Useful Travel Tips for Tang Paradise
1.Tang Paradise Entrance Fee/Tickets
Entrace Fee:120 RMB each person
If you are going to watch paid shows, like Dream Back to the Great Tang Dynasty and the "Zhui Meng Da Tang" water screen drama, you need to buy ticket separately, shows are not included in the entrance ticket.
2.When is Tang Paradise open?
Opening Hours: 9am to 10pm (admission closes at 21:00)
3.What's the best way to see Tang Paradise?
You can take electronic cars to make quick circuit (30 RMB per person) for around 1 hour, or just walk slowly for 2 to 3 hours to visit each spots inside the park. Major attractions are around the central lake, so clockwise tour or anticlockwise are both doable.
4.Where to rent Tang Costume and buy food and drinks?
Next to the Ticket Office at West Gate, there is a shop specially offering Tang cloths for tourists. Deposit: 300RMB/Suit; Rental: 20RMB/Hour. Fees are subject to changes.
You can find KFC and small shops near the entrances. There are less choices in the park. And basically food or snacks are overpriced. If necessary, bring yourself water and food from outside.
Travel Tang Paradise with China Discovery
China Discovery is an experienced, professional and considerate travel companion. Travel with us, you can enjoy well-organized tour services in the most convenient way, including the pick-up, local tour guide and drive, thoughtful accommodation, dining and worry-free transportation between each site and the ticket booking, etc. With our help, you can fully focus on the sightseeing journey using the minimum cost of time and energy. According to your itinerary and hobbies, you may choose from our popular Xian Tours or contact us to customize a special one.
Recommended Xian Tours
Top 3 Xian tours chosen by most customers to explore Xian in the best way. Check the detailed itinerary, or tailor your own trip now with us.
2 Days Terracotta Warriors Tour with Mount Hua Hiking

Xian / Huashan / Xian
Start planning your tailor-made holiday to China by contacting one of our specialists. Once inquired, you'll get a response within 0.5~23.5 hours.
Customize a Trip
Have a question? Get answers from our travel experts or guests
Your Question:

Your Name:

Your Email: