Brief Introduction of Hanyangling Museum
Hanyangling Museum, also called Hanyangling, Tomb of Emperor Jingdi, Yangling Mausoleum of Han Dynasty, is the joint grave of Emperor Jing of Han Dynasty and his empress. It took 28 years in total to complete the mausoleum, starting from 153 BC and finished in 126 BC.
Located in the norther suburb of Xian, close to Xian Xianyang International Airport, Hanyangling is a National 4A Scenic Spot, a natural park with massive botanical fields and a large featured cultural site. As the best-preserved imperial mausoleum of Han Dynasty in China, it significantly helps people learn and study the funerary system and tomb culture of Han Dynasty.
You will enjoy a contast impression if you visit both the life-size warriors of Terracotta Warriors and the mini terracotta figures of human and animals in Hangyangling. Below are 3 recommended Xian Tour Packages including Hanyangling Museum: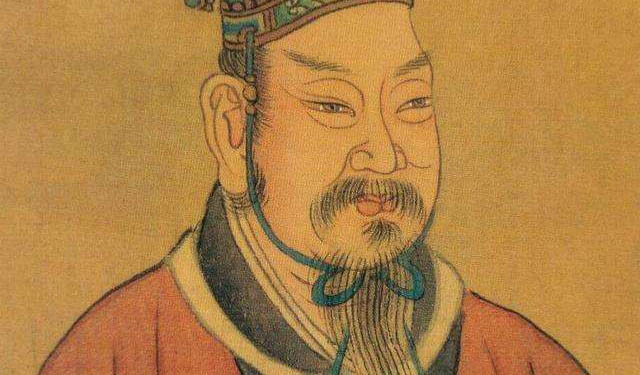 Emperor Jingdi of Han Dynasty (188BC~141BC)
Learn about the Layout of Hanyangling (Tomb of Emperor Jingdi)
Hanyangling Museum covers an area of 20 square kilometers and has two entrance gates (North Gate and South Gate). The square site is composed of tombs of emperor and empress, affiliated burial pits groups, Archaeological Exhibition Hall, Southern and Northern Gate Towers, Memorial Sacrifices Site, Han Culture Experience Zone and botanical gardens of Sakura, Gingko, Rosa chinensis, etc.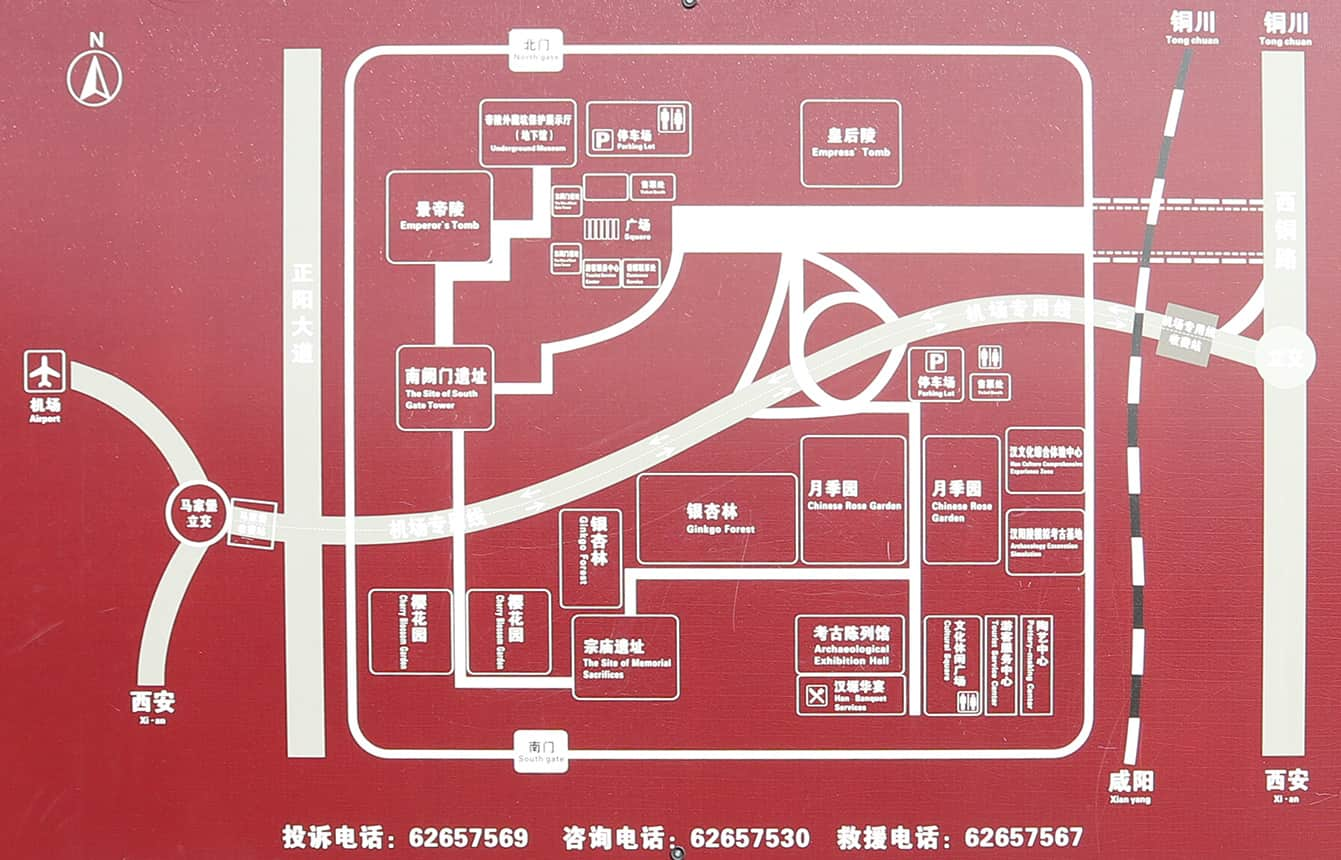 Guide Map of Hanyangling Museum (click to enlarge)
Top Highlights to See in the Yangling Mausoleum of Han Dynasty
The whole mausoleum was constructed on the base of central Tomb of Emperor Jing of Han Dynasty (帝陵), which is surrounded and guarded by other areas in four directions. Such regular settlement emphasizes the overweening royal conception and strict sense of hierarchy. The emperor tomb sits west to east and lies in the west-central area in the museum.
Generally, Hangyangling opens four kinds exhibitions for public visitors: basic exhibition, temporary exhibition, online exhibition and digital exhibition. The most popular and often said part is the basic exhibition, mainly including 4 spots to visit: the Underground Museum, Archaeological Exhibition Hall, Site of South Gate Tower and Memorial Sacrifices.
Underground Museum - The Burial Pits of Emperor Jingdi (帝陵外葬坑保护展示厅/地下馆)
Known as the most interesting, famous and mysterious area in Hanyangling, the protect exhibition hall is the first underground site museum entirely built on the burial pit cluster. To make utmost cultural relic protection, the museum introduces high technology to create two different temperature and humidity environment. Meanwhile, the special design of glass aisles provides great chance for visitors to closely observe the tomb figurines in multiple unique angles.
There are altogether 81 underground burial tunnels arranged radially outside the mound of Tomb of Emperor Jingdi, which are the most important part of the ancient imperial funerary. Each tunnel is a east-west rectangle pit, 3 to 6 meters deep and 2.4 meters wide. And the pits are separated by wooden boards and 3.5 meters high fillings above.
Currently, only 10 pits have been excavated. After wearing a pair of disposable shoe cover at the entrance and checking tickets, visitors can see those pits, massive unearthed pottery figurines, poultry (dogs, chickens, pigs), chariots and horses, clay pots and iron weapons,etc. Their appearance and facial expressions are surprisingly real and vivid. The figures are around 62 centimeter tall, all naked because their silk or linen garment and wooden arms have rotted after buried deep for a very long time. Experts estimate that, this funerary system explains the frugality and peacefulness of society at that time.
Besides, in the underground museum, you can view some introduction to the government official, vehicle system of Western Han Dynasty. There is a 20-minute digital show (need extra ticket). Meanwhile, you can buy some related cultural items from Lady Shanshan's Souvenir Shop.
Archaeological Exhibition Hall (考古陈列馆)
Take a museum tourist bus to get to the Archaeological Exhibition Hall or walk over 10 minutes. Present your ticket for entrance, then you can view over thousands of cultural relics in 8 different parts. The first chapter tells the governing conception of Emperor Jingdi and his historical contributions, the planning and construction of the mausoleum. The second part is the most essential area where displays lots of unearthed objects, including pottery warriors in armors, pots and so on. With an experienced tour guide, you could catch a glimpse of the material culture, politic system and spiritual life of Han Dynasty. Other parts take advantage of photos and words to show how the museum protect the cultural heritages.
Site of South Gate Tower (南阙门遗址)
Archaeological specialists dug the ruins in spring of 1997 and established a exhibition to protect the site. It is a little-known gate tower with the longest history, the highest level and the largest scale in China. The original ruins and related pictures and introductions assist visitors to learn its creation and evolution. This type of architecture - tower was firstly erected in Shang and Zhou Dynasty. It mainly served as decoration showing notability.
How to Get to Hanyangling Museum
Hanyangling Museum is located in north suburb of Xian, far away from the downtown tourist area, and very close to Xian Xianyang International Airport (西安咸阳国际机场, IATA: XIY). Public transportation (the only one - Tourist Bus Line 4) to get to Hanyangling is quite time-consuming and has very few schedules. It's also difficult to find a taxi when you come out. So we strongly suggest you to travel with China Discovery who provides you excellent tour guide and worry-free transfer services.
Below we list the distance and transfer time needed between Hanyang and major attractions in Xian.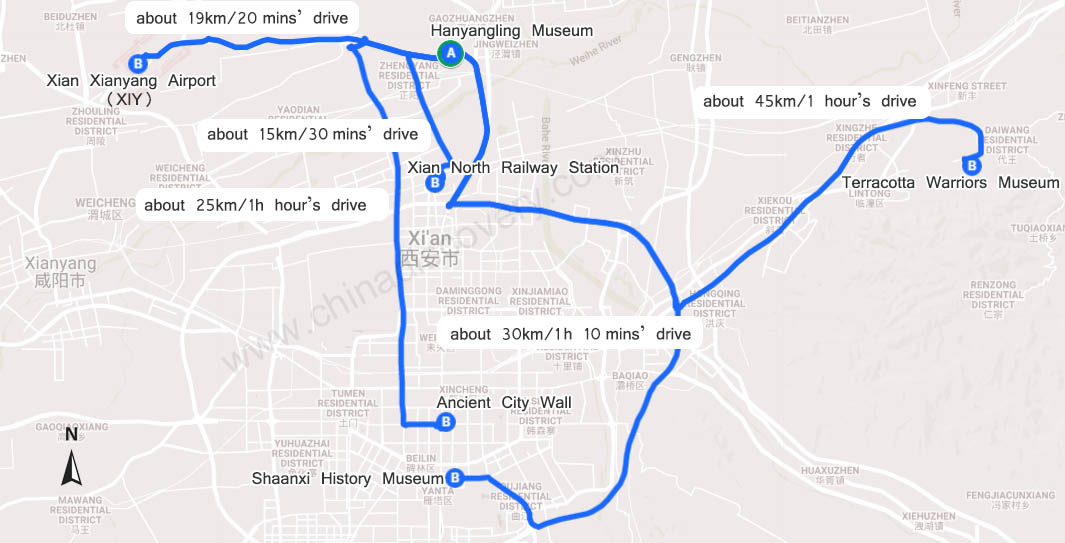 Xian Hanyangling Museum Location Map
☞ Hanyangling Museum → Xian Airport: about 19km, 20 minutes' drive
☞ Hanyangling Museum → Xian North Railway Station: about 15km, 30 minutes' by car
☞ Ancient City Wall (South/Yongning Gate) → Hanyangling Museum: about 25km, 1 hour's drive
☞ Shaanxi History Museum → Hanyangling Museum: about 30km, 1 hour & 10 minutes' drive
☞ Terracotta Warriors Museum → Hanyangling Museum: about 45km, 1hour by car
Tourist Bus Line 4 (Xian City Library ⇄ Hanyangling Museum, 1 hour)
Xian City Library to Hanyangling Museum: 8:30, 10:20,12:00, 13:40,15:20,17:00
Hanyanling Museum to Xian City Library: 9:30,11:10,12:50,14:30,16:10,18:00
Recommended Travel Ideas:
Because Hanyangling is situated more close to Xian Airport and Xian North Railway Station, we advise Chinese cultural fans pay a visit before taking flight or high speed bullet train leaving Xian. Popular Xian Tours / Xian Travel Guide>>.
Useful Travel Tips for Hanyangling Museum
1.Hanyangling Museum Entrance Fee (Ticket)
Peak Season (from March to November): 70 RMB per person
Off Season (from December to February Next Year): 55 RMB per person
The Ticket Office in the tourist center accept cash only. Each visitor need to pay 10 RMB if want to watch the show in the Underground Museum.
2.Hanyangling Tour Guide Service
Chinese:100 RMB ; Foreign Languages: 200 RMB (for 10 people at most)
The museum guides covers introduction of the Underground Museum and the Archaeological Exhibition Hall.
3.Museum Tourist Shuttle Bus
You can take bus in the tourist center to transfer between the Underground Museum and Archaeological Exhibition Hall.
4. More Available Transportation
Wechat users can book services package online, direct express between Hanyangling and Shaanxi History Museum, Forest of Stone Steles Museum and entrance tickets are included.
5. Dressing up Hanfu in Hanyangling Museum
The museum sometimes provides an experience of trying on the Hanfu which is the solemn costume of the emperors and their families, the ministers and the noble in the ancient dynasties of China. Seize this rare opportunity to take some memorable photos! There are costumes of Han Dynasty (50 RMB/pp) and Tang Dynasty (80 RMB/pp).
6. Others
◆ Hanlingyan Museum has a large Ginkgo Garden, where is also a good place to enjoy golden autumn scenery.
◆ Compared to other major attractions in Xian, there are not many tourists in Hangyangling, so you can take your time and slowly view the cultural objects.
How to Plan a Xi'an Terracotta Warriors Tour
Xian has a lot of places to visit. Terracotta Warriors and Horses is definitely the No.1 must-see. After that, take a stroll or rent a bike on the Ancient City Wall, the largest and best-preserved ancient city wall in China, to enjoy panoramic views of modern Xi'an. Then try some local snacks at the bustling and lively Muslim Quarter. On the next day, you can go to visit Da Cien Temple and Giant Wild Goose Pagoda to feel the Buddhist culture, then get a deeper understanding of the past of this city in Shaanxi History Museum. If you are interested in mountain climbing, don't miss the challenging Mount Huashan which is famous for lofty peaks and steep paths. Before boarding your flight or train leaving Xian, you can spare out an hour to visit Hanyangling Museum which is not far from both Xian North Railway Station and Xian Xianyang Airport. If you have other ideas or questions about a Xian tour, please feel free to contact us. We are also specialized in customized tours according to your own requirements, interests, travelling budgets, etc.
- 2 Days Xian City Break
- 3 Days Classic Xian Tour
- 4 Days Xian Highlights Tour with Mount Huashan Hiking
Biking on Xian Ancient City Wall
Travel Hanyangling Museum with China Discovery
China Discovery is an experienced, professional and considerate travel companion. Travel with us, you can enjoy well-organized tour services in the most convenient way, including the pick-up, local tour guide and drive, thoughtful accommodation, dining and worry-free transportation between each site and the ticket booking, etc. With our help, you can fully focus on the sightseeing journey using the minimum cost of time and energy. According to your itinerary and hobbies, you may choose from our popular Xian Tours or contact us to customize a special one.
Recommended Xian Tours
Top 3 Xian tours chosen by most customers to explore Xian in the best way. Check the detailed itinerary, or tailor your own trip now with us.
4 Days Xian Highlights Tour with Mount Huashan Hiking (Most Recommended)

Xian / Mount Huashan
Start planning your tailor-made holiday to China by contacting one of our specialists. Once inquired, you'll get a response within 0.5~23.5 hours.
Customize a Trip
Have a question? Get answers from our travel experts or guests
Your Question:

Your Name:

Your Email: