Located only a few hundred meters from the Muslim Quarter, the Great Mosque of Xian is a famous Muslim site keeping authentic ancient buildings mixed with traditional Chinese style and Islamic culture. This sacred mosque not only gives a great chance to learn diversity of Chinese culture, delicate architectural arts, but also present you a peaceful retreat with lush plants to wonder around and away from the crowds and busy streets nearby.
Xian Great Mosque History
When was the Great Mosque of Xian built?
There are several statements based on folklore. The most wildly-accepted version is the mosque was firstly built in AD 742, the first year of Tianbao period of Tang Dynasty, proved by a creation monument inscribed by ancient officer Wang Gong and the accurate date. Later, the mosque got rebuilt and expanded several times during Song, Yuan Dynasties, especially during Ming and Qing Dynasties. So the mosque is estimated to be over 1,300-year old.
Great Things to Do in Great Mosque of Xian
What to expect inside the Great Mosque? Just closely sightseeing and take some photos? Absolutely, you will harvest more unique experience here different from the dazzling Bell and Drum Tower, bustling Muslim Quarter or the super-crowded Terracotta Warriors Museum.
Know Layout of the Xian Great Mosque First
Hidden in a quiet alley, the mosque is a long rectangular ground in east-west direction. Covering a huge area of 13,000 square meters, the construction area is about 6,000 sq.m, comprises of 4 courtyards. The whole mosque is surrounded by blush gray brick walls, that could be clearly noticed before stepping inside. As you enter the gate, on your right, there is a big guide map clearly marked main spots in the mosque.

Guide Map of Xian Great Mosque (click to enlarge)
Highlight 1: Touch Mixed Culture and Long History
Xian once was the east starting point of "Silk Road" connecting ancient China and Middle East and Europe world. This trade route brought economic and technology exchange as well as culture fusion of different ethnics. While Muslim Quarter is the best bazaar to sense the Muslim food culture in Xian, the Great Mosque is the must-visit place to discover the open and inclusive cultural integration between China and Middle East.
Unlike typical mosques you've seen in Hangzhou, Harbin or other places, in eyes-catching Arabic style, grand main building with arched roof and bright-colored appearance, the Great Mosque of Xian is quite localized in traditional Chinese features. Obviously, it looks more like composite of palace and garden during Ming and Qing Dynasties (during 14-20th century). You probably will have the feeling of traveling to the past, when seeing those old archways, pagodas, halls, stellai, doors and pillars in deep history atmosphere.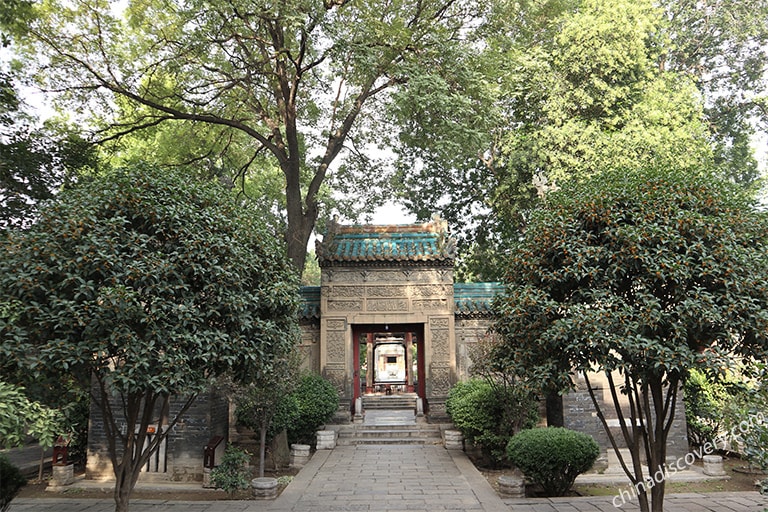 Moslem in the Great Mosque
Highlight 2: View Ancient Architectures in Excellent Settlement
Large-scale ancient architectures is one of the major hotspots of the Great Mosque. Your tour will start from the entrance to the pray hall. In the first courtyard, you can see a giant wooden archway facing the brick-carved wall, which was built in 17th century (over 390 years ago), standing in spectacular look, red wooden columns, complicated eaves brackets and blue cornices. Both sides has three guest rooms displaying Ming and Qing furniture.
Walk across the Give-bay Gate(五间楼) - the main entrance of mosque in early Ming Dynasty, then you come to the second courtyard, a four-poster stone monument towering in the middle, carved with "Tian Jin Zai Zi (天监在兹)". Follow the ancient stone road on both sides to watch primitive residence halls and pretty library. Go further, there are two tall stone tablets with exquisite carvings on top jumping into your eyes. One of from Ming Dynasty and another is made during the reign of Qin Qianlong Emperpor. Special bath room for Muslim Pray and the Pray Hall are not open to public.
Through the Chixiu Hall (敕修殿), the oldest house in the Great Mosque, then you enter the third courtyard. A two-layered three-eaves octagonal building called Shengxin Tower (省心楼) appears. Take your time to observe the beautiful design, blue and mossy roofs. There is official hall in south and lecture hall in north, where you may see precious Ming and Qing cultural relic if lucky.
Look up the very elaborately carved Three-Connected Gate (连三门) to see the last four courtyard. Pass through the stone path, you will see an old pavilion, like a Phoenix spread its wings. A little plaque below is written by the Minister of War of Ming Dynasty. Also, there are seven guest houses on each side of the pavilion. South halls now mainly exhibits desk, chairs, ceramic and calligraphy and paintings of Ming and Qing, while the north keeps valuable cultural documents and monuments of Tang, Ming Dynasties. The magnificent Pray Hall is the most important building in the mosque. Blue encaustic tiles, exotic board, wooden doors and windows, beautiful lined eaves increase the solemnity and mystery of this sacred land.
Huge Archway near Entrance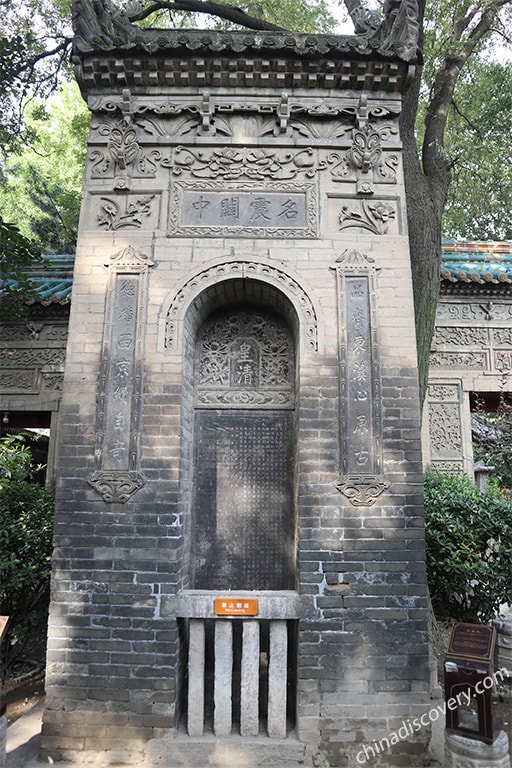 Towering Well-carved Stone Tablet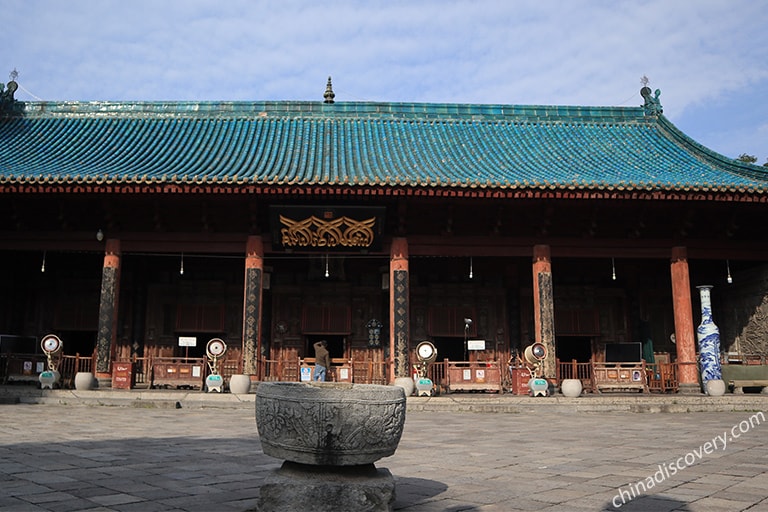 Pray Hall in the 4th Countyard
Highlight 3: Enjoy Serenity of Mind & Body in Beautiful Ambient
Basically, famous attractions in Xian are in flood of visitors, such as the Terracotta Warriors, the Muslim Quarter. It's a nice experience to share the jollification with other guests and calm down in a quiet place little-known by the crowded both. Great Mosque of Xian is exactly a fantastic"Secret Garden" away from the noisy food street and throng tourists. There has less people, lush vegetation, trees emitting refreshing scent, lovely bonsai and ingenious layout, all that makes you step into a peaceful land undisturbed by the outside world. Wall around with friends, families, look at the old architectures and smell the pleasant fragrance. Yes, you find a treasure in downtown area.
How to Get to the Great Mosque of Xian
The Great Mosque of Xian is located near the Muslim Quarter, right behind the Drum Tower and only a few minutes' walking distance to the Bell Tower. Below are the transportation details between the mosque and major spots in Xian.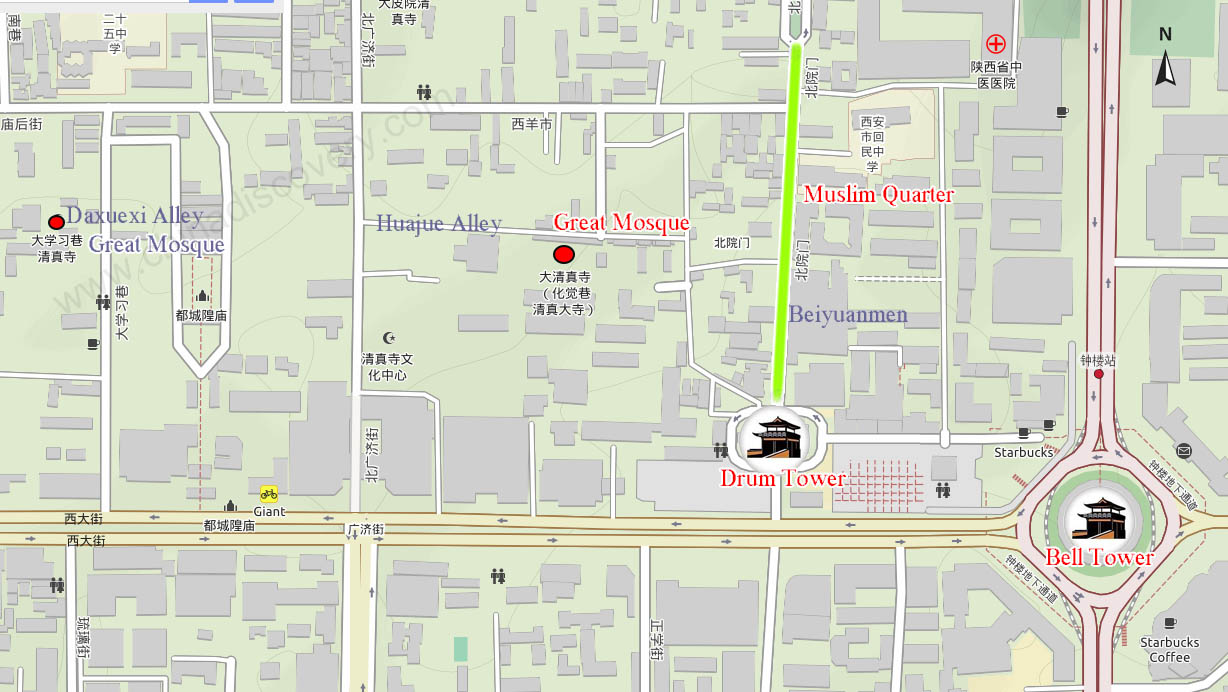 Locaton Map of the Great Mosque of Xian
● Bell Tower to Great Mosque: about 900m, 10 mins by walking.
● Drum Tower to Great Mosque: about 300, 5 mins by walking.
● Xian Xianyang Airport to Great Mosque: about 35km,1h 20 mins by car and airport shuttle bus (Line to Bell Tower).
● Xian North Railway Station to Great Mosque: about 16 km, 50 mins by car, 40 mins by Xian Metro Line 2; 1.5 hrs by city bus 182.
● Xian Railway Station to Great Mosque: about 5km, 25 mins by taxi; 30 mins by city bus 205 and 611.
● Ancient City Wall (South/Yongning Gate) to Great Mosque: about 3km, 20 mins by taxi or bike; 30 mins by walking.
Useful Links: Xian Travel Guide / Top Things to Do in Xian / Popular Xian Tours
Useful Travel Tips for Xian Great Mosque
1.Entrance Fee
¥25 from March to November (peak season)
¥15 from December to Next Year February (Off Season)
Tips: The Ticket Office is on the right side of the entrance gate and the staff only accept cash.
2.Opening Hours
08:00 to 21:00 from January to December (open throughout the year)
Best Time to Visit: early morning or dusk before dark night
3.Dress Code
To respect religious customs, please follow a conservative dressing. Men and women should wear long sleeves and long pants, make arms and legs be covered. Don't wear shots.
4.Free and Helpful Guidebook
After buying ticket, you can pick up one guidebook for free at the entrance . The small brochure give both Chinese and English introduction to help you understand what you are looking.
5.Take Pictures
Taking photos are allowed inside the mosque. But if you want to take a picture of the Moslem, ask for permission first.
6. Not Open Areas
The grand Pray Hall and bath room are not opened for public visit.
Travel Great Mosque with China Discovery
China Discovery is an experienced, professional and considerate travel companion. Travel with us, you can enjoy well-organized tour services in the most convenient way, including the pick-up, local tour guide and drive, thoughtful accommodation, dining and worry-free transportation between each site and the ticket booking, etc. With our help, you can fully focus on the sightseeing journey using the minimum cost of time and energy. According to your itinerary and hobbies, you may choose from our popular Xian Tours or contact us to customize a special one.
Recommended Xian Tours
Top 3 Xian tours chosen by most customers to explore Xian in the best way. Check the detailed itinerary, or tailor your own trip now with us.
4 Days Xian Highlights Tour with Mount Huashan Hiking (Most Recommended)

Xian / Mount Huashan
Start planning your tailor-made holiday to China by contacting one of our specialists. Once inquired, you'll get a response within 0.5~23.5 hours.
Customize a Trip
Have a question? Get answers from our travel experts or guests
Your Question:

Your Name:

Your Email: