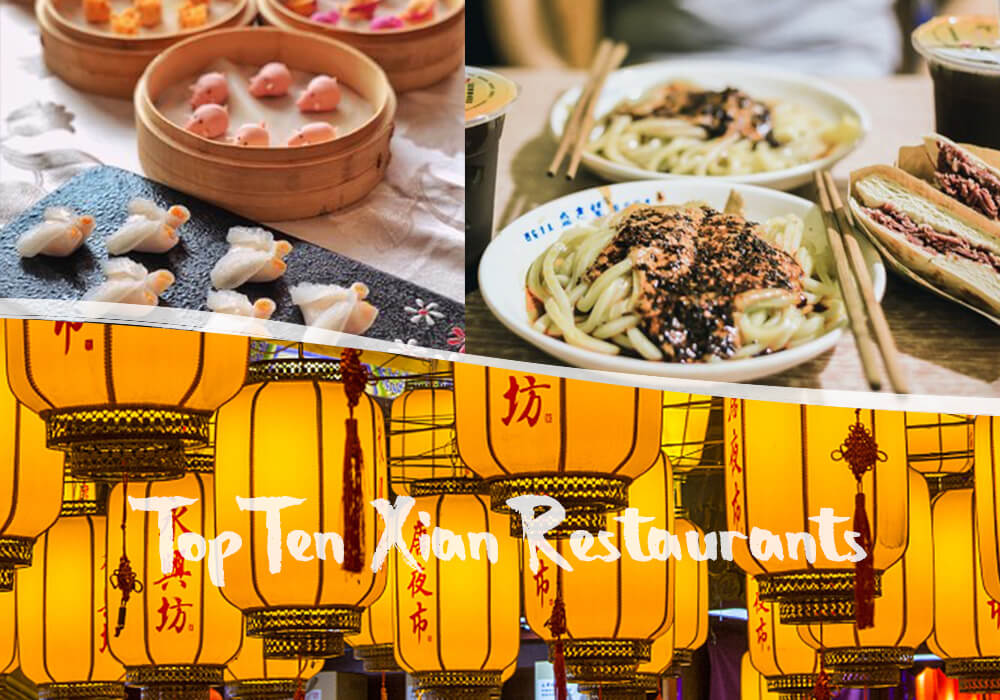 Top 10 Best Xian Restaurants | Where to Eat during Xian Tour 2023/2024
There are countless restaurants in Xi'an serving the locals and millions of visitors. It is hard to say which restaurant is the best among them, and some people would like to try the authentic Xian cuisines while others may be fond of the international cuisines there. From street food to the Michelin-starred, there are also various options for you, including the provincial specialties, like the Paomo (Flatbread in Mutton Soup), Roujiamo (Meat Burger), and the incredible Biangbiang Noodles. If you have already tried these Xian cuisines, interesting Vegetarian Restaurant, Robot Hot Pot Restaurant, fancy Cantonese Restaurant and featured Italian Restaurant, they all offer you a yummy break! The followings are the top ten recommended Xian restaurants, from mid-ranged ones to the fine dinings.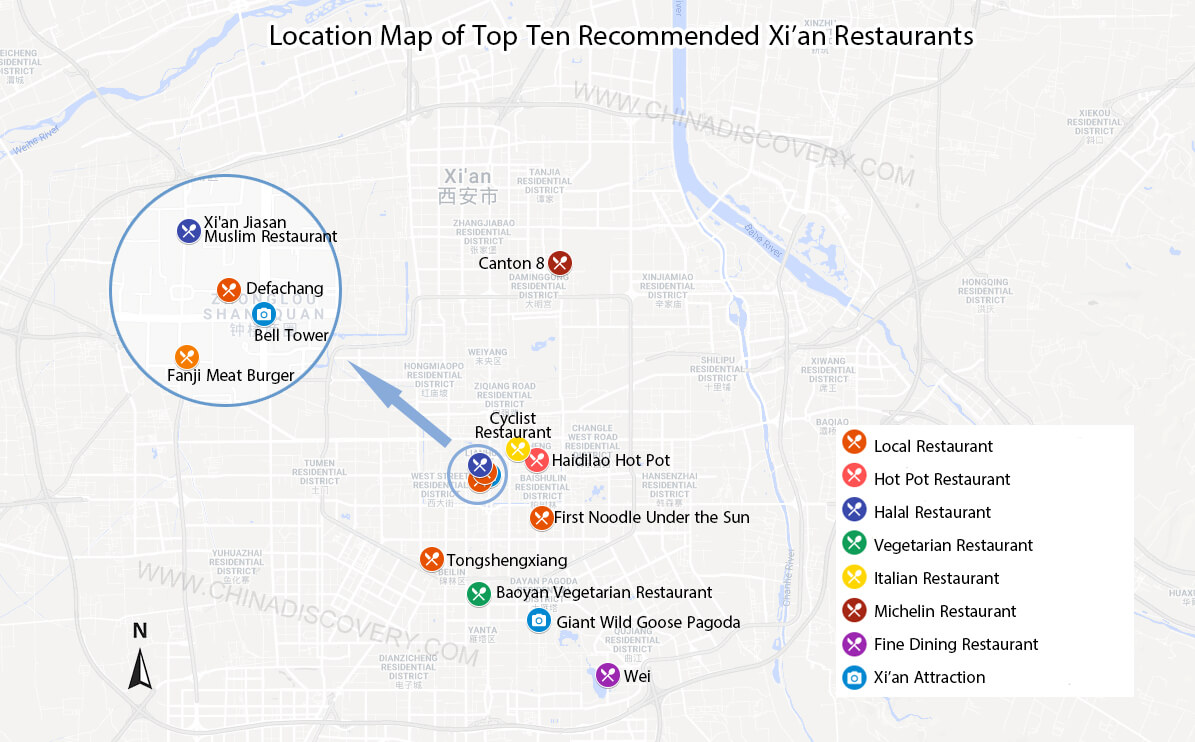 Location Map of Top 10 Recommended Xi'an Restaurants
Right close to the Giant Wild Goose Pagoda, this restaurant is known for its noodles and you can easily tell that from its oddly translated English name. It is a chain restaurant in Xian with 18 kinds of noodles to choose from, including the city's specialty, Biangbiang noodles, dumplings in sour soup and the meat dishes like the roasted cumin chicken. While the "the first noodle" of the restaurant refers to a 4m long and 6cm wide noodle which is folded into the bowl, with vegetable and meat sauce toppings, and the waitress will help you mix the noodles with the sauce and cut the noodles. The various noodle-base cuisines win a lot of favors of both the local and the foreign.
★ Specialties: The First Noodle, Biang Biang Noodles, Roasted Chicken
• Chinese: 天下第一面
• Average Cost: about CNY 50 per person
• Opening Hours: 10:30am - 22:30pm
• Address: DaTang Evening City A9, Southeastern corner of the Giant Wild Goose Pagoda Square, Huanta South Road, Yanta District, Xi'an City 西安市雁塔区环塔南路大雁塔南广场东南角大唐不夜城A9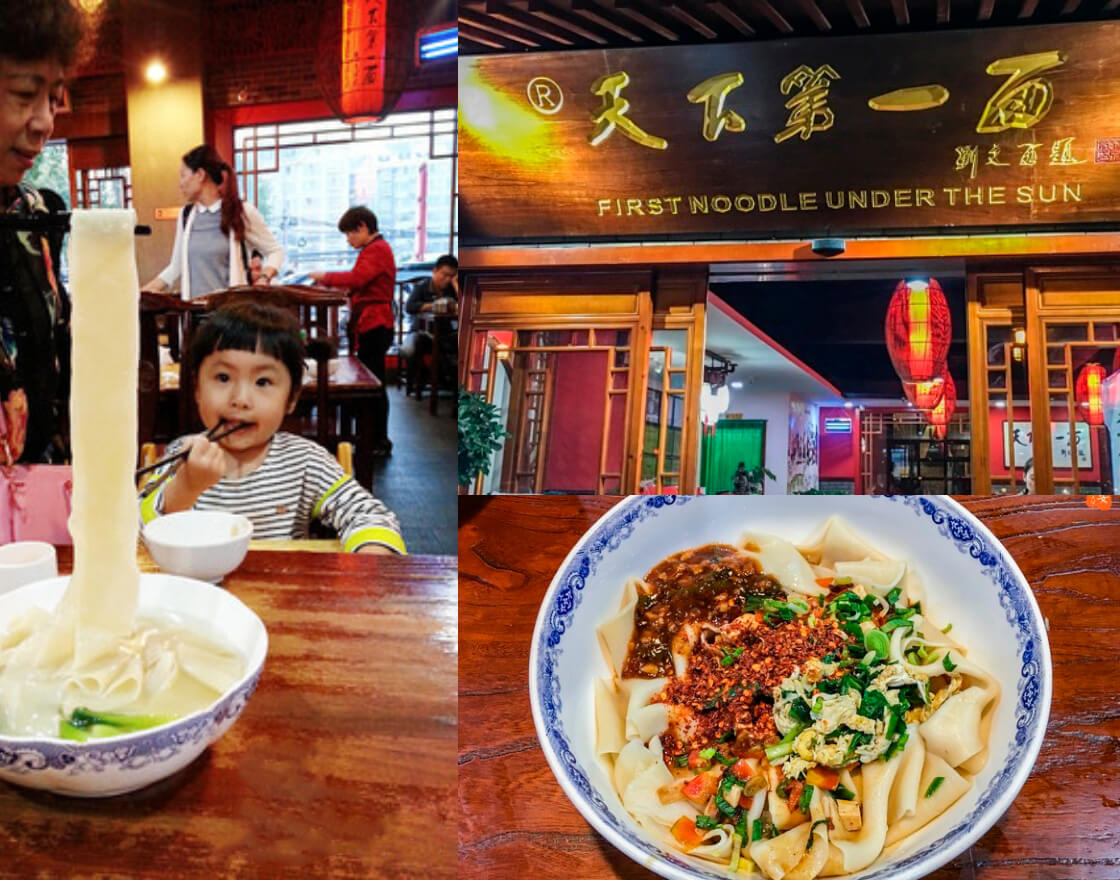 First Noodle Under the Sun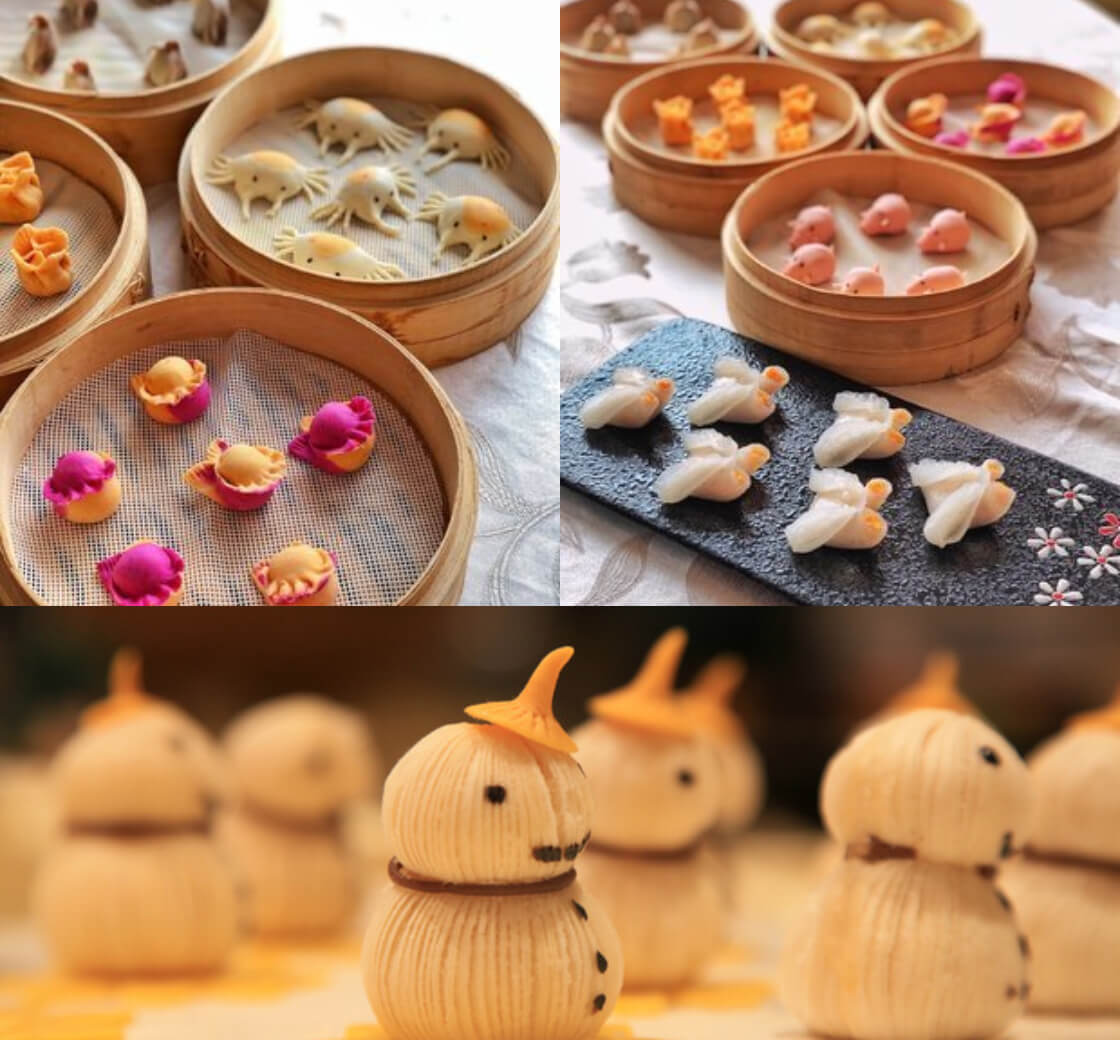 De Fa Chang Restaurant
DefaChang Restaurant is located in the center of Xi'an, adjacent to the Bell Tower. It is a dumpling restaurant with a long history, and the largest scale and the high standard dumpling banquets. On the first floor are selling dumplings and snacks, and on the second floor are for dumpling banquets. The sour soup dumplings on the first floor are very delicious with refreshing, spicy and fragrant soup. There are usually many people during dinner and lunch time. You need to pay for what you ordered first and get the receipt and back to your seat. Later the waitress will delivery the dumplings to you. The Dumpling banquet on the second floor is more fancy and delicate. Dumplings of different shapes and colors are made with different fillings and different skins. The taste varies from dumpling to dumpling and the shrimp dumplings are recommended.
★ Specialties: Dumpling Banquet, Fresh Shrimp and Mushroom Dumplings, Dumplings in Sour Soup
• Chinese: 德发长(钟楼店)
• Average Cost: about CNY 60 per person
• Opening Hours: 11:00am - 14:00pm; 17:00pm-21:00pm
• Address: Defa Chang Dumpling House, No. 3 West Street, Bell and Drum Tower Square, Lianhu District, Xi'an City西安市莲湖区钟鼓楼广场西大街3号德发长饺子馆
It is a century-old restaurant in Xi'an, famous for its meat burgers. It is very popular among locals. It offers 3 kinds of meat burgers: ordinary meat burgers, burgers with lean meat, super meat burgers. The burger itself is thick and crispy and the super meat burger offers the best quality meat. Though the restaurant is not big, you can always notice people queuing up to get the meat burger take-out. This restaurant is also selling burgers packed in vacuum, which allows you to bring some home. It is also a good restaurant to try some local snacks.
★ Specialties: Meat Burger, Cold Noodles, Rice Skin, Dumplings in Chicken Soup
• Chinese: 樊记腊汁肉夹馍(竹笆市店)
• Average Cost: about CNY 20 per person
• Opening Hours: 8:30am - 20:30pm
• Address: No. 53 Zhubashi Street, Beilin District, Xi'an City西安市碑林区竹笆市街53号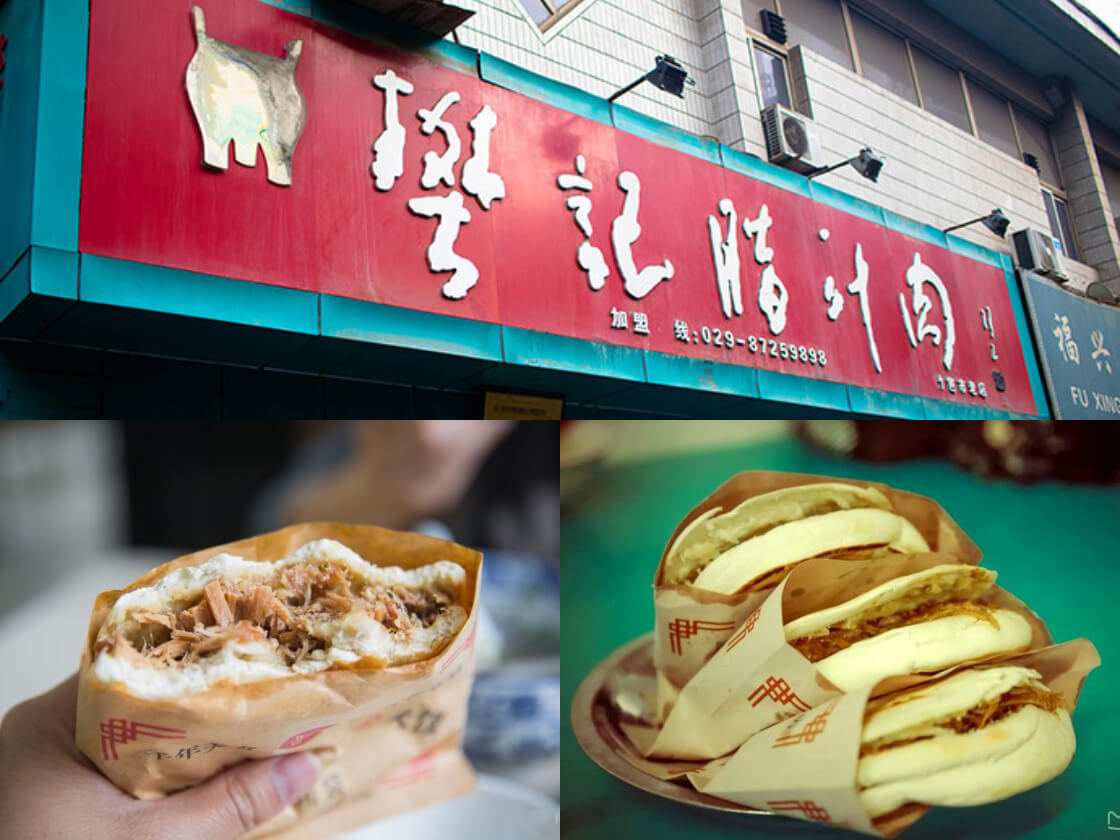 Fan's Meat Burger Restaurant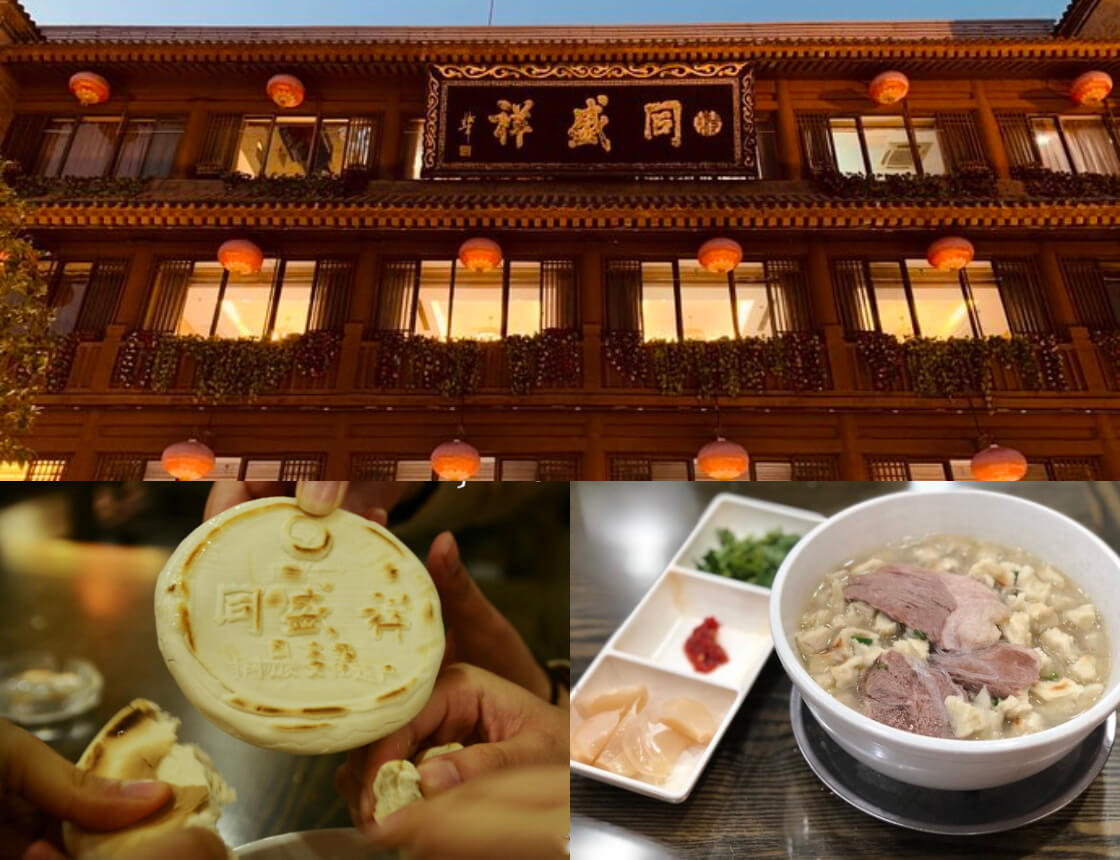 Tongshengxiang Restaurant
The flatbread in the mutton soup for Xian is like the roast duck for Beijing. Besides many halal restaurants selling the paomo (flatbread in the mutton soup), Tongshengxiang is a century-old restaurant located in the city center near the Bell Tower. To order the paomo, you need to buy its card and top-up the card with some certain money and use this card in the restaurant. If you can not finish using it, you will get a refund for the rest. Every flatbread of this restaurant is marked with their own logo. After getting the bread, you need to tear it into fingernail-sized pieces and return it to the waiter. The mutton soup is very delicious. You can also order other local food like the mutton kebabs and steamed buns here.
★ Specialties: Flatbread in Mutton Soup, Lamb Kebabs
• Chinese: 同盛祥(钟楼店)
• Average Cost:  about CNY 40 per person
• Opening Hours: 10:30am - 14:30pm;17:00pm-21:00pm
• Address:No. 5 West Street, Lianhu District, Xi'an City西安市莲湖区西大街5号
Located on the 4th floor of a noteless building and known for its thoughtful service, Haidilao is a hot pot restaurant that you can never miss it in China. During the holidays and weekends, there might be lots of people and you may wait about half an hour. It is highly automated with robots delivering the ingredients and dishes efficiently from the kitchen. There are various ingredients including meat, fish, mushroom and vegetables and you can find the sauce bar easily and diy the hot pot sauces of your own version. Besides the chili soup base, you can also order mushroom or tomato broth. If you are not a spicy person, you can also try the mildly hot pot soup which is tasty and not that hot. If you order noodles, it will bring you a noodle preparation show in front of your table. It will be a fun experience with delicious food, great customer service and a reasonable price.
★ Specialties: Hand-Stretched Noodles, Meat Ball, Lotus Root, Chinese Yam, Quail Eggs
• Chinese: 海底捞
• Average Cost: about CNY 140 per person
• Opening Hours: 12:00am - 11:59pm
• Address: Fourth Floor of Minle New City, Dongxin Street, 63 Jiefang Road, Xi'an 西安市解放路63号东新街民乐新都会4楼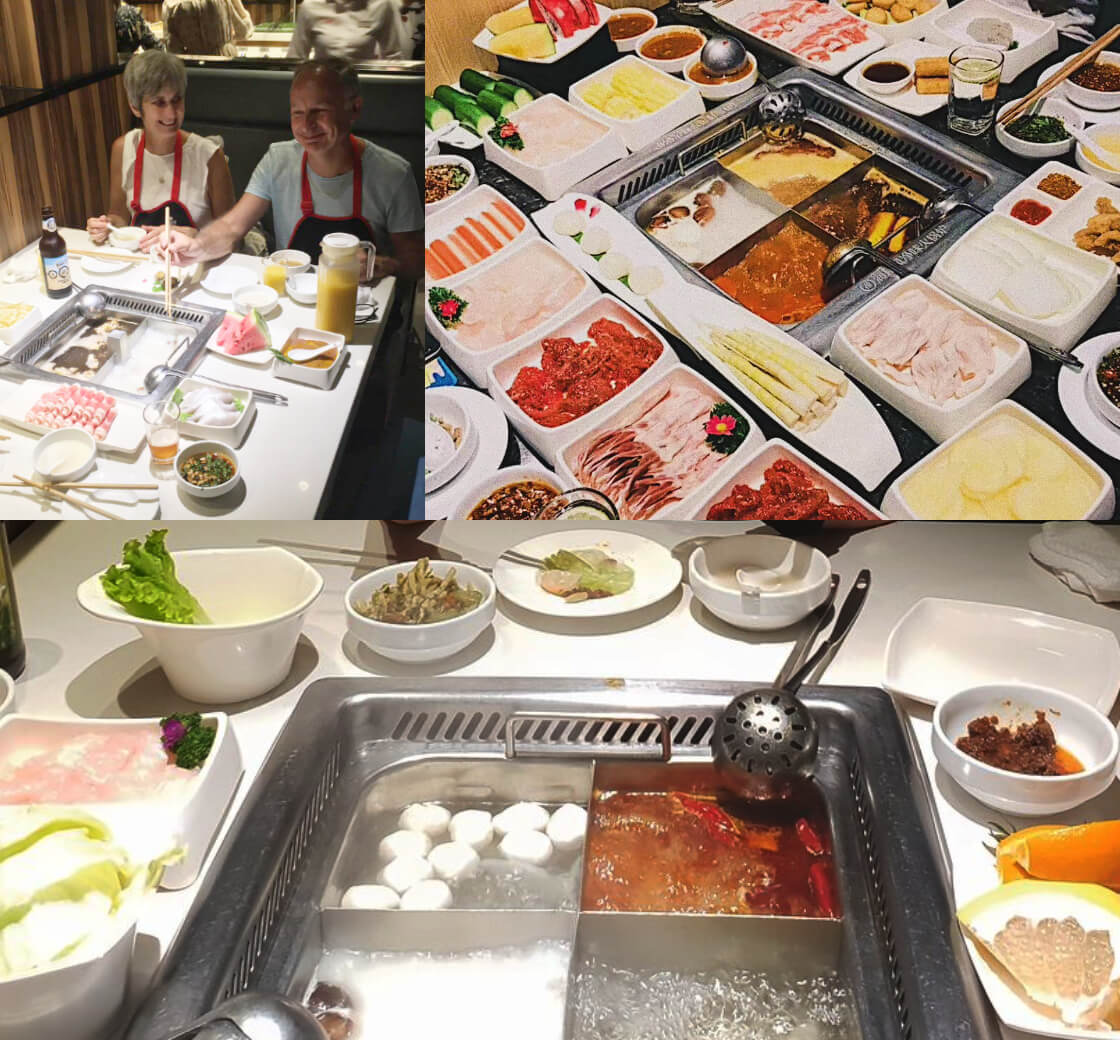 Haidilao Hot Pot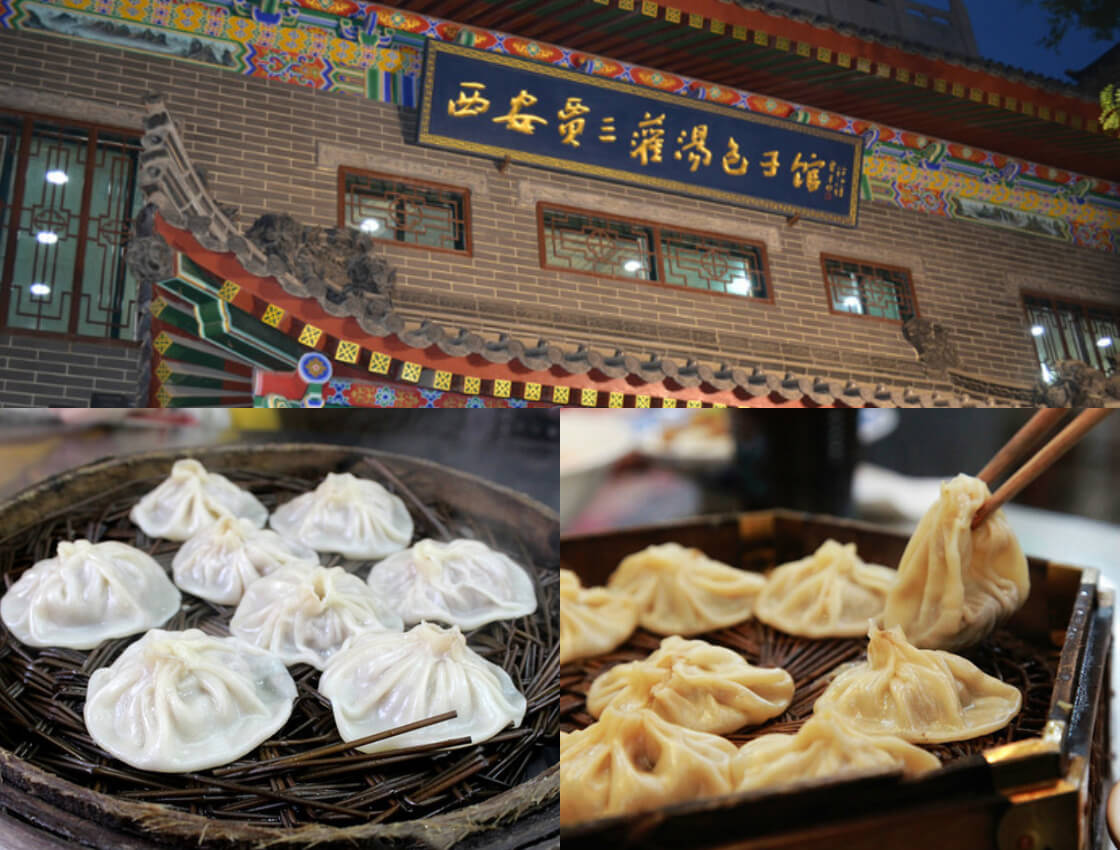 Xi'an Jiasan Halal Restaurant
Jia San steamed buns are very popular among the locals and the visitors. As soon as you get to Beiyuanmen, you will see it and they only accept cash. Usually, one portion has 8 steamed buns, and it costs about CNY 16. The steamed buns are very delicious with thin skins and juicy stuffing and it is said that you can get one spoonful of soup of every bun. However, pay attention to your first bite of each bun otherwise you may get scalded by the hot juice. Besides the popular mutton and beef buns, there are also seafood buns and vegetable buns for you to choose from. Though it is near the tourist attractions, which may bring lots of people, the price is quite reasonable.
★ Specialties: Steamed Beef Buns, Steamed Mutton Buns
• Chinese: 西安贾三清真灌汤包子馆
• Average Cost: about CNY 30 per person
• Opening Hours: 8:00am - 23:30pm
• Address: 93 North Courtyard Gate, Huimin Street, Lianhu District, Xi'an City (near Drum Tower) 西安市莲湖区回民街北院门93号(近鼓楼)
This restaurant is located in Daxing Shan Temple, near the Giant Wild Goose Pagoda. The decoration is in the traditional Chinese style. Although you will see some options on the menu such as chicken, sausage and fish, do not be surprised, they are actually bean products and cooked as meat dishes. For example, if you order fish filets in hot chili oil is actually tofu wrapped in seaweed, like pieces of fish. The food is very healthy; the service is very prompt; the price is very reasonable. If you are a vegetarian or interested in Buddhist culture, it is a nice spot to have a try.
★ Specialties: Boiled Spicy "Fish", "Chicken" with Peppers, Fried Beans and "Sausage"
• Chinese: 大兴善寺宝严素食坊(大兴善寺店)
• Average Cost: about CNY 60 per person
• Opening Hours: 9:30am - 14:00pm;16:30pm-21:00pm
• Address: Inside Daxingshan Temple, 55 Xingshan West Street, Yanta District, Xi'an City 西安市雁塔区兴善西街55号路北大兴善寺内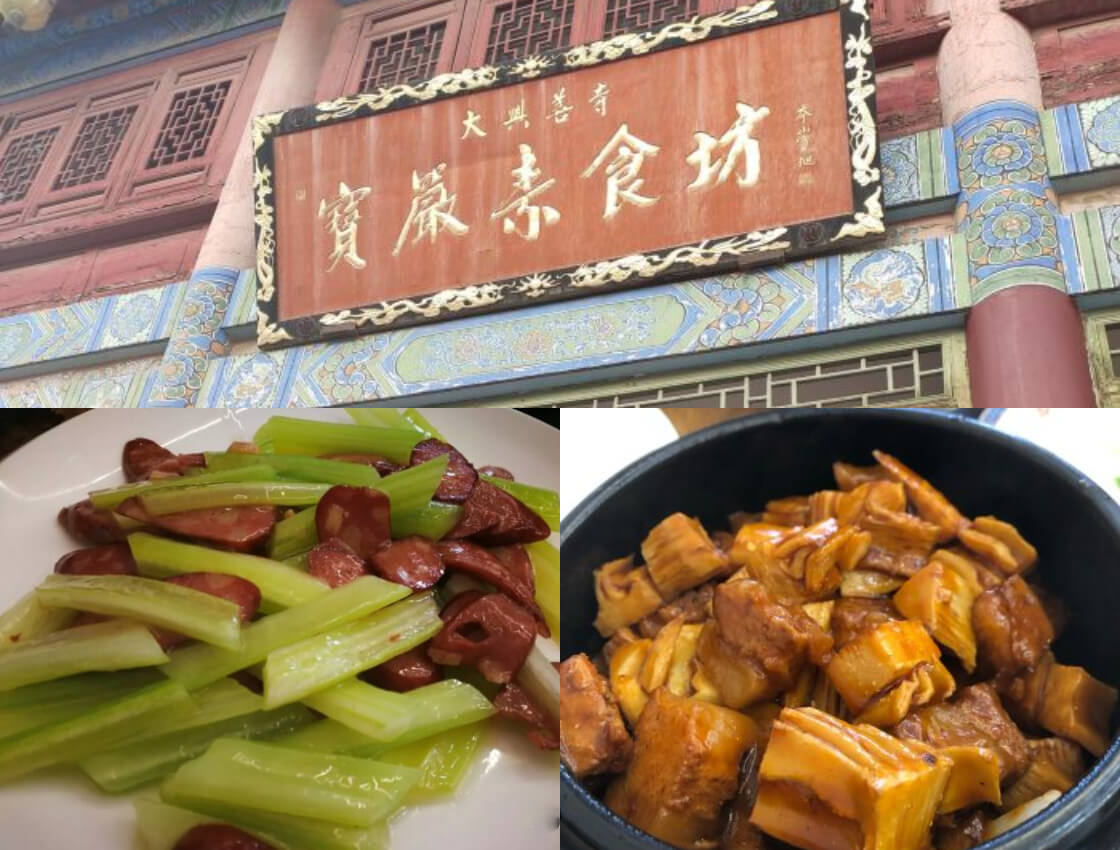 Baoyan Vegetarian Restaurant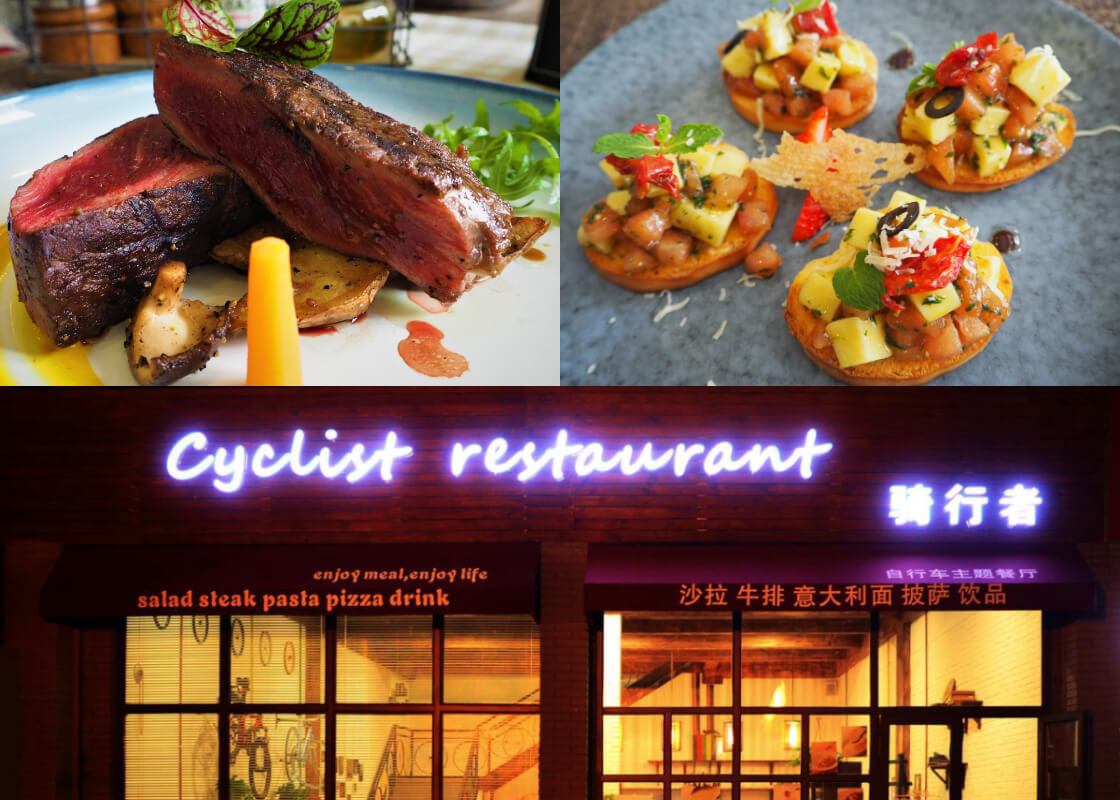 Cyclist Restaurant
It is a theme restaurant with bicycles as its element. All the decoration of this restaurant are originated from the idea of an experienced cyclist. It mainly serves Western food, Italian cuisine. The chef of the restaurant has more than ten years' cooking experience in Western food. If you need a break from Chinese food in Xi'an this place is excellent. This nice casual Italian restaurant has a great selection of many imported beer and wines and amazing food, with a lovely atmosphere and friendly staff who can speak fluent English. If you would like to go there during the holidays, you may need to reserve your seat in advance.
★ Specialties: Salad, Steak, Pizza and Pasta
• Chinese: 骑行者意大利主题餐厅
• Average Cost: about CNY 120 per person
• Opening Hours: 11:30am - 14:00pm;17:30pm-21:30pm
• Address: No. 25 Huangcheng East Road, Xincheng District, Xi'an 西安市新城区皇城东路25号索菲特西门向北50米路东
Canton 8 mainly serves Cantonese cuisines. It is the first two-star Michelin restaurant in Xi'an. The atmosphere here is really delicate, with a big glass hallway in an elegant purple tone. You can see the street outside during your dining. The chef, who was born in Hong Kong and studied in France, is an expert in Cantonese cuisine. The delicious Cantonese cuisine and the reasonable price have attracted many customers here. Cantonese cuisine emphasizes freshness and the original taste of ingredients, and it is very healthy. The specialties are Cantonese desserts and the roast pork. Unlike the strong-flavored local dishes, most of the Cantonese styled food is very refreshing, and it is an unmissable choice in Xian.
★ Specialties: Pineapple Bread, Roast Pork, Fresh Shrimp Dumplings
• Chinese: 喜粤8号
• Average Cost: about CNY 100 per person
• Opening Hours: 11:00am - 14:00pm;17:00pm-21:00pm
• Address: 372 Taihuabei Road, Weiyang District, Xi'an City西安市未央区太华北路372号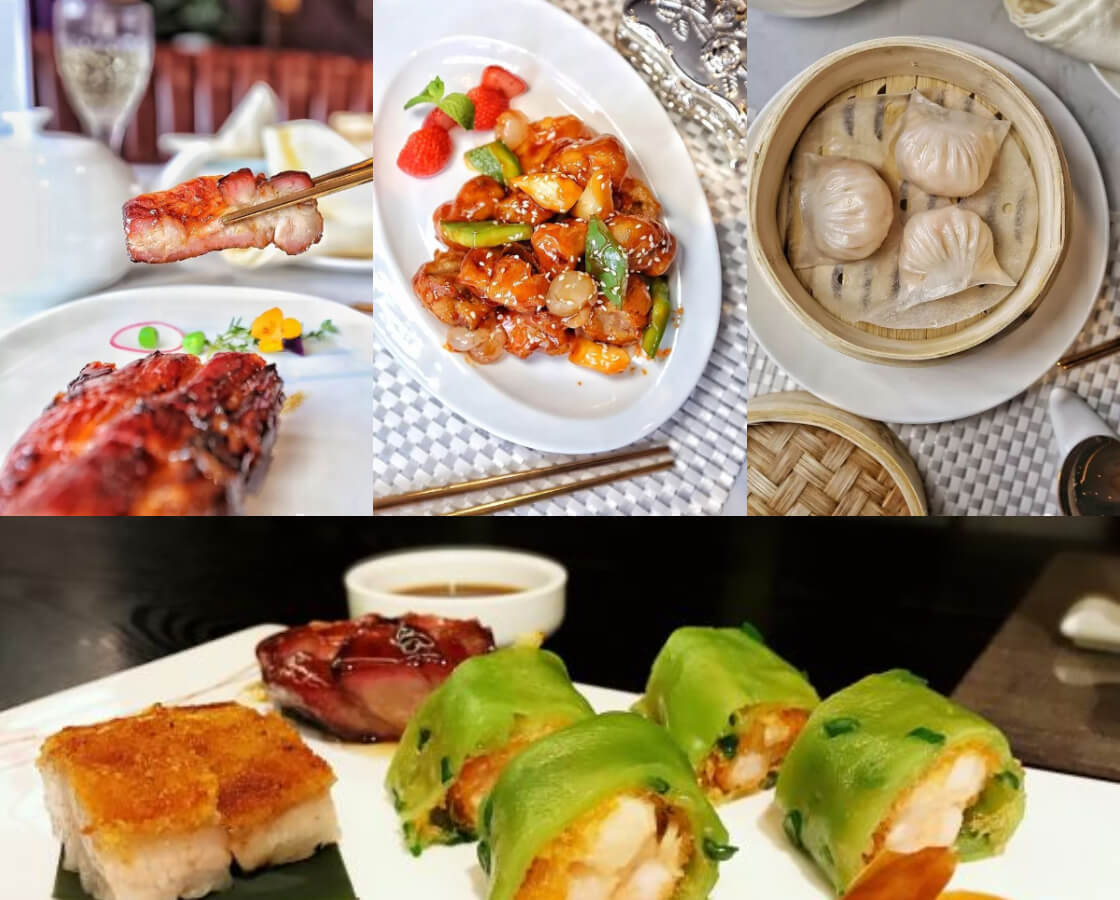 Canton 8
Wei Restaurant
The restaurant Wei is by the riverside of Qu, part of W hotel. The lunchtime is from 12:00 am to 14:30 pm. After arrival, the waitress will friendly welcome you to the seats. The dishes are fresh and various. The whole restaurant is divided into several areas. The beverage area includes various kinds of beer, wine, fruit juice, tea, hand-made ice cream and so on. You can find tuna, salmon, octopus, abalone, shellfish, sea urchin, oyster and caviar in the seafood area, and the barbecue area offers lamb steak, steak, scallop, chicken wings, lamb kebab and so on. The whole restaurant is modern and comfortable. After the dinning, you can choose to get a photo for free with your friends and family here. Apart from the Wei Buffet, there are also Chinese restaurant Yen and hot pot restaurant Fu in this hotel, which are also highly recommended on Tripadvisor.
★ Specialties: Sushi, Sashimi, Smoked Salmon, Steak
• Chinese: WEI全味西餐厅
• Average Cost: about CNY 400 per person
• Opening Hours: 6:30am - 22:00pm
• Address:First Floor of Xi'an W Hotel, 333 Qujiang Chi East Road, Yanta District, Xi'an 西安市雁塔区曲江池东路333号西安W酒店一楼