How to Get to Sanya by Flight/Train 2024
Sanya is a top tourist destination to enjoy the island scenery of Hainan. It is located in the southernmost of Hainan Island, in Southeast China and it is about 280 km away from Haikou City (the provincial capital). Its tropical climate and picturesque scenery have attracted numerous tourists from home and abroad. It is convenient to reach by air and train, and sea. This Sanya transfer guide helps you travel to/around Sanya efficiently.
Flights to Sanya
Sanya Phoenix International Airport 三亚凤凰国际机场 IATA: SYX
Address: Fenghuang Road, Tianya District, Sanya City 三亚市天涯区凤凰路
Sanya Phoenix International Airport is about 14 kilometers east of Sanya City Center. It is the busiest airport in Hainan with two terminals. The TI serves mainly domestic flights while T2 is for international and regional flights. The airport provides about 160 airlines, including 130 domestic lines and about 35 international lines, connecting over 50 cities and regions in China. In 2018, There were 12 operating international airlines, with 19 routes and 414 flights, connecting 19 cities and 20 airports in 9 countries and regions including Russia, India, South Korea, Vietnam, Indonesia, etc. Because of the epidemic situation since 2019, the flight schedule is not fixed. Also, Sanya Airport can be reached by domestic flight from many domestic cities, including Beijing (4.5h), Shanghai (3.5h), Guangzhou (2h), Chongqing (2.5h), Xian (3h), Nanjing (3h), Kunming (2h), Wuhan (2.5h), etc. Besides, you can also take a train to Haikou, the capital of Hainan Province, and depart from Haikou Meilan International Airport.
Transportation: The airport shuttle bus departs accordingly with flights from/ to Sanya urban area. There will be civil aviation buses to pick up and send passengers to Sanya urban area every 15 min/30min. Besides, there are high-speed bullet trains connecting Sanya Airport to Sanya Train Station in the downtown area with the duration of only 7min. Taxi is also very convenient to make a transfer. Read More about Sanya Phoenix International Airport >>
Trains to Sanya
Sanya Railway Station is an important stop on the Hainan roundabout railway. Hainan Roundabout high-speed railway is composed of Hainan East Ring Railway (308km) and Hainan West Ring Railway (345km), connecting Haikou to Sanya. It mainly operates D&C trains, as well as some normal trains. There are currently 30 stations in the whole line, covering 12 coastal cities and counties of Hainan Province. The east ring railway starts from Haikou City in the north, passes through Wenchang City, Qionghai City, Wanning City and Lingshui Li Autonomous County, and ends in Sanya City in the south. The West Ring Road starts from Haikou City in the north, passes through Chengmai County, Lingao County, Danzhou City, Changjiang Li Autonomous County, Dongfang City, Ledong Li Autonomous County, and ends in Sanya City in the south. There are 17 stations in the West Ring Road, namely Haikou station (existing station), Laocheng Town station, Fushan Town station, Lingao south station, Yintan station, Baimajing station, Haitou station, Qiziwan station, Dongfang station, jinyuewan station, Jianfeng station, Huangliu station, Ledong station, Yazhou station, Fenghuang airport station, Sanya West station (freight station) and Sanya station (existing station).
At present, there are mainly 4 train stations operating in Sanya. The stations with the most passenger are Sanya Railway Station.
Sanya Railway Station 三亚站
Address: No. 10, Yuxiu Road, Jiyang District, Sanya City, Hainan Province海南省三亚市吉阳区育秀路10号. 
Sanya Railway Station is the southernmost train station of China, operating both high-speed bullet trains and normal trains. It is about 4km to the city center area of Sanya and 9 km to Sanya Phoenix International Airport. Every day, more than 50 trains depart from Sanya and reach cities in Hainan and other major cities of China. 
Fenghuangjichang Railway Station 凤凰机场站
Address: Jichang Road, Fenghuang Town, Sanya City, Hainan Province海南省三亚市凤凰镇机场路
Right Next to the Sanya Phoenix Airport, Fenghuangjichang Railway Station is a high-speed train station connecting the Airport to the Sanya Railway Station (about 7min) from about 6 am to 7:30 pm.
Yalongwan Railway Station 亚龙湾站
Address: Intersection of Gaoxin road and Tiandu Road, Jiyang District, Sanya City, Hainan Province海南省三亚市吉阳区高新路与田独路交叉口
Located in Tiandu Town, Yalong Railway Station is about 10km north-east of downtown Sanya City, serving the Yalong Bay with mainly high-speed bullet C train connecting Sanya, Haikou, and other cities in Hainan Province.
Yazhou Railway Station 崖州站
Address: G225 Yazhou District, Sanya City, Hainan Province海南省三亚市崖州区G225
Similar to Yalongwan Railway Station, Yazhou Railway Station is a small train station along the Haikou-Sanya Railway in Hainan Province, mainly serve stopover high-speed trains.
Haikou to Sanya
Distance: about 280 km (about 1.5 ~ 3 hours' high-speed train; 6 hours' Private Car)
Haikou, the capital city of Hainan Province, while Sanya is the most popular scenic city in Hainan. The distance between Haikou and Sanya is about 280 km (about 174 miles), and the best transfer ways are by high-speed train.
Haikou to Sanya Train: Taking a high-speed train is the most convenient way of traveling from Haikou to Sanya. There are over 200 high-speed trains running from Haikou Railway Station / Haikou East Railway Station / Meilan Railway Station in Haikou to Sanya Railway Station / Yalongwan Railway Station / Yazhou Railway Station / Fenghuangjichang Railway Station in Sanya, taking about 1.5 ~3 hours. 
Popular Tours: 5 Days Sanya Classic Tour | 3 Days Haikou Tour | 8 Days Hainan In-depth Tour
Real-Time Train Schedules: Haikou to Sanya | Sanya to Haikou
Cruise to Sanya
Taking a cruise into Sanya is a unique experience. Italian Costa cruise line and Hong Kong Star Cruise group have operated irregular ships from Hong Kong to Vietnam via Sanya at the Phoenix Island Cruise Terminal (三亚凤凰岛邮轮码头, Location: Tianya District, Sanya City, Hainan Province海南省三亚市天涯区凤凰岛).
Please note that cruise ships are arranged for a fixed journey, and the departure time is not fixed. Generally, the journey is about 5 days, and they may only stay for half a day in Sanya, so please choose according to your own situation; If you are interested, you can go to the official website of Costa Cruise and Star Cruises to check the departure time of the route, or contact us to order the tickets.
How to Get Around Sanya
By Tourist Line: A free tourist bus has been opened from the Tianya Haijiao to Daxiao caves, which travel back and forth between the two scenic spots. Tourists can get on the bus at Tianya Haijiao or Daxiao caves. There is a large flow of people during the holiday, and you may encounter a long queue.
By City Bus: There are more than ten bus lines and special tourist lines in Sanya, and the operation time is basically about 6 a.m. to 11 p.m. In addition, many hotels have free sightseeing buses to urban areas and scenic spots, which is very convenient. Bus No. 25 connects Yalong Bay to Daxiao Dongtian, and many scenic spots will be passed on the way. (scenic spots: Yalong Bay, Yalong Bay Forest Park, Dadonghai, Sanya Bay Coconut Dream Corridor, West Island, Tianya Haijiao, Nanshan ecological park, Nanshan Temple, Daxiao Dongtian, ) and Bus No. 24 connects Yalong Bay to Tianya Haijiao (scenic spots: Yalong Bay, Dadonghai, Xidao Island (Xiaoqi port) and Tianya Haijiao.).
By Taxi: Sanya taxis are mostly blue. The starting price is within 2 kilometers, and extra feel will be charged for more than 2 kilometers beyond the urban area of the city. In addition to blue taxis, there is also a yellow one, but this kind of taxi that can only drive in the urban area.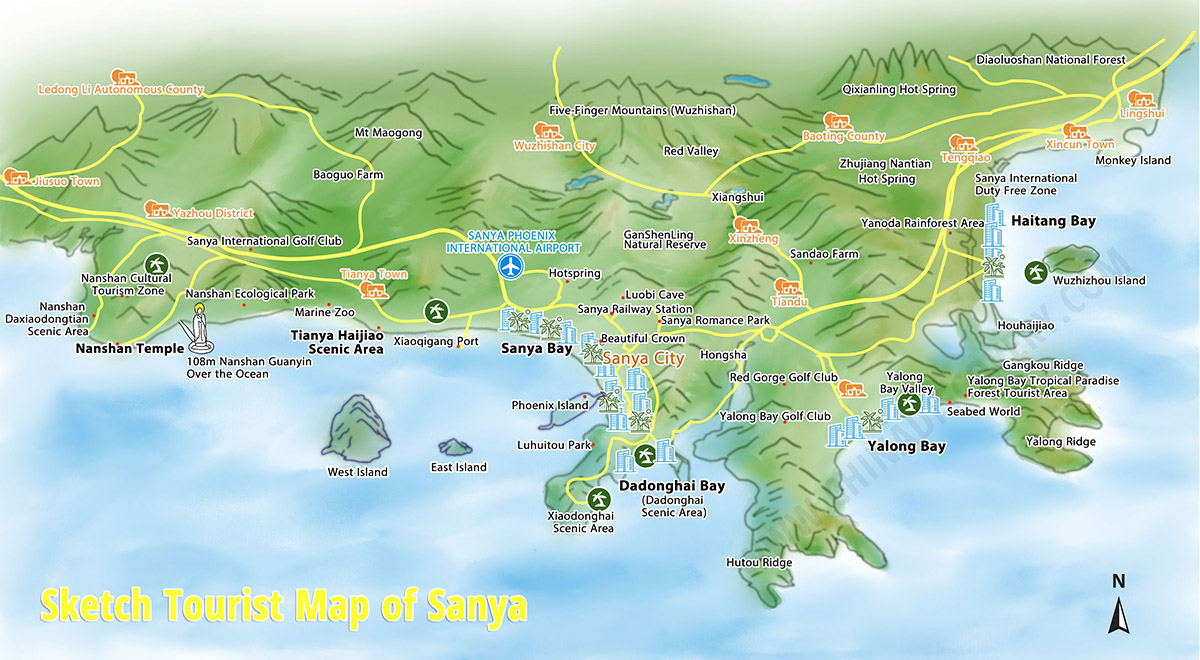 Sanya Travel Map
Travel with China Discovery
In order to have a worry-free transfer, traveling with China Discovery is top recommended. Our local travel guide and driver will pick you up at the airport or train station as you arrive and then escort you to your hotel or every attraction listed in your itinerary with an air-conditioned and non-smoking vehicle. Great freedom will be given to you whenever you need to stop for sightseeing and photography. You are sure to enjoy a comfortable, safe and efficient experience.
Far more than that, China Discovery is professional to provide high-quality customizable tours. Before your tour, our travel expert will communicate with you one to one and make an itinerary according to your own interest, need and budget. Every detail - transfer, hotels, attractions, etc. will be arranged well for you and you just need to focus on sightseeing. Feel free to contact us to start your worry-free private tour now!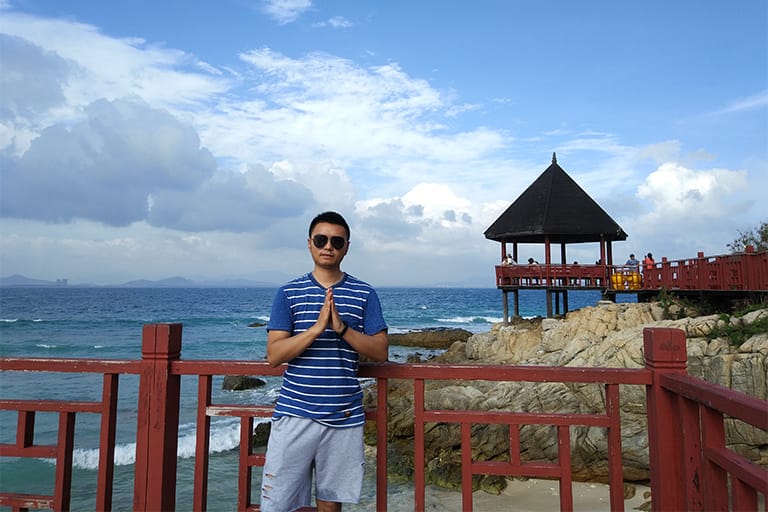 Our travel consultant Sean visited Wuzhizhou Island
How to Plan a Sanya Tour
Best Time to Visit Sanya: October ~ Next May
Places to Visit: Various bays, Betelnut Valley, Nanshan Buddhism Cultural Park, Yanoda Rainforest Park
How to Get There: International flights from London, Singapore, Seoul, Jakarta, Moscow, Novosibirsk, etc., and domestic/regional flights from most major cities like Beijing, Xian, Shanghai, Chengdu, Guangzhou, Chongqing, Hong Kong, Macao, Taiwan, etc.
Generally, a Sanya tour can be short or long, and many travelers choose to stay in Sanya for about 4~7 days. We suggest you visit at least one bay for a real "holiday", such as Yalong Bay, Sanya Bay, Dadonghai Bay or Haitang Bay where you can immerse yourself in the relaxing atmosphere by taking a sunbath, strolling on the soft beach, viewing the coastal scenery, etc. It is also available to spend several hours or more time experiencing some watersports. For travelers interested in the primitive nature of tropical forests, Yalong Bay Tropical Paradise Forest Park or Yanoda Rainforest Park, which needs 0.5~1 day, is worthwhile. Besides, Nanshan Temple (0.5~1 day) with the world's largest statue of Avalokitesvara - Nanhai Guanyin is also recommended if you have a Buddhist faith or want to appreciate a religious savory. For travelers needing an in-depth tour, Binglanggu is a nice option for local minorities exploration!
☛ 4 Days Sanya Beach Resort Tour
☛ 6 Days In-depth Luxury Sanya Tour with Two Free Days
Want to escape the crowds and explore Hainan? Don't miss Haikou - the capital city with lots of culture fun. A classic Haikou tour takes about 2 days. The top highlights include informative Hainan Museum, old buildings in Qilou Old Street, Volcanic Crater Park, etc. Besides, you can spend 1~2 days exploring the undeveloped bays and uninhabited islands, 1~2 days appreciating the peaceful town of Boao and its unique natural landscapes, 1~2 days involving in the sunny homeland of minorities in Lingshui, etc.
Keep Reading About Sanya
Keep Reading About Hainan
Keep Reading About Sanya Hotels
Recommended Sanya Tours
Top 3 Sanya tours chosen by most customers to explore Sanya in the best way. Check the detailed itinerary, or tailor your own trip now with us.
Start planning your tailor-made holiday to China by contacting one of our specialists. Once inquired, you'll get a response within 0.5~23.5 hours.
Customize a Trip
Have a question? Get answers from our travel experts or guests
Your Question:

Your Name:

Your Email: