What to Do in Sanya - Top 8 Featured Activities
Sanya, located at 18° latitude, as far north of the equator as the Island of Hawaii, is undoubtedly one of the best tropical paradises for vacationers. Just walking or lying on the powdery soft beaches is enough to relax your body and mind. More than easy holidays, of course, there are lots of strenuous exercises and special experiences to give an unforgettable holiday, such as diving, golfing, surfing, shopping, eating, jungle safari, etc. Here we put the most featured activities for fun on and under the water in Sanya and figure out the right location to help you make full use of time on the seas.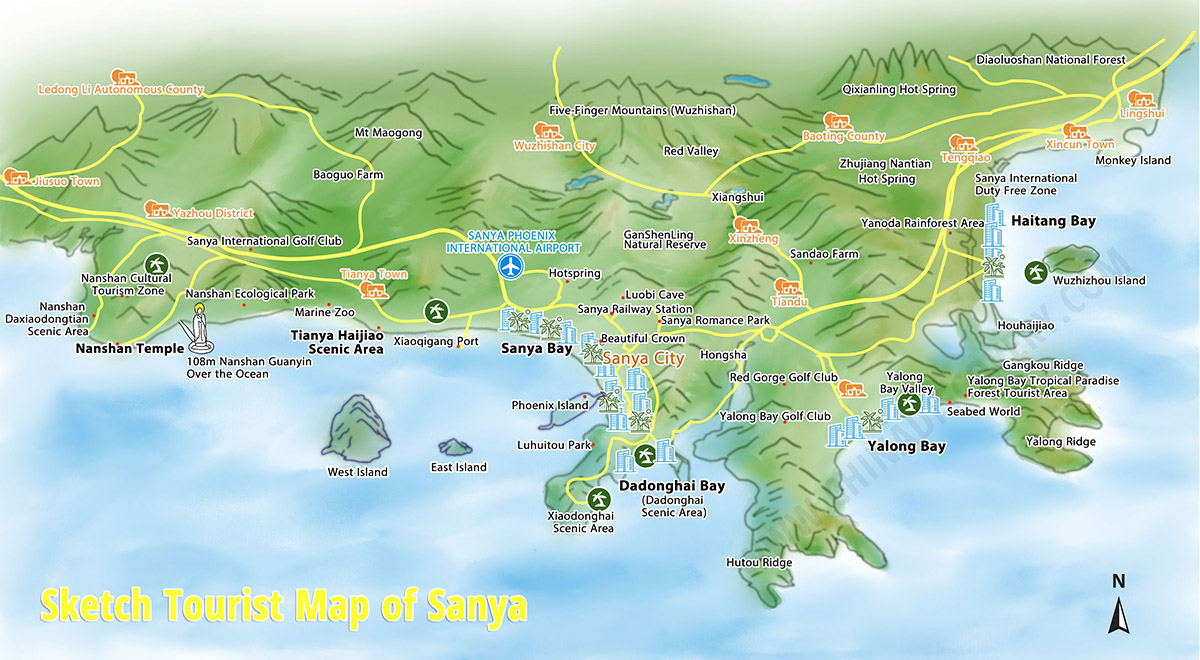 ● Diving in Sanya
Diving in Wuzhizhou Island © meituan.com
Diving in Fenjiezhou Island © 旅行定制狮/zhihu.com
Diving is one of the most popular tourist projects in Hainan. Almost every tourist in Hainan wants to dive into the sea and encounter a romance with underwater creatures. As the best diving resort in China, Sanya has superb natural diving conditions. Whether diving beginners or professional divers are able to enjoy the marvelous underwater seascape here.
There are two main kinds of diving in Sanya, namely snorkeling and deep diving. Compared to snorkeling in other countries, Sanya snorkeling is much easier, and fit for most people even for those who can't swim. You need a breathing tube, mirror and life jacket only, and don't need a coach. Usually, about 2~3 visitors will be accompanied by one professional coach. After practicing how to use a snorkeling tube for a while, you can snorkel in the water and see colorful fish swimming in front of you. However, you are unlikely to see a large group of fishes or pieces of corals. Deep diving, or scuba diving, is a diving way requesting basic skills. Generally, divers need to wear scuba diving suites and carry necessary diving equipment. There will be a coach teaching you some basic knowledge and diving techniques for about 30 minutes. Then, you can carry your oxygen tanks and dive with the coach, usually 4~15 meters under the water.
Wuzhizhou Island: Known as Chinese Maldives, Wuzhizhou Island must be the best diving site in Sanya, and even in China. The crystal sea water has a visibility of 6~27 meters in Wuzhizhou, which make visitors fully appreciate the rich sea life. Wuzhizhou Island is also a popular honeymoon destination because of its impressive scenery and romantic atmosphere.
West Island: As another amazing diving resort located in Sanya Bay, West Island features a high cost performance. It owns clean water, rich marine life and advanced-equipped facilities for a lower price.
Fenjiezhou Island: Fenjiezhou Island is the only aquarium in China that raises Marine animals outdoors. Located in Lingshui County and about 90 minutes' drive distance from Sanya, it is less touristy than other diving islands because of the less-convenient transportation. Apart from diving, visitors can admire various kinds of marine specimens and watch the performance performed by seals, sea lions and dolphins.
In addition, there are many other places suitable for diving, such as Yalong Bay, Dadonghai Bay, Shimei Bay, etc.
Tips for Diving: 1) The offshore projects are subject to weather, they may be cancelled due to the extreme weather. 2) Travelers with lung problems, heart diseases, blood sugar problems, blood pressure problems, anemia, serious stomach illness, diabetes, insulin- dependency, lumbar diseases, osteoporosis, fractures, dearticulation, skin injuries, ear infections, serious colds, rhinobyon, nasosinusitis, bronchitis, respiratory diseases, asthma, claustrophobia, anxiety, hypertension, middle-ear equalization, sea sickness, decompression sickness, epilepsy, allergies, some surgeries (of ear, nose, lung, heart…), and some other serious diseases are not allowed to dive. 3) Heavy drinkers, pregnancies, disabilities, kids (below 12 years old), seniors (beyond 60 old) are not allowed to dive. 4) If you have experienced deep diving for 2 or more times, you need to take a rest at least 18 hours before boarding the plane off Sanya.
● Golfing in Sanya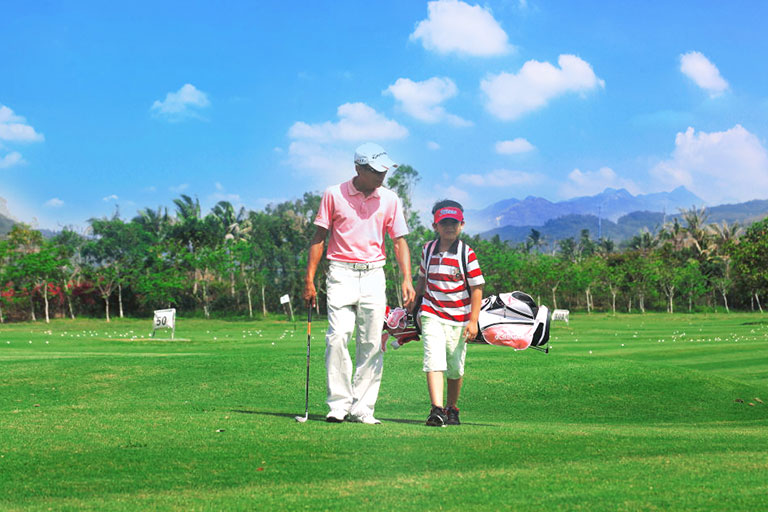 Yalong Bay Golf Club © 冯连衡/meipian.com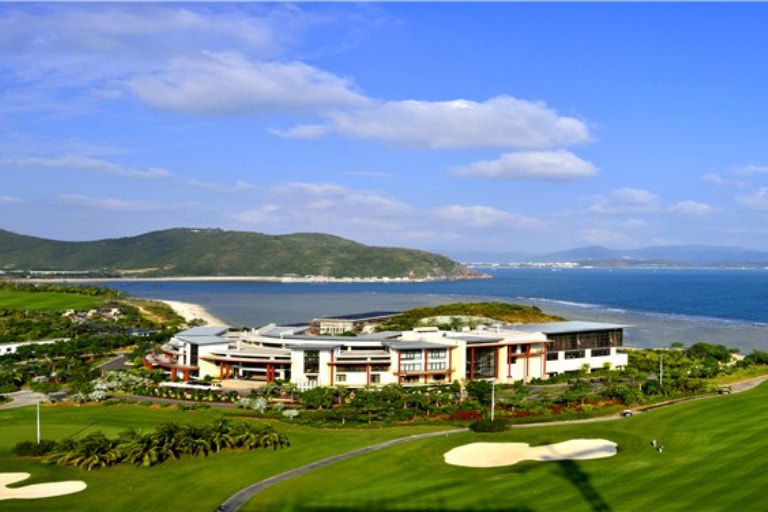 Luhuitou Golf Course © 三亚市民游客中心/meipian.com
If you are a golf enthusiast looking for fine golf courses, don't hesitate to go to Sanya. If you are a tourist in Sanya and looking for something except for watersports to kill your time, don't hesitate to play golf if you really enjoy it. The unique geographical environment and natural conditions create favorable sites for golfing. With the beautiful tropical monsoon climate, long warm periods and no cold areas, Sanya is like a natural greenhouse attracting countless golf players. There are many well-equipped golf courses in Sanya listed below.
Yalong Bay Golf Club: Located in Yalong Bay - China's most beautiful coast, Yalong Bay Golf Club is the first legendary golf course and the icon of the golf courses in Sanya. It is an 18-hole course covering an area of 680,000 square meters and scattered with 98 bunker. Designed by the world-famous golf course architect - Robert Trent Jones, it enjoys a links-style, complete facilities and picturesque landscapes of waterfalls, river, palms and bridges. Its 18-hole covers an area of 0.68 square kilometers. Address: No.22 Longhai Road, Jiyang District, Sanya City (三亚市吉阳区龙海路22号)
Luhuitou Golf Course: It is an international 18-hole championship golf course covering an area of about 730,000 square kilometers. There are 64 bunkers, 2 sea fairways and 15 lakeside fairways. The charming surrounding scenery allows the players to have an enjoyable sightseeing experience as well as a great playing experience. Address: No.1 Guoling Road, Luhuitou, Jiyang District, Sanya City (三亚市吉阳区鹿回头果岭路1号).
Shenquan International Golf Club: Shenquan International Golf Club is located in Haitang Bay and the total construction covers an area of 10,800 square meters. This club consists of two 18-hole courses - Shenniu Fild and Shenquan Field.. Built by two eminent golf course architects - Nelson & Haworth, Shenquan International Golf Club features great design and beautiful scenery as well. The course is known as the Demon Hole because it needs two perfect shots to get to the green. Address: Haitang District, Sanya City (三亚市海棠区).
Longquangu Golf Club: It is a 19-hole golf course designed by Schmidt-Curley, a famous golf course design company in the United States. Covering an area of about 530,000 square meters, Longquangu Golf Course has a total length of about 6,700 meters. It shows a strong pastoral atmosphere with green mountains and clear water. Address: Nanding Village, Lizhigou South, Xueyuan Road, Jiyang District, Sanya City (三亚市吉阳区学院路南丁村).
● Surfing in Sanya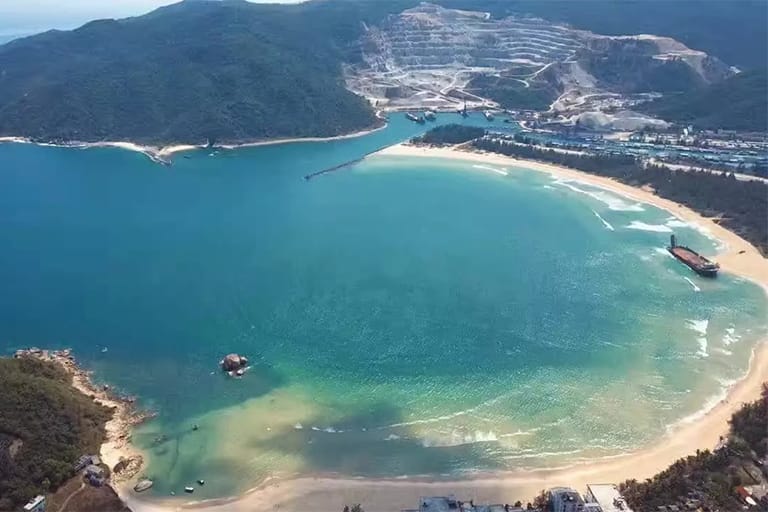 Houhai Fish Village Scenery © 阿拖施晓君 / mafengwo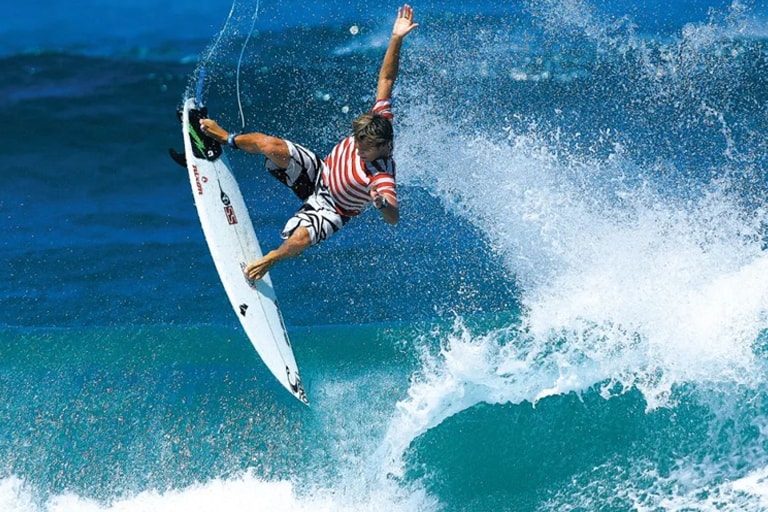 Surfing in Riyue Bay © ifeng.com
Sanya has China's best bays, and these bays have professional-grade waves. Surfing is the best way to discover the waves in Sanya's 14,500 kilometers long coastline. Therefore, Sanya is honored as the surfing capital of China. On your trip to Sanya, you can get a wonderful surfing experience in different bays. Here we list the most recommended ones.
Riyue Bay: Riyuewan is the training base of the national surfing team, suitable for surfing enthusiasts or people who want professional surfing lessons. Because of the big waves, it is not suitable for beginners. Riyeu Bay is located in Waning County, about 90 minutes' drive from the center of Sanya City.
Houhai Fish Village: Located in Haitang Bay, Houhai Fish Village is equipped with many surfing shops which offer cost-effective lessons. If you are a surfing beginner, Houhai Fish Village is a good choice. Moreover, Haitang Bays provides many options for accommodation from luxurious hotels to boutique homestays.
Dadadonghai Bay: For travelers who want to stay around the city center, it is also available to surf in Dadonghai Bay. Because of its relatively gentle waves, surfing in Dadaonghai Bay is rather friendly to beginners. However, sometimes the waves might be too small to surf.
Wuzhizhou Island: For travelers on Wuzhizhou Island, surfing is available. Because of the popularity of Wuzhi Island, booking in advance is necessary.
Tips: 1) Remember to wear long sleeves and pants or use sunscreen cream to protect your skin from strong sunlight. 2) It is necessary to book in advance, especially if you need a one-on-one training class.
● Jungle Adventure in Sanya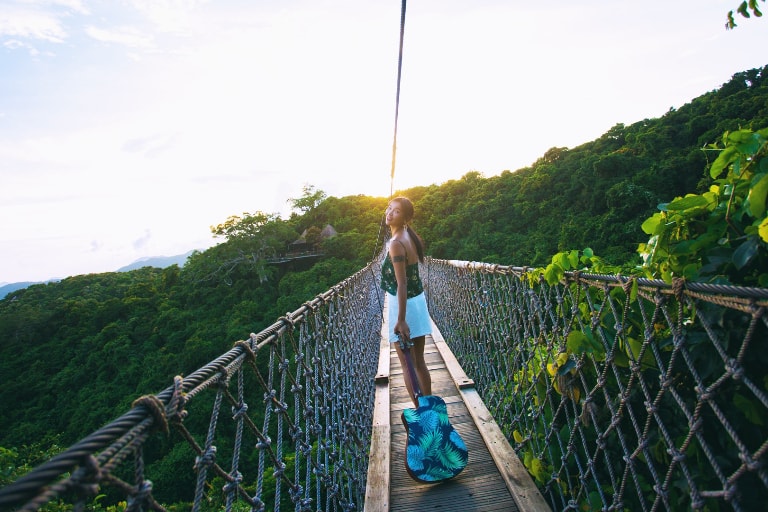 Yalong Bay Tropical Forest Park © ylwpark.com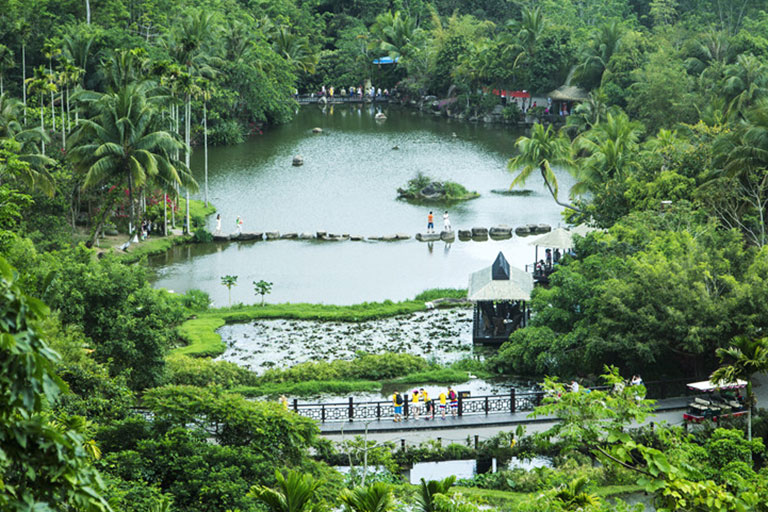 Yanoda Tropical Rainforest Park © yanoda.com
Other than the warm sunlight, golden beaches and watersports, Sanya provides travelers with primitive natural jungle where travelers can be away from Sanya's crowds. Just enter Sanya's green tropical forests or rainforests for a jungle adventure.
Yalong Bay Tropical Forest Park: Yalong Bay Tropical Forest Park is a coastal mountain ecological forest park as well as a natural wonder well-preserved. There are over 10 peaks, over 1,500 tropical plants and over 190 wild animals in the park. In this park, you can see Yalong Bay from different perspectives and admire jaw-dropping forest sceneries. You can either take an electric cart or hike through the dense forest, and both offer you fantastic views.
Yanoda Tropical Rainforest Park: Yanoda, literally translated as one, two, three in Hainanese dialect. This park is a beautiful place to go if you are interested in viewing the original rainforest scenery and breathing the fresh air. The park is divided into three sections - Rainforest Valley, Three Valley and Sanda Valley, where you can not only savor primitive landscapes but also enjoy some exciting activities like sliding, swinging, jungle safari, etc. You can also camp in the forest and appreciate the breathtaking starry sky.
Binglanggu Valley: Also called Betel Nut Park, Binglang Valley Scenic Area is situated in the forest of over thousands of betel nut trees. It features not only forest scenery, but also a minority culture. Here you can explore the culture of Hainan's Li ethnic group who has settled here for about 3,000 years. The wonderful lively show here is strongly recommended if you want to probe into local culture better.
● Shopping in Sanya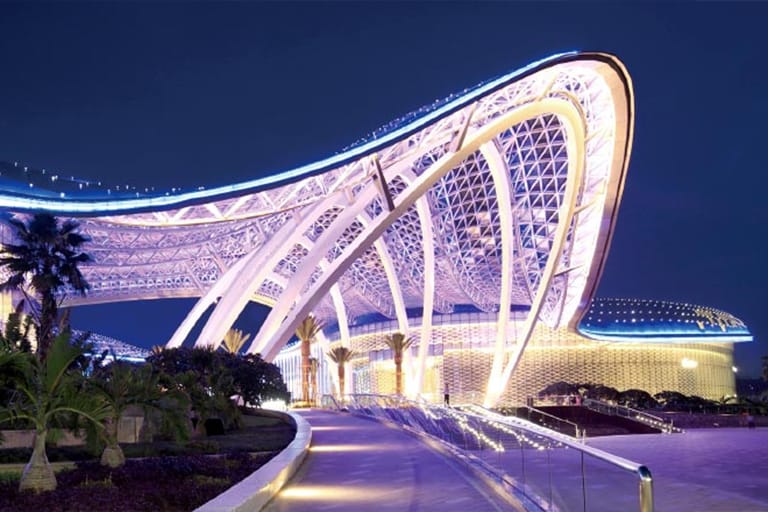 Sanya Duty-Free Shopping Center © cdfgsanya.com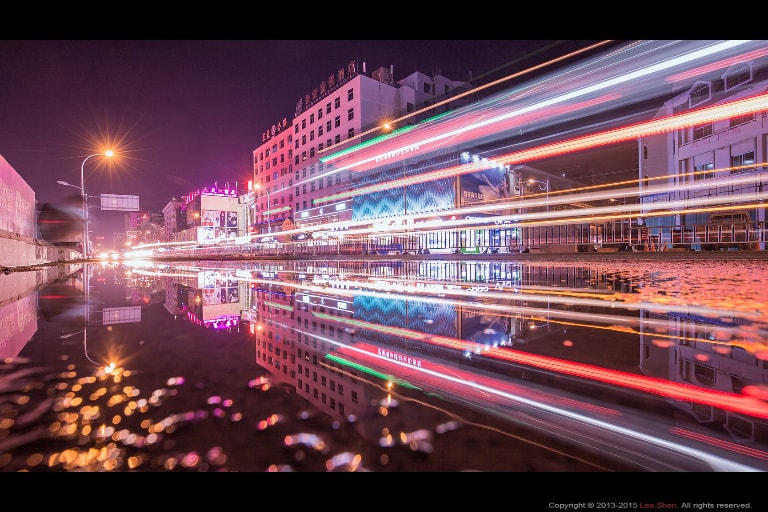 Jiefang Road Pedestrian © 上海冷空气 / mafengwo
Sanya might be one of the best shopping paradises in China. In city of Sanya, there are many shopping malls and commercial streets. No matter you need to purchase some world-famous branded items, or want to bring some special souvenirs home, there are various places for your shopping fun.
Sanya Duty-free Shopping Mall: Sanya Duty-free Shopping Mall (Sanya DFS Mall), situated at Haitang Bay, is the largest duty free shop in Asia. The tall building houses a wide range of brands. Sanya International Duty Free City deals in perfumes, jewelry, watches, leather goods and dozens of other categories of 20,000 products, including nearly 100 luxury brands. Duty-free retail prices are 10% to 35% lower than domestic department stores.
Sanya No.1 Market: Sanya No. 1 Market is the most popular seafood and fruit market in Sanya, but more and more people have come to regard "No. 1 Market" as the synonym of this prosperous district, which not only gathers many seafood processing shops, but also has many snack shops and small commodity night markets.
Jiefang Road Pedestrian Street: Located next to Sanya bus Terminalit is the first commercial pedestrian street in Sanya. This about 230 meters long street is a collection of jewelry and various kinds of clothing. You can buy island clothes with Hainan characteristics. The pedestrian street is also a special arts and crafts street which gathers many fast food restaurants.
Baihuagu Commercial Street: Located in the core of Yalong Bay, Baihuagu Commercial Street is a tropical commercial street integrating catering, shopping, leisure and entertainment. At the same time, Baihuagu Commercial Street is the most concentrated restaurant in Yalong Bay.
● Tasting Hainan Cuisine in Sanyan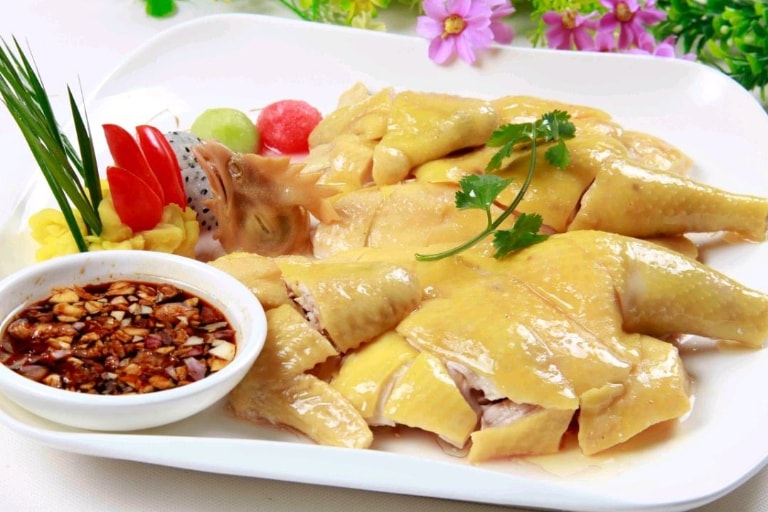 Wenchang Chicken © xiaohongshu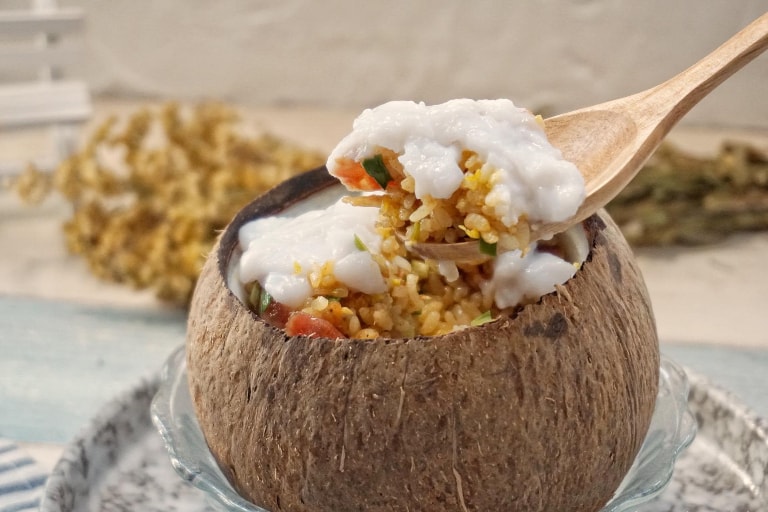 Coconut Rice © sina.com
As an ideal holiday paradise, Sanya has many yummy foods for travelers as well. Without doubt, the ecological seafood is a must-try whenever you travel in Sanya. There are numerous seafood restaurants you can find in Sanya, and many restaurants in the hotels also offer great dishes. However, there are many other local dishes worthy of a taste except for seafood. Below we list the most recommended ones .
Wenchang Chicken (文昌鸡): Listed in the Four Most Famous Dishes in Hainan, Wenchang Chicken must be the most popular and traditional dish. Its fat but not greasy meat, crisp bones and fragrant flavor, accompanied by rice, usually make travelers mouthwatering.
Jiaji Duck (加积鸭): Jiaji Duck, also known as Fan Duck, is another famous dish of Hannan. In fact, it is introduced to Hainan from abroad by a Hainan people and then improved to a Hainan dish. It is featured with rich chest, thin skin and tender meat. There are three cooking methods to make three kinds of Jiaji Duck .
Hele Crab (和乐蟹): Hele Crab, produced in Wanning, is an excellent seafood variety in Hainan Province and a traditional famous brand product. It has the characteristics of tender meat, delicious taste, full crab extract, as well as fat and good nutrition. It is another one of the Four Most Famous Dishes in Hainan with its unique aroma, freshness, tenderness and crisp.
Dongshan Mutton (东山羊): Dongshan Mutton gets its name because it is produced in Dongshan Mountain (in Wanning). It is said that the mutton is delicious because the goats in Dongshan Mountain eat rare vegetation only. No matter the mutton is baked, braised or steamed, the meat tastes fresh and is free of goat smell.
Coconut Rice (椰子饭): It is a traditional specialty snack made by cooking glutinous rice right inside a freshly picked coconut. Cut into slices, the sticky rice and coconut meat mixed with coconut juice making for a sweet tropical treat. In fact, coconut has a high nutritional value. Without too many seasonings, Coconut Rice is both delicious and healthy.
More about Hainan Food, please visit Hainan Food & Cuisine | What to Eat in Hainan 2023 >>
● Cultural Festivals in Sanya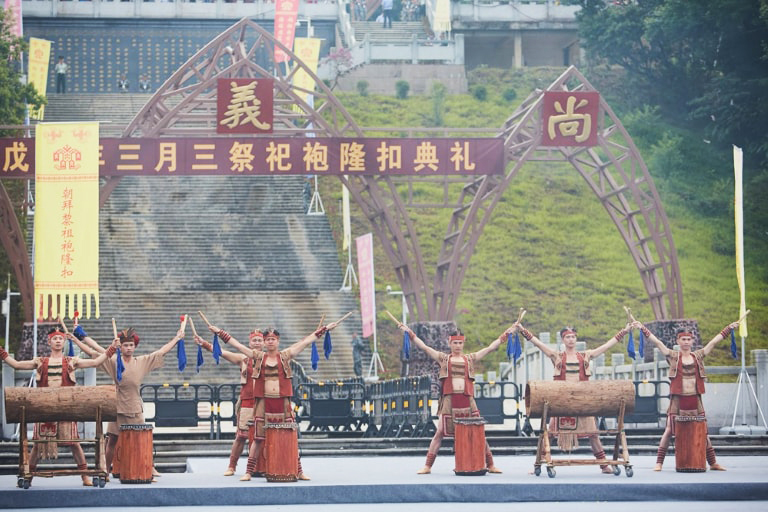 Double Third Day © binglanggu.com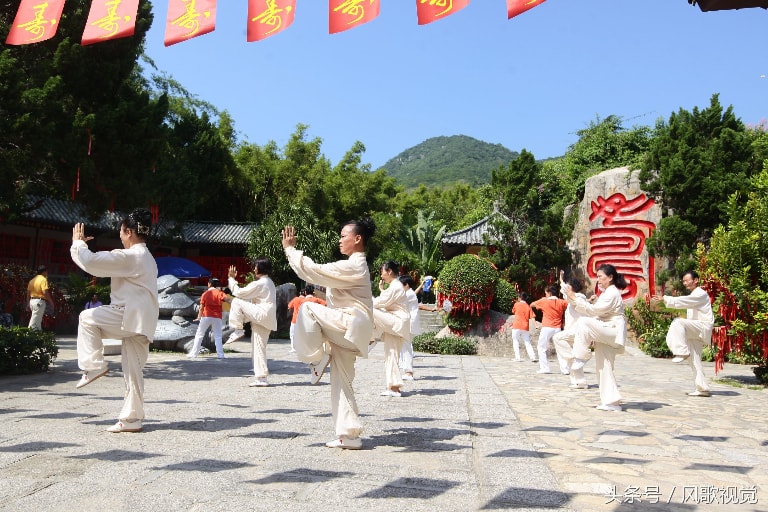 Nanshan Longevity Festival © nanshan.com
Besides sightseeing and sports fun, Sanya also boasts rich culture. Visiting Sanya during its festivals is one of the best ways to savor its culture.
Double Third Day: Double Third Day is a local traditional festival organized on the third day of March of Lunar Calendar (early/mid-April usually). It is a festival of the Li and Miao Ethnic Groups. There are many funny activities organized during the Double Third Day, such as Bamboo pole dancing, theme party, Sports games, Bonfire party, etc.
Nanshan Longevity Festival: Sanya is the famous hometown of longevity in China. Since the international Seniors' Day on the 9th day of September lunar month in 1999, the "China Nanshan Longevity Culture Festival" has been held every year with the theme of respecting and loving the elderly, keeping healthy and keeping in good health, and a series of activities such as exhibition of the elderly, longevity and keeping in good health forum and reunion of the elderly. More about Nanshan Temple >>
Tianya Haijiao International Wedding Festival: Established in 1996, Tianya Haijiao International Wedding Festival is a combination of large-scale wedding activities and honeymoon vacation tourism. International and domestic newlyweds as well as golden and silver wedding couples are invited to participate in the wedding festival. Through activities such as gathering in Lucheng, making friends at the end of the world, praying in Nanshan and sending lovers to the East Sea", each couple will enjoy unforgettable memories.
● Nightlife in Sanya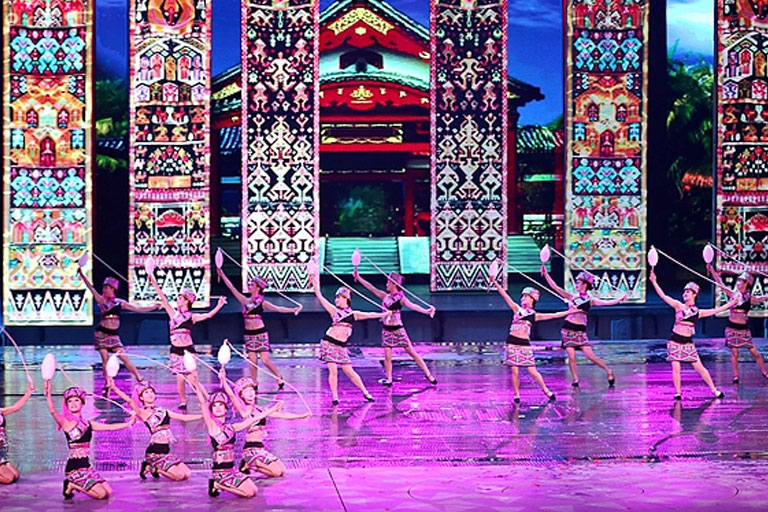 Sanya Legend Show © songcn.com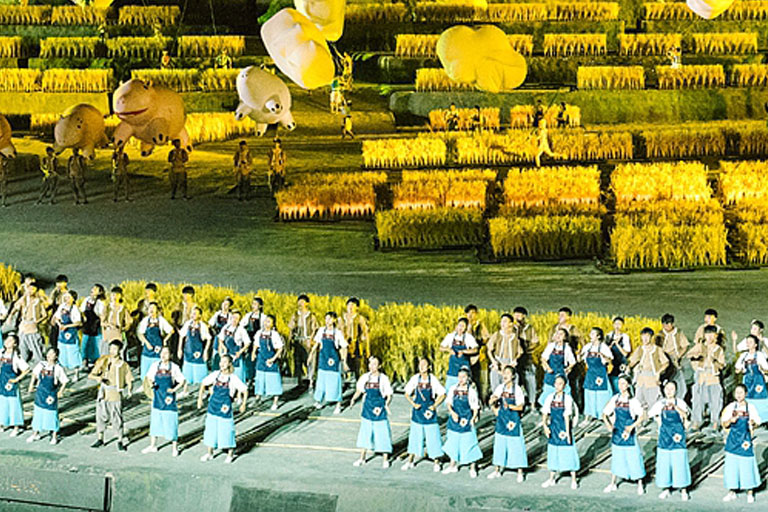 Field Carnival Show © 李也/meipian.com
When the night falls, you may want to immerse yourself in the alive nightlife in Sanya. Yes, lots of options for a night out.
Times Coast Barstreet (时代海岸酒吧一条街): Located close to Luhuitou, Time Coast is a gathering place for bars and KTV in Sanya. The unique design and popularity of bar street make it the focus of fashion consumption and nightlife in Sanya. The most recommended ones include M2 Club, SOHO Bar, Muse Bar and Enjoy Lounge.
Sanya Legend Show (三亚千古情): Sanya Legend Show is a large-scale song and dance performance based on the grand history and legends of Sanya for ten thousand years as well as its development from ancient China to the present. The theatre performance was action-packed, exciting, thrilling, romantic and artistic. The atmosphere in the park is like an ancient China Kung Fu movie set.
Field Carnival Show (田园狂欢): As the first performance with the theme of farming culture in China, Field Carnival relies on food and work, sunshine and land as well as life and dream. Each scene of the performance led the audience to feel as if they had walked into a fairy tale world, felt the extensive and profound farming culture of thousands of years, and felt the freedom of rural life.
More about Sanya Nightlife, please visit Sanya Nightlife Guide: Shows, Bars, Shopping 2023 >>
Travel Sanya with China Discovery
In Sanya, there are many other activities travelers can join in, especially water sports like swimming, boating, fishing, etc. Want to enjoy a worry-free Sanya tour? Just travel with China Discovery! China Discovery is a leading travel agency offering private China tour packages with great flexibility, comfort and personalized services for decades. We have got 1,570+ good reviews on TripAdvisor.com, and 3,220+ China travel reviews from the customers. Before your travel, our experienced travel expert will communicate with you one-on-one and organize everything (accommodation, transfer, itinerary…) well. In your Sanya trip, our local travel guide will accompany you all the way and introduce the highlights of every place to you. Of course, you will also have enough flexible time to enjoy a relaxing time. All the experience can be tailor-made according to your group size, travel time, personal interest, travel budget and other needs. If you are interested, please feel free to contact us !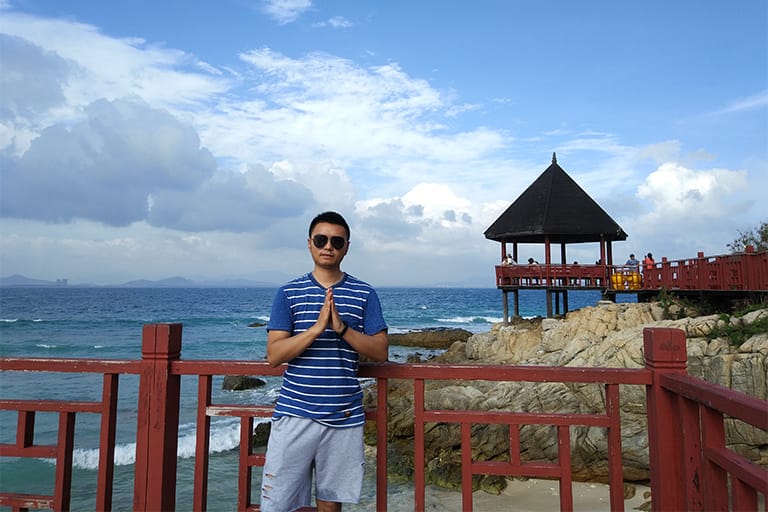 Our travel consultant Sean visited Wuzhizhou Island
How to Plan a Sanya Tour
Best Time to Visit Sanya: October ~ Next May
Places to Visit: Various bays, Betelnut Valley, Nanshan Buddhism Cultural Park, Yanoda Rainforest Park
How to Get There: International flights from London, Singapore, Seoul, Jakarta, Moscow, Novosibirsk, etc., and domestic/regional flights from most major cities like Beijing, Xian, Shanghai, Chengdu, Guangzhou, Chongqing, Hong Kong, Macao, Taiwan, etc.
Generally, a Sanya tour can be short or long, and many travelers choose to stay in Sanya for about 4~7 days. We suggest you visit at least one bay for a real "holiday", such as Yalong Bay, Sanya Bay, Dadonghai Bay or Haitang Bay where you can immerse yourself in the relaxing atmosphere by taking a sunbath, strolling on the soft beach, viewing the coastal scenery, etc. It is also available to spend several hours or more time experiencing some watersports, such as diving, surfing, yacht, fishing, etc. For travelers interested in the primitive nature of tropical forests, Yalong Bay Tropical Paradise Forest Park or Yanoda Rainforest Park, which needs 0.5~1 day, is worthwhile. Besides, Nanshan Temple (0.5~1 day) with the world's largest statue of Avalokitesvara - Nanhai Guanyin is also recommended if you have a Buddhist faith or want to appreciate a religious savory. For travelers needing an in-depth tour, Binglanggu is a nice option for local minorities exploration!
☛ 4 Days Sanya Beach Resort Tour
☛ 6 Days In-depth Luxury Sanya Tour with Two Free Days
Want to escape the crowds and explore Hainan? Don't miss Haikou - the capital city with lots of culture fun. A classic Haikou tour takes about 2 days. The top highlights include informative Hainan Museum, old buildings in Qilou Old Street, Volcanic Crater Park, etc. Besides, you can spend 1~2 days exploring the undeveloped bays and uninhabited islands, 1~2 days appreciating the peaceful town of Boao and its unique natural landscapes, 1~2 days involving in the sunny homeland of minorities in Lingshui, etc.
Keep Reading About Sanya
Keep Reading About Hainan
Keep Reading About Sanya Hotels
Recommended Sanya Tours
Top 3 Sanya tours chosen by most customers to explore Sanya in the best way. Check the detailed itinerary, or tailor your own trip now with us.
Start planning your tailor-made holiday to China by contacting one of our specialists. Once inquired, you'll get a response within 0.5~23.5 hours.
Customize a Trip
Have a question? Get answers from our travel experts or guests
Your Question:

Your Name:

Your Email: