Top 7 Xining Attractions | Things to Do in Xining 2024
Xining, the capital of Qinghai province in northwestern China, is the largest city, the transportation and commercial hub in Qinghai. It is a melting pot for different nations such as Han, Hui, Mongolian, Tibetan and usually the first stop of your trip in Qinghai. In Xining city, you can appreciate the Tibetan treasures at museums and ancient monasteries. Or, you can drive further to meet the largest salt lake in the world, find the paradise for photographers in Chaka Salt Lake and explore the nearby Laoye Mountain and Riyue mountain... Here we have selected top 7 things to do in the main attractions in Xining to help you better explore this treasure city. If you want to travel to some of the places or have some other experience, feel free to tell us. We can customize a private Xining tour according to your own ideas and needs.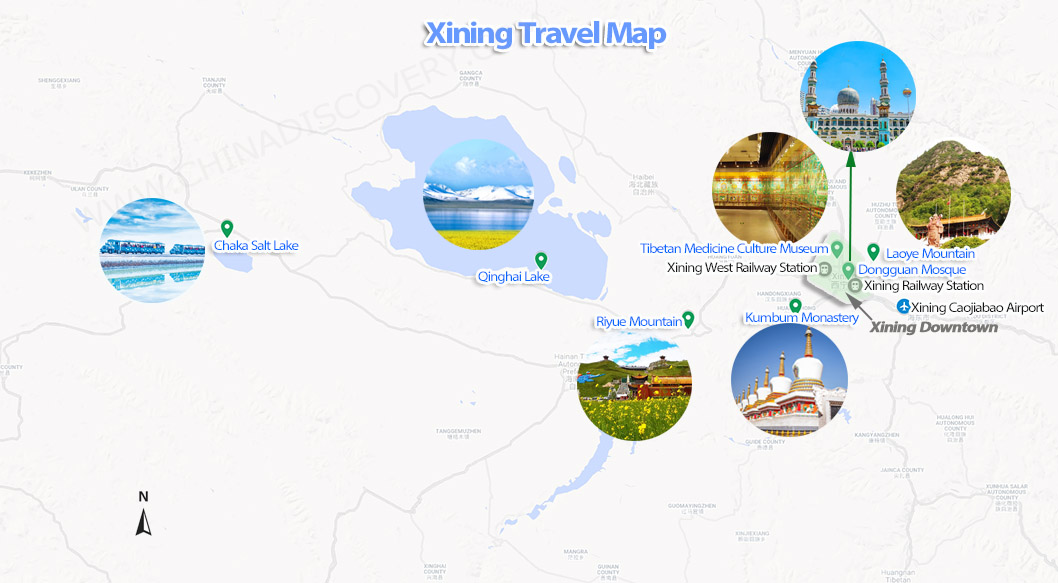 Xining Tourist Attractions Map (Click to enlarge)
No.1: Qinghai Lake - Refresh Yourself by the Largest Salt Lake Encircled with Golden Sea of Rapeseed Flowers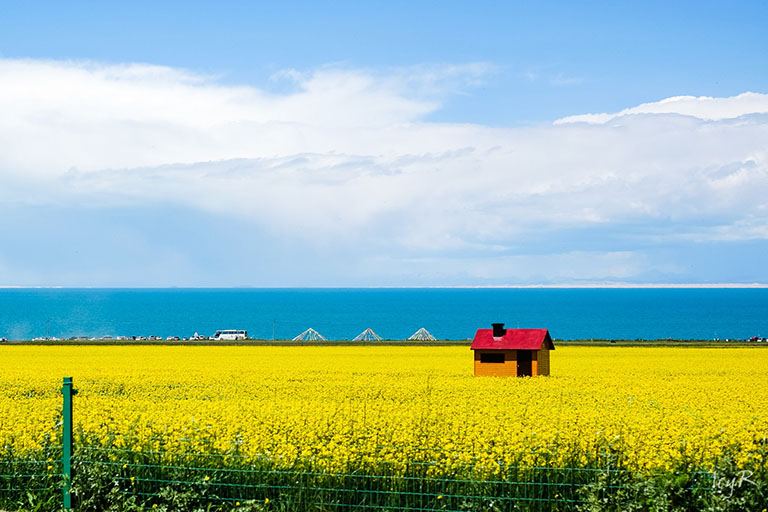 Qinghai Lake and Rapeseed Flowering Fields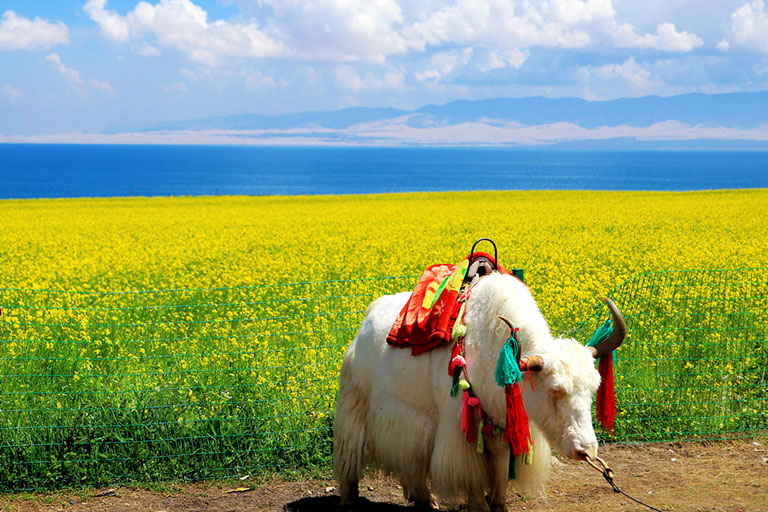 Yak by the Qinghai Lake
• Address: Gonghe County, Hainan Tibetan Autonomous Prefecture, Qinghai Province, China 共和县海南藏族自治州青海省
• Opening Hours: All Day
• Ticket: CNY 100 during Peak season and CNY 50 during off-season for Erlangjian Scenic Area
• Recommended Length of Visit: One day
About 145km from Xining, Qinghai Lake, or Koko Nor in Tibetan, meaning "Blue Sea", is located in the northeast of Qinghai Tibet Plateau and always traveled with Xining. It is formed by the collapse of the Qilian Mountains. It is a large inland lake in China and Qinghai Province is named after the lake.
The lake area is so vast, and the water is boundless and blue, attracting many birds. Around the lake is surrounded by mountains, and close to the lake is the grassland with refreshing scenery. Every summer, the lake is full of golden rapeseed flowers, which is very beautiful and spectacular. There are many areas opening for tourists, including the Erlangjian area - the essence of Qinghai Lake, Heimahe town - the amazing sunrise observation site, fair Bay Area - the sea of flowers, which are unmissable scenic spots for visiting Qinghai.
No.2: Chaka Salt Lake - Find the Purest Mirror of the Sky in China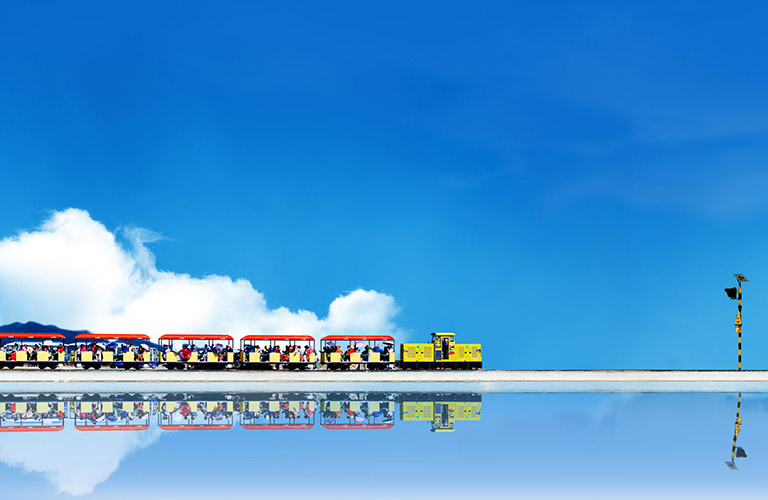 Sightseeing Train at Chaka Salt Lake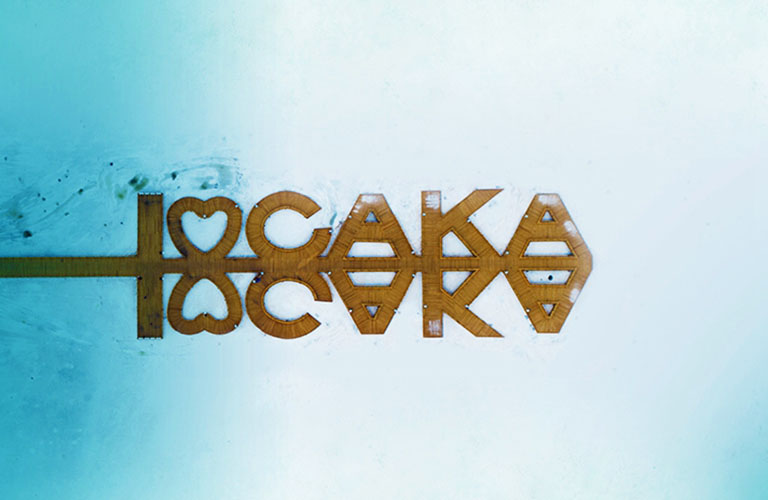 "I Love Caka" Platform
• Address: Yanhu Road, Chaka Town, Ulan County, Qinghai Province, China 青海省乌兰县茶卡镇盐湖路
• Opening Hours: 6:00 - 20:00 (Peak Season) 7:30 - 19:00 (Off-Season)
• Ticket: CNY 60 (Peak Season), CNY 30 (Off Season) - Entrance Fee; CNY 50 - Sightseeing Train for Chaka Salt Lake Scenic Area
• Recommended Length of Visit: One day
Known as "Mirror of the Sky" in China, Chaka Salt Lake is a lake with a naturally crystallized reflective white lake surface. It's only about 150km to Qinghai Lake and 300k to Xining. On a fine day, the scenery is very beautiful with simply blue sky, white clouds, and reflections on the lake. There are mainly two scenic spots in Chaka Salt Lake, namely Chaka Salt Lake scenic area and Sky No.1 scenic area. In the sculpture area of Chaka salt lake scenic spot, you can see about a dozen huge salt sculptures of important historical or mythical figures like Genghis Khan. In sky No.1 scenic spot, you can watch the outdoor show of Genghis Khan.
In both of the scenic areas of Chaka Salt Lake, there are some little sightseeing trains taking you to the deeper inner area of the lake, where the scenery is purer. It's a paradise for photographers. The sunrise, sunset, and starry sky are spectacular.
No.3: Kumbum Monastery - Meet Ancient Tibetan Temple with Delicate Butter Sculptures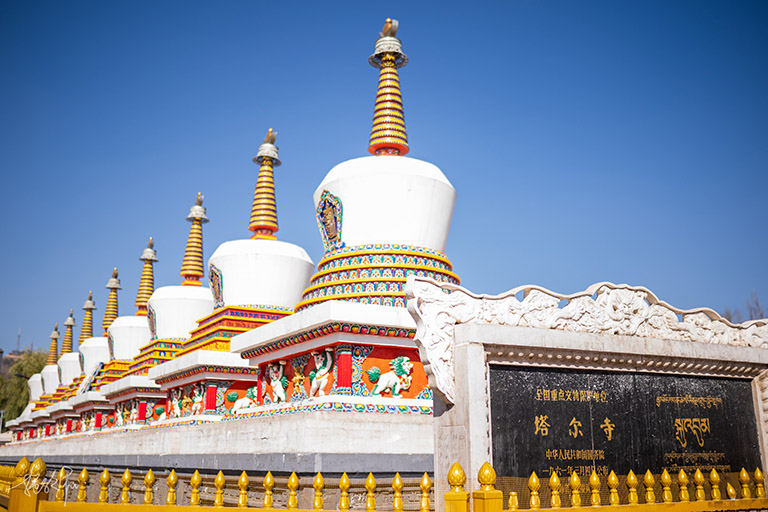 Kumbum Monastery Pagodas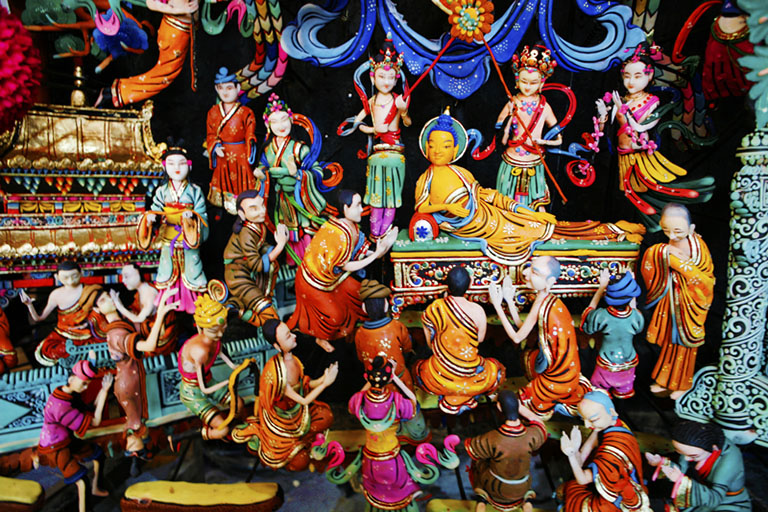 Kumbum Monastery Butter Sculptures
• Address: No.56, Jinta Road, Lushaer Town, Huangzhong District, Xining, Qinghai, China 西宁市金塔路56号
• Opening Hours: 07:30 ~ 18:30
• Ticket: CNY 70 (April ~ October); CNY 40 (November ~ March)
• Recommended Length of Visit: 2 hours
Kumbum Monastery, aka Ta'er Monastery, is one of the six major temples of the Gelug Sect of Tibetan Buddhism in China, and also the birthplace of the second important Buddha Lama Tsong Khapa master in the world. With a history of more than 400 years, it is one of the most popular tourist destinations in Xining. The architecture itself is very magnificent with many believers in and out. The lifelike butter sculptures, colorful murals, and embroidery are known as the "three unique arts of Kumbum Monastery". There are also many Buddhist classics and academic monographs on history, literature, philosophy, medicine, and legislation. Kumbum Monastery is an ancient architectural complex composed of many halls, rooms, pagodas distributed on a small hill. At present, there are more than ten courtyards and halls opening to tourists.
No.4: Dongguan Mosque - Explore the Largest Mosque in Qinghai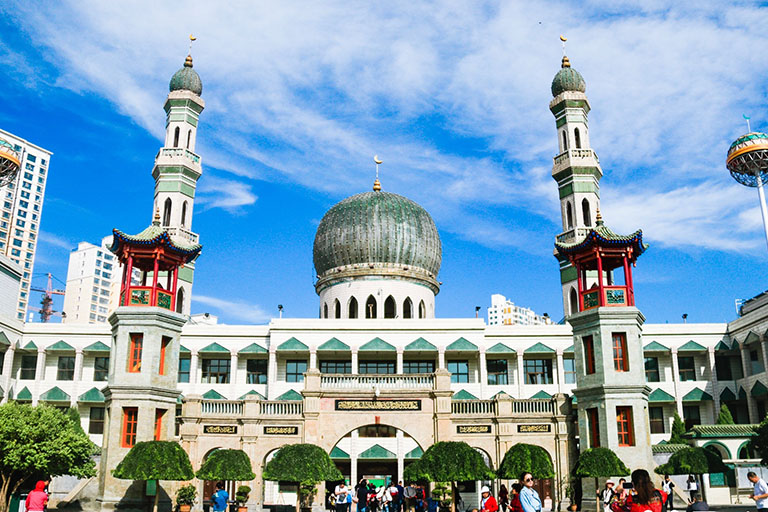 Dongguan Mosque in the daytime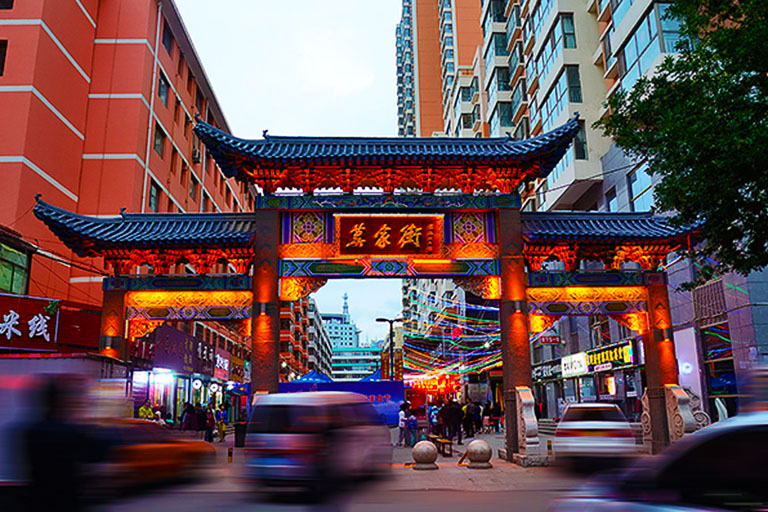 Entrance of Mojia Street
• Address: No.34, Dongguan Avenue, Chengdong District, Xining, Qinghai, China 西宁市城东区东关大街34号
• Opening Hours: 8:00~18:00 (Monday ~ Thursday & Saturday ~ Sunday); closed until 15:00 on every Friday for Juma
• Ticket: Free Admission
• Recommended Length of Visit: 2 hours
Dongguan Mosque is the largest mosque in Qinghai Province. It has magnificent architecture, in Han and Tibetan styles. It is a popular photo site for tourists in Xining city. The current building here was built in 1913. Just standing outside the mosque, you can see a magnificent arched building. This is the gate tower of the mosque. There are two minarets on both sides. Inside, there are several Chinese-style palaces. The top of the palace has a Tibetan Buddhist-style roof, which is very unique. Many believers come to worship here every day, and you can feel the strong religious atmosphere.
Not far from the mosque is the famous Mojia street. It is one of the ancient streets in Xining and also a famous food street in Xining. It's very popular among tourists who come to admire famous Qinghai local snacks such as Mazhong brewed skin, mutton noodles, yogurt, sweet fermented grains, and other special food in Xining, as well as food and snacks from all over the country.
☛ 6 Days Xining and Lhasa Train Tour
No.5: Qinghai Tibetan Medicine & Culture Museum - Marvel at the Ancient Tibetan Treasures and Thangka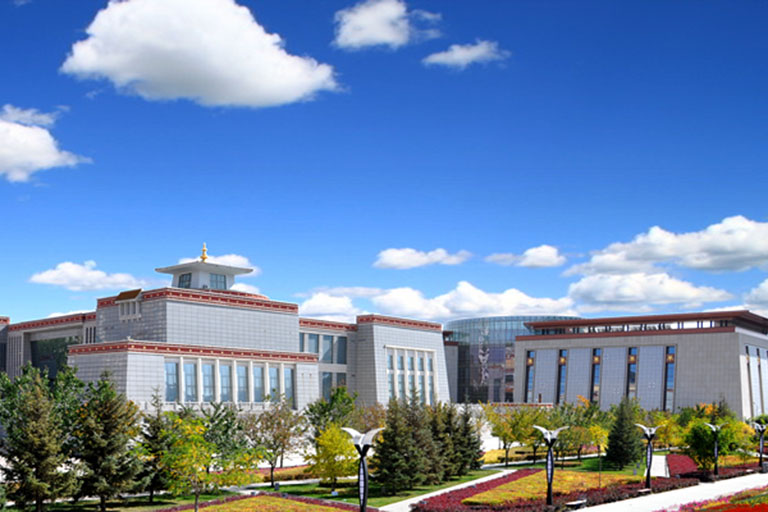 Qinghai Tibetan Medicine & Culture Museum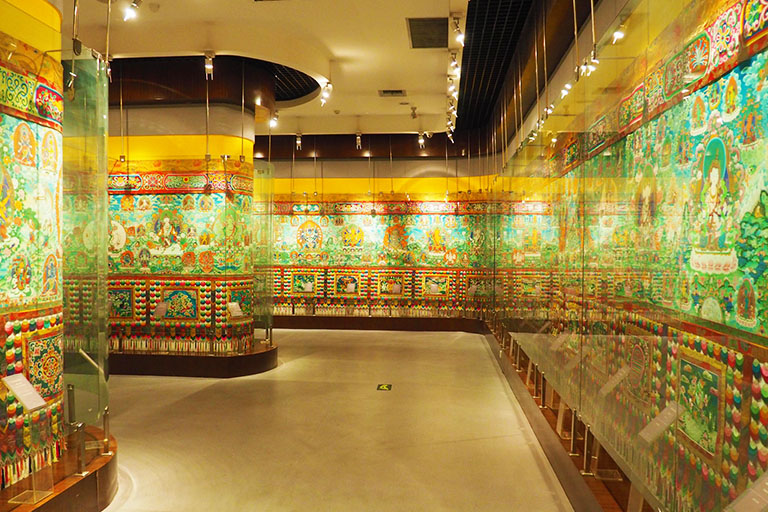 Exhibits at Qinghai Tibetan Medicine & Culture Museum
• Address: No.36, Jinger Road, Xining Biotechnology Industrial Par, Qinghai 西宁市生物科技产业园区经二路36号
• Opening Hours: 9:00 - 18:00 (May to Sept); 9:00 - 17:00 (Oct to April)
• Ticket: Free Admission for Permanent Exhibits; Online Reservation Before Entry
• Recommended Length of Visit: 2 hours
Qinghai Tibetan Medicine & Culture Museum has a rich collection, a long history, and various exhibits. It has a collection of 50000 cultural relics, including 158 national first-class cultural relics and 2003 national precious cultural relics. The overall structure of the Qinghai Tibetan medicine culture museum is divided into three floors, one underground floor, and two above-ground floors, and four series, namely ancient books and documents, Tibetan Tangka, ancient Tibetan medicine medical equipment, and Tibetan medicinal materials. It can be said that this museum is the epitome of Tibetan culture. The rich exhibits describe the development history of Tibetan medicine in detail. The exhibition hall of Tibetan carpets is the largest exhibition of ancient carpets in China. More than 400 pieces of Tibetan carpets in different periods and ages are displayed, with magnificent patterns and vivid colors. It has a unique national style and local characteristics. The Thangka, which is recorded in the Guinness Book of records, is truly stunning to see. The 618 meters long and 2.5-meter wide Thangka is elaborately painted with precious pigments such as gold powder, jade, and coral, which is really amazing.
No.6: Mount Laoye - Take A Hike on the Closest Mountain to Xining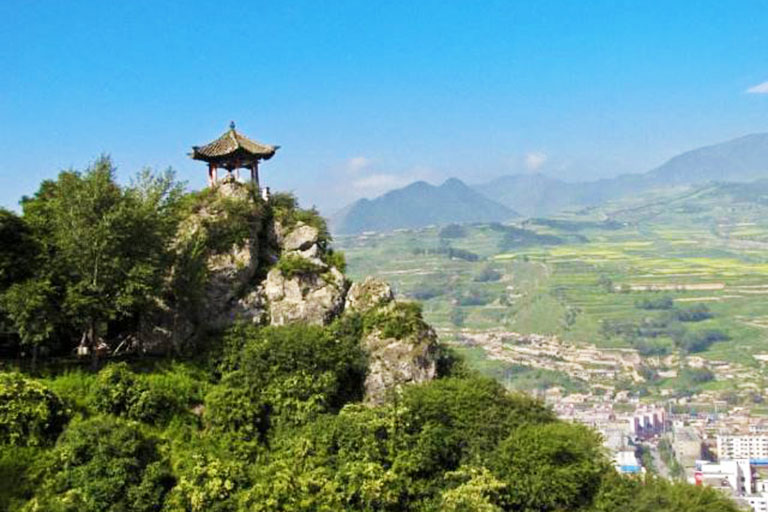 Mount Laoye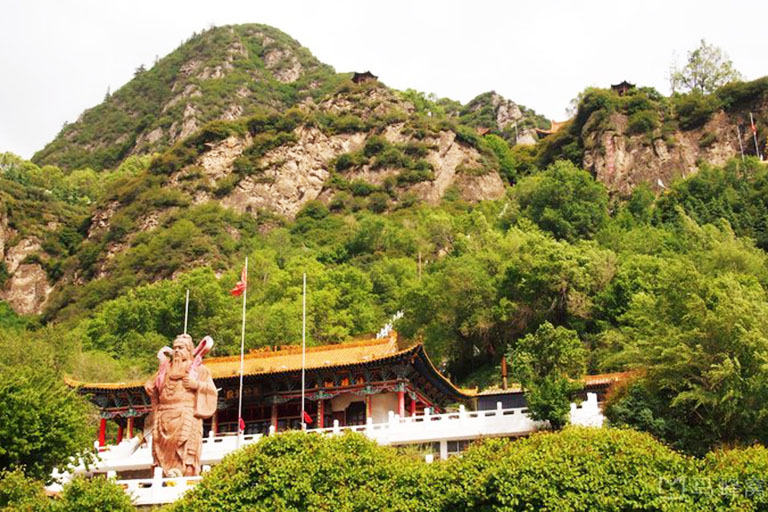 Entrance of Mount Laoye
• Address: Beichuan River, Qiaotou town, Datong County, Xining City, Qinghai 西宁市大通县桥头镇的北川河畔
• Opening Hours: 08:30-18:00
• Ticket: CNY 30
• Recommended Length of Visit: One day
Laoye Mountain is located in the east of Datong County, also known as BeiWudang Mountain and Yuanshuo mountain. It is steep and beautiful with many vegetation and beautiful scenery; There are many ancient temples and architectural sites to visit in the mountains, which is a good place for mountain climbing and sightseeing near Xining. If you start from Xining to visit Laoye Mountain, one day is enough. Laoye Mountain is 2928 meters above sea level. It takes 2-3 hours to hike one way uphill, and the whole journey takes about 4-5 hours. The charm of visiting Laoye Mountain is to enjoy the beautiful peaks, caves, and canyons, especially the south slope of Laoye Mountain; At the top of the mountain, there are Taiyuan Palace (Guandi Temple) and some temples and sites, which are historic sites that can be visited; In addition, in the process of Mount Laoye hiking, you can also overlook the whole Datong City, with a broad vision and a pleasant feeling.
No.7: Sun and Moon Mountain - Stop by the Picturesque Mountain and Slow down Your Journey Pace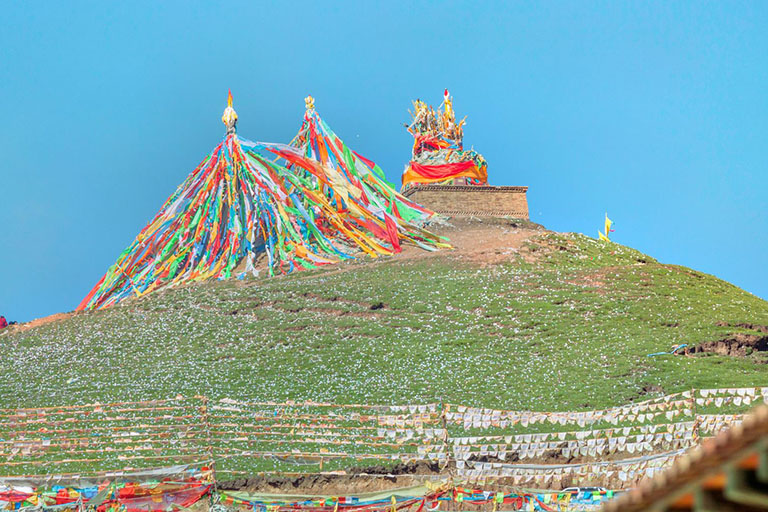 Peaceful Sun and Moon Mountain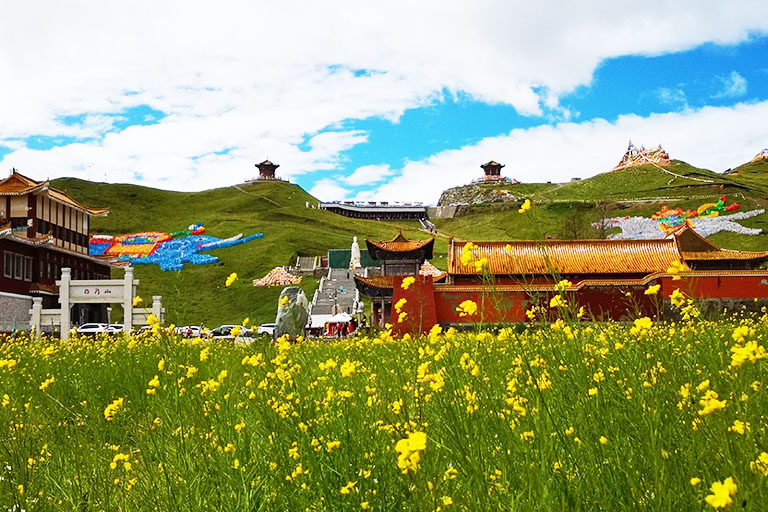 Sun Pavilion and Moon Pavilion
• Address: 40 km southwest of Huangyuan County, Xining City, Qinghai 西宁市湟源县西南40公里处
• Opening Hours: 08:00-17:00
• Ticket: CNY 40
• Recommended Length of Visit: 2-3 hours
Riyue Mountain, aka Sun and Moon Mountain, is located on the road from Huangyuan to Qinghai Lake, which is also the only way for Qinghai to Tibet. It is said that when Princess Wencheng came to Tibet, she broke a stone mirror. It was divided into two parts in the shape of the sun and the moon. That is how the mountain was named. There is a small peak on both sides of the pass of Riyue mountain, and two landmark buildings, namely the Sun pavilion and Moon pavilion. Tourists usually pass by Riyue mountain when they go to Qinghai Lake from Xining. The grassland here is luxuriant, and there are many prayer flags flying in the wind. The scenery is very beautiful. There are also services such as riding yaks and taking pictures in Tibetan clothes in the scenic area, which need extra charge. Tourists can stop by and take photos on the hillside when passing through Riyue mountain.
How to Plan a Xining Trip
How to Get to Xining: You can fly to Xining from Beijing (2.5h), Shanghai (3h), Guangzhou (3h15min), Lhasa (2-3.5h), Xian (1.5h), etc. or take a bullet train to Xining from Xian (4-5h), Lanzhou (1h10min-1.5h), Zhangye (2h), Jiayuguan (3.3.5h), Dunhuang (6h), etc.
Best Time to Visit Xining: Months from May to October are the best because the temperature is moderate and comfortable.
Where to Stay in Xining: Xining downtown is most recommended. If you are going to visit Qinghai Lake or Chaka Salt Lake, you can also choose the hotels nearby.
Xining is the starting point and transfer center for a Qinghai tour. It's suitable to spend 1 day discovering the top attractions in Xining, including the Kumbum Monastery, Dongguan Mosque, Tibetan Medicine & Tibet Culture Museum. The vast and beautiful Qinghai Lake, about 2.5 hours' drive from Xining is the No.1 must-visit attraction. You can spend one day here appreciating the water scenery, hiking or biking along the lake or taking a Qinghai Lake cruise (cruise is only available from May to October). With one more day, you can expand trip to the Chaka Salt Lake, known as Mirror of the Sky for its stunning reflected natural landscape on the salt lake. Another day is needed. Usually, people take 3~4 days to visit the three destinations together to explore the cultural and natural highlights of Qinghai.
☛ 3 Days Qinghai Short Stay Tour
☛ 4 Days Enchanting Qinghai Lake Chaka Salt Lake Tour
With short driving distance, there are a few less-known but incredible destinations you can visit, such as the Tongren with authentic Amdo Tibetan Buddhist culture and famous Regong Arts, Kanbula National Forest Park with magnificent Yellow River and Danxia landform. If you're interested and have more time, you can continue the Buddhist cultural trip to Xiahe (Labrang Monastery) and Linxia (Bingling Temple) in southern Gansu.
☛ 4 Days Qinghai Lake Kanbula National Forest Park Geographic Wonders Tour
☛ 4 Days Qinghai Lake Landscape Tour plus Tongren Authentic Tibetan Culture & Art Exploration
☛ 5 Days Amdo Tibetan Culture Experience Tour
Northwest and southwest China are mysterious lands full of natural beauty and cultural charms. Tourists often make a long trip from Qinghai to neighboring Zhangye (Rainbow Mountains), Jiayuguan, Dunhuang (Mogao Caves) of Gansu along the Silk Road, or make a Sky Train trip to "Roof of the World" - Tibet, visit Potala Palace, Mount Everest, Namtso Lake..., or explore Badain Jaran Desert in Western Inner Mongolia, go further to Urumqi, Turpan and more destinations in Xinjiang and travel land to Jiuzhaigou, Ruo'ergai of Sichuan.
☛ 7 Days Qinghai Lake Zhangye Danxia Badain Jaran Desert Wonders Tour
☛ 6 Days Xining to Lhasa Train Tour by Qinghai Tibet Railway
☛ 6 Days Xining to Lhasa Train Tour by Qinghai Tibet Railway
☛ 12 Days Epic Silk Road Tour including Qinghai Lake and Zhangye Danxia
You can choose from our most popular Qinghai tour packages covering excellent sightseeing and the best local experiences. As an experienced and professional China travel agency, China Discovery also offers customized tour service to help you design a unique trip on your own. Just contact us, tell us your schedule and preferences, we will create a memorable China Qinghai tour for you.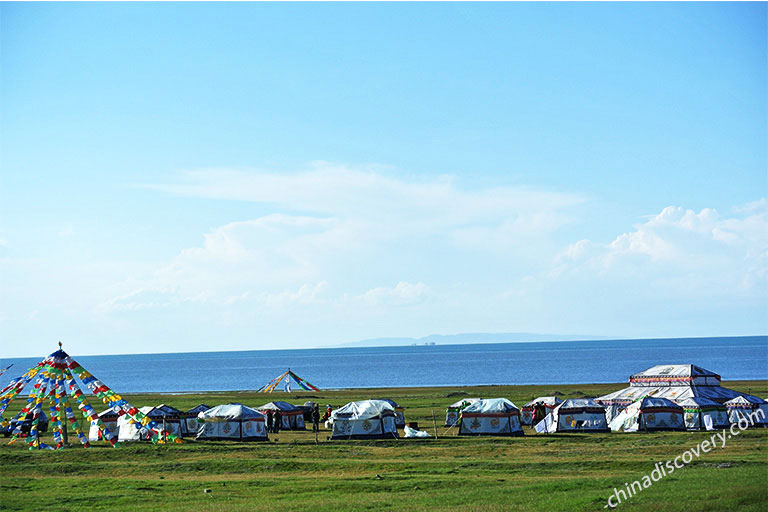 Erlangjian Scenic Area in Qinghai Lake
Tibetan Monks in Rongwo Monastery of Tongren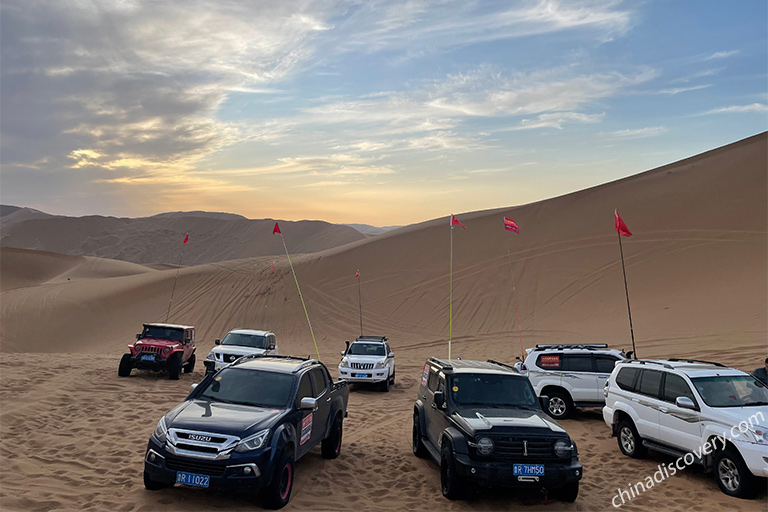 Badain Jaran Desert Jeep Safari
Xining to Lhasa Train on the Qinghai Tibet Railway
Keep Reading About Xining
Keep Reading About Qinghai Attractions
Keep Reading About Qinghai Tours & Travel Guide
Recommended Xining Tours
Top 3 Xining tours chosen by most customers to explore Xining in the best way. Check the detailed itinerary, or tailor your own trip now with us.
4 Days Enchanting Qinghai Lake Chaka Salt Lake Tour

Xining / Qinghai Lake / Chaka Lake / Xining
8 Days Qinghai Lake Zhangye Danxia Badain Jaran Desert Wonders Tour

Xining - Zhangye - Badain Jaran Desert
4 Days Qinghai Lake Landscape Tour Plus Tongren Authentic Tibetan Culture and Art Exploration

Xining / Qinghai Lake / Tongren / Xining
Start planning your tailor-made holiday to China by contacting one of our specialists. Once inquired, you'll get a response within 0.5~23.5 hours.
Customize a Trip
Have a question? Get answers from our travel experts or guests
Your Question:

Your Name:

Your Email: