Brief Impression of Kumbum Monastery
Kumbum Monastery is called Kumbum Jampa Ling in Tibetan, which means a supreme Buddhist temple with one hundred thousand lions' roar Buddhist images (a kind of Sakyamuni incarnations). Located in the southwestern suburb of Xining, the gompa (temple) is a very sacred Tibetan Buddhist temple, a national AAAAA tourist attraction and the top must-visit site in Xining.
The Tsongkhapa (founder of Gelug Sect) was born here and many successive liner holders, Dalai Lamas and Panchen Lamas once conducted religous events in this monastery too. Meanwhile, this large architectural complex is famed for the distinguished "Three Arts", harmonious combination of Tibetan and Han style buildings and a wealth of precious Buddhist scriptures and academic monographs. It was listed in "the Six Greatest Monastery of Tibetan Gelug" and respected as a holy religious center of Tibet Buddhism in northwest China. It even enjoys a high prestige all over China and the Southeast Asia. You can not only view outstanding Buddhist buildings, but also can sense the Tibetan Buddhism and catch a glimpse of Tibetan art and culture.
The History of Kumbum Monastery
Different from most Buddhist temples, Kumbum Monastery was buildt after a pagoda. According to Buddhist legend, Tsongkhapa was born in an eight petals-like col in Xining in 1357. When his mother cut the funicle, a sandalwood tree (the "Tree of Great Merit") grew from where the blood dropped. The three has one hundred leaves and each one grew into a Buddhist image. To further study Buddhism, Tsongkhapa went to Tibet at the age of 16. Six years has passed, his monther missed hims so much that she wrote a letter to ask him return hime. However, Tsongkhapa stayed in Tibet for continous learning, replied with a self-portrait and a Lions' Roar Buddhist image and told his mother that she can build a pagoda on where he was born. Seeing the pogoda is equel to see himself. Hence, in the second year (1379, period of Hongwu Emperor of Ming Dynasty), his mother and followers built Julian Pagoda.
In the following 180 years, the pagoda went through many reconstructions and repairs. Later, lots of Buddhist halls, sculptures and colleges have been added successively, and it formed a monastery in 1612 officially. During the Qing Dynasty, the goverment frequently awarded Kumbum Monastery Buddhist statues, stupas, Dharma vessels, Sutras, etc. In its heyday, the temple housed 3,600 monks and 80 rinpoches.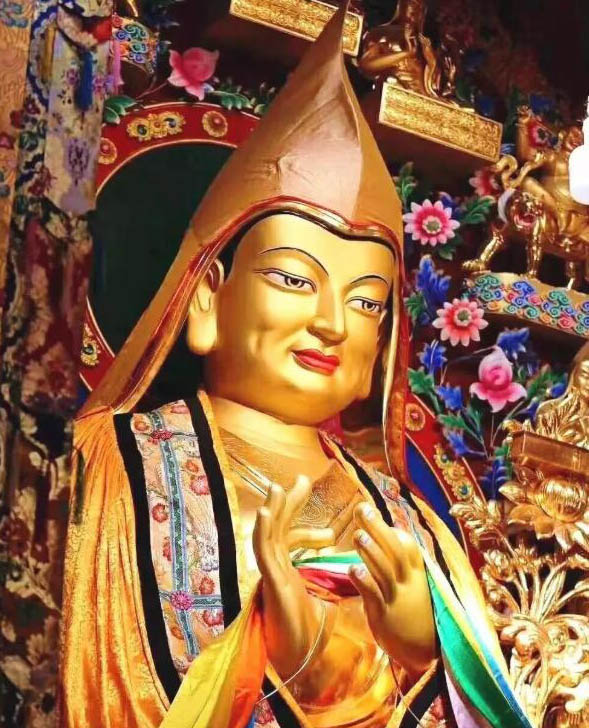 Tsongkhapa - Founder of Gelug School of Tibetan Buddhism
Top Attractions & Things to Do in Kumbum Monastery
Covering an area of 143 hectares, Kumbum Monastery currently preserves more than 10, 000 buildings, including monks' livings, 52 halls and various Buddhist architectures and over 100,000 pieces of cultural relics. The best highlights of Kumbum Monastery includes enjoying various Tibetan style buildings, admiring the exquisite "Three Arts", watching distinctive Buddhist scriptures debating and attending grand Buddhist fairs.
Enjoy Various Tibetan Style Buildings
Pagodas of Buddha Shakyamuni 八宝如意塔
The Eight Pagodas of Buddha Shakyamuni are typical Tibetan Pagodas originally built in 1776 to commemorate the eight merits and virtues of Buddha Shakyamuni. Located in the front square, this group is one of the most representative buildings of Kumbum Monastery. With different shapes and sizes, the eight pagodas share the same height of 6.4 meters. The body of pagodas is colored in white and the 5.7-square-meter base is piled up by colorful bricks. You can see the waist of each pagoda is decorated with delicate scriptures and beautiful patterns and many standing lions. In the south body of Pagoda is a niche with Sanskrit. There are thousands of small Buddhist statues and sorts of Sutras and Buddhist objects, including the tent and stuffs used by Tsongkhapa.
Grand Golden Tiled Hall 大金瓦殿
The Grand Golden Tiled Hall, built in 1379, is the main hall and the grandest hall situated in the heart of Kumbum Monastery. The whole building is extremely well-designed, three-eave gable and hip roof palace with glazed tile walls and gilded copper tile roofs. Each brim is embellished with gilded cloud-shape flowers and petals of lotus, and you can find guardian warriors, sacred animals and bronze bells in every corner of the eaves. Stepping in, an 11-meter tall golden coated tower cored by white sandalwood and bedecked by various treasures is worshiped. In the niche on the top of the tower stands the statue of Tsongkhapa. This golden tower is the treasure of Kumbum Monastery, and Buddhists believe that meeting the tower means meeting the master Tsongkhapa.
Dhammapala Hall 小金瓦殿
Dhammapala Hall, also named the Small Golden Tiled Hall, was constructed in 1692. It is famous and attractive for housing the Dhammapala who always exorcised the evil spirits. This is a two-story building with single eave and gilded bronze-tile covered roof. It shows its own beauty with outsider walls installed with bronze mirror and adorned with hemp cords. The two corridors are lined with lively specimen of oxen, antelopes, monkeys, orangutans, tigers, bears and leopard which are saddle mounts of Dhammapala and shows the stateliness and omnipotence of Dhammapala. On the left side of the hall is the specimen of a white horse which is said to be the horse of Dalai Lama Ⅲ.
Main Assembly Hall 大经堂
The Main Assembly Hall is a place where the Buddhists gather to recite the sutras and important Buddhist activities are held. Primitively built in 1621, burnt in 1912 and rebuilt in 1913, this hall became the largest building occupying nearly 2,000 square kilometers. All the ornaments in Main Assembly Hall are very elegant, including colored sutra streamers, caisson in the ceiling, and valuable barbola of Buddha. According to religions guide and Tibetan traditional art, this monotonous flattop is added with gild bronze Aquarius, cleverish pagoda and inverted bells and turns to be colorful and bright but still solemn.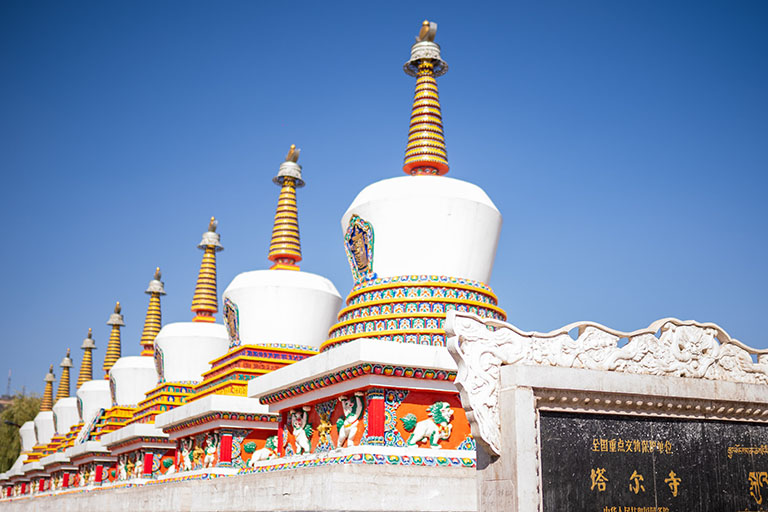 Eight Pagodas of Buddha Shakyamuni
Grand Golden Tiled Hall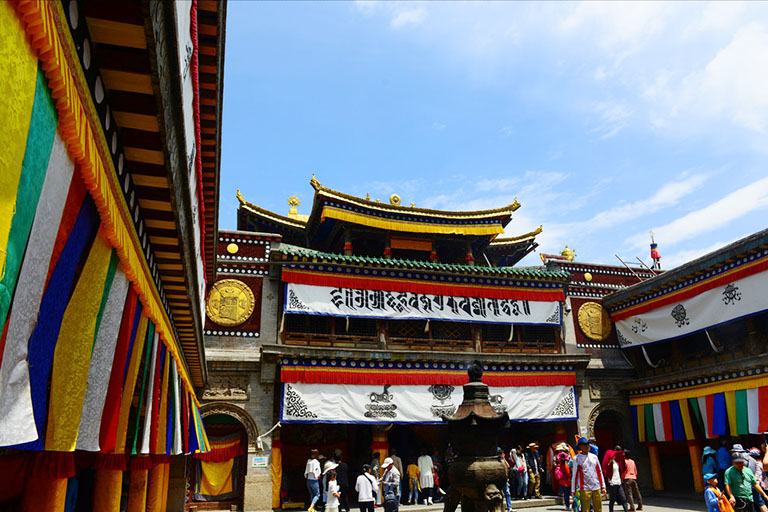 Dhammapala Hall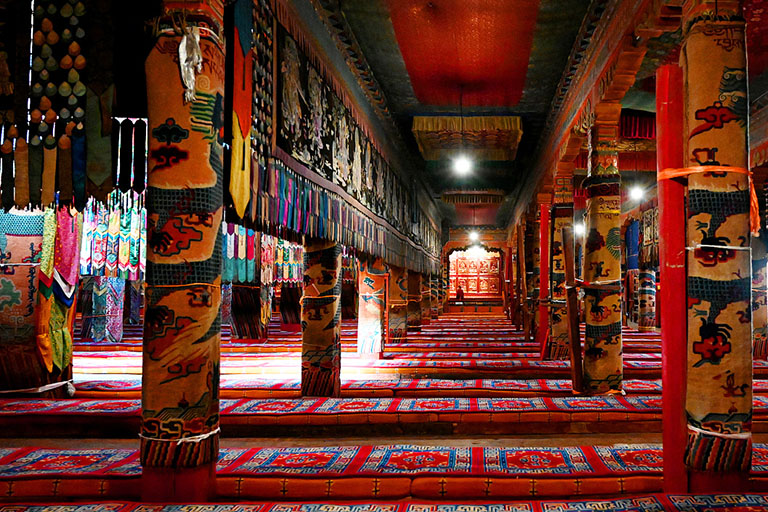 Main Assembly Hall
Admire the Charm of Three Best Arts
Yak Butter Sculptures of Buddha, Murals and Barbola are honored as the Three Artistic Wonders in Kumbum Monastery. They present fantastic craftsmanship and more importantly impress visitors the devout faith of Buddhism.
1.Vivid Yak Butter Sculptures
Yak Butter Sculptures were produced in Tibet initially. There were no fresh flowers offered to Buddha in the cold winter, so the disciples made flowers by yak butter to show their respect. The skill of making Butter Sculpture was brought to Kumbum Monastery and developed by the Buddhists after their painstaking research, and finally became a superb art.
In Yak Butter Scripture Hall (酥油花馆), you can satisfy your eyes with a full view of the fine sculptures of statues of Buddha, human figures, landscape, pavilions, animals and plants. In order to make excellent Butter Sculpture, the workers have to immerse their hands in the cold water even in freezing winter. An exhibition takes place in every 15th January of Chinese lunar calendar after three months' preparation. At this time, you can appreciate a variety of Yak Butter Sculptures as well as respectful and solemn music played by a local band. Kumbum Monastery has two institues specilize in making the sculptures and the monks start from 15 years old and go in for it lifelong.
2.Imaginative Barbola
Barbola is an exclusive folk art in Kumbum Monastery. As the crystallization of the wisdom, it is highly glorified by Buddhist followers and prized by the social artists. It enjoys a great three-dimensional sense in that raised pattern are embroidered in the cloth. The theme of Barbola focus on the activities of Buddha mainly mixed with appropriate figures, animals and plants. Being fine carved, colorful and lively style, Barbola works are important treasures in Kumbum Monastery. In the Main Assembly Hall, you can feast your eyes on gorgeous Barbola especially the greatest "sixteen disciples of the Buddha" and "Eight Immortals Crossing the Sea".
3.Exquisite Murals
Some of the murals are drawn on the wall directly, but most of the murals are drawn on a cloth and fixed on the wall. These murals in Kumbum Monastery show a vivid and brilliant color and the color is long-lasting for the special mineral material chosen. In addition to harmonious color, the pictures have an ingenious design and well layout. Distinguished with paintings of Han Nationality, most of the murals have drawn materials from Buddhist sutra, legendary, life experience of Shakyamuni or other images of Buddha. As a result, you can feel a strong religious atmosphere from them. In every Sutra-viewing Festival, the Buddhists will put an about 30-meter-long cloth with giant Buddha high on the hills, calling Giant Buddha Exhibition.
Colorful Lifelike Yak Butter Scuptures
Aesthetic Barbola with Intricate Patterns
Pretty Mural of Buddhist Figure
Watch Buddhist Scriptures Debating
Buddhist Scripture Debating is a typical way for monks in Kumbum Monastery to study Buddhist Scriptures and one of the daily tasks of the monks. The debating scenes differed among circles. In some group, the pair of debating monks confronted face to face, with the questioner standing and the responder sitting cross-legged; while the other groups placed the questioner in the center while the rest sitting in a semi-circle. According to the convention, the questioners keep asking until on one can raise one more, and the responder can only answer but not ask back. It seems like a furious debate of wisdom.
The Buddhist Scripture Debating always begins in 3:00 pm or 4:00 pm. Afterwards, the participants will chant scripture and study together.
Attend Grand Buddhist Fairs
Kumbum Monastery hold four big dharma assemblies annually in the first, fourth, sixth and ninth month of Chinese lunar calendar. There are both traditional Buddhist festivals and grand Buddhist events for Kumbum Monastery. During the festivals, many Buddhist activities will he held, like the Buddhist scripture debating, Mask Dance, Buddhist Sutras chanting, Thangka painting exibition, praying, alms giving, etc. During the fairs, you can see monks wearing featured masks and colorful costumes, expressing Buddhist teachings by exaggerated gestures and moves and some monks accompanied by cymbals and suonas. A giant delicate Thangka painting of Tsongkhapa will be unfolded down the mountain side. Buddhists believe that seeing the Thangka means seeing the master.
Buddhist Scripture Debating
Thangka Exhibition during the Buddha Festival
How to Get to Kumbum Monastery in Xining?
Where is Kumbum Monastery Located?
Kumbum Monastery is located at No.56, Jinta Road, southwest of Lushaer Town, Huangzhong District, southwest outskirt of Xining, Qinghai, China 中国青海省西宁市湟中区鲁沙尔镇西南金塔路56号. If you plan to visit Kumbum Monastery, you need to get to Xining first when you are not in Qinghai. If you plan to travel from other destinations in Xining or Qinghai, check the detailed transportation guide below.
Distance & Traffic Time for Getting to Kumbum Monastery
● Xinning Caojiabao International Airport (XMN) - Kumbum Monastery: about 55 km, 1 hour by car; at least 3 hours by public transport (airport bus with additional buses)
● Xining Railway Station - Kumbum Monastery: about 35 km, 50 minutes ~ 1 hour by private car, 2 hours by Xining city bus
(By Bus: There are buses running from Xining Railway Station to Huangzhong Bus Station, which takes about 1 hour. The bus terminal is only 2 km from Kumbum Monastery. So, you can either take a 10-minute taxi or a 30-minute bus to the monastery.)
● Downtown Xining - Kumbum Monastery: about 28 km, 40 minutes' drive, 1.5 hours by Xining city bus (the fastest bus is Bus 909)
(By Bus: Xining Xinninglu Bus Station (西宁市新宁路汽车站) and Xining Guanlizhan Bus Station (西宁市管理站公交车站) in downtown Xining also departs direct buses to Kumbum Monastery frequently. The former route needs about 1 hour and the latter takes around 40 minutes. )
● Dongguan Great Mosque - Kumbum Monastery: about 30 km, 50 minutes by car, more than 1 hour 40 minutes by Xining city bus (the fastest bus is Bus 909)
● Tibetan Medicine & Tibet Culture Museum - Kumbum Monastery: about 30 km, 1 hour by car, around 2.5 hours by city bus (extra transfer is needed)
● Qinghai Lake - Kumbum Monastery: about 150 km, 2.5 hours by private car
● Chaka Salt Lake - Kumbum Monastery: nearly 300 km, 4 hours by private car
Kumbum Monastery Location Map (Click to Enlarge)
Kumbum Monastery Tourist Map (Click to Enlarge)
Popular Attractions to Travel with Kumbum Monastery
Highlights: the biggest inland lake & the largest saltwater lake in China, the most beautiful lake in China with azure blue water and sky, white floating clouds, vast golden sea of rape flowers and grassland ashore, rolling mountains afar.
Location: Gonghe County, Hainan Tibetan Autonomous Prefecture, Qinghai; about 150 km, 2.5 hours' drive from Kumbum Monastery
Ticket: 89 RMB
Recommended Visiting Time: 1 ~ 2 days
Highlights: incredible Mirror of the Sky in China, peaceful crystal salt lake with gorgeous reflection of sky, clouds and snow-capped mountains around; real lake train journey in the Spirited Away by Hayao Miyazaki.
Location: No.9, Yanhu Road, Chaka Town, Ulan County, Haixi Tibetan Autunomous Prefecture, Qinghai; about 300 km, 4 hours' drive from Kumbum Monastery
Ticket: 30 RMB (50 RMB per person for a one-way train ride)
Recommened Visiting Time: 0.5 ~ 1 day
▶ Tibetan Medicine & Tibet Culture Museum
Highlights: the world's only comprehensive museum introducing different Tibetan culture; a good place for learning the history of development of Tibetan medicine, excellent pharmacists and surgical instruments painted on a 618-meter-long, 2.5-meter-wide Thangka painting.
Location: No.36, Jing'er Road, Biotechnology Industrial Park, Chengbei District, Xining, Qinghai; about 30 km, 1 hour's drive of Kumbum Monastery
Ticket: Free Admisson, 60 RMB for Exhibition Hall of the Giant Thangka
Recommended Visiting Time: 1 ~ 2 hours
Highlights: one of the four greatest mosques in northwest China and the largest, oldest mosque in Qinghai; a distinctive Islamic architecture complex of green-colored towers, walls and halls.
Location: No. 34, Dongguan Avenue, Xining, Qinghai; about 26 km/ 30 mins' drive from Xining Caojiabo International Airport, only 2 km, 10 minutes' drive from Xining Railway Station, approximately 30 km, 45 minutes ~ 1 hour's drive from Kumbum Monastery
Ticket: Free Admission
Recommended Visiting Time: 1 hour
Beautiful Qinghai Lake
Chala Salt Lake - Mirror of Sky
Tibetan Medicine & Tibet Culture Museum
Featured Buildings of Dongguan Mosque
Essential Tips and Etiquettes for Visiting Kumbum Monastery
Wear suitably to protect from strong sunlight, but do not wear hat or sunglasses when visiting inside the chapels. It is also not suitable to wear skirts as well.
Follow the Buddhist manners: talk in low voice, always be respectful of others, reflect on the Buddha's teachings and keep quiet when visiting...
When visiting this sacred religious site, no photography is allowed in the Kumbum Monastery. Inside the temple, there are many related signs you can see as reminding.
Regular tourists, other than believers, can light butter lamp instead of buring burn joss sticks.
Don't touch the Buddhist statues and sutras and walk across on them. Don't point your fingers at the Buddha statues, if necessary, put your fingers close together.
Turn the prayer wheel from left to right.
Don't touch the head and hat of the Tibetans.
How to Plan a Xining Trip
How to Get to Xining: You can fly to Xining from Beijing (2.5h), Shanghai (3h), Guangzhou (3h15min), Lhasa (2-3.5h), Xian (1.5h), etc. or take a bullet train to Xining from Xian (4-5h), Lanzhou (1h10min-1.5h), Zhangye (2h), Jiayuguan (3.3.5h), Dunhuang (6h), etc.
Best Time to Visit Xining: Months from May to October are the best because the temperature is moderate and comfortable.
Where to Stay in Xining: Xining downtown is most recommended. If you are going to visit Qinghai Lake or Chaka Salt Lake, you can also choose the hotels nearby.
Xining is the starting point and transfer center for a Qinghai tour. It's suitable to spend 1 day discovering the top attractions in Xining, including the Kumbum Monastery, Dongguan Mosque, Tibetan Medicine & Tibet Culture Museum. The vast and beautiful Qinghai Lake, about 2.5 hours' drive from Xining is the No.1 must-visit attraction. You can spend one day here appreciating the water scenery, hiking or biking along the lake or taking a Qinghai Lake cruise (cruise is only available from May to October). With one more day, you can expand trip to the Chaka Salt Lake, known as Mirror of the Sky for its stunning reflected natural landscape on the salt lake. Another day is needed. Usually, people take 3~4 days to visit the three destinations together to explore the cultural and natural highlights of Qinghai.
☛ 3 Days Qinghai Short Stay Tour
☛ 4 Days Enchanting Qinghai Lake Chaka Salt Lake Tour
With short driving distance, there are a few less-known but incredible destinations you can visit, such as the Tongren with authentic Amdo Tibetan Buddhist culture and famous Regong Arts, Kanbula National Forest Park with magnificent Yellow River and Danxia landform. If you're interested and have more time, you can continue the Buddhist cultural trip to Xiahe (Labrang Monastery) and Linxia (Bingling Temple) in southern Gansu.
☛ 4 Days Qinghai Lake Kanbula National Forest Park Geographic Wonders Tour
☛ 4 Days Qinghai Lake Landscape Tour plus Tongren Authentic Tibetan Culture & Art Exploration
☛ 5 Days Amdo Tibetan Culture Experience Tour
Northwest and southwest China are mysterious lands full of natural beauty and cultural charms. Tourists often make a long trip from Qinghai to neighboring Zhangye (Rainbow Mountains), Jiayuguan, Dunhuang (Mogao Caves) of Gansu along the Silk Road, or make a Sky Train trip to "Roof of the World" - Tibet, visit Potala Palace, Mount Everest, Namtso Lake..., or explore Badain Jaran Desert in Western Inner Mongolia, go further to Urumqi, Turpan and more destinations in Xinjiang and travel land to Jiuzhaigou, Ruo'ergai of Sichuan.
☛ 7 Days Qinghai Lake Zhangye Danxia Badain Jaran Desert Wonders Tour
☛ 6 Days Xining to Lhasa Train Tour by Qinghai Tibet Railway
☛ 6 Days Xining to Lhasa Train Tour by Qinghai Tibet Railway
☛ 12 Days Epic Silk Road Tour including Qinghai Lake and Zhangye Danxia
You can choose from our most popular Qinghai tour packages covering excellent sightseeing and the best local experiences. As an experienced and professional China travel agency, China Discovery also offers customized tour service to help you design a unique trip on your own. Just contact us, tell us your schedule and preferences, we will create a memorable China Qinghai tour for you.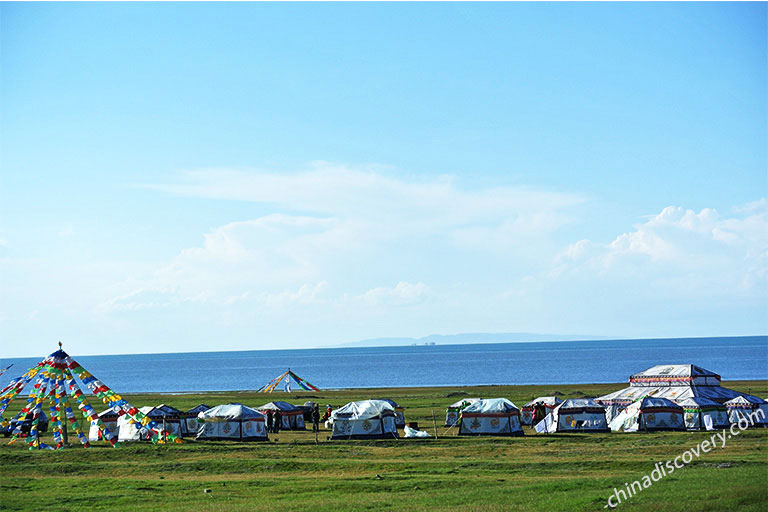 Erlangjian Scenic Area in Qinghai Lake
Tibetan Monks in Rongwo Monastery of Tongren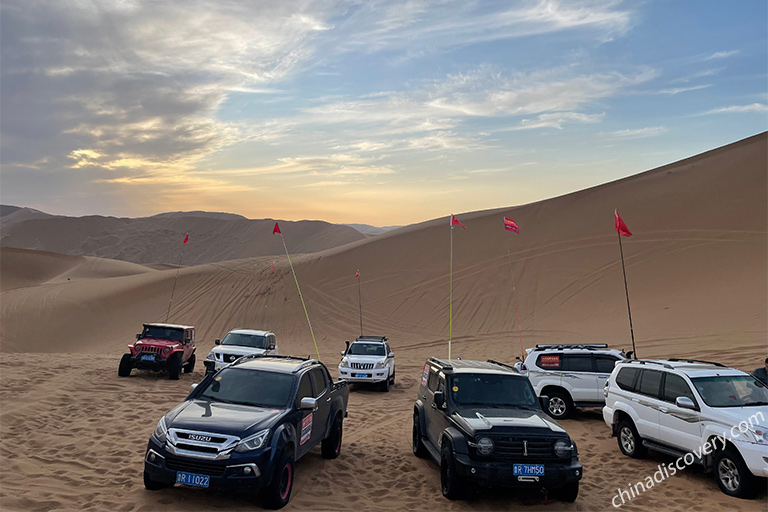 Badain Jaran Desert Jeep Safari
Xining to Lhasa Train on the Qinghai Tibet Railway
Keep Reading About Qinghai Attractions
Keep Reading About Qinghai Tours & Travel Guide
Recommended Xining Tours
Top 3 Xining tours chosen by most customers to explore Xining in the best way. Check the detailed itinerary, or tailor your own trip now with us.
4 Days Enchanting Qinghai Lake Chaka Salt Lake Tour

Xining / Qinghai Lake / Chaka Lake / Xining
6 Days Qinghai Lake Zhangye Danxia Rainbow Mountains Dramatic Tour

Xining - Qinghai Lake - Chaka Lake - Zhangye
4 Days Qinghai Lake Kanbula National Forest Park Geographic Wonder Tour

Xining / Kanbula National Forest Park / Qinghai Lake / Xining
Start planning your tailor-made holiday to China by contacting one of our specialists. Once inquired, you'll get a response within 0.5~23.5 hours.
Customize a Trip
Have a question? Get answers from our travel experts or guests
Your Question:

Your Name:

Your Email: