Qinghai Lake Weather & Seasonal Scenery | Best Time to Visit
Qinghai Lake is a vast lake located in the eastern part of Qinghai Province (in northwestern China) and near the northeast of Qinghai-Tibetan Plateau. Becasue of its large scale, the weather might be a little different in different corners of Qinghai Lake. Its main attraction - Erlangjian Scenic Area is in Gonghe County (共和). Generally, Qinghai Lake has a plateau continental climate, with sufficient sunlight, strong sunshine, long cold season and short warm season. Therefore, it is quite cold in winter and cool in summer. Besides, there is a big temperature difference between day and night.
Check detailed information below about Qinghai Lake weather forecast, the best time to visit, average temperature by month, climate features, packing tips, seasonal scenery, etc. to plan your Qinghai Lake tour in 2023!
Average Qinghai Lake Temperature by Month
| Month | Recommended Rate | Max Temp. | Min Temp. |
| --- | --- | --- | --- |
| Jan. | | °C | °C |
| Feb. | | °C | °C |
| Mar. | | °C | °C |
| Apr. | | °C | °C |
| May. | | °C | °C |
| Jun. | | °C | °C |
| Jul. | | °C | °C |
| Aug. | | °C | °C |
| Sep. | | °C | °C |
| Oct. | | °C | °C |
| Nov. | | °C | °C |
| Dec. | | °C | °C |
Qinghai Lake Seasons to Go
It is available to visit Qinghai Lake all year round, but May to October is the best time because the weather is most comfortable, neither cold nor hot. If you want to see the sea of rape flowers, July and August are most recommended. For bird-lovers, visiting Qinghai Lake from May to July allows you to see more birds around Qinghai Lake.
Features of Qinghai Lake Weather and Packing Tips
Cool Summer and Big Temperature Difference
Due to the high altitude, Qinghai Lake has a much lower temperature compared with many other destinations in lower-altitude land, like Beijing, Xian, Shanghai, Chengdu, etc. It is cold in winter and cool in summer. The average temperature of Qinghai Lake is about 3°C. January has anaverage temperature of -9°C (-15~-3°C) while July is the hottest month with an average temperature of 15°C (9~21°C). Besides, the temperature varies widely from day and night and the temperature difference is always more than 10°C.
Packing Tips: 1) Down jackets, warm sweaters, scarfs, masks… are always needed in early-to-mid spring (March ~ April), mid-to-late autumn (October ~ November) and winter (December ~ next February). 2) Bring an extra coat even in summer, because the temperature drops sharply at night.
Strong Sunlight
Qinghai Lake enjoys a long duration of sunshine, accompanied by the intense ultraviolet. You can always enjoy the bright sunshine in Qinghai Lake. The annual sunshine hours in the lake area are more than 3000 hours, which is about 700 hours more than that of the same latitude east of Qinghai. The annual sunshine percentage is 68-69%. The total annual radiation is between 106 and 171 kcal per square centimeter per year, which is 10 ~ 40 per square centimeter per year higher than the North China Plain and the Loess Plateau at the same latitude. The UV index is always strong all the year around, extremely in April ~ August.
Packing Tips: We strongly suggest you bring sunhat, sunglasses and sunbloc to protect your skin from sunburn.
Little Rain and Dry Air
The annual precipitation in the lake area is relatively low. The precipitation in the east and south are slightly higher than the north and west. The annual evaporation reaches 1502 mm, which far exceeding the precipitation. The precipitation in the lake area varies greatly with the seasons, most of which is concentrated in May to September, with rain and heat in the same season.
Packing Tips: 1) Remember to bring umbrella or other rain gears if you travel in the rainy season. 2) If it rains in Qinghai Lake, avoid cycling for your safety. 3) Bring moisturizer to protect your skin from the dry air.
Strong Wind in Spring and Winter
The lake area sees most of the days with strong wind and sandstorms in the province. From February to April every year, there are more windy days and it is more likely to encounter strong wind froom noon to evening. The wind speed is higher in winter and spring, and smaller in summer and autumn.
Packing Tips: Remember to cover your face with hats, scarves, ear muffs, or sunglasses to keep as much of your skin as possible protected
Seasonal Scenery and Experience in Qinghai Lake
Beautiful Flowers: June to September
Rape flower, blooming in July and August usually, is one of the biggest highlights of Qinghai Lake. The fragrance of rape flowers at the lakeside attracts a large number of tourists and shutterbugs every year. In every July and August, the yellow rape flowers and blue Qinghai Lake become an intoxicating oil painting. Besides, Gesang flower, blooming from June to September, can be seen in Erlangjain Scenic Area of Qinghai Lake as well. As the symbol of love and happiness and an everlasting pursuit of all the Tibetan people, they are always grown in Tibetan areas. These pink flowers add a more romantic atmosphere to Qinghai Lake.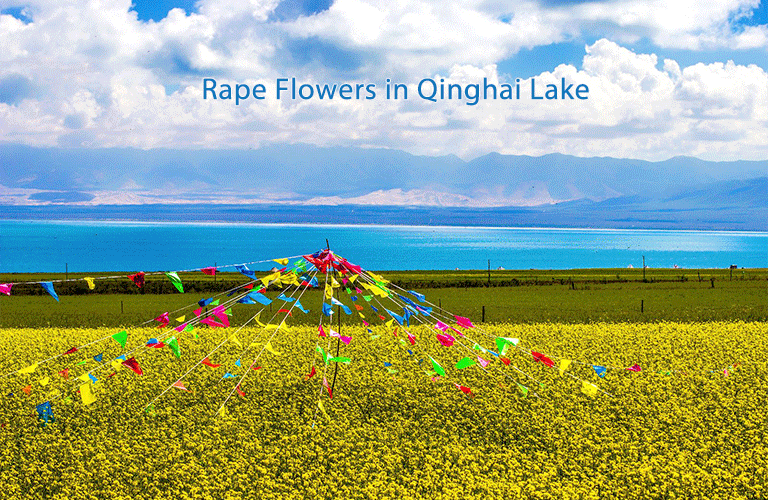 Flowers in Qinghai Lake
Frozen Lake: mid-November to early-March
Qinghai Lake begin to freeze in mid-November and the average annual glacial period is 108 to 116 days. The entire lake soon forms a stable ice sheet. The ice thickness is generally 40 cm, and the maximum ice thickness is 90 cm. After the ice is sealed, the ice surface is flat, and cracks and crevices often appear due to the violent wind. In winter, come to admire the lakes and mountains, your eyes will be feasted with the white and silvery. In mid-March, the ice sheet breaks and floating ice appears on the lake. Under the action of wind, huge icebergs floating to the shore. The largest iceberg is about 10 cubic meters in volume. After mid-April, the ice in the lake completely is melted.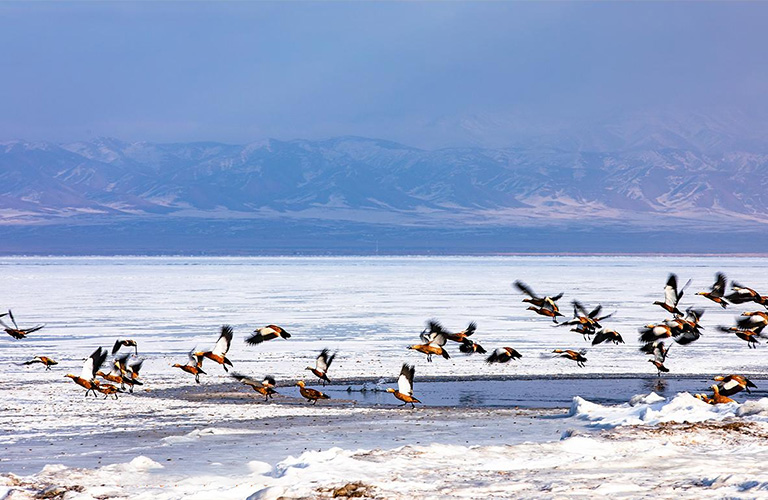 Frozen Qinghai Lake
Cruise Experience: May to October
It is a popular way to admire vast Qinghai Lake and its beautiful surroundings by cruise. There are two kinds of cruise for your choice, namely high speed cruise and catamaran. As its name signifies, high speed cruise features in high speed and offers travelers an exciting experience. You will enjoy a 25 minutes' single trip from Erlangjian Wharf and Erlangjian Peninsula at a cost of CNY140. Taking a catamaran, you can spend longer time on the cruise. It is a 50 minutes' round trip and costs CNY180. No matter which cruise you take, the panorama of the mountains, grasslands, flowers and lake are impressive.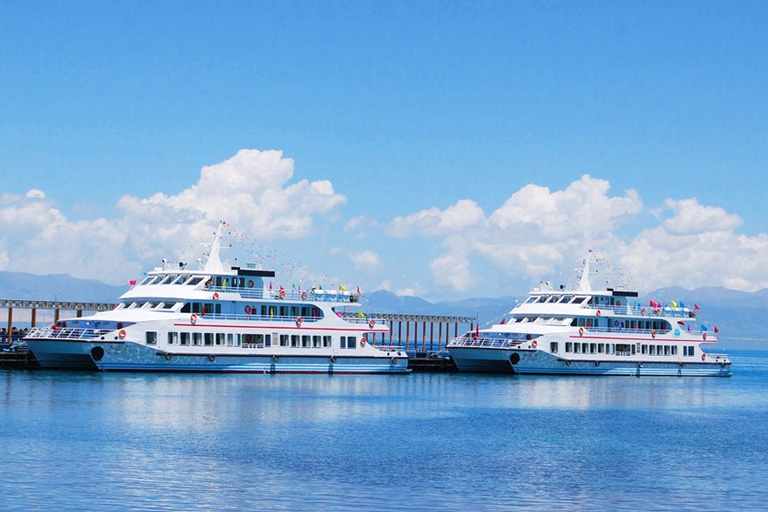 Catamaran Experience in Qinghai Lake
How to Plan A Qinghai Lake Tour
How to Get to Qinghai Lake: It is recommended to reach Xining first and then take a private transfer (3.5 hours' drive) to Qinghai Lake
Best Time to Visit Qinghai Lake: May to October, especially July and August when rape flowers are in full blossom
Where to Stay in Qinghai Lake: There are some hotels in the lake area of Qinghai Lake and some basic hotels in Heimahe River
Generally, a classic Qinghai Lake takes about 3~4 days. Starting from Xining, it tour covers the two biggest highlights of this city, namely - Kumbum Monastery - One of the Six Greatest Tibetan Gelug Monasteries with Three Arts and Dongguan Great Mosque – Qinghai's biggest mosque with splendid appearance and delicate ornaments which allow you to get a cultural savory. Then, spend 1 or 2 days appreciating the beauty of Qinghai Lake, including stunning lake view, far-reaching snow peaks, grassland, rape flowers (in July and August), etc. For cyclist, Qinghai Lake is also a good destination to offer the delighted experience of sightseeing and cycling in one go. It usually needs 2 days to have a great cycling tour along Qinghai Lake.
☛ 3 Days Qinghai Short Stay Tour with Qinghai Lake
More than Xining City and Qinghai Lake, there are many other natural and cultural treasures worthy of your visit in Qinghai. For more lake view, Chaka Salt Lake which is known as the mirror of the lake must be visited. If you are interested in Amdo Tibet culture, you are strongly advised to extend your tour to Tongren and nearby Xiahe (in Gansu) to explore Regong Art and Tibetan Buddhism.
☛ 4 Days Qinghai Lake Chaka Salt Lake Enchanting Tour
☛ 4 Days Qinghai Lake Landscape Tour Plus Tongren Authentic Tibetan Culture and Art Exploration
Many travelers also prefer a silk road discovery combining Qinghai Lake with Zhangye (Zhangye National Geopark, Mati Temple, Giant Buddha Temple…), Jiayuguan (Jiayuguan Pass, Great Wall Museum, ), Dunhuang (Mingsha Mountain and Crescent Lake, Mogao Caves, Yumen Pass…) and Bardain Jaran Desert. If you love Tibet Buddhist fragrance or breathtaking high-altitude landscape, don't hesitate to visit Tibet (Lhasa, Shigatse, Mount Everest, Namtso Lake, etc.) via the world-famous Qinghai Tibet Railway.
☛ 7 Days Miraculous Land Tour from Dunhuang to Zhangye Xining
☛ 7 Days Qinghai Lake Zhangye Danxia Badain Jaran Desert Wonders Tour
☛ 6 Days Xining and Lhasa Train Tour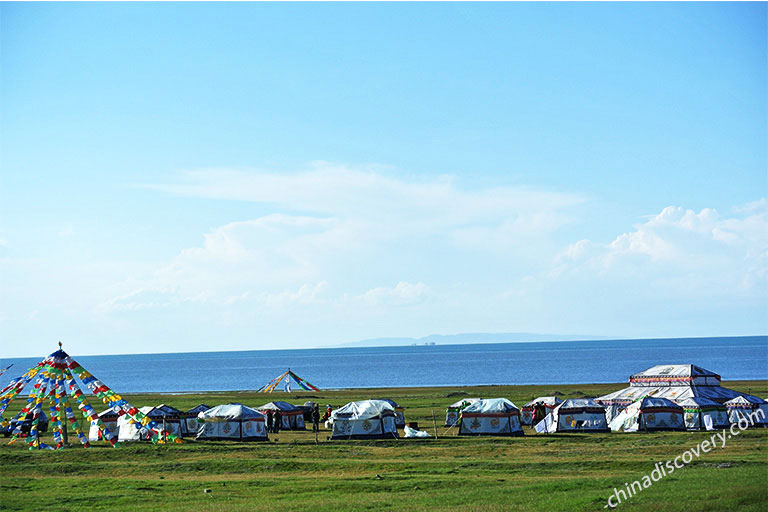 Erlangjian Scenic Area in Qinghai Lake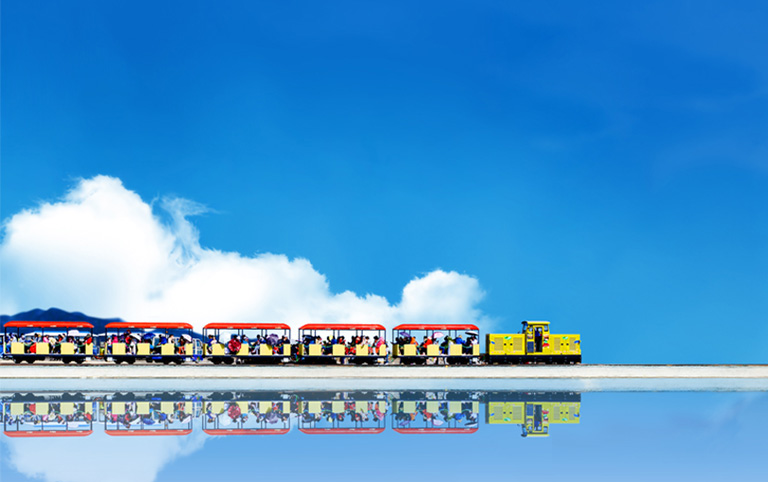 Ride the little train in Chaka Salt Lake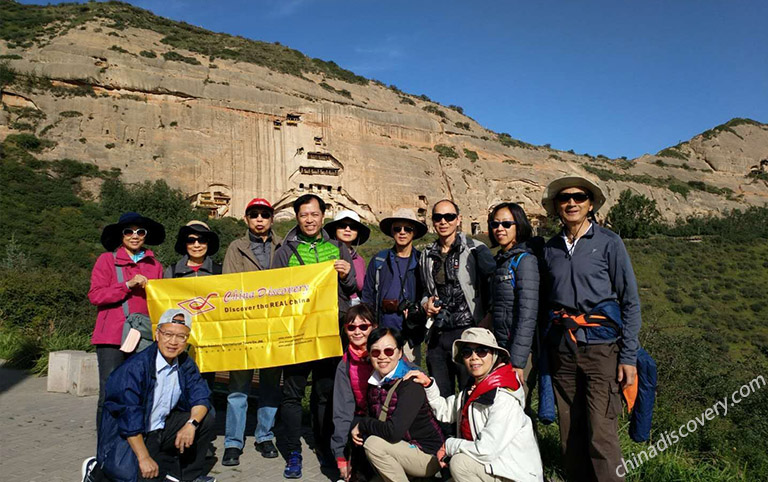 Mrs. Chan's group from Canada visited Matisi Temple with China Discovery
Keep Reading About Qinghai Lake
Keep Reading About Xining
Keep Reading About Qinghai Tours & Travel Guide
Keep Reading About Qinghai Attractions
Recommended Qinghai Lake Tours
Top 3 Qinghai Lake tours chosen by most customers to explore Qinghai Lake in the best way. Check the detailed itinerary,or tailor your own trip now with us.
4 Days Enchanting Qinghai Lake Chaka Salt Lake Tour

Xining / Qinghai Lake / Chaka Lake / Xining
8 Days Qinghai Lake Zhangye Danxia Badain Jaran Desert Wonders Tour

Xining - Zhangye - Badain Jaran Desert
5 Days Qinghai Lake Cycling Tour

Xining / Qinghai Lake / Chaka Lake / Xining