First Impression of Qinghai Lake
China's Largest Lake: Qinghai Lake is the largest lake in China which stretches 105 km at length and 63 km at width and occupies a surface area of over 4,500 square kilometers. At 3200 m above the sea level and owning an average depth of 21 m, its waters are profoundly cold and salty.
China's Most Beautiful Lake: These crystal plateau lakes, combined with characteristic islands, vast grasslands, snowy mountains and spectacular dessert in and around Qinghai Lake make up an attractive Qinghai Lake Scenic Area. With so much to admire, Qinghai Lake was evaluated as the Most Beautiful Lake in China by China's National Geographic. Teeming with fish and populated by nesting seabirds, so it is always referred as Birds' Paradise.
Sacred Lake for Buddhist Pilgrim: In fact, Qinghai Lake is a sacred lake for Buddhist pilgrimages. Especially in Horse years of the 12-year cycle, many Buddhists will take a kora around the Qinghai Lake which is believed to be helpful to lead a safe and happy life.
Bright Golden Sea of Rape Flowers: You may know that usually early spring (March) is the best time to watch rape flowers. However, the rape flower is in full blossom in summer in high plateau area like Qinghai. There are many rape flowers grown surrounding Qinghai Lake. If you come in July and August, you can feast your eyes in the brilliant golden sea.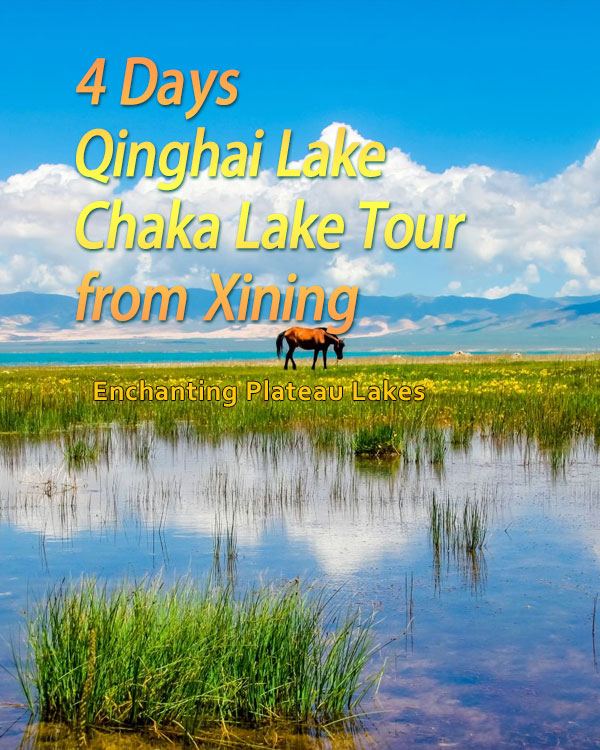 Top Attractions in Qinghai Lake
Qinghai Lake provides too much scenery to discover, including breathtaking lake landscape, mountain ranges, grassland, hourses and yaks, etc. There are several places to visit surrounding Qinghai Lake, including Erlangjian Scenic Area, Heimahe Town, Fairy Bay Area, etc.
Erlangjian Area - The Essence of Qinghai Lake
Erlangjian Scenic Area, located on the south shore of Qinghai Lake, is the essence of this beautiful lake. Because of it shaping like a long and narrow embankment winding into Qinghai Lake, it gets a name of Erlangjian which means sward in Chinese. Erlangjian Scenic Area features in the spectacular snow-capped mountains (including Tangula Mountains and Kunlun Mountains) surrounding it as well as the cultural mix of several Chinese minorities (like Tibetan, Mongolian and Muslim). Walking on the long pier, you are able to admire a gorgeous view of the snow peaks, calm waters, vast stretches of grasslands, large flocks of birds, etc. if the day is clear, it is also available to see the huge sand dunes of Sand Island on the far shore. Some small areas are set to offer you a better vista of Qinghai Lake, such as Bird Observatory, Deer Garden, Lake-viewing Bridge and Lake-viewing Pavilion.
More than stunning natural scenery, there are also some interesting activities in Erlangjian Scenic Area. If you are interested in cycling, you can enjoy an about 2 hours' cycling trip from Jiayi Temple to Erlangjian Scenic Area. Besides, it is also available to take a boat in Erlangjian area to enjoy a moving picture of Qinghai Lake. In addition, you can enjoy yourself by watching large-scale folk music and dance, Tibetan folk customs. What's more, an opportunity of playing water games is also provided. If you are interested, water scooters, water bikes and self-driving yacht are waiting for your attempt. In conclusion, Erlangjian Area is the largest reception base and folk customs base, you can appreciate a high-quality relaxing holiday.
Tickets: 100 RMB on season and 50 RMB off season.
☛ 3 Days Qinghai Short Stay Tour with Erlangjian Scenic Area
Erlangjian View in Summer
Erlangjian Area
Heimahe Town - Amazing Sunrise Platform
Located in the southwest corner of Qinghai Lake, Hemahe Town is the starting point of Huanhu West Road. It is an important supply depot for cyclists and a transfer station for travelers from Qinghai Lake to Chaka Salt Lake. It becomes famous among travelers mostly as the a perfect site in Qinghai Lake Area to enjoy and shoot sunrise. As the sun rises from Qinghai lake, the color of the sky, the lake, the mountains, etc. are all painted in an attractive hue of yellow, orange and red. As the sky totally be lit, you can clearly see the colorful prayers flags flying in the wind and the sea gulls flapping their wings.
In fact, the sunrise-viewing deck is about 2 km away from the town area. Many travelers choose to accommodate in the town and drive to the deck for sunrise. The following sunrise time is for your reference:
Spectacular Sunrise of Qinghai Lake
| | | | | | |
| --- | --- | --- | --- | --- | --- |
| Jan. | Feb. | Mar. | Apr. | May | Jun. |
| 08:23~08:33 | 07:53~08:23 | 07:08~07:51 | 06:31-07:06 | 06:24-06:27 | 06:01-06:05 |
| Jul. | Aug. | Sept. | Oct. | Nov. | Dec. |
| 06:05-06:25 | 06:26-06:51 | 06:51-07:15 | 07:15-07:43 | 07:44-08:13 | 08:14~08:33 |
Fairy Bay Area - The Sea of Flowers
Fairy Bay Area is a wet land located in the northern coast of Qinghai Lake. There are two legends about how Fairy Bay Area got its name. In one old legend, the queen of the west area fell in love with the King of Central Plains. The queen always served a feast for the king in Qinghai Lake with pretty fairies singing and dancing for them. Another ancient poem showed that the Queen of the west had been waiting for the king of Central Plains in Qinghai Lake for thousands of years but he never kept his appointment. The sad queen left for Heaven, but she ordered the fairies to guard Qinghai Lake. Later, these fairies masqueraded as swans living in Fairy Bay Happily. Might be attracted by these beautiful swans, a dozen of other birds also prefer Fairy Bay as a habitat.
Apart from various birds, different kind of flowers blooms here from every June to October. Just like a carpet waved by fairies, Fairy Bay presents on white, yellow, orange, pink, red etc., really deserving its name of Flowers' Ocean. Because of the magic legends and amazing landscape, local people regard it as sacred ground and several solemn rituals are held here. So, you can feel a strong cultural fragrance.
Tickets: 60 RMB on season and 30 RMB off season.
Fairy Bay (in July and August)
Note: In order to protect the eco-environment, Bird Island and Sand Island are no longer open to tourists.
Bird Island Area - Closed at Present
Bird Island Area, situated in the eastern part of Qinghai Lake, contains a group of islands in Qinghai Lake. It is a Nature Protection Zone for there are more than 160,000 birds - gulls, geese, swans, cormorants and rare black-necked crane in breeding season.
Bird Island is breeding ground for migratory birds which has long been a main attraction for the lake for visitors. It compasses two twin islands, one is Egg Island for eggs of birds can be found everywhere on this island, and the other is haixipi which is hump-shaped like. Most of the birds in Qinghai Lake inhabit in the two islands. In every March and April, the birds migrate to Bird Island from the south and begin to build their nests. In May and June, eggs and little birds appeared all around and you can enjoy the most quantity of birds. In July and August, some birds are flying under the blue sky, extremely amazing. In short, Bird Island is well worth scheduling your journey.
Birds in Bird Island (in June)
Sand Island Area - Closed at Present
Sand Island Area is located in the northeast of Qinghai Lake, bordered by Golden and Silver Grassland in the north, Qinghai Lake in the south, several streams and hills in theeast. With an altitude of 3,200 m and area nearly 120 square km, Sand Island Area stretches 36 km from east to west and 3 km from south to north. It is mainly composed of Golden Sandy Bay and Silver Sandy Bay in which Sand Island Lake, Moon Lake, Sun Lake etc. are scattered. Thanks to the beautiful sand dunes with many unique shapes and distinguished color, Sand Island Area became an ideal place for sightseeing, sand-skating, sand-motor and sand-carving. At the same time, it is the best resort for viewing the scenery of Qinghai Lake and wet lands.
Because of the declining lake-level and accumulated sand, Sand Island came into being. The particularly shaped sand dunes make it dazzling among the large amounts of island in and around Qinghai Lake.
Sand Island View
Featured Activities in Qinghai Lake
Biking around Qinghai Lake
Qinghai Lake Scenic Area is equipped with biking tracks with good & safe condition. If you are a cycling enthusiast and want to fully enjoy the beauty of Qinghai Lake, biking is an activity you can't miss. In summer, full-blown yellow rape flowers resemble a golden wreath on Qinghai Lake, and you just ride on the golden wreath. After a lake-round visit by biking, you are going to feel an unspeakable exhaustion of the body but incomparable pleasure of tge mind. You may take part in a riding competition which was recognized by UCI (Union Cycliste Internationale) and takes place in every July and August. It is also available to choose an electromobile to save your time and energy.
2 Days Cycling Experience with Qinghai Lake Sightseeing
This cycling route is for experience cyclist with good strength. The whole distance is about 160 km long and many travelers spend 2 days competing it. Riding on the high-altitude area, it is physically demanding but you will be awarded with enjoyable experience. Biking route:
Day 1: Jiayi Temple - Qinghai Lake - Heima River
Day 2: Heima River - Huanhu West Road
2 Hours Cycling Experience to Erlangjian Scenic Area
For travelers who just want a short cycling experience, we suggest you bike to Erlangjian Scenic Area from Jiayi Temple. It won't be too difficult and won't take too much time.
Biking along Qinghai Lake
Great Scenery in the Biking Trip
Cruise on Qinghai Lake
Want to see the pretty lake from another viewing angle? A lake cruise is your best choice. In Erlangjian Scenic Area, you will have unforgettable memory of Qinghai Lake Cruise experience. When the cruise enters into the cerulean lake, you may feel that you are standing in the water, the idle breeze touching your face gently, the seabirds flying round and round. The vista of the mountains, grasslands and flowers from the cruise is greatly stunning. The cruise is considerately equipped with restaurant, cafe and VIP rooms, and you can have a relaxed rest at the same time.
There are kinds of cruises for your choice. One is popular High Speed Cruise starting from Erlangjian East Wharf to Erlangjian Peninsula. It offers a 25 minutes' trip at the cost of CNY140 and you need to take a 40 minutes' bus or electro mobile back. In the peak season, you may need to wait for half hour. Another is Eco Cruise which has two connecting cruises. It offers a 50 minutes' round trip at the cost of CNY180.
Qinghai Lake Cruise
Watching Local Rituals
Paying tribute to Qinghai Lake is a celebrated ritual in Qinghai from which you can feel a sacred atmosphere. Originally, it was a tradition of Mongolians who always believe each thing on earth has its spirit. From ancient times, Tibetan people in the districts around Qinghai Lake began to worship Qinghai Lake. It was not only a religious ritual, but also folk cultural phenomena to express people's wish to have a harmonious coexistence with nature. In every 15th June of Chinese lunar calendar is Worshiping Lake Festival. In that day, surrounded monks and herdsmen will gather in Erlangjain Area and preach. As the ritual ends, a stage show of Culture of Worshiping Lake will start.
A Pilgrim Woshiping Qinghai Lake
Nearby Attraction - Chaka Salt Lake
Lying in the conjunction of national road 109 and 315 and near Qinghai Lake and 137 km away from Erlangjian Scenic Area, Chaka Salt Lake is one important courier station of ancient Silk Road. It was the only way to Tibet for businessmen and tourists in the history and referred as the Eastern Gate of Qaidam. Also praised as the Mirror of Sky, its fantastic beauty is beyond everyone's imagination. Looking to the distance, you are unable to find the boundary between sky and lake and you can't tell whether the sky is one part of lake or the lake is the supplement of sky. Wondering in the lake is like stepping into the world of salt, pure, picturesque and poetic. You could feast your eyes on the spectacular view on a sightseeing train which allows you to admire the moving stroll of sunset, evening glow and salty flowers.
Chaka Salt Lake
Recommended Visiting Routes
Travel Route for One Day: Xining - Qinghai Lake (Erlangjian Scenic Area)- Xining
One Day Tour permits you to enjoy yourself in Erlangjian Area to the full. Start from Xining City in the morning and admire the landscape on the way to Erlangjian Area. As you reach to Erlangjian, you have abundant time to cherish every element of this attracting picture, like clear lake water, golden rape flowers, dazzling yellow sand etc. After satisfy your vision, take part in some interesting activities to relax your body and mind.
Travel Route for Two Days: Xining - Erlangjian Scenic Area - Fairy Bay Area - Heimahe Town -Chaka Salt Lake - Xining
Two Days Tour covers more rich attractions. Leave Xining City for the Erlangjian Area in the morning and spend half day in this peninsula. After having fun in Erlangjian Area, turn to Fairy Bay Area. Then, you will have a valuable chance of watching a gorgeous sunset in the evening and magical starry sky. Have accommodation in Heimahe Town and watch a breathtaking sunrise in the next morning. Then go on your journey to dream-like Chaka Salt Lake in the second day. With a wonderful experience in Chaka Salt Lake, drive back to Xining City.
Qinghai Lake Attractions Map
How to Get to Qinghai Lake
Qinghai Lake is located in the intersection of Gangca County, Gonghe County and Haiyan County of Qinghai Province and near the northeast of Qinghai-Tibetan Plateau. Erlangjian Scenic Area is
150 km away from Chaka Salt Lake, about 2.5 hours' drive;
145 km away from Kumbum Monastery, about 3 hours' drive;
150 km away from Xining City, about 2.5 hours' drive;
180 km away from Xining Caojiabao Airport, about 3 hours' drive;
Step 1: Get to Xining First
As the capital of Qinghai Province, Xining acts as a transfer hub in northwestern China and can be reached easily. It is available to take a flight to Xining from Beijing (about 2.5 hours), Shanghai (about 3.5 hours), Xian (about 2 hours 45 minutes), Chengdu (1 hour 40 minutes), Guangzhou (3 hours 15 minutes), as well as many other major cities or provincial capitals. Located in Lanzhou-Xinjiang High Speed Rail, travelers can take a high speed train to Xining from Lanzhou, Zhangye, Jiuquan, Jiayuguan, Turpan and Urumqi. Normal trains are also accessible to Xining from Beijing, Xian, Shanghai, Chengdu, Guangzhou, etc. but they takes longer time.
Step 2: Xining to Qinghai Lake Transfer
There is shuttle bus from Xining Caojiabao airport to Xining City but no shuttle bus from Xining to Qinghai Lake Area. If you start your journey to Qinghai Lake from Xining city, you can take one long-distance bust to Dulan or Wulan which will pass by Qinghai Lake and covers a bit more than 2 hours.
Travel with China Discovery: If you want to get rid of hustle of public transportation and troublesome navigation, you can book a private tour package which covers sightseeing, dining and transfer from us. Our knowledgeable local tour guide and skilled driver will escort you to Qinghai Lake with speed and convenience, and take care of all the details. You just need to focus on sightseeing. Contact us to customize a worry-free Qinghai Lake tour package now!
Helpful Link: How to Get Qinghai Lake
Click to enlarge Qinghai Lake Location Map
Click to enlarge Xining Flights Map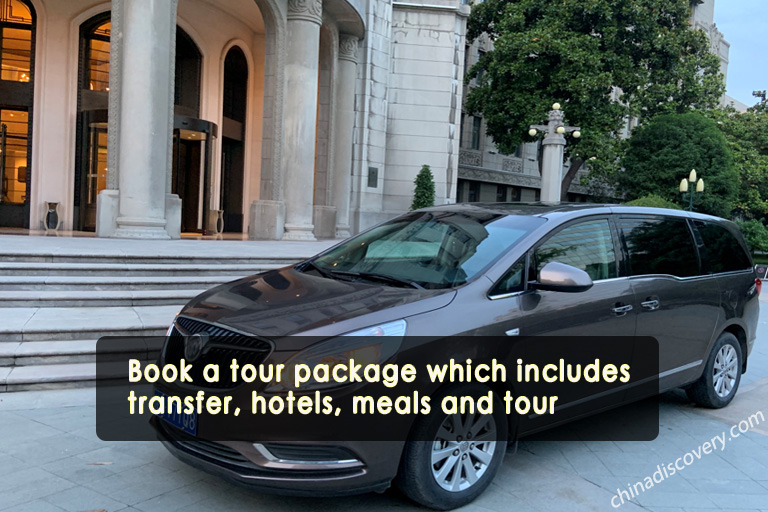 China Discovery Private Transfer
Best Time to Visit Qinghai Lake & Dressing Ideas
Qinghai Lake enjoys a plateau continental climate with sufficient sunlight and strong sunshine, less rainfall, cold winter and cool summer. There is a big temperature difference between day and night. The period from May to October, when the weather is most comfortable, is the great time to visit Qinghai Lake. If you want to see the most beautiful scenery of Qinghai Lake, July and August are the best months. Biking competition and worshiping ritual are both held at this period. The most exciting thing is that the flowers grow best. If you are a bird-lover, May and June are more advisable as you can admire most birds. Though Bird Island is closed, it is available to see some birds in Erlangjian Scenic Area as well. If you want to take a photography of the frozen lake, visiting Qinghai Lake in winter is also a good idea.
Keeping warm at night is important, because the temperature at night may be quite low even in summer. It is recommended to wear more thin clothes because they are more convenient to put on and off. In spring, autumn and winter, down jackets are good choice. Do remember that the sunlight is strong in Qinghai Lake and you need to void unnecessary sun exposure and use sunscreen, sunglasses and hat in hot summer.
Helpful Link: Qinghai Weather and Best Time to Visit
Enjoy Rape Flowers in Summer
Enjoy Frozen Lake in Winter
Warm Tips for Qinghai Lake Travel
① How to Avoid Altitude Sickness
The altitude of Qinghai Lake is about 3,200 meters, and few travelers gets a serious high altitude sickness during their Qinghai Lake trip. If it's your first time to high plateau, it is necessary to keep a relaxing mood and avoid strong activities during your trip. Carrying some preventative medicines and keeping good mood will also be helpful.
② Respect Local Customs
Do not touch the items that the locals sacrifice to the sea;
Ask for the permission if you want to photo the local people or their yaks and Tibetan Mastiffs;
You'd better walk around the lake in a clockwise direction.
How to Plan A Qinghai Lake Tour
How to Get to Qinghai Lake: It is recommended to reach Xining first and then take a private transfer (3.5 hours' drive) to Qinghai Lake
Best Time to Visit Qinghai Lake: May to October, especially July and August when rape flowers are in full blossom
Where to Stay in Qinghai Lake: There are some hotels in the lake area of Qinghai Lake and some basic hotels in Heimahe River
Generally, a classic Qinghai Lake takes about 3~4 days. Starting from Xining, it tour covers the two biggest highlights of this city, namely - Kumbum Monastery - One of the Six Greatest Tibetan Gelug Monasteries with Three Arts and Dongguan Great Mosque – Qinghai's biggest mosque with splendid appearance and delicate ornaments which allow you to get a cultural savory. Then, spend 1 or 2 days appreciating the beauty of Qinghai Lake, including stunning lake view, far-reaching snow peaks, grassland, rape flowers (in July and August), etc. For cyclist, Qinghai Lake is also a good destination to offer the delighted experience of sightseeing and cycling in one go. It usually needs 2 days to have a great cycling tour along Qinghai Lake.
☛ 3 Days Qinghai Short Stay Tour with Qinghai Lake
More than Xining City and Qinghai Lake, there are many other natural and cultural treasures worthy of your visit in Qinghai. For more lake view, Chaka Salt Lake which is known as the mirror of the lake must be visited. If you are interested in Amdo Tibet culture, you are strongly advised to extend your tour to Tongren and nearby Xiahe (in Gansu) to explore Regong Art and Tibetan Buddhism.
☛ 4 Days Qinghai Lake Chaka Salt Lake Enchanting Tour
☛ 4 Days Qinghai Lake Landscape Tour Plus Tongren Authentic Tibetan Culture and Art Exploration
Many travelers also prefer a silk road discovery combining Qinghai Lake with Zhangye (Zhangye National Geopark, Mati Temple, Giant Buddha Temple…), Jiayuguan (Jiayuguan Pass, Great Wall Museum, ), Dunhuang (Mingsha Mountain and Crescent Lake, Mogao Caves, Yumen Pass…) and Bardain Jaran Desert. If you love Tibet Buddhist fragrance or breathtaking high-altitude landscape, don't hesitate to visit Tibet (Lhasa, Shigatse, Mount Everest, Namtso Lake, etc.) via the world-famous Qinghai Tibet Railway.
☛ 7 Days Miraculous Land Tour from Dunhuang to Zhangye Xining
☛ 7 Days Qinghai Lake Zhangye Danxia Badain Jaran Desert Wonders Tour
☛ 6 Days Xining and Lhasa Train Tour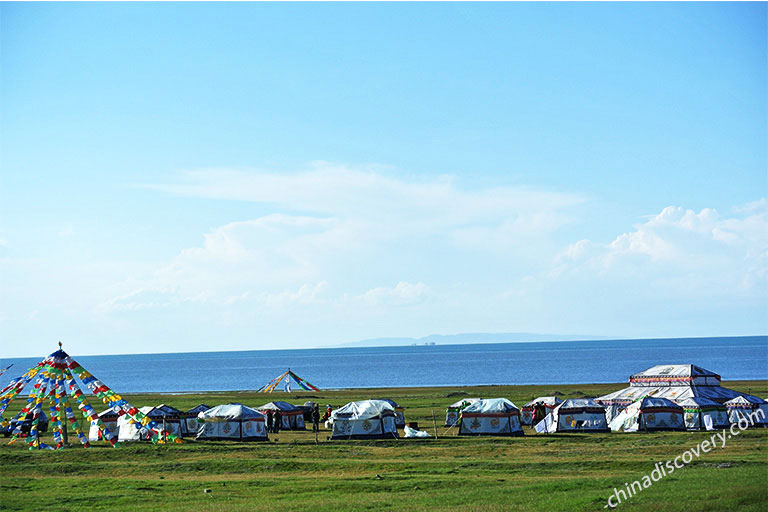 Erlangjian Scenic Area in Qinghai Lake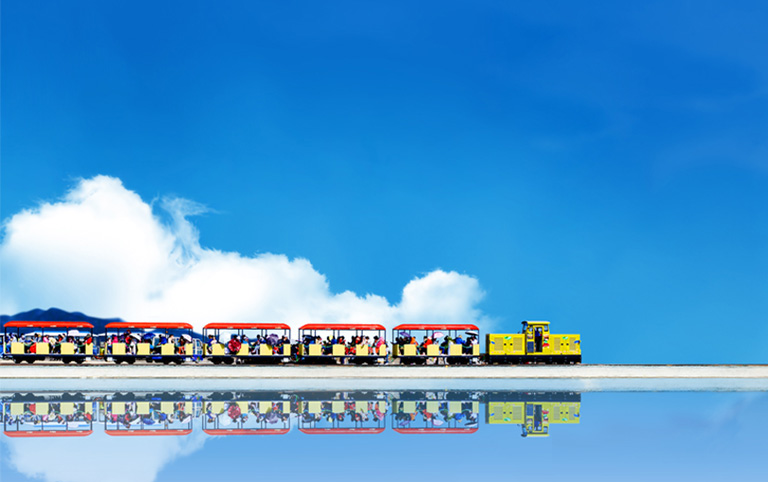 Ride the little train in Chaka Salt Lake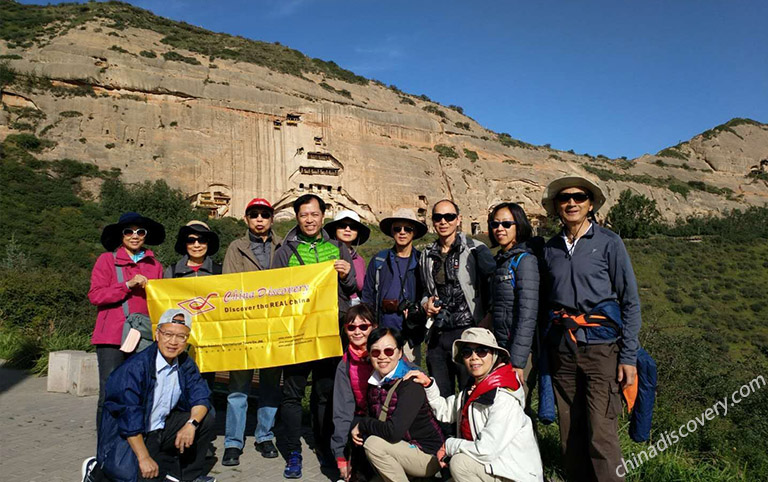 Mrs. Chan's group from Canada visited Matisi Temple with China Discovery
Keep Reading About Qinghai Lake
Recommended Qinghai Lake Tours
Top 3 Qinghai Lake tours chosen by most customers to explore Qinghai Lake in the best way. Check the detailed itinerary, or tailor your own trip now with us.
4 Days Enchanting Qinghai Lake Chaka Salt Lake Tour

Xining / Qinghai Lake / Chaka Lake / Xining
6 Days Qinghai Lake Zhangye Danxia Rainbow Mountains Dramatic Tour

Xining - Qinghai Lake - Chaka Lake - Zhangye
5 Days Qinghai Lake Cycling Tour

Xining / Qinghai Lake / Chaka Lake / Xining
Start planning your tailor-made holiday to China by contacting one of our specialists. Once inquired, you'll get a response within 0.5~23.5 hours.
Customize a Trip
Have a question? Get answers from our travel experts or guests
Your Question:

Your Name:

Your Email: