How to Get to Qinghai Lake - Xining to Qinghai Lake
Qinghai Lake, praised as the most beautiful lake by National Geographic, is a must-be-visited attraction in Qinghai. With a vast area of 4,500 square kilometers, it seems like a boundless sea. However, it's difficult to find a sea offering such a spectacular scene with green hills, extensive grassland, snow-capped mountains and flocks of herds. Many travelers are enchanted by Qinghai Lake, but traveling to Qinghai Lake is not as easy as traveling to some big cities in China like Beijing and Shanghai. This Qinghai Lake transfer guide helps you travel to Qinghai Lake efficiently.
Where is Qinghai Lake?
Qinghai Lake is located in the intersection of Gangca County, Gonghe County and Haiyan County in eastern Qinghai Province while Qinghai Province is located in northwestern China, bordering Gansu on the northeast, Xinjiang on the northwest, Sichuan on the southeast and the Tibet Autonomous Region on the southwest.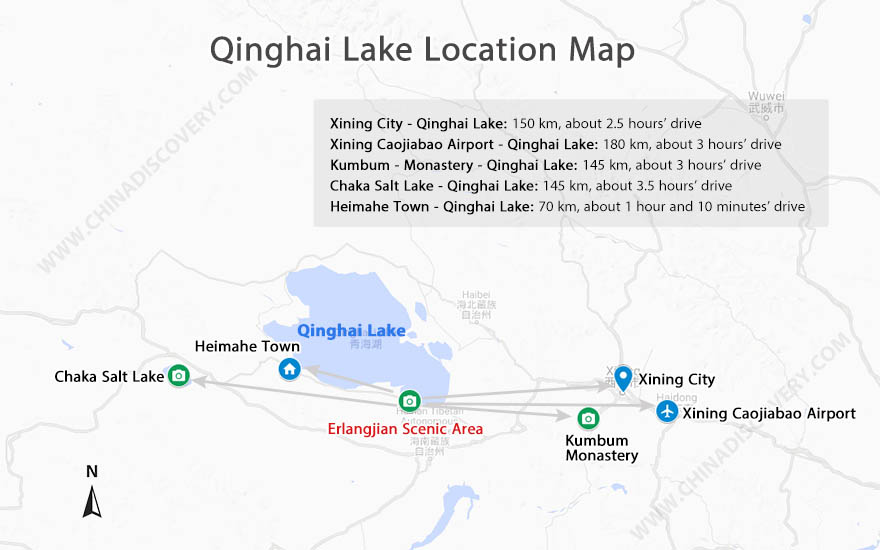 Qinghai Lake Location Map
How to Get to Qinghai Lake
Qinghai Lake is the premier sight of Qinghai Province and almost all travelers travel to Qinghai Lake from Xining, the provincial capital and tourist base camp.
First Step: Get to Xining
As the capital of Qinghai Province, Qinghai Lake can be reached quite easily. It is convenient to take a train or a flight to Xining from most major cities in China.
Flights to Xining: There are available flights to Xining Caojiabao International Airport (the only airport in Xining) from major domestic cities such as Beijing (2.5h), Shanghai (3h10min-6h), Guangzhou (3h15min-5h), Xian (1.5h), Lhasa (2-3.5h), Chengdu (1h40min-4h), Chongqing (2h), etc. Besides, it also receives some international flights from some Asian countries like Thailand, Tokyo in Japan, Seoul in South Korea, Kuala Lumpur in Malaysia, Siem Reap in Cambodia, Nha Trang in Vietnam, etc.
Trains to Xining: Located on Lanzhou-Urumqi High Speed Railway, Xining can be reached by high speed train from Urumqi (9~10h), Turpan (8~9h), Dunhuang (6 h), Jiayuguan (3~3.5h), Zhangye (2h) and Lanzhou (1~2.5h). It is also available to take a normal train to Xining from other cities like Beijing (19-22.5h), Chengdu (12.5-15h), Chongqing (13.5h), Taiyuan (14.5-20h), Jinan (23h), etc.
Helpful Link: Xining Caojiabao International Airport and Flights to Xining | Xining Railway Stations and Trains to Xining
Click to enlarge Xining Domestic Flights Map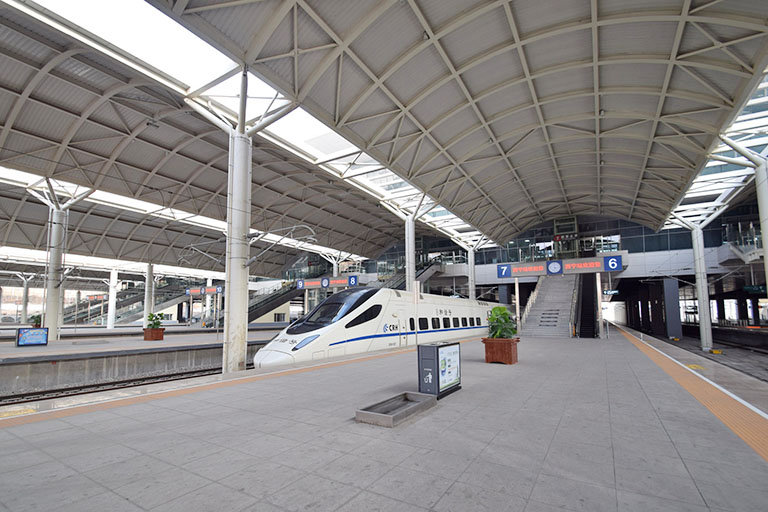 High Speed Train Arriving at Xining Railway Station
Second Step: Drive from Xining to Qinghai Lake
Distance: about 150 km (about 93 miles); Driving Time: about 2.5 hours
Erlangjian Scenic Area is the essence of Qinghai Lake and getting to Qinghai Lake always means traveling to Erlangjian Scenic Area. There is no train operating to Qinghai Lake, so travelers can only transfer between Qinghai Lake and Xining City by driving and by long-distance couch.
Option 1: Private Driving from Xining to Qinghai Lake
Private driving is the most efficient and comfortable way to travel from Xining to Qinghai Lake. You can rent a car or use a private transfer from a local travel agency like China Discovery. It takes about 2.5 hours (150 km) to drive from Xining City (or Xining Railway Station) and about 3 hours (180 km) to drive from Xining Caojiabao Airport to Qinghai Lake. The road is in good condition and you need to cross a mountain with an altitude of 3,817 meters. The altitude may make you a little uncomfortable but the smooth drive of a skilled driver always gives an easier journey. It is advised to take a stop in Riyue Mountain on the way to enjoy the featured natural view – farming fields in the east and endless pasture grassland in the west.
Option 2: Long-distance Bus from Xining to Qinghai Lake
There are about 6 regular buses running from Xining Bayilu Bus Station (八一路汽车站) to Erlangjian Scenic Area. Most of them depart in the morning from 7:30 to 9:30, taking about 3 hours. The bus number might increase or decrease according to the amount of potential passengers. Besides, it might be a little crowded and you need to share the bus with many other travelers. It's impossible to stop for the scenery on the way, so we suggest you take a private tour.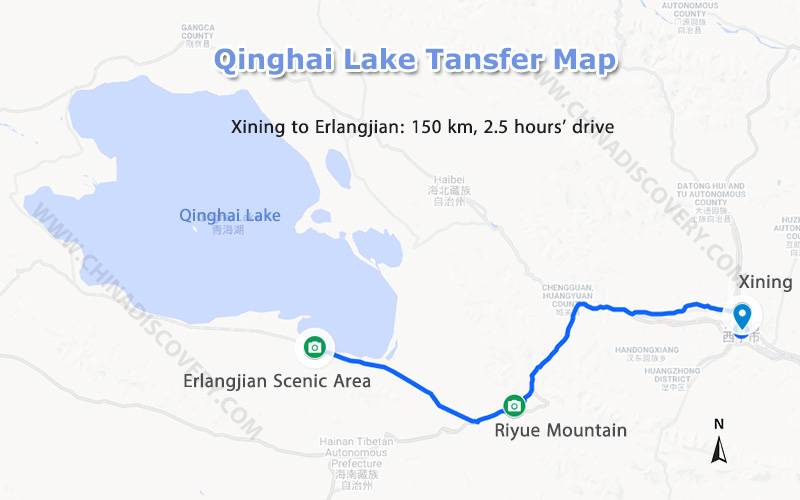 Click to enlarge Xining to Qinghai Lake Driving Map
Travel With China Discovery

If you don't want to wait for the bus or worry about the language barrier with taxi drivers, you can choose the private tour service provided by us. We China Discovery provide comfortable and efficient transfer service for our clients who have booked one of our tour packages. No matter when your flight/train arrives, our friendly tour guide and driver will welcome you at the airport/train station, then escort you to your hotel or any location you want to visit with an air-conditioned and non-smoking vehicle. Great freedom will be given to you whenever you need to stop for sightseeing and photograph. You are sure to enjoy a comfortable, safe and efficient experience.

Far more than that, China Discovery is professional to provide high-quality customizable tour. We have got 1,460+ good reviews on TripAdvisor.com, and 4,050+ China travel reviews from the customers. Before your tour, our travel expert will communicate with you one to one and make an itinerary according your own interest, need and budget. Every detail – transfer, hotels, attractions, etc. will be arranged well for you and you just need to focus on sightseeing. Feel free to contact us to start your Qinghai Lake tour now!

China Discovery Private Transfer

How to Plan A Qinghai Lake Tour

How to Get to Qinghai Lake: It is recommended to reach Xining first and then take a private transfer (3.5 hours' drive) to Qinghai Lake

Best Time to Visit Qinghai Lake: May to October, especially July and August when rape flowers are in full blossom

Where to Stay in Qinghai Lake: There are some hotels in the lake area of Qinghai Lake and some basic hotels in Heimahe River

Generally, a classic Qinghai Lake takes about 3~4 days. Starting from Xining, it tour covers the two biggest highlights of this city, namely - Kumbum Monastery - One of the Six Greatest Tibetan Gelug Monasteries with Three Arts and Dongguan Great Mosque – Qinghai's biggest mosque with splendid appearance and delicate ornaments which allow you to get a cultural savory. Then, spend 1 or 2 days appreciating the beauty of Qinghai Lake, including stunning lake view, far-reaching snow peaks, grassland, rape flowers (in July and August), etc. For cyclist, Qinghai Lake is also a good destination to offer the delighted experience of sightseeing and cycling in one go. It usually needs 2 days to have a great cycling tour along Qinghai Lake.

☛ 3 Days Qinghai Short Stay Tour with Qinghai Lake

More than Xining City and Qinghai Lake, there are many other natural and cultural treasures worthy of your visit in Qinghai. For more lake view, Chaka Salt Lake which is known as the mirror of the lake must be visited. If you are interested in Amdo Tibet culture, you are strongly advised to extend your tour to Tongren and nearby Xiahe (in Gansu) to explore Regong Art and Tibetan Buddhism.

☛ 4 Days Qinghai Lake Chaka Salt Lake Enchanting Tour

☛ 4 Days Qinghai Lake Landscape Tour Plus Tongren Authentic Tibetan Culture and Art Exploration

Many travelers also prefer a silk road discovery combining Qinghai Lake with Zhangye (Zhangye National Geopark, Mati Temple, Giant Buddha Temple…), Jiayuguan (Jiayuguan Pass, Great Wall Museum, ), Dunhuang (Mingsha Mountain and Crescent Lake, Mogao Caves, Yumen Pass…) and Bardain Jaran Desert. If you love Tibet Buddhist fragrance or breathtaking high-altitude landscape, don't hesitate to visit Tibet (Lhasa, Shigatse, Mount Everest, Namtso Lake, etc.) via the world-famous Qinghai Tibet Railway.

☛ 7 Days Miraculous Land Tour from Dunhuang to Zhangye Xining
☛ 7 Days Qinghai Lake Zhangye Danxia Badain Jaran Desert Wonders Tour
☛ 6 Days Xining and Lhasa Train Tour

Erlangjian Scenic Area in Qinghai Lake

Ride the little train in Chaka Salt Lake

Mrs. Chan's group from Canada visited Matisi Temple with China Discovery
Keep Reading About Qinghai Lake
Recommended Qinghai Lake Tours
Top 3 Qinghai Lake tours chosen by most customers to explore Qinghai Lake in the best way. Check the detailed itinerary, or tailor your own trip now with us.
4 Days Enchanting Qinghai Lake Chaka Salt Lake Tour

Xining / Qinghai Lake / Chaka Lake / Xining
4 Days Qinghai Lake Landscape Tour Plus Tongren Authentic Tibetan Culture and Art Exploration

Xining / Qinghai Lake / Tongren / Xining
5 Days Qinghai Lake Cycling Tour

Xining / Qinghai Lake / Chaka Lake / Xining
Start planning your tailor-made holiday to China by contacting one of our specialists. Once inquired, you'll get a response within 0.5~23.5 hours.
Customize a Trip
Have a question? Get answers from our travel experts or guests
Your Question:

Your Name:

Your Email: