Xining Maps - Location, Transfer and Tourist Maps 2023/2024
Located in the Qinghai–Tibet Plateau, Xining is the capital of Qinghai Province and usually the first stop of your Qinghai trip, and its highland scenery is very beautiful. Many people come for the amazing sightseeing and photography. To help you better figure out its location, transferring means, and attractions, we have listed its Xining Location Map, Xining Tourist Maps for your reference. If you have any other questions or want a worry-free tour package, don't hesitate to contact us and enjoy the most memorable Xining trip.
Xining Location Map
Xining (36°62'N, 101°77'E) is located in the eastern part of Qinghai Province,northwest China, on the eastern edge of the Qinghai–Tibet Plateau with an average altitude of about 2,200 meters. As the transportation hub and commercial center in Qinghai, it is an important link in the Silk Road, and many people travel from Xining to Lhasa. It is about 145km away from Qinghai Lake, 295km from Chaka Salt Lake, 28km to the famous Kumbum Monastery. Check its detailed location map:
Xining Tourist Map
Named after the largest salt lake in China, Qinghai offers lots of natural wonders to see and Xining, the capital of Qinghai, is the first stop to explore its charming sides. In Xining, you can explore the Dongguan Mosque, Tibetan Medicine Culture Museum or you can drive about 30km away to see the Kumbum Monastery. Besides these attractions, the most stunning spot is the picturesque Qinghai Lake, which is about 145km from Xining downtown, or you can drive further to the "Mirror of Sky" - Chaka Salt Lake.
Xining Transportation Map
How to Plan a Xining Trip
How to Get to Xining: You can fly to Xining from Beijing (2.5h), Shanghai (3h), Guangzhou (3h15min), Lhasa (2-3.5h), Xian (1.5h), etc. or take a bullet train to Xining from Xian (4-5h), Lanzhou (1h10min-1.5h), Zhangye (2h), Jiayuguan (3.3.5h), Dunhuang (6h), etc.
Best Time to Visit Xining: Months from May to October are the best because the temperature is moderate and comfortable.
Where to Stay in Xining: Xining downtown is most recommended. If you are going to visit Qinghai Lake or Chaka Salt Lake, you can also choose the hotels nearby.
Xining is the starting point and transfer center for a Qinghai tour. It's suitable to spend 1 day discovering the top attractions in Xining, including the Kumbum Monastery, Dongguan Mosque, Tibetan Medicine & Tibet Culture Museum. The vast and beautiful Qinghai Lake, about 2.5 hours' drive from Xining is the No.1 must-visit attraction. You can spend one day here appreciating the water scenery, hiking or biking along the lake or taking a Qinghai Lake cruise (cruise is only available from May to October). With one more day, you can expand trip to the Chaka Salt Lake, known as Mirror of the Sky for its stunning reflected natural landscape on the salt lake. Another day is needed. Usually, people take 3~4 days to visit the three destinations together to explore the cultural and natural highlights of Qinghai.
☛ 3 Days Qinghai Short Stay Tour
☛ 4 Days Enchanting Qinghai Lake Chaka Salt Lake Tour
With short driving distance, there are a few less-known but incredible destinations you can visit, such as the Tongren with authentic Amdo Tibetan Buddhist culture and famous Regong Arts, Kanbula National Forest Park with magnificent Yellow River and Danxia landform. If you're interested and have more time, you can continue the Buddhist cultural trip to Xiahe (Labrang Monastery) and Linxia (Bingling Temple) in southern Gansu.
☛ 4 Days Qinghai Lake Kanbula National Forest Park Geographic Wonders Tour
☛ 4 Days Qinghai Lake Landscape Tour plus Tongren Authentic Tibetan Culture & Art Exploration
☛ 5 Days Amdo Tibetan Culture Experience Tour
Northwest and southwest China are mysterious lands full of natural beauty and cultural charms. Tourists often make a long trip from Qinghai to neighboring Zhangye (Rainbow Mountains), Jiayuguan, Dunhuang (Mogao Caves) of Gansu along the Silk Road, or make a Sky Train trip to "Roof of the World" - Tibet, visit Potala Palace, Mount Everest, Namtso Lake..., or explore Badain Jaran Desert in Western Inner Mongolia, go further to Urumqi, Turpan and more destinations in Xinjiang and travel land to Jiuzhaigou, Ruo'ergai of Sichuan.
☛ 7 Days Qinghai Lake Zhangye Danxia Badain Jaran Desert Wonders Tour
☛ 6 Days Xining to Lhasa Train Tour by Qinghai Tibet Railway
☛ 6 Days Xining to Lhasa Train Tour by Qinghai Tibet Railway
☛ 12 Days Epic Silk Road Tour including Qinghai Lake and Zhangye Danxia
You can choose from our most popular Qinghai tour packages covering excellent sightseeing and the best local experiences. As an experienced and professional China travel agency, China Discovery also offers customized tour service to help you design a unique trip on your own. Just contact us, tell us your schedule and preferences, we will create a memorable China Qinghai tour for you.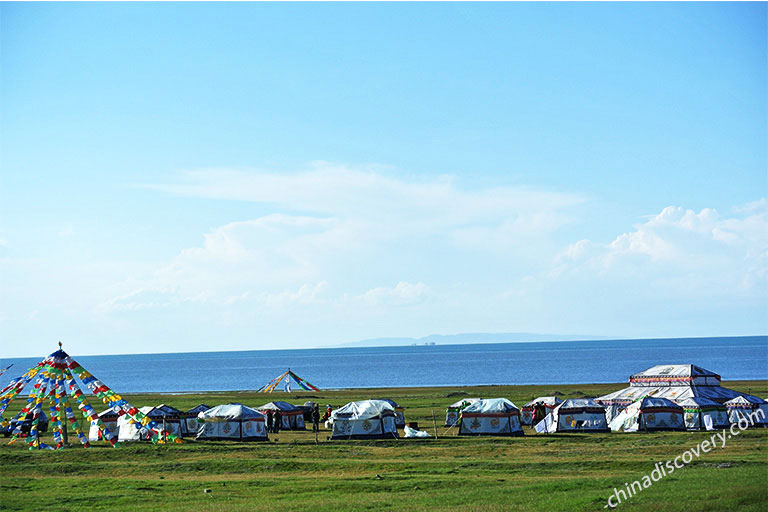 Erlangjian Scenic Area in Qinghai Lake
Tibetan Monks in Rongwo Monastery of Tongren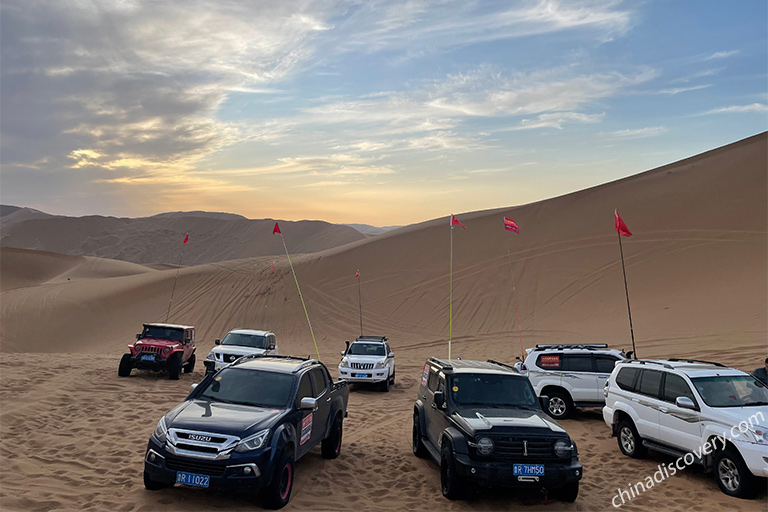 Badain Jaran Desert Jeep Safari
Xining to Lhasa Train on the Qinghai Tibet Railway
Keep Reading About Xining
Keep Reading About Qinghai Attractions
Keep Reading About Qinghai Tours & Travel Guide
Recommended Xining Tours
Top 3 Xining tours chosen by most customers to explore Xining in the best way. Check the detailed itinerary,or tailor your own trip now with us.
3 Days Xining Short Stay Tour including Qinghai Lake

Xining / Qinghai Lake
6 Days Qinghai Lake Zhangye Danxia Rainbow Mountains Dramatic Tour

Xining - Qinghai Lake - Chaka Lake - Zhangye
5 Days Amdo Tibetan Culture Experience Tour

Xining - Tongren - Xiahe - Linxia