Qinghai Lake Maps - Location, Transfer and Tourist Maps of Qinghai Lake
Qinghai Lake, China's largest lake with incredible natural beauty, is the namesake and premier sight of Qinghai Province. The charming vast Qinghai Lake with attractive surrounding scenery of mountain ranges, grassland, beaches and animals offer an attractive place to sightsee and photograph. Besides, some interesting activities like biking and cruising are also available. In order to help you get a better understanding of Qinghai Lake's geographical location as well as transfer and travel means, here we collect the most up-dated Qinghai Lake maps, including Qinghai Lake Location Map, Qinghai Lake Transfer Map, Qinghai Lake Tourist Map, etc. If you want a worry-free Qinghai Lake tour, feel free to contact us for instant help.
Qinghai Lake Location Map - Where is Qinghai Lake
Qinghai Lake is located in the intersection of Gangca County, Gonghe County and Haiyan County of Qinghai Province in northwestern China. It is about 150 km away from Xining - the provincial capital. Check the detailed Qinghai Lake Location Map:
Click to enlarge Qinghai Lake Location Map
Qinghai Lake Transfer Map - How to Get to Qinghai Lake
Xining is the best gateway to start a Qinghai Lake tour and many travelers choose to take a flight or train to Xining first and then drive about 2.5 hours to Qinghai Lake. It is quite easy to get to Xining from many big cities, such as Beijing, Xian, Shanghai, Chengdu, Chongqing, Guangzhou, Hangzhou, Nanjing, Zhangzhou, etc. It is also available to take a high speed train from Lanzhou, Zhangye, Jiuquan, Jiayuguan, Turpan and Urumqi after your Silk Road exploration. Check more about How to Get to Qinghai Lake>
Click to enlarge Xining to Qinghai Lake Transfer Map
Qinghai Lake Tourist Map - How to Travel Qinghai Lake
Qinghai Lake covers a large area of over 4,500 square kilometers and it offers many places to go. Most travelers focus on its essence - Erlangjian Scenic Area. If you want an in-depth experience, it is also advised to visit Fairy Bay Area to enjoy various flowers, or appreciate the breathtaking sunrise from Heimahe Town, or take a cycling experience along the lake. Check the detailed Qinghai Lake Tourist Maps:
Click to enlarge Qinghai Lake Tourist Map
How to Plan A Qinghai Lake Tour
How to Get to Qinghai Lake: It is recommended to reach Xining first and then take a private transfer (3.5 hours' drive) to Qinghai Lake
Best Time to Visit Qinghai Lake: May to October, especially July and August when rape flowers are in full blossom
Where to Stay in Qinghai Lake: There are some hotels in the lake area of Qinghai Lake and some basic hotels in Heimahe River
Generally, a classic Qinghai Lake takes about 3~4 days. Starting from Xining, it tour covers the two biggest highlights of this city, namely - Kumbum Monastery - One of the Six Greatest Tibetan Gelug Monasteries with Three Arts and Dongguan Great Mosque – Qinghai's biggest mosque with splendid appearance and delicate ornaments which allow you to get a cultural savory. Then, spend 1 or 2 days appreciating the beauty of Qinghai Lake, including stunning lake view, far-reaching snow peaks, grassland, rape flowers (in July and August), etc. For cyclist, Qinghai Lake is also a good destination to offer the delighted experience of sightseeing and cycling in one go. It usually needs 2 days to have a great cycling tour along Qinghai Lake.
☛ 3 Days Qinghai Short Stay Tour with Qinghai Lake
More than Xining City and Qinghai Lake, there are many other natural and cultural treasures worthy of your visit in Qinghai. For more lake view, Chaka Salt Lake which is known as the mirror of the lake must be visited. If you are interested in Amdo Tibet culture, you are strongly advised to extend your tour to Tongren and nearby Xiahe (in Gansu) to explore Regong Art and Tibetan Buddhism.
☛ 4 Days Qinghai Lake Chaka Salt Lake Enchanting Tour
☛ 4 Days Qinghai Lake Landscape Tour Plus Tongren Authentic Tibetan Culture and Art Exploration
Many travelers also prefer a silk road discovery combining Qinghai Lake with Zhangye (Zhangye National Geopark, Mati Temple, Giant Buddha Temple…), Jiayuguan (Jiayuguan Pass, Great Wall Museum, ), Dunhuang (Mingsha Mountain and Crescent Lake, Mogao Caves, Yumen Pass…) and Bardain Jaran Desert. If you love Tibet Buddhist fragrance or breathtaking high-altitude landscape, don't hesitate to visit Tibet (Lhasa, Shigatse, Mount Everest, Namtso Lake, etc.) via the world-famous Qinghai Tibet Railway.
☛ 7 Days Miraculous Land Tour from Dunhuang to Zhangye Xining
☛ 7 Days Qinghai Lake Zhangye Danxia Badain Jaran Desert Wonders Tour
☛ 6 Days Xining and Lhasa Train Tour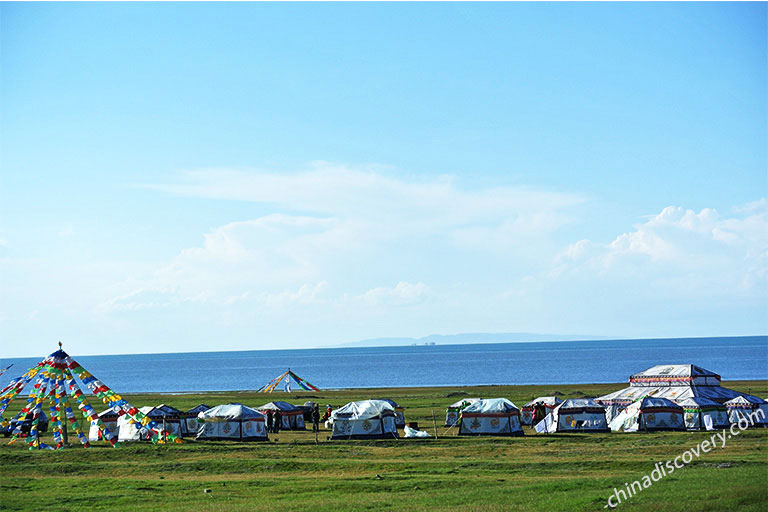 Erlangjian Scenic Area in Qinghai Lake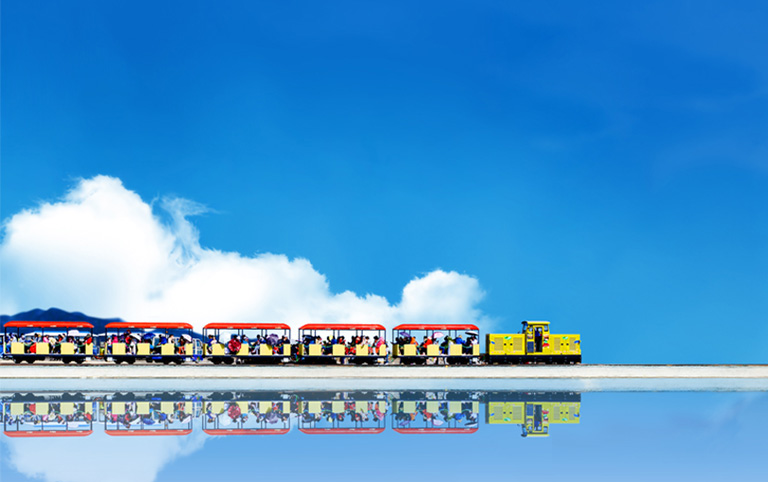 Ride the little train in Chaka Salt Lake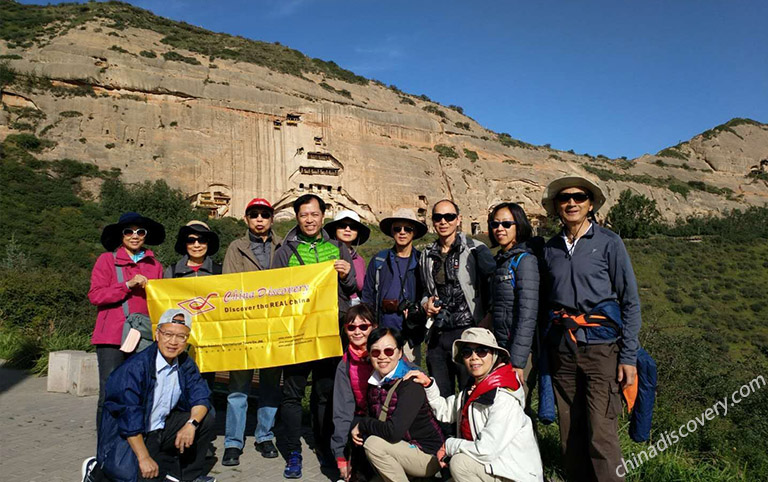 Mrs. Chan's group from Canada visited Matisi Temple with China Discovery
Travel with China Discovery
Traveling in the wild area of northwestern China is many travelers' dream. No matter you want to explore the mystery of the silk road or the natural beauty of Qinghai Lake, it never be as easy as traveling in the bigger cities like Beijing and Shanghai. In order to get a worry-free experience and get ride of the hustle and bustle hustle of public transportation and troublesome navigation, traveling with China Discovery is your best choice. As your flight or train arrives, our local guide will meet you at the airport or train station. You will enjoy a high-quality private transfer service, including comfortable car, skilled driver and freedom to stop for sightseeing.
Far more than that, China Discovery is professional to provide high-quality customizable tour. Before your tour, our travel expert will communicate with you one to one and make an itinerary according your own interest, need and budget. Every detail - transfer, hotels, attractions, etc. will be arranged well for you and you just need to focus on sightseeing. Feel free to contact us to start your worry-free private tour now!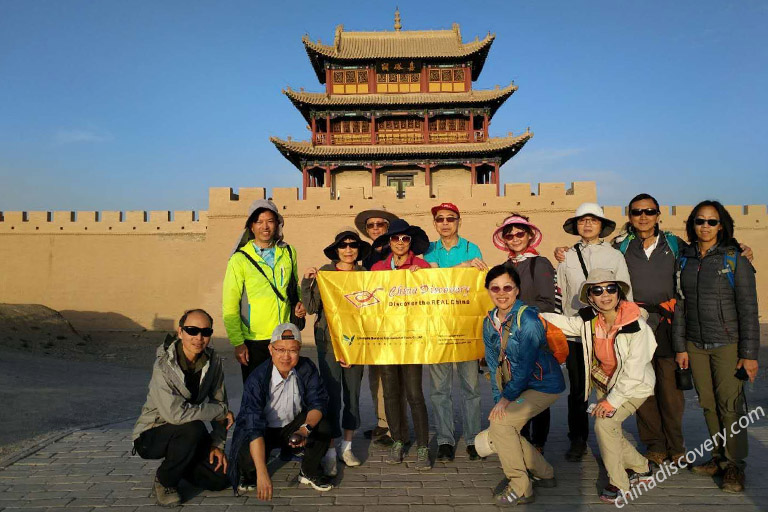 Mrs. Garlen Chan's group from Canada Enjoy A Silk Road Tour with China Discovery
Keep Reading About Qinghai Lake
Recommended Qinghai Lake Tours
Top 3 Qinghai Lake tours chosen by most customers to explore Qinghai Lake in the best way. Check the detailed itinerary,or tailor your own trip now with us.
4 Days Enchanting Qinghai Lake Chaka Salt Lake Tour

Xining / Qinghai Lake / Chaka Lake / Xining
6 Days Qinghai Lake Zhangye Danxia Rainbow Mountains Dramatic Tour

Xining - Qinghai Lake - Chaka Lake - Zhangye
4 Days Qinghai Lake Landscape Tour Plus Tongren Authentic Tibetan Culture and Art Exploration

Xining / Qinghai Lake / Tongren / Xining