Red Panda Volunteer Program & Experience
The red panda, also called the lesser panda, the red bear-cat and the red cat-bear, which looks different from giant panda from appearance, has reddish-brown fur, a long, shaggy tail, and a waddling gait due to its shorter front legs. Red pandas are excellent climbers and forage largely in trees. They eat mostly bamboo and may eat small mammals, birds, eggs, flowers and berries. Like giant pandas, this red cat-bear cannot digest cellulose and so they must consume a large volume of bamboo to survive everyday.
The red panda is a mammal native to the eastern Himalayas and southwestern China (mainly in Sichuan Province, Yunnan Province and Tibet Autonomous Region). The lesser pandas are friendly neighbors of giant pandas though they are not closely related to the giant pandas, which belong to basal ursid. Travelers who want to see the adorable red pandas, you can pay a visit to the panda bases and many city zoos in China.
Red Pandas are Endangered & Need Protection
The red panda has been listed as endangered species on the IUCN Red List (世界自然保护联盟红色名录) because of the wild population is estimated at fewer than 10,000 mature individuals and continues to decline for the habitat loss and fragmentation, poaching and inbreeding depression.
The Wolong Nature Reserve is the third largest national-level nature reserve and also the largest nature reserve in Sichuan Province with the most complicated natural condition and the largest number of rare animals. Among them, red panda is on the list. Panda lovers who are eager to do some meaningful volunteering work to help save the endangered species, you can take one day or more by heading to Wolong Hetaoping Panda Base, which is about 120 kilometers from Chengdu downtown area (about 2.5 hours' driving).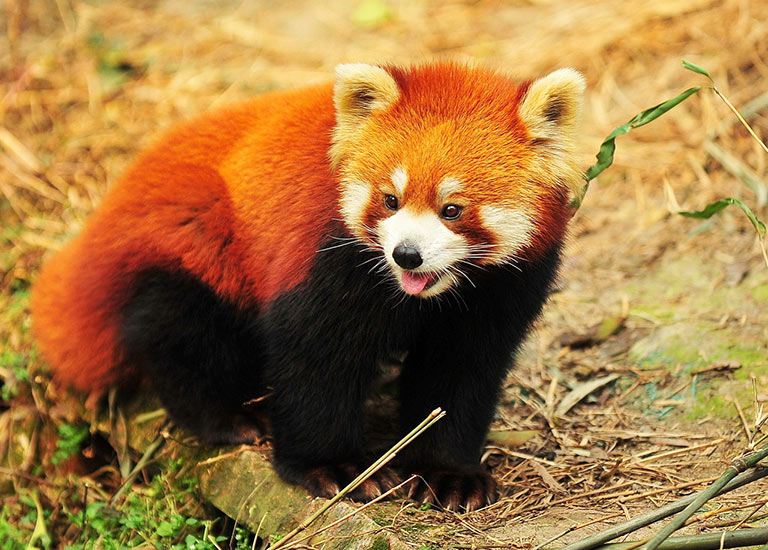 Red Panda in Sichuan
Red Panda Volunteer Experience
In Wolong Hetaoping Panda Base, there are over 60 red pandas living in natural environment under good protection. Under the guidance of the staff, volunteers can have a close contact with the lovely red pandas and take care of their daily life. Also, you'll become the honorable keeper to clean the enclosures and prepare food for them, most importantly, you have the precious time to feed them. You'll understand them better by watching the red panda documentary as well as having a good communication with the professional zoologist.
You're guaranteed with memorable experience just like attending the giant panda volunteer program in Dujiangyan, Ya'an or Shenshuping Panda Base.
>> 1 Day Dujiangyan Panda Volunteer Tour (Chengdu / Dujiangyan / Chengdu)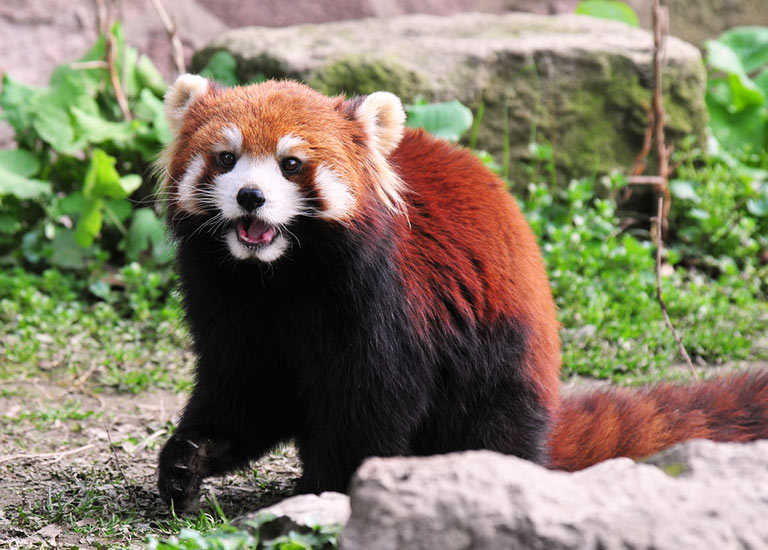 Red Panda in Hetaoping Panda Base (Sichuan)
Red Panda Volunteer Program with Detailed Working Schedules
1. Program Length: One full day / 7 hours (09:30 - 16:30).
2. Age: Aged between 8 and 70 in good health.
3. Working Time & Detailed Schedules:
Time
Duration
Activities
Morning
(08:30~12:00)
08:30 – 08:50
Arrive at Wolong Shenshuping Panda Base Volunteer Service Center, learn safety announcement and sign the security agreement; put on the work suit and gloves, wear the volunteer pass card before go to the work place; the staff will tell the panda volunteer matters need attention.
09:00 – 10:00
Follow the guidance of the staff and transfer to Hetaoping Panda Base which is about 20 kilometers from Shenshuping Panda Base. Come to the red panda enclosures, take the old bamboo out, scoop the poop, and clean the panda house...
10:00 – 10:40
Cherish the 40 minutes to prepare and feed the red panda in very close distance.
10:40 – 11:30
Clean the enclosures of red pandas and do the disinfection.
11:40 – 12:00
Enjoy some leisure time, walk and see red pandas in the panda base.
Lunch
(12:00~13:00)
12:00 – 13:00
Have lunch with your partners and other volunteers. Take a short rest after lunch.
Afternoon
(13:00~15:00)
13:00 – 14:00
Watch a red panda documentary that shows the scientific facts and natural ecology about red panda, to understand how humans protect them.
14:00 – 14:20
Catch the second chance to feed the red pandas and have great time with them. 
14:30 – 15:00
Give back the work suit, gloves and volunteer pass card; finish the panda volunteer experience and get the panda volunteer certificate and souvenirs. 
Note: The real arrangement of the volunteering activities may vary based on the real situation and the condition of red pandas. If you want to know the latest info, please contact our travel consultant before booking.
4. Requirements:
Follow the Rules: Volunteers should follow the guidance of the staff and listen to their instruction. You are not allowed to feed food for red pandas boldly.
Avoid Using Strong Smell: For red pandas have keen sense of smell, volunteers should avoid using perfume or other odorous articles like mosquito repellent liquid or nail polish, skin care products, makeups, etc. on the volunteering work day.
Wearing: During your red panda volunteer program, you are required to wear comfortable shoes, like sports shoes that are suitable for the work, and try to avoid sandals, slippers, high-heels, and so on. Besides, wear trousers, avoid shorts and skirts, etc. (during the volunteer program, the panda base will provide working jumpsuits in spring and winter, and T-shirts in summer and autumn for you.)
Healthy Bodies: To well protect giant pandas, volunteers are required to be healthy, and people who are suffering from illness, like a cold, fever, influenza, and other infectious diseases are not suitable to have body contact with the red pandas.
Photo Permisson: Volunteers are forbidden to take photos and videos without permission. You should tell the staff and get the permission if you want to take photos.
No Smoking: Smoking is forbidden in Wolong Hetaoping Panda Base.
Volunteers can only pay a visit to the public area of the panda base and you are not allowed to enter the "non-visiting area". Please watch the notice.
The red panda volunteer program is to be delayed or inaccessible if there is Force Majeure like earthquakes, epidemic... Also, the inevitable requirement and control of the government, country may influence your volunteer program.
Plan Red Panda Volunteer Program & Travel with China Discovery
China Discovery, local based in Sichuan - the hometown of giant pandas, has many years experience to organize panda volunteer program to Dujiangyan Panda Base, Bifengxia Panda Base and Wolong Shenshuping Panda Base. Volunteers can enjoy worry-free package including private car, driver and tour guide, entrance tickets, sightseeing, etc. if you book the red panda volunteer program with us.
No matter you want to do giant panda program or red panda volunteer program, no matter which panda bases you are interested in, just feel free to tell us your ideas and likes, China Discovery are here trying our best to customize a satisfactory panda tour to fulfill your panda dream! Travel with us!
Panda Volunteers at Wolong Shenshuping Panda Base
Top 4 Panda Bases & Volunteer Programs in China
Useful Articles of China Giant Pandas
Recommended Panda Tours
Top 3 Panda tours chosen by most customers to explore Panda in the best way. Check the detailed itinerary, or tailor your own trip now with us.
2 Days Wolong Panda Volunteer at Shenshuping Base

Chengdu / Wolong / Chengdu
2 Days Wolong Panda Volunteer Tour with Chengdu Highlights

Chengdu / Wolong Panda Base / Chengdu
4 Days Ultimate PANDA Tour for Panda Fans

Chengdu / Dujiangyan Panda Base / Chengdu
Start planning your tailor-made holiday to China by contacting one of our specialists. Once inquired, you'll get a response within 0.5~23.5 hours.
Customize a Trip
Have a question? Get answers from our travel experts or guests
Your Question:

Your Name:

Your Email: