Dujiangyan Panda Base Volunteer Program
Pandas, those most captivating and cuddly creatures on earth, are still under threats and need to be well preserved. At Dujiangyan Panda Base, there is a group of love and professional panda keepers trying their best to help rescue this vulnerable species. And to help the world know better about pandas' habits and condition, Dujiangyan Panda Base offers a sweet and educational Panda Volunteer Program, allowing a maximum of 50 volunteers a day to be a one-day keeper there! What good news for panda fans!
Why Join in Dujiangyan Panda Volunteer Program
Those lovely but vulnerable pandas need your help and attention;
As a bonus, you will spend a whole day hanging out with adorable pandas and enjoy interesting activities there;
You will get your personal volunteer certificate of helping pandas at the end of the day.
Hottest Dujiangyan Giant Panda Volunteer Tour:
- 1 Day Dujiangyan Panda Volunteer Tour (Dujiangyan Panda Base)
What are Included in Dujiangyan Panda Volunteer Program
During the volunteer day at Dujiangyan Panda Base, you will be a one-day keeper of pandas there and learn how to clean up their rooms, how to prepare bamboo trees for them, how to make panda cakes for them, etc.
Check the hour-by-hour itinerary below:

Dujiangyan Panda Volunteer Program Itinerary
Time
Duration
Activity
Morning
(8:30-11:30)
08:30~09:00


Learn safety announcement and sign the security agreement; put on the work suit and gloves, wear the volunteer pass card before go to the work place; the staff will tell the panda volunteer matters need attention.

09:00~10:00


"Honorable Panda Keeper" experience: carry out the old bamboo, wash the panda house, clean up the panda excrement, carry in the fresh bamboo, etc.

10:00~11:00

"Wonderful Panda Tour" time: visit other panda enclosures, look around the panda base for more giant pandas and red pandas.
Lunch
(11:30-13:00)
Have lunch with the staff in the restaurant and take a break;
Visit around the base and see the cute panda if you like.
Afternoon
(13:00-15:30)
13:00~14:00

"Panda Cinema": Watch a panda documentary that shows the scientific facts about panda, to understand how humans protect them.

14:50~15:30

"Panda Nutritionist" time: prepare food for the panda and also make the panda cake.

15:30 and after

Answer some scientific questions about panda through your whole days' experience; Plant bamboo to improve the pandas' environment; and then, finish the panda volunteer experience and get the panda volunteer certificate and souvenirs.

Note: All the schedule and arrangements above may be adjusted according to the specific situations. You could contact our experienced travel consultant for the real-time itinerary.
Requirements about Dujiangyan Panda Volunteer Program
Age Limits: The center can accept up to 50 volunteers a day and the age should be between 10 and 70.
Apply for it a Week in Advance: Being a volunteer, you should apply it a week in advance with your Application Form and Health Examination Form (valid medical certificate and signature which could apply it in your country or in China). Interested people could feel free to contact our travel consultant for more information or let them help you.
Pandas are Sensitive to Smell: For pandas have keen sense of smell, volunteers should avoid using perfume or other odorous articles like mosquito repellent liquid or nail polish, skin care products, makeups, etc. on the volunteering work day.
Dress Code: During your panda volunteer program, you are required to wear comfortable shoes, like sports shoes that are suitable for the work, and try to avoid sandals, slippers, high-heels, and so on. Besides, wear trousers, avoid shorts and skirts, etc. (during the volunteer program, the panda base will provide working jumpsuits in spring and winter, and T-shirts in summer and autumn for you.)
Good Physical Fitness: To well protect giant pandas, volunteers are required to be healthy, and people who are suffering from illness, like a cold, fever, influenza, and other infectious diseases are not suitable to have body contact with the giant pandas.
May Be Delayed Sometimes (Rare Happen): The panda volunteer program is to be delayed or inaccessible if there is Force Majeure like earthquakes, epidemic... Also, the inevitable requirement and control of the government, country may influence your volunteer program.
Panda Honorable Keeper Experience at Dujiangyan Panda Base
How to Apply for Dujiangyan Panda Volunteer Program
All the panda fans are required to apply for Dujiangyan Panda Volunteer Program with the help of professional travel agents or other organizations, because you have to file in Application Form and Health Examination Form. Traveling with local agents is the best choice, because they will help you not only applying for the program but also escorting you to/back to your Chengdu hotel in convenience.
We China Discovery based in Chengdu also offer warm Dujiangyan Panda Volunteer Program application service and we have helped thousands and hundreds of panda fans realized their panda dreams since 2012! If you want be part of the amazing group of volunteers, please feel free to let us know!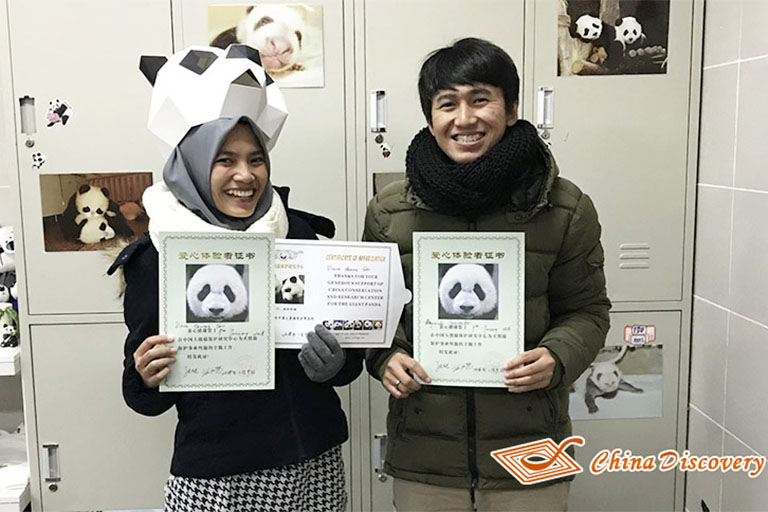 Volunteer Certificate
Dujiangyan Panda Volunteer Program Tips
1. Wake up Early: The volunteer tour normally begins from Chengdu, because Chengdu is only 1.5 hours away from Dujiangyan Panda Base and Chengdu has more comfortable accommodation options. Your driver will pick you up at your Chengdu hotel at 7:00am around in the early morning.
2. Peak Season: Since July to August is the super peak season for doing a panda volunteer program at Dujiangyan Panda Base, if you want to enjoy the activity during those months, it is highly advised to book in advance at least 2 months.
3. Alternative Option: Don't be upset if you failed to find your seat for Dujiangyan Panda Base Volunteer Program. Wolong Panda Base and Ya'an Bifengxia Panda Base also offer panda volunteer program for panda lovers. You can contact our travel consultant for an alternative option at one of these two panda bases.
>> 2 Days Shenshuping Panda Volunteer with Dujiangyan Essence
>> 2 Days Inspiring Ya'an Bifengxia Panda Volunteer Experience
4. Panda Holding is Not Available: To avoid pandas getting unpredicted diseases by close contact, the Panda Holding Program (Panda Hug Program) has been suspended since 2018.
Travel Chengdu & Dujiangyan with China Discovery
Since you are already on the land of Dujiangyan and Chengdu, you are highly suggested to spend two or more days to explore the highlights there. You can spend another whole day to visit Dujiangyan Irrigation System and Mount Qingcheng that not far from Dujiangyan Panda Base. Besides, you are also highly suggested to leave yourself 1~2 days to soak up the slow-paced lifestyle and savor delicious food in Chengdu downtown.
>> 4 Days Ultimate PANDA Tour for Panda Fans
Have your own plan and interests and want to add more attractions into your volunteer tour? Please feel free to contact us and let our professional travel consultants help you! The tour can be tailor-made according to your group size, time, physical condition, plan, interest, budget and every special need!
Drinking Tea in Heming Tea House, Chengdu People's Park
Panda Bases & Volunteer Experience
Useful Articles to Plan Panda Tours
Recommended Tours
Top 3 tours chosen by most customers to explore in the best way. Check the detailed itinerary, or tailor your own trip now with us.
1 Day Dujiangyan Panda Volunteer Tour

Dujiangyan
2 Days Panda Volunteer Tour with Dujiangyan Highlights

Dujiangyang Panda Base, Mount Qingcheng, Dujiangyan Irrigation System
4 Days Ultimate PANDA Tour for Panda Fans

Chengdu / Dujiangyan Panda Base / Chengdu
Start planning your tailor-made holiday to China by contacting one of our specialists. Once inquired, you'll get a response within 0.5~23.5 hours.
Customize a Trip
Have a question? Get answers from our travel experts or guests
Your Question:

Your Name:

Your Email: