Giant Panda Map: Panda Habitat Map, Panda Base Map 2020
In this Giant Panda Map Guide, we've put together a list of latest English Giant Panda Maps to help you have a better understanding about pandas and their habitats, including Panda Habitat Map, China Giant Panda Location Map, Giant Panda Base Maps (Chengdu Giant Panda Base Map, Dujiangyan Panda Base Map, Wolong Giant Panda Base Map and Bifengxia Giant Panda Base Map), Giant Panda Base Transportation Maps, etc.
Giant Panda Habitat Map - Where Giant Pandas Live & Where to See Giant Panda
In prehistoric times, Giant Pandas was widely distributed in southern and eastern China, as well as neighboring Myanmar and northern Vietnam. However, with the expanding of human population and natural damages, pandas are now mainly living in China and their habitat has shrunk to a few patches in Sichuan, Gansu and Shaanxi provinces in China's central and southwestern part. The Panda Habitat Map below may give you a glimpse of the change.
Where can you see giant pandas? Most of the Giant Pandas are now living in Sichuan Province. And all the panda bases are settled in Sichuan too. For visitors, you will find the largest group of pandas at those panda bases. You can also find 2~15 pandas in the zoos of China's big cities like Shanghai, Beijing and Chongqing. Check more details of Where to See Pandas in China >>
Giant Panda Base Transportation Maps - How to Get There
To help you travel to those panda bases in Sichuan more efficiently, here we will give you useful transportation maps of getting to Giant Panda Bases from Chengdu. If you are looking for more transportation info, you could also check Chengdu to Chengdu Panda Base, Chengdu to Dujiangyan Panda Base, and Chengdu to Wolong Panda Base.
Giant Panda Base Maps - How to Visit the Panda Bases
There are altogether 4 panda bases in Sichuan, including the most popular Chengdu Research Base of Giant Panda Breeding (short for Chengdu Panda Base) in Chengdu downtown, Dujiangyan Panda Base in Dujiangyan City, Bifengxia Panda Base in Ya'an City and Wolong Panda Base in Wolong Town. At present, there are about 30~120 adorable pandas living in each panda base.
If you are in hurry, you are suggested to head to Chengdu Panda Base to have a half-day date with cuddly pandas there. And if you have one day or more and want a close visit of pandas, you should never miss the one-day Volunteer Program at Dujiangyan Panda Base! Wolong Panda Base and Ya'an Bifengxia Panda Base also offer sweet Panda Volunteer Program too!
Seeing and Volunteering Pandas with China Discovery
Few animals can compete with the panda in terms of cuteness! Their chubby body with iconic "black eyes" always makes us fall in love with them at our first sight. Are you also panda fans? If yes, how about creating some sweet moments with these cuddy creatures in your China tour? Most of the big cities in China have at least 2 adorable pandas at their zoo. Take a short half-day or so to the zoo in the city you are heading to, you will meet with and take pictures with pandas!
Besides, if Chengdu is on your traveling list, you are high suggested to arrange your meeting with pandas in Chengdu, because you will find the largest group of pandas there. If your time is limited, you can spend half-day or so to Chengdu Panda Base in downtown area. And if you have one day or more, joining in a One-day Panda Volunteer Program may be your best choice, because you will have an opportunity to spend a whole day hanging out with adorable pandas and even feed pandas sitting in front of you!
>> 2 Days Classic Chengdu Tour with Panda Visit
>> 1 Day Dujiangyan Panda Volunteer Tour (Dujiangyan Panda Base)
>> 4 Days Ultimate PANDA Tour for Panda Fans
We China Discovery based in Chengdu have helped hundreds and thousands of panda fans realized their panda dreams since 2012! If you want to see pandas in China or want to be part of the amazing group of volunteers, please feel free to let us know and let our professional travel consultants help you! The tour can be tailor-made according to your group size, time, physical condition, plan, interest, budget and every special need!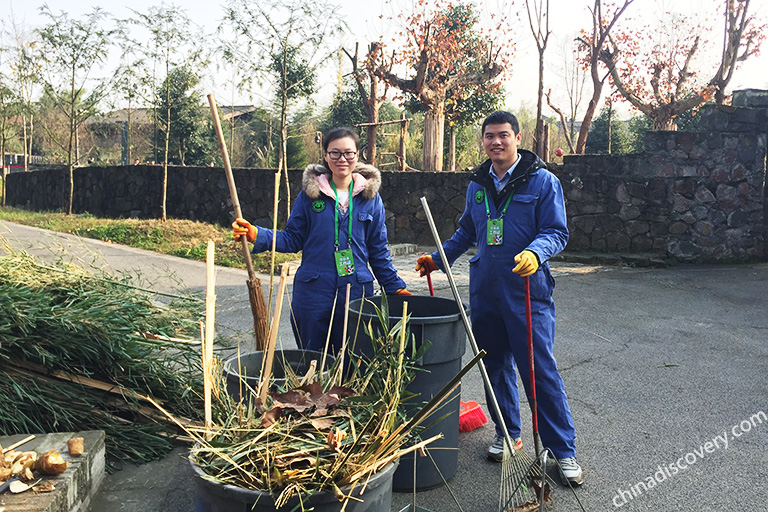 Love Panda Feeding of Panda Volunteer Program
Panda Bases & Volunteer Experience
Useful Articles to Plan Panda Tours
Recommended Panda Tours
Top 3 Panda tours chosen by most customers to explore Panda in the best way. Check the detailed itinerary,or tailor your own trip now with us.
7 Days Ancient China Tour with Panda

Beijing / Xian / Chengdu
10 Days China Family Tour with Panda Reserve Visit

Beijing / Xian / Chengdu / Shanghai
6 Days Leshan, Mount Emei & Panda Volunteer Tour

Chengdu / Leshan / Emei / Chengdu / Dujiangyan / Chengdu