How to Get to Wolong Panda Center
Wolong Panda Center also known as Shenshuping Panda Base, is located 130km northwest of Chengdu, the capital of Sichuan Province. Wolong Panda Center belongs to the Wolong National Nature Reserve that is reputed as the "Panda Kingdom" and "Gene Pool of precious Flora and Fauna". It's the best place to observe living habits of wild giant pandas and also a good place to participate in the meaningful Panda Volunteer Program. For panda addicts who want to know more about the largest, most dynamic and self-sustaining base for giant panda in the world can pay a visit to this hometown of all giant panda.
How to get to Wolong Panda Center? At present, there is no airport or train station in Wolong Nature Reserve Area. The best way to get to Wolong Panda Center is by private car or by bus.
Where is Wolong Panda Center
Map of Chengdu to Wolong Panda Center
Location: Gengda Township, Wolong Nature Reserve, Wenchuan County, Aba Tibetan and Qiang Autonomous Prefecture, Sichuan, China (阿坝藏族羌族自治州汶川县卧龙自然保护区耿达镇)
Wolong Panda Center is part of Wolong National Nature reserve, located in Gengda Township, about 130km from Chengdu and 65km from Dujiangyan. Wolong Panda Center is one of the main scenic spot on the north part of Western Sichuan Small Loop. Travelers who want to have a deep Sichuan tour can continue their journey west to Mount Siguniang(100km) and Daocheng Yading (700km) to enjoy the miracle of nature.
>> Learn more about Wolong Panda Center
Chengdu to Wolong Panda Center
Non-stop by Private Car
The distance between Wolong and Chengdu is about 130km takes about 2 hours by private car. Wolong Panda Center is open daily from 9:30 - 16:00. Best time to visit is during the morning, pandas are most active during that time. Therefore if you want to get there directly from Chengdu, take a private car might be the best choice for you. We China Discovery will provide you the most flexible, professional, comfortable, time-saving and safe journey.
Self-tailor Trip by Private Car
On the way to Wolong Panda Center you will pass Dujiangyan City and Yingxiu Town. You can take 1 or 2 hours to visit the post-earthquake reconstruction - Yingxiu Town. If you have spare time and interested in irrigation system and Taoism, you can spend one or two days in Dujiangyan City, visit the great accomplishment of Dujiangyan Irrigation Project and experience Taoism culture at Mount Qingcheng.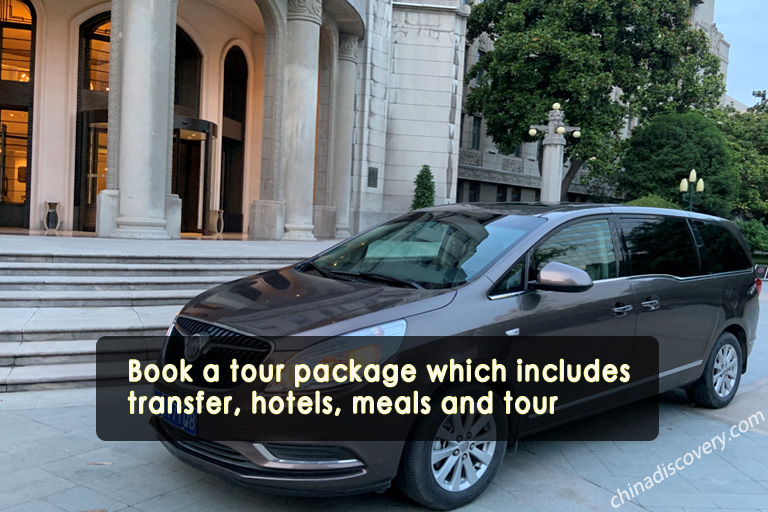 Chengdu Private Car Service
Get to Wolong Panda Center By Bus
For independent travelers, you can take a taxi or Metro Line2 and get off at Chaodianzi Bus Station (茶店子客运站). Then catch a 3-hour bus ride bound to Xiaojin County or Wolong Town and alight in Gengda (耿达). Or you can take buses at Xinnanmen Bus station (新南门客运站) or Shiyang Bus Station (石羊客运站) which headed to Wolong and get off at Gengda. The bus will stop near the Wolong Panda Center in Gengda, after a few minutes walk you can reach to the gate.
Check more detail information about bus transfer from Chengdu to Wolong Panda Center
Shenshuping Panda Base
| | | | |
| --- | --- | --- | --- |
| Bus Station | From - To | Departure | Frequency |
| Chadianzi Bus Station | Chengdu - Xiaojin | Gengda | 4 |
| Xinnanmen Bus Station | Chengdu - Wolong | Gengda | 11 |
| Shiyang Bus Station | Chengdu - Wolong | Gengda | 15 |
| North Bus Station | Chengdu - Wolong | Gengda | 1 |
(Note: 1. The above information is only for reference, timetable might be change according to the real situation. 2. Foreign tourists who want to get to Wolong Panda Center by bus, need to check the bus timetable in advance and purchase tickets at bus stations ahead of time. )
Dujiangyan to Wolong Panda Center
Get to Wolong Panda Center by Private Car
Wolong is located about 65km west of Dujiangyan City, takes about 1 hour by car.
For travelers who have finished 1 or 2 days tour at Dujiangyan can get up early and take the private car to Wolong National Nature Reserve to participate in the Panda Volunteer Program in Shenshuping Panda Base.
Our experienced licensed driver will pick you up from your hotel and send you directly to Shenshuping Panda Base to take part in the Panda Volunteering Program in Wolong, our English speaking tour guide will give you a detail background introduction about Wolong Nature Reserve to fulfill your journey.
>> Learn more about Shenshuping Base Panda Volunteer Program
Panda Volunteer Program in Wolong
Get to Wolong National Reserve by bus
From Dujiangyan, independent visitors can take a bus at Dujiangyan Coach Station to Wolong. It takes about two hours. However there is only one bus a day running between Dujiangyan and Gengda everyday and departures at Dujiangyan Bus Station around 13:30. Shenshuping Panda Base would close at 16:00 everyday, therefore if you want to take part in Panda Volunteering Program or visiting Panda Base, taking a bus might not be a good choice.
Cute Pandas in Wolong Panda Center
How to Plan Your Panda Tour in Sichuan
Wolong National Nature Reserve is the largest and the most complicated in Sichuan, Shenshuping Panda Base situated in this reserve is the special organization to protect giant panda. Travelers who want to explore the pandas' truly habitat is highly recommended to visit Shenshuping Base. Shenshuping Panda Base is about 130km from chengdu, takes about 2 to 2.5 hours by car, so most visitors would take a two-day tour in Wolong Tour, on the first day tourists would pay a visit to Wolong Giant Panda Museum to learn more about giant pandas, then stay one night at wolong town, get up early in the next morning and take part in the Wolong Panda Volunteering Program to have a more intimate contact with those cute creatures.
>> 2 Days Wolong Panda Volunteer at Shenshuping Base
In fact, if you have limited travel time and only want to have a close look of giant pandas, Chengdu Panda Base would be the best choice for you, it's located in the north suburb of Chengdu city and only 10km from city center ,over 100 pandas live there and you can also see many other endangered wildlife such as red pandas etc. If you'd like to take part in a panda volunteering program and don't like long-time road trip, you can visit Dujiangyan Panda Base to fulfill your volunteering dream, learn more about living habits of pandas, feed them and have a intimate contact with them.
>> 4 Days Ultimate Panda Tour for Panda Fans
If you have more days and want to have a deep explore of west Sichuan, after 1-2 days spend in Wolong, you can head west to visit Mount Siguniang - Queen of Sichuan Mountain to admire the massive snowy land. As if these are not enough, continue your adventure to Daocheng Yading, which being praised as "the last pure land on earth". In the boundless of the same color as the lake and the sky, put aside the shackles of living busy with rushing, listening and feel the voice of the nature impacting the mind.
>> 4 Days Mount Siguniang Hiking Tour
Feed the Giant Panda
Mount Siguniang
West Sichuan Tourisum Circuit
Travel with China Discovery
Based in Chengdu, we China Discovery can provide you with the best travel experiences with reasonable price. Our experienced local drivers will escort you to Wolong National Nature Reserve from Chengdu or Dujiangyan directly and guarantee your safety along the trip.
The tour can be tailor-made according to your group size, time, physical condition, plan, interest, budget and every special need. If you have any other ideas about the trip or you have other places or cities wanted to visit such as Yunnan, Shanghai, Beijing or Xian, our experienced travel consultants are very glad to offer their help. Please feel free to contact us!
Panda Bases & Volunteer Experience
Useful Articles to Plan Panda Tours
Recommended Chengdu Tours
Top 3 Chengdu tours chosen by most customers to explore Chengdu in the best way. Check the detailed itinerary, or tailor your own trip now with us.
2 Days Best Chengdu Leshan Giant Buddha Tour

Chengdu / Leshan Giant Buddha / Chengdu
3 Days Chengdu Highlights Tour plus Leshan Giant Buddha

Chengdu: Chengdu Panda Base, Leshan Giant Buddha, Jinli Street
Start planning your tailor-made holiday to China by contacting one of our specialists. Once inquired, you'll get a response within 0.5~23.5 hours.
Customize a Trip
Have a question? Get answers from our travel experts or guests
Your Question:

Your Name:

Your Email: