Updated Lanzhou Maps 2023/2024
Lanzhou is an important outpost on the ancient Silk Road and an important transportation hub connecting the minorities in the western regions of China. To help you have a better understanding about Lanzhou, we have collected some useful Lanzhou maps, including Lanzhou city map, Lanzhou tourist map, Lanzhou hotel map, etc, all of which are downloadable and printable.
Lanzhou City Map
Lanzhou (36 ° 03 ′ N, 103 ° 40 ′ E) is located in the northwest of China, the central part of Gansu Province, with a total area of 13085.6 square kilometers.
• Recommended Lanzhou Tour: 3 Days Lanzhou Short Break
Lanzhou Tourist Maps
Most of the scenic sites in Lanzhou are located in the downtown area, including the famous Gansu provincial museum, White Pagoda Park, Binhe Park, etc. Maps of its major attractions are offered for your Lanzhou tour!
• Recommended Gansu Tour: 10 Days Gansu Highlights Tour from Xining
• Useful Link: Lanzhou Attractions
Lanzhou Transportation Maps
With one airport and 3 train stations, Lanzhou is easily accessible from almost every major cities and provincial capitals of China, such as Beijing, Shanghai, Xian, Guangzhou, Chengdu, Chongqing, etc. Rather than a scenic city, Lanzhou is a transportation hub and a gateway city along the journey to the west. Taking a high-speed bullet train, you will encounter Dunhuang, Zhangye, and Jiayuguan in Gansu, and Turpan, Urumqi in Xinjiang.
• Recommended Gansu Tour: 6 Days Hexi Corridor Discovery Tour(Zhangye/Jiayuguan/Dunhuang)
• Useful Link: Lanzhou Transportation
How to Plan Your Lanzhou Tour
Lanzhou is rather a transfer hub than a popular tourist destination. Traveler usually choose Lanzhou as the starting point of their holidays because there are a great number of trains to Gansu, Qinghai, Tibet, Xinjiang making stops here, as well as many domestic flights from Beijing, Xian, Chengdu, Shanghai, Guangzhou, etc. From Lanzhou, you can extend your trip to Xiahe Labrang Monastery and Langmusi Temple in southern Gansu(2~3 days), or travel northwestwards to the famous Hexi Corridor - Zhangye, Jiayuguan and Dunhuang(4~5 days).
★ Top-Recommended Lanzhou Tours
✔ 4 Days Lanzhou Labrang Monastery Tour
✔ 4 Days Maijishan Grottoes & Lanzhou Culture Tour
Travel Lanzhou with China Discovery
Want to travel in and around Lanzhou but don't know how to arrange your day by day itinerary? Travel Lanzhou with us, and all of your problems will be solved. In every city, our professional local guide and driver will escort you from your hotel, train station, airport to all attractions with comfortable private licensed car and let you catch the highlights of every site and city, so you can get really relaxed on the way and focus on what you are interested in. The tour can be tailor made according to your plan, time and interests and demands. If you are interested, please feel free to contact us and tell us your needs, and we will customize a memorable tour for you!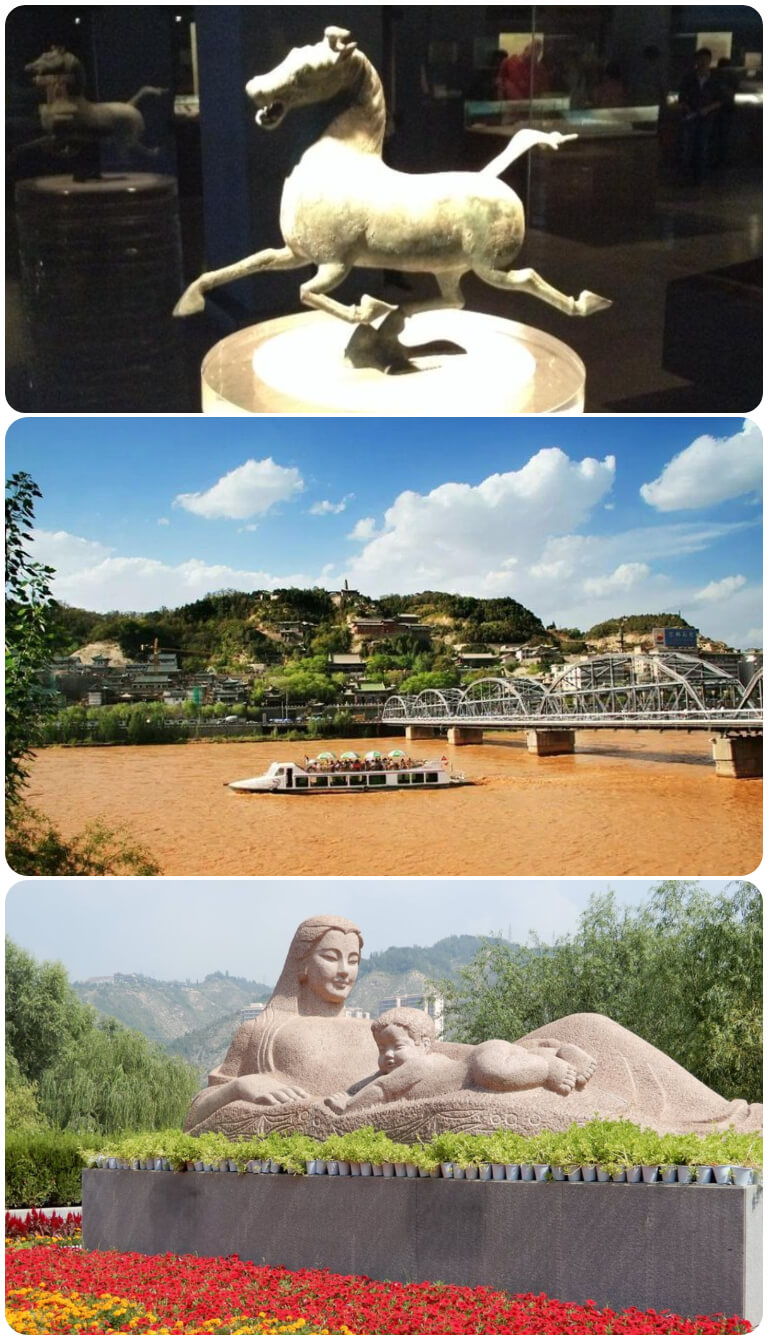 Lanzhou Attractions and Treasures
Most Popular Lanzhou Tours
Useful Lanzhou Travel Guide
Recommended Lanzhou Tours
Top 3 Lanzhou tours chosen by most customers to explore Lanzhou in the best way. Check the detailed itinerary,or tailor your own trip now with us.
3 Days Lanzhou Short Break

Lanzhou
4 Days Lanzhou Labrang Monastery Tour

Lanzhou - Xiahe - Linxia - Lanzhou
4 Days Maijishan Grottoes & Zhangye Danxia Tour

Tianshui - Lanzhou - Zhangye