Kaili Maps: Maps of Kaili, Qiandongnan, Guizhou, China
Guizhou's Qiandongnan Miao and Dong Autonomous Prefecture is a popular tourist region with the largest concentration of Miao Ethnic Villages and Dong Ethnic Villages, including the most famed Xijiang Miao Village and Zhaoxing Dong Village. And being the bustling center of Qiandongnan region, Kaili is a vital gateway for tourists heading to visit these mysterious villages.
To help you travel to Kaili and its surrounding ethnic minority villages in efficient, here we've selected some useful Kaili Maps for you. All Maps of Kaili, including Kaili China Map, Kaili Guizhou Map, Kaili Tourists Map, etc., are all downloadable and printable! You can make full use them when planning your Kaili Tours.
Kaili Location Map - Kaili China Map, Kaili Guizhou Map
Kaili is about 125km (direct distance) east of Guiyang, the capital of China's Guizhou Province. It is settled in the east part of Guizhou Province. And from a China Map, Kaili is on the southeast part. The Kaili Location Maps below, including Kaili China Map and Kaili Guizhou Map, will help you have a better understanding of the location of Kaili.
Kaili Tourist Maps: Map of Kaili Attractions
The city Kaili is mainly served as a vital gateway during a Guizhou tour. What attracted tourists to gather in Kaili is the diverse ethnic villages scattered around its surroundings, including the largest Miao Village - Xijiang Miao Village, the less developed Langde Miao Village, the unique Jidao Miao Village, the hometown of short-skirt Miao - Xinqiao Miao Village, etc. The Kaili Tourist Map below will introduce you the most popular ethnic attractions around Kaili, with a rough location of the nearby airports and train stations included.
Check Top Things to Do in Kaili >>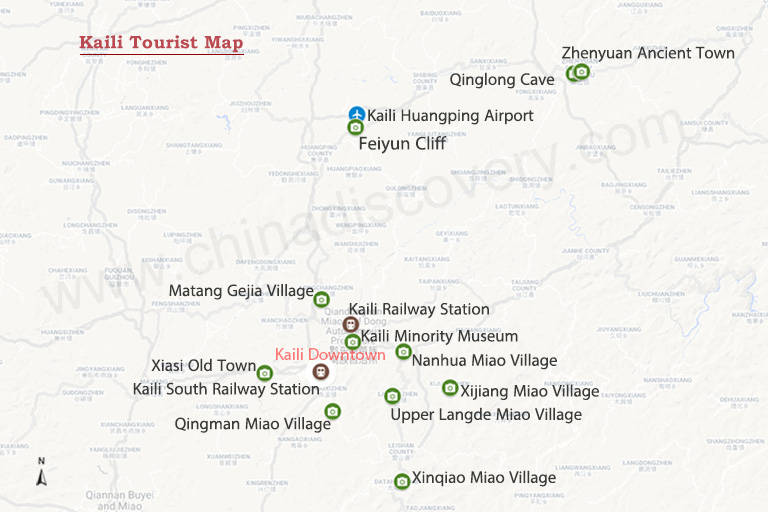 Kaili Tourist Map
Top Recommended Kaili Guizhou Tour:
▶ 6 Days Guizhou In-depth Ethnic Tour with Jiabang Rice Terraces
▶ 6 Days Diverse Guizhou Tour (Guiyang / Kaili / Fanjingshan)
Kaili Transportation Maps: How to Get to/around
Kaili has one airport and one bullet train station. The Airport in Kaili is named Kaili Huangping Airport (凯里黄平机场), which is about 70km and 1.5 hours around by car from the Kaili downtown area. Kaili Huangping Airport offers flights connecting Kaili with Guilin, Hangzhou, Kunming, Jinan, etc. Compared with the airport, the Kaili South Railway Station (凯里南站) enjoy a closer distance to the downtown, which is only 14km around. You can take high speed train to travel between Kaili and Guiyang (0.5 hour), Kunming (2.5-3 hours), Changsha (2.5-3 hours), Chongqing (3 hours), Chengdu (4.5 hours), Beijing (10 hours), Shanghai (8.5-9 hours), Wuhan (4.5 hours), Nanchang, Zhengzhou, Nanjing, Jinan, Xiamen, etc.
Check the Kaili Transportation Maps below to get more detailed info of how to get from Guiyang to Kaili, Guilin to Kaili, etc.
Check Ultimate Guide of Kaili Transportation >>
Top Recommended Guizhou China Tour:
▶ 7 Days Best of Guizhou Tour with Nature & Culture Highlights
▶ 9 Days Minority Culture and Landscape Exploration by High Speed Train
How to Plan a Kaili Tour
Kaili, though its name is not so famous among international travelers, is an important gateway to explore ethnic culture and villages with many primitive Miao villages surrounded. Travelers who are planning a trip to Guizhou Province, they would like to spend 2 or 3 days in and around Kaili City. The nearby highlights include Xijiang Miao Village, Upper Langde Miao Village, Matang Gejia Village, Qingman Miao Village, and more. If you have one more day, you can extend to Zhenyuan Ancient Town for further exploration.
Since Kaili is located in the east of Guizhou, between Guiyang City and Rongjiang/Congjiang. It is a good idea to extend your Kaili trip longer that you can add Guiyang, Congjiang, Rongjiang into your Guizhou Kaili trip. No matter you come from Guiyang or from Guangxi Zhuang Autonomous Region, you won't miss the most highlighted Miao and Dong ethnic villages in Southeast Guizhou.
>> 5 Days Guizhou Miao & Dong Minority Essence Tour
>> 6 Days Guizhou Ethnic Minorities & Villages Photography Tour
For another part of travelers would like to do an overall Guizhou trip for more sightseeing in the hot destinations, they usually put Kaili in the middle of the trip and cover Huangguoshu Waterfall in Anshun City for one day, Mount Fanjing in Tongren City for one day... Just tell us your likes and interests, China Discovery is here ready to help customize your own Guizhou tour with best prices! Contact Us now.
>> 6 Days Diverse Guizhou Tour (Guiyang - Fanjingshan - Kaili)
>> 7 Days Best of Guizhou Tour with Nature & Culture Highlights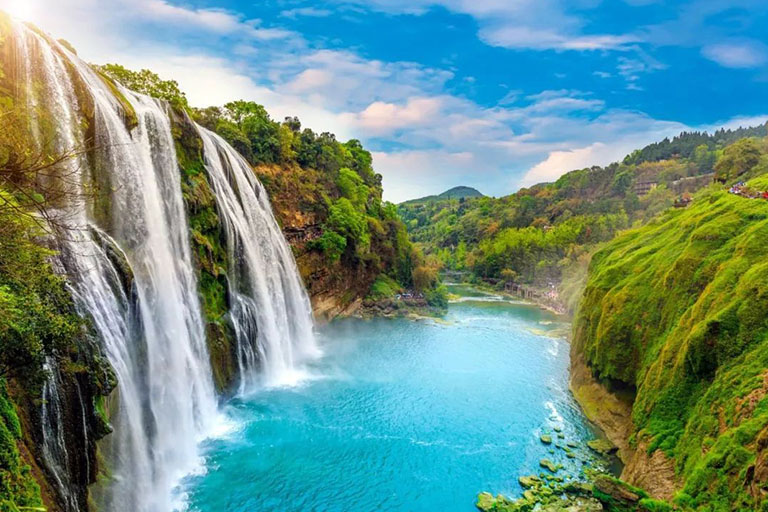 Huangguoshu Waterfall
Mount Fanjing
Travel Kaili & Guizhou with China Discovery
Feel trouble to explore so many Miao and Dong villages hidden in the remote mountains? Looking for the best suggestions of which villages to visit according to your interest and plan? Travel with China Discovery, and all your problems will be perfectly solved! You will get a customized itinerary from our professional Guizhou travel consultants! Our driver will escort you from the airport/train station/hotel to the Miao Villages or Dong Villages directly. And our local guide will accompany you all the way and introduce you the unique and interesting local ethnic culture and customs. You can just leave all your hassles aside and indulge in the colorful ethnic atmosphere!
The tour can be customized according to your group size, budget, plan and every special need of you. If you are interested, please feel free to contact us to customize your personal Guizhou Kaili tour!
Xijiang Miao Village
Keep Reading on Kaili
Useful Guizhou Travel Articles
Recommended Kaili Tours
Top 3 Kaili tours chosen by most customers to explore Kaili in the best way. Check the detailed itinerary,or tailor your own trip now with us.
6 Days Diverse Guizhou Tour (Guiyang / Kaili / Fanjingshan)

Guiyang / Anshun / Kaili / Fanjingshan
9 Days Zhangjiajie, Fenghuang & Guizhou Tour with Ethnic Culture

Guilin / Longsheng / Sanjiang / Zhaoxing / Rongjiang / Kaili / Guiyang