How to Get to Jilin City - By Train & Driving
Jinlin City is a top tourist destination to enjoy Manchu customs and Jilin rime. It is located in the center of Jilin Province in northeastern China and about 120 km away from Changchun City (the provincial capital), 250 km away from Harbin, 420 km away from Shenyang, 330 km away from Changbai Mountain. Unlike a modern city equipped with very airlines and railways, traveling to Jilin City is not very convenient. This Jilin transfer guide helps you travel to/around Jilin City efficiently.
Jilin Location Map
Trains to Jilin
Jilin Railway Station (吉林站)
Address: No.1 Chongqing Street, Changyi District, Jilin City (吉林市昌邑区重庆街1号), 42 km (about 1 hour's drive) to Wusong Island
Currently, there is no airport in Jilin City, and taking a high speed train is a favorable way to get to Jilin City. Jilin Railway Station is the main railway station serving Jilin City as well as an important railway station in the railway networks of Northeastern China. It receives high speed trains from Changchun (40 minutes), Yanji (1.5~2 hours), Harbin (2 hours), Dalian (4~5 hours), Shenyang (2~2.5 hours), Dalian (4~5 hours), Beijing (5~6 hours), Tianjin (6~6.5 hours), Jinan (8~8.5 hours), Qingdao (10 hours), Nanjing (10.5 hours), Shanghai (12 hours), etc.
Changchun to Jilin Travel
Distance: 120 km (75 miles)
Changchun is the capital and the transportation hub of Jilin Province. For travelers who can't travel to Jilin City directly, Changchun is a great transfer center. It is quite easy to take a flight or train to Changchun from China's major cities such as Beijing, Shanghai, Guangzhou, Shenzhen, Xian, Hangzhou, Nanjing, Chengdu, Chongqing, etc. Before transferring to Jilin, you are advised to spend 2 days visiting Wusong Island and some historical places in Changchun. There are about 60 daily high speed running from Changchun Railway Station or Changchun Railway Station to Jilin Railway Station, including G-trains, C-trains and D-trains. The total trip takes only 40~70 minutes. It is also available to use a private transfer service and the driving time is about 2 hours.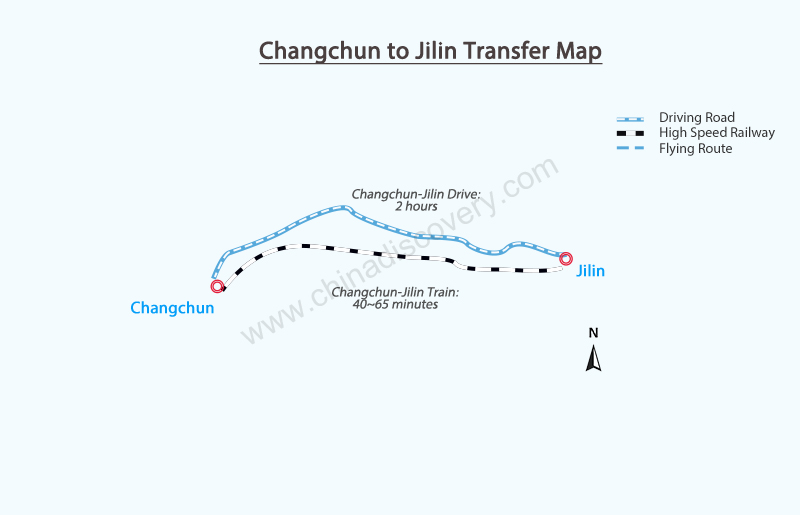 Changchun to Jilin Transfer Map
Harbin to Jilin Travel
Distance: 250 km (155 miles)
Harbin (capital of Heilongjiang) is a top winter destination in China as well as a transfer hub in Northeastern China. It can be reached by train and by air easily. Harbin Taiping International Airport operates over 50 air routes, covering more than 40 domestic and overseas cities. Many travelers spend a wonderful winter holiday in Harbin, and then transfer to Jilin for a great Jilin Rime view. There are about 5 daily high speed trains running from Harbin Railway Station or Harbin West Railway Station to Jilin Railway Station, taking 2 ~ 2.5 hours. In fact, many travelers prefer a driving journey from Harbin to Jilin, with stops in China Snow Town, Jingpo Lake and Changchun. The driving time directly from Harbin to Jilin is 4.5~5.5 hours.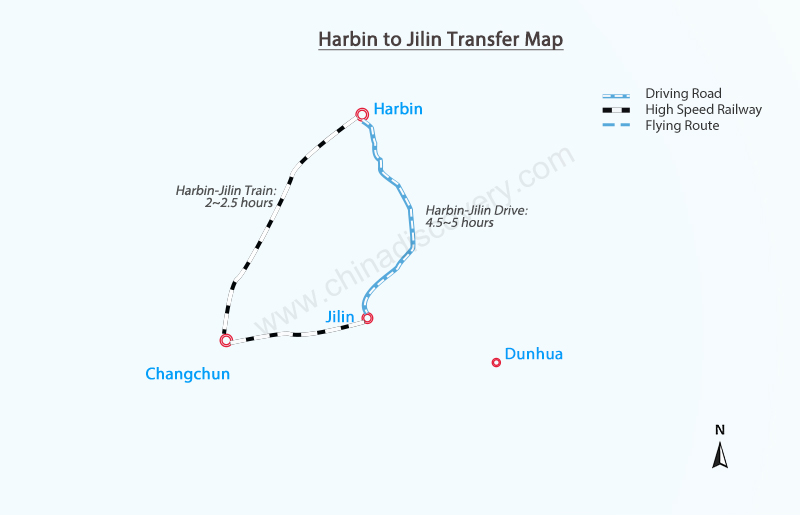 Harbin to Jilin Transfer Map
Shenyang to Jilin Travel
Distance: 420 km (261 miles)
Shenyang is a legendary city which witnessed the establishment and collapse of the Qing Dynasty - China's last imperial dynasty. Shenyang is a good place to explore China's history. As the capital of Liaoning Province, it is also another transfer hub in Northeastern China. Travelers who want an in-depth exploration of Northeastern China usually travel Heilongjiang, Liaoning and Jilin Provinces at one time. Shenyang operates 22 high speed trains to Jilin every day, and most of them depart from Shenyang North Railway Station. It is a 2~2.5 hours' trip. Travelers who need a flexible trip could drive from Shenyang to Jilin, which takes about 4.5 hours.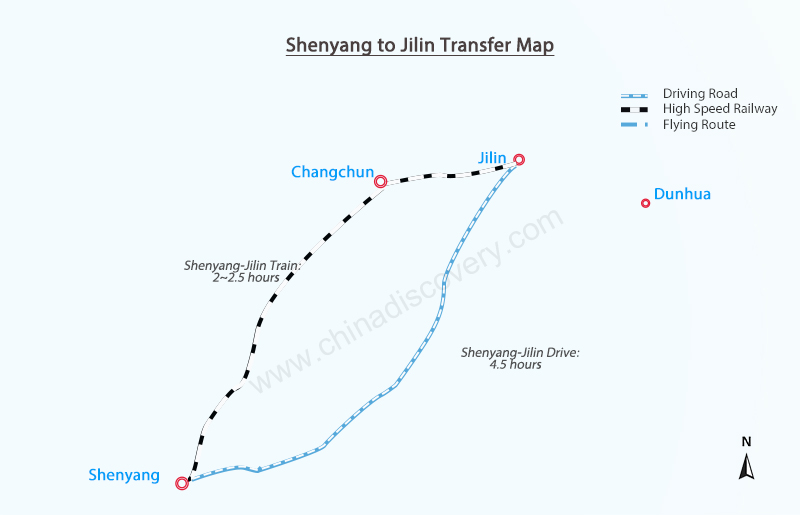 Shenyang to Jilin Transfer Map Transfer Map
Changbai Mountain to Jilin Travel
Distance: 330 km (205 miles)
Changbai Mountain must be the first sight of Jilin Province. It is attractive with breathtaking volcanic landscape, including lakes, forests, rivers, waterfalls and gorges. After a Changbai Mountain trip, visiting Wusong Island in Jilin is preferred by many travelers. Travelers can drive or take a bus to Dunhua City first, and then take a high speed train to Jilin. The distance between Erdao Baihe Town and Jilin City is 145 km and it needs to drive about 2 hours. There are about 24 daily high speed trains from Dunhua City to Jilin City with a duration of about one hour. If you bother to transfer in Dunhua, you can use a private transfer and drive from Erdao Baihe Town to Jilin City directly, which takes about 4 hours totally.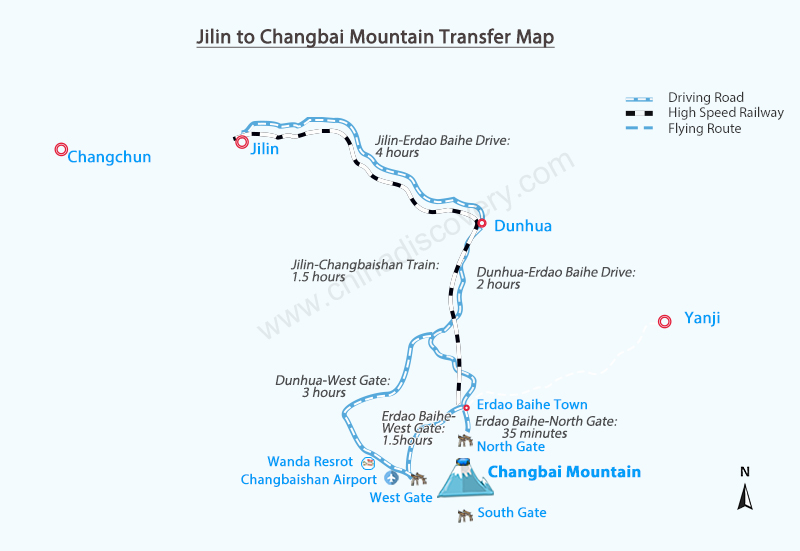 Jilin Changbai Mountain Transfer Map
Beijing to Jilin Travel
Distance: 1100 km (684 miles)
Many foreign travelers or expats living in Beijing may want to visit Jilin City for Manchu culture and Jilin rime appreciation. There are 3 daily Fuxing high speed trains from Beijing to Jilin, two departing from Beijing Chaoyang Railway Station and one departing from Beijing Railway Station. It takes 5~6 hours totally. Some travelers also take a flight to Chuangchun (about 2 hours) or Changbaishan (about 2.5 hours) first, and then transfer to Jilin after their Changchun or Changbaishan tour.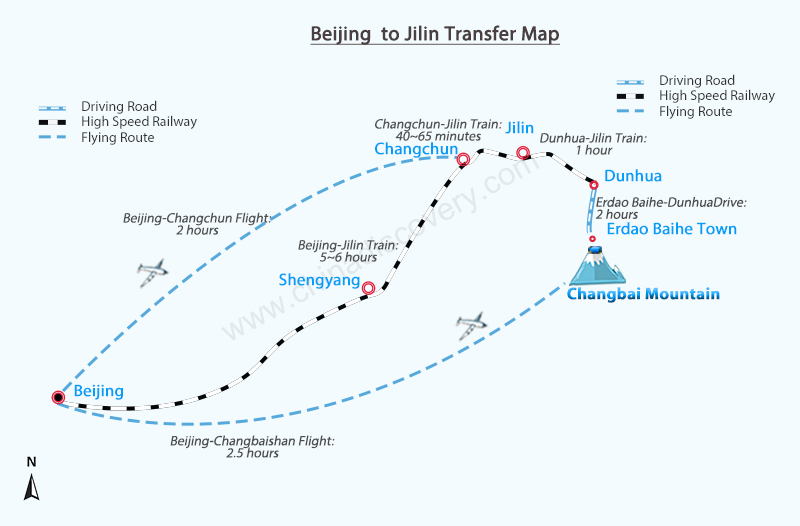 Beijing to Jilin Transfer Map
How to Get around Jilin
Currently, there is no subway operated in Jilin City, and you can only travel around by bus or taxi. For travelers who want to go to Wusong Island, you need to take a bus to Wulajie Manchu Town first, and then take a motor tricycle or taxi to get to Zengtongtun Village or Hantun Village.
Travel with China Discovery
In order to have a worry-free transfer, traveling with China Discovery is top recommended. Our local travel guide and driver will pick you up at the airport or train station as you arrive and then escort you to your hotel or every attraction listed in your itinerary with an air-conditioned and non-smoking vehicle. Great freedom will be given to you whenever you need to stop for sightseeing and photography. You are sure to enjoy a comfortable, safe and efficient experience.
Far more than that, China Discovery is professional to provide high-quality customizable tours. Before your tour, our travel expert will communicate with you one to one and make an itinerary according to your own interest, need and budget. Every detail - transfer, hotels, attractions, etc. will be arranged well for you and you just need to focus on sightseeing. Feel free to contact us to start your worry-free private tour now!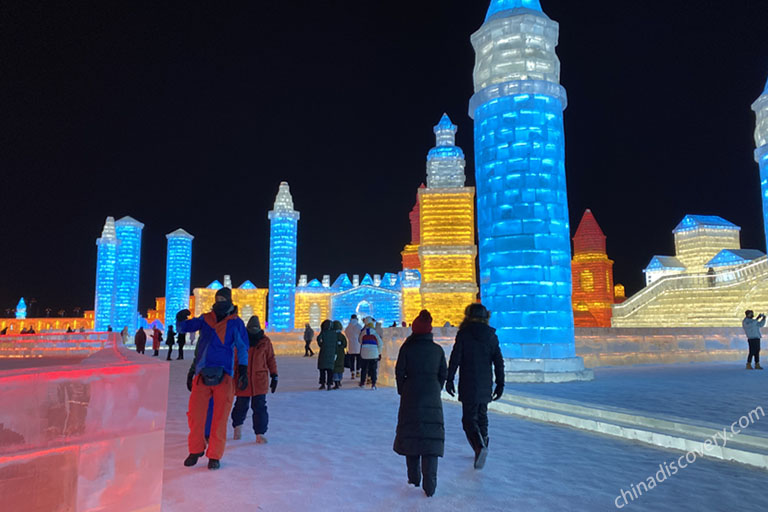 Our customers Jenn's group from Canada visited Ice & Snow World in Harbin, China in December 2020.
How to Plan A Jilin Province Tour
Changbai Mountain is the premier sight of Jilin Province. Generally, a classic Changbai Mountain tour needs at least 3 days including arrival and departure days. Many travelers spend 1 day visiting North Slope or West Slope, and half a day traveling Mojie Scenic Area. And some travelers wanting to see Heavenly Lake may spend 2 days visiting both slopes. If you are interested in a winter holiday around Changbaishan, it takes another 2 days to enjoy skiing in Wanda Changbaishan Ski Resort and other winter activities.
☞ 3 Days Changbai Mountain Classic Tour
☞ 5 Days Changbaishan Winter Tour
Want an in-depth discovery? We suggest you spend more days taking a view of different perspectives of Jilin Province. It takes 1 day to visit Wusong Island and other highlights and in Jilin City, 1 day to explore the Puppet Emperor's Palace - the official residence of Puyi and other featured architectures in Changchun, 1 day to discover Capital Cities and Tombs of the Ancient Koguryo Kingdom in Ji'an, and 1 day to watch the amazing spectacle of winter fishing in Chagan Lake if you travel in winter..
☞ 5 Days Club Med Beidahu Ski Tour with Jilin Wusong Island
☞ 6 Days Jilin Winter Tour with Chagan Lake Winter Fishing
☞ 4 Days Koguryo World Heritage Sites Exploration from Changchun
For travelers with more time, travel China's Dongbei (northeastern area) including Liaoning Province, Jilin Province and Heilongjiang Province together is strongly recommended. You can extend your tour to Harbin and China Snow town for the breathtaking world of snow and ice, Shengyang to witness establishment and collapse of China's final imperial dynasty, and Dalian to appreciate the fresh air and nice beaches.
☞ 7 Days Amazing Northeast China Winter Tour (Harbin / China Snow Town / Jingpo Lake / Dunhua / Changbai Mountain / Jilin)
☞ 8 Days Northeast China Tour with Harbin Ice & Snow Festival (Harbin / Jilin / Changchun / Shenyang / Dalian)
Keep Reading About Jilin
Keep Reading About Changbaishan
More Travel Articles for Winter Travel
Recommended Changbai Mountain Tours
Top 3 Changbai Mountain tours chosen by most customers to explore Changbai Mountain in the best way. Check the detailed itinerary, or tailor your own trip now with us.
6 Days In-depth Harbin Tour with China Snow Town & Yabuli Skiing

Harbin / China Snow Town / Yabuli Ski Resort / Harbin
6 Days China Snow Town & Changbai Mountain Tour from Harbin

Harbin / China Snow Town / Changbai Mountain
7 Days Amazing Northeast China Winter Tour with Changbai Mountain & Wusong Island

Harbin / China Snow Town / Jingpo Lake / Dunhua / Changbai Mountain / Jilin
Start planning your tailor-made holiday to China by contacting one of our specialists. Once inquired, you'll get a response within 0.5~23.5 hours.
Customize a Trip
Have a question? Get answers from our travel experts or guests
Your Question:

Your Name:

Your Email: