Jilin Maps, Jilin Location Map & Tourist Map 2023
Jilin City (Chinese: 吉林市, Pinyin: Jílín Shì), is the second-largest city of Jilin province in central Jilin Province, northeast China. It's a prefecture-level city, and it shares the same name with its province. It is famous for the rime scenery and ski resorts.Here we make detailed maps to help you get a better understanding of Jilin as well as plan your Jilin trip wisely! If you have any other questions or want a worry-free tour package, don't hesitate to contact us to enjoy the most memorable travel experience in Jilin.
China Discovery is professional in offering Jilin tour packages involving private transfer service. Below is our most recommended tours package:
Jilin City Location Map - Where is Changbai Jilin Located
Jilin city (125° 40′ ~ 127° 56′E and 42° 31′ ~ 44° 40′N) is located in the central area of Jilin Province, in the northeast hinterland of Changbai Mountains, on the Bank of Songhua River in the transition zone from Changbai Mountain to Songnen Plain. Check its location map to learn its location on a China Map.
Jilin City Location Map
Jilin City Tourists Map - How to Travel Jilin
Among all the famous attractions in Jilin, Wusong Island is the must-visit place in winter. Also, Jilin is a paradise for skiers, knowns as its Beidahu Ski Resort, Songhua Lake Ski Resort, because of its well-equipped facilities and various ski trails. Check the detailed scenic area map of Jilin to arrange your itinerary accordingly.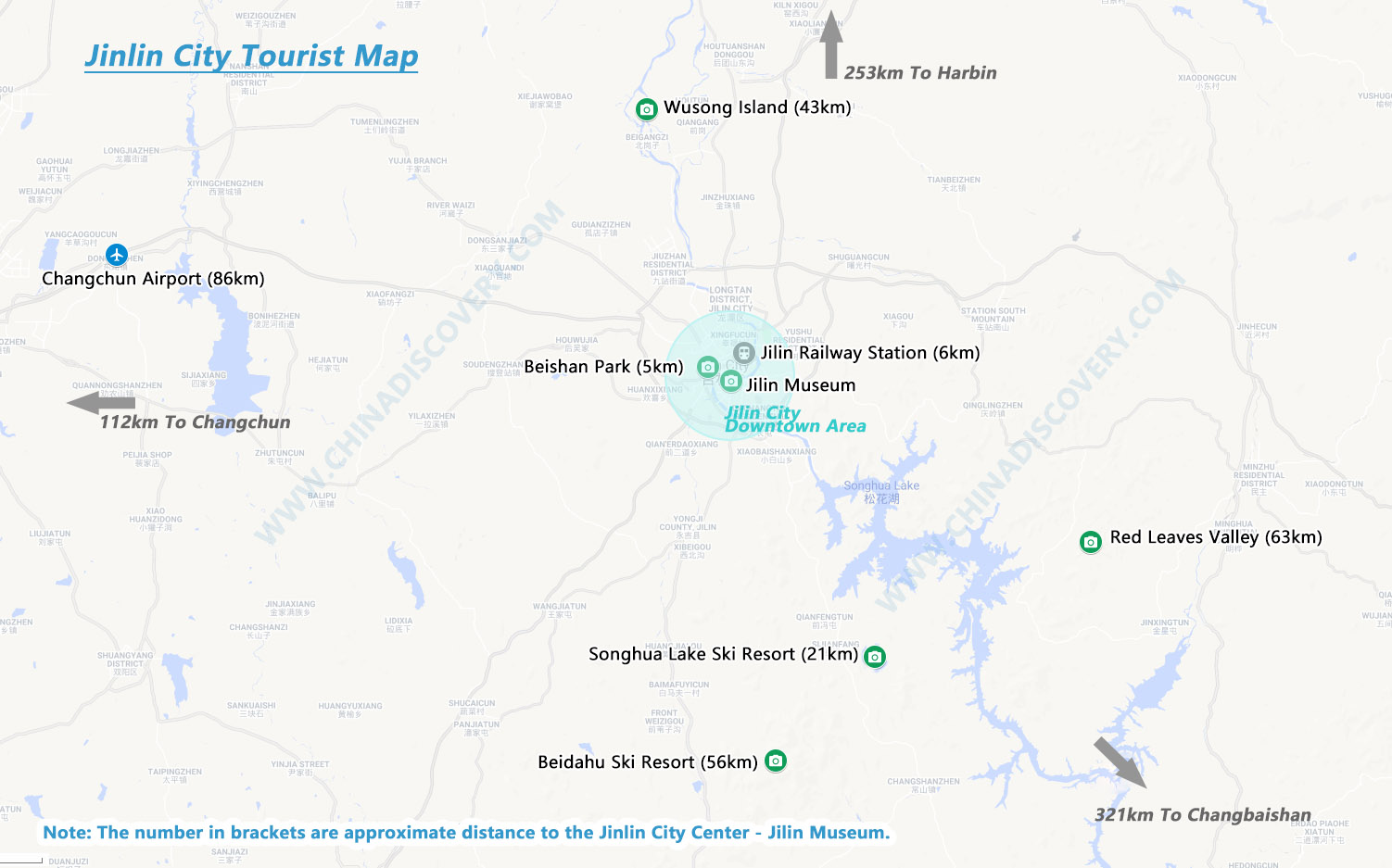 Jilin City Tourist Map
How to Plan A Jilin Province Tour
Changbai Mountain is the premier sight of Jilin Province. Generally, a classic Changbai Mountain tour needs at least 3 days including arrival and departure days. Many travelers spend 1 day visiting North Slope or West Slope, and half a day traveling Mojie Scenic Area. And some travelers wanting to see Heavenly Lake may spend 2 days visiting both slopes. If you are interested in a winter holiday around Changbaishan, it takes another 2 days to enjoy skiing in Wanda Changbaishan Ski Resort and other winter activities.
☞ 3 Days Changbai Mountain Classic Tour
☞ 5 Days Changbaishan Winter Tour
Want an in-depth discovery? We suggest you spend more days taking a view of different perspectives of Jilin Province. It takes 1 day to visit Wusong Island and other highlights and in Jilin City, 1 day to explore the Puppet Emperor's Palace - the official residence of Puyi and other featured architectures in Changchun, 1 day to discover Capital Cities and Tombs of the Ancient Koguryo Kingdom in Ji'an, and 1 day to watch the amazing spectacle of winter fishing in Chagan Lake if you travel in winter..
☞ 5 Days Club Med Beidahu Ski Tour with Jilin Wusong Island
☞ 6 Days Jilin Winter Tour with Chagan Lake Winter Fishing
☞ 4 Days Koguryo World Heritage Sites Exploration from Changchun
For travelers with more time, travel China's Dongbei (northeastern area) including Liaoning Province, Jilin Province and Heilongjiang Province together is strongly recommended. You can extend your tour to Harbin and China Snow town for the breathtaking world of snow and ice, Shengyang to witness establishment and collapse of China's final imperial dynasty, and Dalian to appreciate the fresh air and nice beaches.
☞ 7 Days Amazing Northeast China Winter Tour (Harbin / China Snow Town / Jingpo Lake / Dunhua / Changbai Mountain / Jilin)
☞ 8 Days Northeast China Tour with Harbin Ice & Snow Festival (Harbin / Jilin / Changchun / Shenyang / Dalian)
Travel with China Discovery
In order to have a worry-free transfer, traveling with China Discovery is top recommended. Our local travel guide and driver will pick you up at the airport or train station as you arrive, and then escort you to your hotel or every attraction listed in your itinerary with an air-conditioned and non-smoking vehicle. Great freedom will be given to you whenever you need to stop for sightseeing and photography. You are sure to enjoy a comfortable, safe and efficient experience.
Far more than that, China Discovery is professional to provide high-quality customizable tour. Before your tour, our travel expert will communicate with you one to one and make an itinerary according your own interest, need and budget. Every details - transfer, hotels, attractions, etc. will be arranged well for you and you just need to focus on sightseeing. Feel free to contact us to start your worry-free private tour now!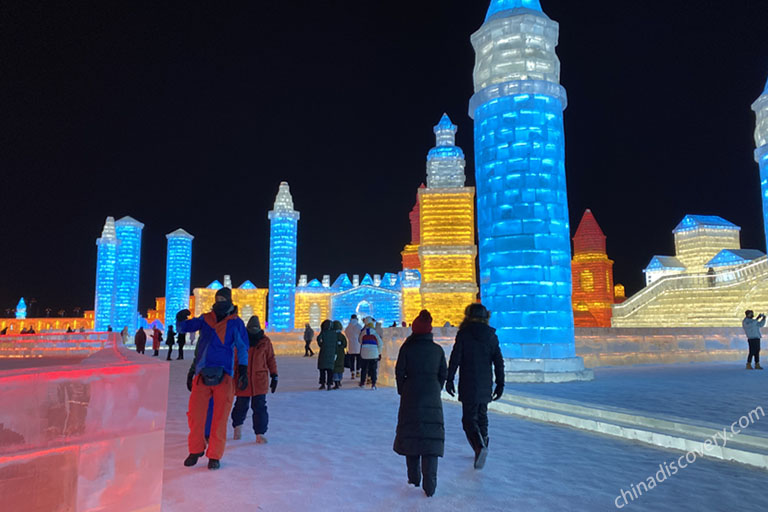 Our customers Jenn's group from Canada visited Ice & Snow World in Harbin, China in December 2020
Keep Reading About Jilin
Keep Reading About Changbaishan
More Travel Articles for Winter Travel
Recommended Jilin Tours
Top 3 Jilin tours chosen by most customers to explore Jilin in the best way. Check the detailed itinerary,or tailor your own trip now with us.
5 Days Changbai Mountain Winter Tour with Ski Experience

Changbai Mountain
3 Days Changbai Mountain Classic Tour

Changbai Mountain
5 Days Club Med Beidahu Ski Tour with Jilin Wusong Island

Jilin / Beidahu Ski Resort / Jilin