Changbaishan Ski Resort
Wanda Changbai Mountain International Ski Resort is located in Wanda Changbai Mountain International Tourist Resort, at Songjianghe Town, Fusong County, Baishan City, Jilin Province, at the world's golden latitude of 42 ° - 46 ° for skiing. It perfectly combines the unique resource advantages of Changbai Mountain with the resort construction. The snow period is from mid-November to mid-April of the next year, up to 150 days. The snow depth here is more than 1m. The ski resort has a single board U-groove field and mogul field with international standards. The site is divided into diversified ski trails with the combination of primary, medium, and advanced levels, as well as single board and double board terrain parks. It covers a total area of 7 square kilometers and has 43 ski trails, distributed in the East, West, and North hillside of the main peak, including 9 advanced ski trails that meet the competition requirements of the Winter Olympic Games, 14 intermediate ski trails and 20 primary ski trails. The total length of ski trails is about 30 kilometers and the total area is 935000 square meters, It can accommodate 8000 skiers at the same time. Good shelter facilities in the ski resort can make skiers better enjoy the comfortable snow season with various trails for skiers. Some ski trails in the ski resort are equipped with lights for skiing at night, which meet the needs of different ski lovers. It is mainly like a tourism city for skiing, with high-end hotel groups, large ski fields, high-end tourism functions of fitness, sports, etc.
Layout of Changbaishan Ski Resort
The ski resort is designed by Ecosign company of Canada, which has designed the competition venue for the 5 Winter Olympic Games. Changbai Mountain International Tourism Resort is divided into North and South areas. The north area is a new tourism city for administration, conferences, cultural centers, shopping, hospital, residential areas, and other living facilities. Southern are is an international tourist resort, which is composed of high-end resort hotels, large ski fields, playgrounds, forest villas, and other projects. There are 9 high-end hotels. Each hotel has an average of 300 rooms. The whole resort will have more than 3000 rooms for tourists to stay. Besides, there is a tourist town, cultural center, grand theaters, and hot spring center, etc.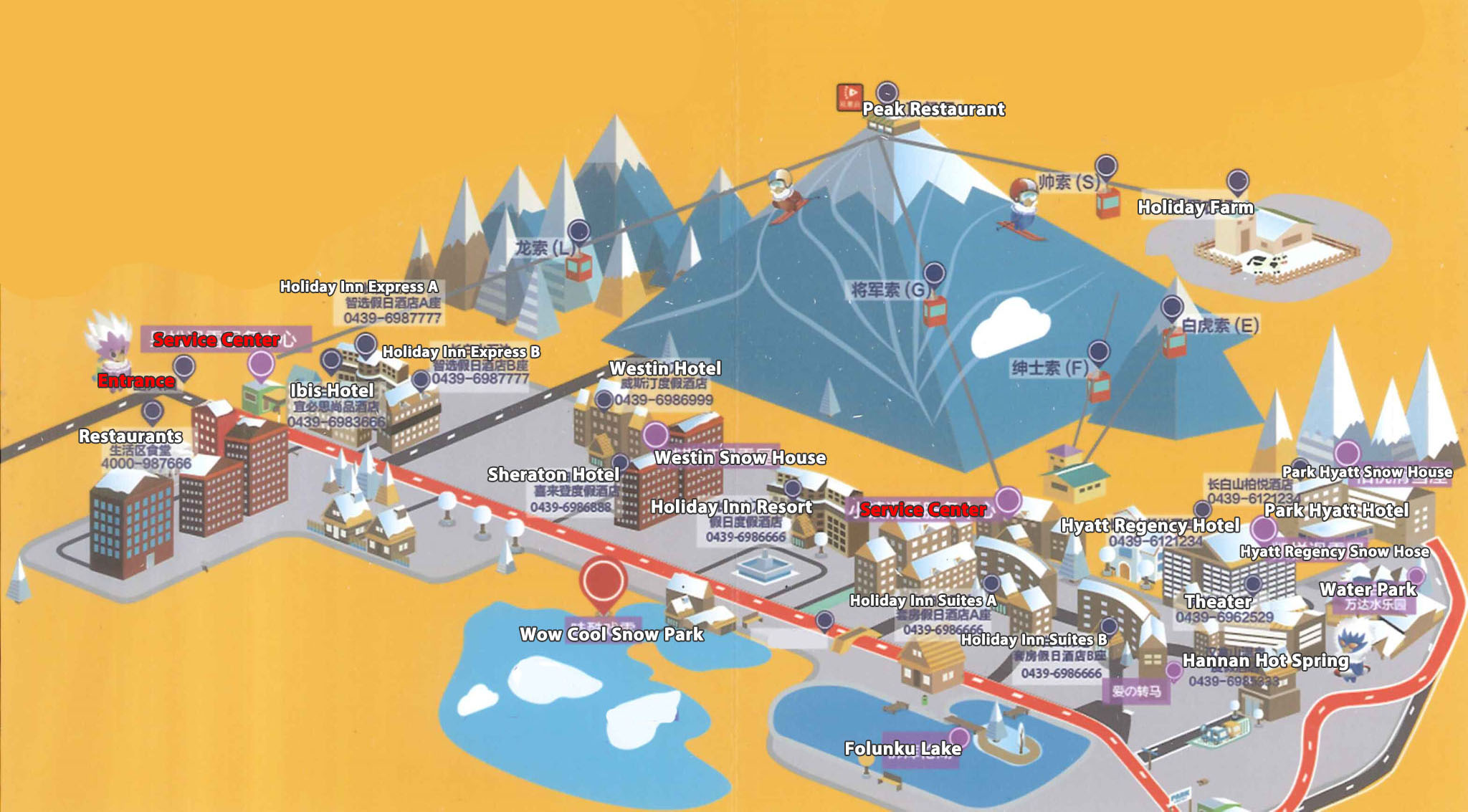 Changbaishan Ski Resort Layout Map
Accommodation: Changbai Mountain Wanda International Resort currently hosts 9 brand hotels with different prices. The service and quality are guaranteed, and they can also meet the different budget and vacation needs of guests. Each hotel is very close to the snowfield and can be reached within 5 minutes' walk. There are 9 hotels in the resort, ranging from six-star,five-star to express chain hotels, which are suitable for different needs. You can ski in and out. White tiger trail is near the entrance of Park Hyatt and Hyatt Regency; Sheraton, Westin, and Holiday Inn Resort are the next section of the second General Trail, and Holiday Inn Express and Ibis are near Longsuo Cableway. Each hotel has its own features with complete facilities, and the prices range from CNY 600 to CNY 4000.
• Top Recommended Luxury Hotels: Park Hyatt, Hyatt Regency
• Recommended Luxury Hotels: Westin, Sheraton
• Top Recommended Comfortable Hotels: Holiday Inn Resort, Holiday Inn Suites
• Recommended Comfortable Hotels: Holiday Inn Express, Ibis

☛ Popular Combo Tickets ☚
♦ Hyatt Regency: One night stay and ski tickets for 2 adults and 1 child (including ski gears), breakfast, airport pick-up and drop-off service and hot spring tickets. - CNY 1600-3500
♦ Westin: One night stay and ski tickets for 2 adults and 1 child (including ski gears), breakfast, airport pick-up and drop-off service and hot spring tickets. - CNY 1100-3400
♦ Ibis: One night stay and ski tickets for 2 adults (including ski gears), breakfast, airport pick-up and drop-off service . - CNY 650-1900
Note: The prices mentioned are for reference only. It's subject to change in different seasons. Please contact us to inquiry about the details and book a hotel in advance.
Changbaishan Holiday Inn Suites Facade
© mafengwo / 冯阳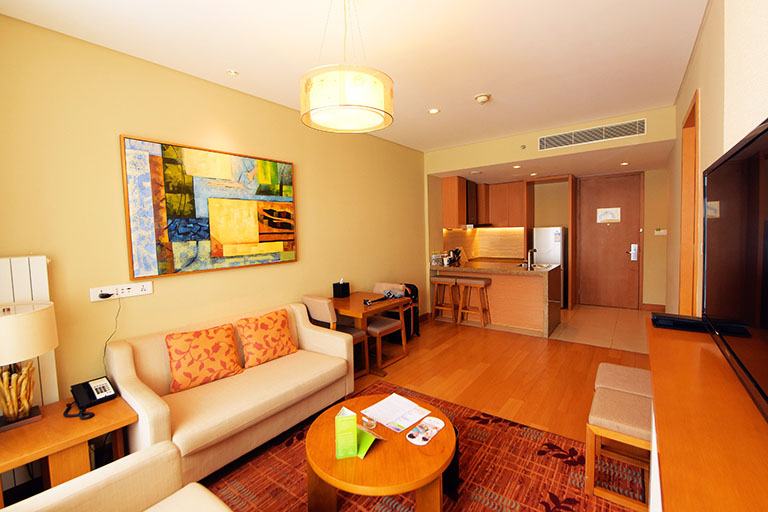 Changbaishan Holiday Inn Suites Interior
© mafengwo / 冯阳
Catering: In addition to the restaurants of various hotels, there are fast-food restaurants (McDonald's, KFC, Pizza Hut, etc), cafes, various local restaurants, banks, pharmacies, souvenir stores, and outdoor supplies stores. There are about 30 restaurants in the resort, mainly northeast Chinese food, barbecue, and hot pot. If you want to experience authentic local food, you can also go to the Songjianghe town area. Hotels near the resort generally provide pick-up service. You can make an appointment with your hotel. It's about CNY 40 to take a taxi from the hotel to the Songjianghe town area.
Other Activities: There are multiple snow parks in the resort, including some amusement facilities, ice sculptures, snow houses, animal centers, as well as a culture exhibition hall, Changbai theater, Wanda cinema, and Hannah mountain hot spring club. You can go to the water park to have water fun. And Wow Cool Play Snow Park is open for other exciting snow activities. You can experience everything about snow, such as snow house, snow circle, snow motorcycle, etc. If you want to relax, you can go to Hannah mountain hot spring, which is said to be natural volcanic hot spring water, but remember to bring a swimsuit. The transportation in the resort is also very convenient. There are free shuttle buses. You can pay attention to the bus schedule at the gate of each hotel. The resort has complete supporting facilities, hot springs, and cinemas, and there are many choices of snow trails. In addition, the snow farm is also close to the Changbai Mountain scenic spot. If you have enough time, you can take a trip and enjoy the beautiful scenery of Changbai Mountain.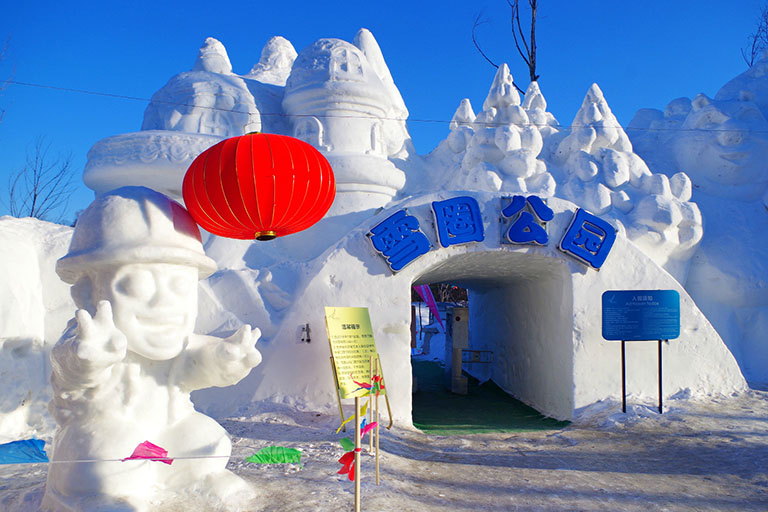 Snow Park of Changbaishan Ski Resort
© mafengwo / momo小布丁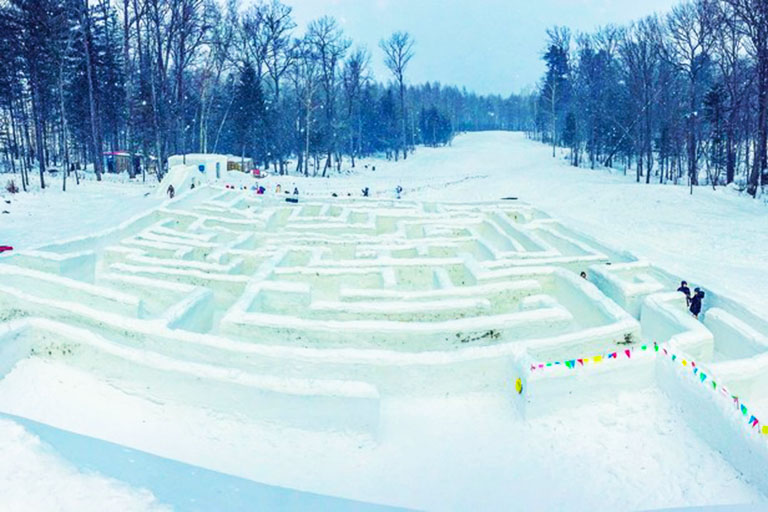 Snow Maze of Changbaishan Ski Resort
© mafengwo / 冯阳
Ski Trails and Cableways of Changbaishan Ski Resort
Ski Trails: There are four types of snow trails in Changbai Mountain Resort, namely basic (yellow), primary (green), intermediate (blue), advanced (black). There might be different standards from the different ski resort. So don't get confused by the level of the ski trails, or take a look of the slope and ask the professional whether you can go or not.
Cableways: The Changbai Mountain is steep at the top area, and then suddenly become flat at the bottom area. There are 7 Cableways in the ski field to deliver tourists between the bottom and top, of which Shuai cableway (帅索) and General cableway (将军索) are gondola cable cars, and the rest of cableways are hanging chair cable cars. The followings are brief ski trails introductions according to the cableway.
Note: Summarized ski trail data are provided for your reference. The measurement results may be slightly different, compared with the actual data in the field.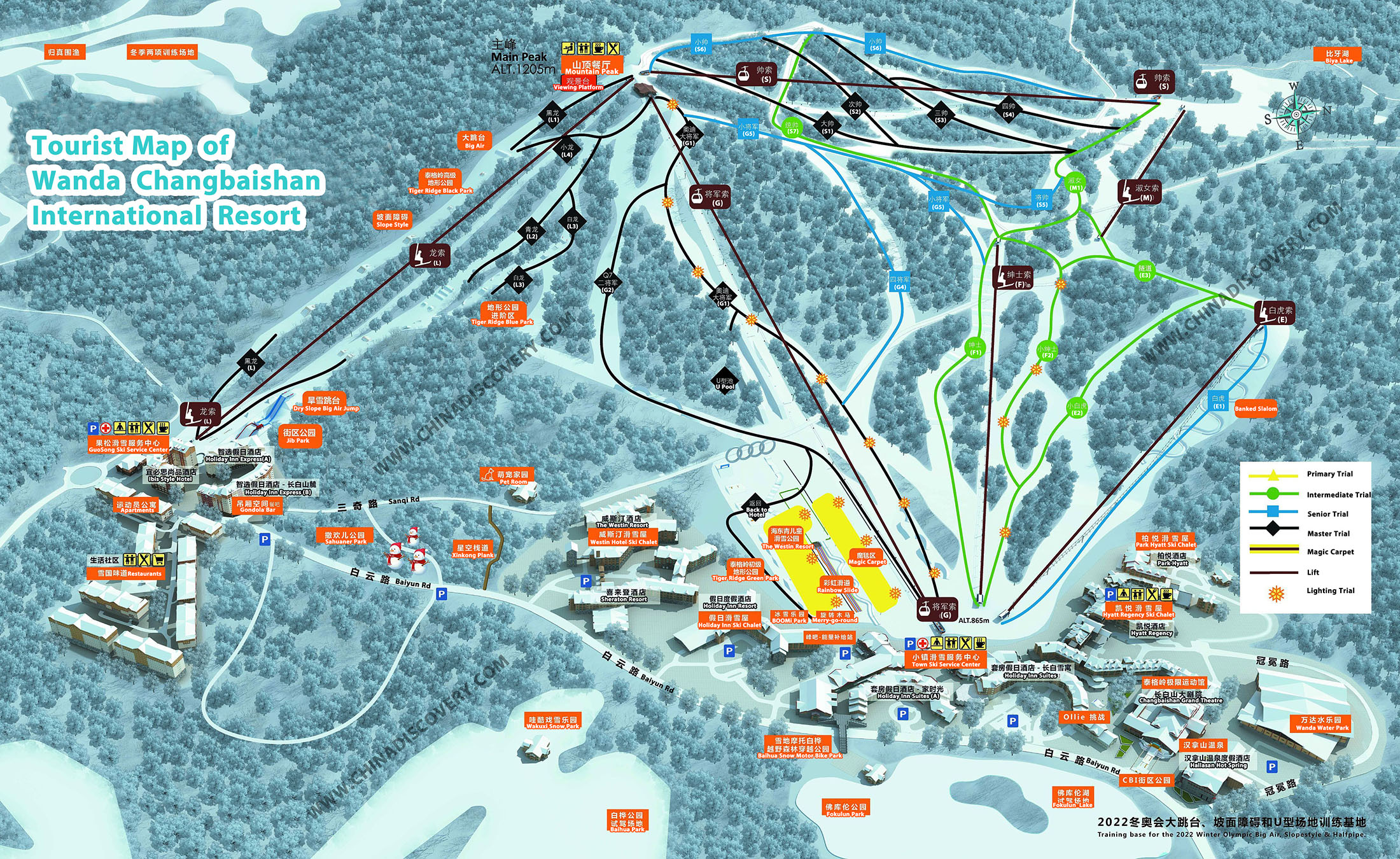 Changbaishan Ski Resort Tourist Map
Longsuo - L, Dragon Cableway 龙索
From Longsuo directly up the mountain is highest point of the snow field, which is also the gathering point of Shuaisuo and Jiangjunsuo. There are four snow trails connecting Longsuo, of which Heilong (black dragon), Bailong(white dragon) and Qinglong(green dragon) are black trails and Xiaolong (Little dragon) is a blue trail. Black dragon can be the second hardest snow track of Changbai Mountain (the hardest one is Dashai). The maximum slope reaches 36.7 °, and the first section is particularly steep. Because the sunshine hours of Heilong is relatively long, the trail may be iced in the afternoon, so it is recommended to go skiing in the morning.
Go down from the direction of Jiangjunsuo and lead to Bailong(white dragon) and Xiaolong(little dragon) on the right. These two are not popular snow tracks. There are very few people, which is very suitable for practicing skills for intermediate skiers.
Shuaisuo - S, Marshal Cableway 帅索
There are four wild snow trails in Changbai Mountain. In addition to the one trail of Jiangjunsuo, the other three are trails of Shuaisuo. The most difficult ski trail of Shuaisuo and even the whole snowfield is Dashuai. The steepest section is in the middle, and the maximum slope reaches 38.9 °! The snow surface is uneven, and there are some snowballs. It takes strong leg strength to keep balance, which is not suitable for primary and medium-level skiers. The difficulty of SanShuai is second only to DaShuai and Heilong, which is also very difficult. Xiaoshuai is an official Blue trail, but it is quite difficult, only suitable skilled medium-level skiers and above. All in all, Shuaisuo section is the most difficult in Changbai Mountain, but it is also the only section that does not face the sun, so the snow quality can be maintained in the afternoon. Experienced and skilled skiers can experience the trails there in the afternoon.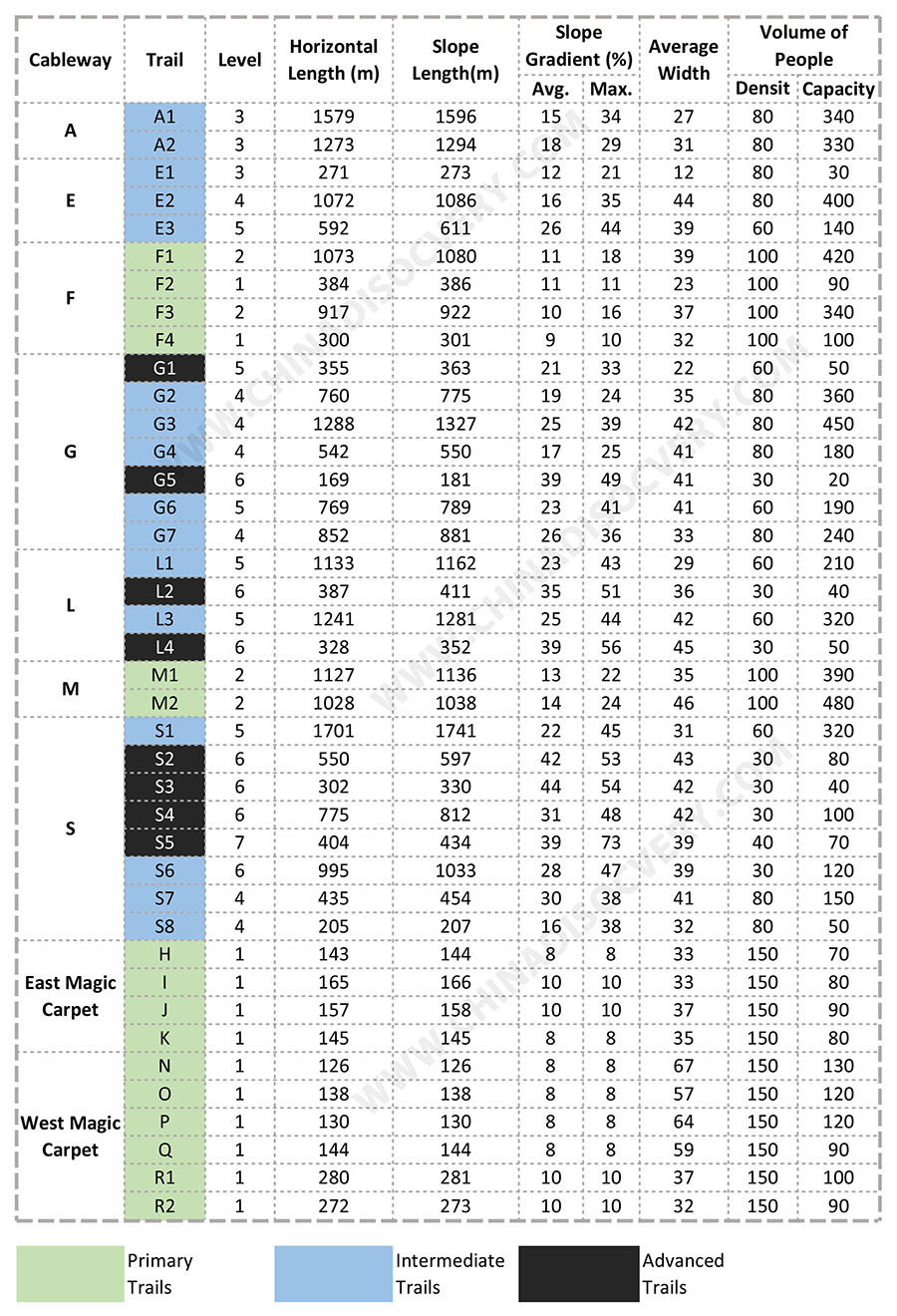 Detailed Data about Ski Trails of Wanda Changbaishan Ski Resort
Jiangjunsuo - G, General Cableway 将军索
Jiangjunsuo has five snow trails: the first three are black trails and the other two are blue trails. You can overlook the beautiful scenery of Changbai Mountain there. There are also several few snow trails with a maximum slopes greater than 30 °.
The Erjiangjun (General 2) and the Sanjiangjun (General 3) are quite difficult, but the Erjiangjun (General 2) has a mogul design and a wavy snow trail, which is the only recreational snow trail in Changbai Mountain. The Xiaojiangjun (little general) is not difficult. It is one of the most popular snow trails in Changbai Mountain. Many junior and intermediate skiers practice there. However, compared with the Xiaojiangjun (little general), it is also recommended to practice on Bailong(white dragon) and Xiaolong(little dragon) for intermediate skiers. The slope is only about 5 ° larger than that of the little general, but there are fewer people.
Baihusuo - E, White Tiger Cableway 白虎索
The white tiger has only two trails: Baihu (white tiger) trail and Xiaobaihu (little white tiger) trail. Although the little white tiger is a green trail, it is much more difficult than the gentleman trail. The little white tiger is the last hurdle for the blue trail. If they can slide down the little white tiger smoothly, they can move towards the simple blue trail like the little general. The white tiger is a regular blue trail. The only thing to remind is the iced trail in the afternoon.
Shenshisuo - F, Gentlemen Cableway 绅士索
The Shenshisuo has only two snow trails. Both trails are only about 10 °, very flat and easy. There are a lot of primary skiers on these two trail, which may be the first formal snow track just after the practice from the basic magic carpet.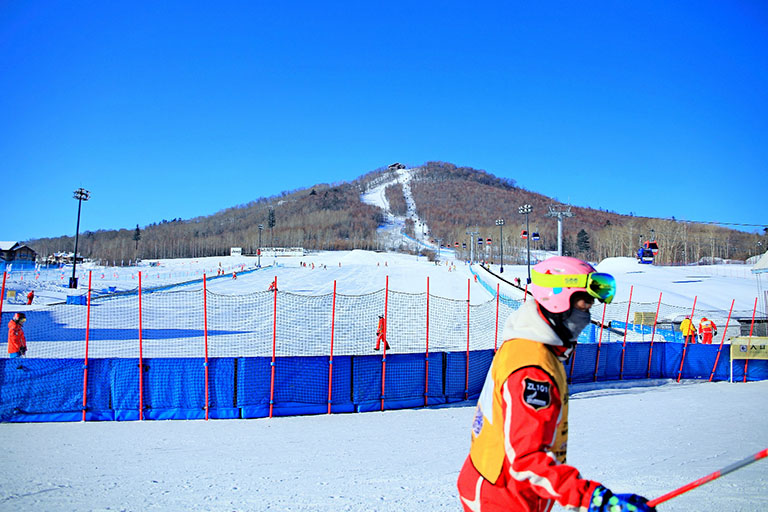 Ski Trail of Changbaishan Ski Resort
© mafengwo / momo小布丁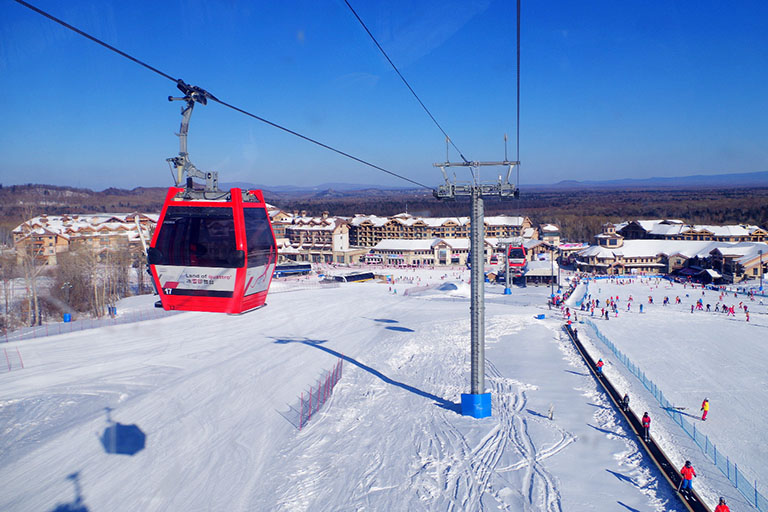 Cableway of Changbaishan Ski Resort
© mafengwo / momo小布丁
Changbaishan Ski Resort Location and How to Get There
Changbai Mountain International Tourist Resort is located in Songjianghe Town, Fusong County, Baishan City, Jilin Province, about 320 kilometers from Changchun, 400 kilometers from Jilin, 10 kilometers away from Changbai Mountain airport and about 10 kilometers away from west slope mountain gate of Changbaishan.
You can take a flight directly to Changbaishan airport. The hotel you booked will have pick-up service, which is very convenient. Changbaishan airport is also very close to the ski resort. But most cities don't have direct flights to Changbaishan airport. You may need to transfer.
The other way is by train. You can go to Shenyang or Changchun first and then take a train to Songjiang station (by normal train). There is no high-speed train. After arriving at Songjiang station, you can take a bus/taxi or charter a car to the ski resort.
Travel with China Discovery
We China Discovery has helped hundreds of visitors travel Changbaishan Ski Resort and the surrounding highlights like Mount Changbai, Jilin Wusong Island, Jingpo Lake and even tour to Harbin. Convenient private car is included in all of our tours. If you are interested, please feel free to contact us!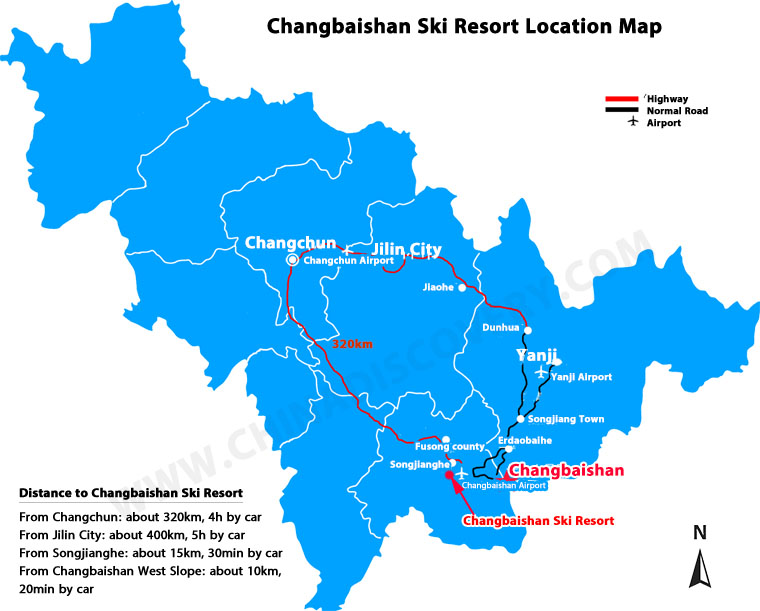 Changbaishan Ski Resort Location Map
Other Recommended Ski Resorts
Yabuli Ski Resort
Heilongjiang Yabuli ski resort has the longest ski trail in China, with a single trail of 5000 meters and a vertical drop of 912 meters. The accumulated length of the snow track is 50 km. Yabuli ski resort has now formed a snow track system combining primary, medium and high-grade snow tracks. The primary ski trail is 500 meters long, next to which is equipped with a large towing cableway, which is suitable for tourists who barely have skiing experience. The middle and high-grade snow trails were built at the north foot of Daguokui mountain at an altitude of 1374.8m. The total length of the snow trail is 3080 meters, the average width is 50 meters, and the vertical drop is 804 meters, which fully meets the standards of the International Ski Federation. The ski resort has a beautiful environment, surrounded by primitive forests and towering ancient trees. It is suitable for public skiing and is loved by skiing lovers. Many events and activities have been successfully held on these snow tracks.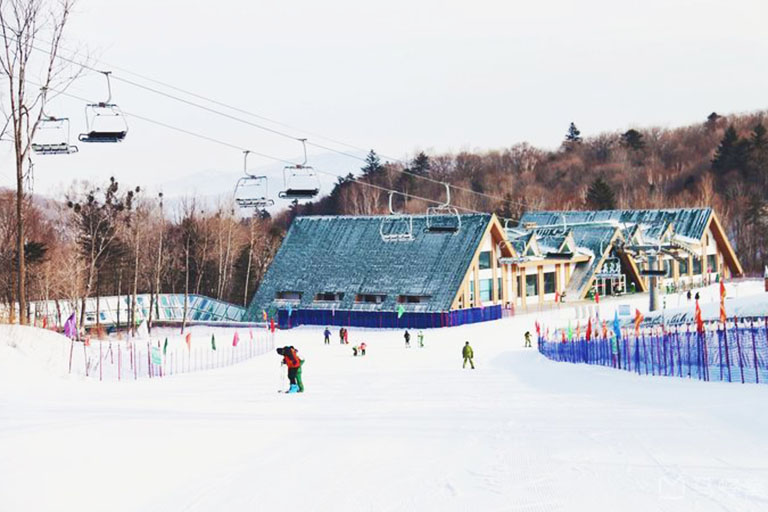 Yabuli Ski Resort
© mafengwo / 一蟹君
Songhua Lake Ski Resort
Jilin Songhua Lake ski resort is a famous urban ski resort in China, covering an area of 350,000 square meters. It was built in 1965 and completed in 1982. It once held the sixth Winter Games of China. The length of the ski resort is 2700 meters, and the cableway is nearly 1800 meters. There are also 5 km cross-country ski trails and 50m jumping platforms. Songhua Lake ski resort is located on the bank of Songhua Lake, about 20 kilometers southeast of the urban area. There are many mountains and lush forests. It is a "V" shaped ski resort with a coverage area of 250 hectares. The ski resort is very close to the urban area with convenient transportation. There are direct buses every day, taking about 40 minutes to get there. For skiers in China, the proportion of junior, middle and senior ski trails are 4:4:2, and it offers cross-country skiing trails, platforms for skiing jumping and other venues. Different levels of skiers do not interfere with each other, and they can meet the needs from family holidays to international professional events.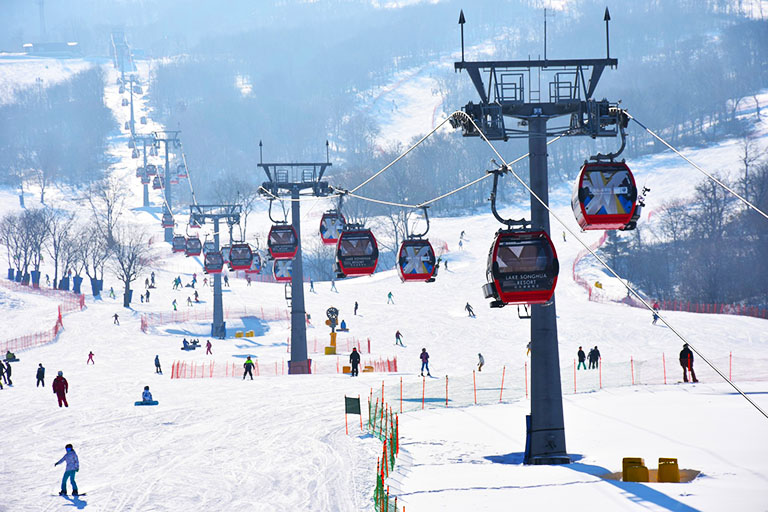 Songhua Lake Ski Resort
© mafengwo / liuxilin
Useful Changbaishan Ski Resort Travel Tips
1. Before skiing, do some warm-up exercises;
2. When skiing for the first time, you are recommended to hire a coach and you should pay attention to your coach and move carefully according to your ability. There are skiing area with certain technical requirements, if you have not reach a certain level, please do not take risks to go there.
3. When doing outdoor activities, please keep warm and change your outfit and wear ski equipment, such as ski protector, snow boots, etc.
4. You're recommended to bring your own ski items, such as ski clothes, gloves, ski glasses and masks. These itenms are not provided free of charge. You can either rent or buy them on site. It is recommended to prepare it in advance.
5. Since the rooms are limited in the resort and the hotel rate might become a lot higher during the holiday season, you are recommended to book your room in advance and be aware of the possible crowd during the weekends and holidays.
Travel Changbaishan and China with China Discovery
Now that you have learned all the basics information of Changbaishan, so can plan your own Changbaishan Tour now! And if you still feel trouble about your tour plan or looking for a hassle-free tour, you can feel free to contact us for help! We China Discovery are experienced in Changbaishan travel and also work very well on tours to any other destinations in China.
If you travel with us, our professional English-speaking guide will accompany all the way and introduce you the best visiting route and photography site and give you the best suggestions according to the weather changing. And our experienced local driver will escort you to Changbaishan and your other favorited destinations in convenient private car. The tour can be tailor-made according to your group size, time, physical condition, plan, interest, budget and every special need. Please feel free to contact us if you need any help!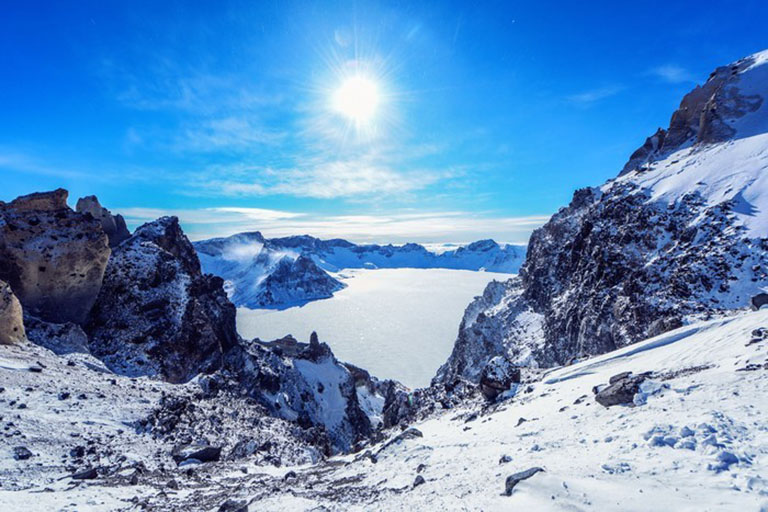 Changbaishan Tianchi Lake
© mafengwo / 冯阳
How to Plan A Changbaishan Tour
Best Time to Visit Changbaishan: April to next February
How to Get to Changbaishan: Fly to Changbaishan directly from Changchun (1h), Tianjin (1h), Beijing (2h), Shanghai (2.5~5h), Xian (3h), or take a high speed train to Dunhua City from Jilin (1.5h), Changchun (2h), Dalian (5~5.5h), Harbin (3h), Beijing (7h), etc.
Where to Stay in Changbaishan: Accommodate in Wanda Changbaishan Resort with superior hotels or Erdao Baihe Town with hot spring hotels
Generally, a classic Changbai Mountain tour needs at least 3 days including arrival and departure days. Many travelers spend 1 day visiting North Slope or West Slope, and half a day traveling Mojie Scenic Area. And some travelers wanting to see Heavenly Lake may spend 2 days visiting both slopes. If you are interested in a winter holiday around Changbaishan, it takes another 2 days to enjoy skiing in Wanda Changbaishan Ski Resort and other winter activities.
☞ 3 Days Changbai Mountain Classic Tour
☞ 5 Days Changbaishan Winter Tour
Want an in-depth discovery? We suggest you spend more days taking a view of different perspectives of Jilin Province. It takes 1 day to visit Wusong Island and other highlights and in Jilin City, 1 day to explore the Puppet Emperor's Palace - the official residence of Puyi and other featured architectures in Changchun, 1 day to discover Capital Cities and Tombs of the Ancient Koguryo Kingdom in Ji'an, and 1 day to watch the amazing spectacle of winter fishing in Chagan Lake if you travel in winter..
☞ 5 Days Club Med Beidahu Ski Tour with Jilin Wusong Island
☞ 6 Days Jilin Winter Tour with Chagan Lake Winter Fishing
☞ 4 Days Koguryo World Heritage Sites Exploration from Changchun
For travelers with more time, travel China's Dongbei (northeastern area) including Liaoning Province, Jilin Province and Heilongjiang Province together is strongly recommended. You can extend your tour to Harbin and China Snow town for the breathtaking world of snow and ice, Shengyang to witness establishment and collapse of China's final imperial dynasty, and Dalian to appreciate the fresh air and nice beaches.
☞ 7 Days Amazing Northeast China Winter Tour (Harbin / China Snow Town / Jingpo Lake / Dunhua / Changbai Mountain / Jilin)
☞ 8 Days Northeast China Tour with Harbin Ice & Snow Festival (Harbin / Jilin / Changchun / Shenyang / Dalian)
Keep Reading About Changbaishan
Keep Reading About Jilin
More Travel Articles for Winter Travel
Recommended Changbaishan Tours
Top 3 Changbaishan tours chosen by most customers to explore Changbaishan in the best way. Check the detailed itinerary, or tailor your own trip now with us.
5 Days Changbai Mountain Winter Tour with Ski Experience

Changbai Mountain
3 Days Changbai Mountain Classic Tour

Changbai Mountain
5 Days Club Med Beidahu Ski Tour with Jilin Wusong Island

Jilin / Beidahu Ski Resort / Jilin
Start planning your tailor-made holiday to China by contacting one of our specialists. Once inquired, you'll get a response within 0.5~23.5 hours.
Customize a Trip
Have a question? Get answers from our travel experts or guests
Your Question:

Your Name:

Your Email: