Why Visit Yuantouzhu (Turtle Head Island)?
Yuantouzhu, also called Turtle Head Island, is a famous peninsula situated at the northwest side of Taihu Lake, the third-largest freshwater lake in China. It gets the name Turtle Head Island for its huge rocks protruding into the Taihu Lake, appearing as if a swimming turtle tossing its head. Yuantouzhu is endowed with gorgeous natural scenery with green hills and clear water, as well as abundant historical and cultural stories.
Travelers who come to Wuxi should pay a visit to Taihu Lake and those who visit Taihu Lake must take a visit to Yuantouzhu. You can enjoy leisure cruise time on Taihu Lake just as Fanli (范蠡) did thousand years ago, you can enjoy a light walking along the shore of Yuantouzhu, or immerse in the fantastic scenery which praised by a well-known Chinese modern poet Guo Moruo "The superb view of the Taihu Lake, after all, lies in the Turtle Head Peninsula" (太湖佳绝处,毕竟在鼋头).
Yuantouzhu Scenic Area is listed as National AAAAA Tourist Attraction which attracts lots of travelers to its breathtaking scenery especially during spring seasons when Yuantouzhu International Cherry Blossom Festival is held.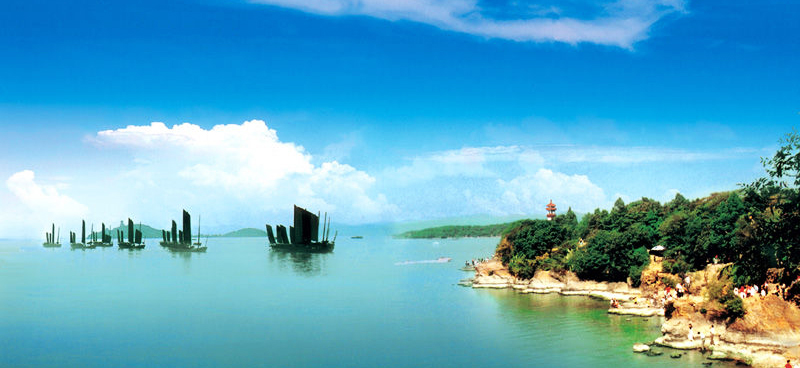 Super Scenery of Yuantouzhu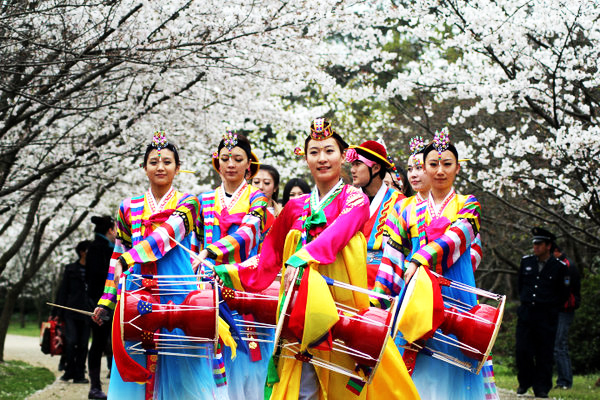 Annual Cherry Blossom Festival
Highlights to Explore
Appreciate Fantastic Scenery in Yuantouzhu
Yuantouzhu is a garden more naturally formed than man-made. In history, numerous refined scholars and poets came to Yuantouzhu for they regarded it as peach garden far away the madding crowd. During the Republican period, many celebrities came and built private gardens which they learn from the design of imperial garden in North China, making the unique example of the garden style in Jiangnan area.
Entering into Yuantouzhu, you won't miss the Taihu Lake Memorial Archway decorated in classical style with glazed tile roof and on which was inscribed the poem of Guo Moruo "The Super View of Taihu Lake" (太湖佳绝处). Pass through Ever-Spring Bridge which looks like the Yudai Bridge of Summer Palace, have gorgeous view of lotus blossom in Ouhua Shenchu, walk to Turtle-head Peninsula in the Spring Waves to fully appreciate Taihu Lake scenery. Visit the old Guangfu Temple which was first built in Six Dynasties (222~589 AD) to have a basic understanding about Buddhism; enjoy about 180 kinds of orchid in Jiangnan Orchid Garden with tall bamboos and clear stream flowing, enjoy beautiful flowers and trees along Ten-mile Fragrant Lane, or even climb up at the top of Luding Hill to have panoramic view of Taihu Lake. Besides, there are more surprises waiting for you to explore.
Enjoy Beautiful Cherry Blossom in Spring
Every year during March to April, Yuantouzhu is like a young lady putting on its most graceful clothes, showing its beauty to all. Travelers who come to Yuantouzhu at this time can catch the best time to attend the International Cherry Blossom Festival and immerse yourselves in the sea of flowers. Yuantouzhu is regarded as the no.1 place in China, as well as one of the top three places in the world, to appreciate cherry.
The best areas to appreciate cherry blossom in Yuantouzhu include Sakura Valley, Lovers' Valley, Changchun Bridge, the Sino-Japanese Friendship Oriental Cherry Planation, Renjie Garden and Ten-mile Fragrant Lane. You can either wander through the tranquil path decorated with blossom cherry, take a traditional boat floating on the water and enjoy the sakura miles away, or climb up to the top of Luding Hill to have a panoramic view of the amazing sakura.
Take a Boat across Taihu Lake to Fairy Island
Taihu Fairy Island is located at the southwest side of Yuantouzhu, about 2.6 kilometers away. Fairy Island is a beautiful island with a blending of the old Taoism culture and legends.
On the Fairy Island, you can take a view of the memorical archway, Huixian Bridge, Matchmaker's Cave, Heavenly Street, Taiyi Temple of Heaven, Lingxiao Palace, Dajue Bay, Buddha's Cave, etc.
Travelers can take ferry from the pier of Yuantouzhu Scenic Area to Fairy Island. The boat will sail slowly on Taihu Lake that you can have a sight of Yuantouzhu and Taihu scenery on the water. The boat journey takes about 20 minutes. The last boat from Fairy Island to Yuantouzhu is at 17:55 and please arrange your visiting time properly in order to catch a ferry back to Yuantouzhu.
Taihu Lake Memorial Archway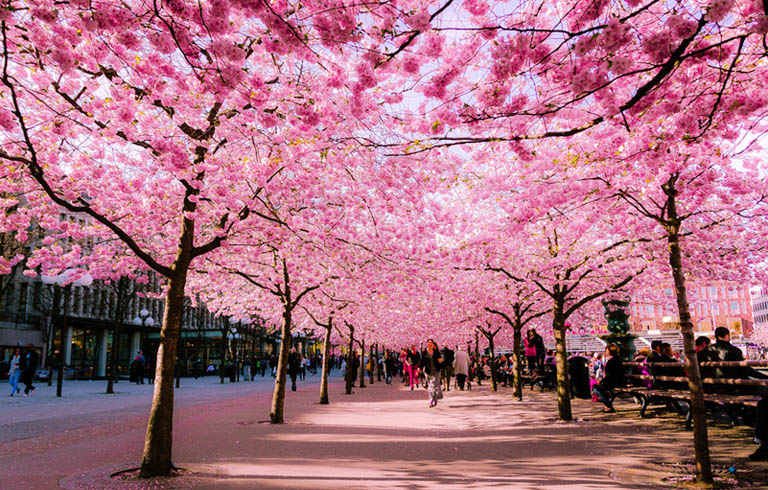 Appreciate Blooming Cherry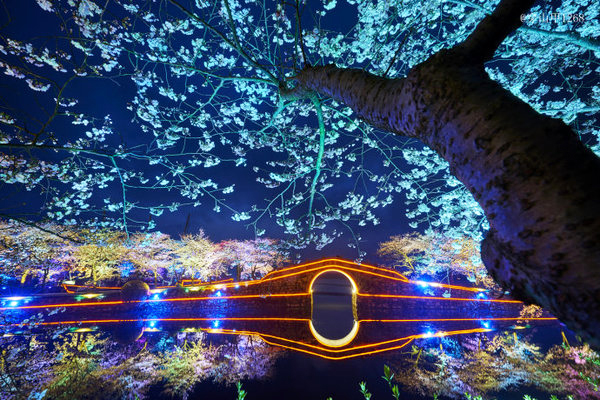 Yuantouzhu Night View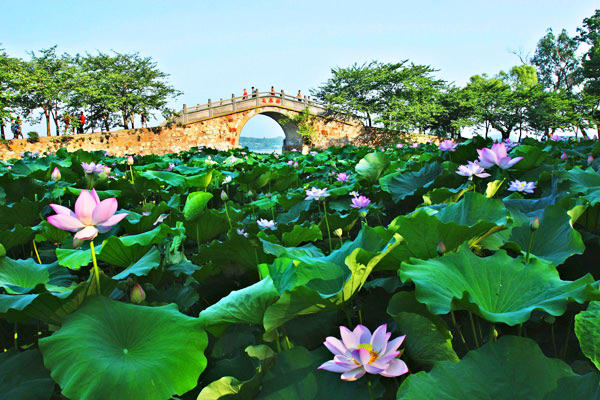 Lotus Blossom in Summer Time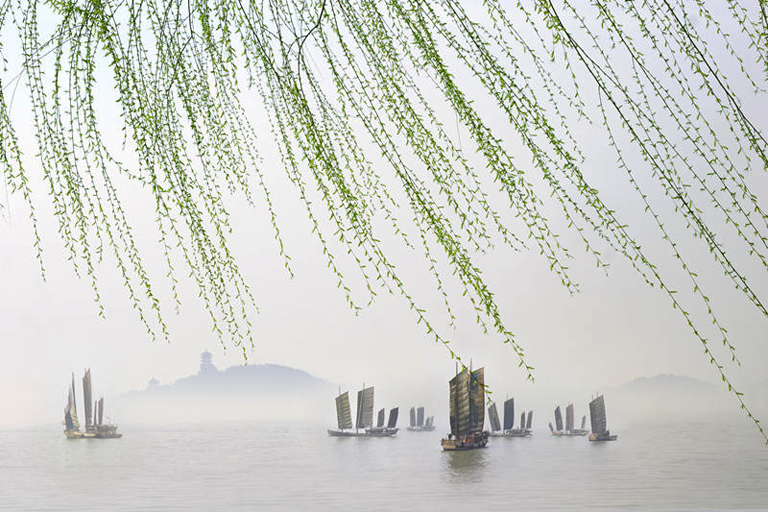 Traditional Boat on Taihu Lake
Recommended Visiting Route
This route takes about 4 hours to explore the whole area of Yuantouzhu. Recommended visiting route is Entrance Gate - Chongshan Hill - Sino-Japanese Friendship Oriental Cherry Planation – Jiangnan Orchid Garden – Sakura Valley – Ten-Mile Fragrant Lane – Tourist Center – Pier – Fairy Island - Turtle-head Peninsula in the Spring Waves – Hengyun Villa – Guangfu Temple - Hushan Zhenyi – Entrance Gate.
Map & How to Go to Yuantouzhu
Yuantouzhu is a famous peninsula situated at the northwest of Taihu Lake, about 10 kilometers from Wuxi downtown. It is close to Li Garden (蠡园) and Li Lake (蠡湖), about 1 kilometers away. Travelers who visit Yuantouzhu can come to Wuxi (Wuxi Railway Station – 13 km from Yuantouzhu; Wuxi East Railway Station – 28 km from Yuantouzhu) first, and then transfer to Yuantouzhu Scenic Area. It is about 28 kilometers between Wuxi Airport and Yuantouzhu which takes about 0.5 hour.
Shanghai – Wuxi: The distance between Shanghai and Yuantouzhu is about 145 kilometers which takes about 2 hours and 10 minutes by driving. If you take high speed train, numerous G / D trains are running from Shanghai Railway Station or Shanghai Hongqiao Railway Station to Wu Railway Station or Wuxi East Railway Station. It is only 28 minutes to 50 minutes' journey between the two cities.
Suzhou – Wuxi: The distance between Suzhou and Wuxi is about 50 kilometers with 1 hour by driving. There are many high speed trains are available from Suzhou to Wuxi which takes only 10~15 minutes. Travelers can take G or D trains from Suzhou Railway Station to Wuxi Railway Station or Wuxi East Railway Station.
Nanjing – Wuxi: The distance between Nanjing and Wuxi is about 180 kilometers which takes 2.5 hours by driving. Also, travelers can take G / D trains from Nanjing Railway Station / Nanjing South Railway Station to Wuxi Railway Station or Wuxi East Railway Station. The train journey is about 1 hour.
Hangzhou – Wuxi: The distance between Hangzhou and Wuxi is about 210 kilometers with 2 hours and 40 minutes by driving. There are about 30 high speed trains are available every day. They are running from Hangzhou East Railway Station (a few from Hangzhou Railway Station) to Wuxi Railway Station or Wuxi East Railway Station.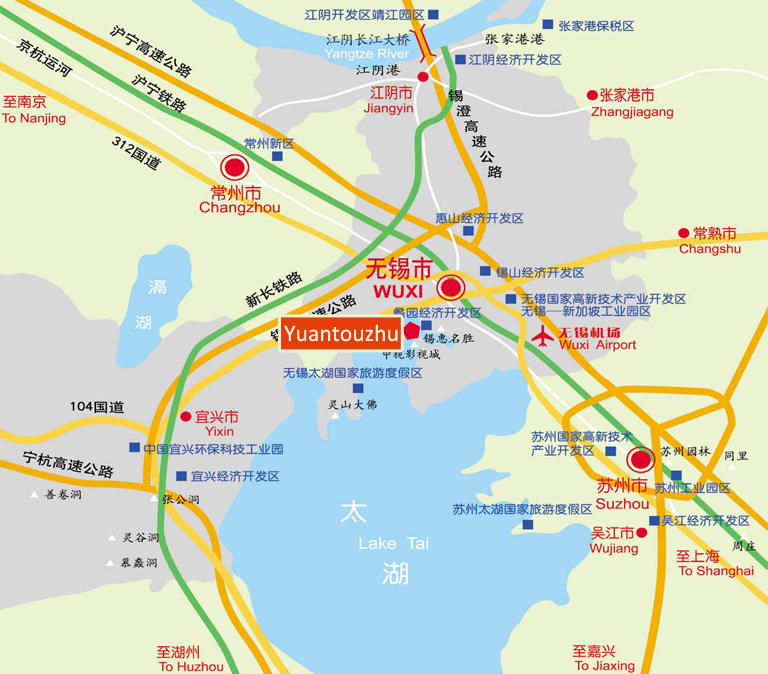 Click to Enlarge the Location Map of Yuantouzhu Scenic Area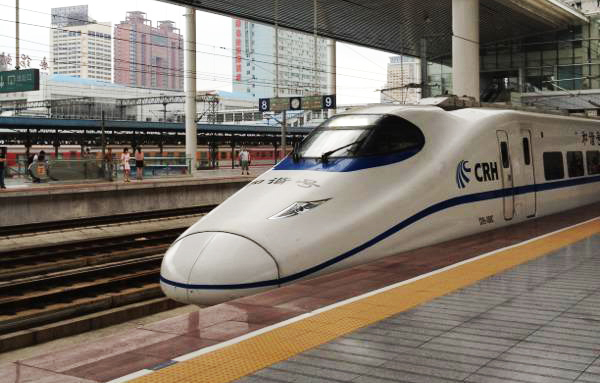 High Speed Train to Wuxi
Travel with China Discovery (Recommended):
If you want to get rid of hustle of public transportation and troublesome navigation, you can book a private tour package which covers sightseeing, dining and transfer from us. Our local tour guide and driver will escort you to Longjing Tea Plantations with speed and convenience, and take care of all the details. You just need to focus on sightseeing.
Useful Travel Tips
1. Sightseeing Bus
To save your energy and time, you can take sightseeing bus which charges extra RMB 10. It usually starts from the Entrance Gate, passing through Ouhua Shenchu, Shili Fangjing, Sino-Japanese Friendship Oriental Cherry Plantation, Sakura Valley, Chongshan Yinxiu, and stops at Tourist Center.
2. Festivals
The Cherry Blossom Festival is held during the middle of March to the end of April. Travelers can enjoy the Sakura during daytime also at night during 18:00~21:00. The Lotus Blossom Festival is during June to August; while September is the busiest fishing month of Taihu Lake that you can enjoy interesting activities about fishing during the Fishing Custom Festival.
How to Plan Your Travel in Wuxi
How to Get to Wuxi: You can easily get to Wuxi by high speed train from Beijing (5.5 hours), Shanghai (0.5~1.5 hours), Nanjing (1 hour), Suzhou (0.5~1.5 hours), Hangzhou (1.5~2.5 hours), etc. as well as flight from Beijing (2.5 hrs), Xian (2 hrs), Chengdu (2.5 hrs), Guangzhou (2.5 hrs)...
Best Time to Visit Wuxi: Spring (March~ May) and autumn (September ~ November), especially spring when various flowers can be aprreciated
In order to explore the cultural and natural highlights of Wuxi, 2 days are needed generally. What you won't miss are Lingshan Grand Buddha – a 88-meter-bronze Buddha statue and Yuantouzhu with Wuxi's best scenic beauty. It is also recommended to visit Huishan Old Town to probe in to the historical ancestral halls and buildings, Jichang Garden to admire ingenuity of the classical gardens of south regions of the Yangtze River, Wuxi Old Street (Nanchang Street) along the old canal to feel traditional and modern atmosphere together. Besides, there are lots of gardens and wetlands located near Taihu Lake delivering an amazing natural vista to you.
If you want to explore more about Jiangsu Province, you can travel to Suzhou - the city of classical gardens and silk, Nanjing - an old capital of 6 dynasties, Yangzhou - old culture center of southern China, etc. Check more about Jiangsu Tours>
☛ 5 Days Jiangsu Tour (Suzhou, Wuxi & Nanjing)
If you have more days, you can expand your Wuxi trip to Shanghai - modernest metropolis in China, Hangzhou - home to picturesque West Lake, and Huangshan - magnificent Yellow Mountain and Hui-style ancient villages. Or you can contact us to customize a trip according to your own itinerary and interests. Just tell us your needs and we will take care of everything, you just need to focus on sightseeing!
☛ 3 Days Hangzhou & Suzhou Beauty Tour by High Speed Train
☛ 8 Days East China Tour by High-speed Train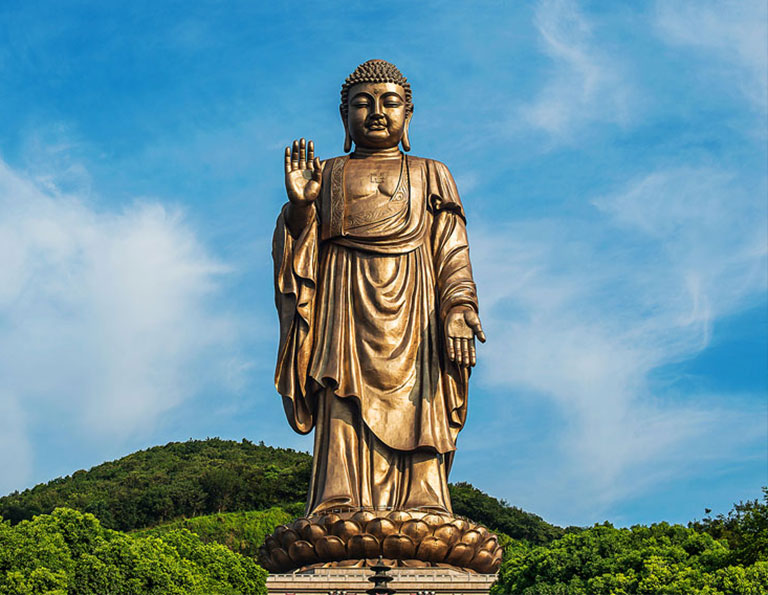 Lingshan Grand Buddha in Wuxi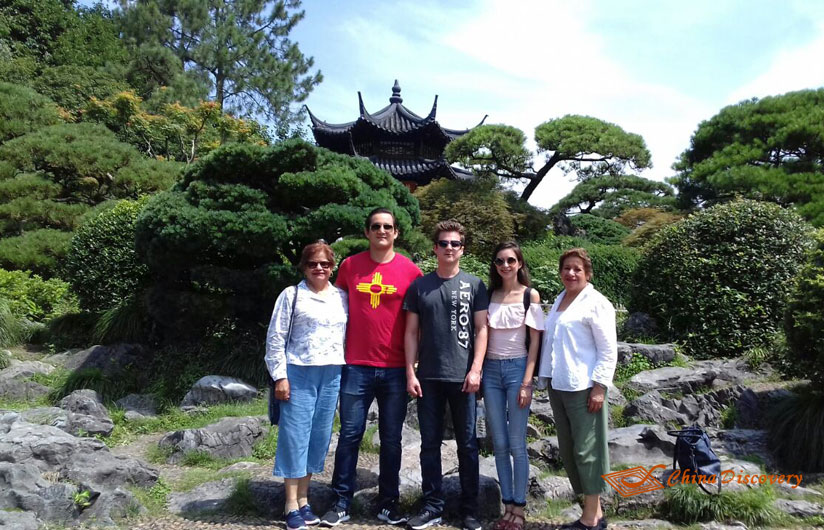 Our Customers visited Hangzhou
Recommended Wuxi Tours
Top 3 Wuxi tours chosen by most customers to explore Wuxi in the best way. Check the detailed itinerary, or tailor your own trip now with us.
5 Days Charming Jiangsu Tour (Suzhou, Wuxi & Nanjing)

Suzhou / Wuxi / Nanjing
Start planning your tailor-made holiday to China by contacting one of our specialists. Once enquired, you'll get a response within 0.5~23.5 hours.
Customize a Trip
Have a question? Get answers from our travel experts or guests
Your Question:

Your Name:

Your Email: