Wuxi, a shining peal of Taihu Lake, is located at the south of Jiangsu Province, linking with the Yangtze River in the north and Taihu Lake in the south. Moreover, it is approximately half way between the cities of Shanghai (metropolis with west-meets-east sites) and Nanjing (capital of Jiangsu Province), the former is about 130 kilometers to the southeast and the latter is about 200 kilometers to the northwest. Along with the nearby city - Suzhou (50 km away), Wuxi is a popular destination for travelers to travel with Shanghai and nearby destinations linked by high speed train with less than 1 hour's journey.
Wuxi is one of the birthplaces of Jiangnan culture which can be traced back to 3000 years ago in the late Shang Dynasty (1600~1046 BC). Taibo, the eldest son of emperor Zhoutai in the West Zhou Dynasty resigned sovereign authority to his third brother and came to Meili (today's Mei Village in Wuxi). He introduced the inland culture to the south and created the Wu culture. Nowadays, Wuxi is a good choice to travel on its fertile land which is rich in "fish and rice" and explore its beautiful natural scenery and abundant culture.
Why Visit Wuxi?
Breathtaking Taihu Lake Scenery - Travelers who come to Wuxi should pay a visit to Taihu Lake and those who visit Taihu Lake must take a visit to Yuantouzhu. The super view of Taihu Lake lies Turtle Head Island. You can either enjoy a leisure walk along the shore of the lake, or take a traditional boat quietly sailing on the water to embrace the glittering lake under the blue sky.
Sacred Buddhist Land with 88-meter-tall bronze Shakyamuni Buddha - On the northern bank of Taihu Lake is a holy Buddhist site - Lingshan Grant Buddha which is the biggest bronze Buddha in the world. With a pilgrim soul, you can worship the grand Buddha, watch nine dragons bathing Shakyamuni, enjoy Ode to Auspice in the Brahma Palace and touch the largest Buddha's hand for good luck and longevity.
Classical Gardens - Though not so famed as Suzhou gardens, the typical gardens in Wuxi are worth your exploration. Wandering through Plum Garden to appreciate flowering plum in the late winter to early spring, boating on the elegant water of Liyuan Garden to feel the retreating pleasure of Fan Li and Xi Shi, appreciating the gorgeous designs of Jichang Garden imitated by Summer Palace and Yuanming Yuan… you will absolutely lose yourself in the Chinese-painting-like scenery.
Top Wuxi Attractions
Every city has its own stories. The legendary stories of Wuxi are described in the beautiful poems of Taihu Lake, flowing through the old grand canal through Wuxi downtown, as well as contained in the picturesque gardens, lakes and ancient temples. For more Wuxi attractions and recommended activities, please visit Top Wuxi Attractions & Things to Do in Wuxi
Wuxi Weather & Best Time to Visit Wuxi
Transportation
Wuxi Accommodation
Useful Wuxi Maps
To help you know more about the distributions of Wuxi attractions and how to travel in Wuxi, we have selected some useful Wuxi maps for you. Please feel free to use them. For more maps of Wuxi, please see Wuxi Maps.
Other Destinations Near Wuxi
There are some awesome destinations near Wuxi which are well worth your time and exploration. Travelers can visit the modern metropolis - Shanghai, exquisite Gardens in Suzhou, picturesque West Lake in Hangzhou, and Dr. Sun Yat-sen Mausoleum in Nanjing. Discover now!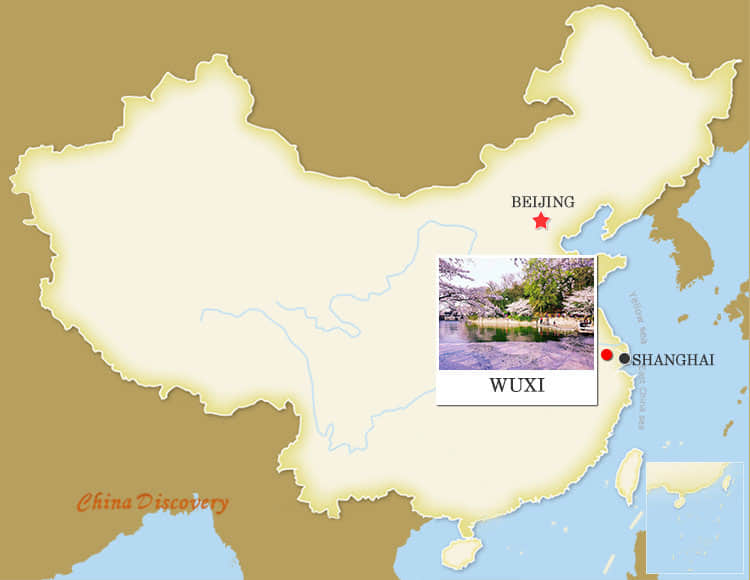 Chinese Name: 无锡
Chinese Pinyin: wú xī
English IPA: ['wu:'ʃi]
Population: 6.51 million
Language: Mandarin & Wuxi Dialect
Tel Code: 0510
Zip Code: 214000
Time Zone: (UTC+8)
Plan your Wuxi Tour
Usually, travelers can spend one or two days traveling Wuxi. You can cover the highlighted attractions - Yuantouzhu (Turtle Head Island), Lingshan Grand Buddha Scenic Area, Nanchan Temple, Liyuan Garden and more tourist spots. The amazing Taihu Lake scenery is what you can not miss in Wuxi.
Wuxi is well connected with Suzhou, Shanghai, Nanjing and Hangzhou by high speed train. You can travel with these cities before or after a Wuxi tour. No matter where you want to visit or which attractions you want to explore, China Discovery will customize the tour for you. Select your favorite tours now!
Recommended Tours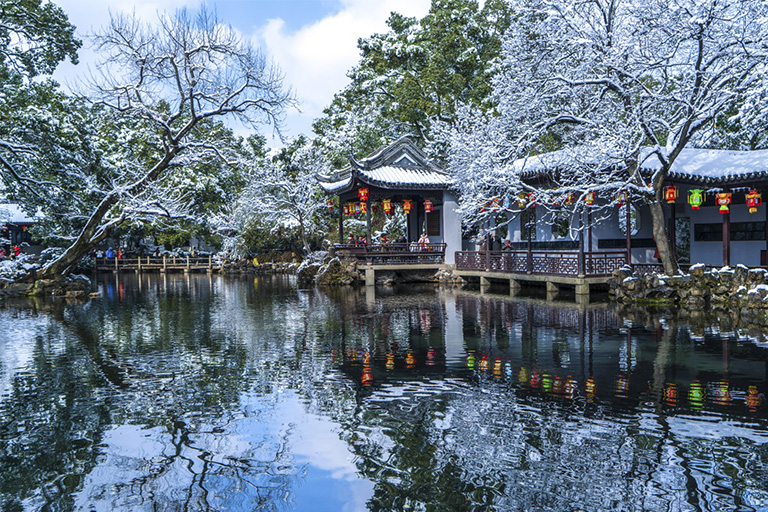 MORE