Wuxi Maps: Wuxi China Map, Wuxi Google Map, Wuxi Tourist Map...
Wuxi is a lesser-known tourist destination while comparing it with other popular cities like Shanghai, Hangzhou, Wuxi, etc. But if you want to explore the pleasing shores of Taihu Lake, Wuxi is a good choice. Both natural and cultural fun can be appreciated in Wuxi. In order to make full of your Wuxi holiday, it will be rather helpful to know Wuxi's location, transfer means and attractions distribution. China Discovery here collects and makes some maps of high-definition for you, including Wuxi China Map, Wuxi Tourist Map, etc. Be free to download and print them and enjoy a more effective Wuxi tour.
Wuxi Location Maps – Where is Wuxi
Wuxi is located in southern Jiangsu Province of East China, bordering Taizhou (Jiangsu) in the north, Huzhou (Zhejiang) in the south, Wuxi (Jinagsu) in the east and Changzhou (Jiangsu) in the west. It is about is about 200 km to the provincial capital city Nanjing, and about 130 km to Shanghai. Check its detailed location maps:
Wuxi Transfer Maps – How to Get to/around Wuxi
With one international airport and 3 main train stations, Wuxi can be reached easily by flight and high speed train. There are several international flights connecting Wuxi with Seoul (Korea), Tokyo (Japan), Singapore (Singapore) and Manila (the Philippines), as well as many domestic flights from Beijing (2.5 hrs), Xian (2 hrs), Chengdu (2.5 hrs), Chongqing (2 hrs), Guangzhou (2.5 hrs), Shenzhen (2.5 hrs), Kunming (3 hrs), Qingdao (1.5 hrs), Dalian (2 hrs), Xiamen (2 hrs), etc. Besides, you can easily take a high speed train from many Chinese major cities like Beijing (5.5 hours), Shanghai (0.5~1.5 hours), Xian (6~9 hours), Chengdu (10 hours), etc. as well as surrounding cities like Nanjing (1 hour), Suzhou (0.5~1.5 hours), Hangzhou (1.5~2.5 hours), Yangzhou (1~1.5 hours), Changzhou (12~30 minutes), etc.
Wuxi Tourist Maps – How to Travel Wuxi
Top attractions to visit in Wuxi include Lingshan Grand Buddha, Yuantouzhu, Nanchan Temple, Huishan Old Town, Congan Temple, etc. The best highlights – Lingshan Grand Buddha and Yuantouzhu is a little far away from the downtown area. Check the following attractions map and accommodation map to help you organize your itinerary in Wuxi in a smarter way:
How to Plan Your Travel in Wuxi
How to Get to Wuxi: You can easily get to Wuxi by high speed train from Suzhou (0.5~1.5 hours), Nanjing (1 hour), Hangzhou (1.5~2.5 hours), Beijing (5.5 hours), Shanghai (0.5~1.5 hours), etc. as well as flight from Beijing (2.5 hrs), Xian (2 hrs), Chengdu (2.5 hrs), Guangzhou (2.5 hrs)...
Best Time to Visit Wuxi: Spring (March~ May) and autumn (September ~ November), especially spring when various flowers can be aprreciated
In order to explore the cultural and natural highlights of Wuxi, 2 days are needed generally. What you won't miss are Lingshan Grand Buddha - an 88-meter-bronze Buddha statue and Yuantouzhu with Wuxi's best scenic beauty. It is also recommended to visit Huishan Old Town to probe in to the historical ancestral halls and buildings, Jichang Garden to admire ingenuity of the classical gardens of south regions of the Yangtze River, Wuxi Old Street (Nanchang Street) along the old canal to feel traditional and modern atmosphere together. Besides, there are lots of gardens and wetlands located near Taihu Lake delivering an amazing natural vista to you.
If you want to explore more about Jiangsu Province, you can travel to Suzhou - the city of classical gardens and silk, Nanjing - an old capital of 6 dynasties, Yangzhou - old culture center of southern China, etc. Check more about Jiangsu Tours>
☛ 5 Days Jiangsu Tour (Suzhou, Wuxi & Nanjing)
If you have more days, you can expand your Wuxi trip to Shanghai - modernest metropolis in China, Hangzhou - home to picturesque West Lake, and Huangshan - magnificent Yellow Mountain and Hui-style ancient villages. Or you can contact us to customize a trip according to your own itinerary and interests. Just tell us your needs and we will take care of everything, you just need to focus on sightseeing!
☛ 3 Days Hangzhou & Suzhou Beauty Tour by High Speed Train
☛ 8 Days East China Tour by High-speed Train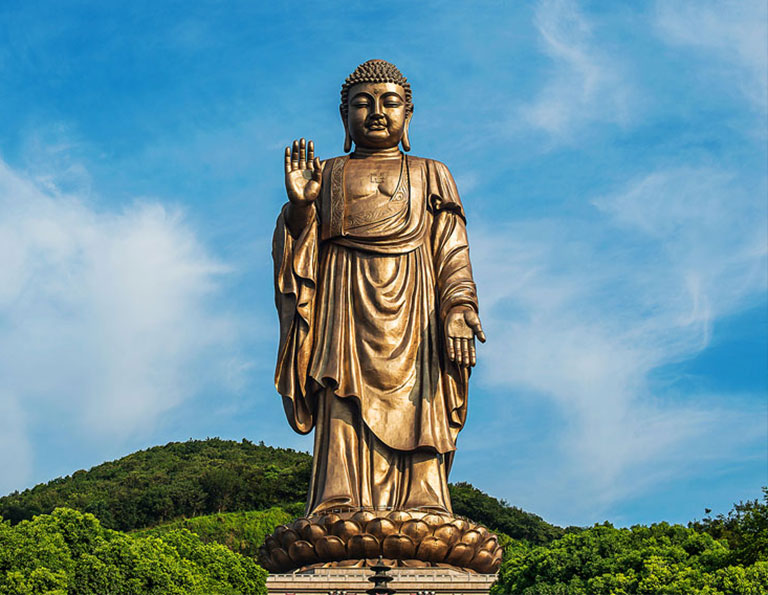 Lingshan Grand Buddha in Wuxi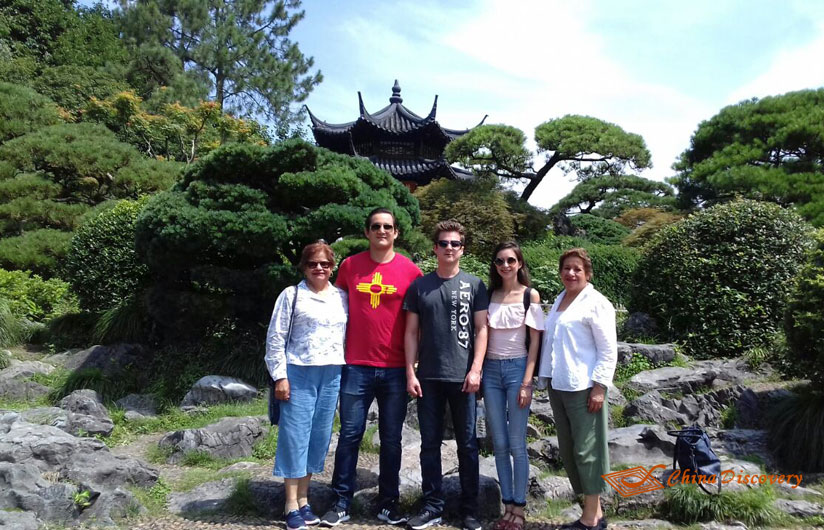 Our Customers visited Hangzhou
Travel with China Discovery
In order to enjoy a better Wuxi tour, It is strongly recommended to travel with China Discovery. Our local travel guide and driver will pick you up at the airport or train station as you arrive with an air-conditioned and non-smoking vehicle, and then escort you to your hotel or every attraction listed in your itinerary. Great freedom will be given to you whenever you need to stop for sightseeing and photograph. You are sure to enjoy a comfortable, safe and efficient experience.
Far more than that, China Discovery is professional to provide high-quality customizable tour. Before your tour, our travel expert will communicate with you one to one and make an itinerary according your own interest, need and budget. Every detail – transfer, hotels, attractions, etc. will be arranged well for you and you just need to focus on sightseeing. Feel free to contact us to start your worry-free private tour now!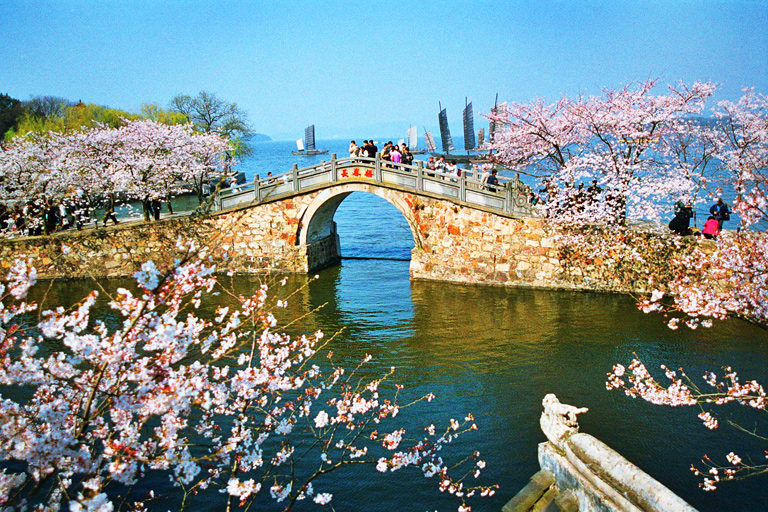 Spring View of Yuantouzhu, Wuxi
Recommended Wuxi Tours
Top 3 Wuxi tours chosen by most customers to explore Wuxi in the best way. Check the detailed itinerary,or tailor your own trip now with us.
5 Days Charming Jiangsu Tour (Suzhou, Wuxi & Nanjing)

Suzhou / Wuxi / Nanjing
2 Days Best Suzhou Zhouzhuang Water Town Tour

Suzhou / Zhouzhuang Water Town