Top Wuxi Attractions | Things to Do in Wuxi 2023
Wuxi is located in the south of Jiangsu Province in eastern China. Adjacent to the Yangtze River in the north and Taihu Lake in the south, Wuxi is known as the "Pearl of Taihu Lake". It has been a land of fish and rice since ancient times and now a national historical and cultural city. In Wuxi, you can meet the largest bronze Buddha in the world, find the most romantic scenery covered by cherry blossoms and dream back to the world about 2000 years ago. Here we have selected top 8 things to do and main attractions in Wuxi to help you better explore this treasure city. If you want to travel some of the places or have some other experience, feel free to tell us. We can customize a private Wuxi tour according to your own ideas and needs.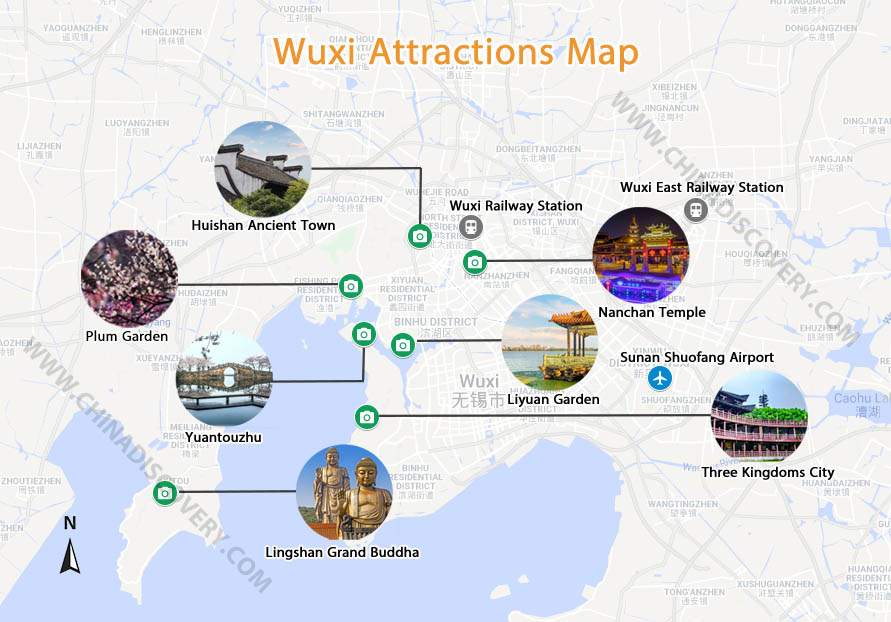 Wuxi Tourist Attractions Map (Click to enlarge)
No.1: Lingshan Grand Buddha - Marvel at the Largest Bronze Buddha in the World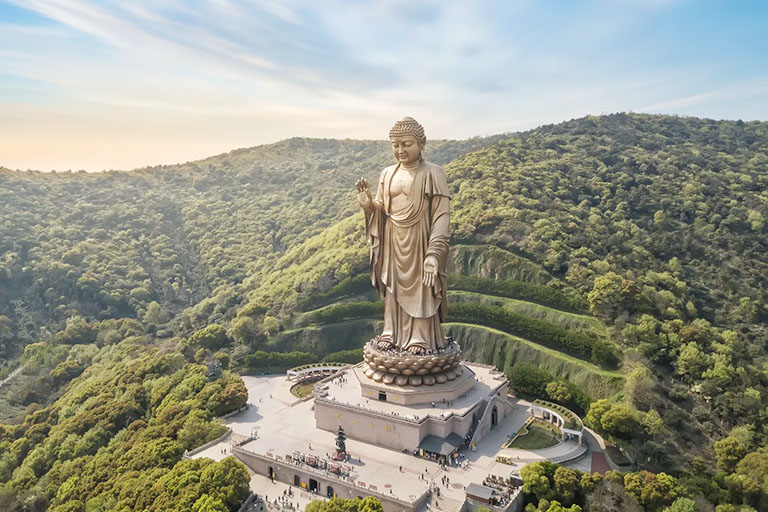 Seeing Lingshan Grand Buddha from Distance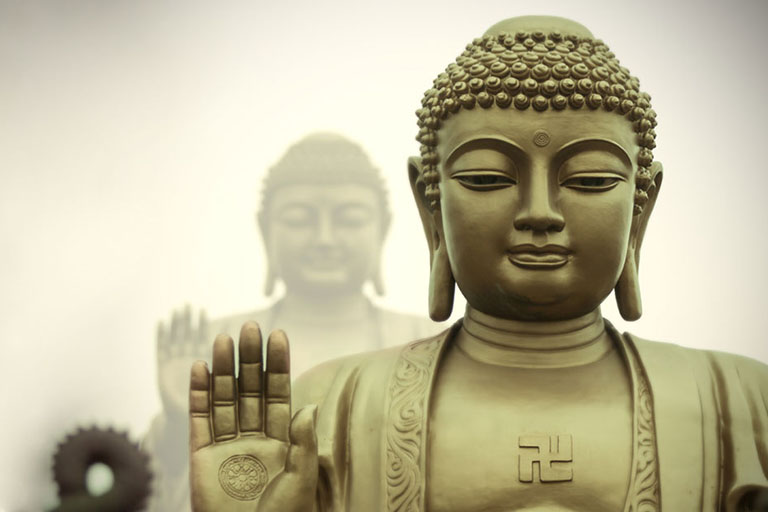 A Close Look at Lingshan Grand Buddha
• Address: Mashan Lingshan Road, Hubin District, Wuxi 无锡市滨湖区马山灵山路
• Opening Hours: April-October: 07:00-17:30; November-March: 07:00-17:00
• Ticket: CNY 210
• Recommended Length of Visit: Half day
Lingshan Grand Buddha (灵山大佛), located on Xiaoling Mountain beside Taihu Lake in Wuxi, is a grand and spectacular bronze Buddha statue. It is about 1.2 km away from the gate of Lingshan Scenic Area. You can walk or take a sightseeing bus to the square in front of the Grand Buddha. Then you need to climb 288 stairs from the square to the foot of the Buddha. The height of the whole Buddha is 88 meters, of which the Buddha body is 79 meters and the lotus flower pedestal is 9 meters. On your way to the scenic area, you can see the Buddha standing on the mountain from a distance and you can get a full view of the Buddha near Xiangfu Temple.
Inside the pedestal is a Buddhist Culture Museum, which displays the culture and stories of the five Buddha in China and the three branches of Buddhism in the south of China. There is an elevator in the museum leading to the Buddha's feet. People believe that touching the Buddha's feet can bring fortune and peace. There are many other scenic spots in the area worth a go, such as the Nine Dragons Bathing Shakyamuni and Brahma Palace.
No.2: Yuantouzhu - Find the Most Beautiful Spring in Wuxi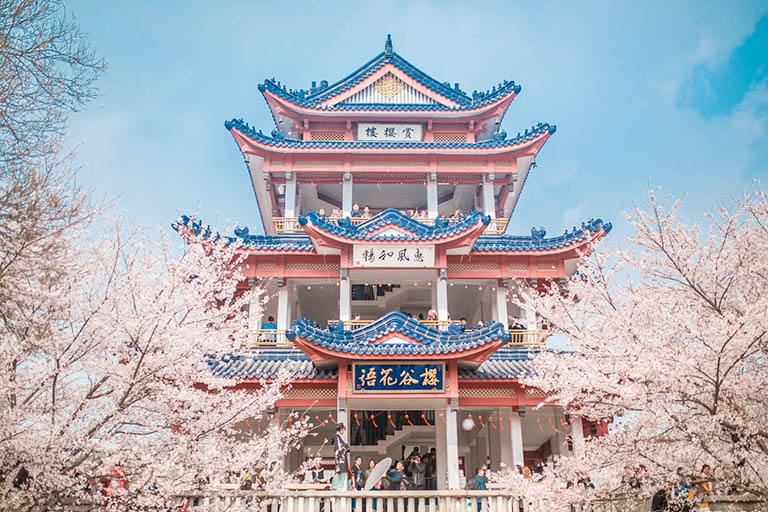 Beautiful Cherry Blossoms in Yuantouzhu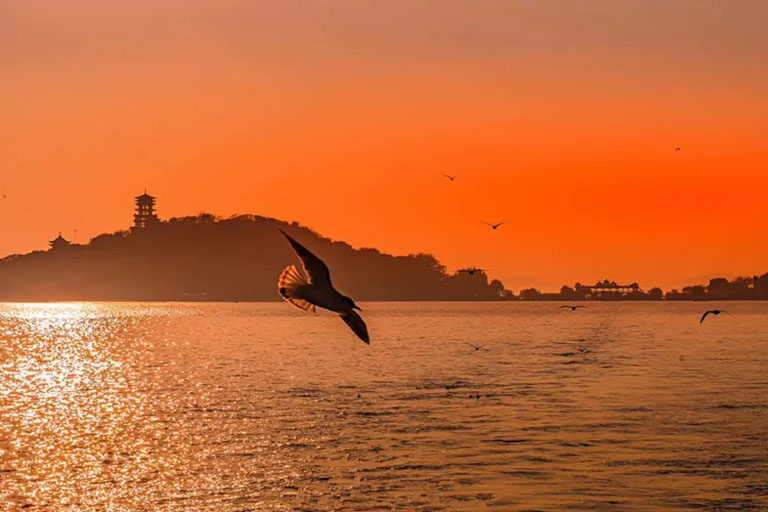 Admire Taihu Lake Sunset in Yuantouzhu
• Address: NO. 1 Yuanzhu Road, Wuxi 无锡市鼋渚路1号
• Opening Hours: 08:00~16:00 (Monday~Friday); 08:00-16:30 (Saturday~Sunday)
• Ticket: CNY 105 (including the entrance ticket and cruise fare)
• Recommended Length of Visit: Half day
Yuantouzhu (Turtle Head Island 鼋头渚), a 5A scenic spot, is a peninsula lying on the northwest of Taihu Lake in Wuxi. It is a giant stone protruding into the lake, which resembles the head of a turtle. Yuantouzhu was built in 1916 and now covers an area of 5.39 km². Here you can visit a large group of gardens, admire the vast expanse of Taihu Lake by boat, explore the secret Fairy Island, and enjoy cherry blossoms in spring.
Yuantouzhu is surrounded by water on three sides. It not only has the natural beauty of mountains and rivers, but also has the rural scenery of small bridges and flowing water. Taihu Lake Fairy Island is a must-see in Yuantouzhu. There are Taoist temples and both of Taoist and Buddhist statues. Climbing up to Luding Mountain on the peninsula, you can have a full view of the beautiful lake. When the weather is fine, you can see the boat on the lake extending into the distance. Every spring, Yuantouzhu becomes a wonderland of cherry blossom the annual Cherry Blossom Festival is held here.
Yuantouzhu also has many historic sites and private gardens such as Hengyun Villa with a gate tower and Changchun Bridge, and Guangfu temple, an ancient temple in Wuxi. It is also a great pleasure to find the stone carvings, calligraphy and paintings left by celebrities in the past. In addition, if time permits, you can go to Wanlang Bridge, which is a good place to watch the sunset in Taihu Lake.
No.3: Nanchan Temple - Meet Ancient Temple in Busy Snack Street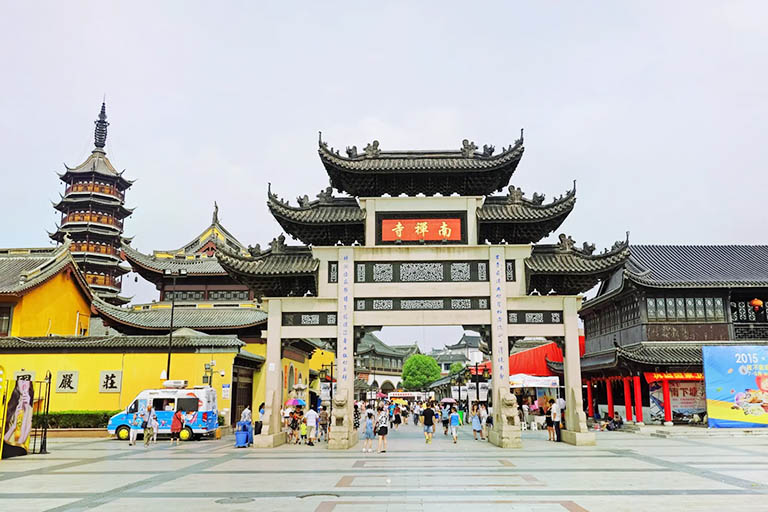 Nanchan Temple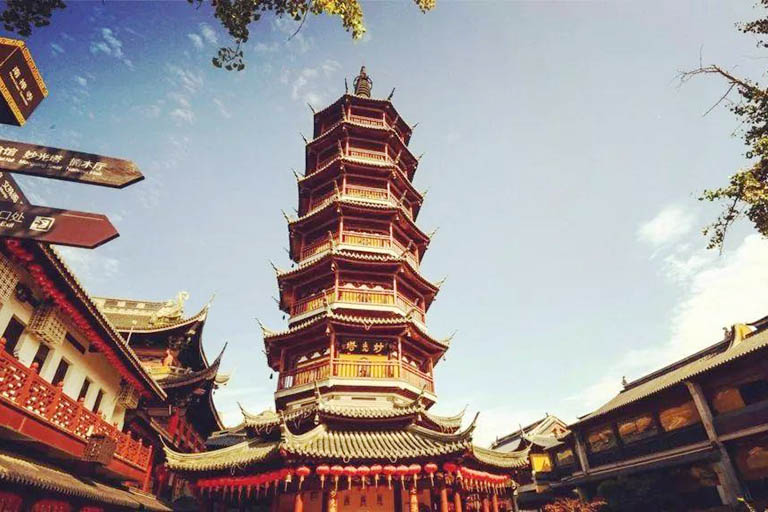 Miaoguang Pagoda
• Address: No. 32 Xiangyang Road, Liangxi District, Wuxi 无锡市梁溪区向阳路32号
• Opening Hours: 08:00-18:00
• Ticket: Free (extra charge for Miaoguang Pagoda and cruise)
• Recommended Length of Visit: 2 hours
Nanchen Temple (南禅寺) was first built in the Southern Dynasty in A.D. 547 and has been through many ups and downs in about 1500 years. The temple we see now was rebuilt in the 1980s. The temple is not big but full of visitors. You can enter the temple from the southernmost gate. On the north-south axis stand Hall of Heavenly Kings and the Great Buddha's Hall. The 7 stories Miaoguang Pagoda on the east side is the highlight of Nanchan Temple. From the top of the pagoda, you can see rows of antique buildings and the Nanchan Temple Wharf on the bank of the ancient canal in the south. To the east of the gate of the temple, there is a vegetarian restaurant. On important Buddhist festivals, ceremonies will be held in Nanchan Temple.
After visiting the temple, you can take a walk around the blocks. There are snack stalls, antique market, flower and bird market and book stores. You can eat many snacks such as stinky tofu, Wuxi spareribs and roasted chicken wings. Keeping walking along the canal or taking a canal cruise is quite enjoyable. From Kuatang Bridge to Qingming Bridge is the essence part, a real historical block built from old houses.
No.4: Huishan Ancient Town - Explore 118 Ancient Ancestral Halls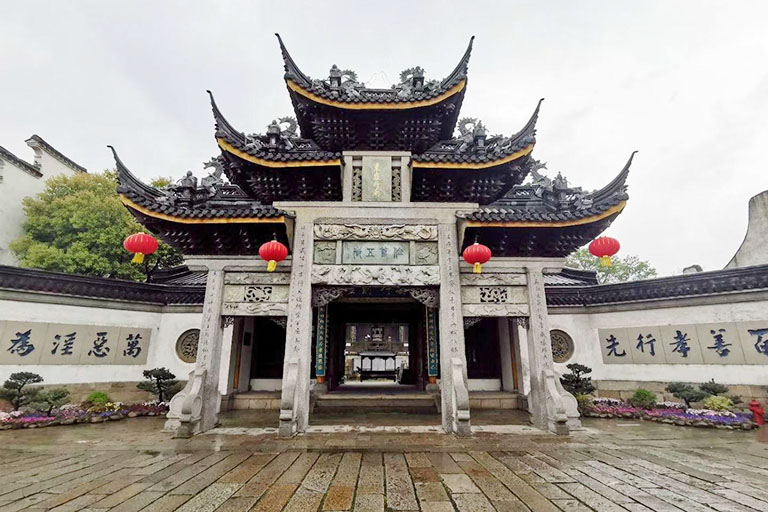 Grand Archway in Huishan Ancient Town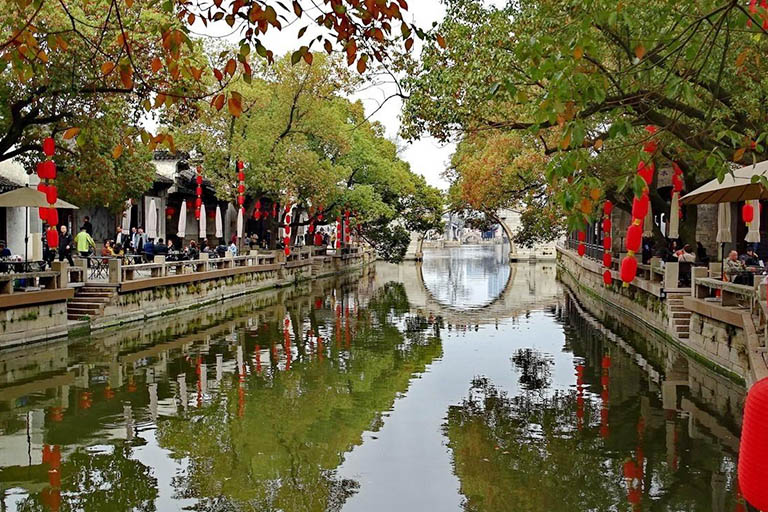 Ancient Blocks in Huishan Ancient Town
• Address: Guhuashan Road, Beitang District, Wuxi City 无锡市北塘区古华山路
• Opening Hours: March-October: 08:00-17:30; November-February: 08:30-17:00
• Ticket: CNY 120
• Recommended Length of Visit: 2 hours
Huishan Ancient Town (惠山古镇) is composed of 118 ancient ancestral halls of over 80 families built from the Tang Dynasty to the Ming and Qing Dynasties. Ancestral halls are mainly concentrated along the Longtou River and on the Zhi Street, while there are few on the Heng Street. Except for the ones that can be visited with the entrance ticket, many ancestral halls are not open and can only be seen outside. Most of them are typical buildings in southern China with white walls and black tiles, wooden doors and windows, and some of them have their own small gardens. Yang Oufang Ancestral Hall, which integrates the western architectural style, is quite special.
Attractions included in ticket:
Along the Longtou River, from southwest to northeast, there are Qianlu (Liugeng Thatched Cottage), Wuxi Intangible Cultural Heritage Exhibition Hall, Yang Oufang Ancestral Hall, Lianxi Zhou Fuzi Ancestral Hall (Zhou Lianxi is Zhou Dunyi, writer of Ode to the Lotus Flower), Huishan Garden, Gu Dongyang Ancestral Hall (there is a tall Taihu Lake stone), etc. On Zhi Street, there are Ni Yunlin Ancestral Hall, Fan Wenzheng Ancestral Hall, Lu Xuan Ancestral Hall and Xu Ruzi Ancestral Hall. In the northeast is the Clay Figurines Museum of China. In the museum, you can not only see different types of clay figurines from home and abroad, but also watch the masters make clay figurines.
There are also many cafes, tea houses and book stores you can spend a leisure time with your friends. Besides, Huishan Ancient Town can be visited together with Xihui Park. In the park, there is famous Jichang Garden, which is mimicked by Xiequ Garden in the Summer Palace in Beijing.
☛ 2 Days Wuxi Highlights Tour
No.5: Liyuan Garden - Enjoy Picturesque Park on Water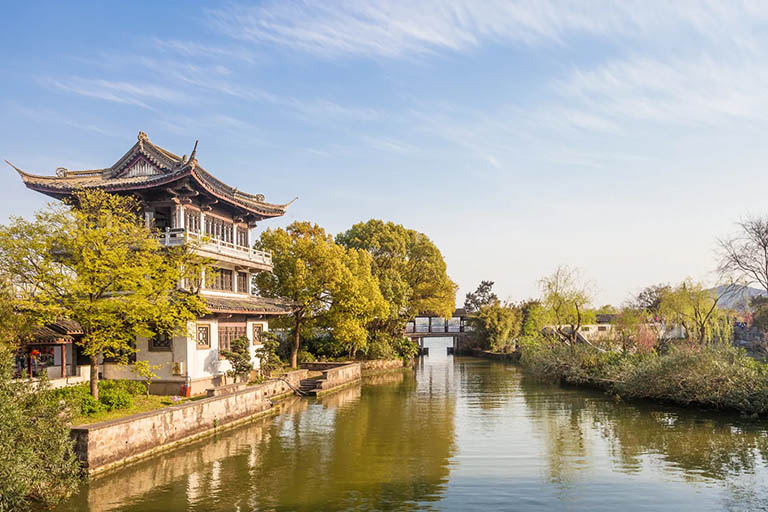 Liyuan Garden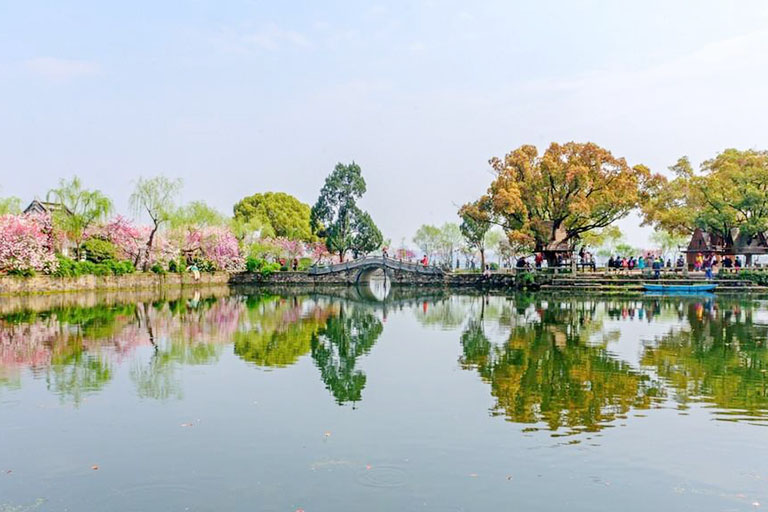 Liyuan Garden with Blooming Flowers
• Address: NO. 18 Huanhu Road, Binhu District, Wuxi 无锡市滨湖区环湖路18号
• Opening Hours: 08:00-17:00 (Cruise:8:30-16:30)
• Ticket: CNY 60 (including boating on Li Lake)
• Recommended Length of Visit: 2 hours
Liyuan Garden (蠡园), situated on the shore of beautiful Li Lake, is a nice park to take a leisure walk and enjoy the lake and garden view. It is said that in the Spring and Autumn period (770 B.C. - 476 B.C.), Fan Li, a senior official of the state of Yue, went boating here with beauty Xi Shi (top of the four beauties of ancient China). The lake got its name from Fan Li, and Liyuan Garden got its name from the lake.
Li Lake is an inner lake in the northeast of Taihu Lake. Liyuan, which stretches into Lihu Lake, is a popular park in Wuxi. It is famous for its waterscape, with narrow and long causeway, small bridges and long corridors on the water. Peach flowers are in full bloom in March and April, and lotus blossom from June to August, at that time, Liyuan Garden is just like a flower paradise on water. On ordinary days, you can wander around the Four Season Pavilion, Thousand-step Corridor, Chunqiu Pavilion, etc. Liyuan Garden is close to Yuantouzhu in the west, so you can schedule the two attractions on the same day.
No.6: Plum Garden - Appreciate Beautiful Flowers in Different Seasons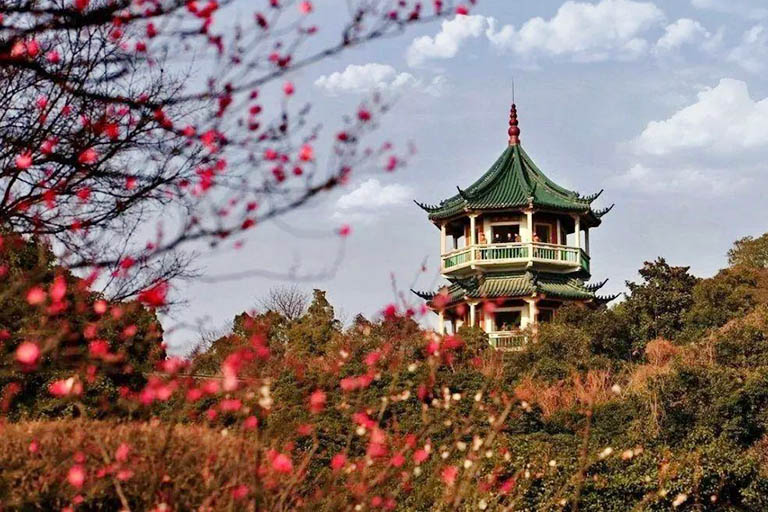 Nianqu Pagoda in Plum Garden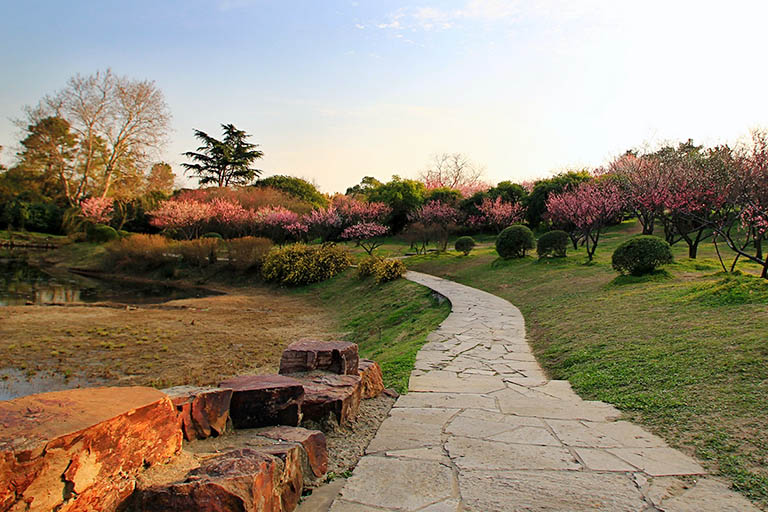 Plum Garden Scenery
• Address: NO. 13 Biangjiawan, Liangxi West Road, Binhu District, Wuxi 无锡市滨湖区梁溪西路卞家湾13号
• Opening Hours: 08:00-16:30
• Ticket: CNY 60
• Recommended Length of Visit: 2 hours
Plum Garden (梅园) is located on the south slope of Hushan Mountain in the western suburb of Wuxi. It was originally a private garden built in 1912 by brothers Rong Zongjing and Rong Desheng, the first family of Chinese national industry. It is most recommended to visit Plum Garden in spring as the old saying in Wuxi goes: Spring in Wuxi starts from Plum Garden. From February to March every year, thousands of plum flowers are in full bloom in the scenic area. After that, it meets the world of tulips from late March to April. You can also enjoy lotus in summer and smell sweet scented osmanthus in autumn.
If it's not the flowering season, then Plum Garden is just like an ordinary big park. You can have a look at the cultural relics related to the Rong brothers such as Xixinquan, Tianxintai and the three Taihu stones shaped like Chinese characters "福" (Fu, blessing), "禄" (Lu, fortune) and "寿" (Shou, longevity). The main building is Songbin Hall (commonly known as Nanmu Hall, the furnishings are all Rong's original objects). On the hillside of Hushan Mountain, the Nianqu Pagoda built by Rong brothers for their mother is the landmark of Plum Garden. It is a hexagonal pagoda with green roof, three floors and is 18 meters high. Tourists with children can walk to the ecological park. There are some entertainment facilities such as rock climbing and single wooden bridge.
No.7: Three Kingdoms City - Dream Back to a Heroic Period in History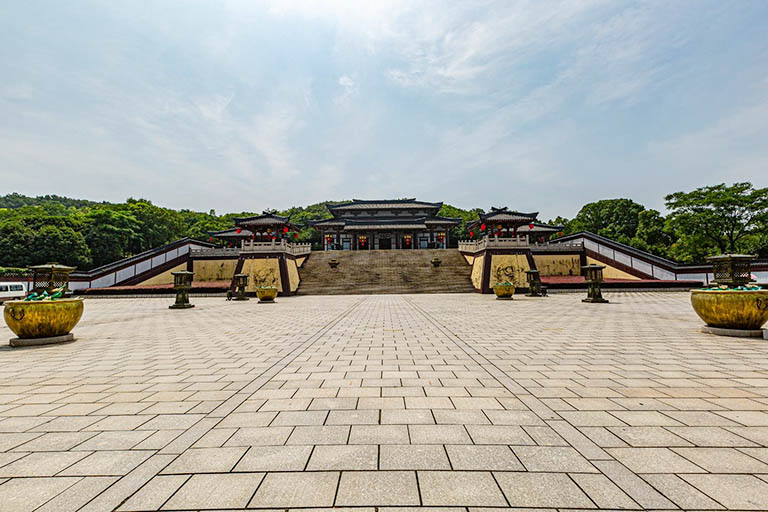 Three Kingdoms City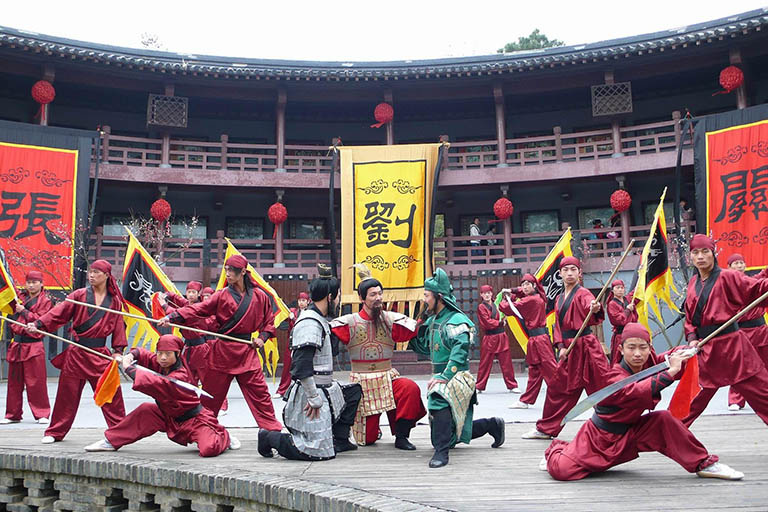 Performance in Three Kingdoms City
• Address: Near Taihu Lake, Shanshui West Road, Binhu District, Wuxi 无锡市滨湖区山水西路太湖之滨
• Opening Hours: 07:30-17:30
• Ticket: CNY 90
• Recommended Length of Visit: 2-3 hours
Three Kingdoms (A.D. 220-280) is a period when many heroes (brilliant counselors, valiant generals, wise kings, etc.) emerged in China's history. The Three Kingdoms City (三国城) is a film and television base built by CCTV to shoot the 84-episode Romance of the Three Kingdoms. There are other two scenic spots: Shuihu City and Tang City. Tourists can see real scenes of the TV series here, which makes you feel like coming back to 2000 years ago.
The gate tower of the Three Kingdoms is the shooting place of Zhuge Liang's Empty City Trick. After entering the gate, on the right is the peach garden where Liu Bei, Guan Yu and Zhang Fei become sworn brothers and on the left is the racecourse. "Three heroes vs. Lv Bu" is a must see performance in the city. Dozens of well-trained horses are galloping and the actors performing excellent martial arts on the horseback, which is amazing. The performance is free, one at 10:00 and the other at 16:00 every day.
Go west and pass the huge Han Ding in the central square is the campsite of Cao Army. Many famous scenes such as the Battle of the Red Cliffs and Borrowing Your Enemy's Arrows were shot here. At the westernmost end is the campsite of Wu Army with magnificent palaces. There are many performances in the city and you can find the detailed information on the back of your ticket. You can rent ancient costumes here and be any heroes you want to be. Three Kingdoms City can fulfill your heroic dreams and is a place suitable for both adults and kids.
No.8: Yixing Bamboo Forest - Enter a Refreshing World of Bamboo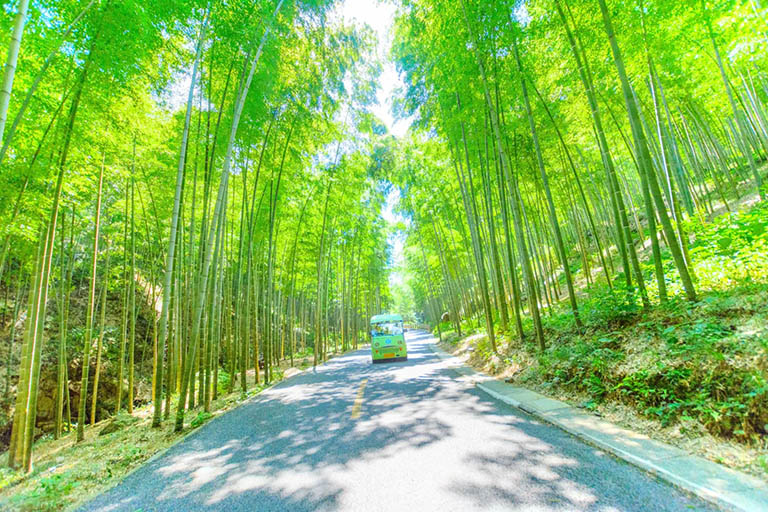 Yixing Bamboo Forest
Jinghu Lake in Yixing Bamboo Forest
• Address: Zhuhai Village, Hufu Town, Yixing City, Wuxi 无锡宜兴市湖滏镇竹海村
• Opening Hours: 08:00-16:30
• Ticket: CNY 80
• Recommended Length of Visit: Half day
Yixing Bamboo Forest (宜兴竹海) is located in the southwest of Yixing City, across Jiangsu, Anhui and Zhejiang provinces. It is a sea of bamboo with magnificent scene. In spring, the bamboo forest is bright green and it is especially lovely after the spring rain. In summer, it is a perfect place to escape the summer heat because the temperature is much lower than that in the city. After entering the scenic area, the first scenic spot you will see is Jinghu Lake (Mirror Lake), quietly reflecting the green bamboos and hills around. There are "living fossil" - peach blossom jellyfish in the lake, and you can see it from a pavilion in the east. In the west there is a rope bridge, temple, and some ancient ginkgoes.
After visiting Jinghu Lake, you can take the cable car or walk to finish the rest journey. It is only several minutes' walk from the cable car station. If you travel on foot, you need to walk about 20 minutes to the bottom of the bamboo forest and then start climbing. After getting off the cable car, you need to climb a short way to the top of the mountain, where you can look down at the bamboo forest from Lingyun Pavilion. As the mountain wind blows, the swaying bamboo forest is like the undulating waves of the sea, and the Jinghu Lake is like a piece of inlaid jade. As you go down the mountain, you can see the running stream which is "the source of Taihu Lake". Outside the scenic area, there are some farmhouses where you can try some local dishes related to bamboo shoots.
How to Plan Your Travel in Wuxi
How to Get to Wuxi: You can easily get to Wuxi by high speed train from Suzhou (0.5~1.5 hours), Nanjing (1 hour), Hangzhou (1.5~2.5 hours), Beijing (5.5 hours), Shanghai (0.5~1.5 hours), etc. as well as flight from Beijing (2.5 hrs), Xian (2 hrs), Chengdu (2.5 hrs), Guangzhou (2.5 hrs)...
Best Time to Visit Wuxi: Spring (March~ May) and autumn (September ~ November), especially spring when various flowers can be aprreciated
In order to explore the cultural and natural highlights of Wuxi, 2 days are needed generally. What you won't miss are Lingshan Grand Buddha - an 88-meter-bronze Buddha statue and Yuantouzhu with Wuxi's best scenic beauty. It is also recommended to visit Huishan Old Town to probe in to the historical ancestral halls and buildings, Jichang Garden to admire ingenuity of the classical gardens of south regions of the Yangtze River, Wuxi Old Street (Nanchang Street) along the old canal to feel traditional and modern atmosphere together. Besides, there are lots of gardens and wetlands located near Taihu Lake delivering an amazing natural vista to you.
If you want to explore more about Jiangsu Province, you can travel to Suzhou - the city of classical gardens and silk, Nanjing - an old capital of 6 dynasties, Yangzhou - old culture center of southern China, etc. Check more about Jiangsu Tours>
☛ 5 Days Jiangsu Tour (Suzhou, Wuxi & Nanjing)
If you have more days, you can expand your Wuxi trip to Shanghai - modernest metropolis in China, Hangzhou - home to picturesque West Lake, and Huangshan - magnificent Yellow Mountain and Hui-style ancient villages. Or you can contact us to customize a trip according to your own itinerary and interests. Just tell us your needs and we will take care of everything, you just need to focus on sightseeing!
☛ 3 Days Hangzhou & Suzhou Beauty Tour by High Speed Train
☛ 8 Days East China Tour by High-speed Train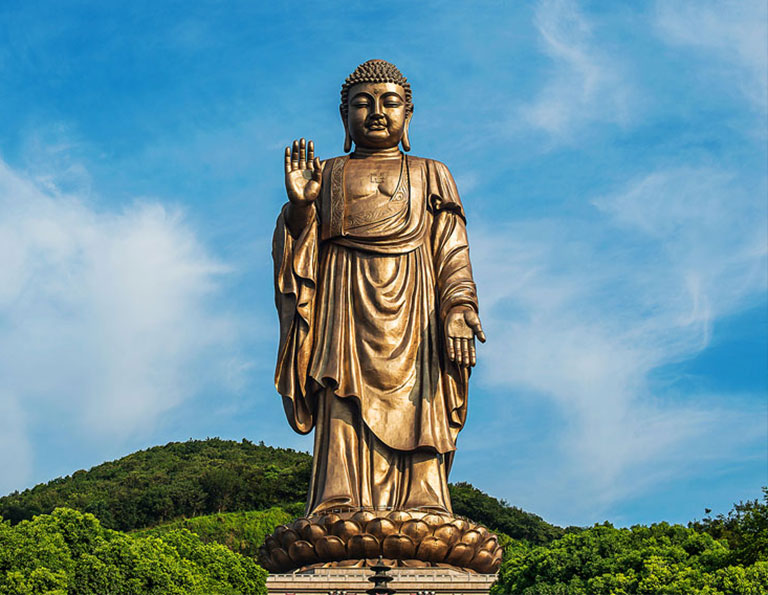 Lingshan Grand Buddha in Wuxi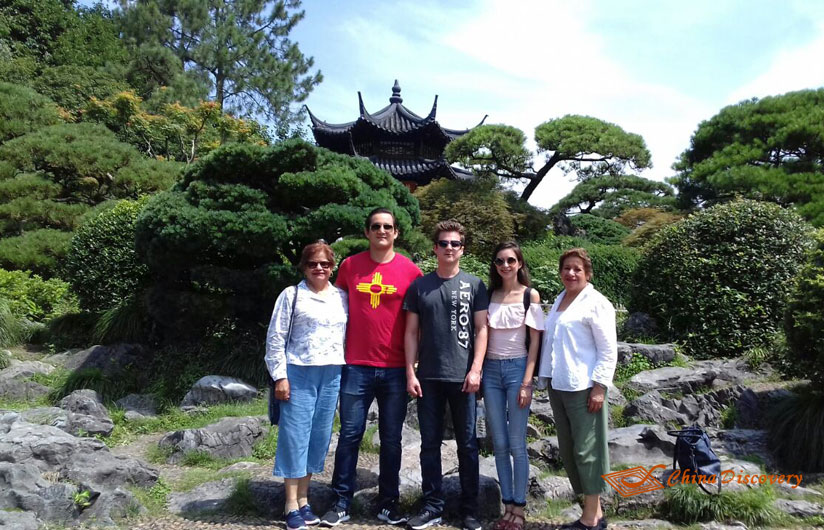 Our Customers visited Hangzhou
Recommended Wuxi Tours
Top 3 Wuxi tours chosen by most customers to explore Wuxi in the best way. Check the detailed itinerary, or tailor your own trip now with us.
5 Days Charming Jiangsu Tour (Suzhou, Wuxi & Nanjing)

Suzhou / Wuxi / Nanjing
8 Days Shanghai Hangzhou Suzhou Nanjing Yangtze Delta In-depth Tour

Nanjing / Suzhou / Hangzhou / Shanghai
Start planning your tailor-made holiday to China by contacting one of our specialists. Once inquired, you'll get a response within 0.5~23.5 hours.
Customize a Trip
Have a question? Get answers from our travel experts or guests
Your Question:

Your Name:

Your Email: