How is Nanjing Museum Founded
Nanjing Museum (南京博物院), called Nanyuan or Nanbo for short, is one of the three major museums in China. Its predecessor is the National Central Museum initiated by Cai Yuanpei (great educator and revolutionist) in 1933. It is the earliest museum in China and the first large-scale comprehensive museum invested by the state. It enjoys many honorable titles: large-scale comprehensive national museum, the first batch of national first-class museums, the first batch of national museums jointly built by central and local governments, national AAAA tourist attractions, national key cultural relics protection units and China's 20th century architectural heritage.
Nanjing Museum now has 432,768 pieces (sets) of various collections and 371,032 pieces (sets) of precious cultural relics, ranking second in China in terms of the number of precious cultural relics, second only to the Palace Museum in Beijing. Covering a long timespan from the Paleolithic age to the present, there are both national and regional cultural relics; some are handed down by the court, excavated by archaeologists, and some of them are collected and donated by the society. All of them are precious works of past dynasties. All kinds of cultural relics, such as bronze, jade, ceramics, gold and silver vessels, lacquer ware, silk embroidery, calligraphy and painting, seals, steles and statues can be seen here, which is the most direct witness of the historical development of Chinese civilization for thousands of years.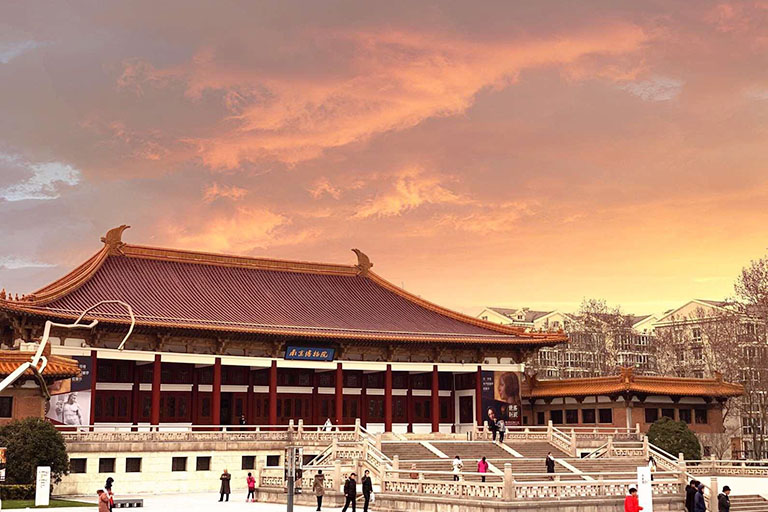 Nanjing Museum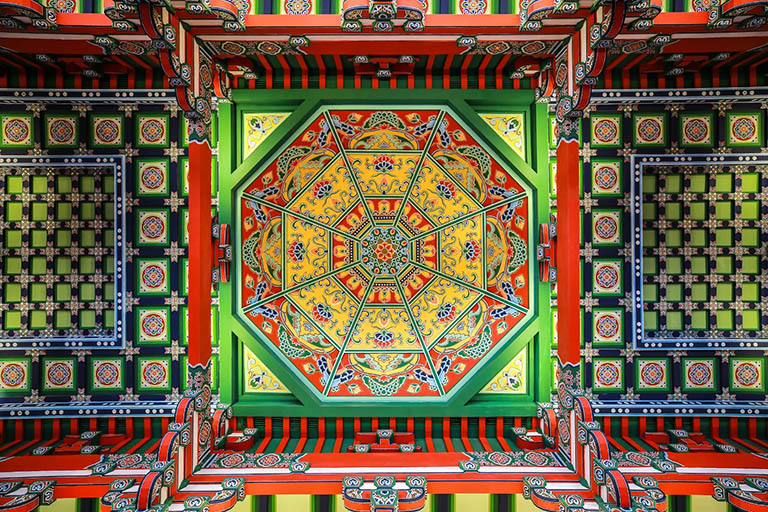 Nanjing Museum Inner Decoration
Nanjing Museum Layout
Nanjing museum was established in 1933 and completed in 1948. The main hall, which imitates the Dule Temple in Tianjin, is no longer used to display exhibits. History Gallery is on the right, while the other five galleries are on the left. It is recommended to go to the History Gallery first, because the Special Exhibitions Gallery with "treasure of the museum" is just on the left side of the History Gallery. You can visit the whole museum in the order of History Gallery - Special Exhibitions Gallery - Digital Gallery - Republic of China Gallery - Arts Gallery - Intangible Cultural Heritage Gallery.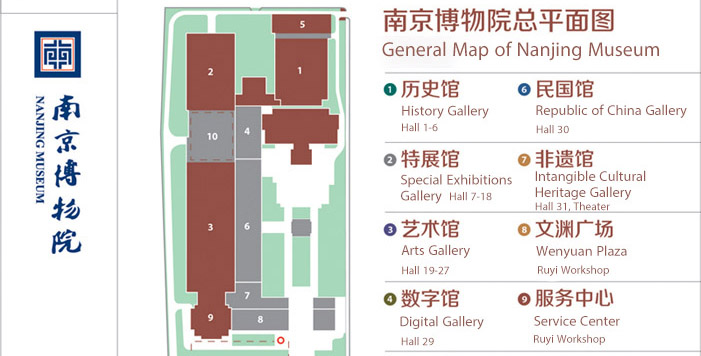 Nanjing Museum Layout Map
Nanjing Museum Collections
There are six galleries in Nanjing Museum in different themes. Having an in-depth visit of them needs at least half a day. If you have limited time, don't miss History Gallery and Special Exhibitions Gallery with many valuable exhibits and Republic of China Gallery that perfectly reappears Nanjing city 100 years ago. Kids will be interested in Digital Gallery and Intangible Cultural Heritage Gallery as there are some interesting interactive activities. Or you can choose the ones that appeal you most in your Nanjing Museum exploration.
History Gallery 历史馆
Jiangsu with a long history is located in the east of China. Known as the "land of fish and rice", it has always been prosperous in economy and is one of the birthplaces of the splendid ancient civilization of the Chinese nation. History Gallery in Nanjing Museum has 6 exhibition halls displaying cultural relics arranged in chronological order from ancient times to Ming and Qing Dynasties. Walking around them is like walking in the thousands of years old civilization of Jiangsu Province. Through these historical relics and specimens, we can travel through time and space to explore the ancient charm of Jiangsu.
Highlights: dinosaur skeletons from prehistoric period; gold and silver burial garment in the Han Dynasty (202 B.C. - A.D. 220); walls made of bricks in the Northern and Southern Dynasties (A.D. 420-589) carved with the image of "Seven Sages of the Bamboo Grove", arch of glazed pagoda in Dabaoen Temple, etc.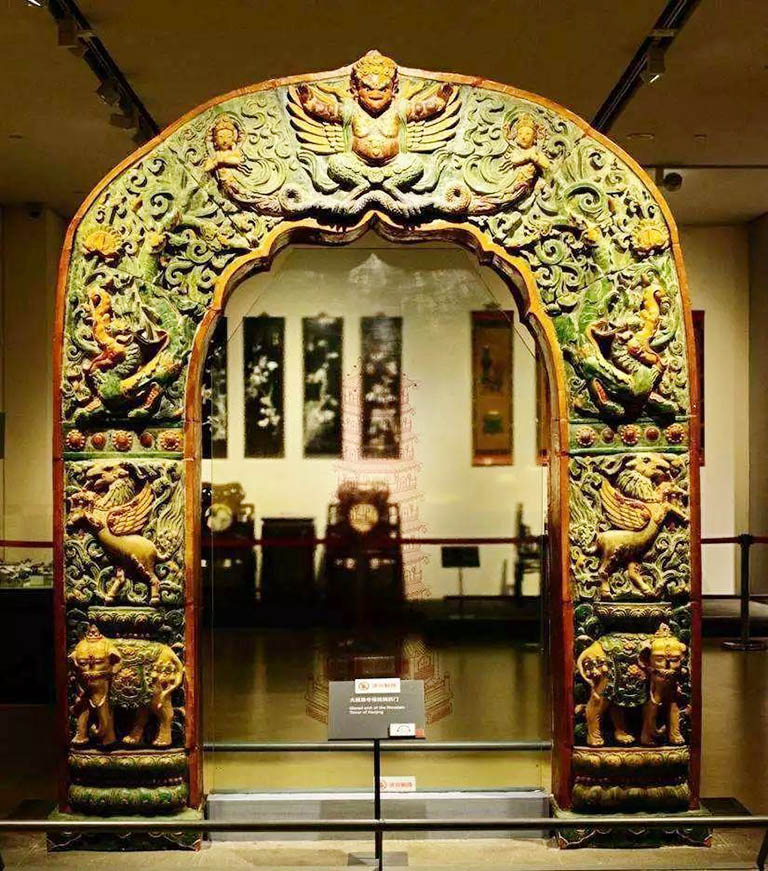 Arch of Glazed Pagoda in Dabaoen Temple (A.D. 1368-1644)
Special Exhibitions Gallery 特展馆
Special Exhibitions Gallery is a 5-storey independent building in Nanjing Museum. There are some temporary exhibitions and special exhibitions with exquisite collections. Regular exhibits include Getting Closer to Buddha: Buddha Statues Exhibition; Splendid Clocks and Watches from Nanjing Museum's Collections; Porcelain During Kangxi, Yongzheng and Qianlong Reigns; Read Thousands of Books: Imperial Block-Printed Books of the Qing Dynasty; Poetry Mood in House; The Gentleman: Underglazed Red Vase (meiping) with Design of Pine, Bamboo and Prunus, etc.
What you can not miss is the "Treasure of Nanjing Museum" - a gilded Tibetan Pagoda in the early Ming Dynasty (A.D. 1436-1439). This treasure was unearthed from the underground palace of Hongjue Temple Pagoda in Niushou Mountain, Nanjing. On the square red sandstone platform, four blue and white porcelain vases surround the golden pagoda in the middle. In front of the pagoda, there is a small gold coffin, on which lies the golden statue of Sakyamuni.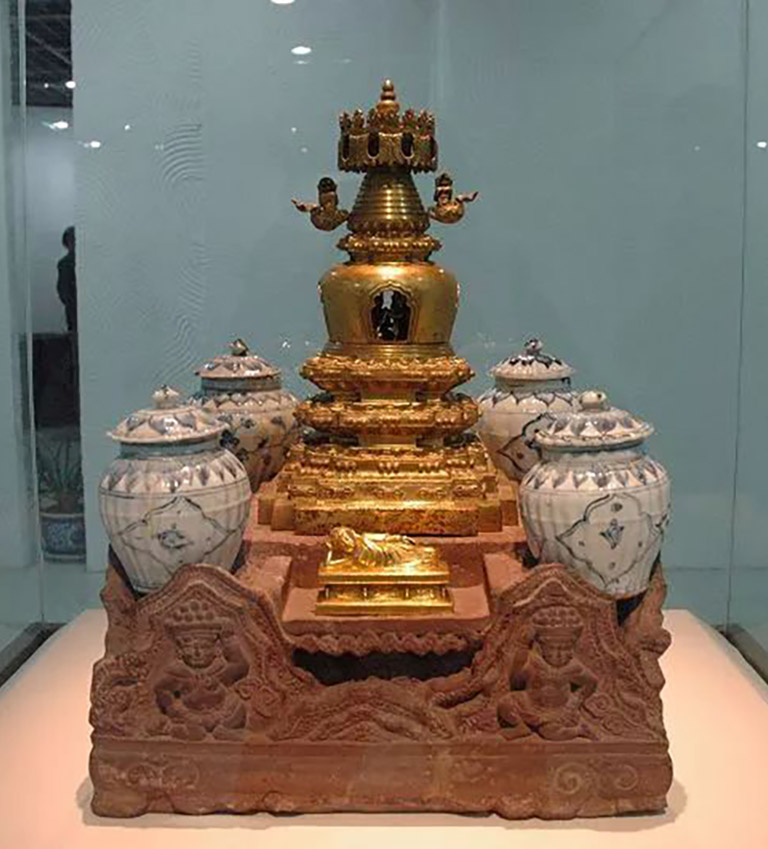 Gilded Tibetan Pagoda (A.D. 1436-1439)
Digital Gallery 数字馆
Digital Gallery is composed of a physical exhibition hall (about 1200 square meters) and a virtual exhibition. Unlike other traditional exhibition displayed in cabinets, it uses modern technology to display ancient themes. Multi-media forms such as multi-screen, transparent screen, QR code are integrated; real-time matting, motion capture and other digital technologies are used to combine space, decoration, media hardware and digital content to create a three-dimensional environment, guiding the visitors to move forward.
The virtual exhibition is an extension of the physical exhibition hall which reproduces the physical exhibition through technology. In this way, you are able to encounter more exhibits without being their in person. Digital Gallery is a perfect combination of advanced technology and antique culture. There are also many interactive games you can play to add more joy in your visit.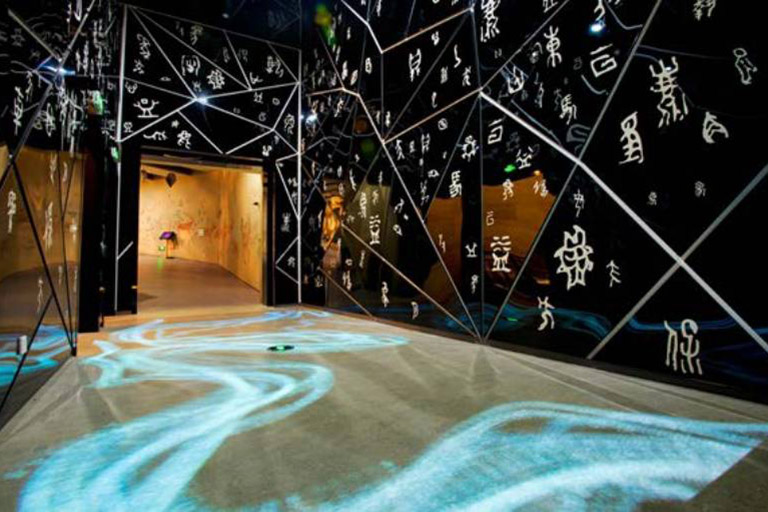 Digital Gallery
Republic of China Gallery 民国馆
Every detail in Republic of China Gallery presents the characteristics of Nanjing, the capital of the Republic of China. It is a microcosm of the urban culture of old Nanjing by imitating the street view of the European architecture of the Republic of China. The sky, roads, street lights and ancillary facilities are simulated and reproduced by sound, light, electricity and other technologies to create a real historical atmosphere.
There are post offices, railway stations, barber shops, traditional Chinese medicine shops, bookstores, silver houses and other shops on the streets where you can really mail letters, fill prescriptions, buy books and silver jewelry, and even buy Jiangsu local pastries, delicacies, phonograph copies and other goods. The furnishings, plaques, appliances and so on are all collected cultural relics of the Republic of China. The old Ford cars and locomotives add a strong flavor of that period. While displaying the architectural features, the whole gallery dynamically restores the living conditions of the city at that time. Immersed in the real street view of the Republic of China, visitors are like time travellers that come back to Nanjing 100 years ago.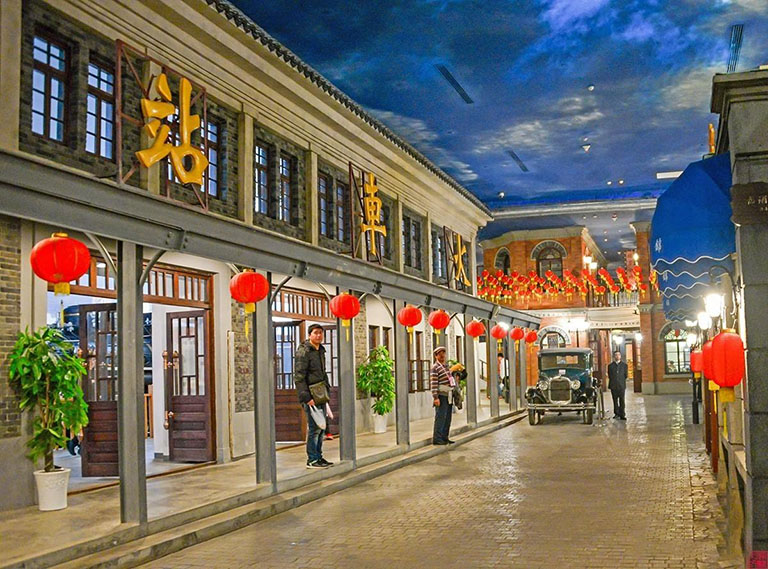 Republic of China Gallery
Arts Gallery 艺术馆
As the name implicates, you can appreciate the essence of art from the ancient times till now in Arts Gallery. Ancient Sculpture Exhibition selects and displays a considerable number of sculptures from past dynasties, which are unearthed from the Yin Ruins in Henan, the Han tombs in Sichuan, the sites of Tang Dynasty in Gansu, etc. Jiangsu Folklore Exhibition presents different features of Jiangsu people in the north, south, central and eastern Jiangsu. Wu Weishan is a distinguished contemporary sculptor who devotes himself to studying the classic art of China and the West to develop the "expressional sculpture" with Chinese characters. You can see his works in Wu Weishan Sculpture Exhibition. Su Tianci (1922-2006) was an outstanding painter and art educator of China in the twentieth Century. He devoted his life to art and committed his career to China's landscape. You can find his representative works in Su Tianci Oil Painting Exhibition.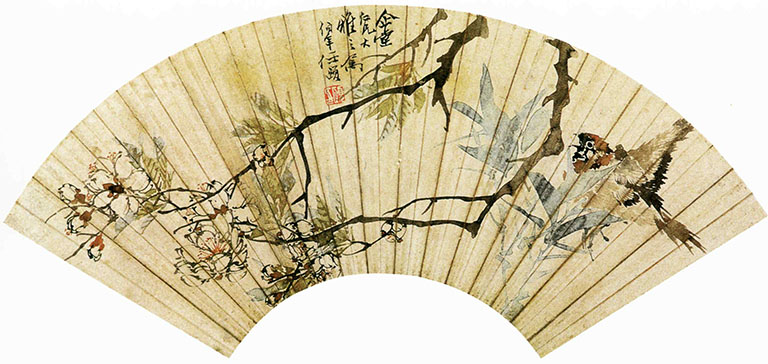 Traditional Chinese Painting in Arts Gallery
Intangible Cultural Heritage Gallery 非遗馆
Intangible Cultural Heritage Gallery is composed of three parts. Jiangsu Intangible Cultural Heritage displays the projects selected from the "Representative List of the Intangible Cultural Heritage of Humanity" and the "State-Level Non-Material Cultural Heritage List". They are mostly about folk literature, traditional music, dance, drama, medicine, sports, acrobatics, folk custom, etc. There are artists performing intangible cultural arts and craft skills for visitors throughout the day. Master Workshops are places where Nanjing Museum invites inheritors of national intangible cultural heritage to show representative traditional arts and skills of Jiangsu. Here visitors can feel the charm of the masters and participate in the interaction with them. In the Folk Custom Teahouse, Jiangsu's unique folk arts, traditional opera and folk music will be staged regularly, including Suzhou Pingtan, Nanjing Baiju, Kunqu Opera excerpts, etc. The performance is usually from 14:00-16:00. In the little theater, you can watch a 3D movie for free, about 20 minutes long. At 19:00 p.m. on weekends and holidays, sometimes there are traditional opera performances and you can buy a ticket (about CNY 30) to enjoy.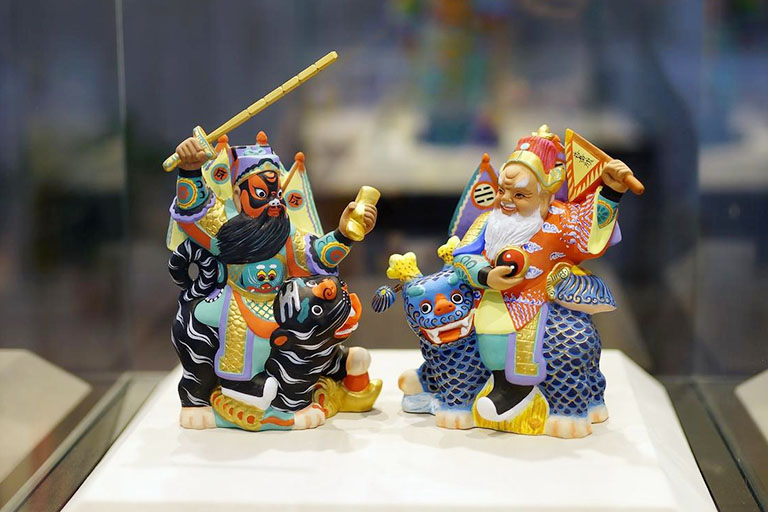 Clay Figurine in Intangible Cultural Heritage Gallery
How to Get to Nanjing Museum
Nanjing Museum is located in No. 321 Zhongshan East Road, Xuanwu District, Nanjing City 南京市玄武区中山东路321号, about 5 km (20 minutes by car or metro) to Nanjing downtown (Xinjiekou Area), 7 km (20 minutes' drive, 40 minutes by metro or bus) to Nanjing Railway Station, 12 km (30 minutes' drive, 35 minutes by metro) to Nanjing South Railway Station. Multiple buses and metro Line 2 pass Nanjing Museum.
Note: Nanjing can be reached easily by flight from Beijing (2h), Guangzhou (2h15min), Chengdu (2.5h), Xian (2h), etc. or high speed train from Beijing (3-5h), Shanghai (1-2.5h), Hangzhou (1.5-5.5h), Suzhou (45min-2.5h), Wuxi (45min-1.5h), etc.
Private Transfer with China Discovery - Most Recommended
In order to save your time and avoid the trouble of several transfers, traveling with a local travel agency like China Discovery is top recommended. Booking a Nanjing tour package from China Discovery, you can enjoy the best transfer service. Our local travel guide will pick you up at the airport, railway station or your hotel. Then you will be escorted to the attractions in a spacious, clean and air-conditioned car which is equipped with a skilled and reliable driver.
More than transfer service, you will be guaranteed with a flexible customizable itinerary based on your preference. Our travel consultant will keep in touch with you all the time and take care of every detail. There is no need to worry about the transfer, accommodation, meal, tickets, or anything else. Your knowledgeable travel guide will also give you enough information of every attraction to make your trip more memorable. Feel free to contact us to start your Nanjing Museum tour now!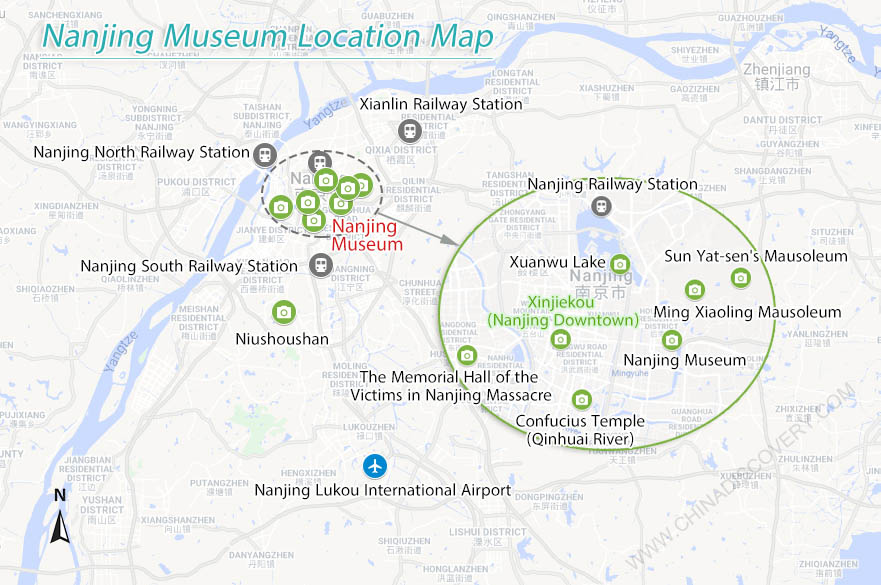 Nanjing Museum Location Map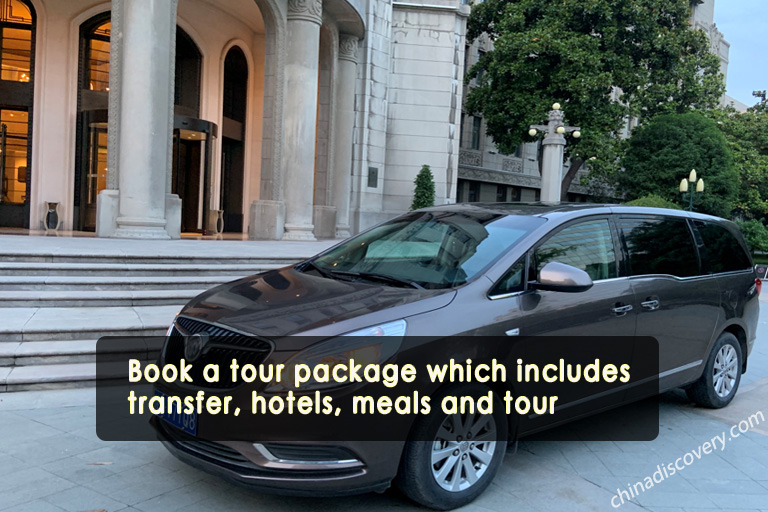 China Discovery Private Transfer
Nanjing Museum Travel Tips
1. Ticket: Nanjing Museum is free of admission fee, but you need to make a reservation on the official site http://www.njmuseum.com/en or WeChat Public Account: 南京博物院. Foreign tourists can get a ticket with valid passport at the tourist center. (Updated in February, 2021, feel free to contact us for latest news.)
2. Luggage storage: The service center at the entrance of the museum and the service desk of each exhibition gallery provide free luggage storage service.
3. Tour Guides: For Free (Chinese): Time: 10:00 am and 2:00 pm; Location: History Gallery, Special Exhibitions Gallery. 30 people per guide.
Rent Audio Guide: CNY 20 for each device (Chinese and English are available).
4. Photography: You can take photos in the museum, but can not use flashlight or tripod.
How to Plan Your Travel in Nanjing
How to Get to Nanjing: You can easily get to Nanjing by high speed train from Beijing (about 3-5h), Shanghai (about 1-2.5h), Hangzhou (about 1.5-5.5h), Suzhou (about 45min-2.5h), etc. and flight from Beijing (2h), Guangzhou (2h15min), Chengdu (2.5h), Xian (2h), etc.
Best Time to Visit Nanjing: March to June and September to November, especially in late October and early November.
Generally, to explore the cultural and natural highlights of Nanjing, 2 ~ 3 days are needed. You can pay a visit to Sun Yat-sen Mausoleum (the tomb of Dr. Sun Yat-sen, the Father of Modern China), take a walk in Confucius Temple Area along the Qinhuai River, climb up the ancient City Wall, and know a part of heavy history and cherish peace in the Memorial Hall of the Victims in Nanjing Massacre.
☛ 2 Days Ancient Nanjing Tour
☛ 3 Days Best of Nanjing Highlights Tour
If you want to explore more about Jiangsu Province, you can travel to Suzhou - the city of classical gardens and silk, Wuxi - a beautiful lakeshore city, Yangzhou - old culture center of southern China, etc. Check more about Jiangsu Tours>
☛ 5 Days Jiangsu Tour (Suzhou, Wuxi & Nanjing)
If you have more days, you can expand your Nanjing trip to Shanghai - modernest metropolis in China, Hangzhou - home to picturesque West Lake, and Huangshan - magnificent Yellow Mountain and Hui-style ancient villages. Or you can contact us to customize a trip according to your own itinerary and interests. Just tell us your needs and we will take care of everything, you just need to focus on sightseeing!
☛ 5 Days Shanghai & Nanjing Highlights Tour
☛ 8 Days East China Tour by High-speed Train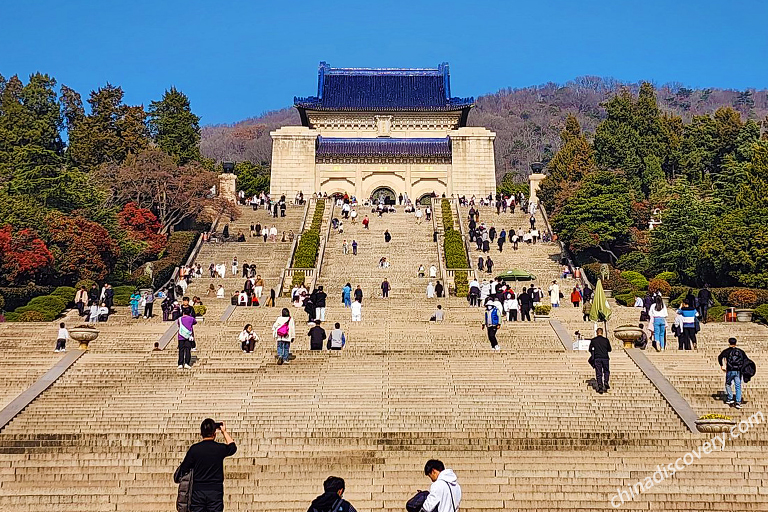 Sun Yat-sen Mausoleum in Nanjing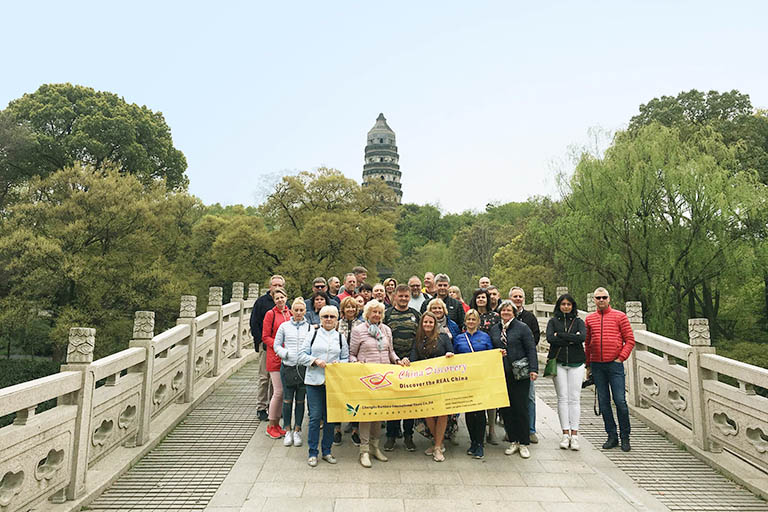 Our Customers visited Tiger Hill in Suzhou
Get Inspired by Real Travel Stories of Our Customers
Since 2012, we have helped numerous customers visit Nanjing and surroundings. With our fully-inclusive private tour packages, all of our customers enjoyed their trips to the ancient city wall, beautiful Purple Mountain, informative Nanjing Museum, charming Qinhuai River, etc. Some of them kindly shared their precious photos and stories about their Nanjing journey, just get inspired now.
"This is my second time to ask China Discovery to organize a private tour for a group of 12 people to visit Huangshan, Hangzhou, Nanjing, Suzhou, Shanghai and other cities close-by…" - shared by Mr. Ban (Check his Travel China with Family and Friends for 3 Consecutive Years - Mr. Ban's Group Traveled Different Parts of China from the North to Southwest and Southeast)
Besides the wonderful travel stories, many customers who visited Nanjing with China Discovery also send us their first-hand feedbacks about their trip, feel free to read the Customer Reviews and learn what they say about their experience. If you want to start your Nanjing tour now, don't hesitate to contact us.
Our Customers Mr. Ban and his group from the USA visited Shanghai, Nanjing, etc. customized by Vivien
Recommended Nanjing Tours
Top 3 Nanjing tours chosen by most customers to explore Nanjing in the best way. Check the detailed itinerary, or tailor your own trip now with us.
5 Days Shanghai Nanjing Highlights Tour

Shanghai / Nanjing
Start planning your tailor-made holiday to China by contacting one of our specialists. Once inquired, you'll get a response within 0.5~23.5 hours.
Customize a Trip
Have a question? Get answers from our travel experts or guests
Your Question:

Your Name:

Your Email: