Why is Nanjing Massacre Memorial Hall Built?
Nanjing Massacre Memorial Hall, fully named as the Memorial Hall of the Victims in Nanjing Massacre by Japanese Invaders, is located at Jiangdongmen Street which was a site where thousands of bodies were buried by Japanese soldiers, known as the Mass Grave of 10, 000 Corpses. The hall or the museum is starkly modern with a gloomy, bleak appearance. It was constructed by grey-white marble and black-white granite, ensnaring visitors into a feeling of solemnity as they walking through open courtyard to the main building. Combining usage of historical relics displaying, sculpture, architecture, photography, document, the Nanjing Massacre Memorial Hall represents vividly the atrocity of Japanese Forces of Aggression and the havoc on the innocent Chinese people to its visitors.
Mankind can always learn a lesson from history. Museum like the Nanjing Massacre Memorial Hall is a great place for us to look back on the history, and encourage the entire mankind to create a world of peace. Making a comparison with other museums in China, since its establishment on August, 15th, 1985, the hall has received visitors over sixty millions from US, Japan, UK, Germany and other countries on the globe, ranking only second to the numbers of visitor to the Forbidden City Museum. On October 9th, 2015, the UNESCO (United Nations Educational, Scientific, and Cultural Organization) announced the Nanjing Massacre Memorial Hall with other 10 archives about Nanjing Massacre as the Memory of the World Register.
☛ 4 Days Nanjing History & Culture Tour
About Nanjing Massacre
The Nanjing Massacre, also famous as the Rape of Nanjing (then known as Nanking) occurred during December, 1937 to January, 1938 after the Japanese army occupied Nanjing City, then the capital of Republic of China. In August of 1937, the Japanese Army invaded Shanghai. The Chinese army fought against strongly, but still lost Shanghai in mid-November. On December 1st, the General Staff Headquarters in Tokyo ordered Japanese army to attack Nanjing. Chinese army, united with civilians in the city, launched many resistances against Japanese army, caused heavy casualties to Japanese force. But the lack of troops and laggard weapons made Chinese defenders lose the control of Nanjing. On December 13, 1937, the Japanese Forces of Aggression occupied Nanjing. During the following six weeks, the Japanese soldiers created a mass of atrocities, including rape, arson, looting, mass executions, and torture, and caused a death toll of about 300,000 innocent Chinese civilians and unarmed Chinese soldiers, based on burial records and eyewitness accounts by the Nanjing War Crimes Tribunal and included in the verdict for Hisao Tani. According to the judgement of Nanjing War Crimes Tribunal in 1947, the Japanese army committed 28 cases of genocide (caused Chinese victims about 190,000), also 858 cases of scattered massacre (caused Chinese victims about 150,000). The most brute crime was that the Japanese soldiers even conducted killing competition and bayonet practice using live Chinese prisoners. The Judgement of the International Military Tribunal also reported that over 20,000 cases of rape occurred during the first month of the occupation. The dispiteous Japanese soldiers even slaughtered children, the elderly and nuns.
During the massacre, corpses were left in the streets, and even found afloat in river for weeks. Besides the victims, there were many structures burned down, a large number of shops, stores and residences looted and sacked.
After Japan's surrender in 1945, several key perpetrators of Nanjing Massacre were tried, condemned guilty by both the International Military Tribunal for the Fast East and the Nanjing War Crimes Tribunal in 1946. But prince Asaka who was the biggest perpetrator got rid of prosecution because the United Nations agreed not to try Japanese imperial families.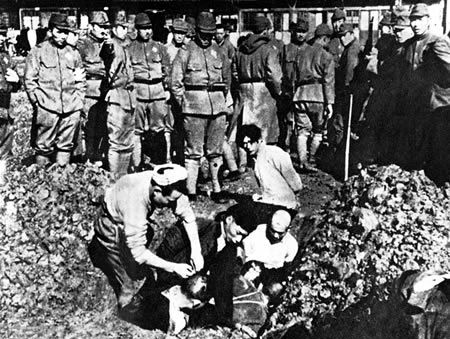 Japanese Army Buried Chinese Civilians Alive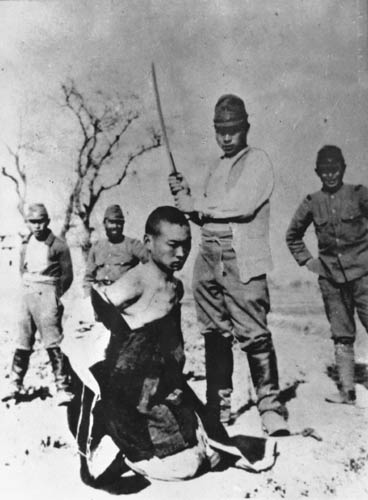 Japanese Army Executed Unarmed Chinese Soldiers
What to See in the Nanjing Massacre Memorial Hall
The Nanjing Memorial Hall covers an area of about 120,000 square meters, and consists of four different functional zones - Outdoor Exhibition, Jiangdongmen Site Square, Museum and Peace Park.
Outdoor Exhibition - this area has a group of artistic sculptures, full-size statues, Comfort Carving, flag tablet, monuments, Redeeming & Repentant Tablet, Wall of Victims, broken trees and walls of 1937, etc. Exuberant shrubs and lawns were planted among the statues and sculptures, to present a Chinese-style graveyard with the themes of life and death, grief and indignation. There is also a big square for organizing activities to mourn the victims.
Jiangdongmen Site Square - the square was built on the original site where the Japanese army slaughtered and buried Chinese captives and civilians in 1937. The Nanjing Massacre Memorial Hall was firstly constructed on the Jiangdongmen Site, and hall was built, like a coffin, to shelter some of the victims' skeletons found under the earth surface of the site. In April, 1998, another excavation found 208 bodies again which was proved to be the skeletons of victims during the Nanjing Massacre after identification made by experts of forensic medicine, archaeology and history.
Museum - half underground and half on ground, the museum was constructed like a tomb, and has collected more than 200,000 items of relics, documents, old photographs, and other objects related to the Nanjing Massacre, many of which were donated by Japanese members of the Japanese-Chinese Friendship Group. There is also a library inside the museum. Local readers can borrow books for free from the library.
Peace Park - this area is a peace-themed park for people and communities from around the world to communicate and pray for the world peace. It has the Wall of Victory, Sculpture of Peace (made by white marble), a garden of Purple Grass, Plantation of Japanese Friends, etc.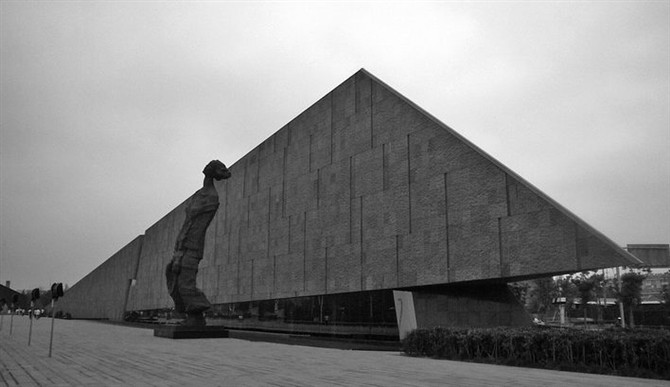 Outdoor Exhibition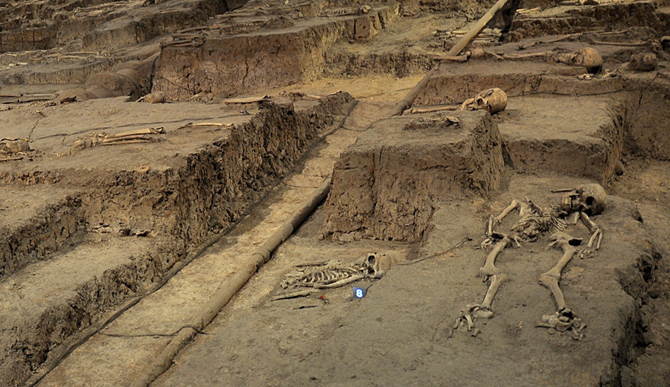 Jiangdongmen Site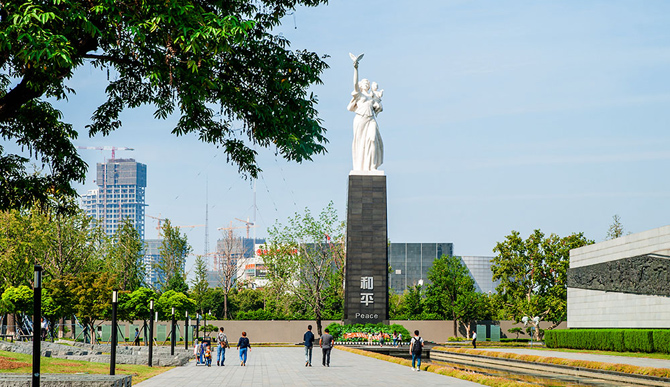 Peace Park
Important Historical & Cultural Exhibitions
The Nanjing Massacre Memorial Hall has a collection of over 200,000 collected from both China and overseas. Many of them are old photographs of scenes of the massacre, taken by domestic and international journalists, such as the photos of the key perpetrators Prince Asaka, General Iwane Matsui, General, General Hisao Tani, etc. The papers of judgements and testimony on the International Military Tribunal for the Fast East and the Nanjing War Crimes Tribunal in 1946 are also displayed in the museum.
The exhibition also displays the 14-mm camera and 4 films of John Magee (1884—1953) who, together with 20 other westerners, helped more than 200,000 Chinese civilians survive from the slaughter of Japanese army during his tenure as the president of Red Cross Nanjing Office and the member of Nanjing Safe Area International Committee. He also shot many films and photos to record the crimes of Japanese army during Nanjing Massacre. In 1946, John Magee attended the International Military Tribunal for the Fast East and testified for the Nanjing Massacre. There are also many other famous western witnesses, such as John Rabe, Karl Günther, Robert O. Wilson, whose diaries, letters, canes, telescopes and some other belongs are kept in the museum either.
A big part of the museum's collection is related to Japanese troops, such as the Japanese veterans' diaries, medals, sabres, machine guns, antitank grenades, gas bombs, military uniforms, helmets, gasoline cans used to burn the bodies of victims, surgery tools of Germ Warfare Unit 1644, etc.
The exhibition hall also displays many great art works of the visitors, such as the paintings and calligraphies of excellent artists in China, such as Xiao Xian (肖娴), Hua Junwu (华君武), Xiaoping (肖平), Zhaoyong (赵勇). The famous work of Chinese-American oil painting master Li Zijian (李自健) - Nanjing Massacre, is very impressive in the museum. There are also over 500 artistic sculptures displayed in the museum.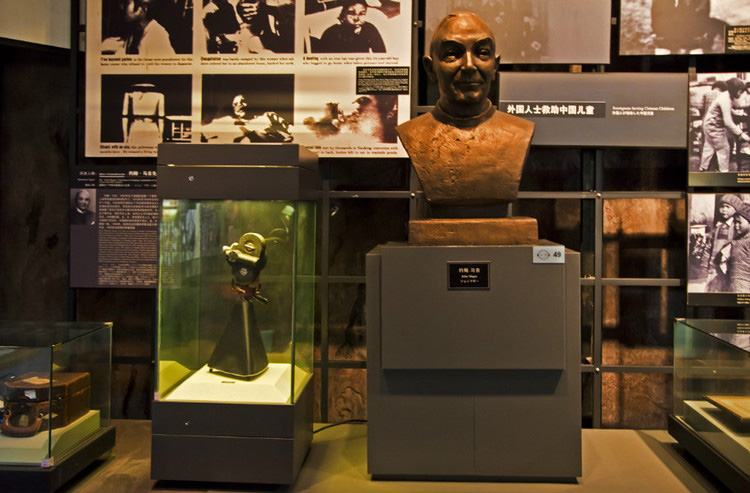 John Magee and His Camera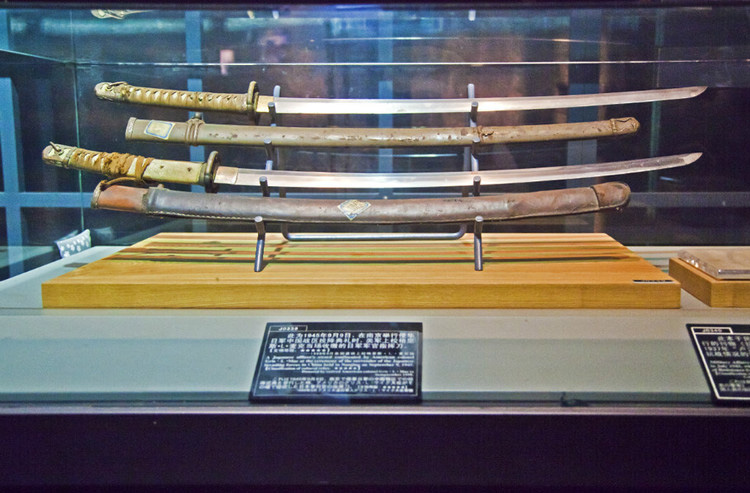 Sabres of Japanese Soldiers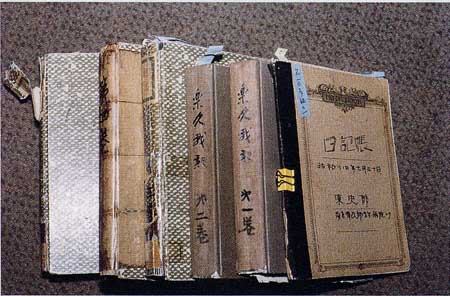 Diaries of Japanese Veterans
Location & Transportation
Where is the Nanjing Massacre Memorial Hall
The Nanjing Massacre Memorial Hall is conveniently located at Jiangdongmen Street in Jianye District(建邺区) in western Nanjing downtown area. It is about 13 km from Nanjing Railway Station, 14 km from Nanjing South Railway Station, 45 km from Nanjing Lukou Airport.
How to Get to Nanjing Massacre Memorial Hall
Metro - You can take metro Line 2 and get off at Yunjinglu Station (云锦路站) to Nanjing Massacre Memorial Hall. With a convenient subway network, you can get there easily from railway stations and manin attractions such as the Confucius Temple.
Bus - Multiple public buses such as NO. 7, NO. 61 and NO. 63 will make stops at the Nanjing Massacre Memorial Hall.
Taxi - Taking a taxi is very easy in Nanjing, but you have to speak a little Chinese or know the exact address of the place you want to go. The taxi usually charges CNY 11 for the first 3 kilometers, and then CNY 2.9 for each extra kilometer.
Travel with China Discovery
If you want to get rid of hustle of public transportation and troublesome navigation, you can book a private tour package which covers sightseeing, dining and transfer from us. Our knowledgeable local tour guide and skilled driver will escort you to Nanjing Massacre Memorial Hall with speed and convenience, and take care of all the details. You just need to focus on sightseeing. Contact us now >>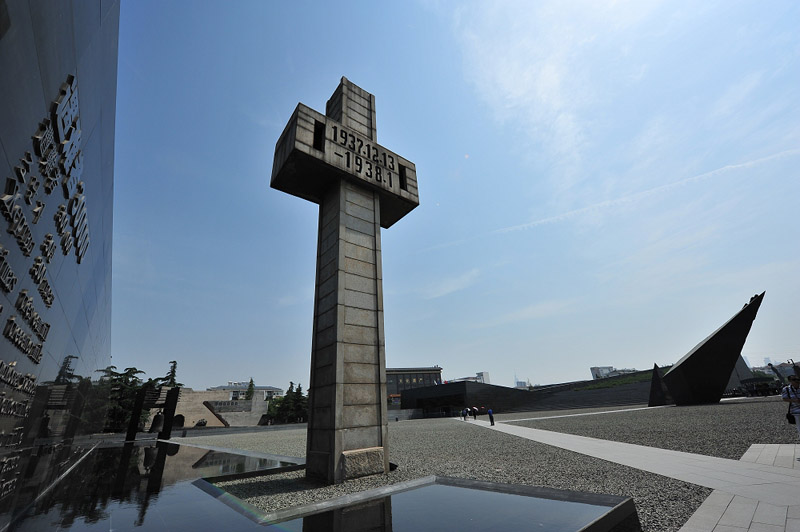 Nanjing Massacre Memorial Hall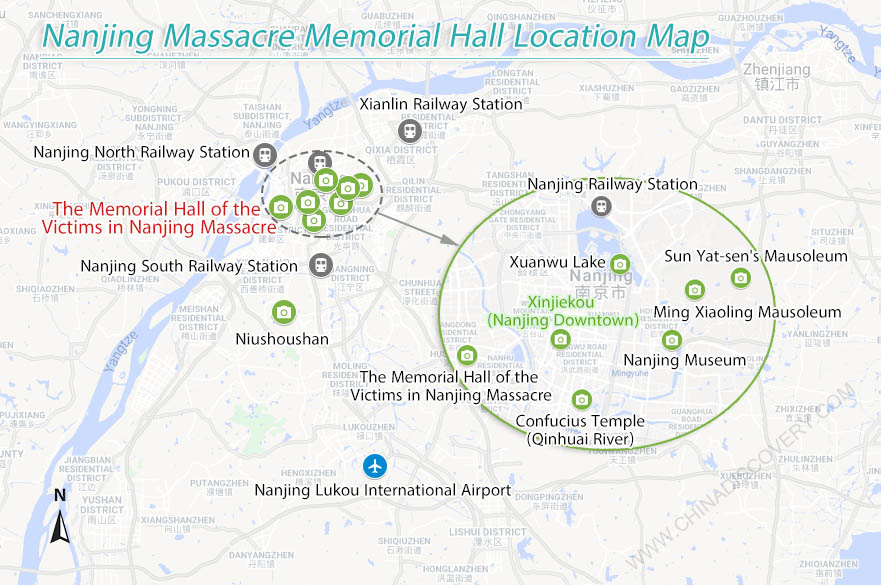 Memorial Hall of the Victims in Nanjing Massacre by Japanese Invaders Location Map
Nanjing Massacre Memorial Hall Travel Tips
Ticket - Nanjing Massacre Memorial Hall is free to visit but valid ID documents such as passport is needed.
Opening Hours - Nanjing Massacre Memorial Hall is open from 8:30 to 16:30, and usually closed on Monday for maintenance. It is available to visit during all statutory holidays even on Mondays.
Manners - Please keep a good manner during your visit. Speak at low voice, dress formal and do not touch the exhibiting relics.
How to Plan Your Travel in Nanjing
How to Get to Nanjing: You can easily get to Nanjing by high speed train from Beijing (about 3-5h), Shanghai (about 1-2.5h), Hangzhou (about 1.5-5.5h), Suzhou (about 45min-2.5h), etc. and flight from Beijing (2h), Guangzhou (2h15min), Chengdu (2.5h), Xian (2h), etc.
Best Time to Visit Nanjing: March to June and September to November, especially in late October and early November.
Generally, to explore the cultural and natural highlights of Nanjing, 2 ~ 3 days are needed. You can pay a visit to Sun Yat-sen Mausoleum (the tomb of Dr. Sun Yat-sen, the Father of Modern China), take a walk in Confucius Temple Area along the Qinhuai River, climb up the ancient City Wall, and know a part of heavy history and cherish peace in the Memorial Hall of the Victims in Nanjing Massacre.
☛ 2 Days Ancient Nanjing Tour
☛ 3 Days Best of Nanjing Highlights Tour
If you want to explore more about Jiangsu Province, you can travel to Suzhou - the city of classical gardens and silk, Wuxi - a beautiful lakeshore city, Yangzhou - old culture center of southern China, etc. Check more about Jiangsu Tours>
☛ 5 Days Jiangsu Tour (Suzhou, Wuxi & Nanjing)
If you have more days, you can expand your Nanjing trip to Shanghai - modernest metropolis in China, Hangzhou - home to picturesque West Lake, and Huangshan - magnificent Yellow Mountain and Hui-style ancient villages. Or you can contact us to customize a trip according to your own itinerary and interests. Just tell us your needs and we will take care of everything, you just need to focus on sightseeing!
☛ 5 Days Shanghai & Nanjing Highlights Tour
☛ 8 Days East China Tour by High-speed Train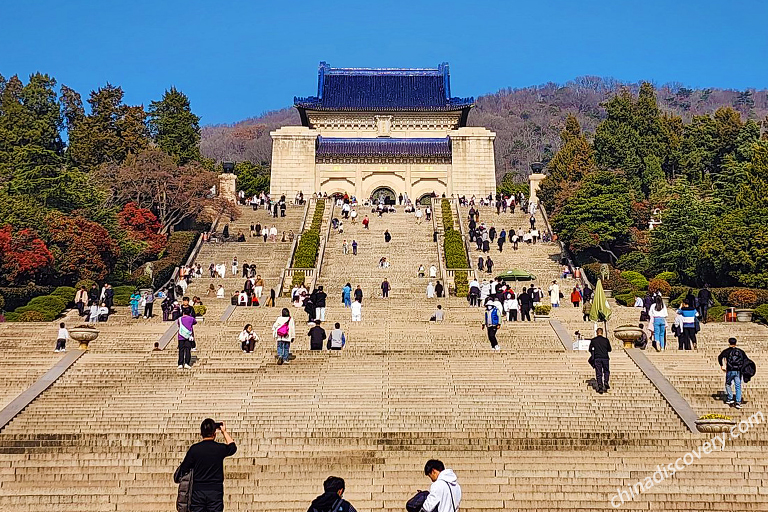 Sun Yat-sen Mausoleum in Nanjing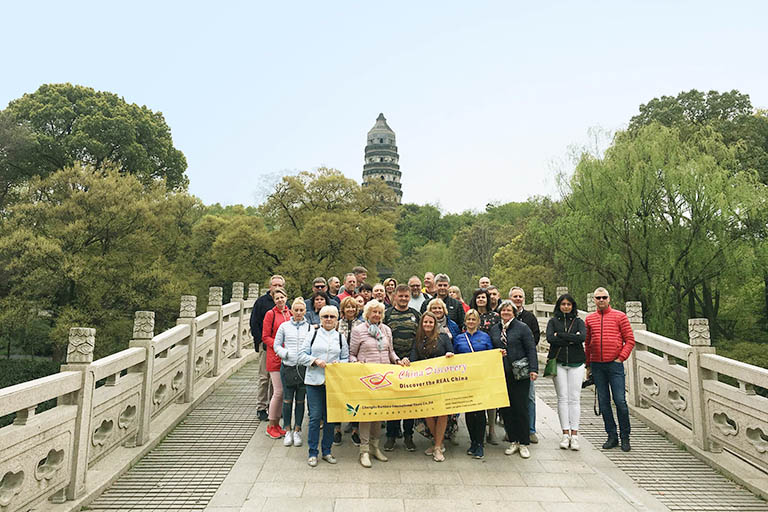 Our Customers visited Tiger Hill in Suzhou
Get Inspired by Real Travel Stories of Our Customers
Since 2012, we have helped numerous customers visit Nanjing and surroundings. With our fully-inclusive private tour packages, all of our customers enjoyed their trips to the ancient city wall, beautiful Purple Mountain, informative Nanjing Museum, charming Qinhuai River, etc. Some of them kindly shared their precious photos and stories about their Nanjing journey, just get inspired now.
"This is my second time to ask China Discovery to organize a private tour for a group of 12 people to visit Huangshan, Hangzhou, Nanjing, Suzhou, Shanghai and other cities close-by…" - shared by Mr. Ban (Check his Travel China with Family and Friends for 3 Consecutive Years - Mr. Ban's Group Traveled Different Parts of China from the North to Southwest and Southeast)
Besides the wonderful travel stories, many customers who visited Nanjing with China Discovery also send us their first-hand feedbacks about their trip, feel free to read the Customer Reviews and learn what they say about their experience. If you want to start your Nanjing tour now, don't hesitate to contact us.
Our Customers Mr. Ban and his group from the USA visited Shanghai, Nanjing, etc. customized by Vivien
Recommended Nanjing Tours
Top 3 Nanjing tours chosen by most customers to explore Nanjing in the best way. Check the detailed itinerary, or tailor your own trip now with us.
5 Days Shanghai Nanjing Highlights Tour

Shanghai / Nanjing
Start planning your tailor-made holiday to China by contacting one of our specialists. Once inquired, you'll get a response within 0.5~23.5 hours.
Customize a Trip
Have a question? Get answers from our travel experts or guests
Your Question:

Your Name:

Your Email: